Welcome to Parlick Class!
In our class we thrive learning through a creative curriculum approach. We consider the children's interests and encourage them to flourish and grow, developing confidence and self-belief to help them be the best they can be. Throughout the school year we will post photos and information all about the fun and exciting things we have been learning in class, and in the great outdoors.
Summer term 2 – Robots & Recycling
This term pupils will be exploring the amazing evolution of technology and robotics that have helped shape the world we live in today. They will learn about the importance of reduce, recycle and reuse products to help the environment. In science pupils will be labelling the human body parts and learning all about the five senses. Pupils will enjoy listening to a variety of robot themed stories which will inspire them to write their own fantasy setting story based on their own 3D robot model. Below is this terms topic booklet and homework menu.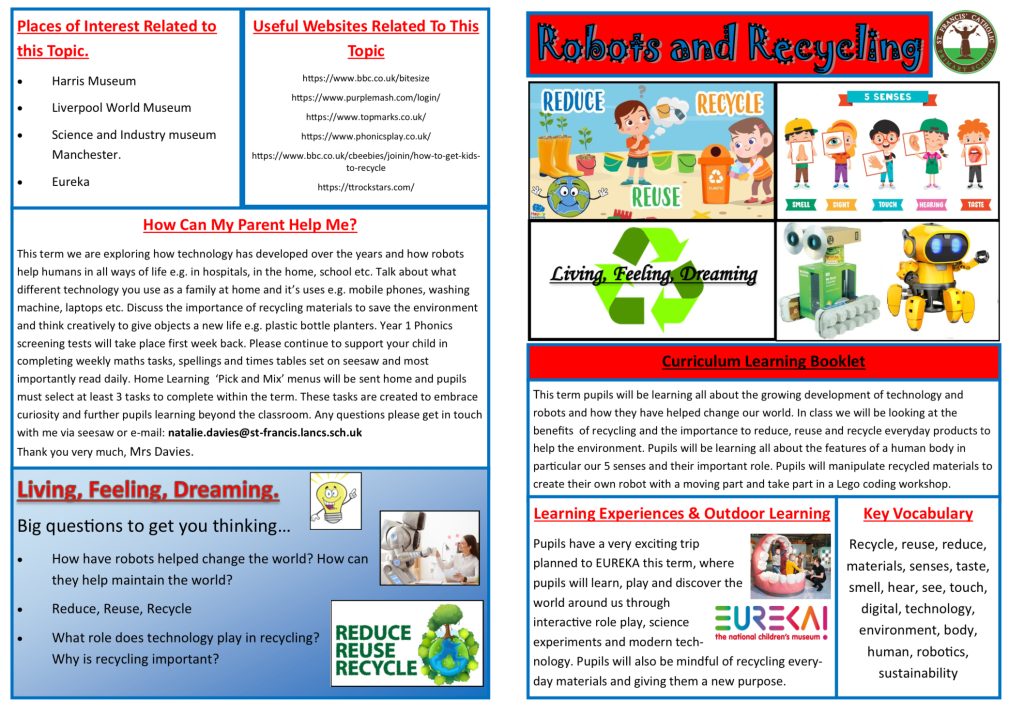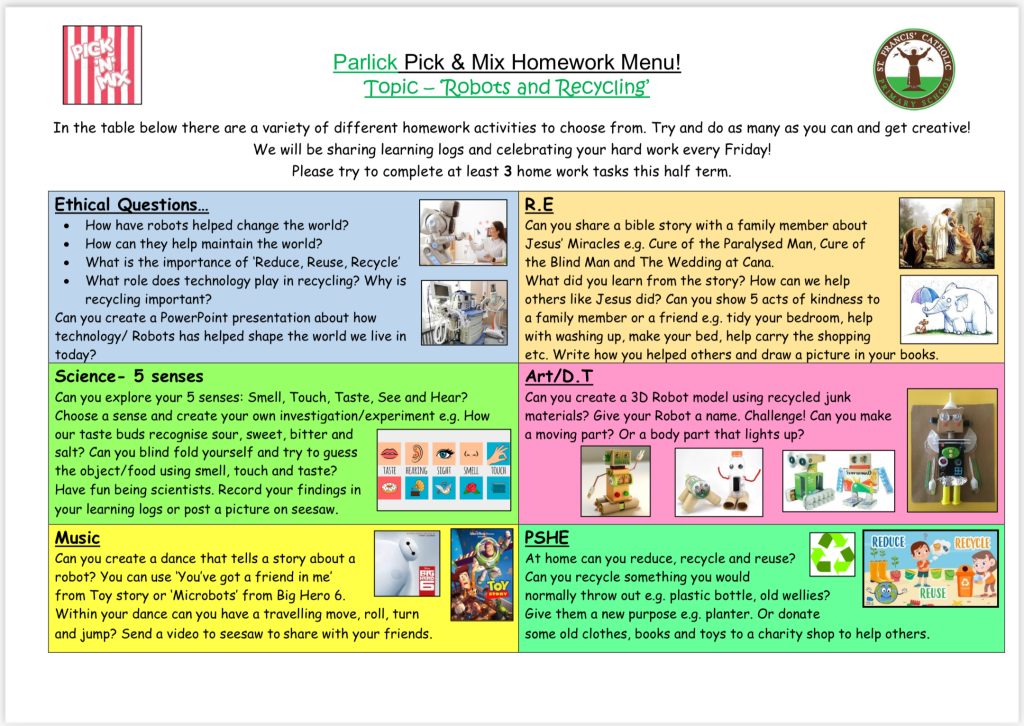 Our colourful Rainforest & Brazil classroom display
The children have worked extremely hard this term and here is a snap shot of our amazing learning in science, topic, art and literacy.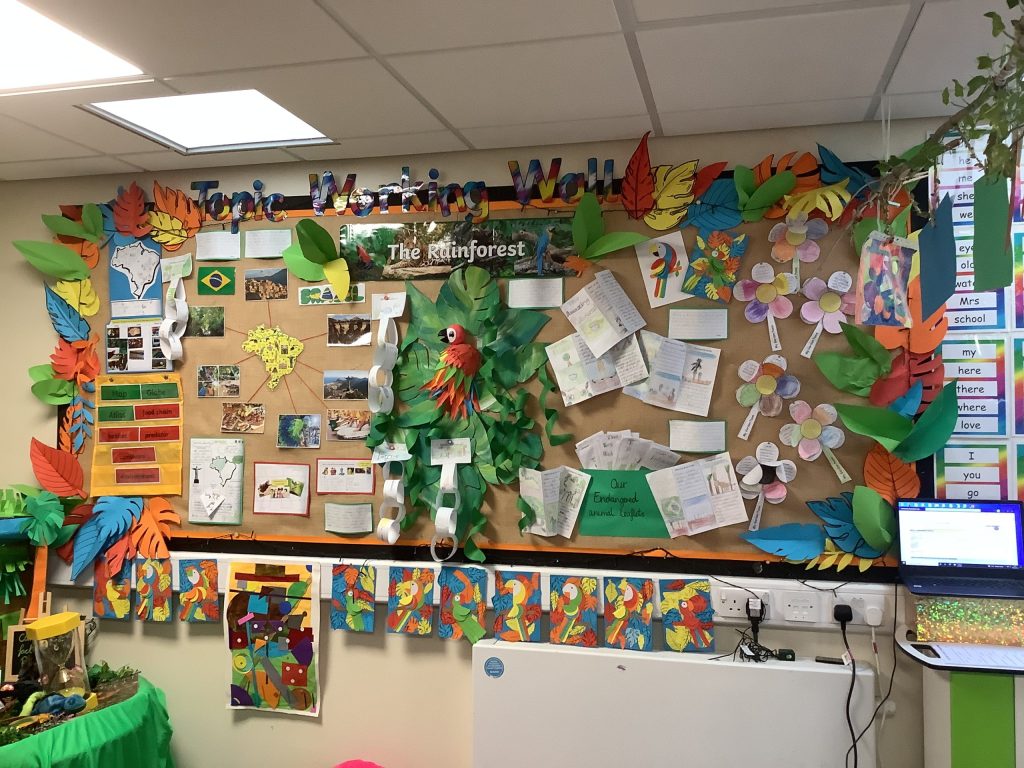 Our funtastic Brazilian theme day!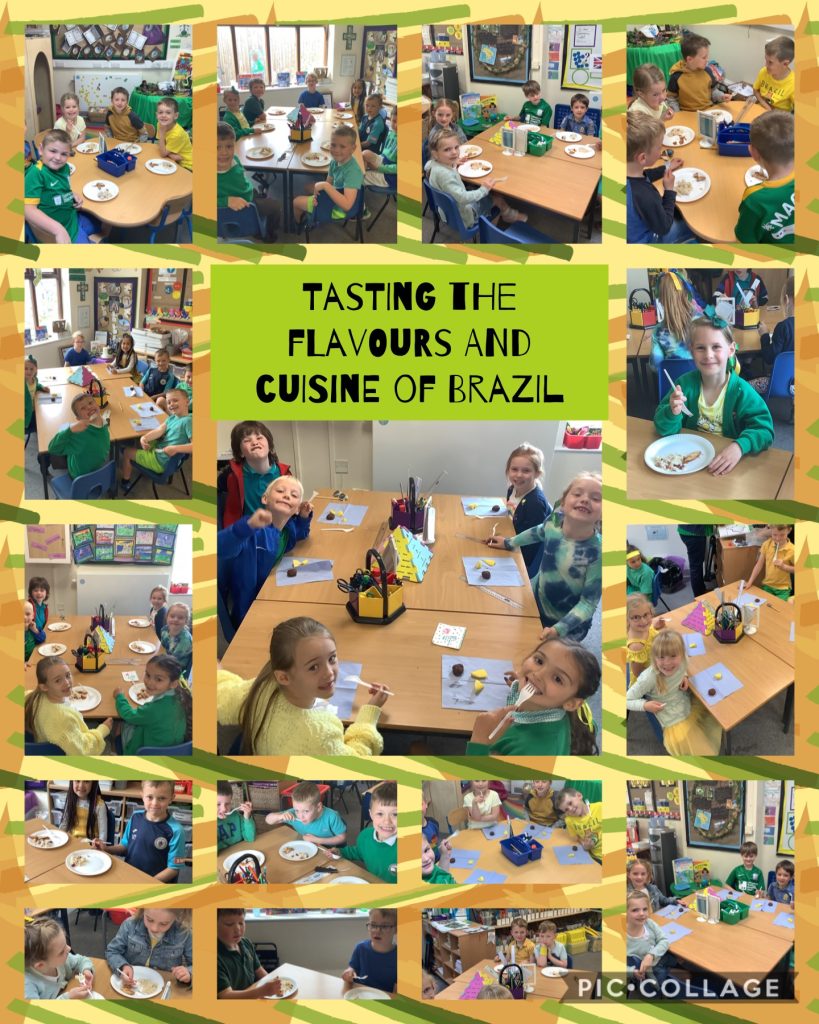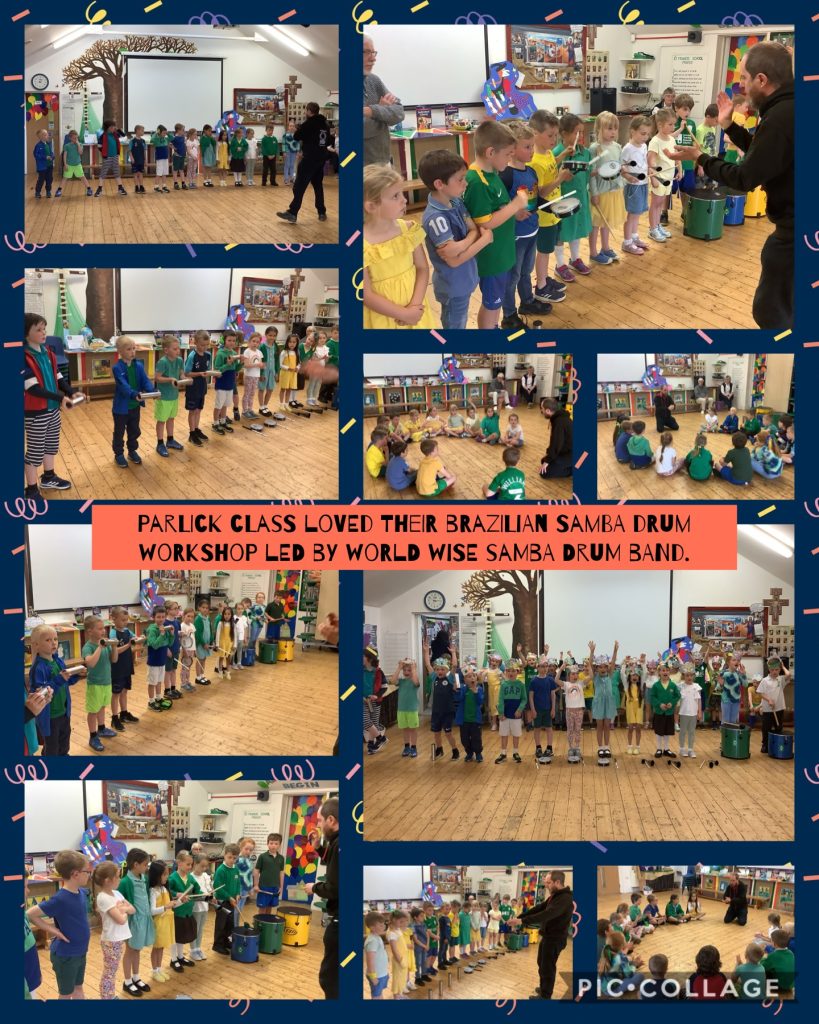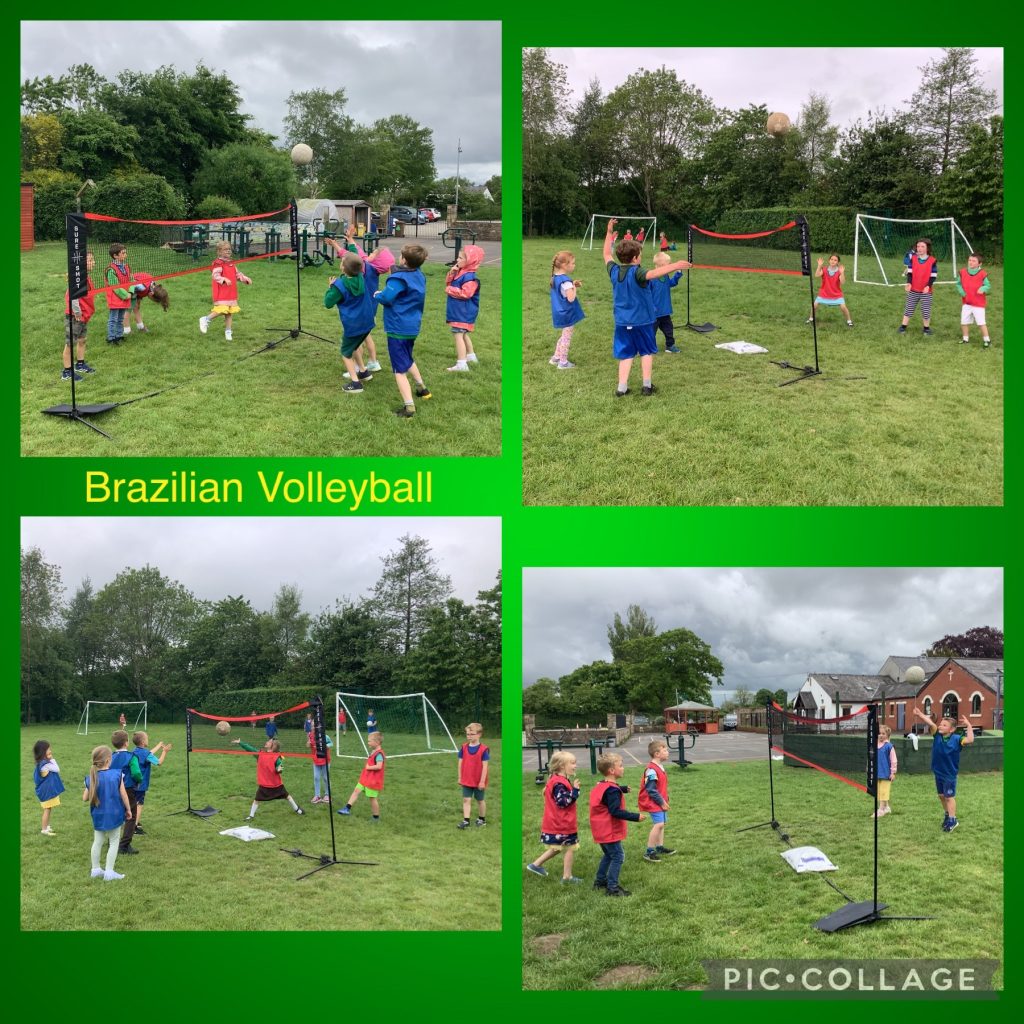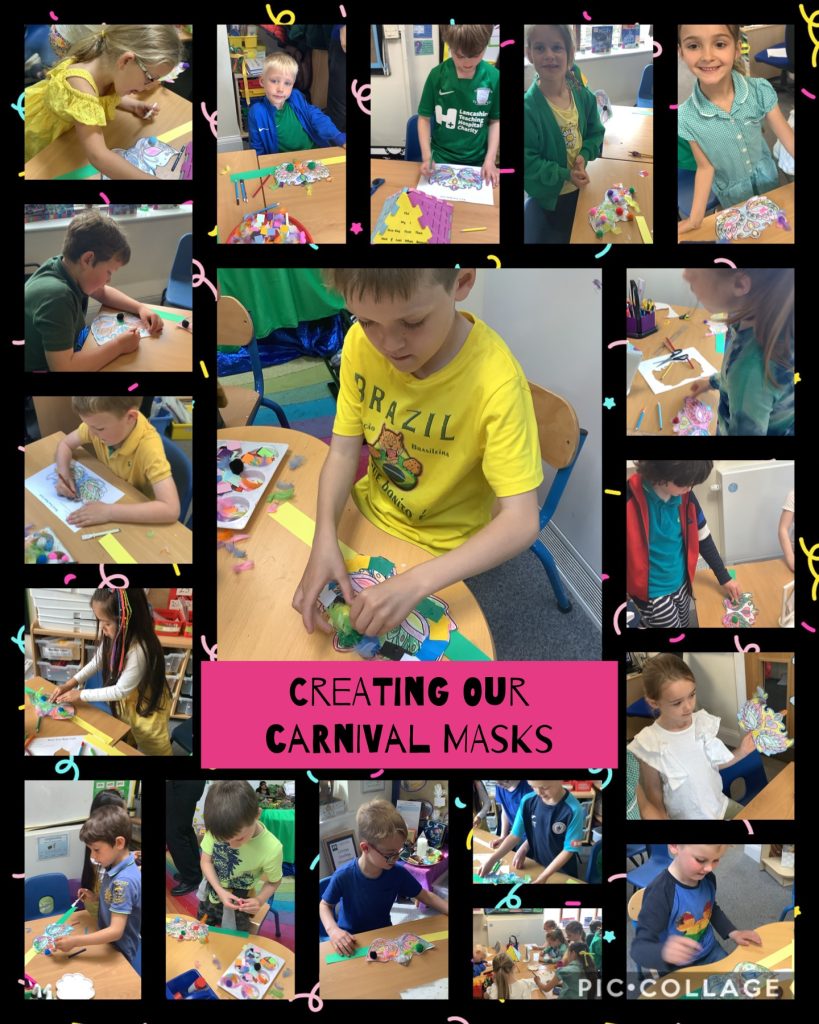 Music
We have been learning pulse and rhythm in music and exploring the rhythms of Samba using different percussion instruments.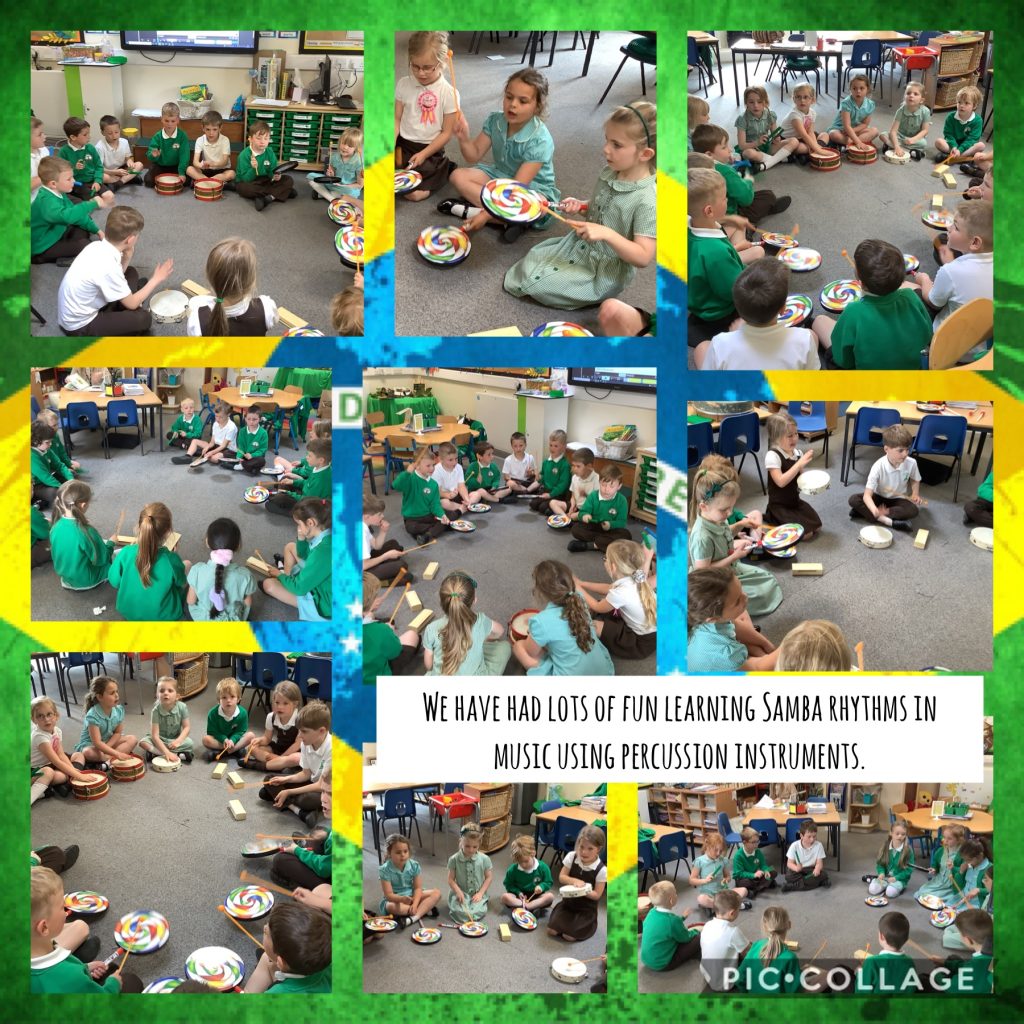 Prayer & Liturgy
Pupils have enjoyed planning and leading their own prayer and liturgy's in class our themes have been; God is a friend, God is the root, God is beauty and God is a promise.

Summer 2 Topic- Great Outdoors and The Rainforest
What an exciting topic we have this term! Pupils will be learning all about animals and their habitats and looking at the country Brazilian and exploring it's wonderful Amazon Rainforest. We will explore the effects of deforestation and how it has a huge impact on our climate change and animal habitats. Pupils will learn all about the wonderful vibrant country Brazil and the energetic sounds of Samba! Below is our Topic booklet for this term and our Homework Menu.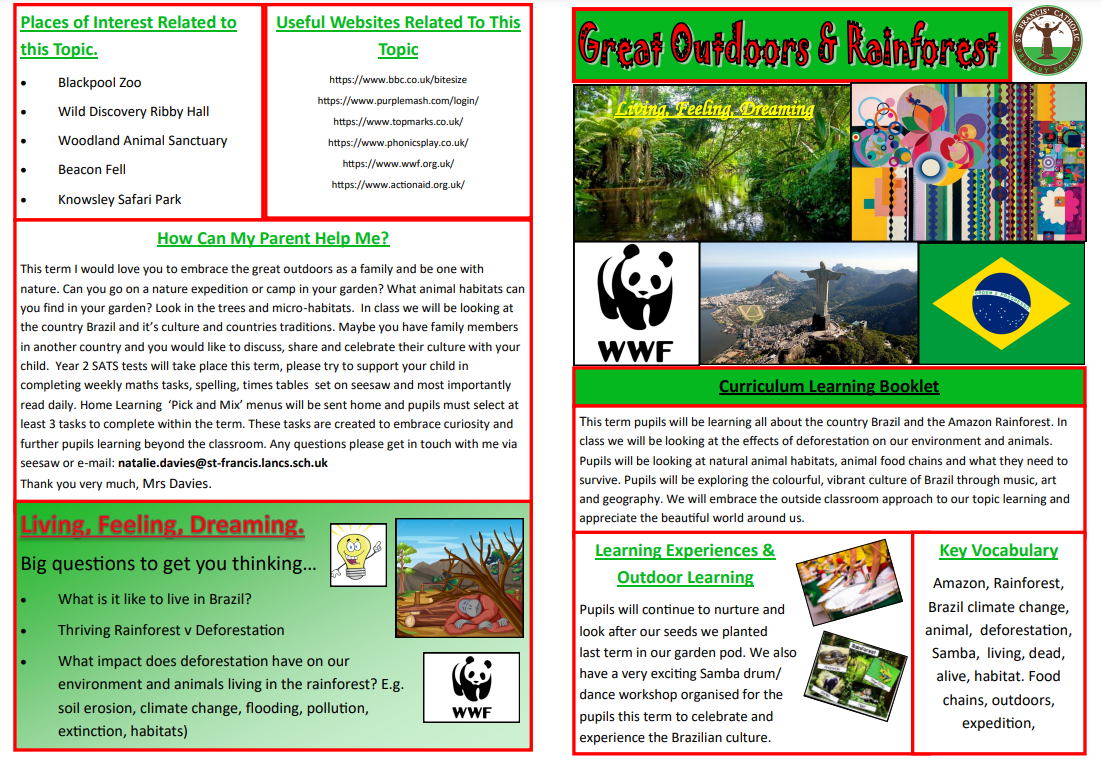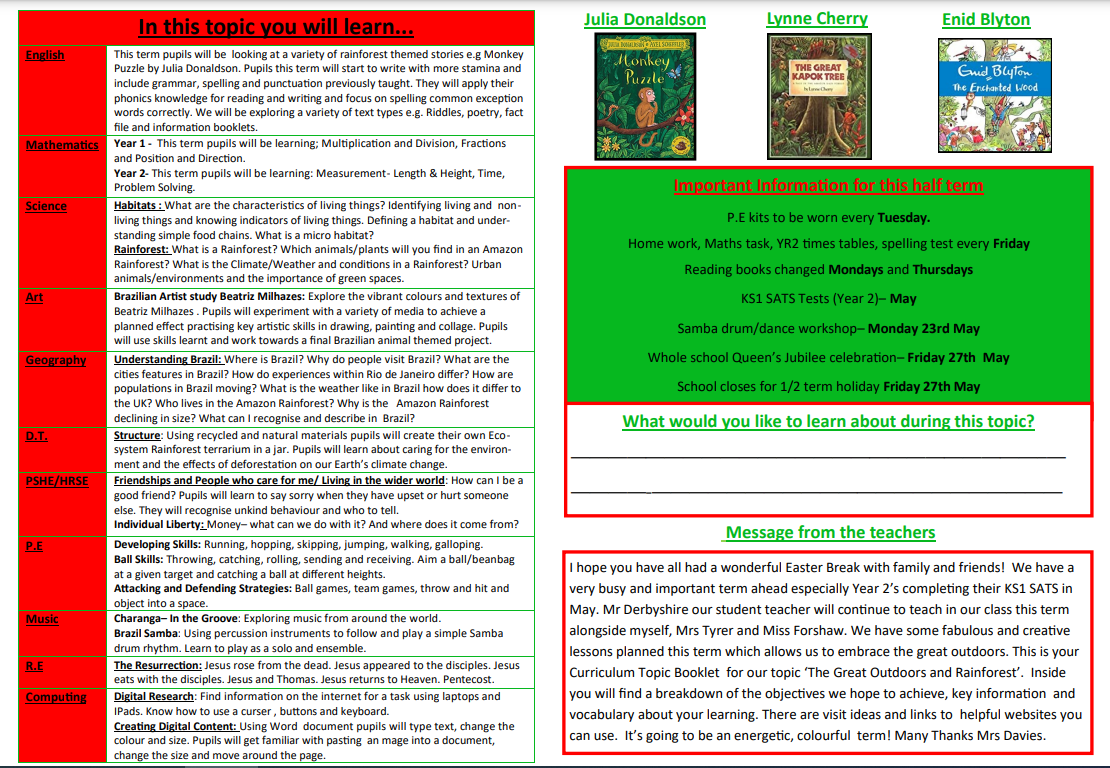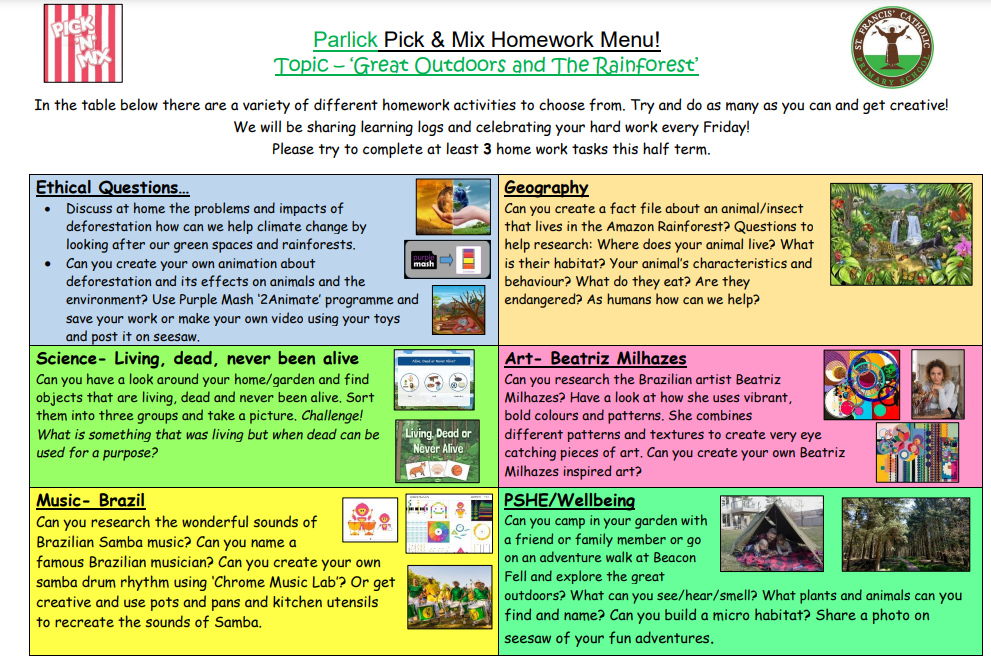 Our Reflection walk for Ukraine
Class Worship
Parlick class joined our St. Francis family Parishioners for a mass in church led by Father Sony. Year 2 pupils did fantastic leading the readings in mass.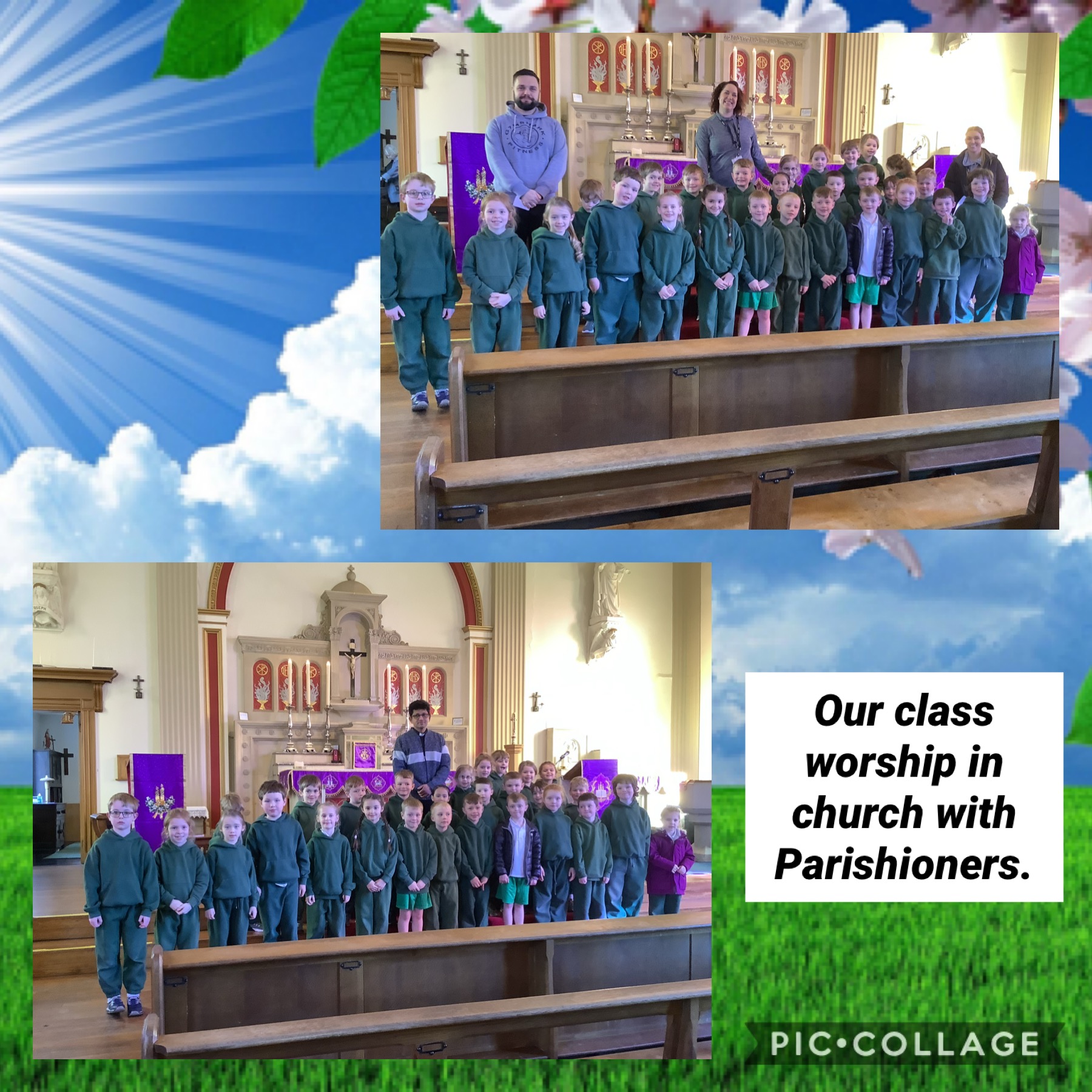 Our Fabulous Farm Trip To Ridgeway Farm
The pupils had lots of fun learning all about spring on the farm looking at plants and how they grow, feeding the animals and exploring the farm land searching for habitats and minibeasts.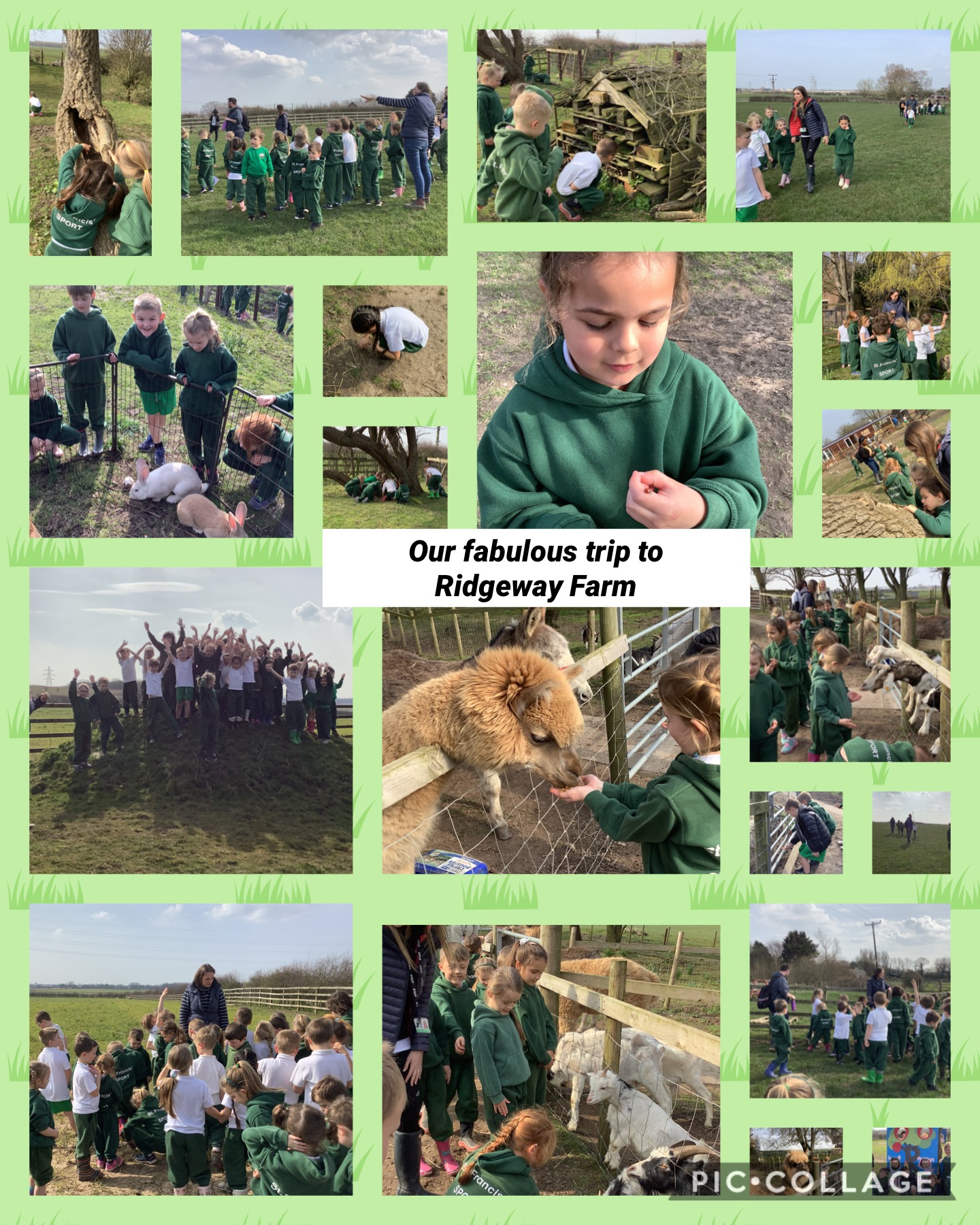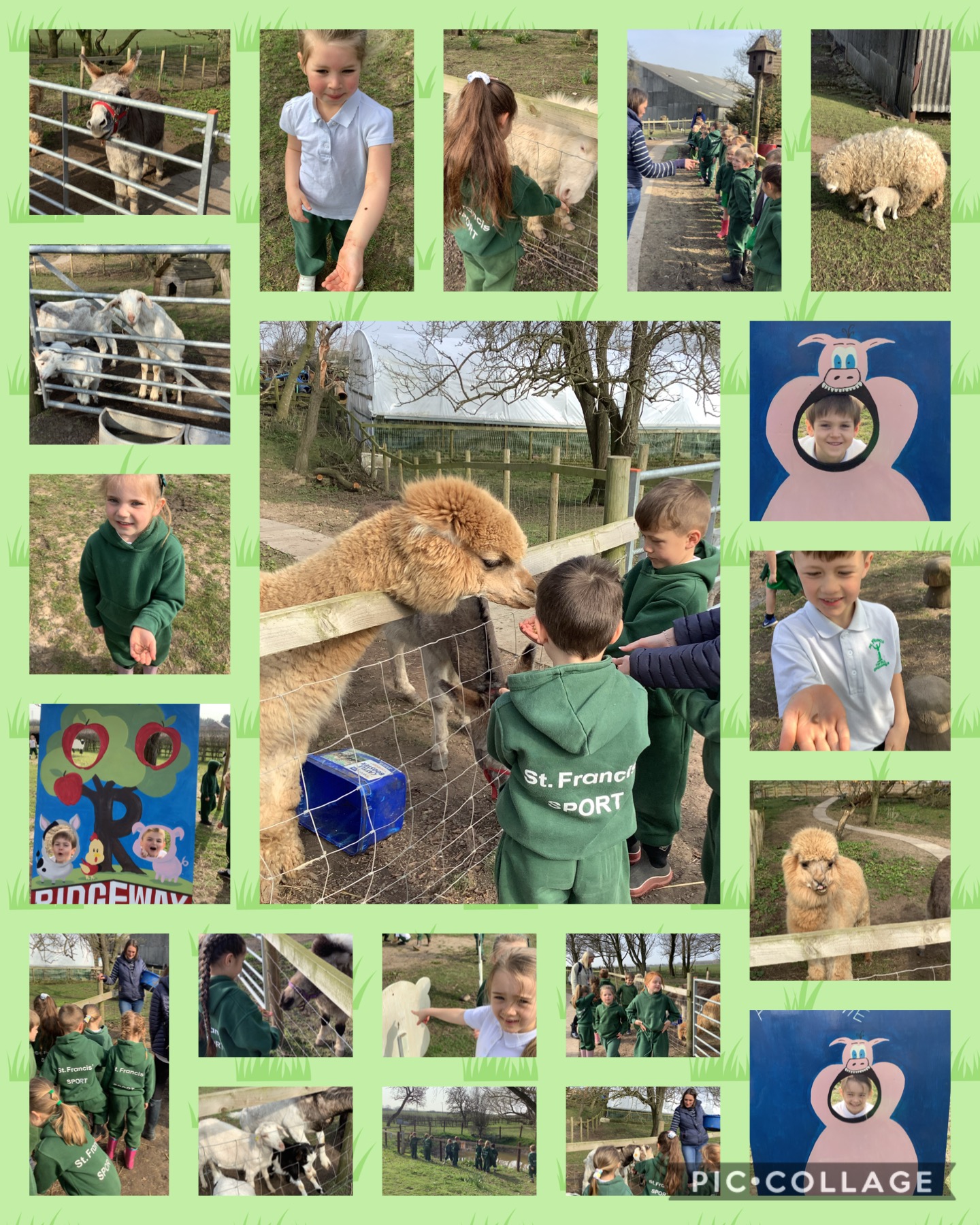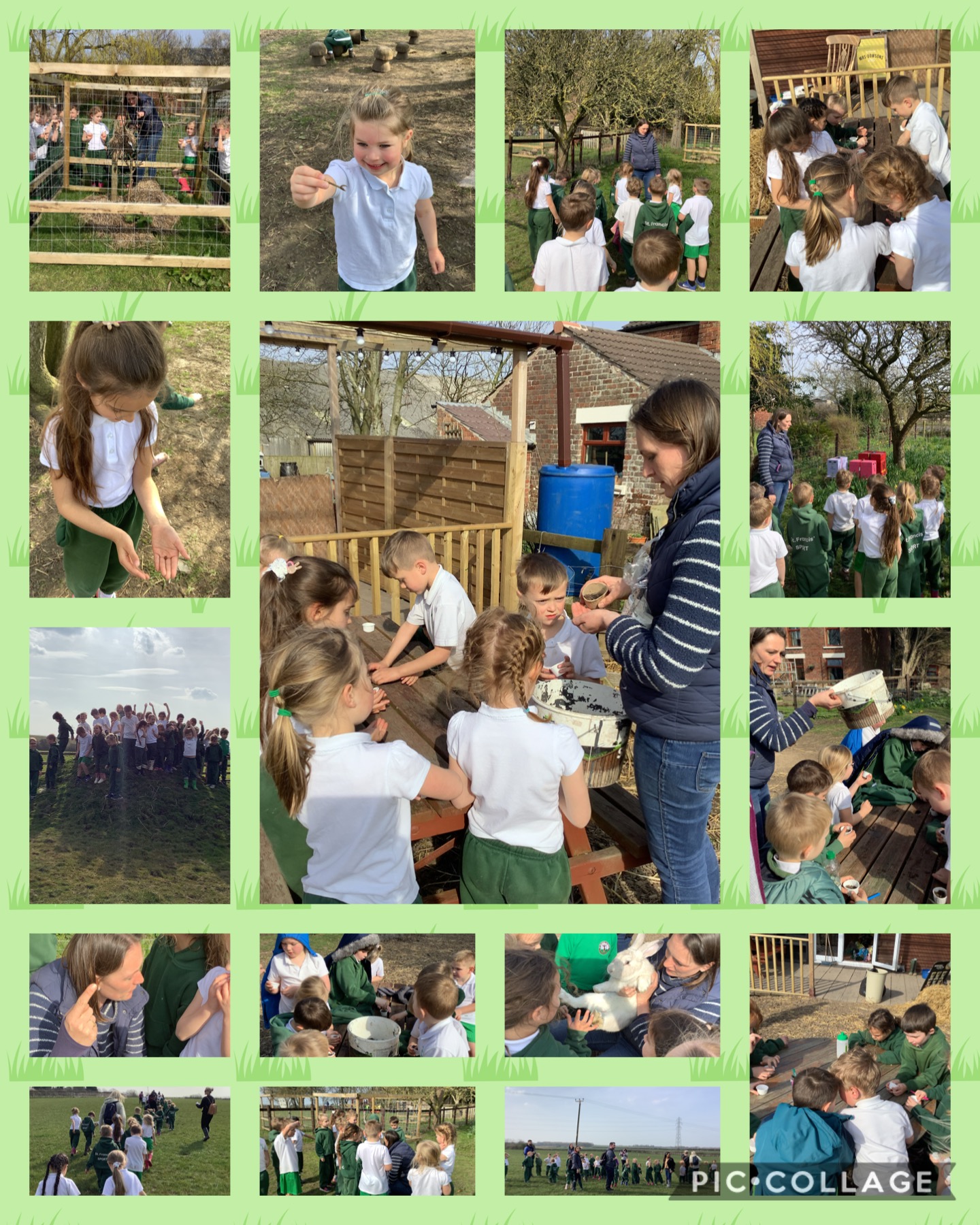 Our fabulous learning across the curriculum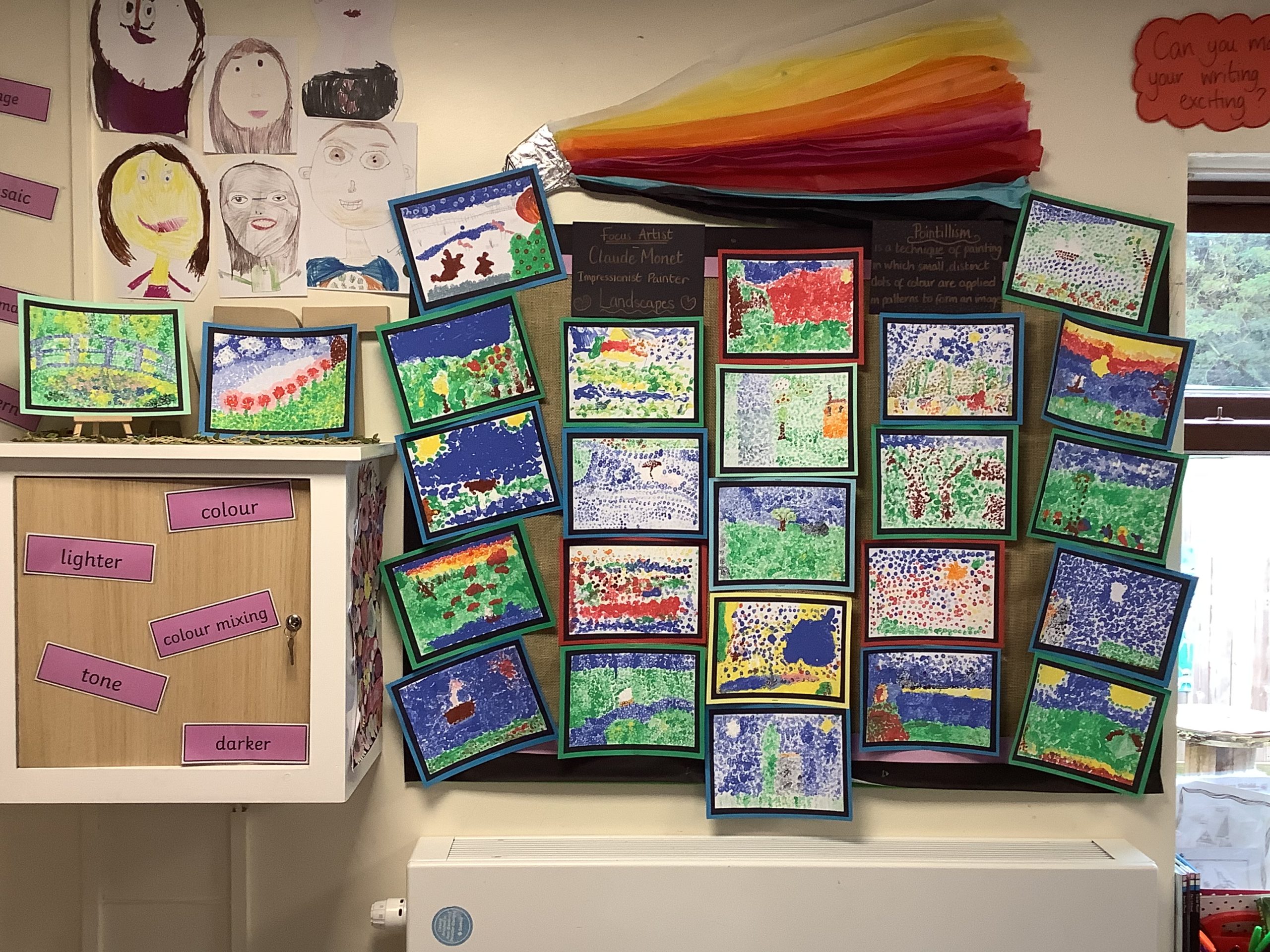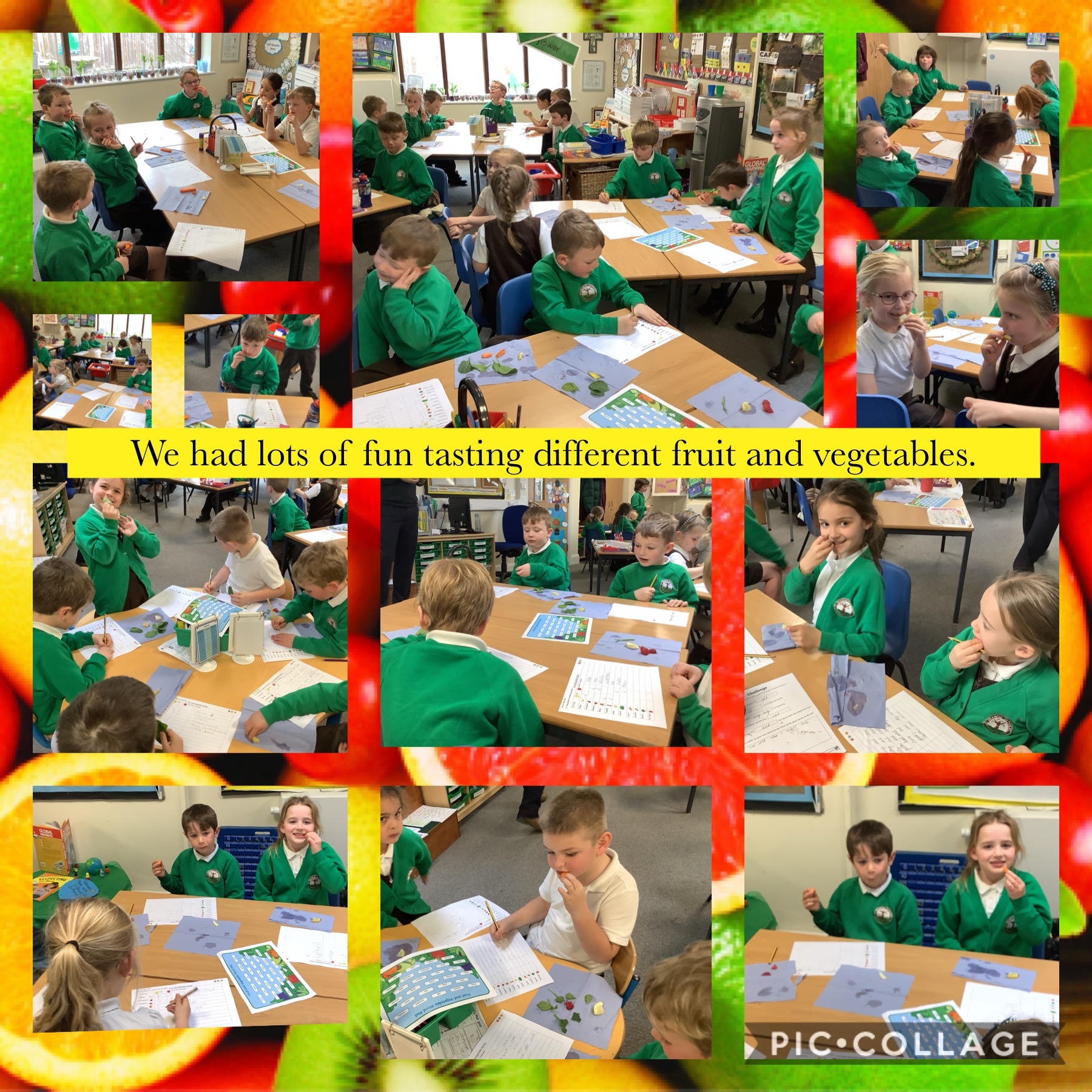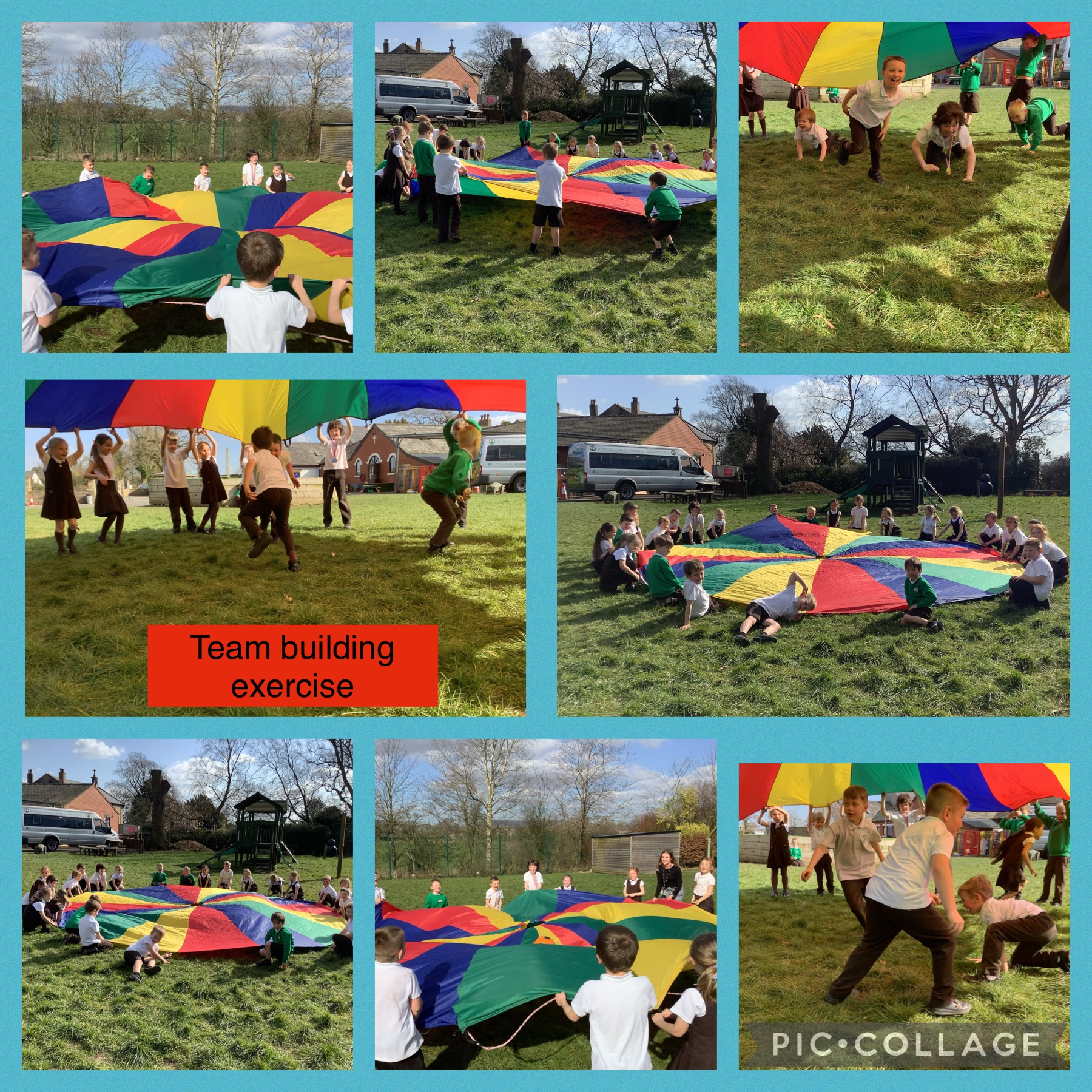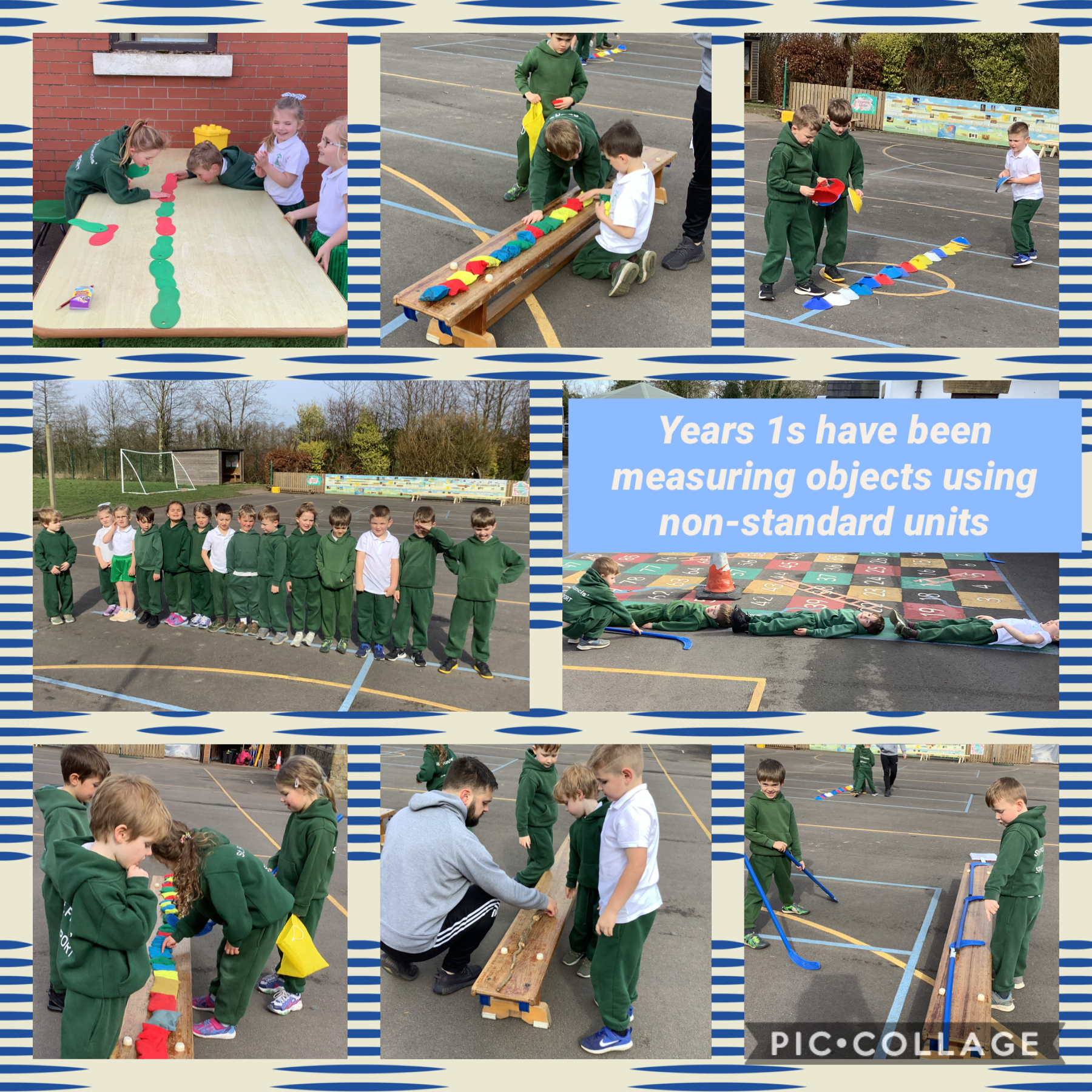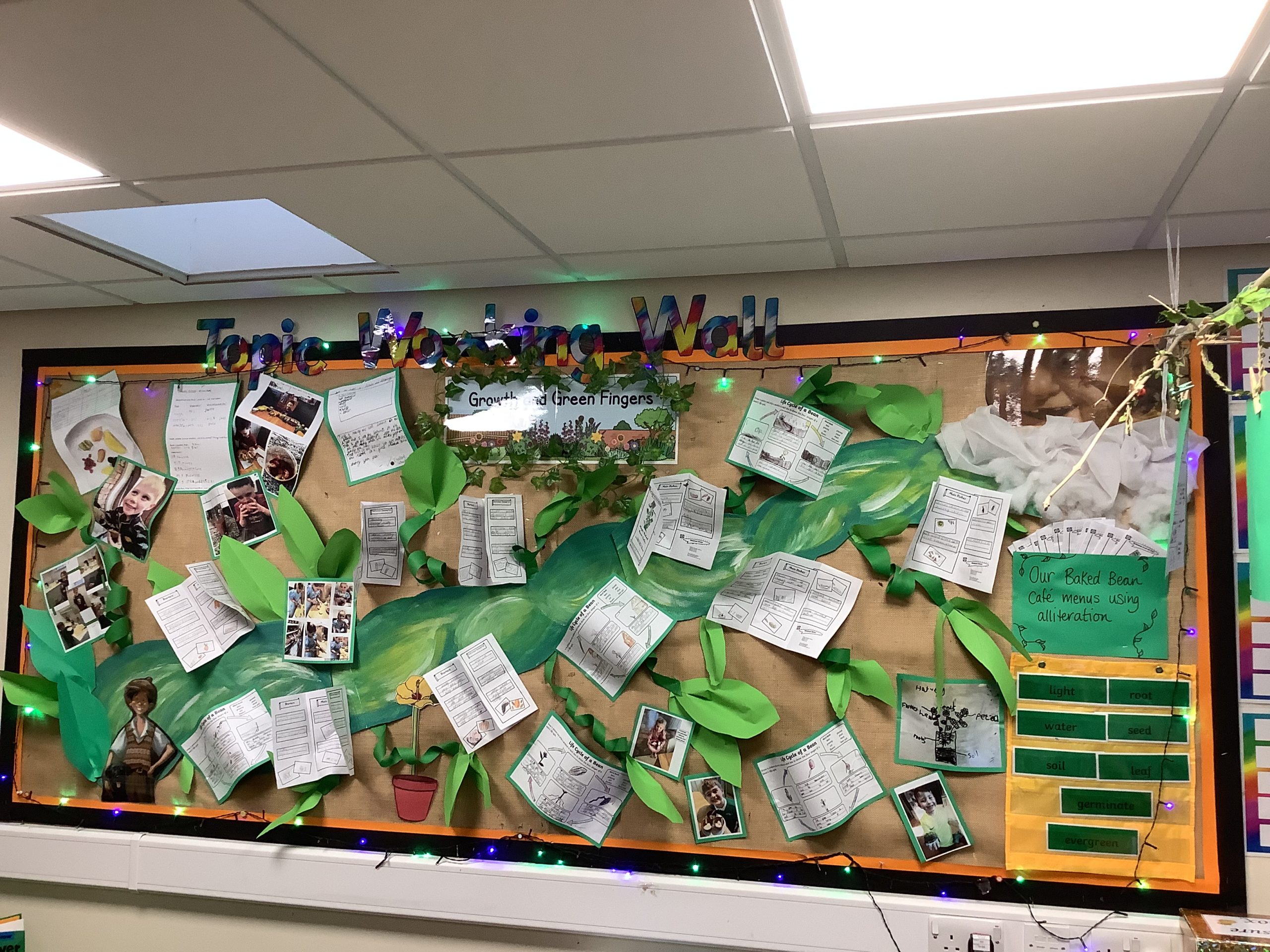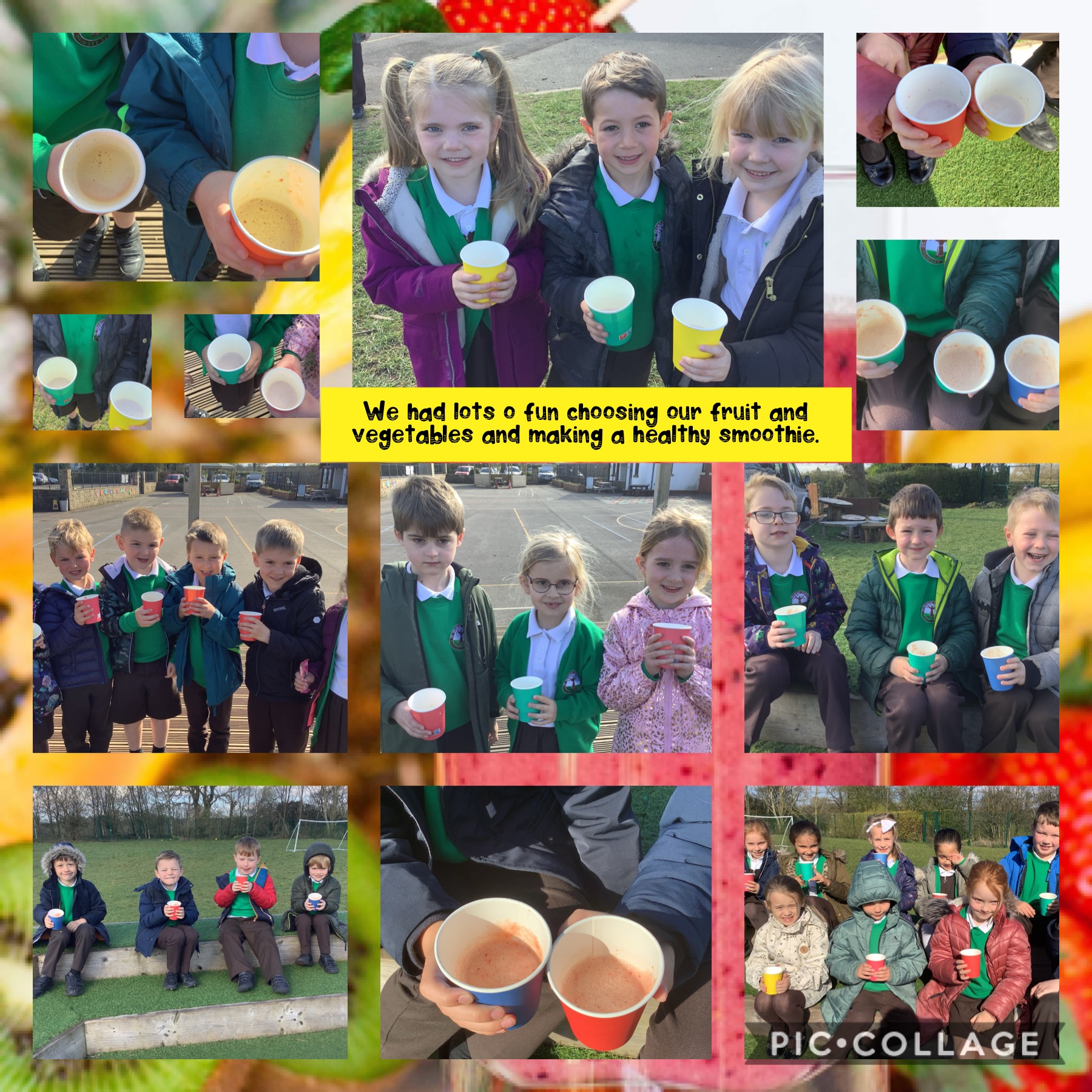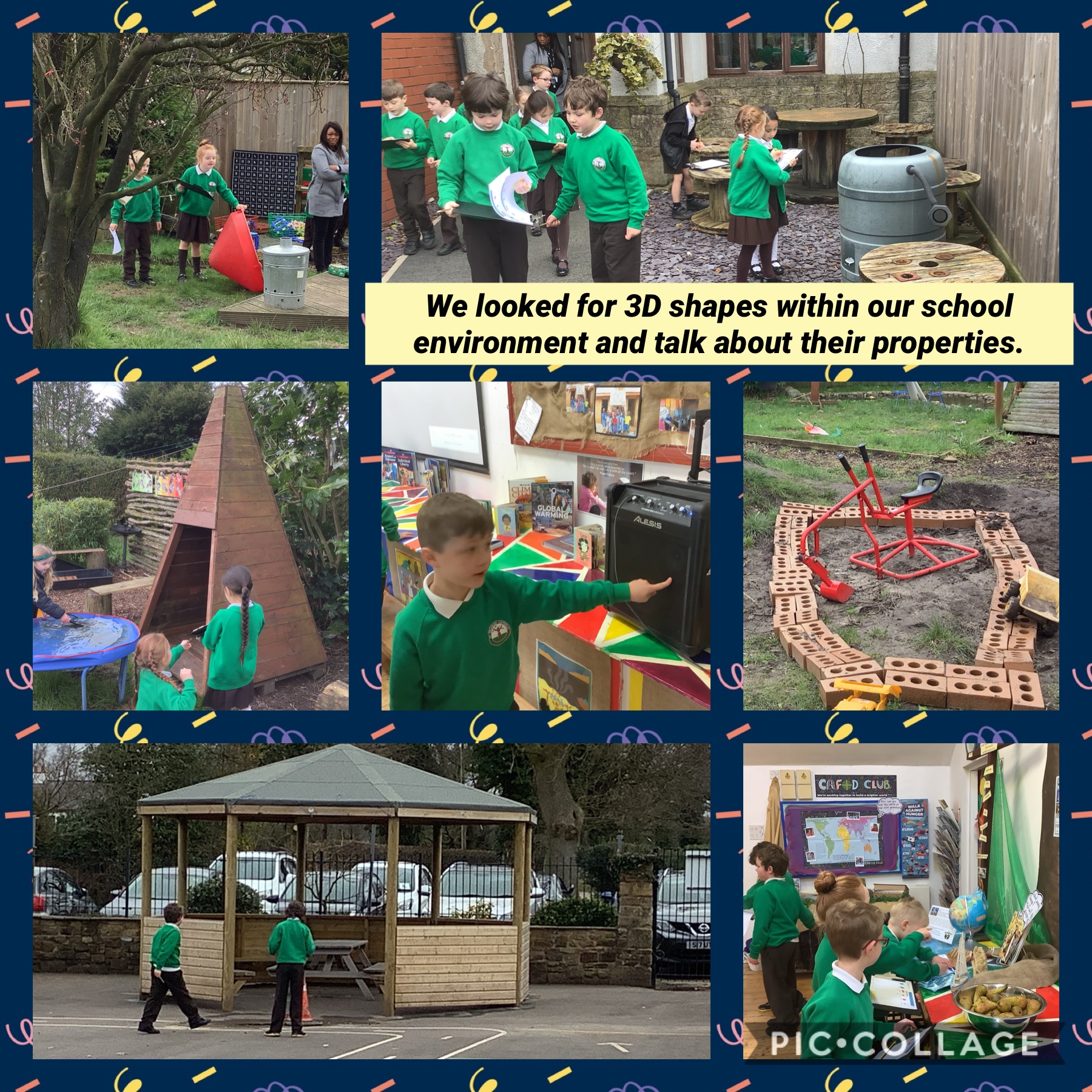 Our Amazing Author Visit
Children were in awe of the amazing Dan Worsley. His spectacular story telling inspired them all to be wonderful, imaginative writers.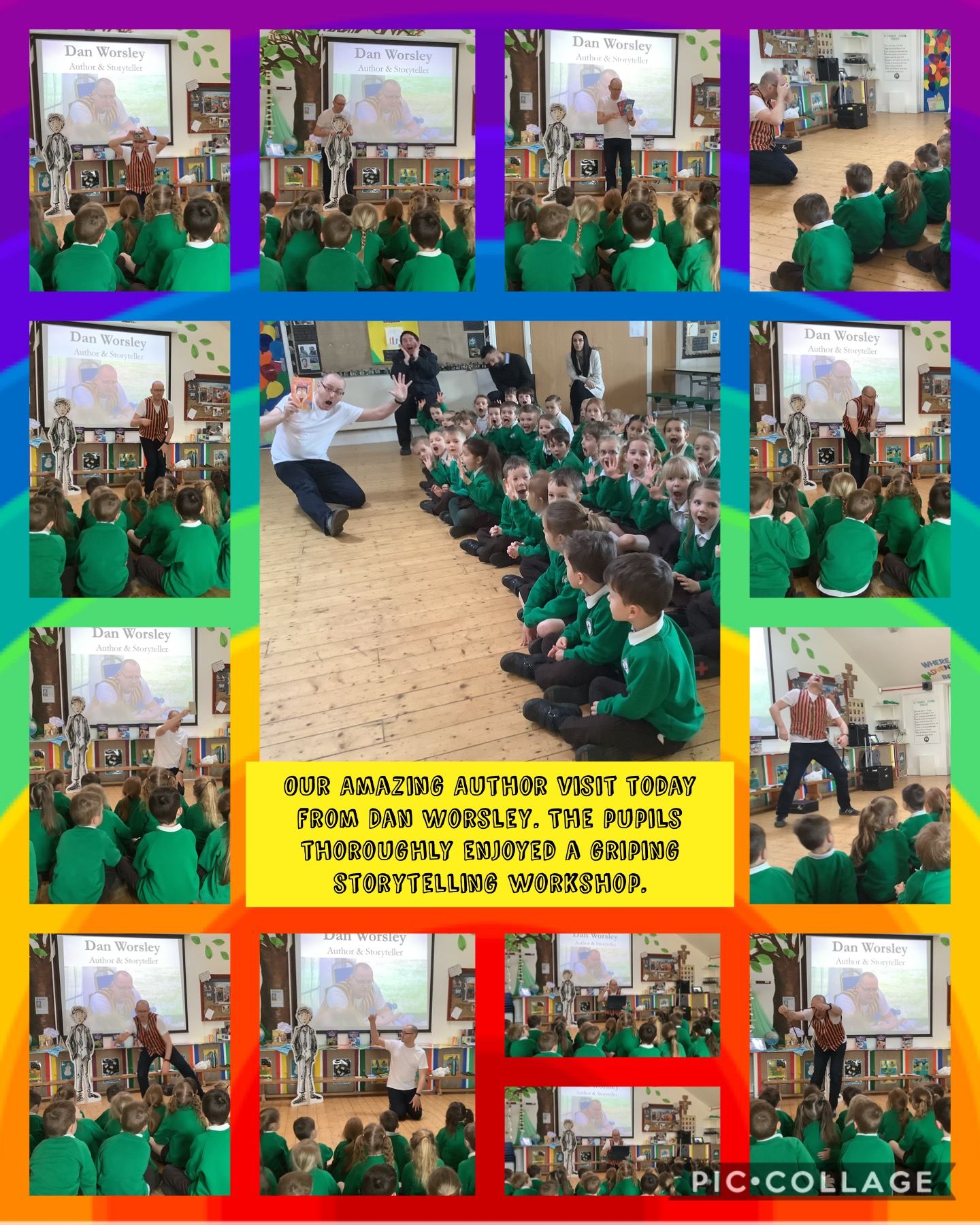 Spectacular Science Week!
Pupils got very scientific and learnt all about plants and what they need to grow. We collaborated with Year 3 & 4 and went on a minibeast hunt around our school grounds. In class we carried out a celery experiment and grew our own silly cress heads. Pupils enjoyed hands on learning and exploring nature.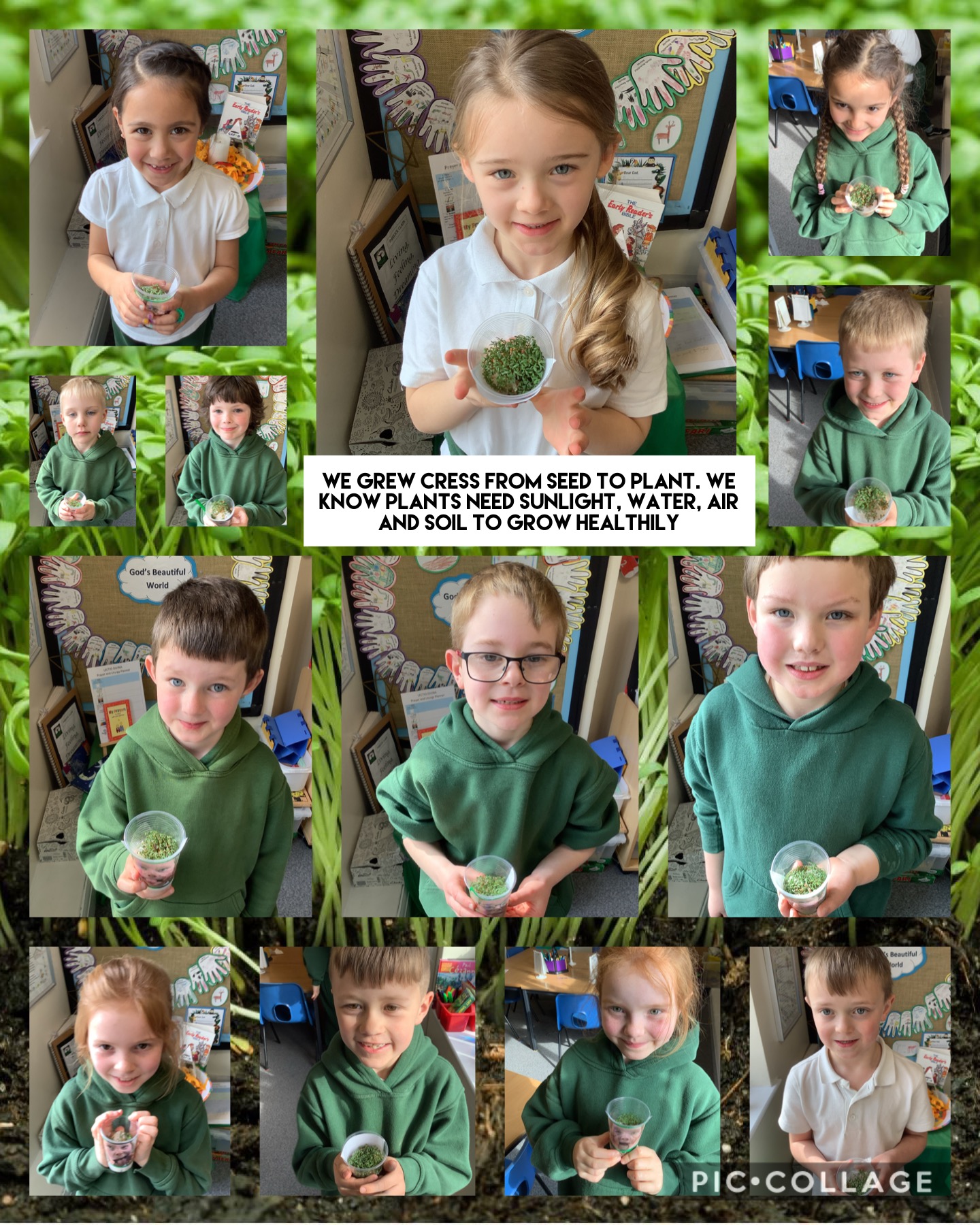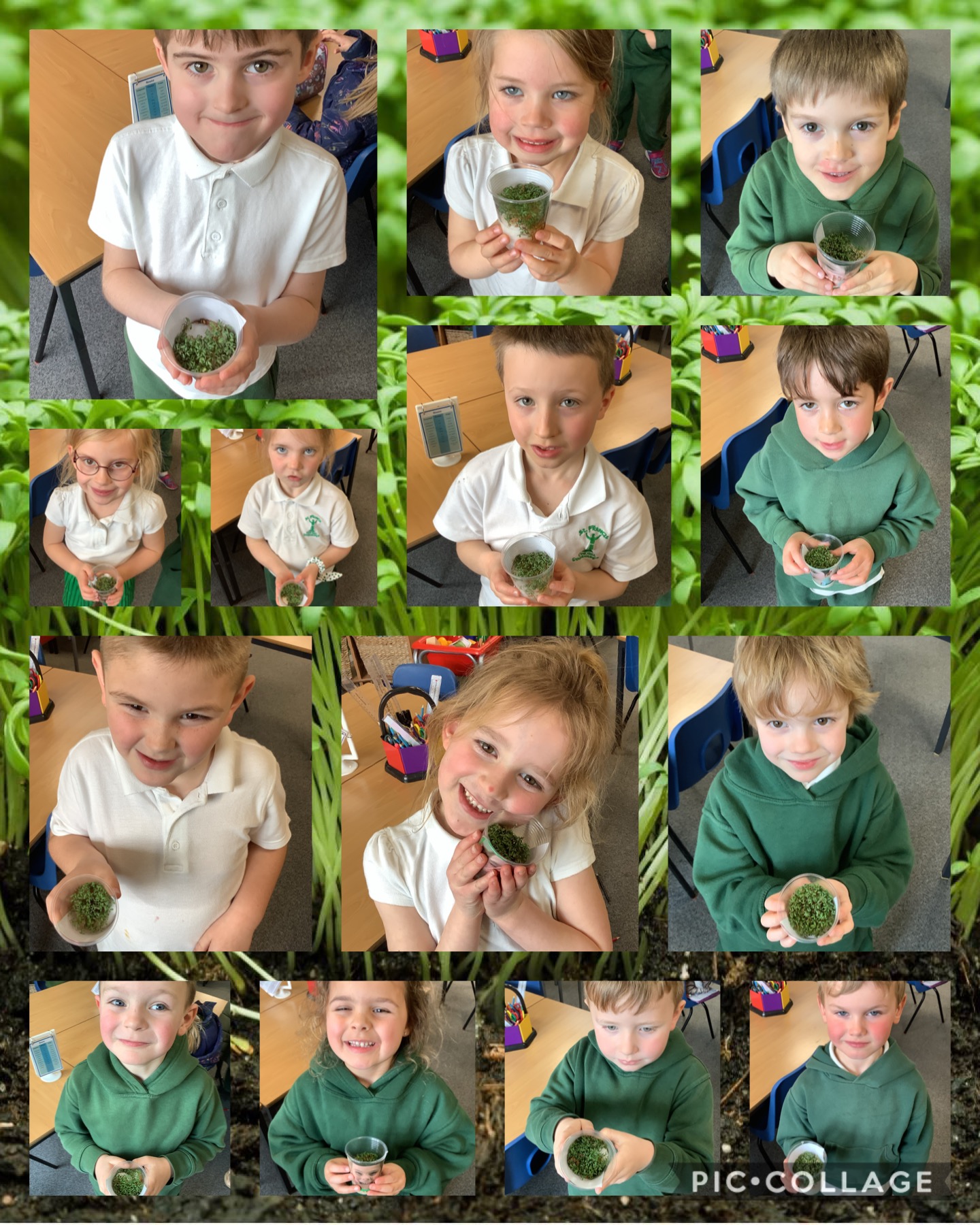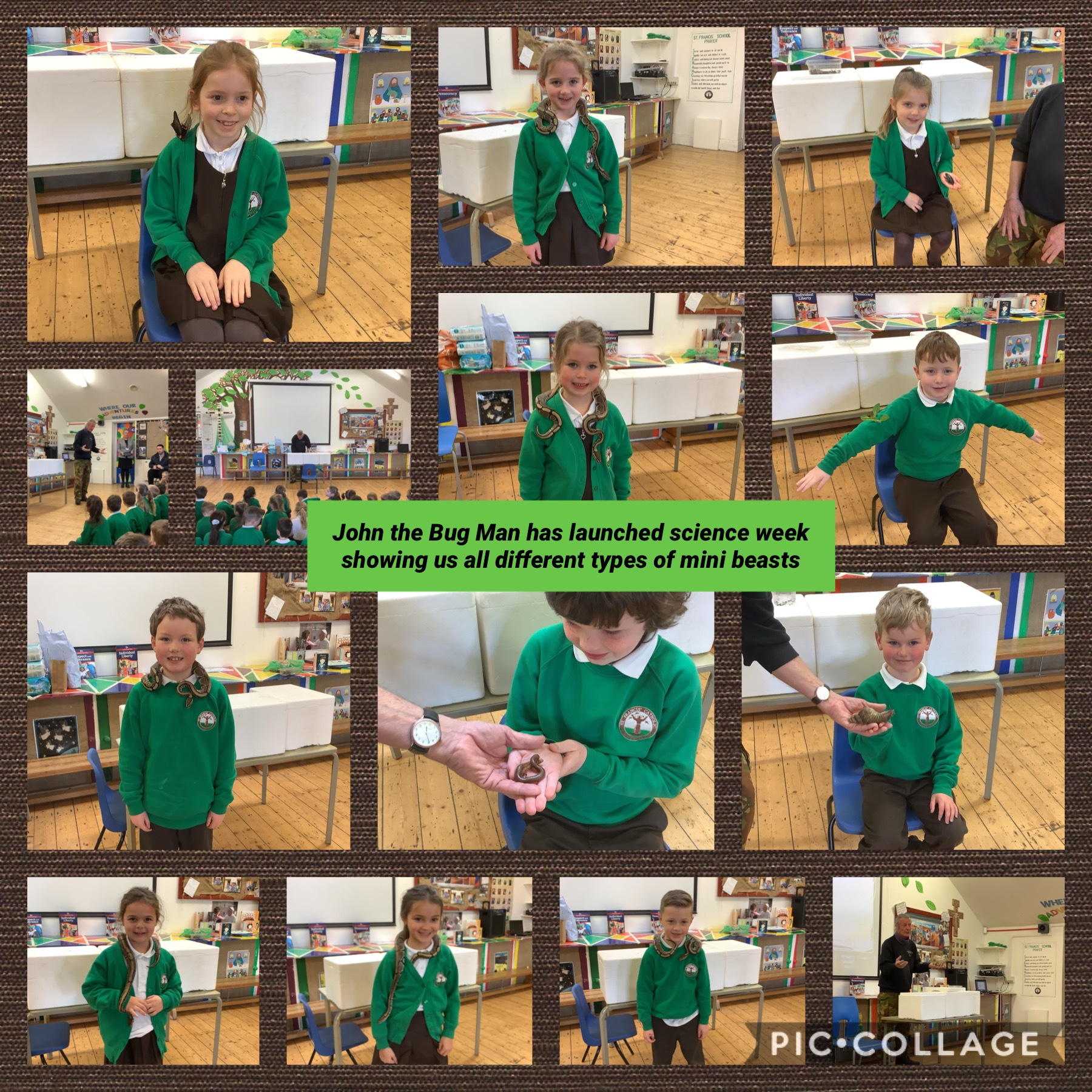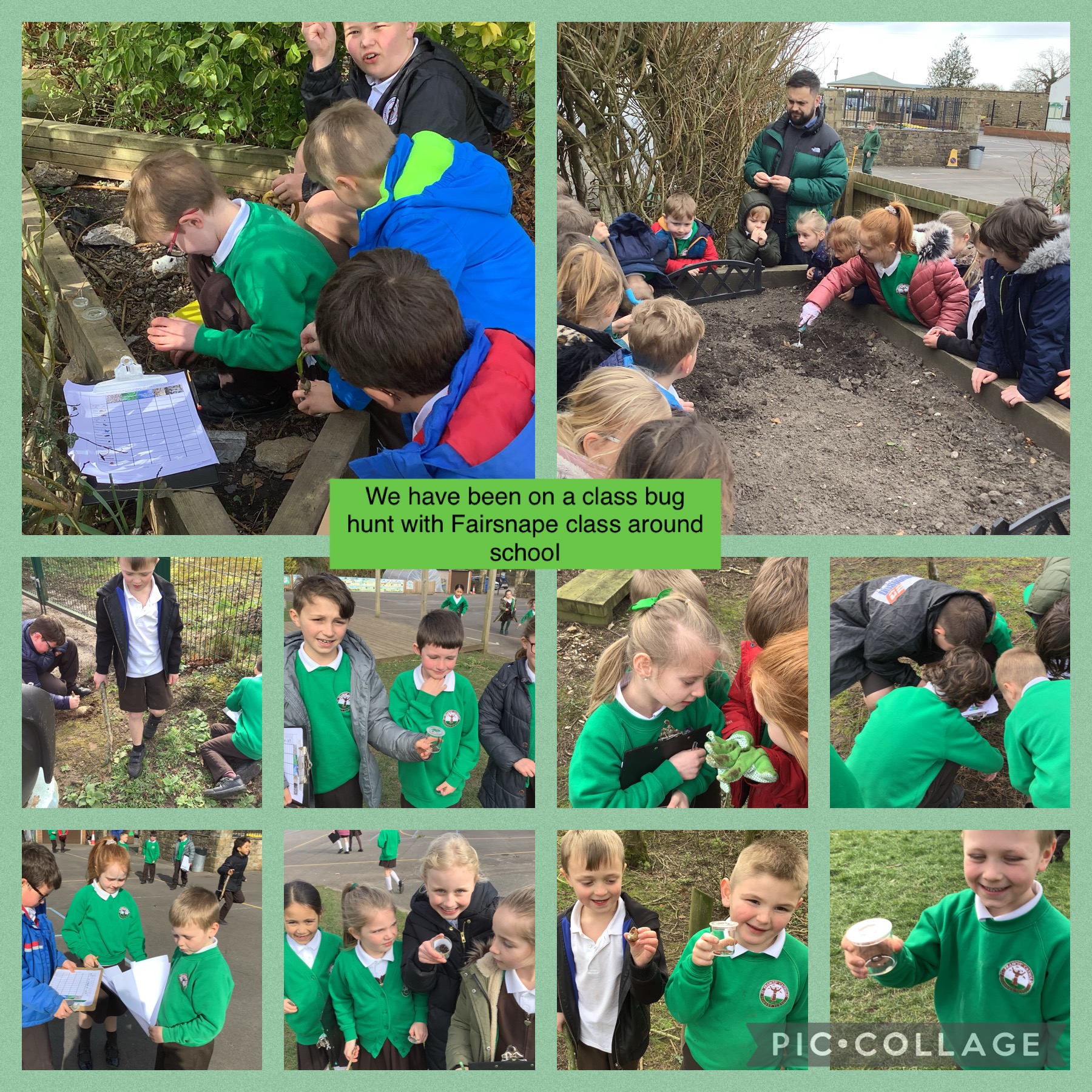 Careers Week
Mr and Mrs Foy and Dr Gunn visited our school to share their exiting careers with Parlick Class. It enabled pupils to have aspirations and dreams for the future.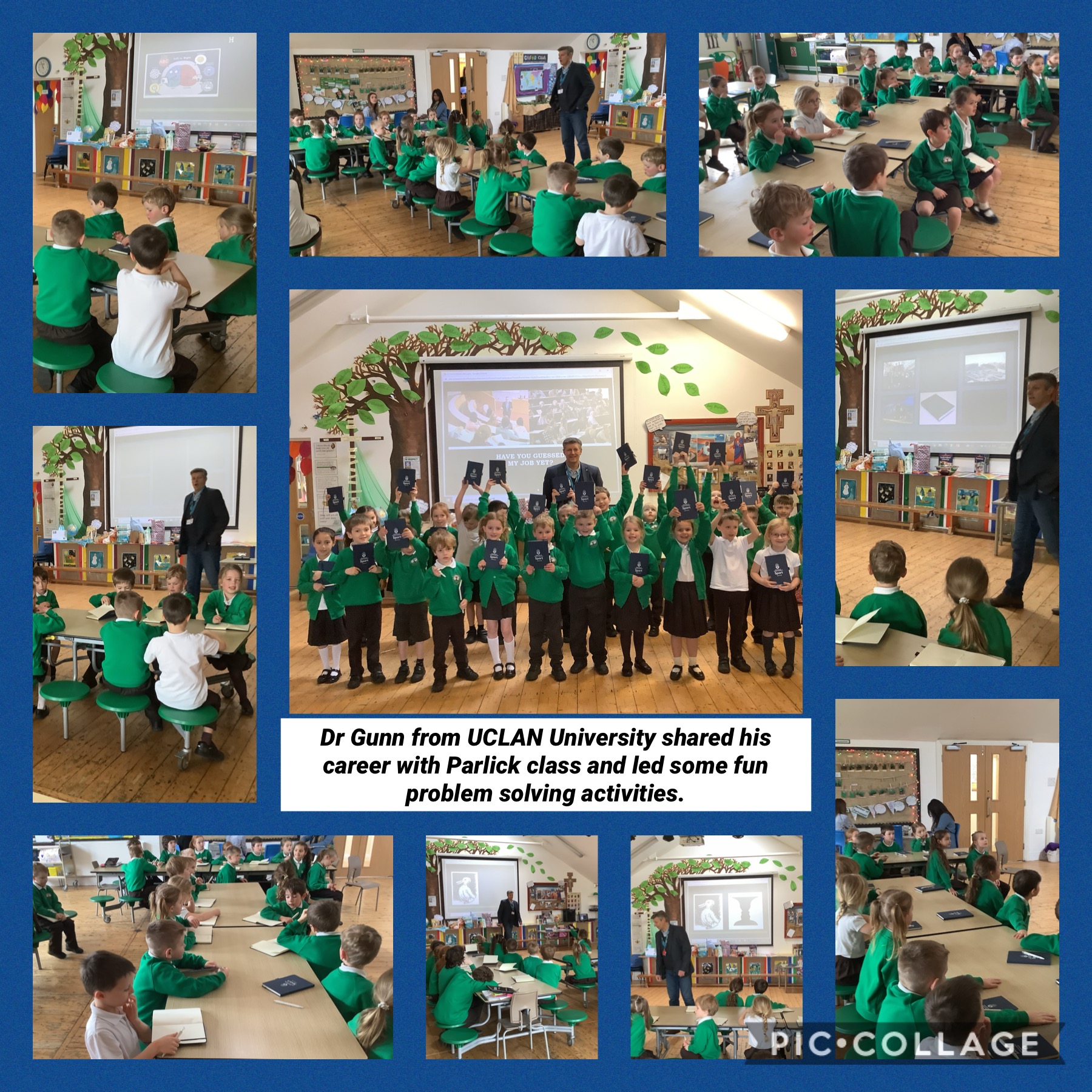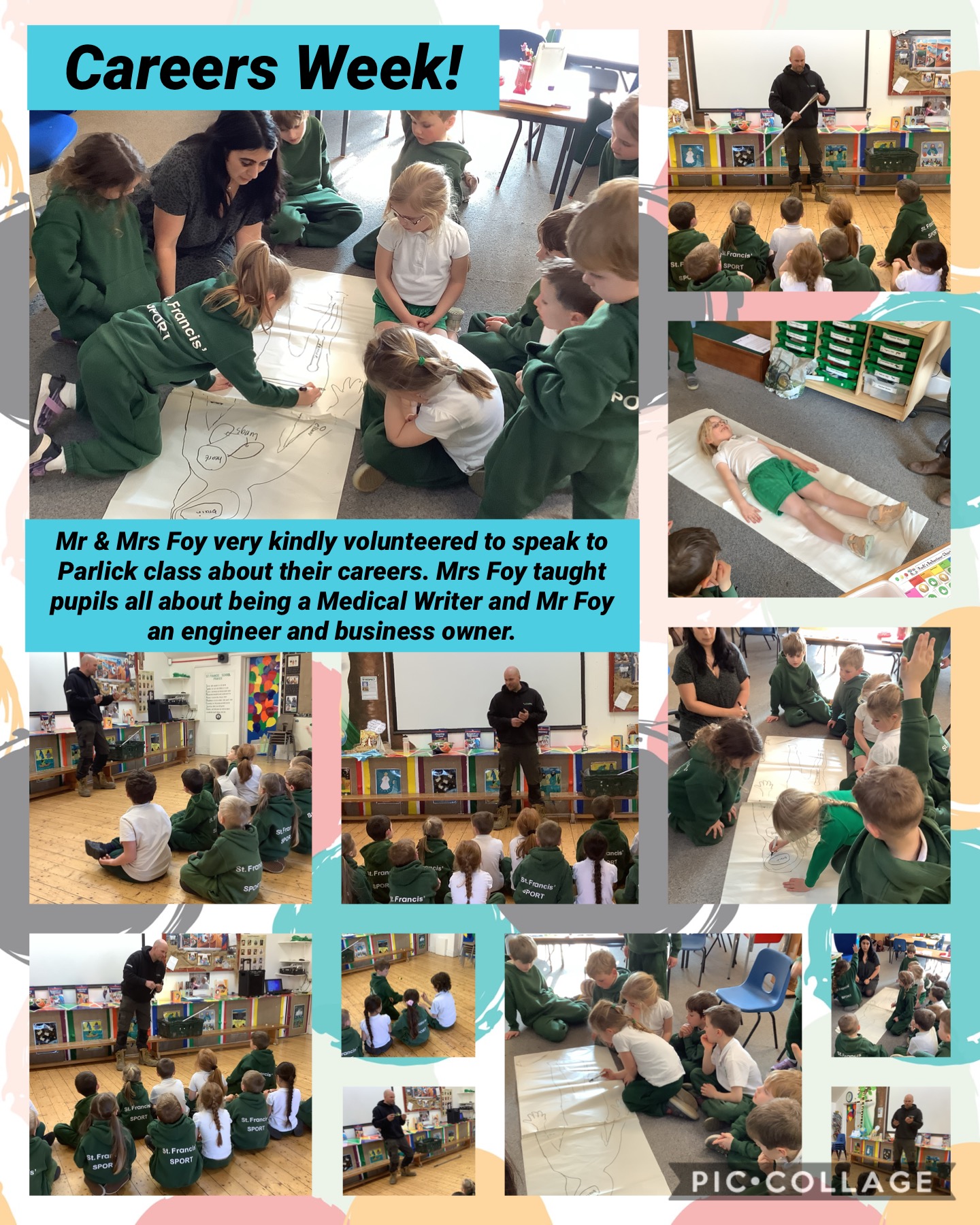 World Book Day!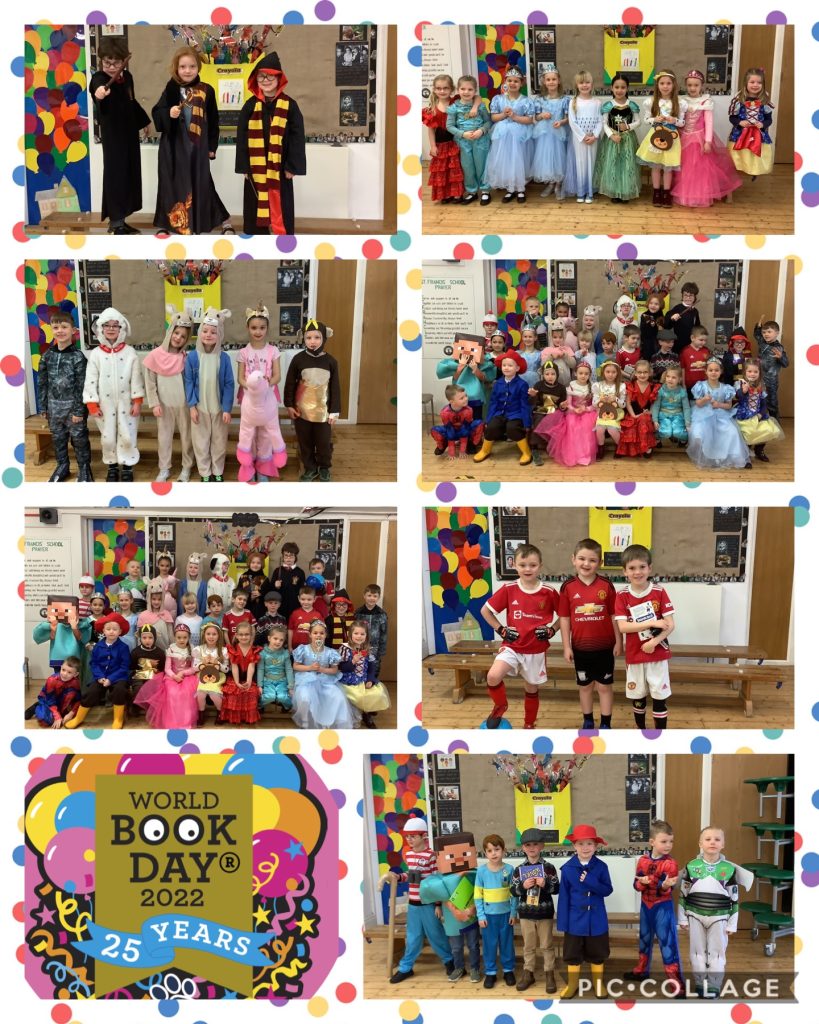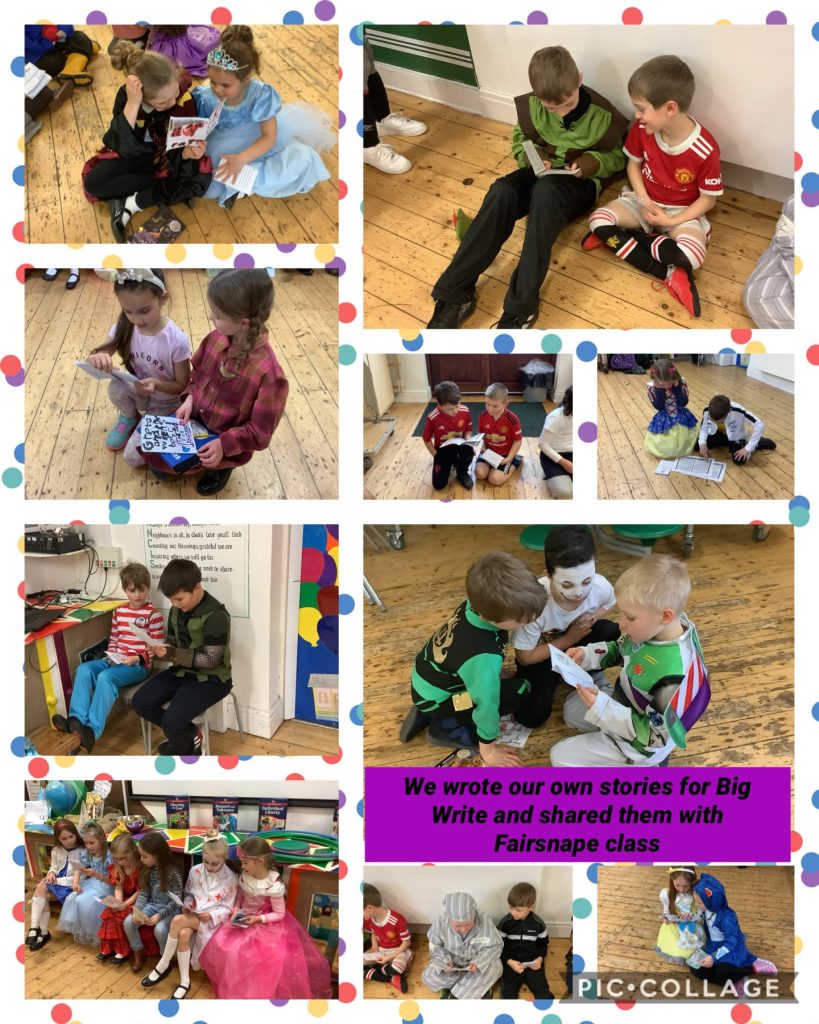 Our Spring Term 2 Topic Growth and Green Fingers.
Pupils will be exploring the great outdoors and learning all about plants. How they grow, what they need to survive and label parts of a plant. We will explore the wonderful art work of Monet and his beautiful botanical garden paintings as well as having lots of fun creating our Hack and the baked bean stalk comic books. Please see below our topic booklet and homework menu.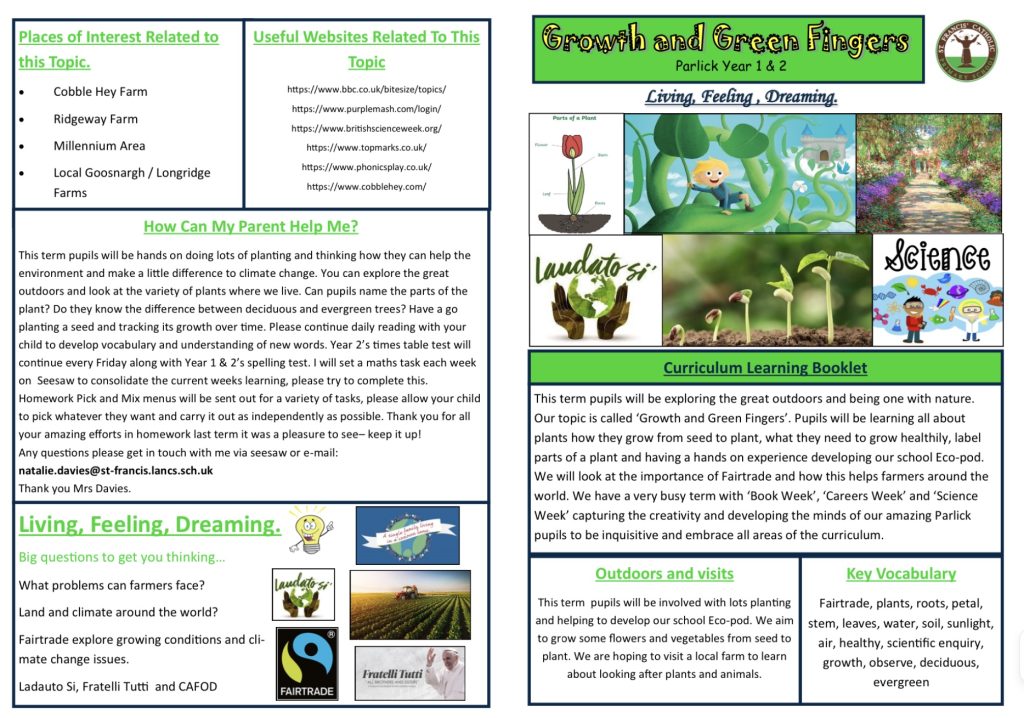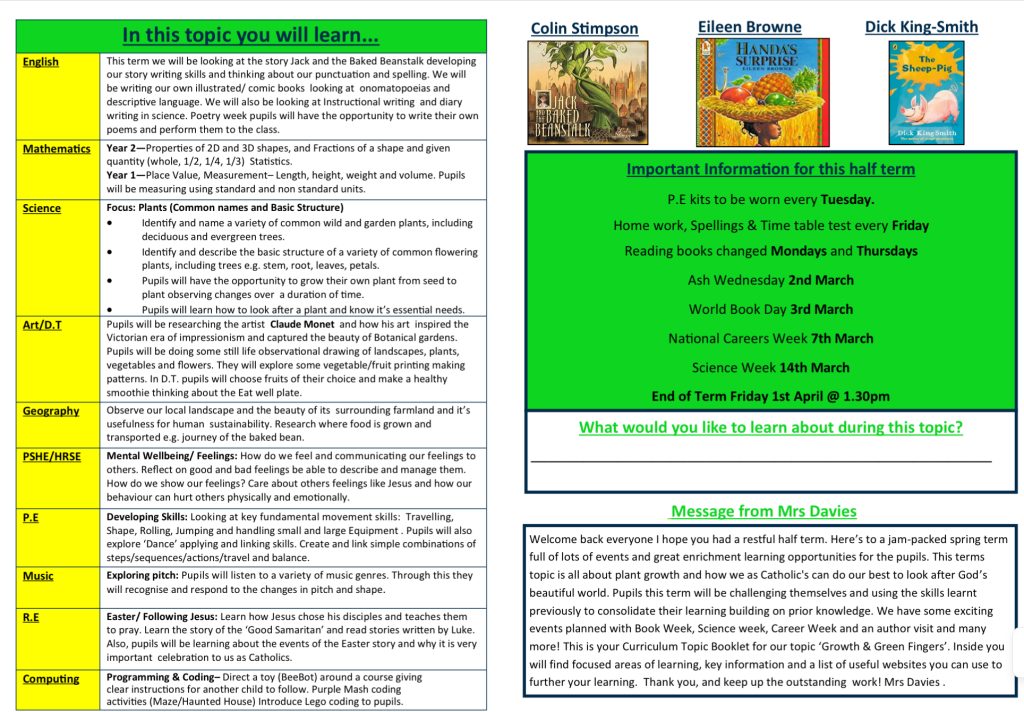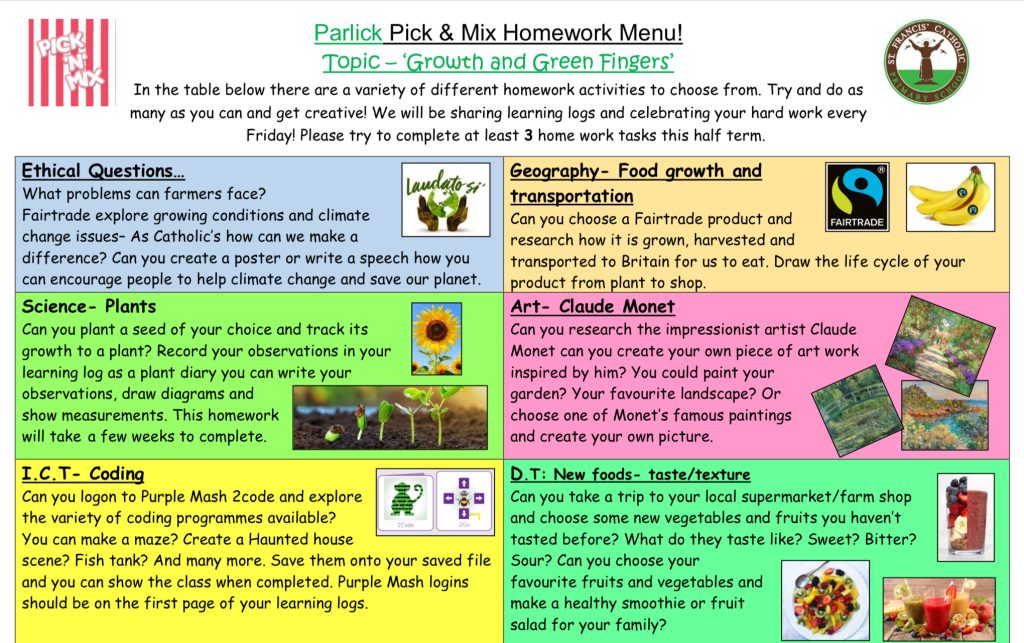 A snap shot of our fabulous learning this term.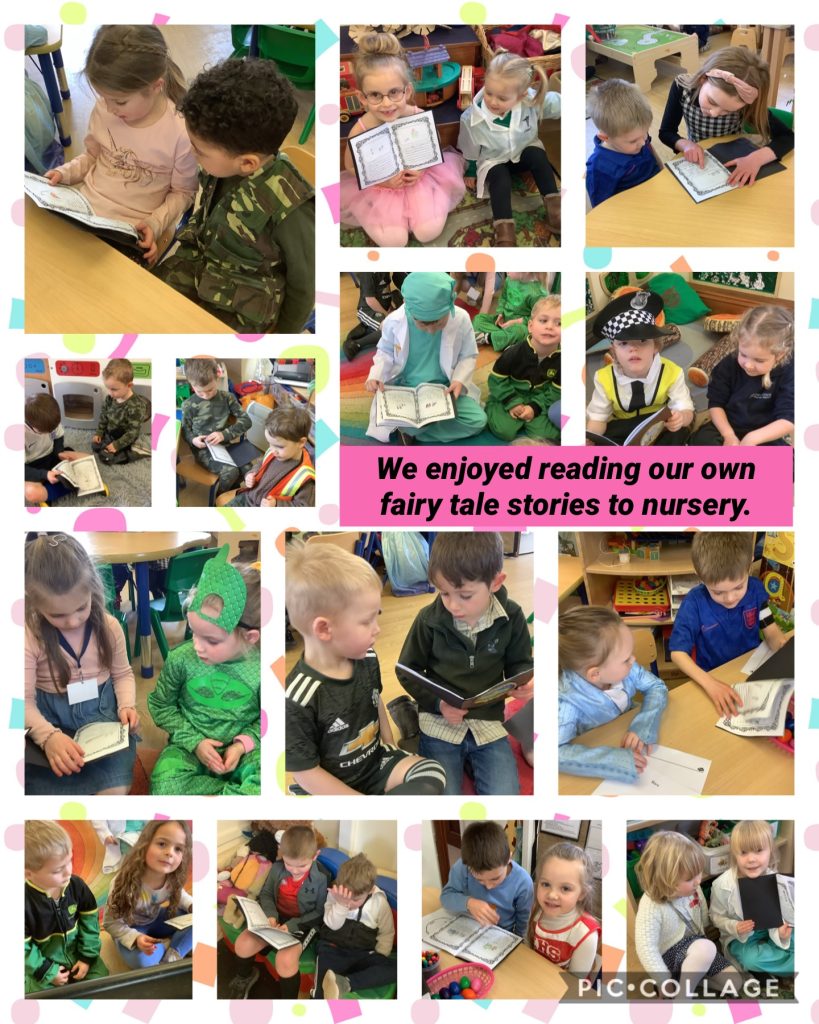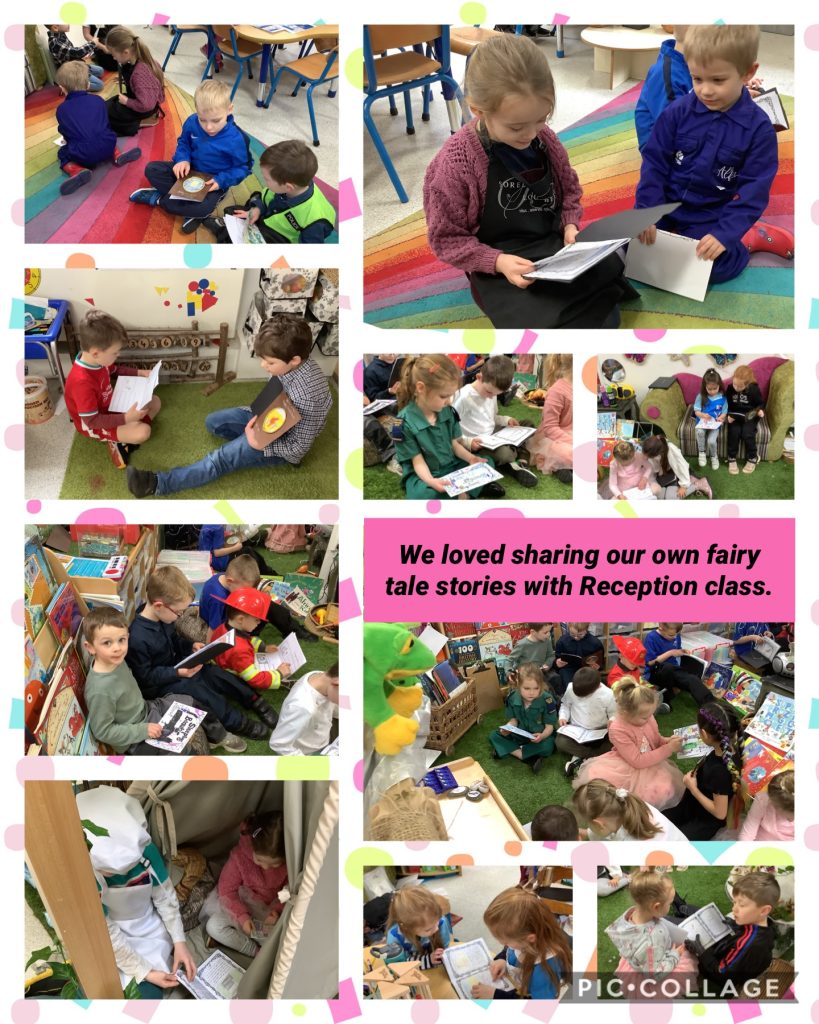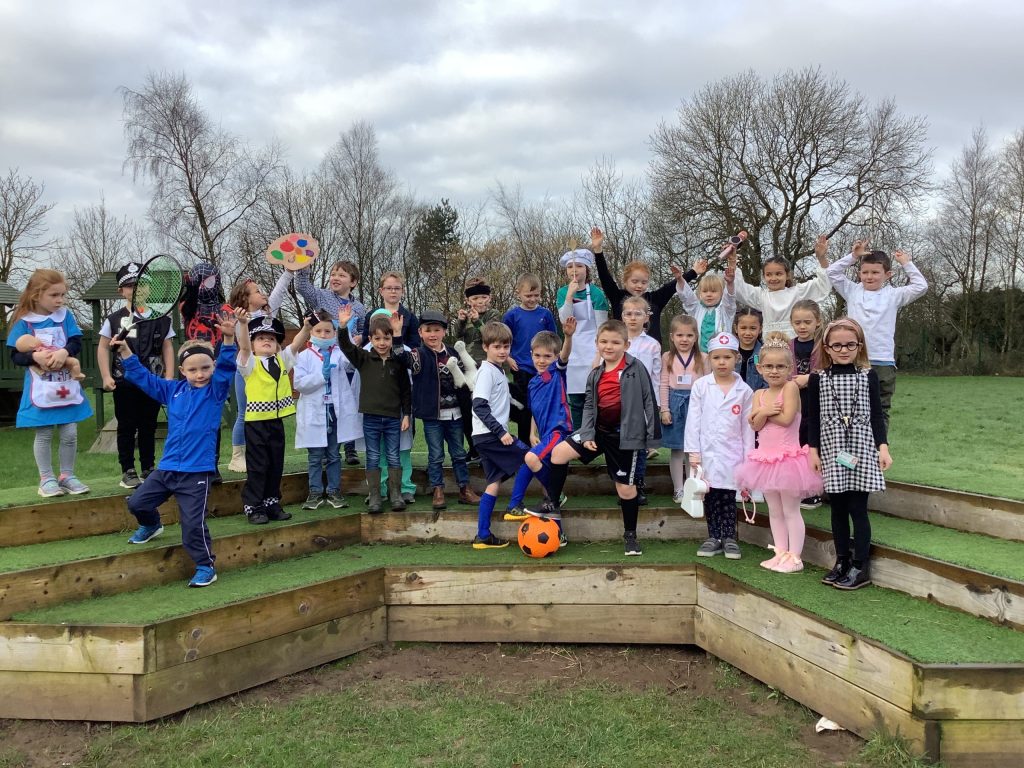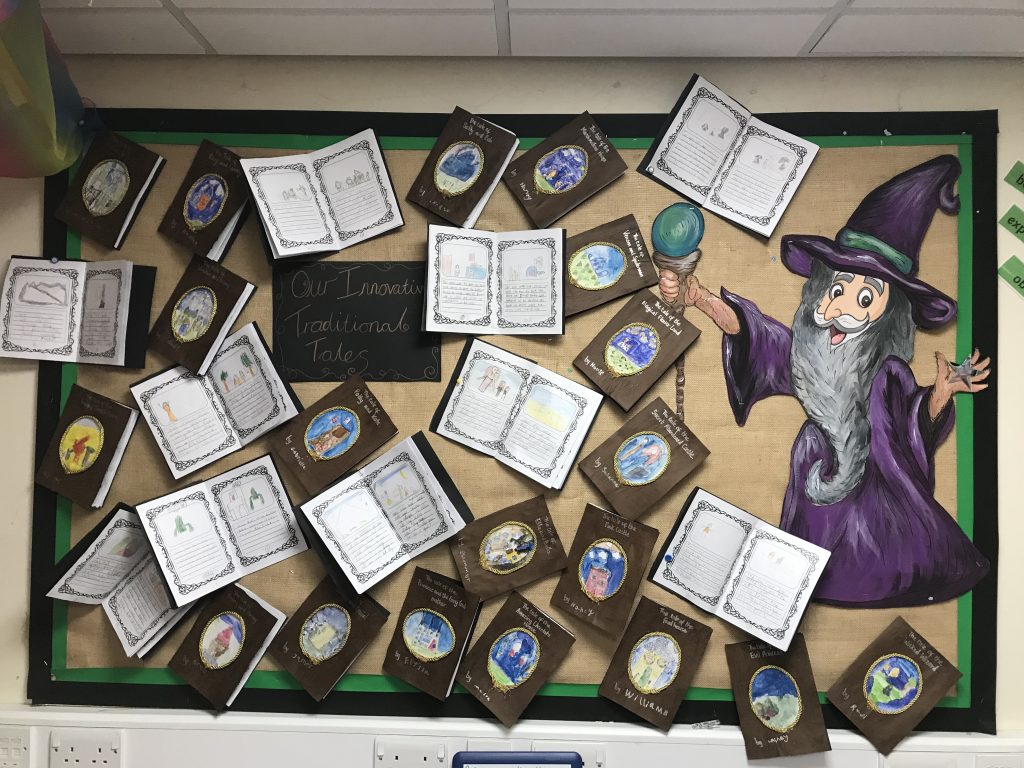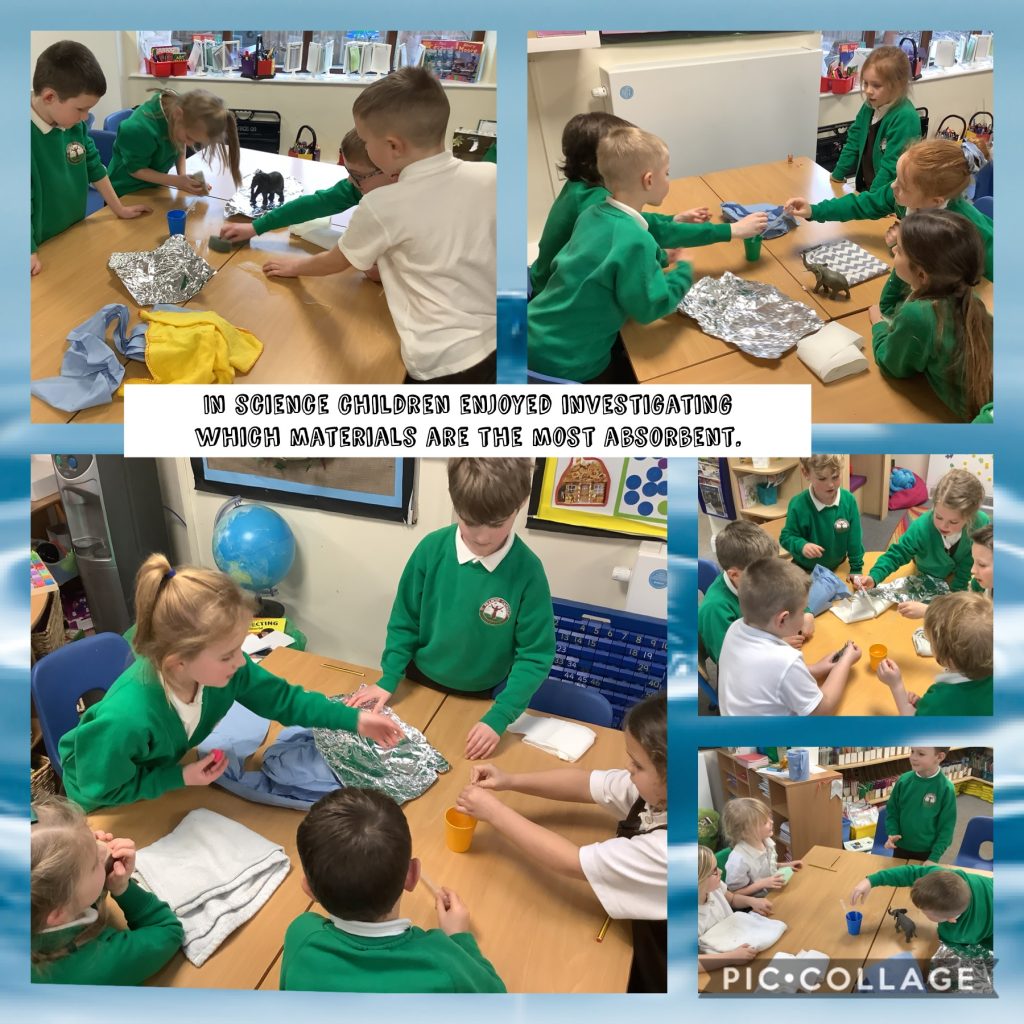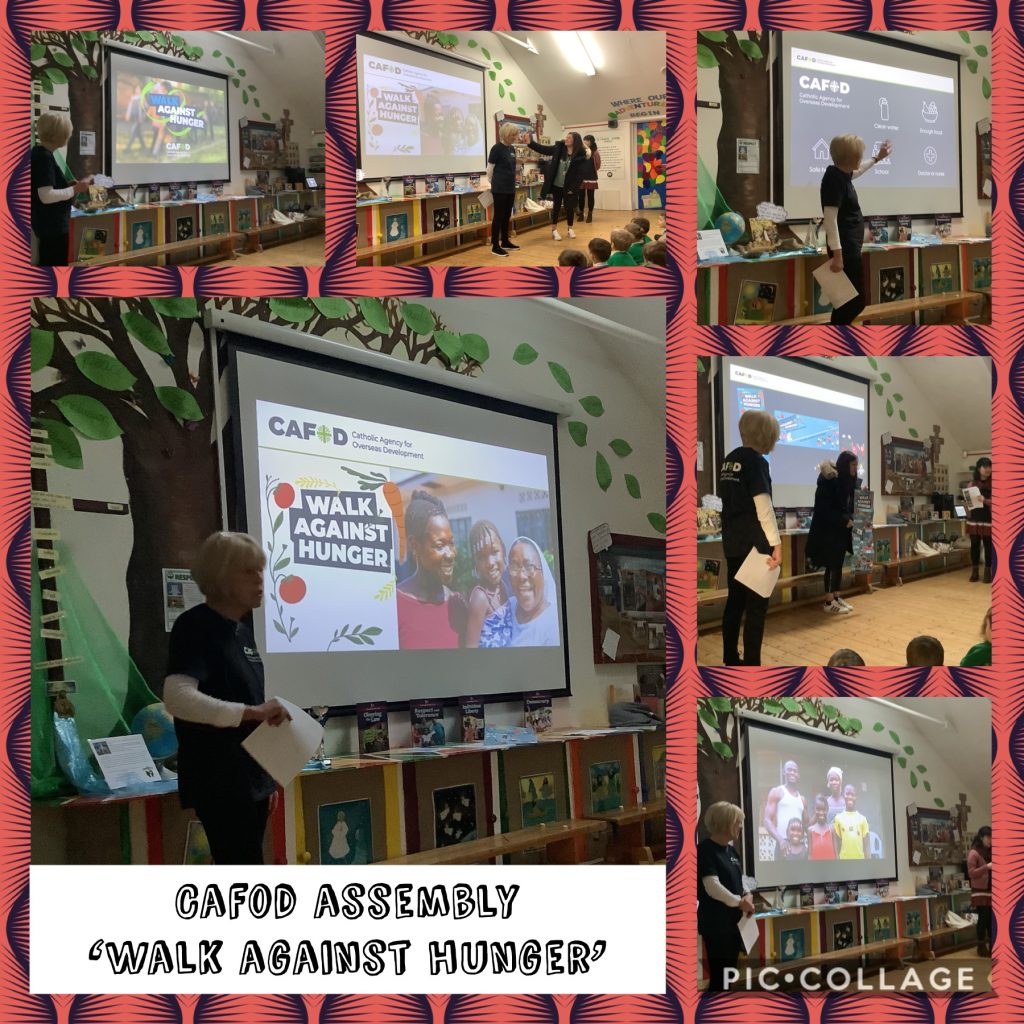 Parlick has studied the artist Amedeo Modigliani and created their own portraits in the artists style.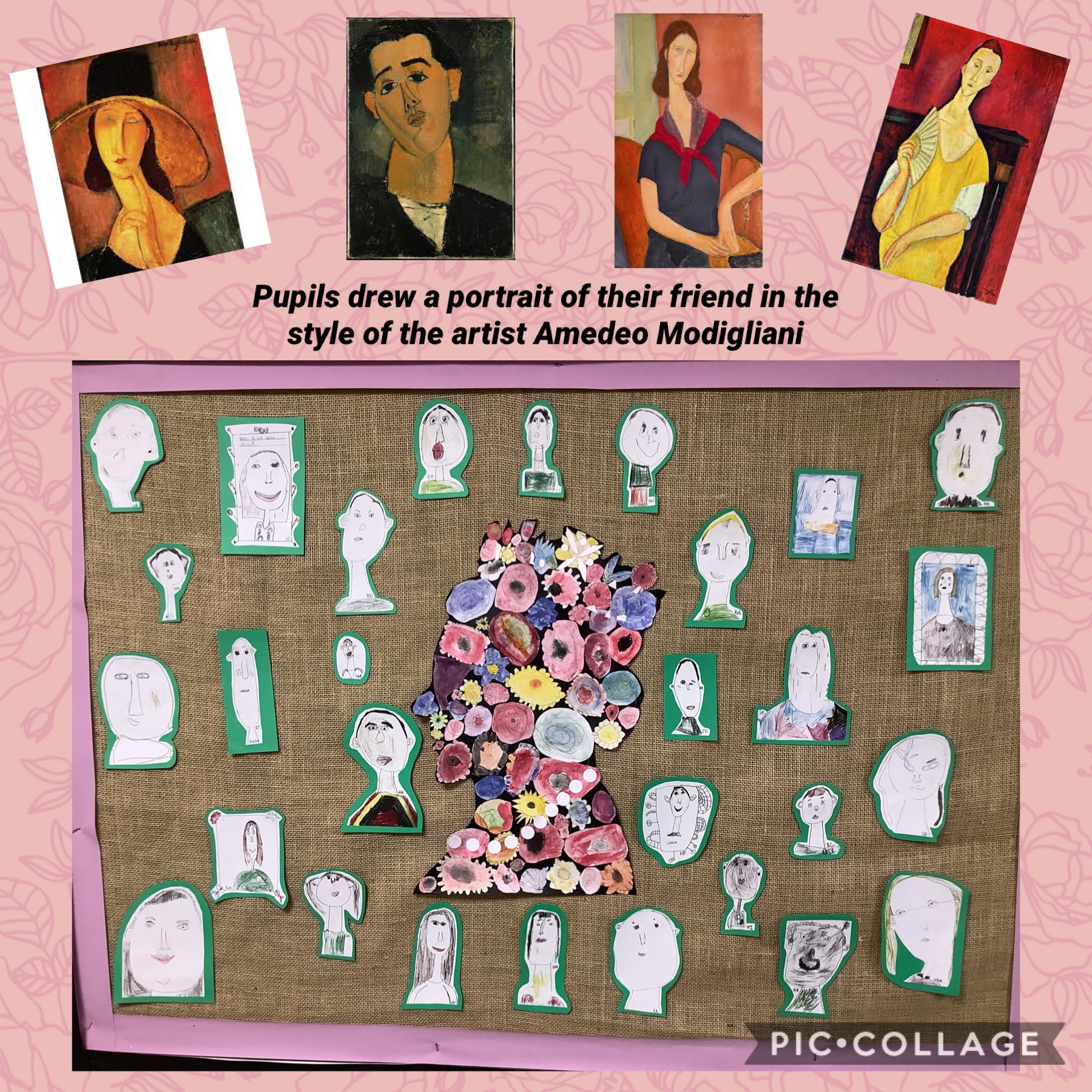 We've been learning all about Catholic celebrations and what it means to be part of God's family. Parlick visited church to look at symbols and traditions used during Baptism.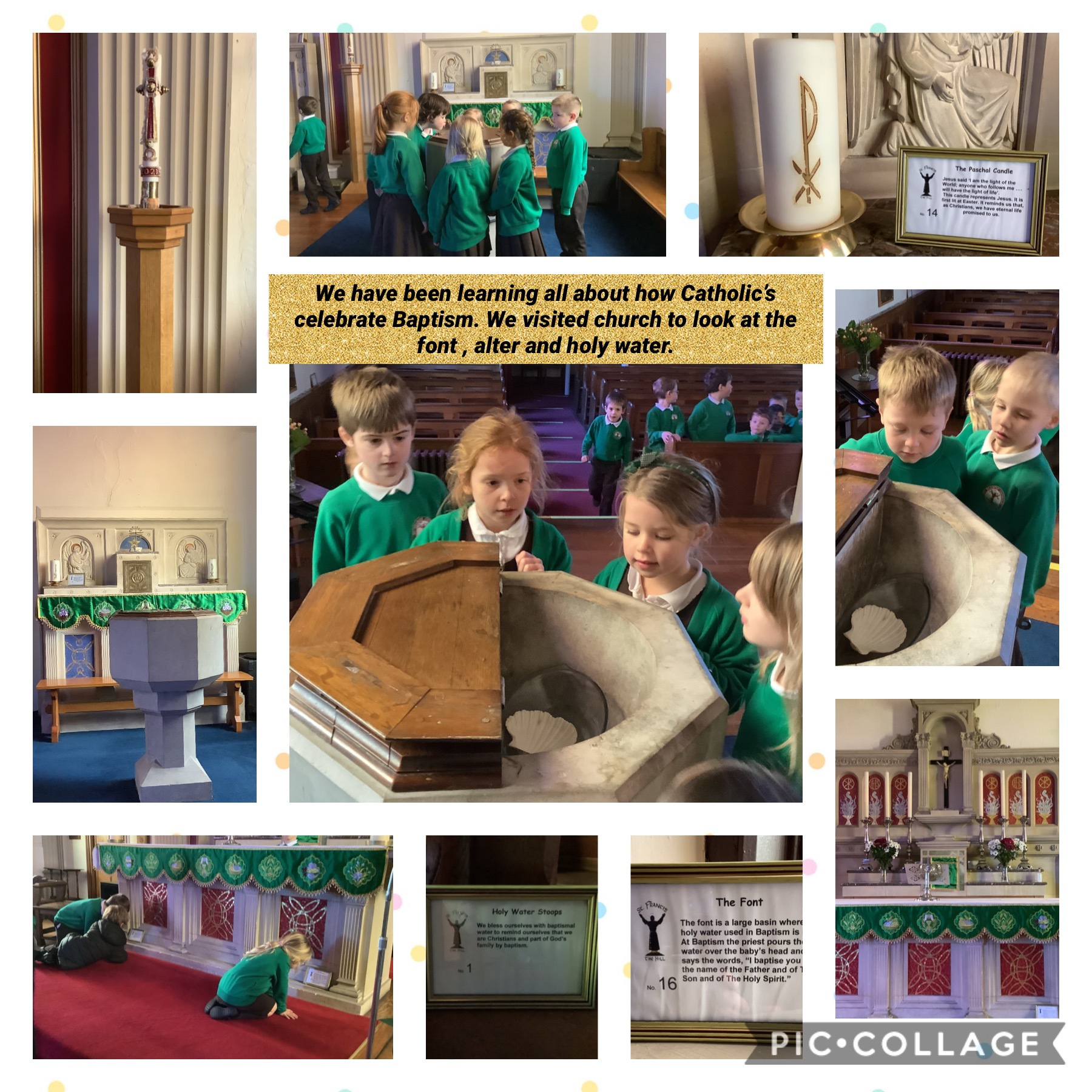 Parlick Class Liturgy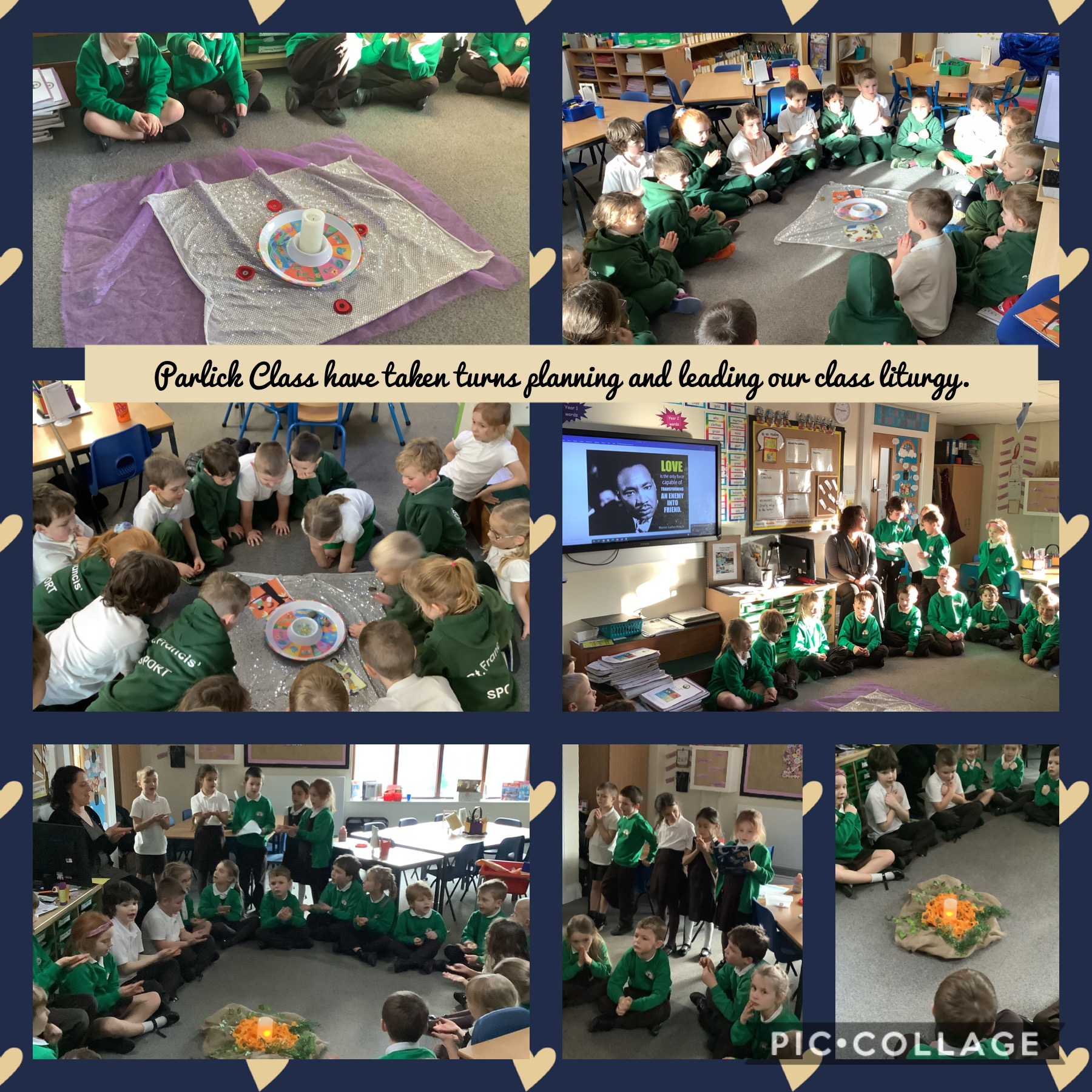 Safety Week!
Wow! What a week we have had. The children have learnt so much from interactive, engaging fun workshops. Pupils have learnt all about safety around the home, first aid, personal hygiene, stranger danger, road safety, hand washing, Pantosaurus and online safety. Definitely a week to remember!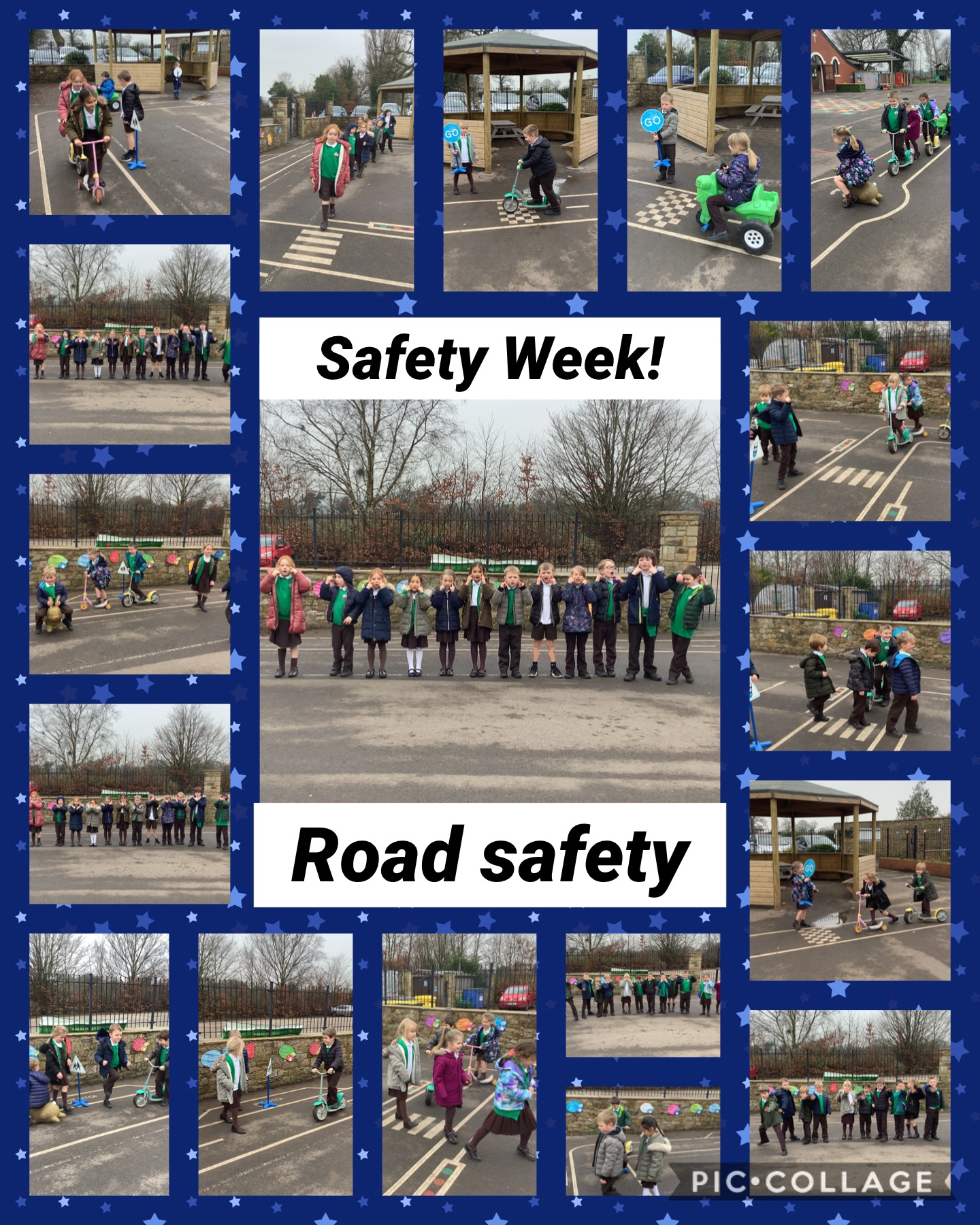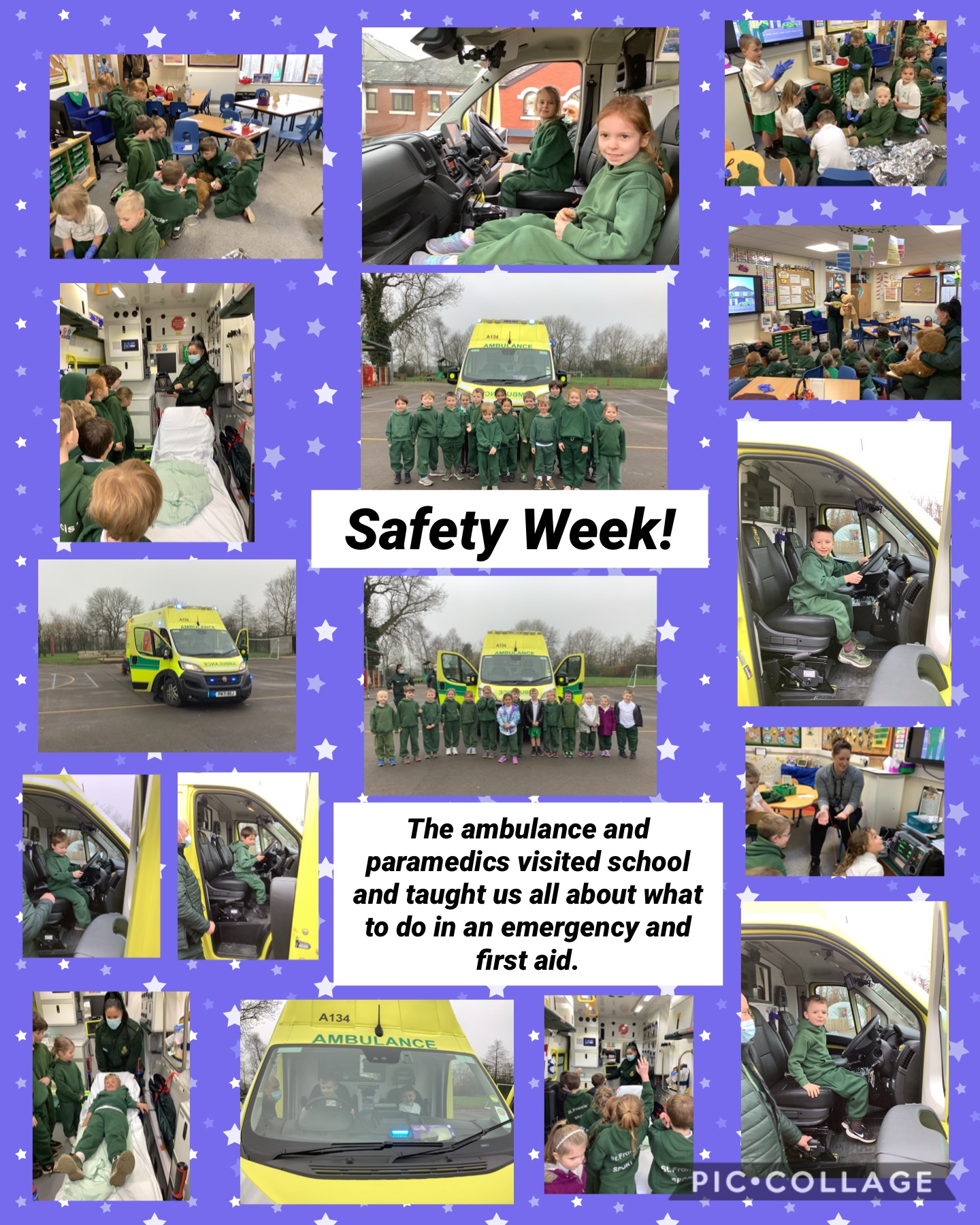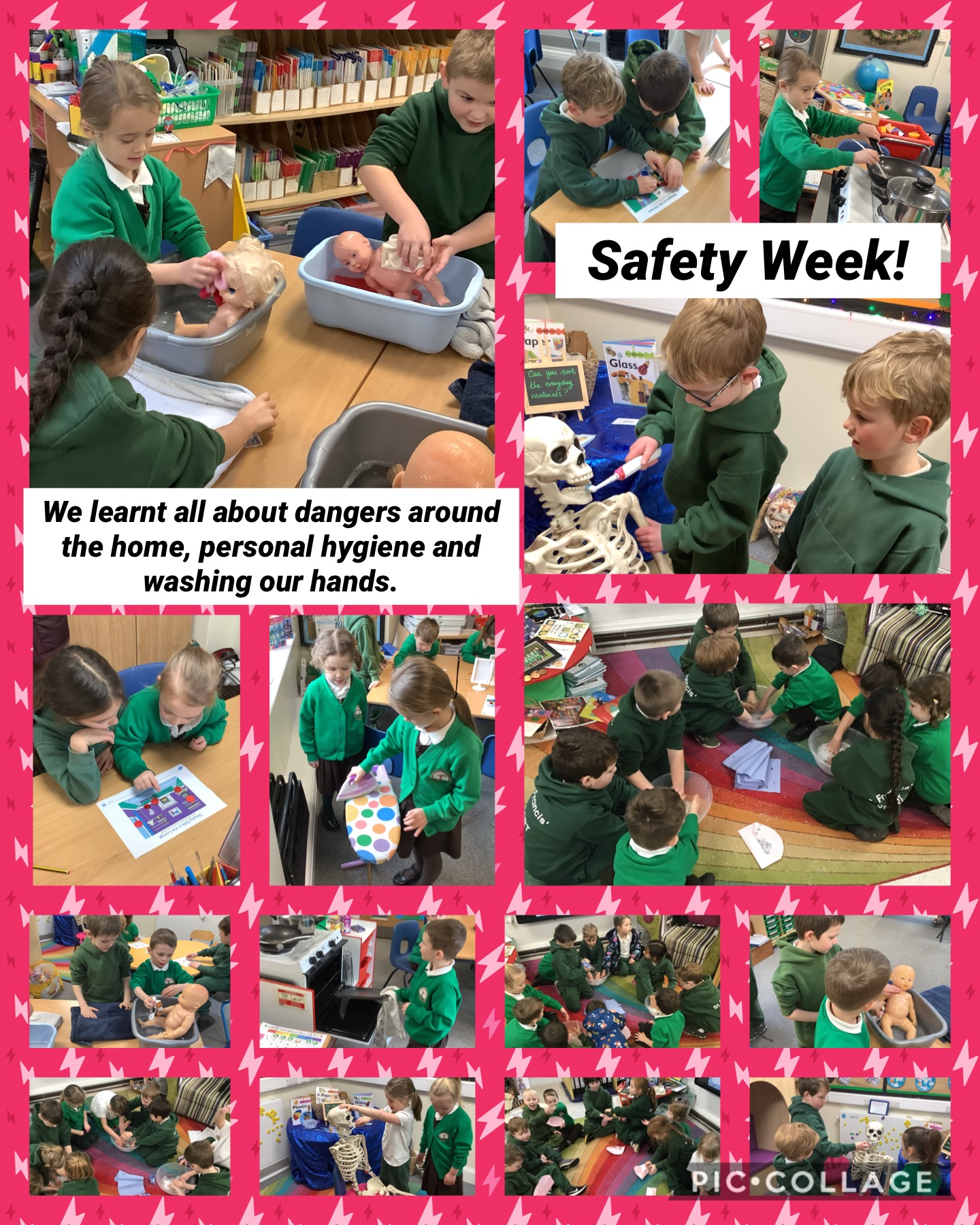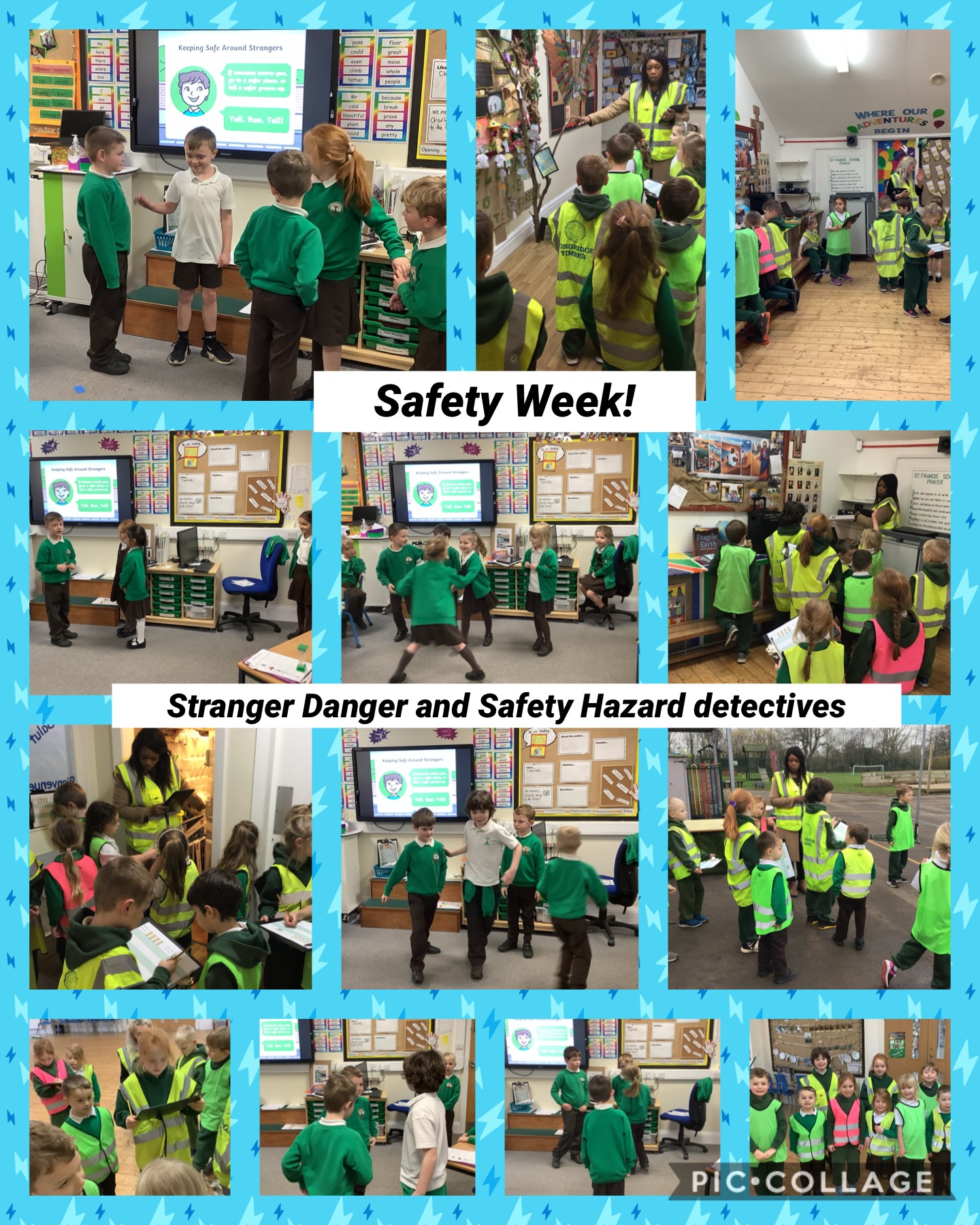 D.T. & Literacy
Pupils had lots of fun decorating biscuits inspired by the story Hansel and Gretel and writing a set of instructions for big write.


Our Royal Family Inspired Art Work
Parlick class have been working together to create a collaborative art pieces for our class display about portraits, can't wait to see the pupils final self-portraits. We also created a beautiful family tree to inspire our family album topic.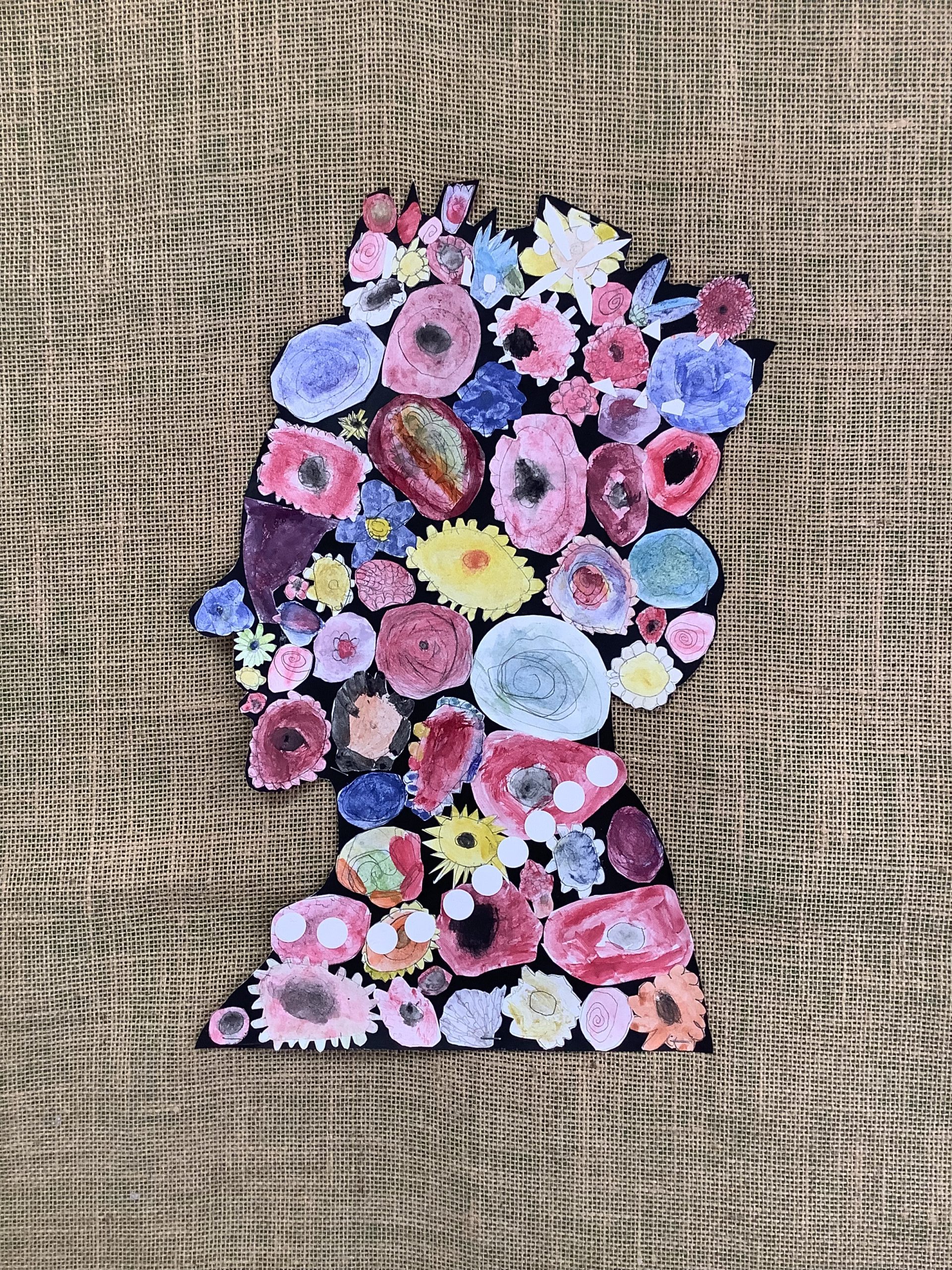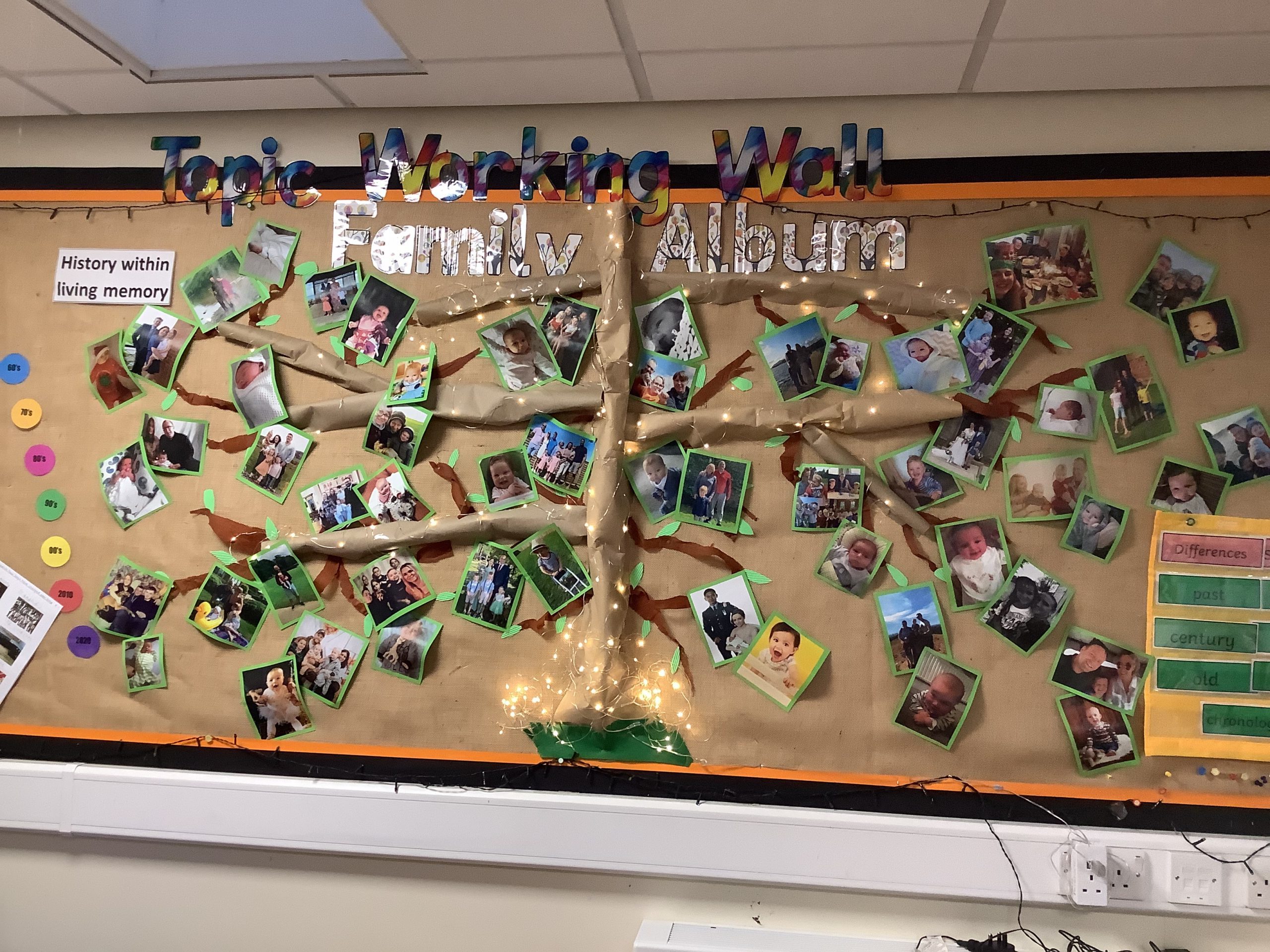 Gymnastics
In our P.E. Lessons Parlick class have been perfecting their balancing, stretching, travelling and jumping skills. Working in groups Parlick class performed their own gymnastic routines.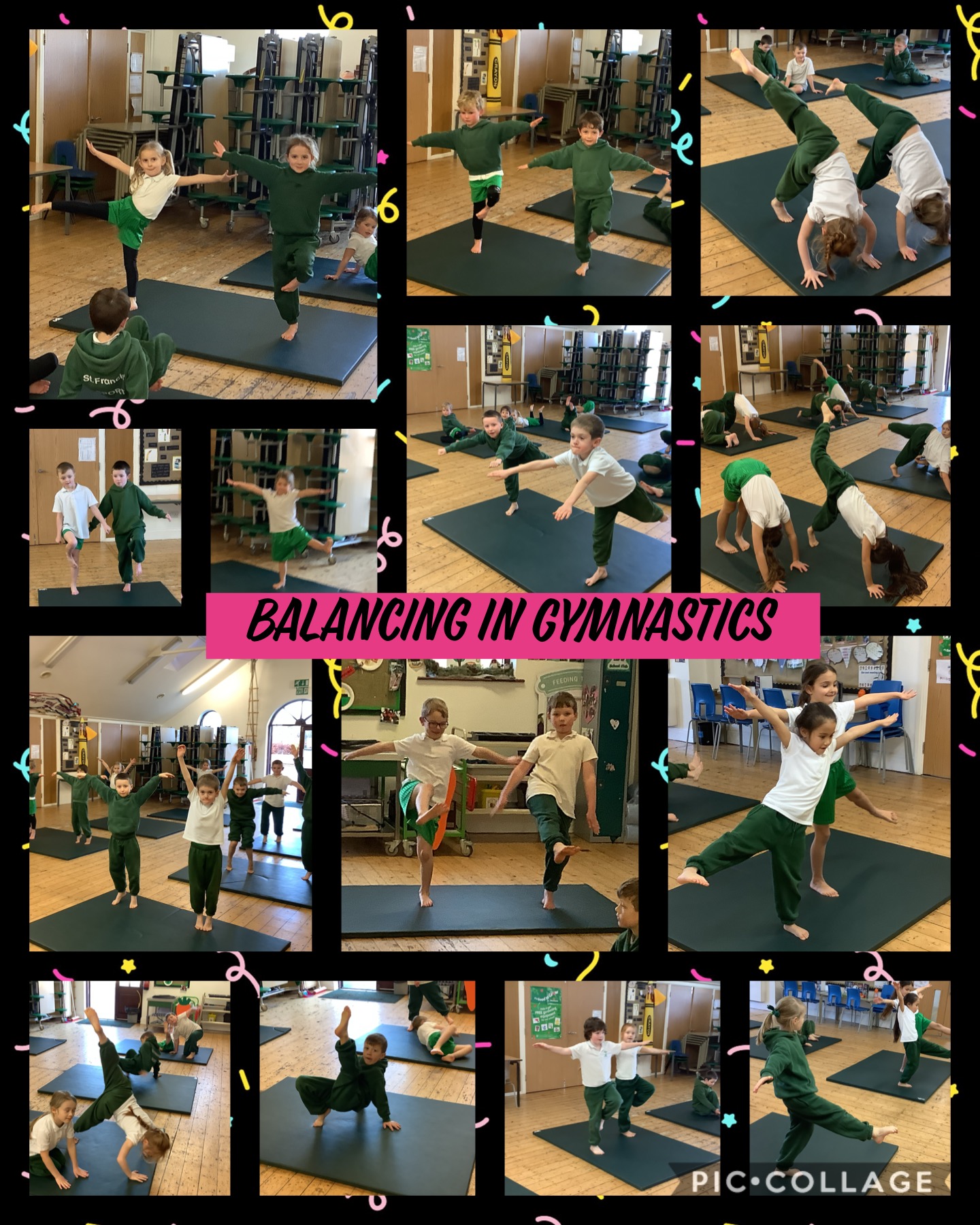 Our fabulous trip to Lancaster Castle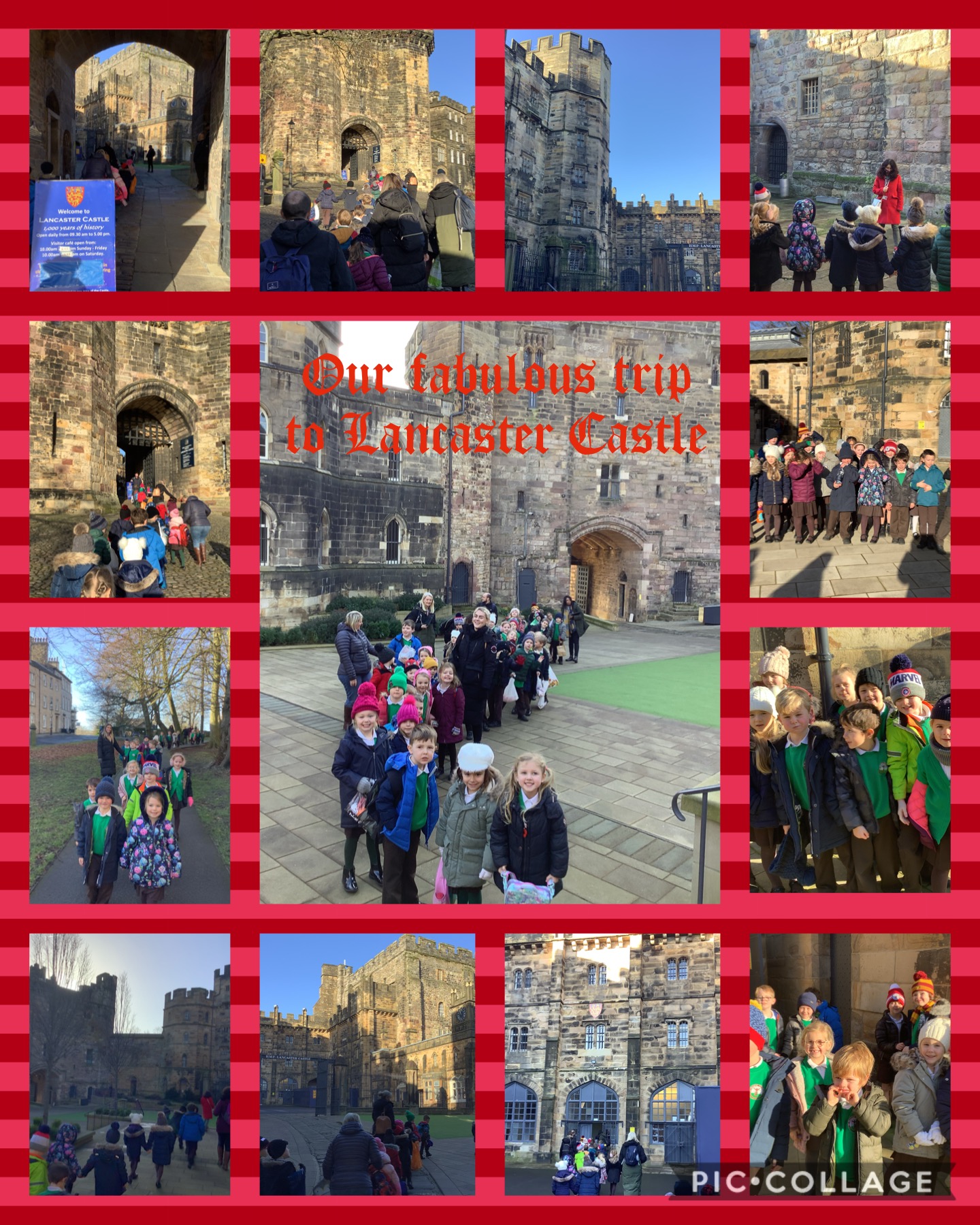 Spring Term 1 Family Album
This term pupils will be learning about what makes a family. We will get in touch with our St Francis pen pals in Kenya and learn about how different families and  life styles and homes across the world are similar and different to ours at St.Francis. In Science we will be looking at a variety of everyday materials and their purpose. In History we will be looking at changes within our living memory e.g. toys, music, transport and communications. We also have an exciting trip planned to Lancaster castle to inspire exciting writing in our traditional fairy tales study in Literacy. Below is this terms topic booklet and homework menu.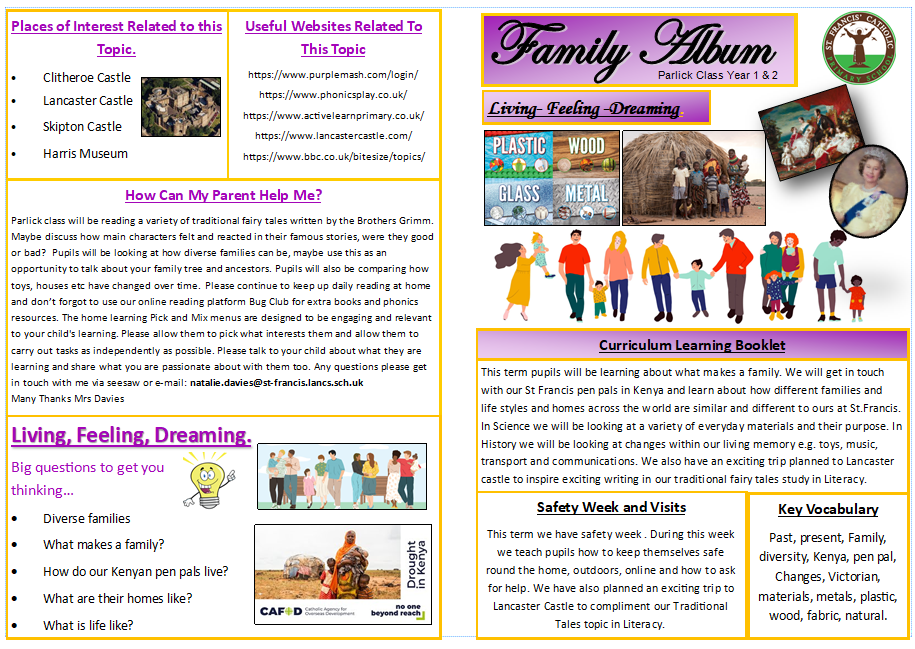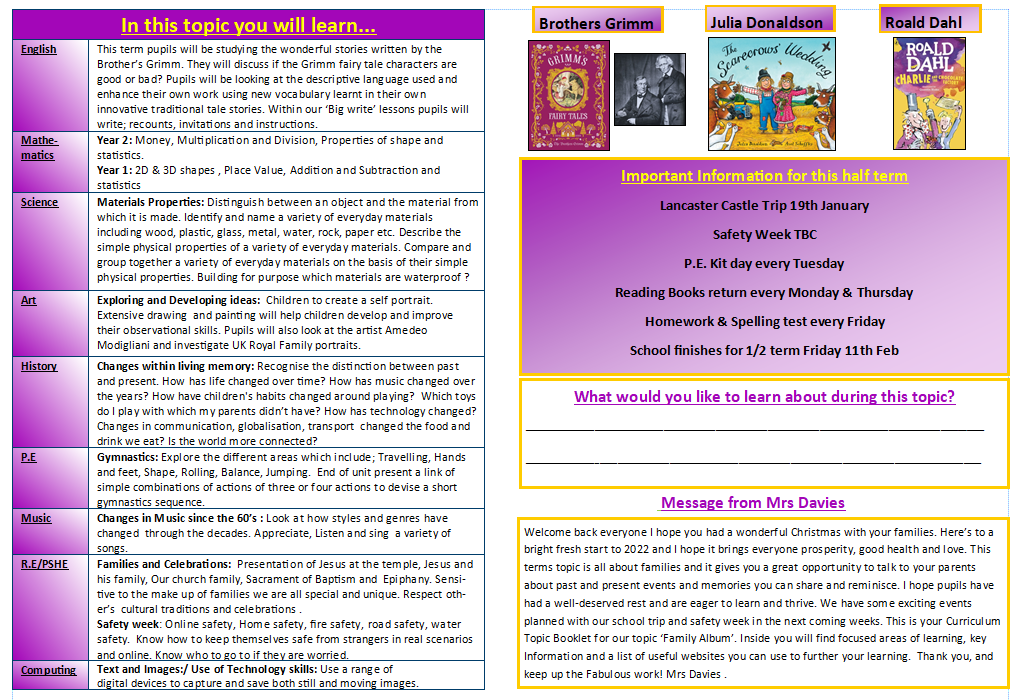 Our Miracle in Town!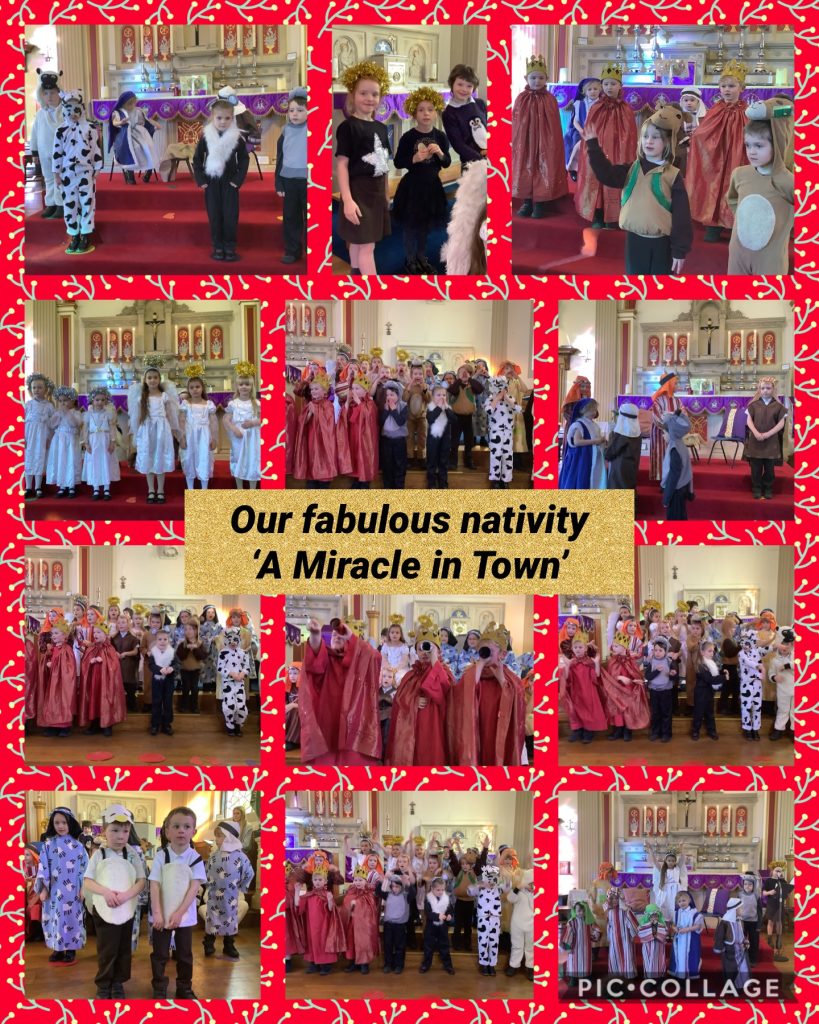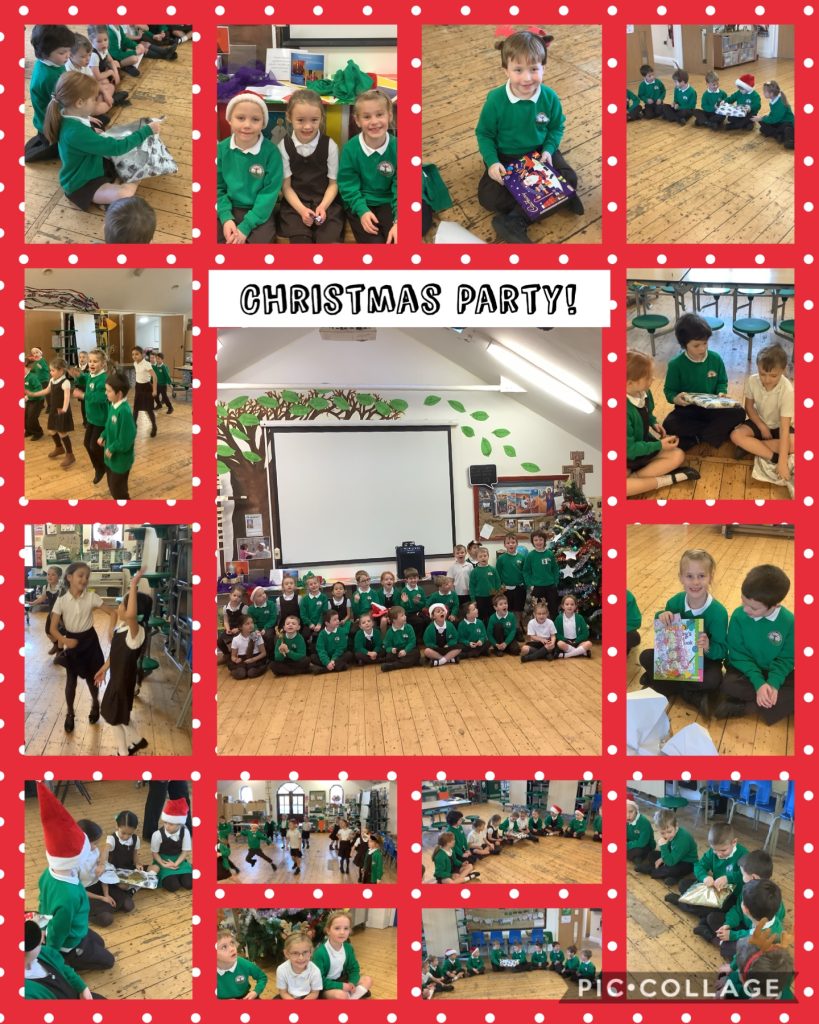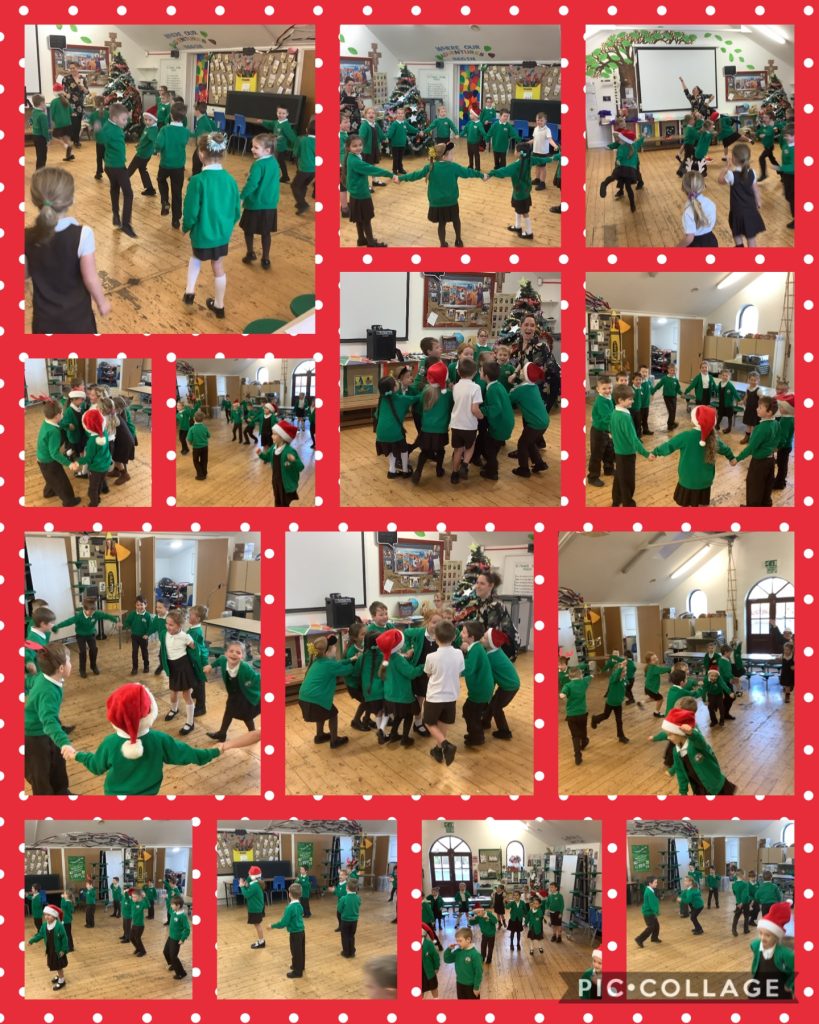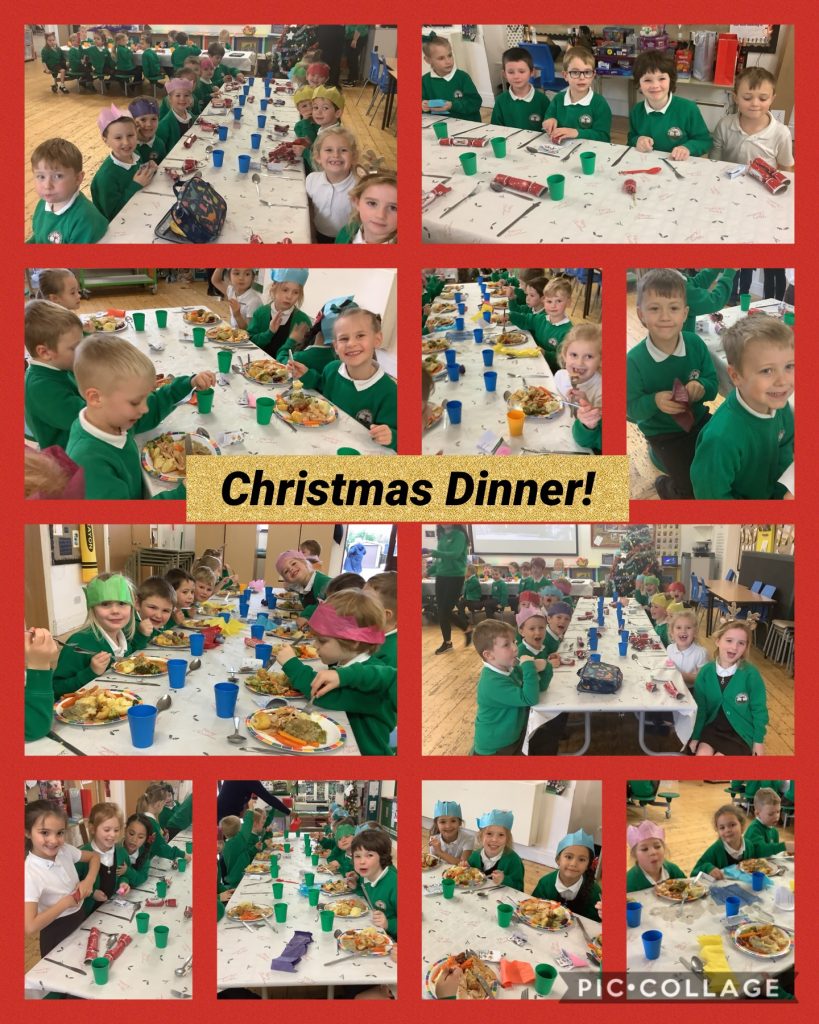 Kick starting our Florence Nightingale topic with a virtual visit and light up display


Fighting Fit and Florence Nightingale Autumn 2
This term pupils will be learning all about the life and works of Florence Nightingale and the impact she has had on nursing and hospitals today. Pupils will also be looking at how we keep our bodies healthy with a balanced diet, exercise and good hygiene. They will also be learning the stages of human growth from baby to adult. Please see below our Fighting Fit/Florence Nightingale topic booklet at homework menu for this term.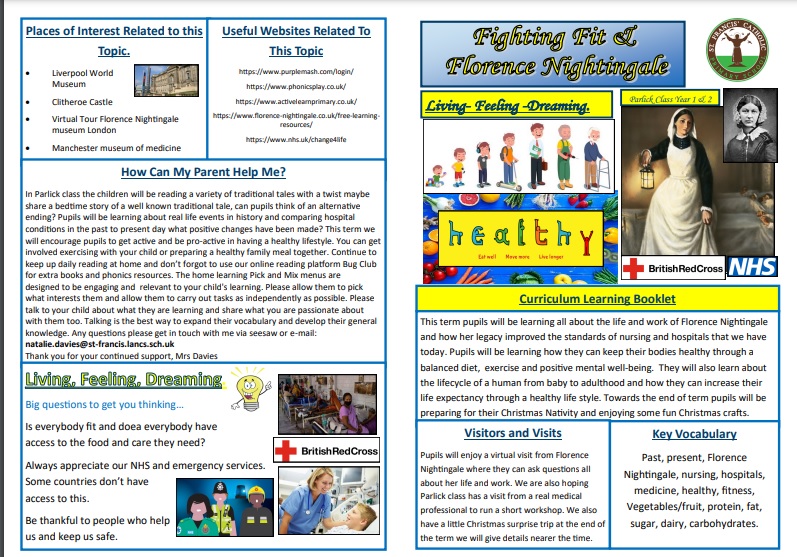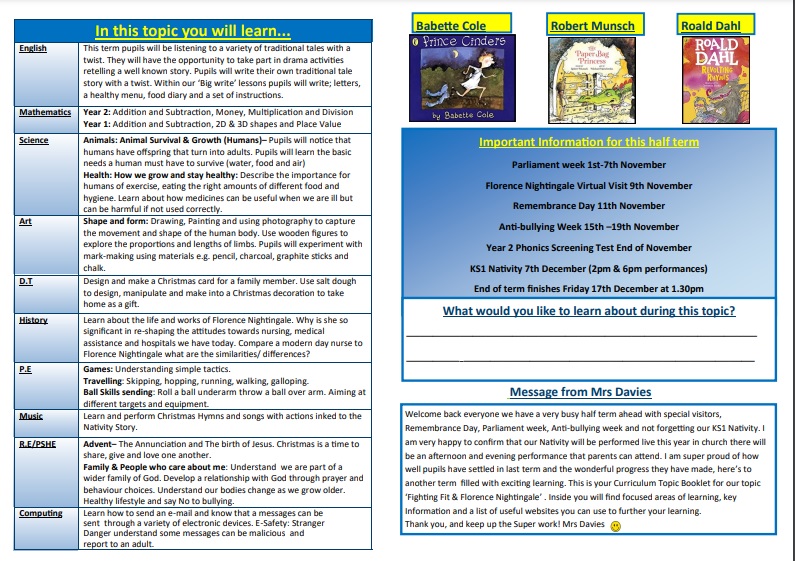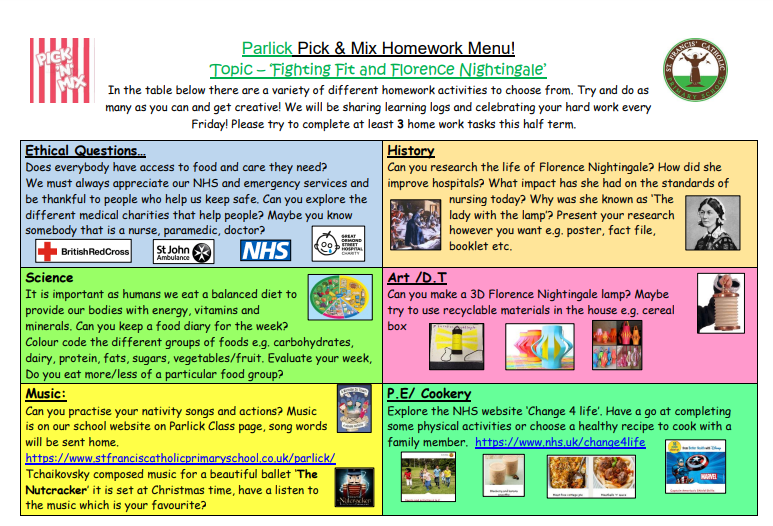 Exciting Writing and our fabulous penguins
Parlick class have worked extremely hard in their first term back. They have produced wonderful pieces of exciting writing all to to with our Animal Antics Topic, we have letters, penguin adventure stories and post cards. They have also been very busy creating delightful clay penguins and mesmerising hot/cold gradient art pictures- what a jam packed term we have had!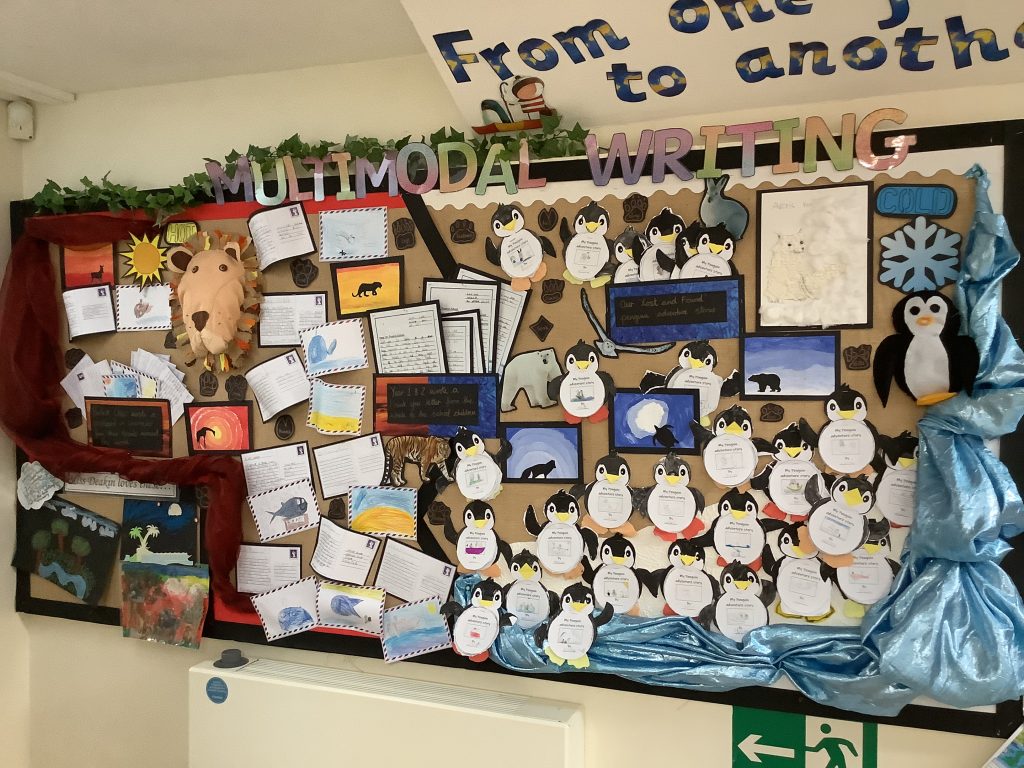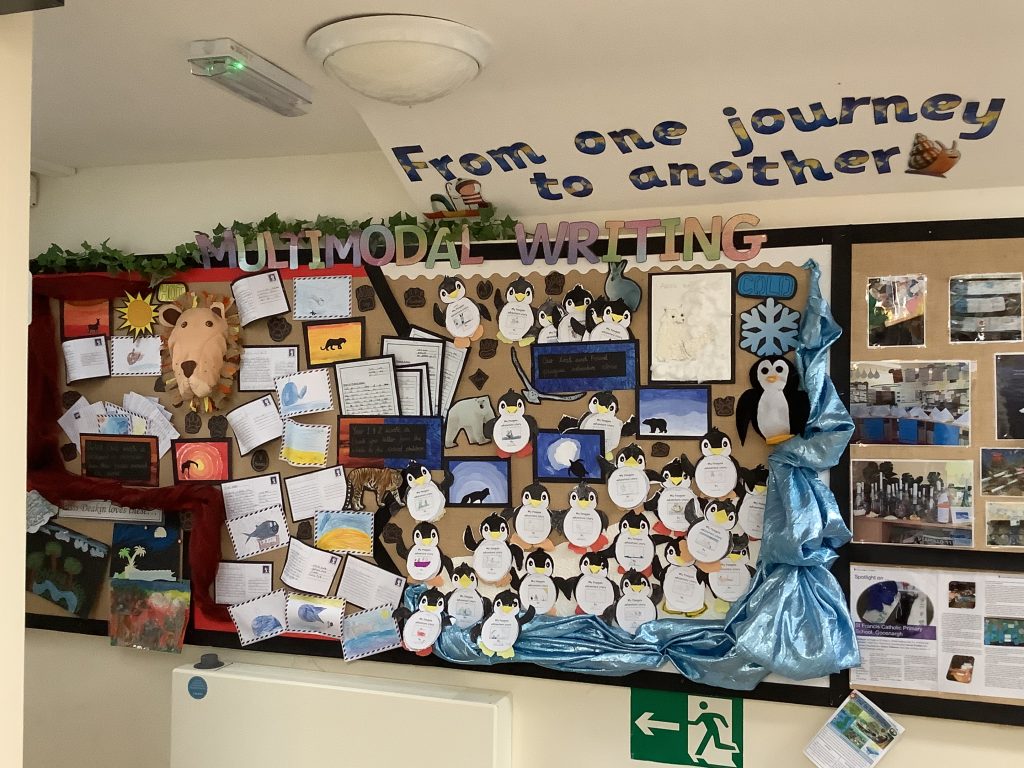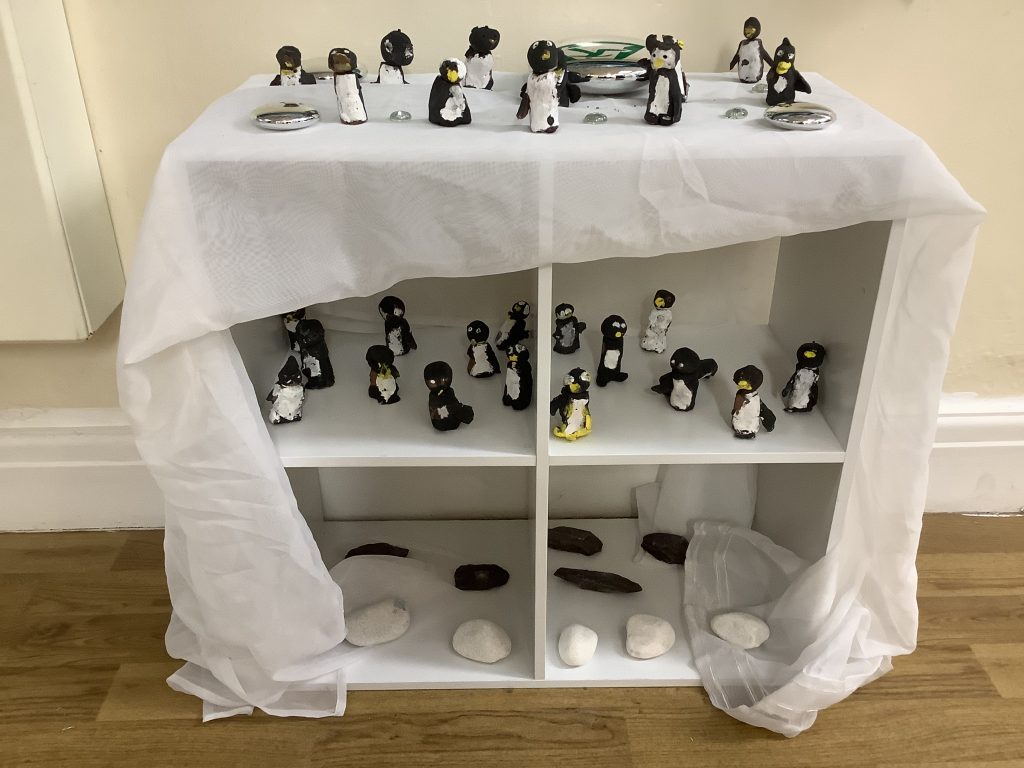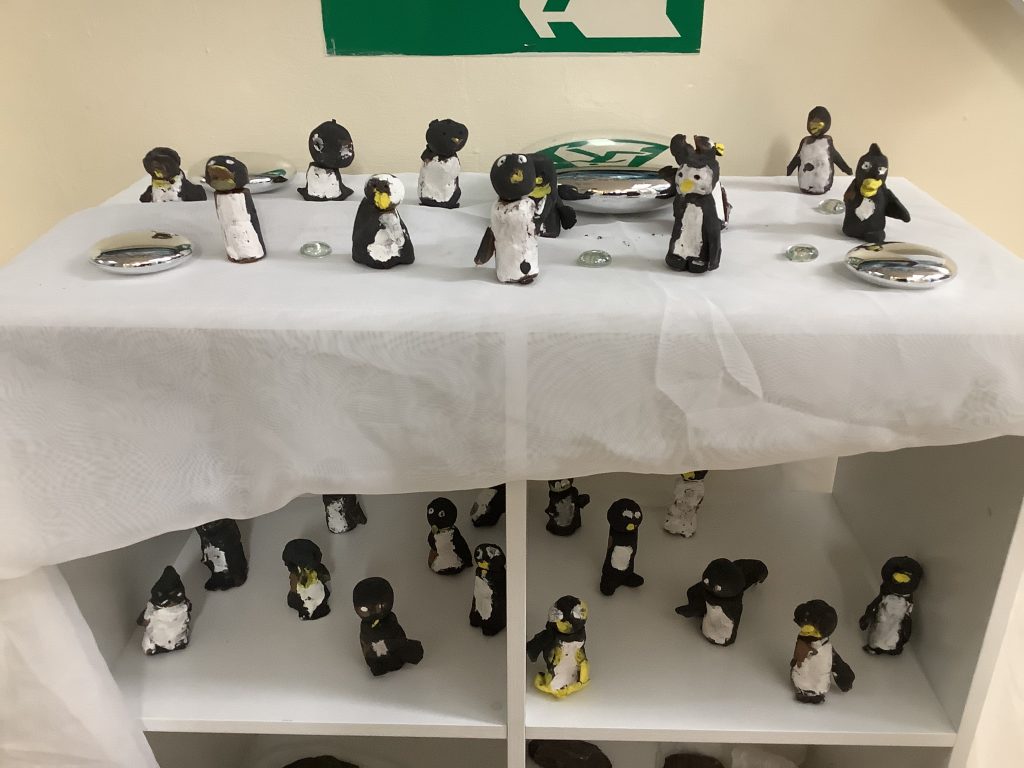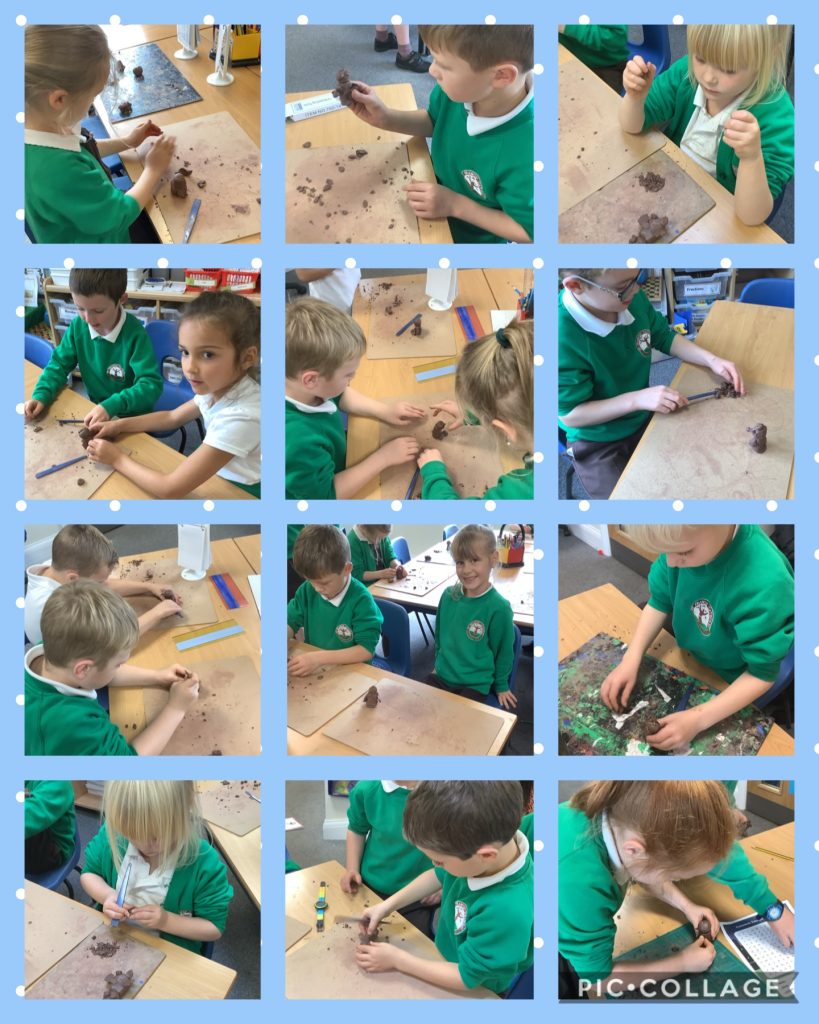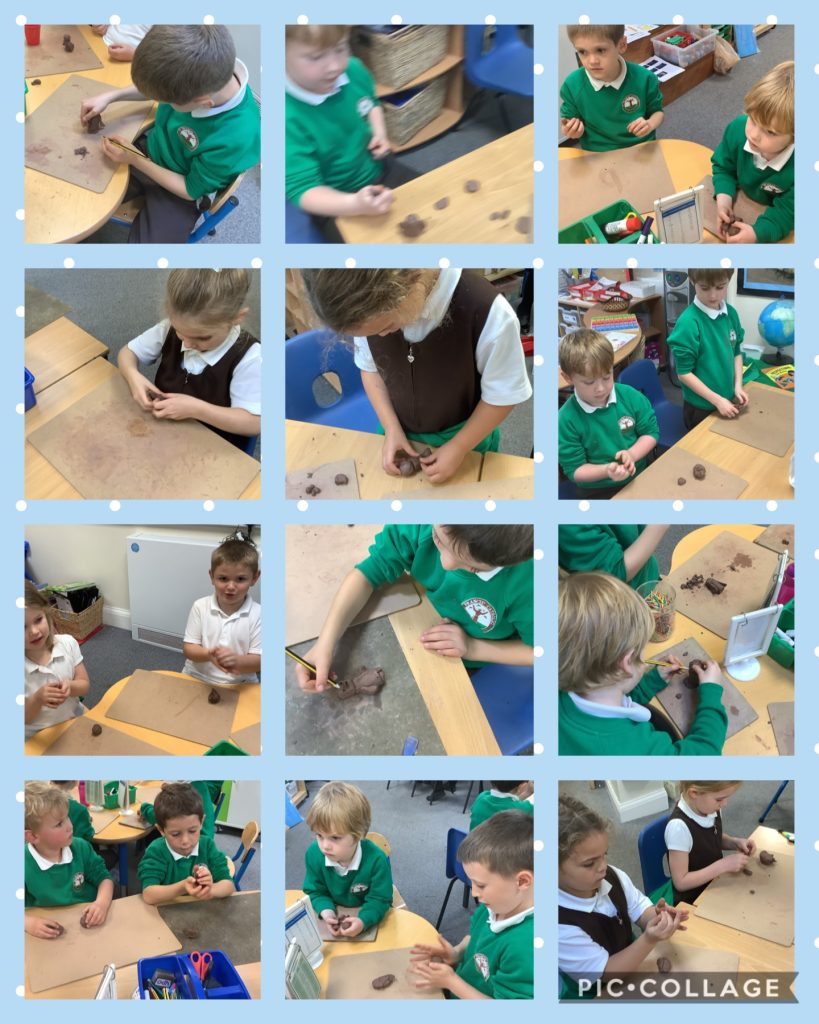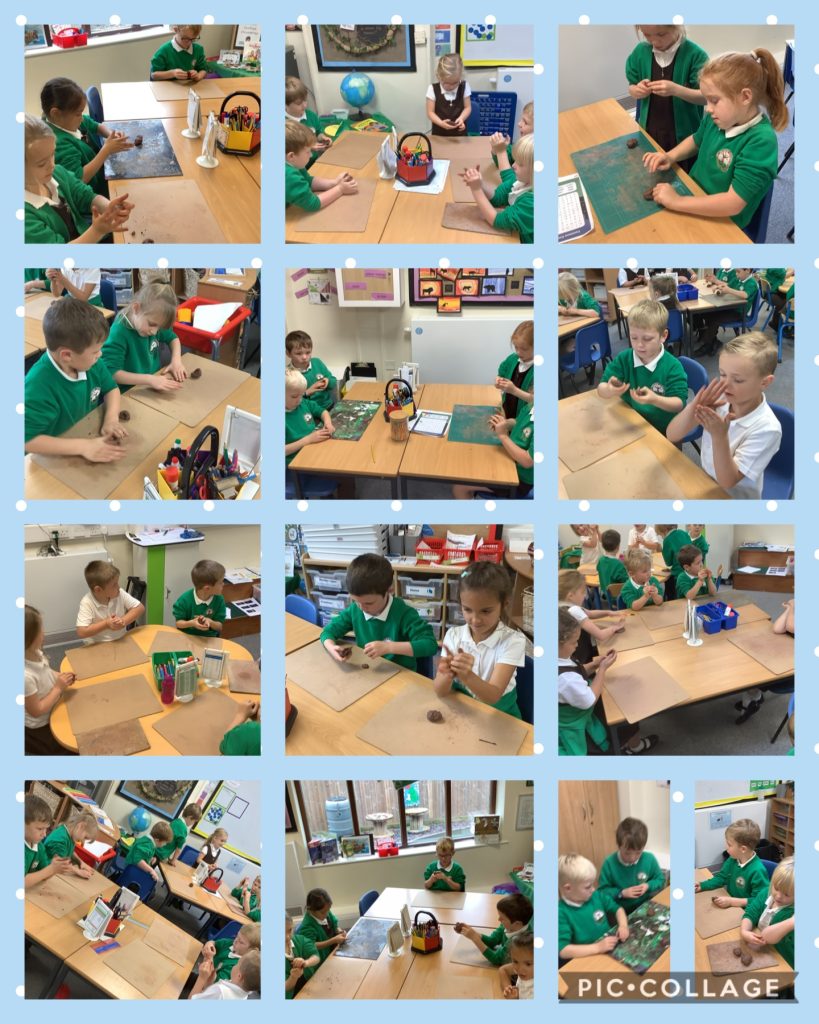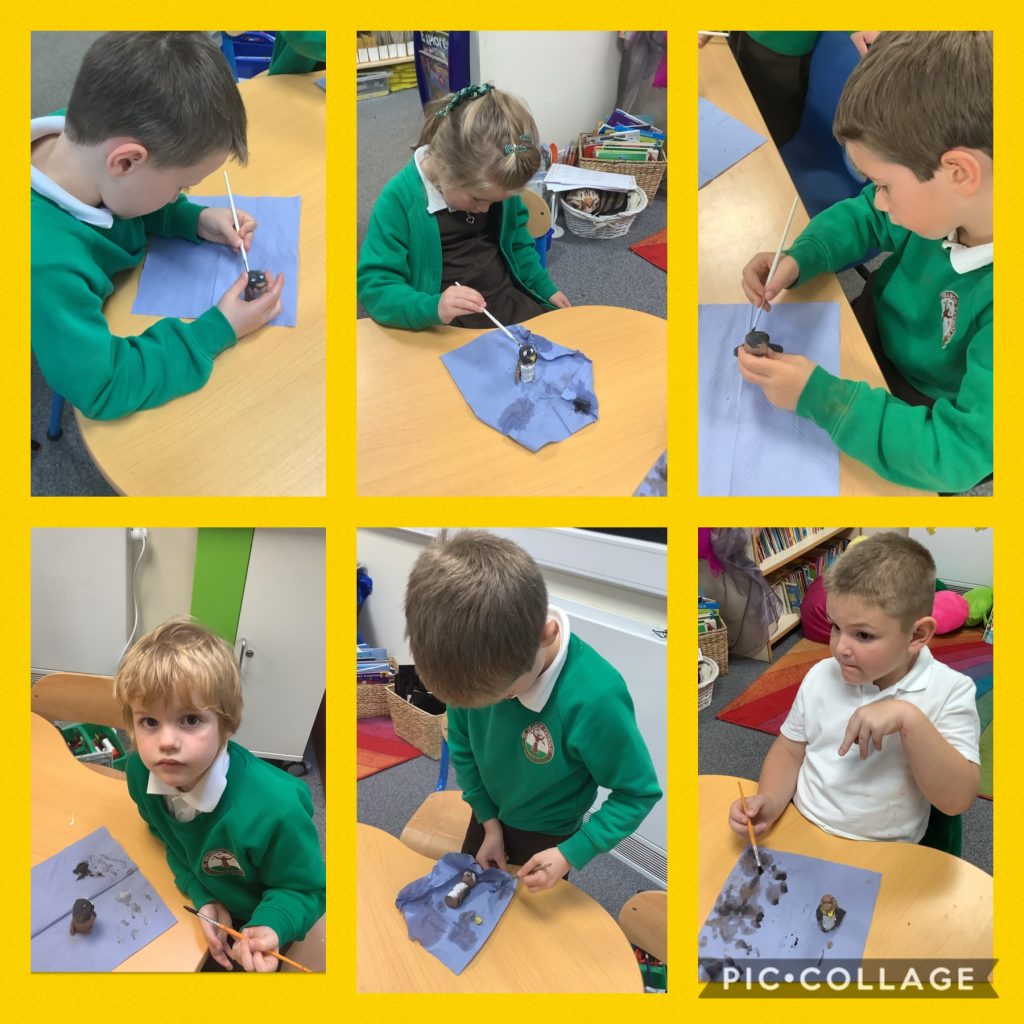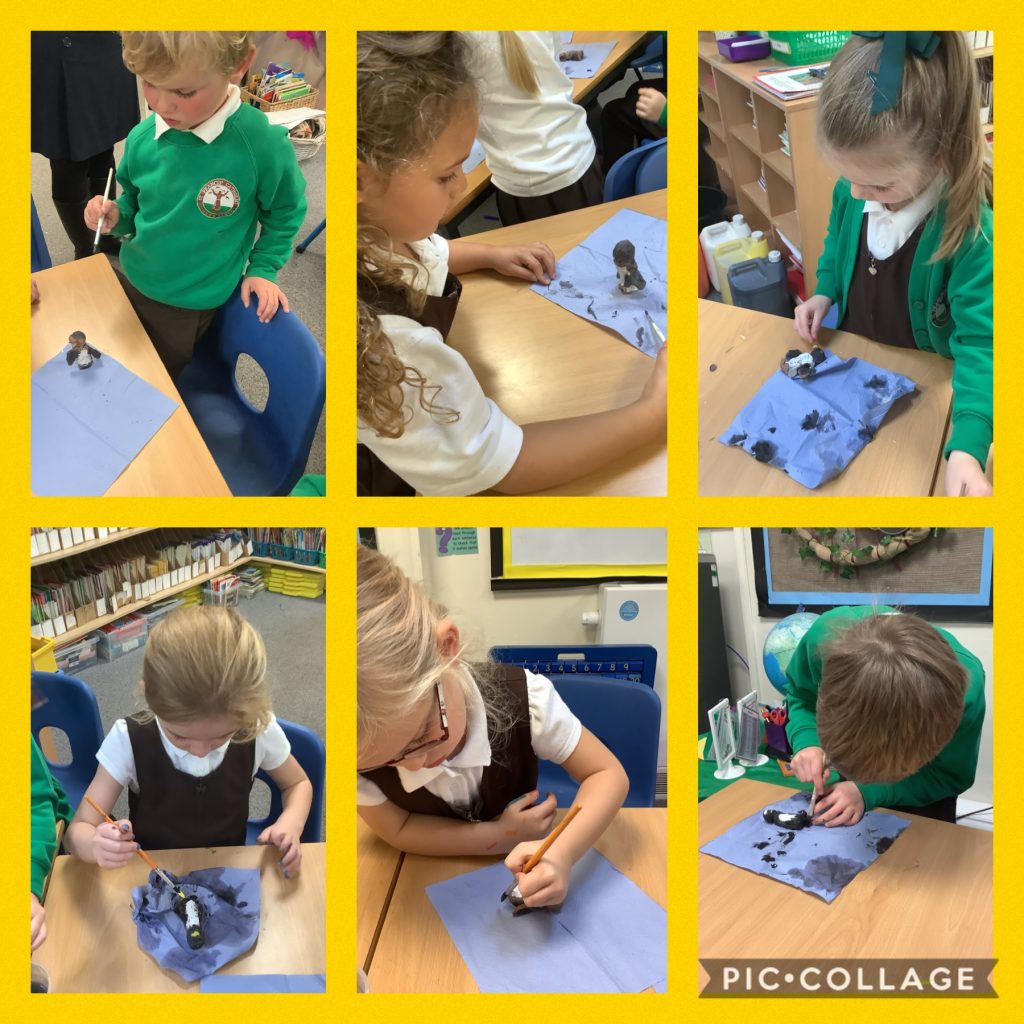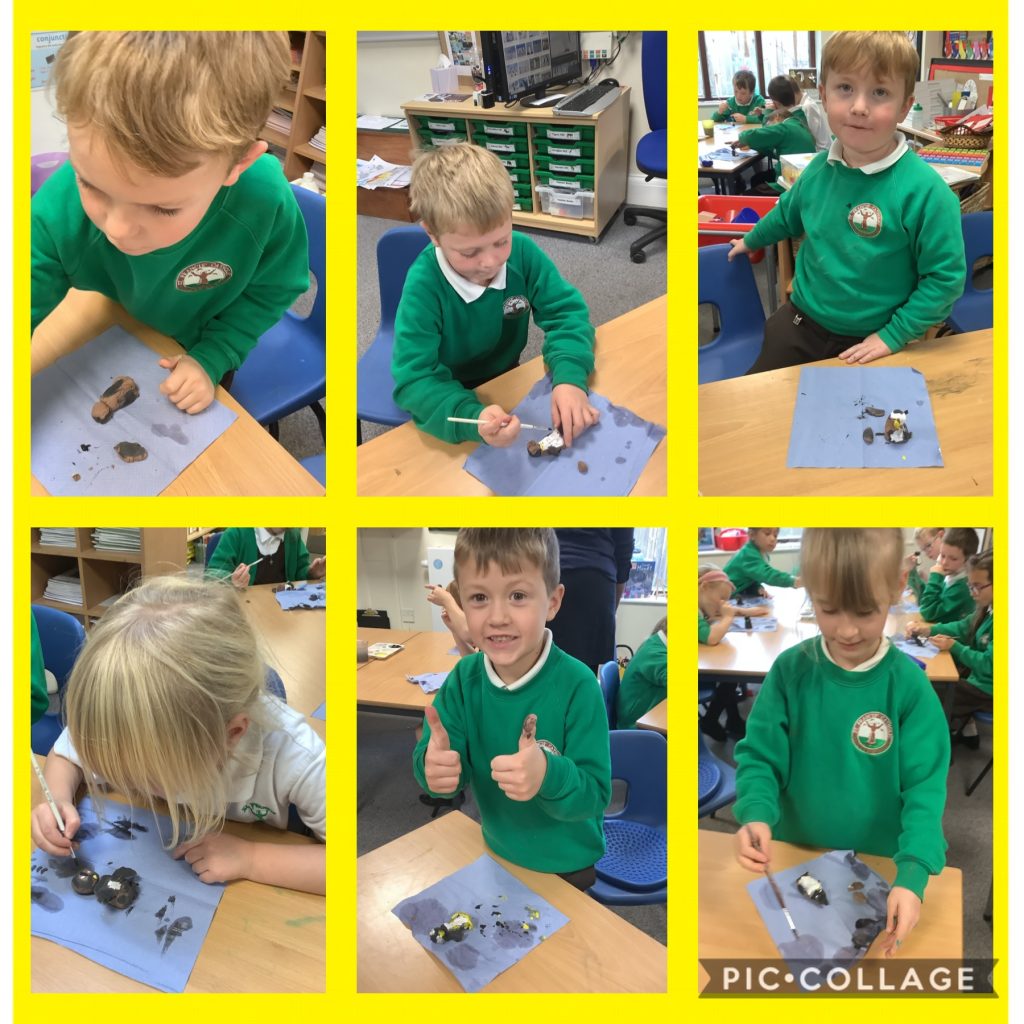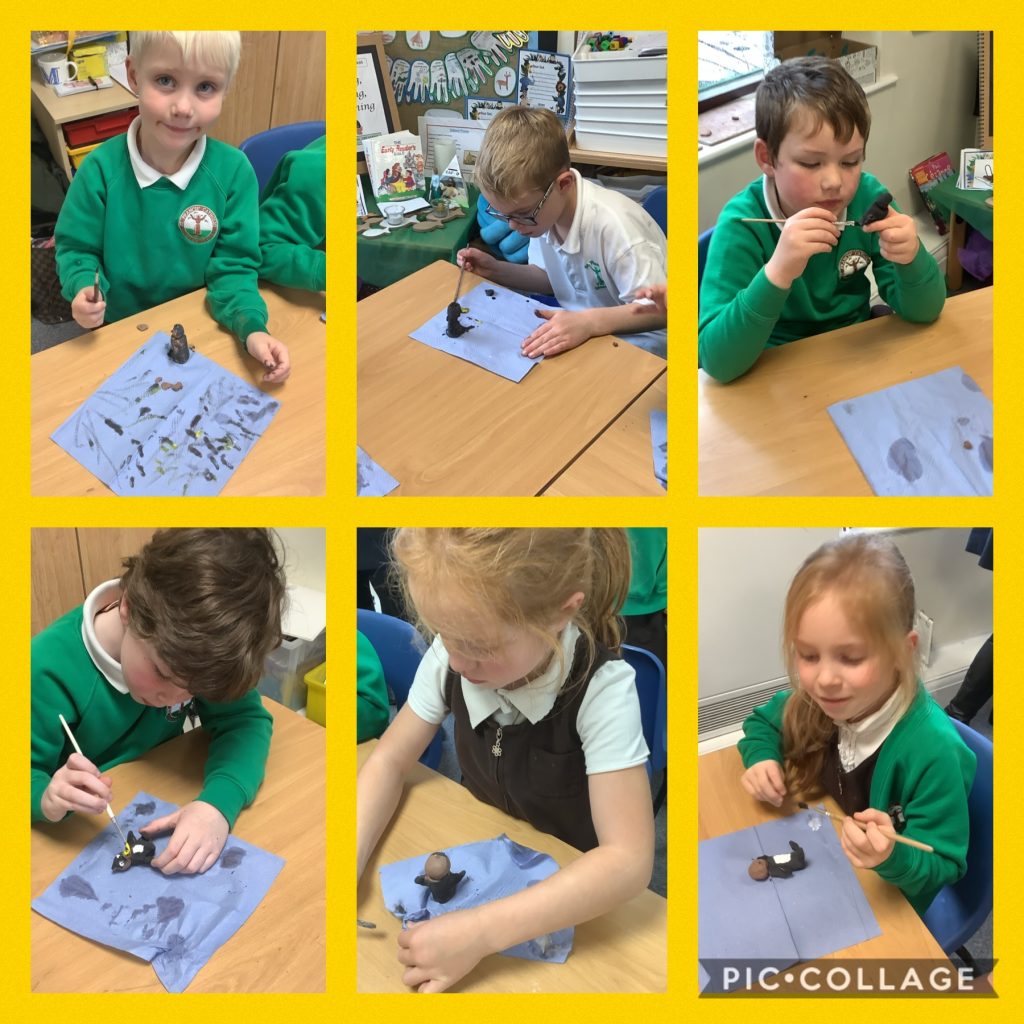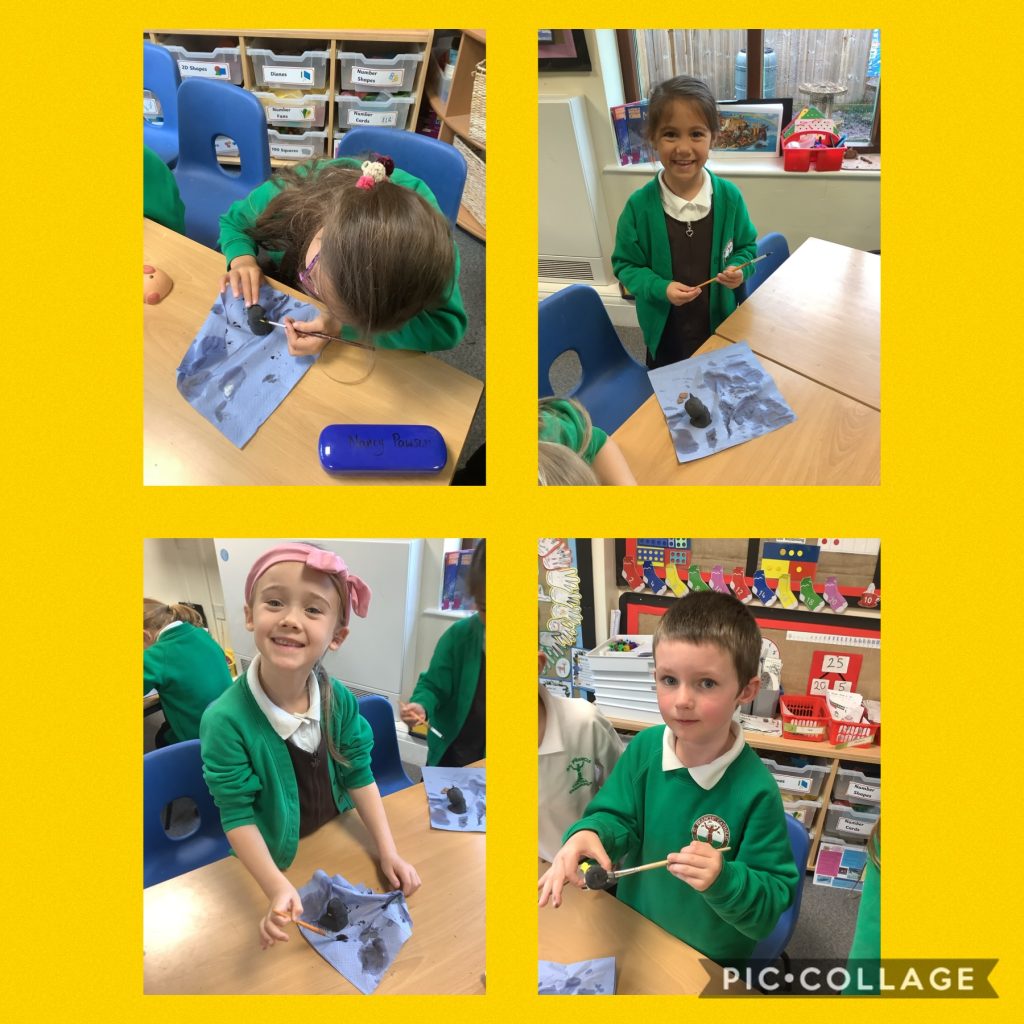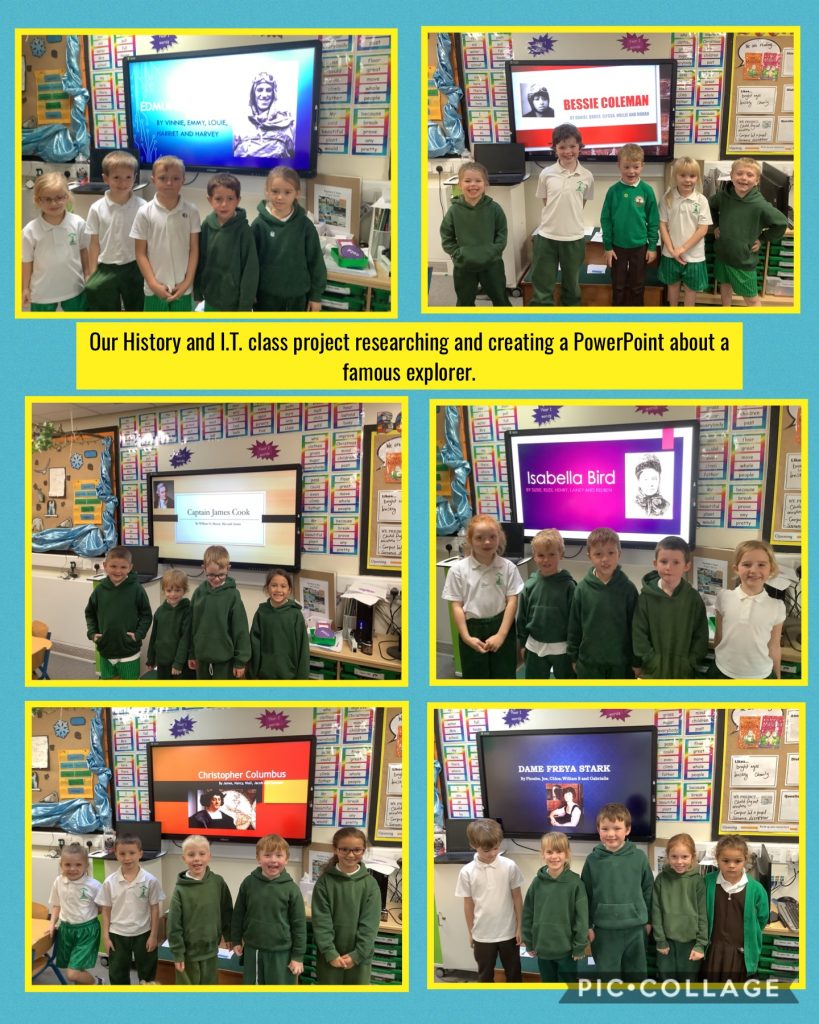 Our Amazing Art work!
Children used gradients of paint to produce hot and cold climate paintings.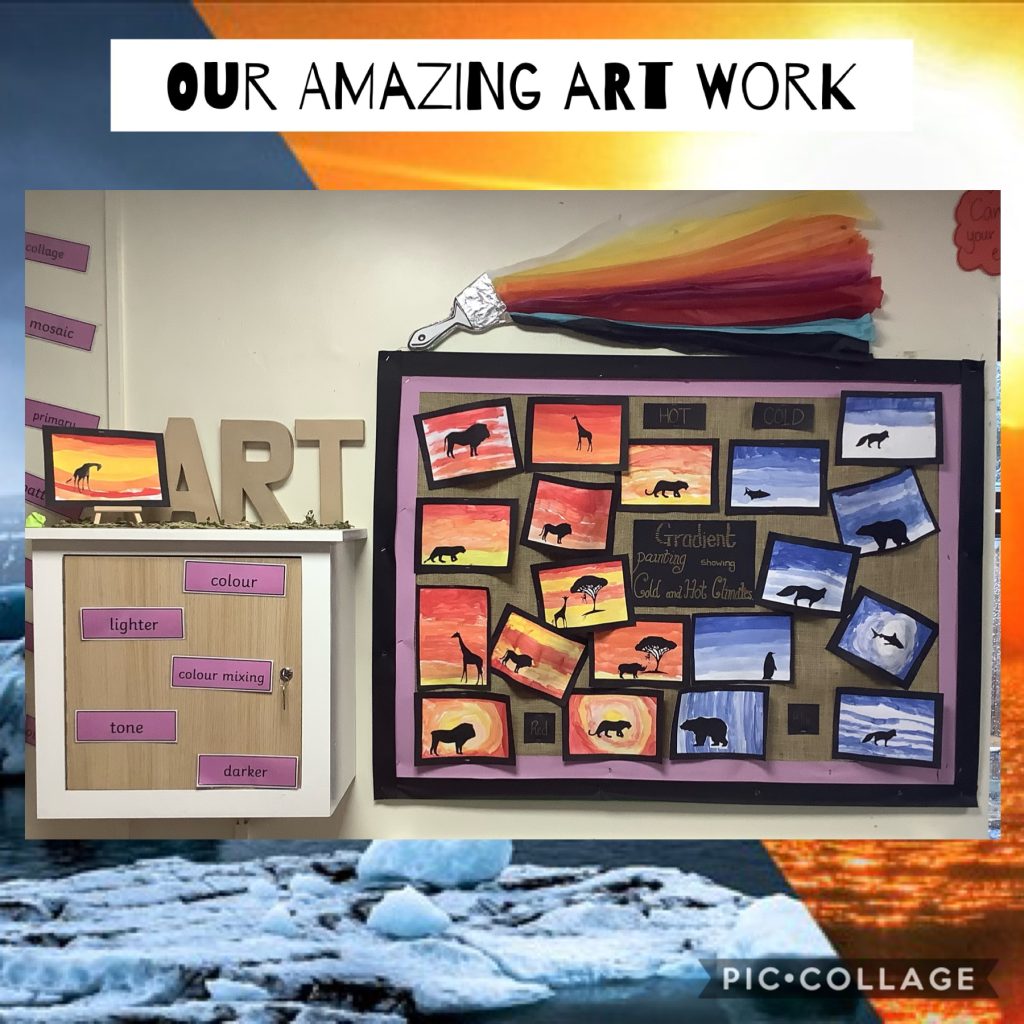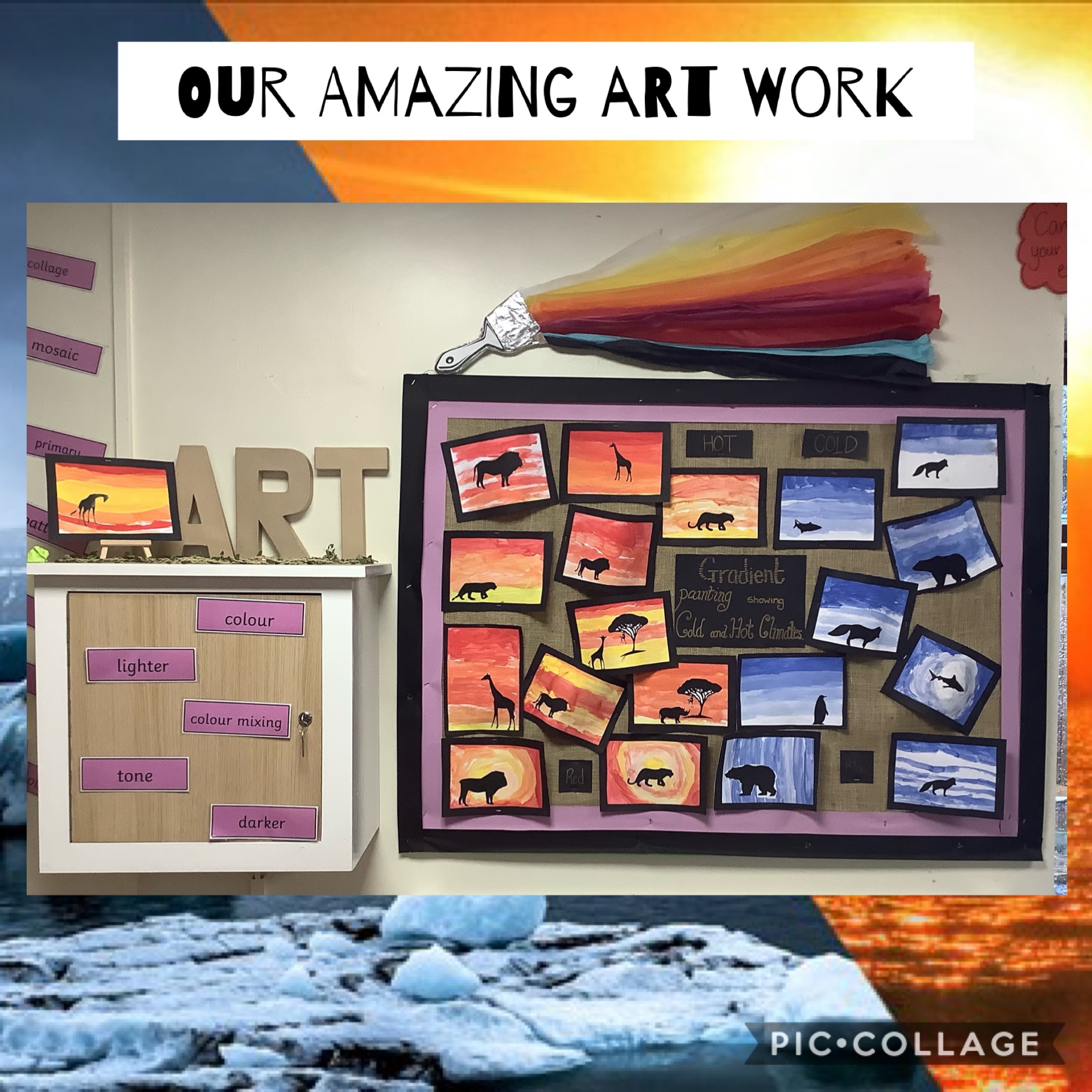 Space Week!
Parlick class had lots of fun during space week. They created shaving foam and paint planets, wrote a fact file about a new discovered planet, made moon dust, created Neil Armstrong tableaux's with play dough, cosmic yoga and many more. A very fun-filled week celebrating women in space.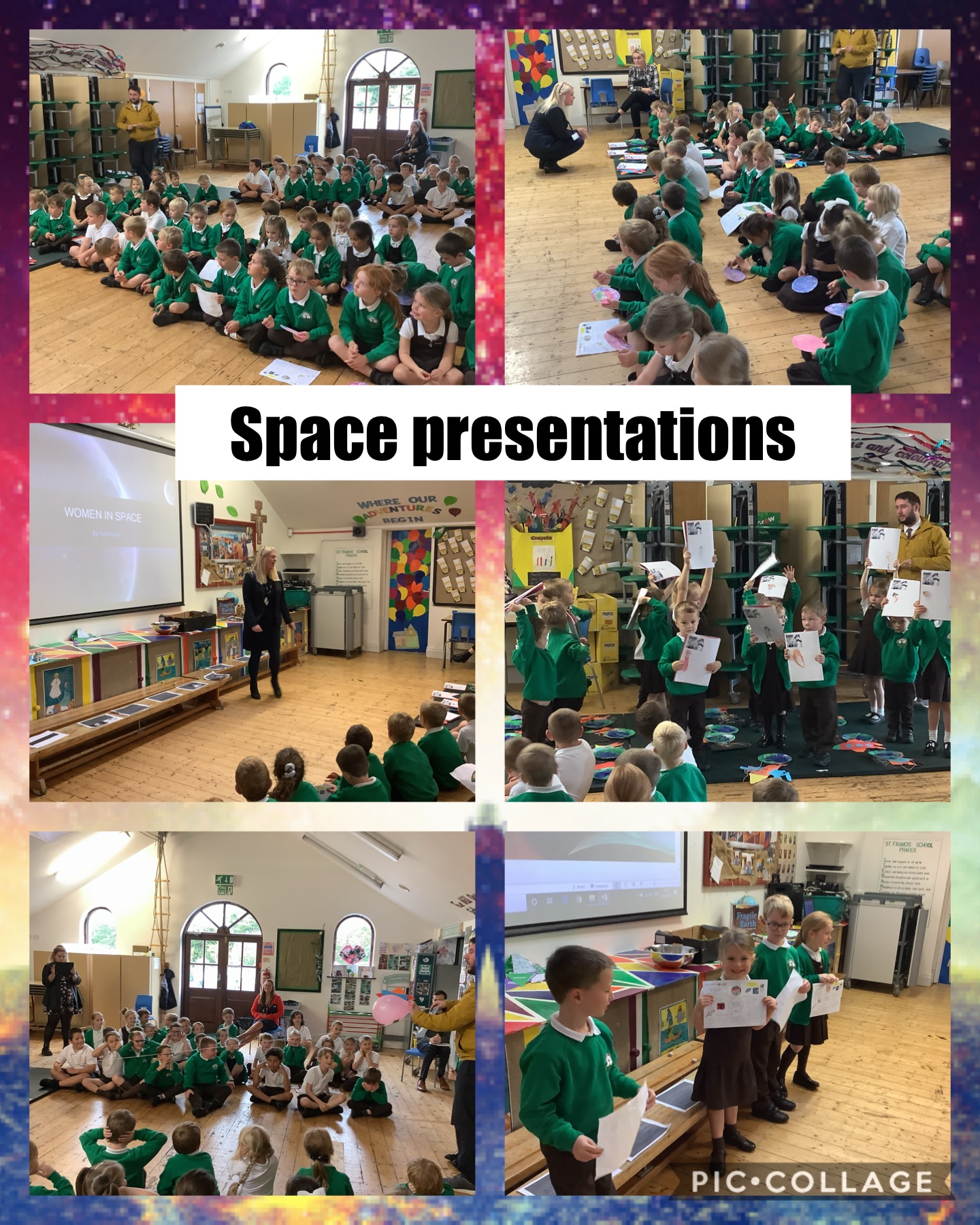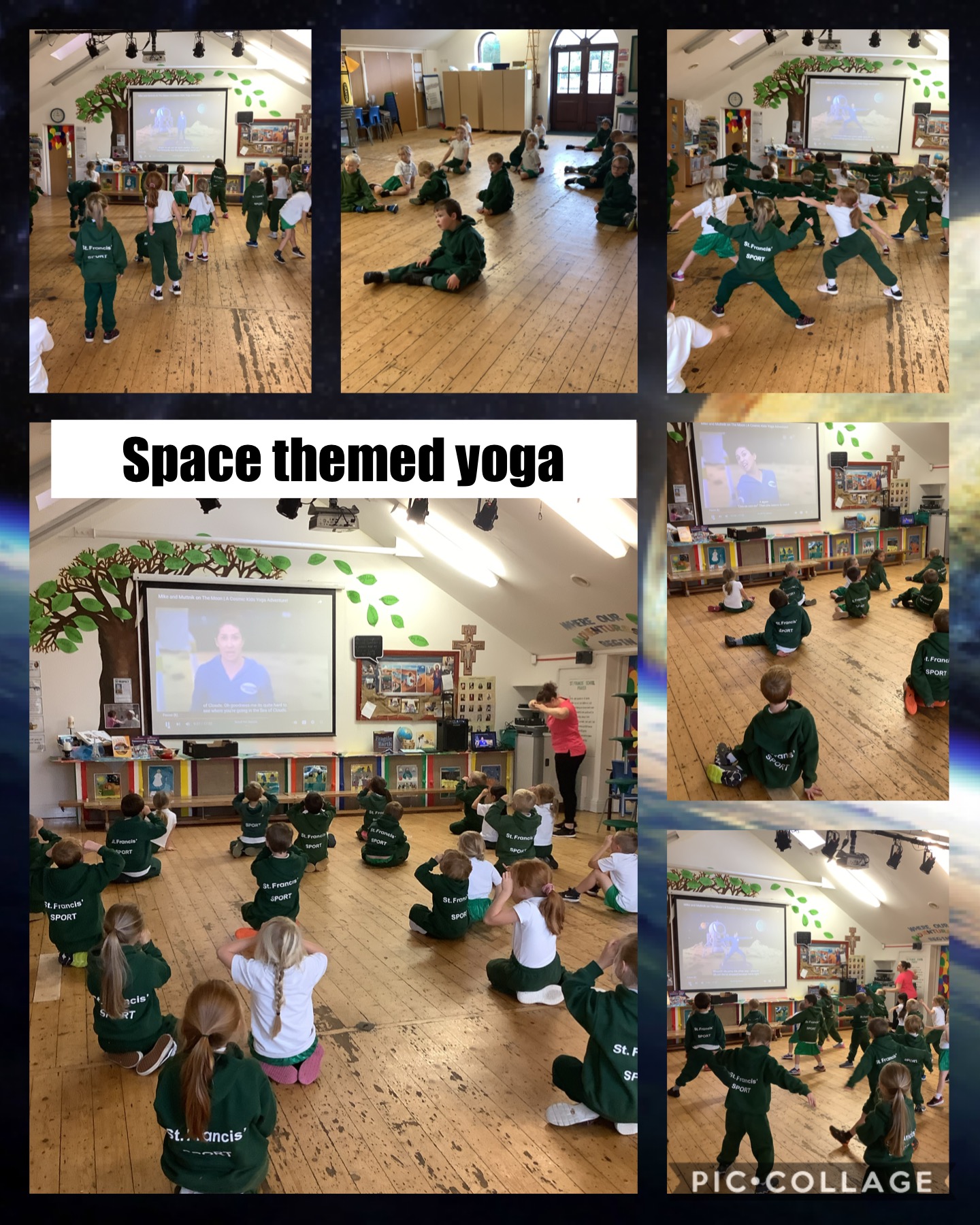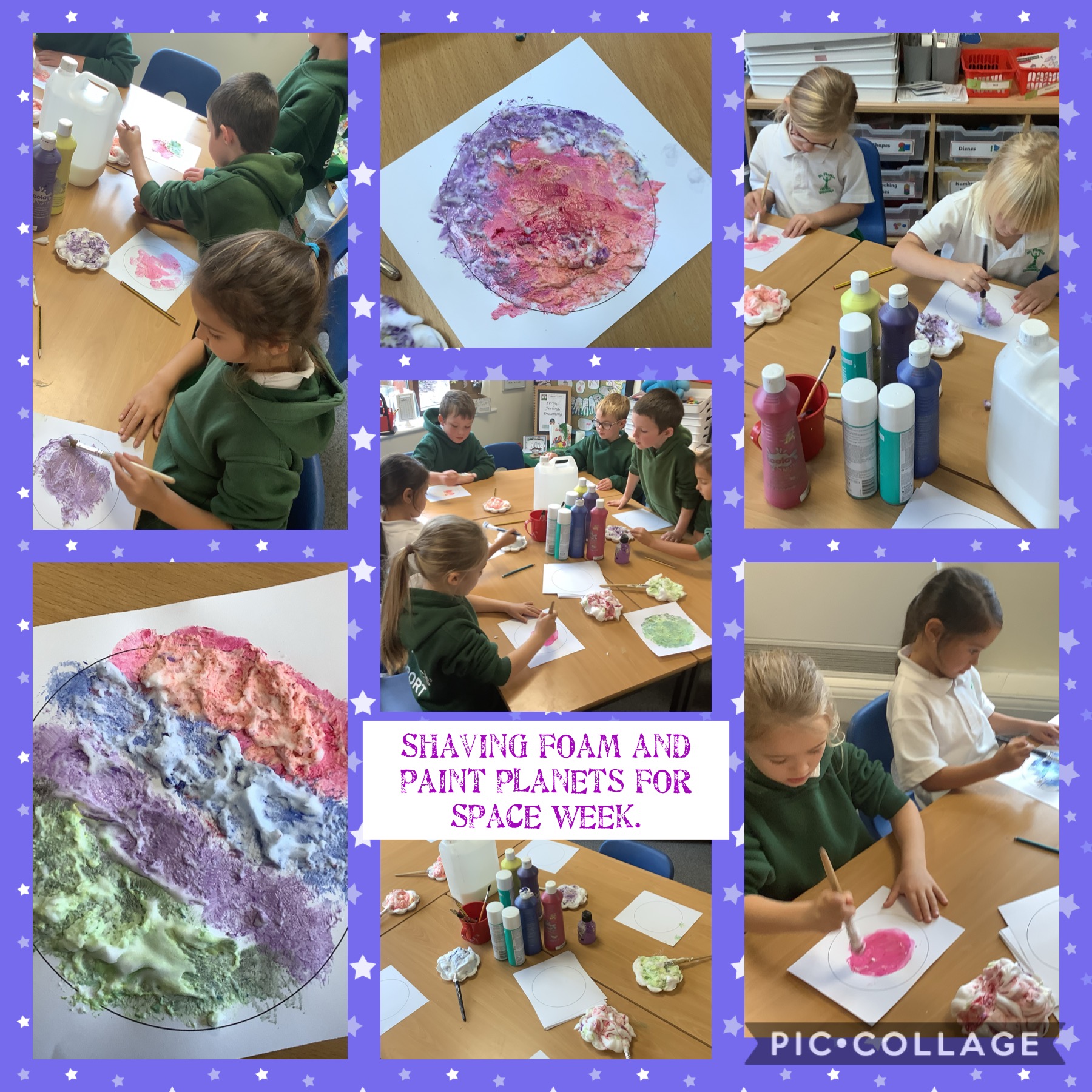 Following in Jesus footsteps
Parlick class have embraced caring for others and giving to those who need help and support. Parlick class have astounded me with their amazing generosity for Lancaster Animal Care and Macmillan Cancer support cake sale. So proud of you all!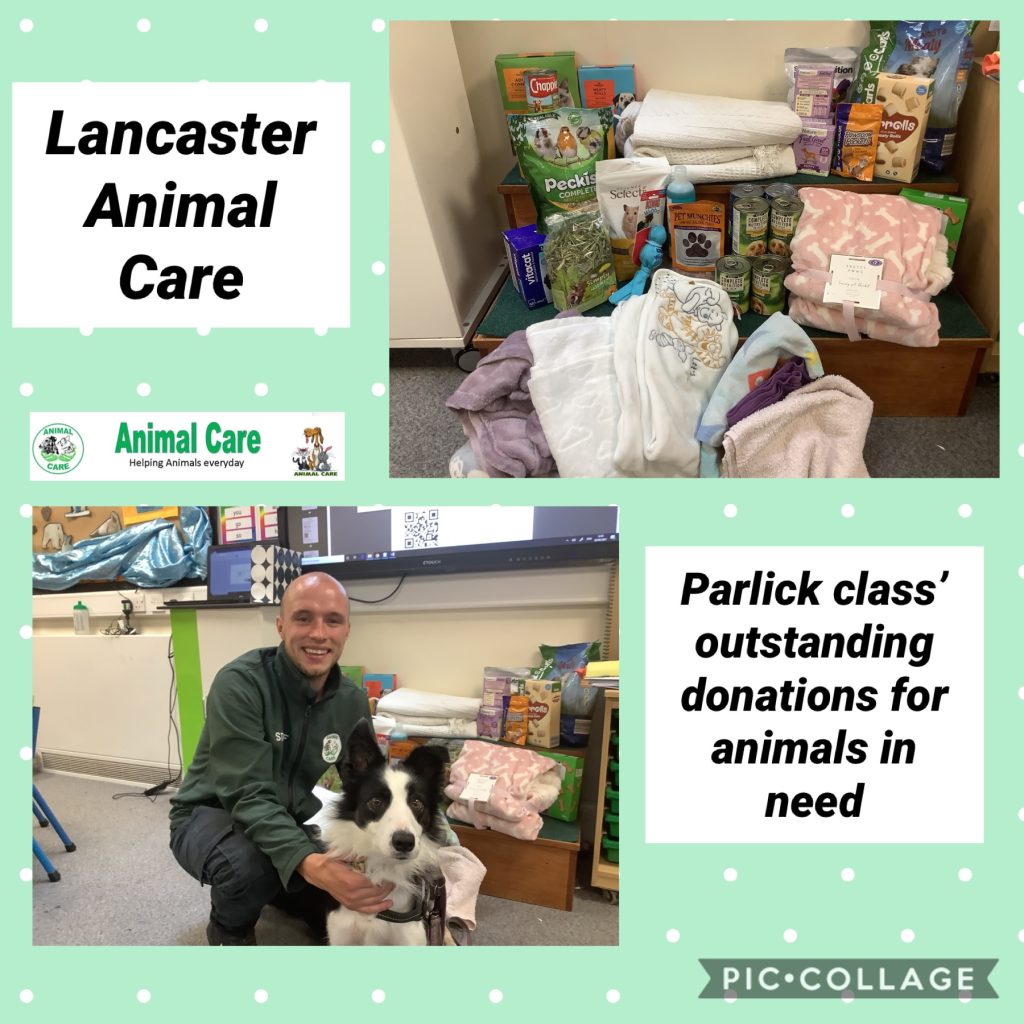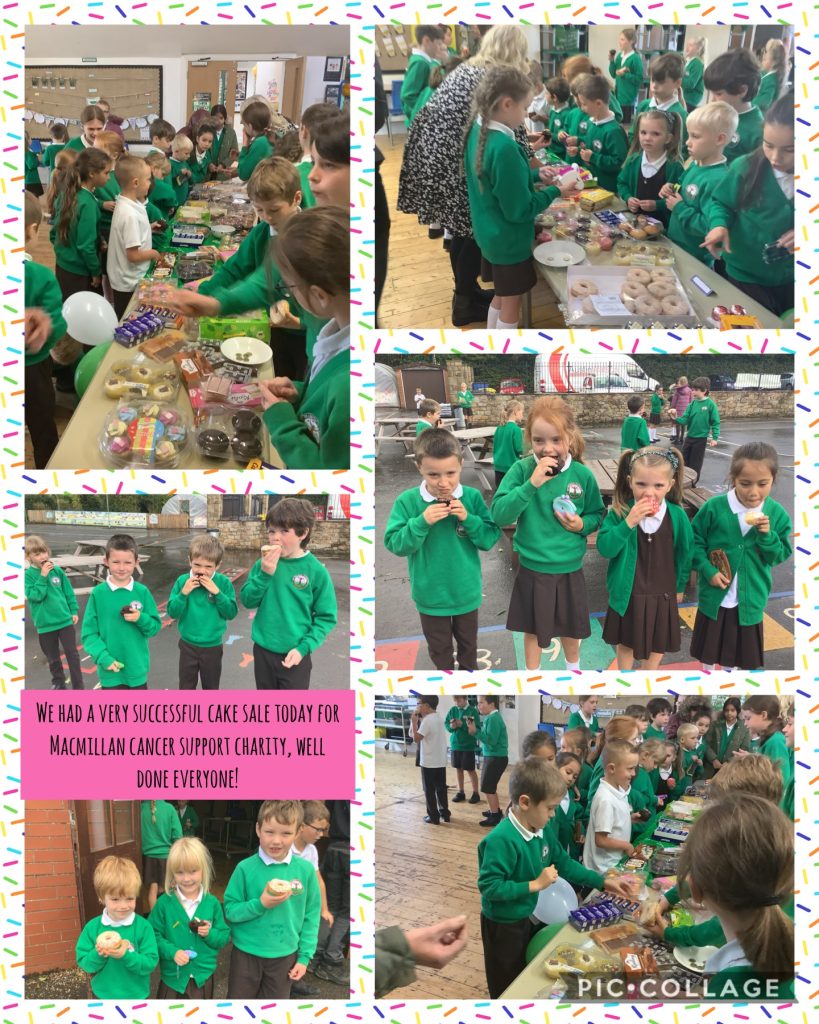 Diving into our topic…
Parlick class have thoroughly enjoyed our topic lessons learning about hot and cold countries and the seven continents, as well as learning all about animal welfare with our special visitor Michael Jones from Lancaster Animal Care.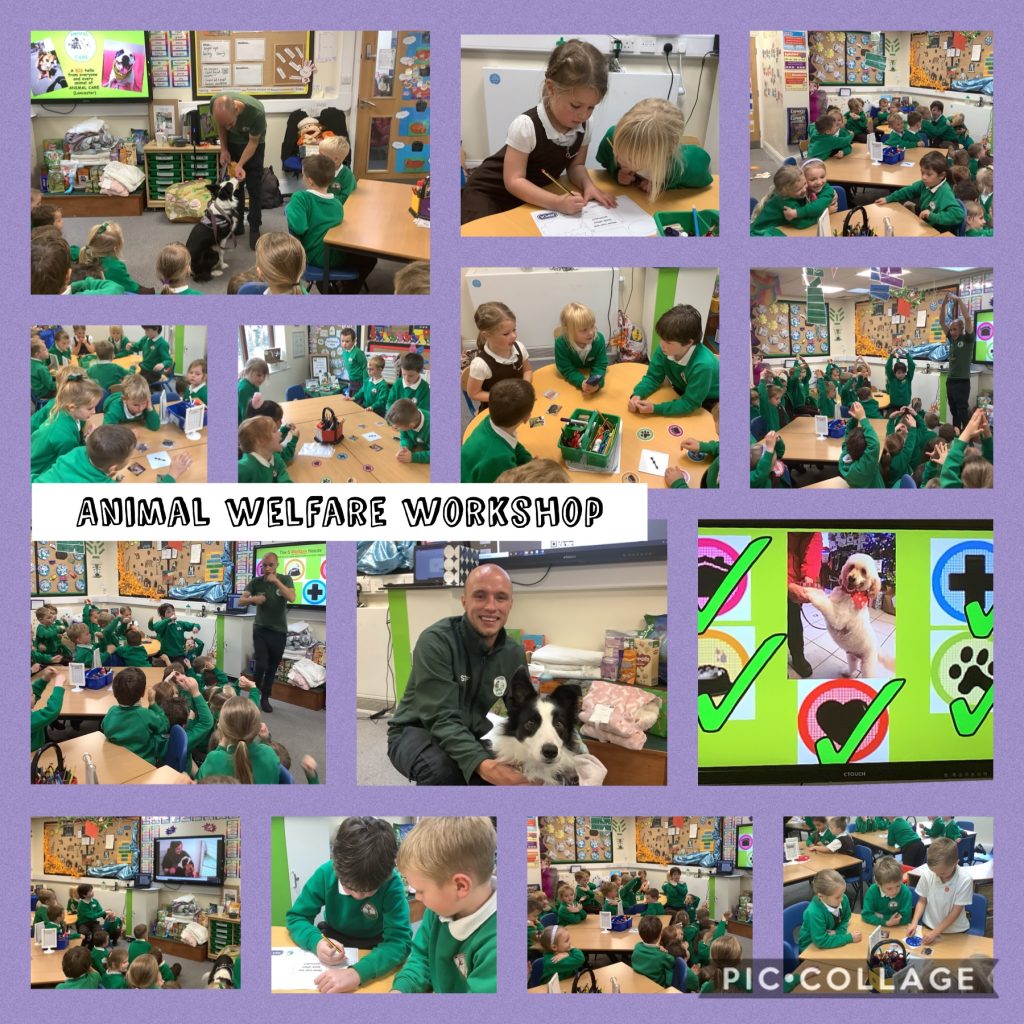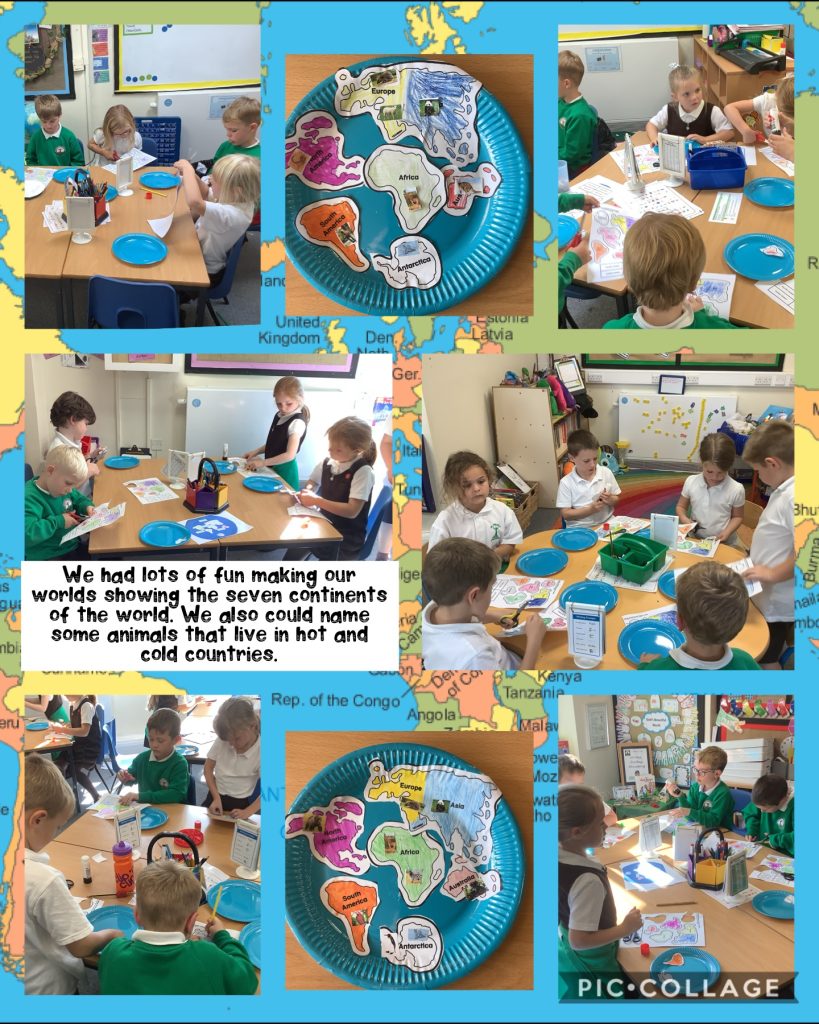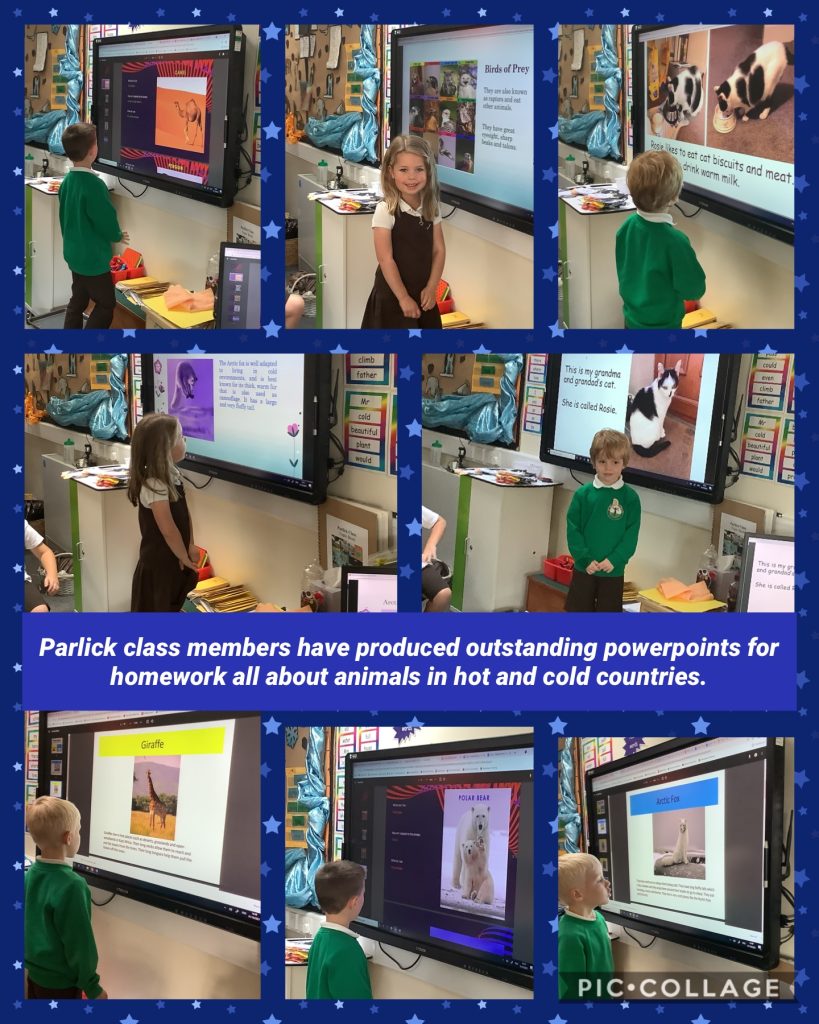 A snap shot of our fantastic learning so far…
Welcome Back!
Wow! What a fantastic first week back we have had in Parlick Class. Our new Year 1's have settled in marvellously and our Year 2's have been amazing role models. Pupils have dived into their learning and worked very hard. I am very excited for our wonderful year ahead. Our topic this term is Animal Antics, pupils will be looking at animals that live in hot/cold countries, animal characteristics and how we can care and look after God's creatures. Please see below our Topic booklet which explains what our learning objectives are for this term and our homework menu pick a mix. We have a special visitor that is coming to our class next week, look out for photo's.
A snap shot of our amazing learning this term…
Parlick class have been very busy writing seaside themed narratives, learning about materials, making waterproof umbrellas and thinking of ways we can save our oceans. Please see the photos below of all the outstanding work that has happened this term.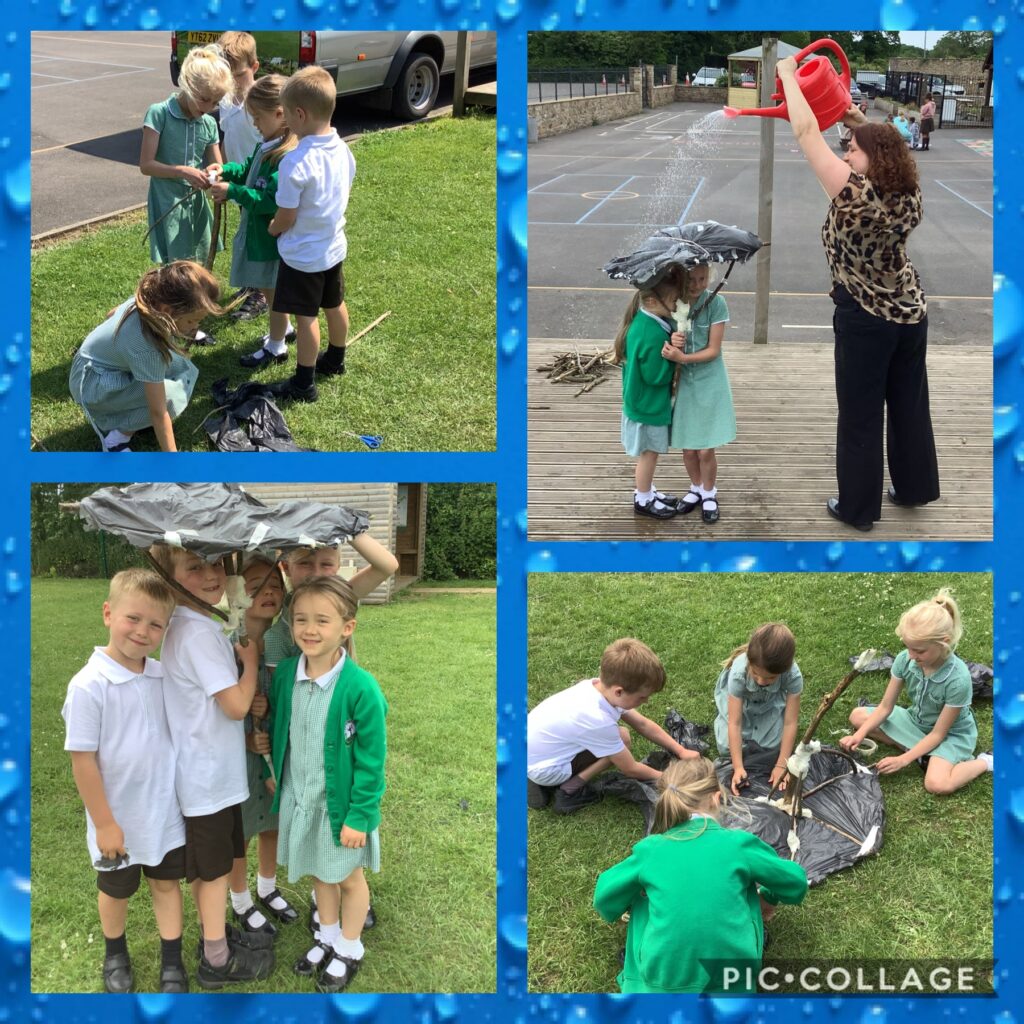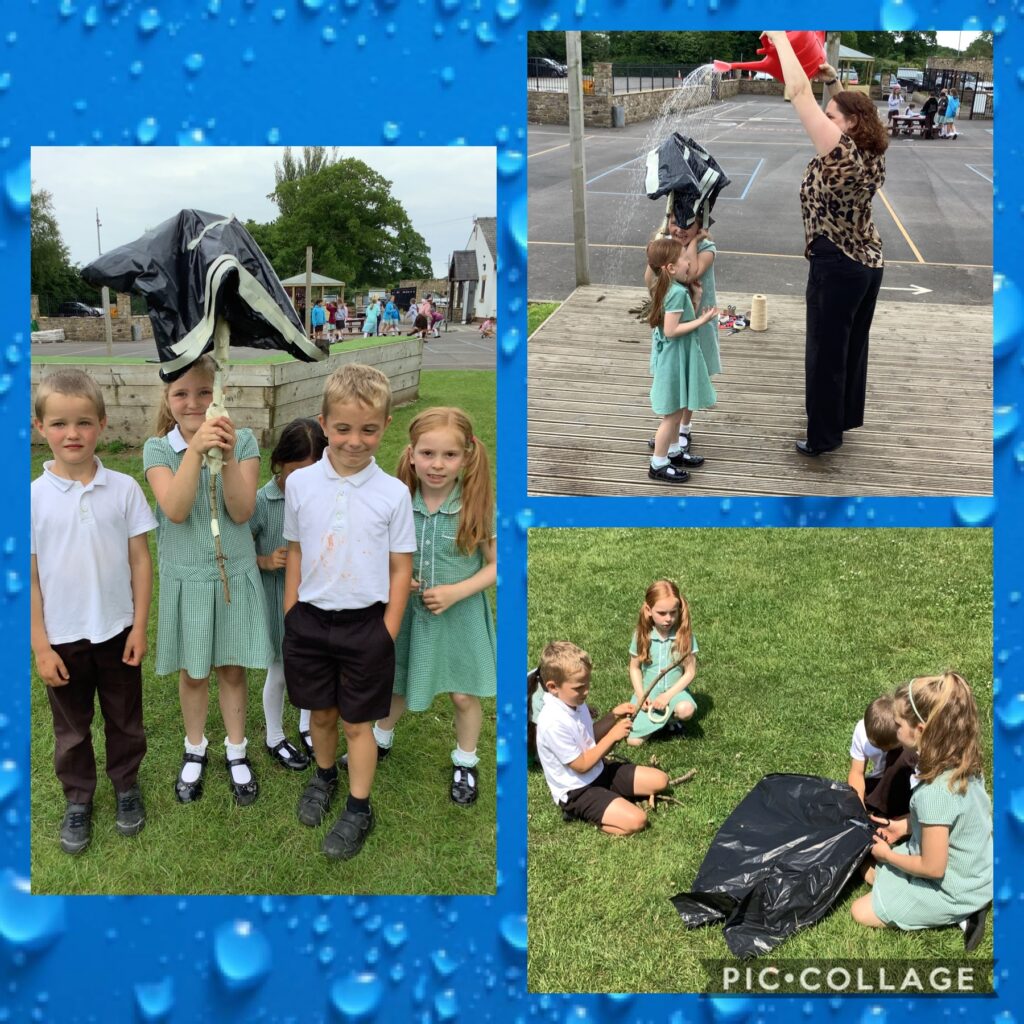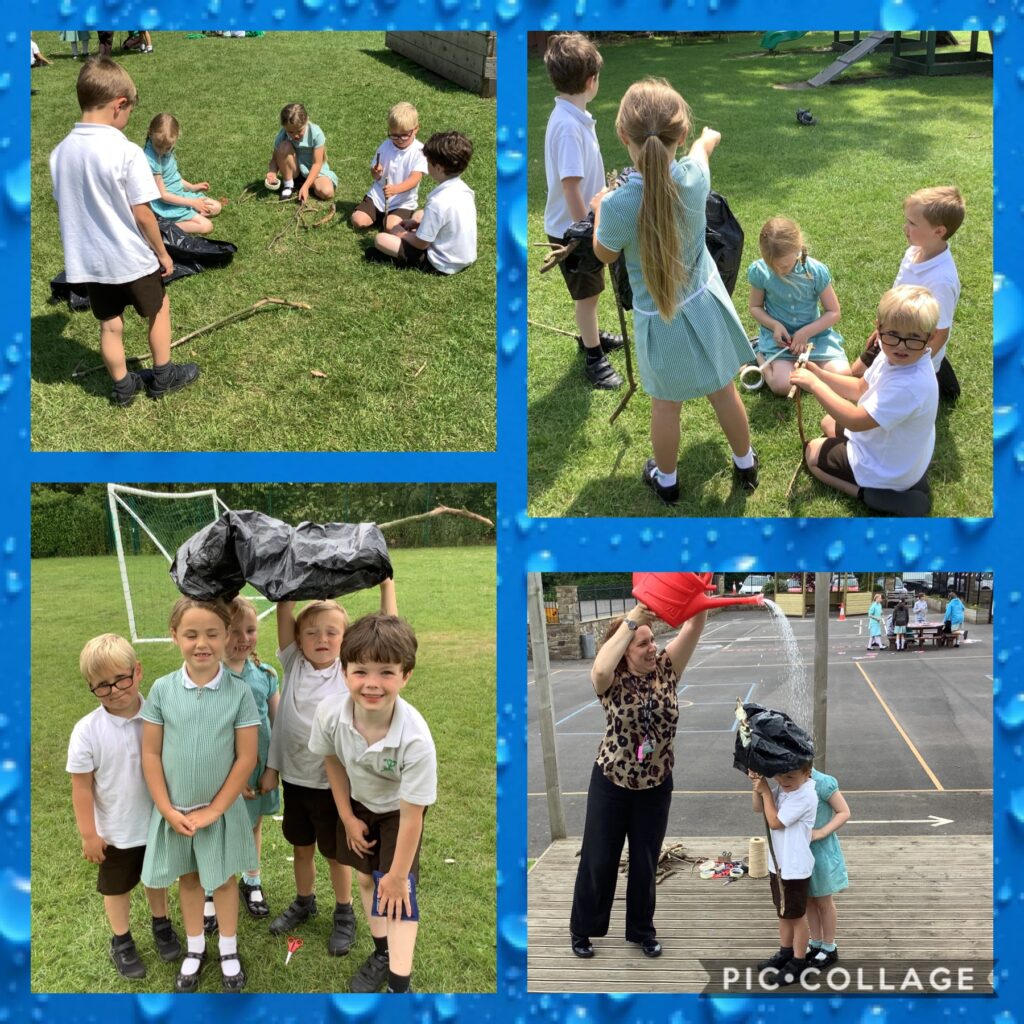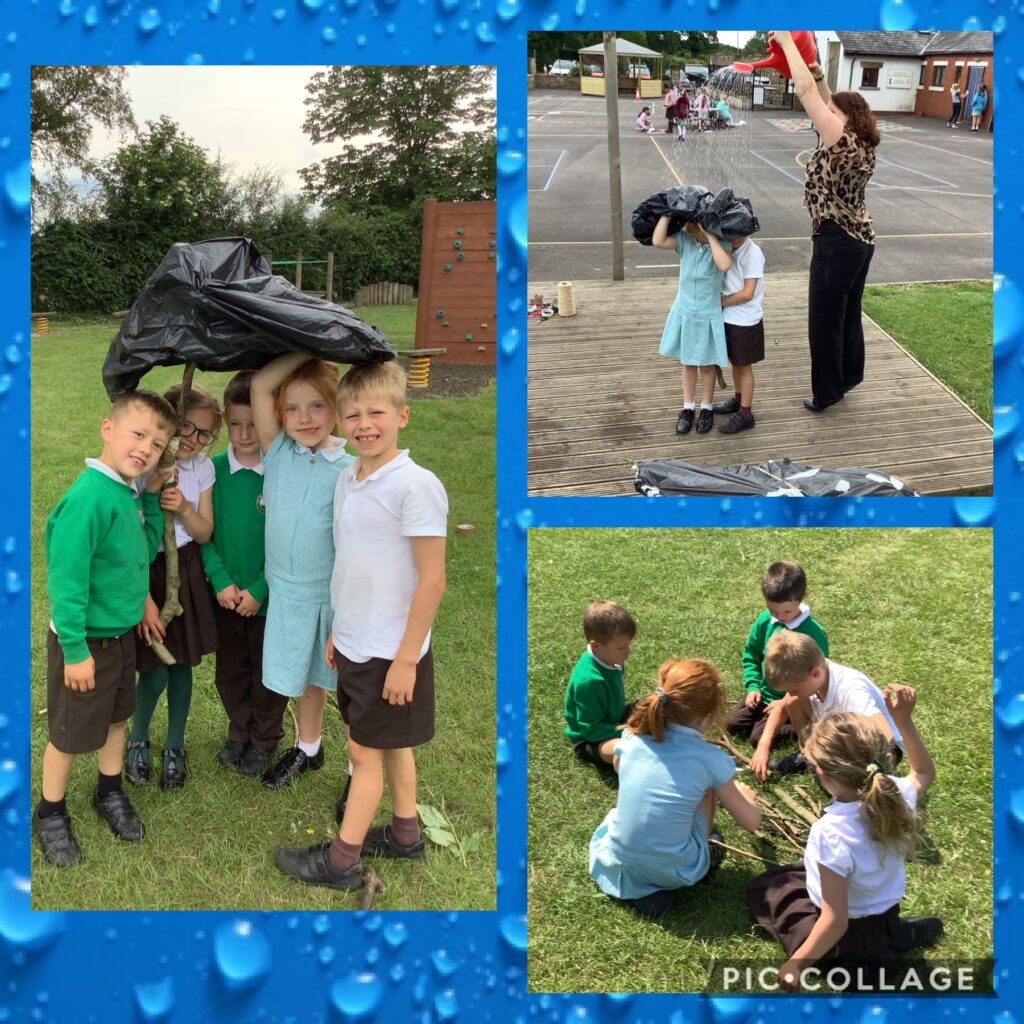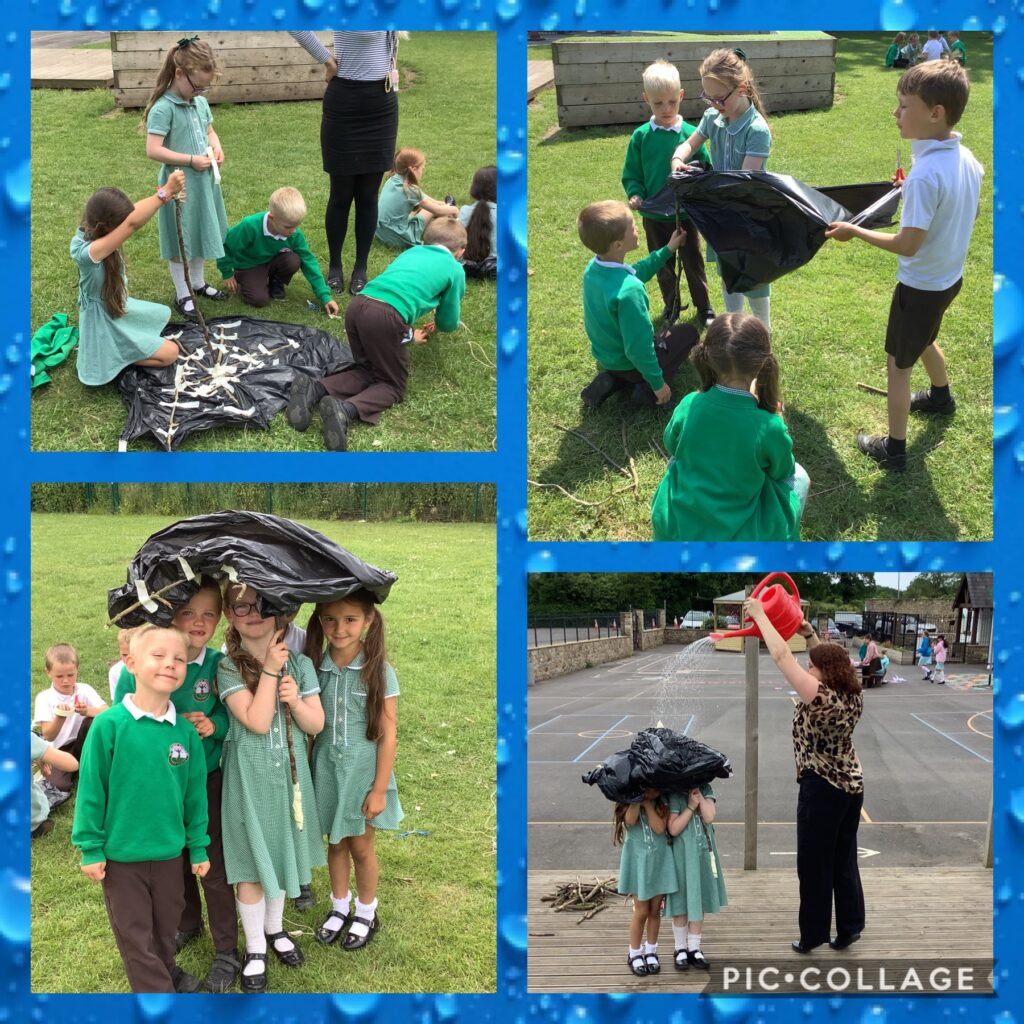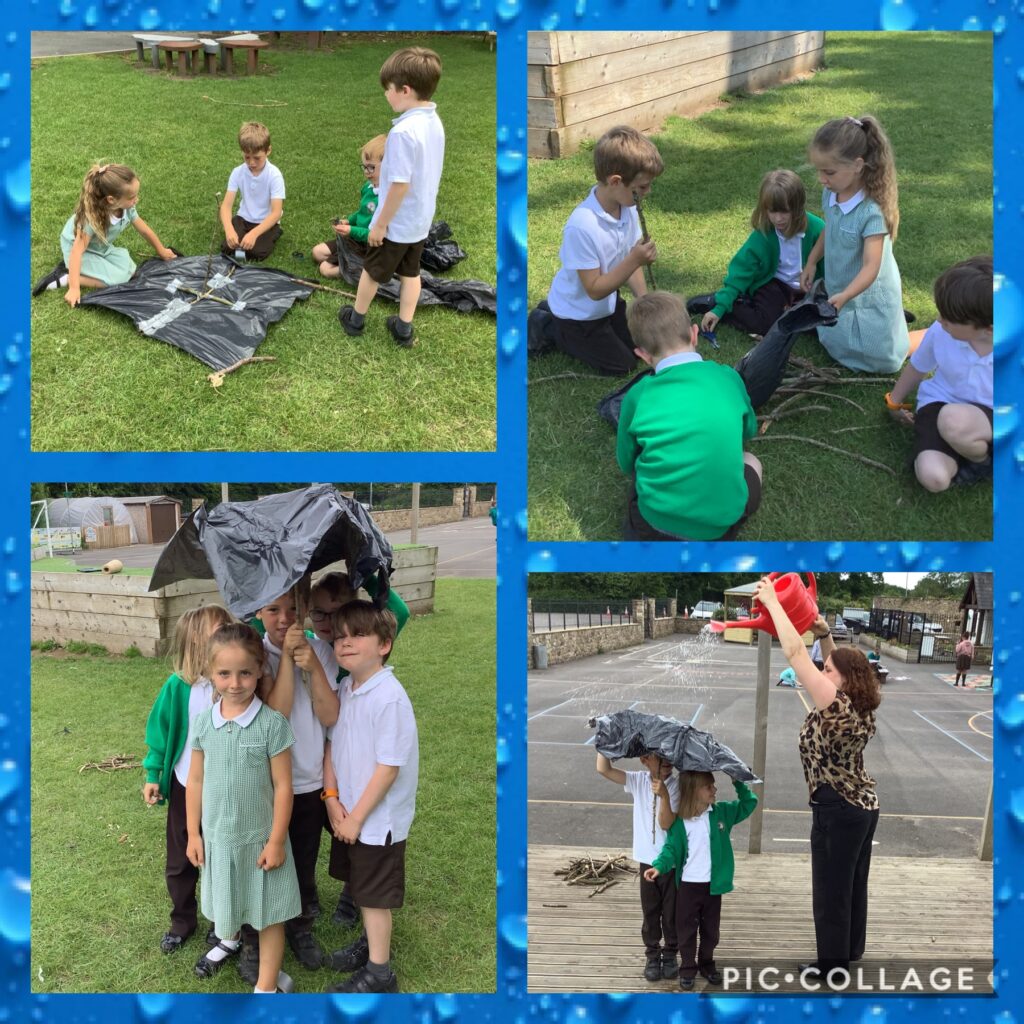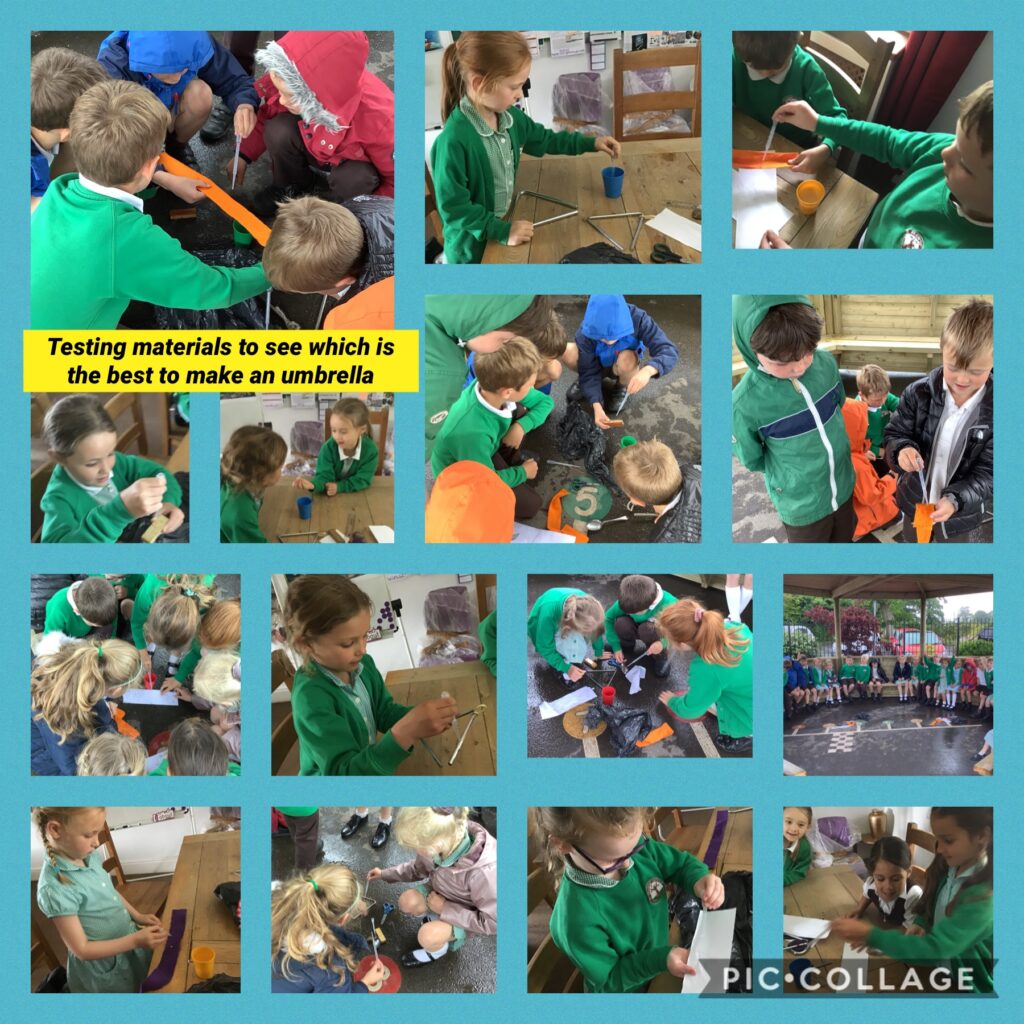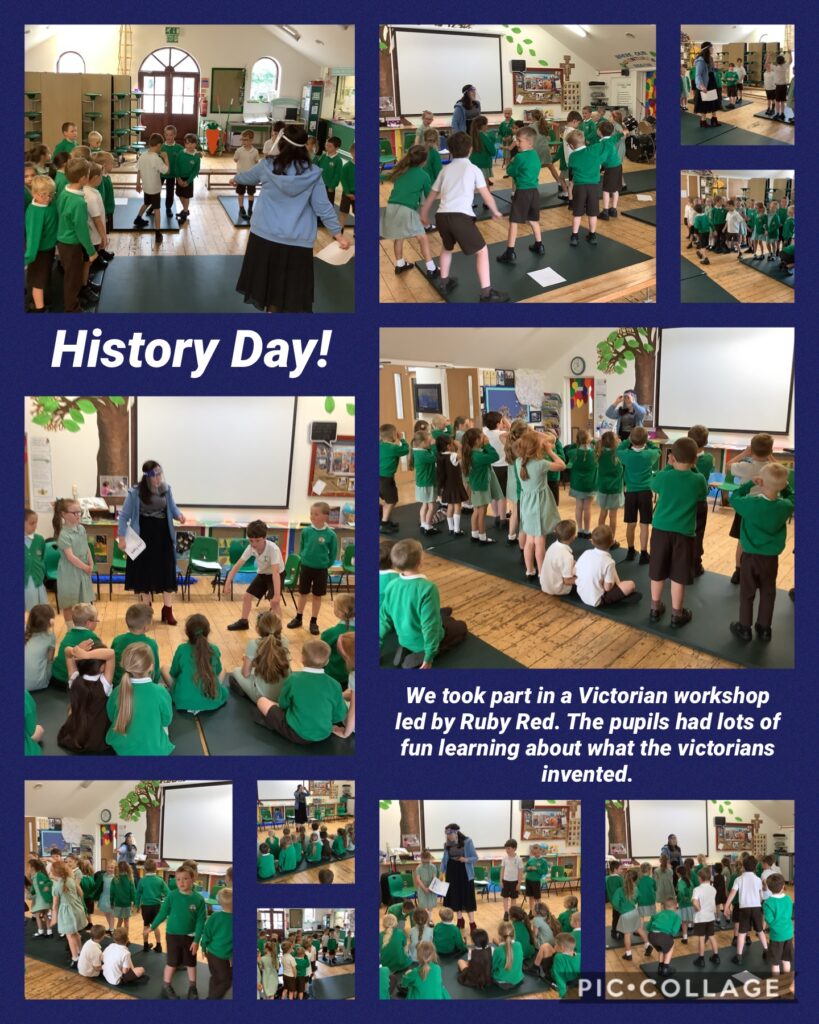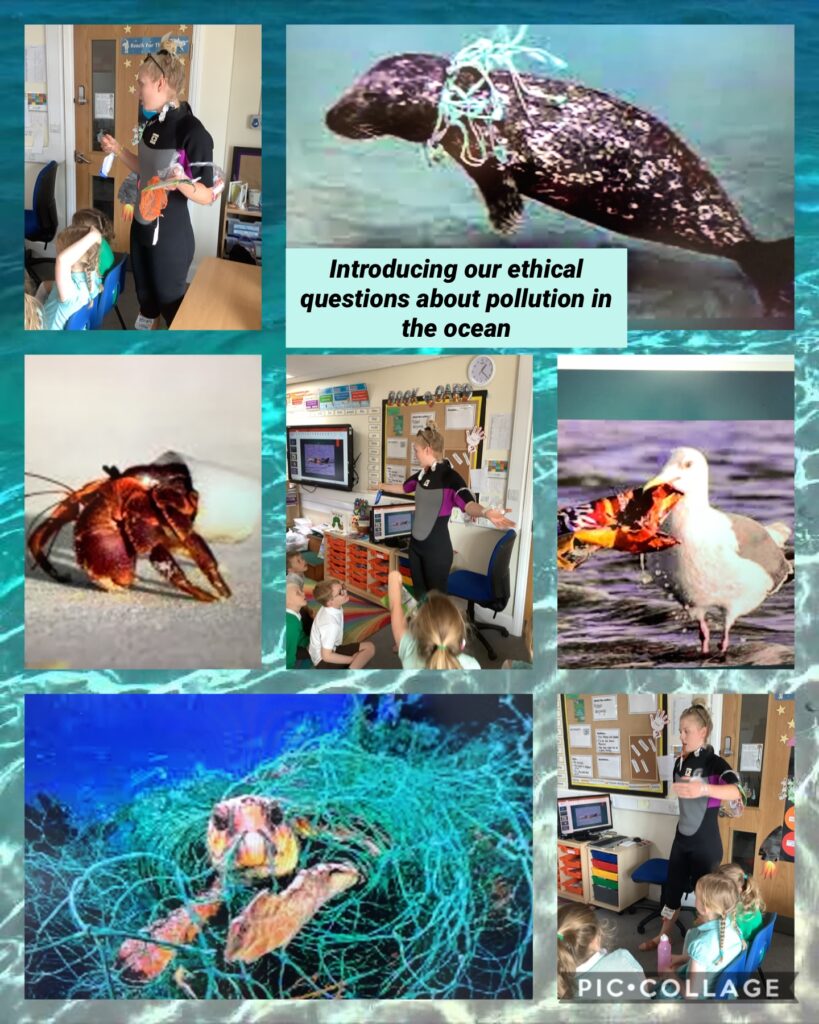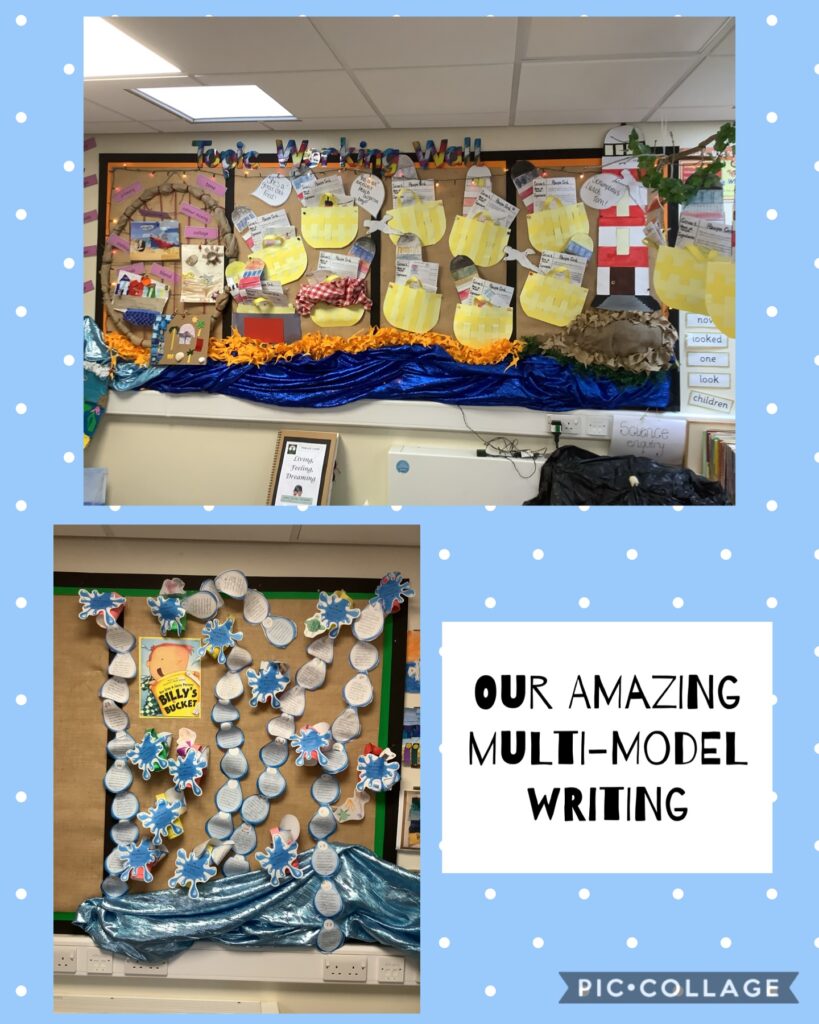 Summer 2 Term- Lancashire Seaside
Welcome to our final term this year. We have lots of exciting lessons planned all about the Seaside and Oceans. Our Ethical questions are a big focus this term looking at plastic pollution in our oceans and the effect it has on our environment and animals. We will utilise the glorious sunshine this summer and take advantage of our wonderful outdoor areas for our daily lessons and enrich the pupils learning. We will be looking at properties of materials in science and creating our own seaside art work using a variety of materials in art. Please see below our curriculum overview booklet for this term and all the curriculum coverage.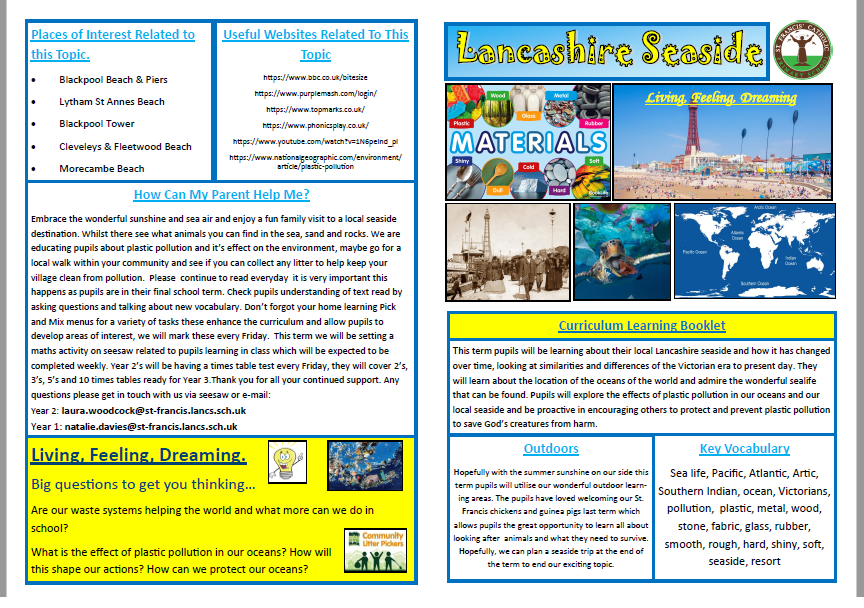 Mr Toad's waist coat
Parlick class have thoroughly enjoyed their D.T.  project designing, sewing and decorating their very own Mr Toad waist coat. The class have produced some fabulous designs here are a few examples of the amazing artistic skills.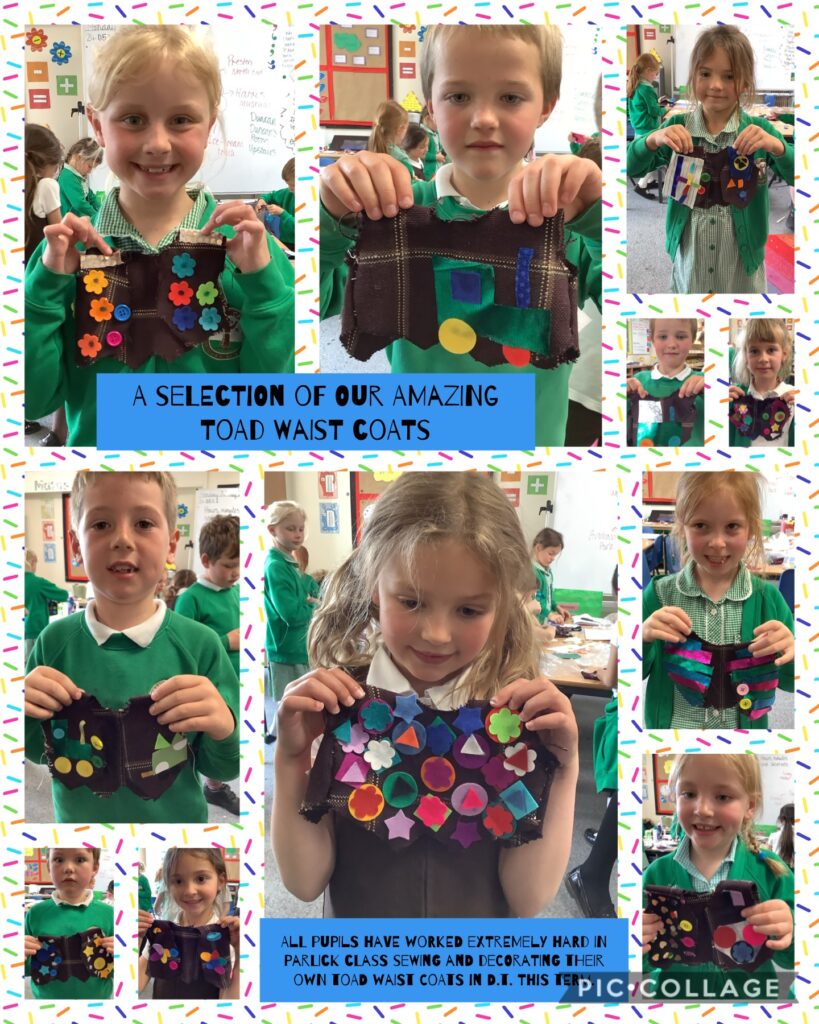 Let's get down with nature!
Parlick class have been learning all about habitats in science and wanted to have a go at building their own micro-habitats in our millennium area. Fantastic team work and super builders!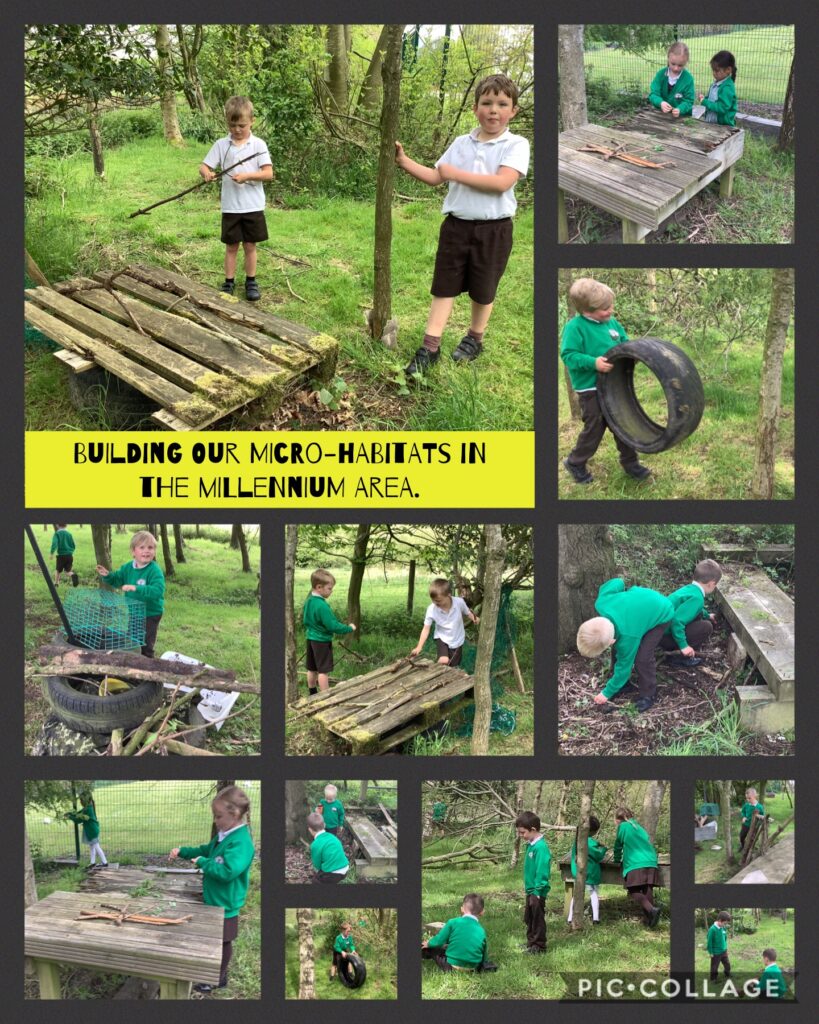 Our Amazing art work inspired by Henry Rousseau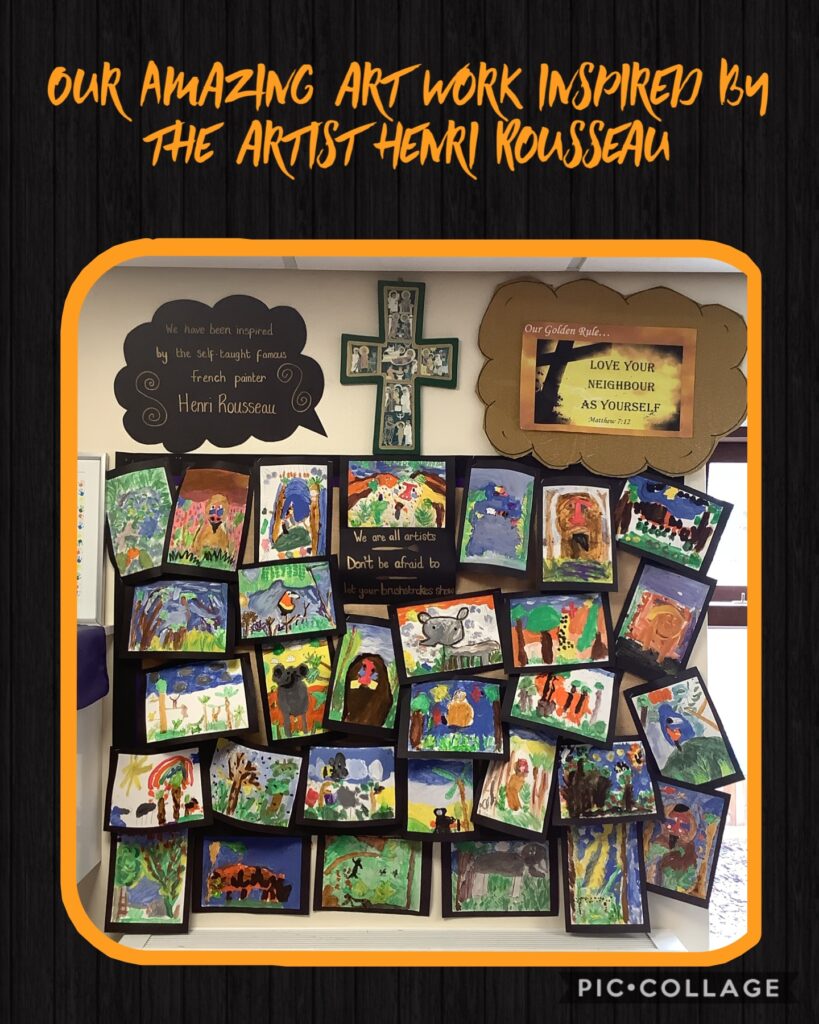 Exploring music through our bodies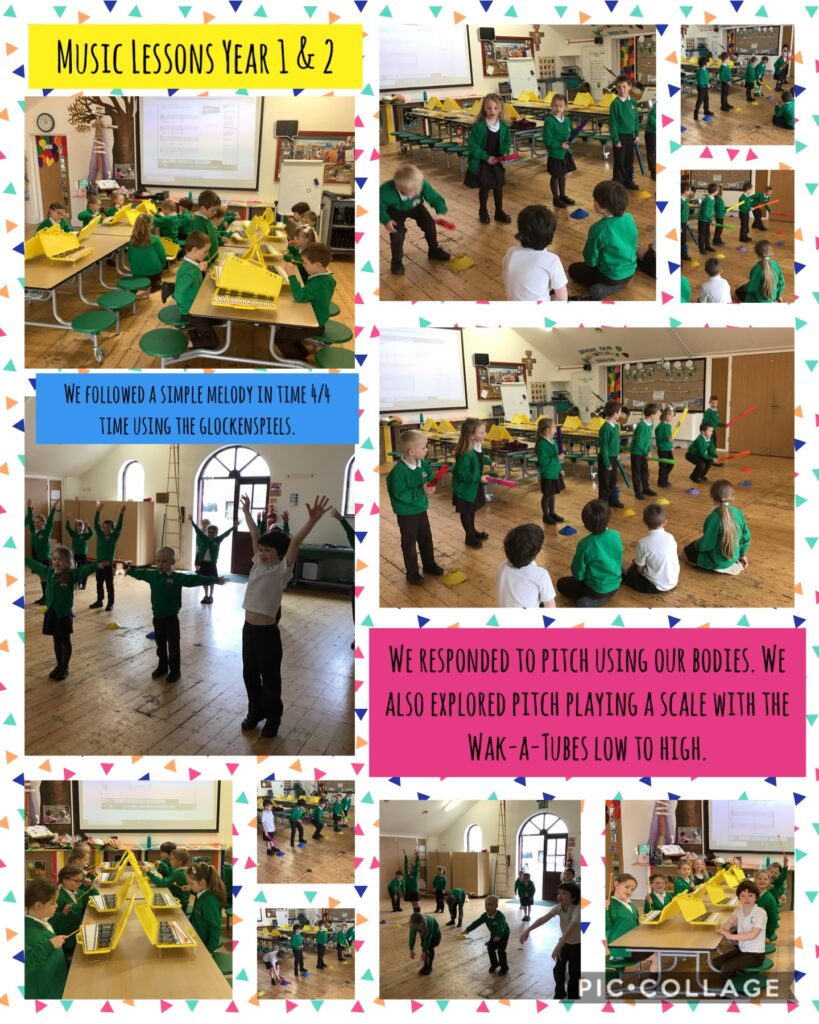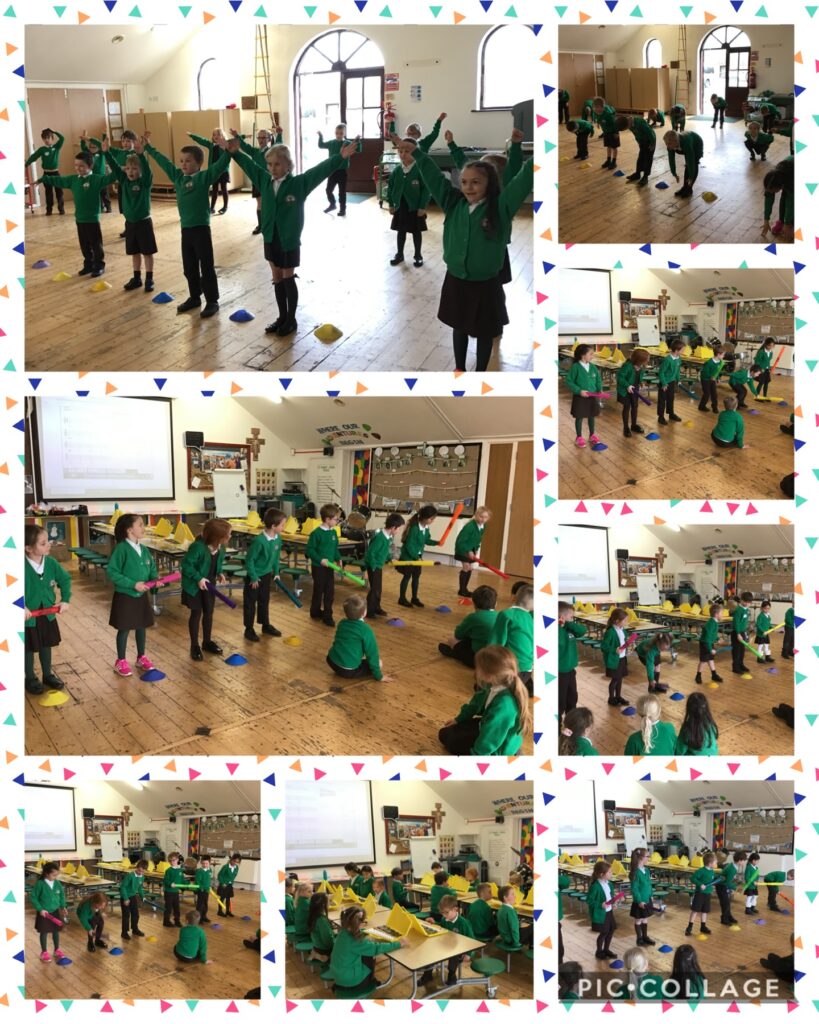 Our Year 2 musicians
Our Year 2 pupils were very excited to have their first recorder lesson with Mr Warren.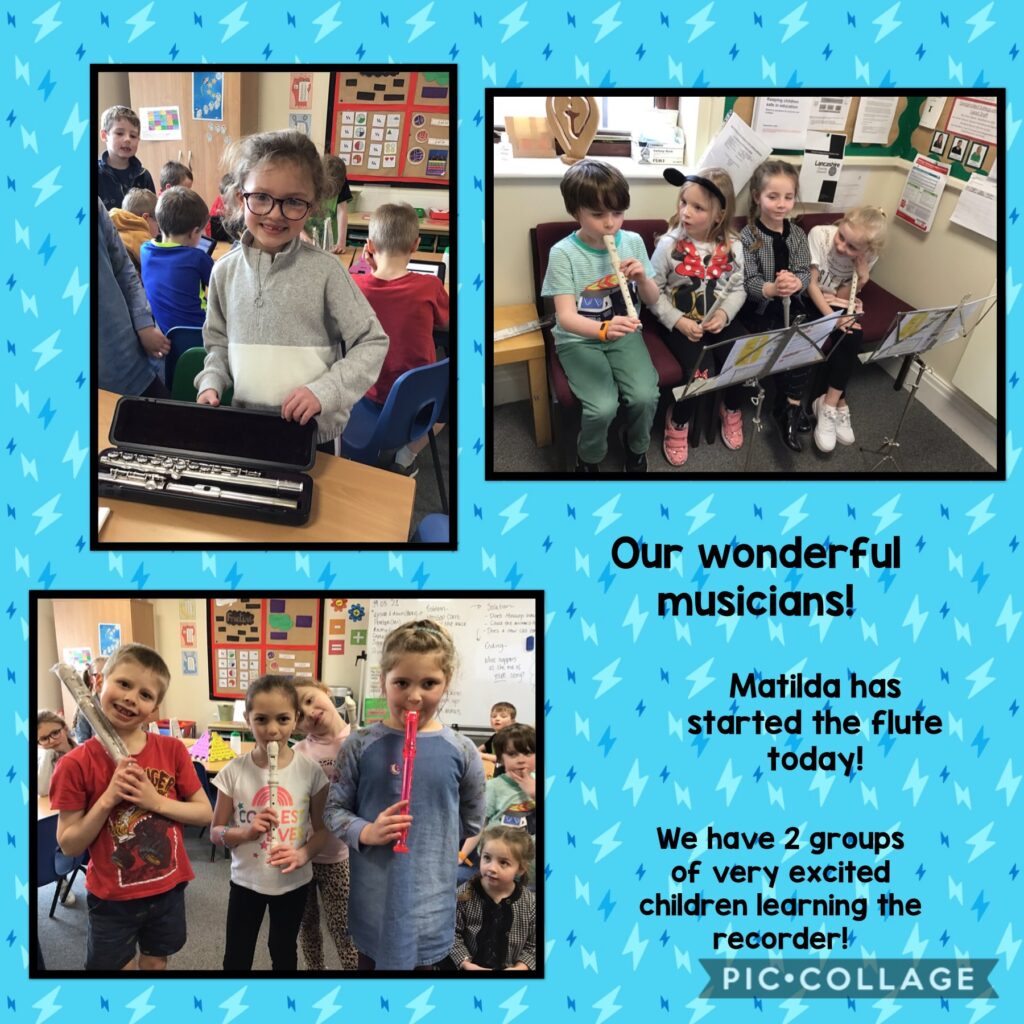 Meeting our new school pets!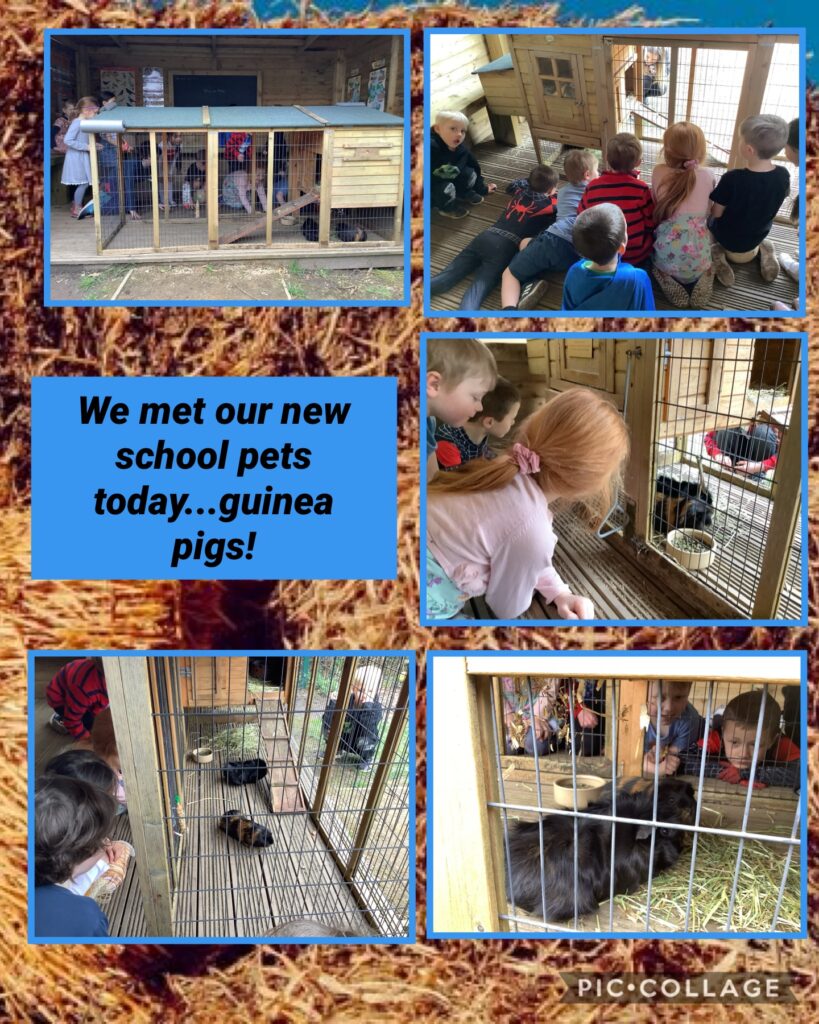 Comic Relief- The masked Joker
Understanding Pitch
In music we have been learning about pitch, how to recognise high sounds and low sounds. We used our voices and then explored pitch on the glockenspiels.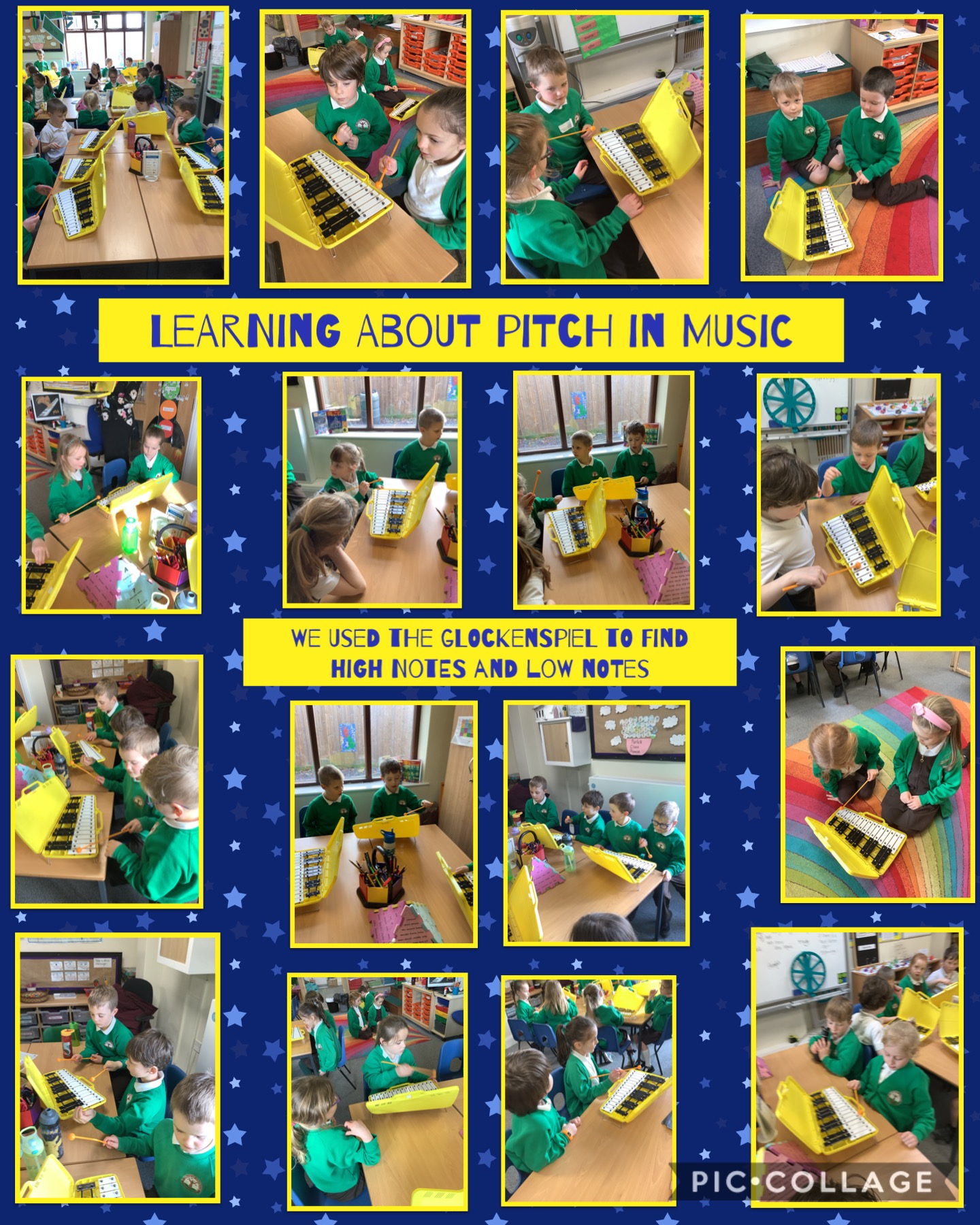 Science Week!
We had lots of fun being scientists this week investigating acids and alkalines and understanding how a rain clouds work.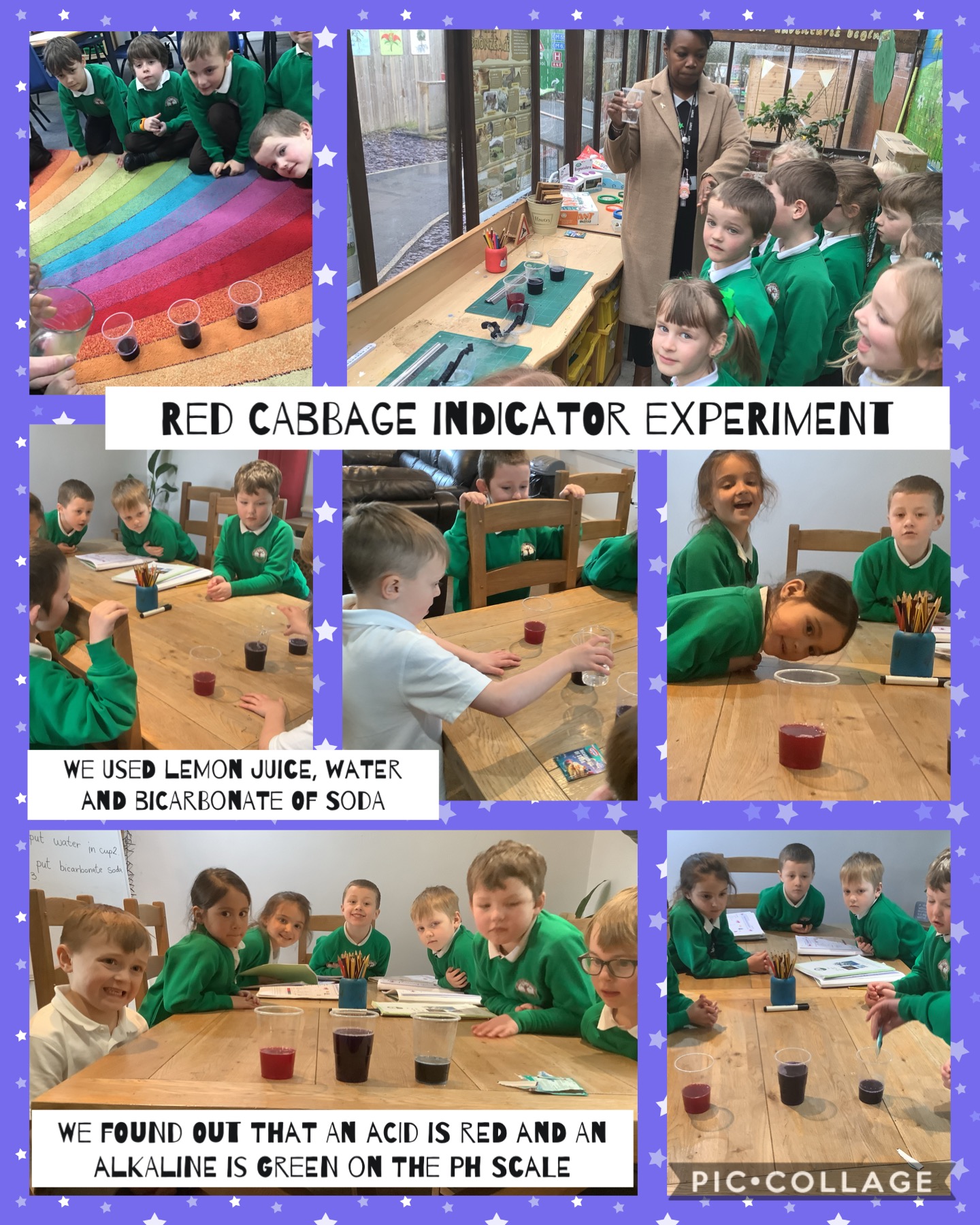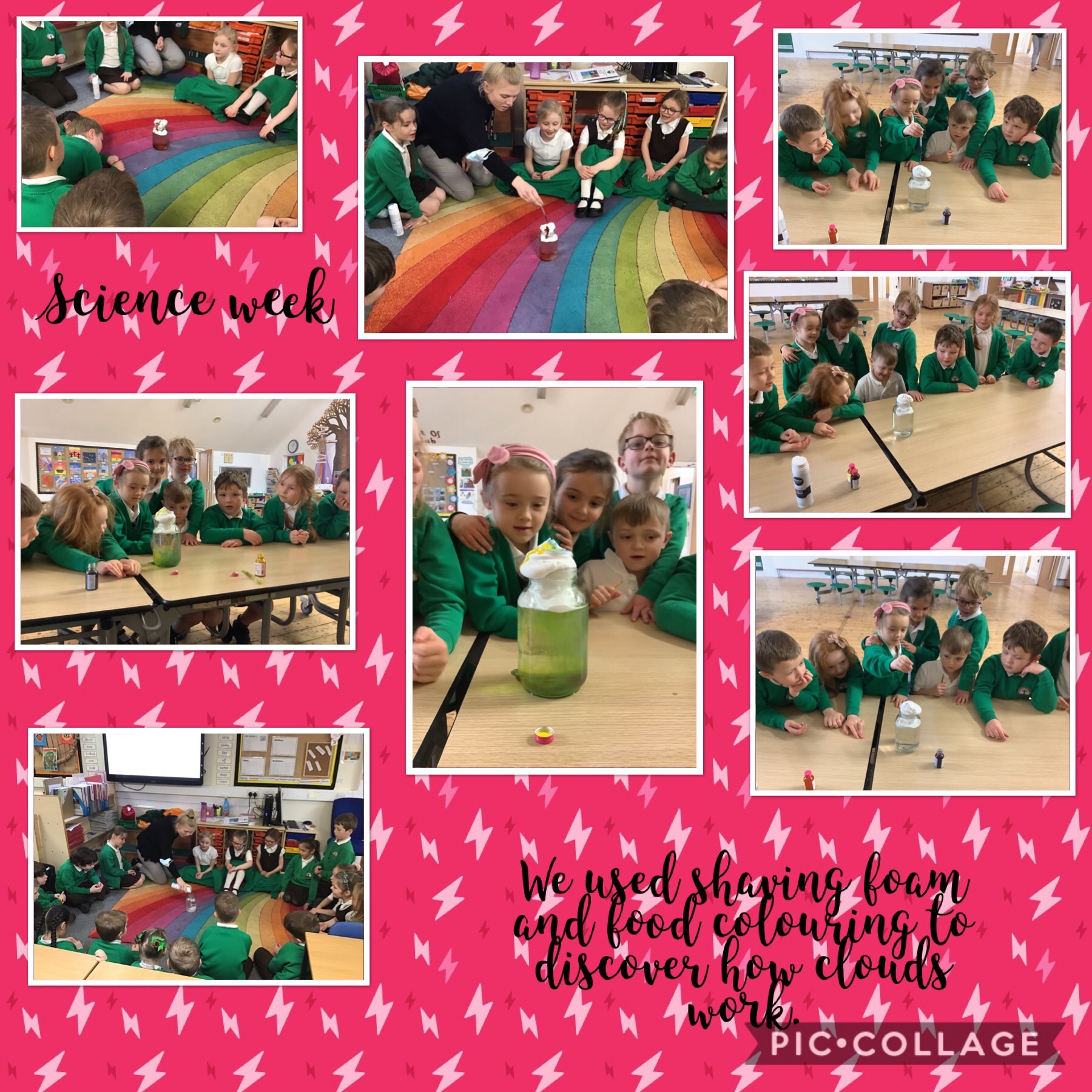 Our spectacular Great Fire of London work

Fire! Fire!
Wow! What a spectacular day Parlick class have had! We had a special visitor Fireman Dave to talk to us about fire safety then we recreated our very own Great Fire of London. The children watched with awe and excitement as their houses blazed in the wind showing how the fire spread in London all those years ago in 1666. An extraordinary end to our fabulous topic The Great Fire of London.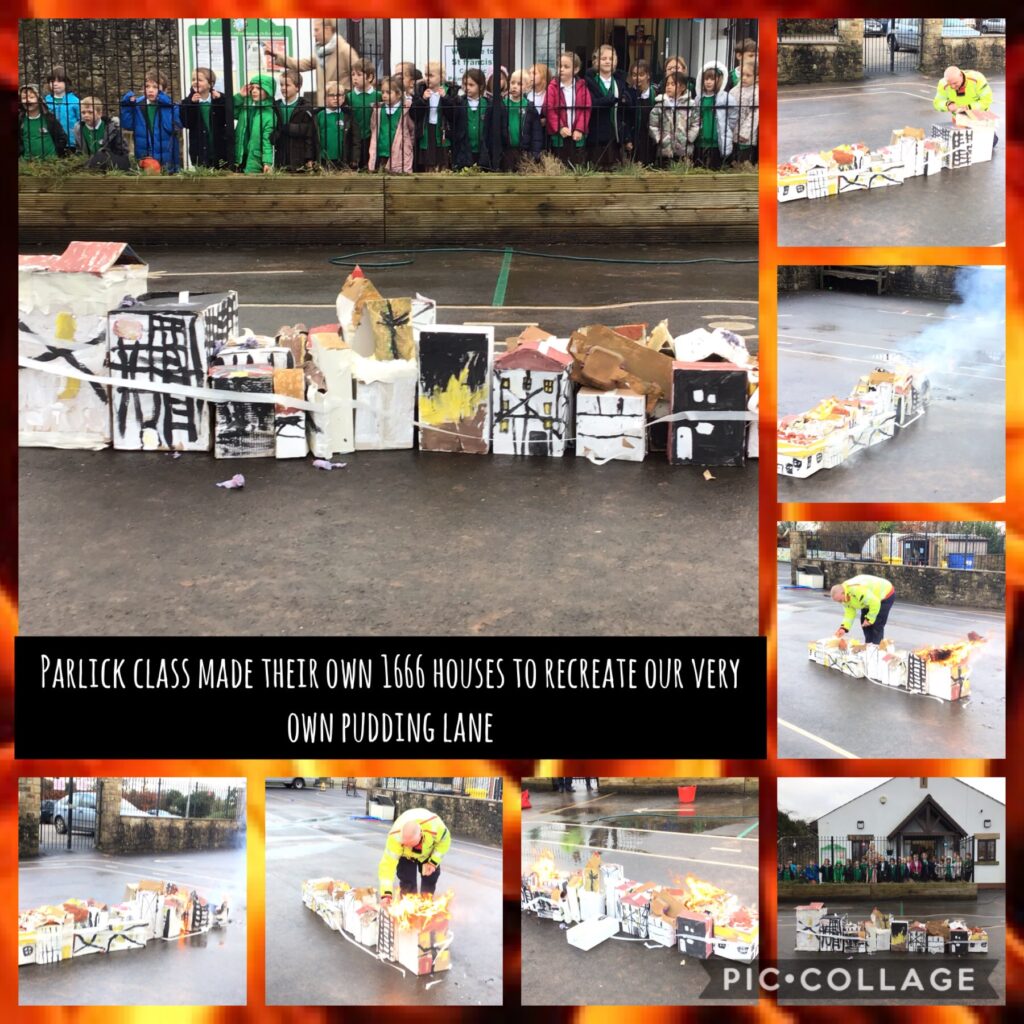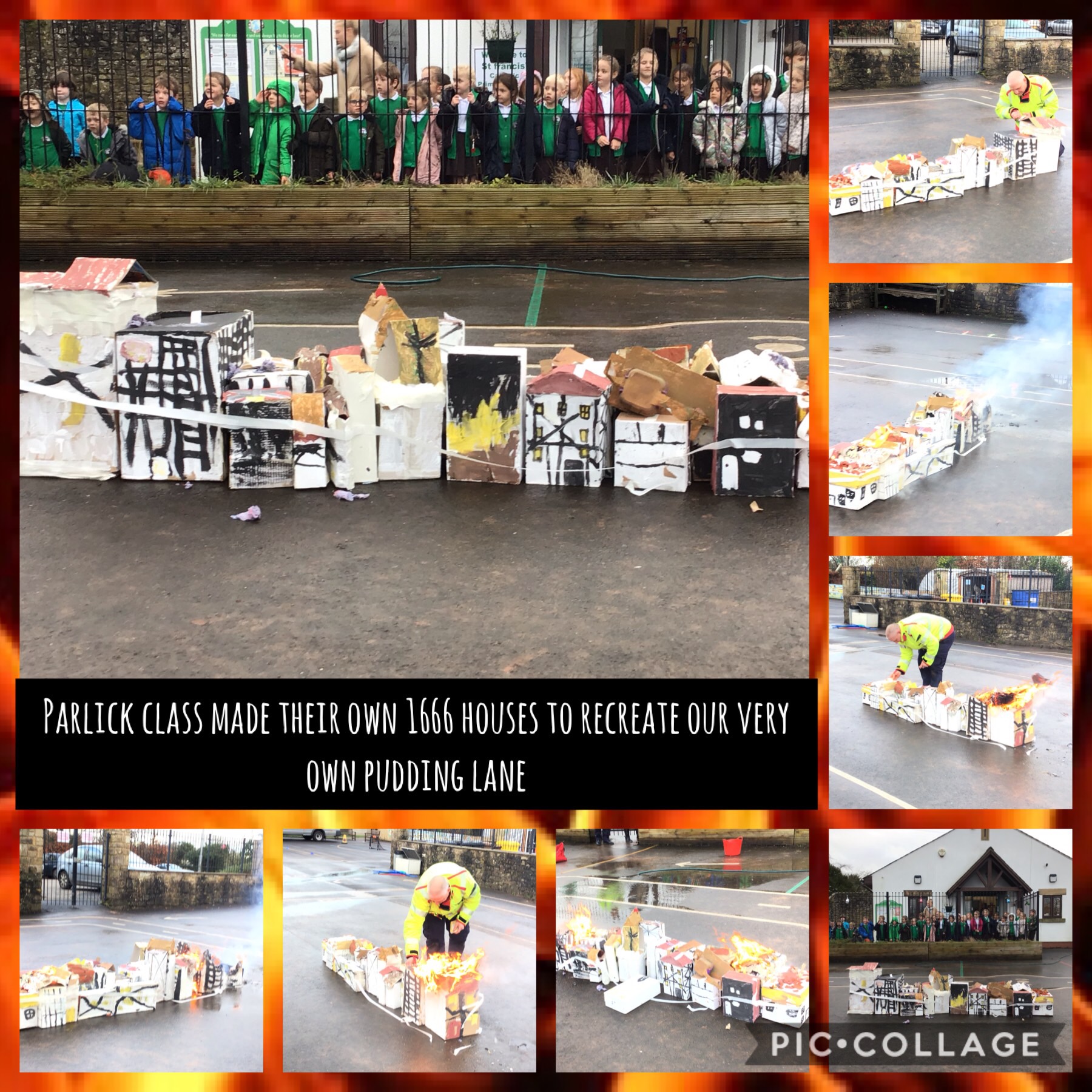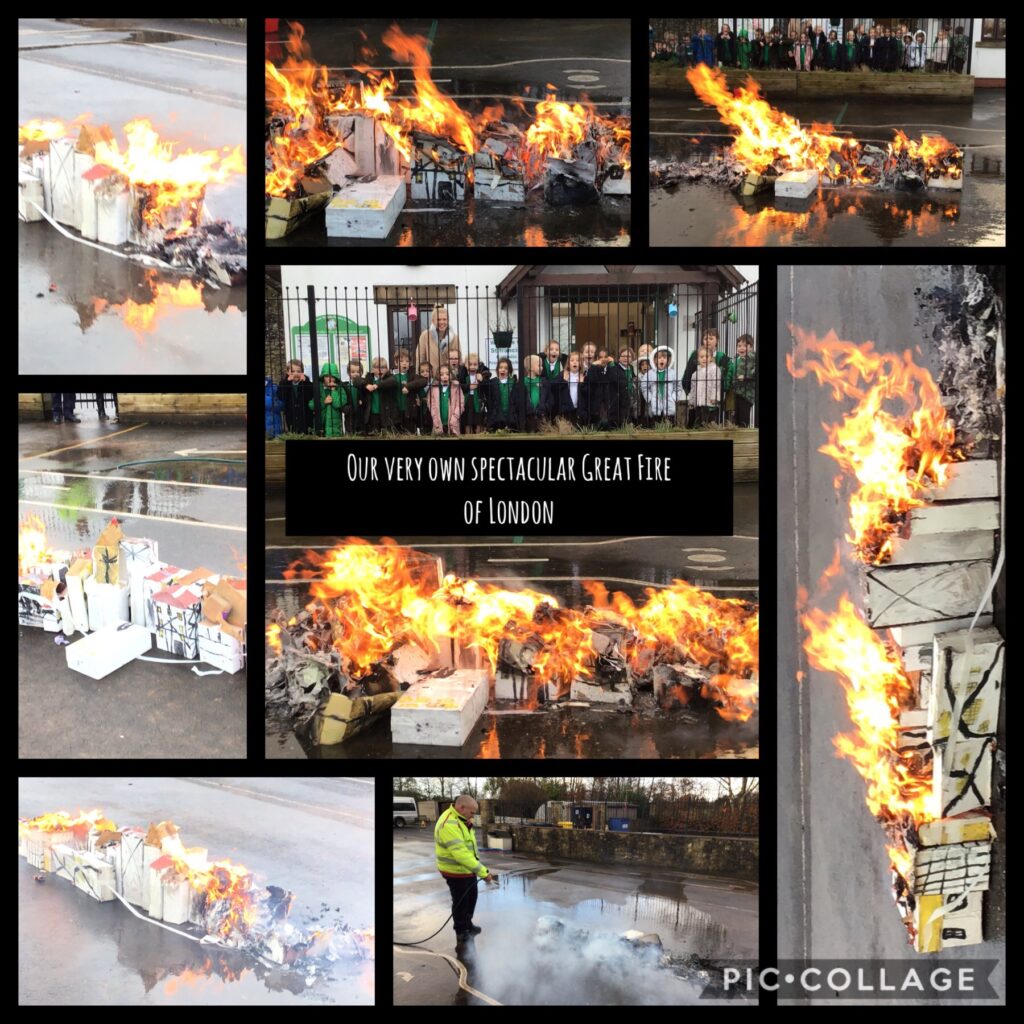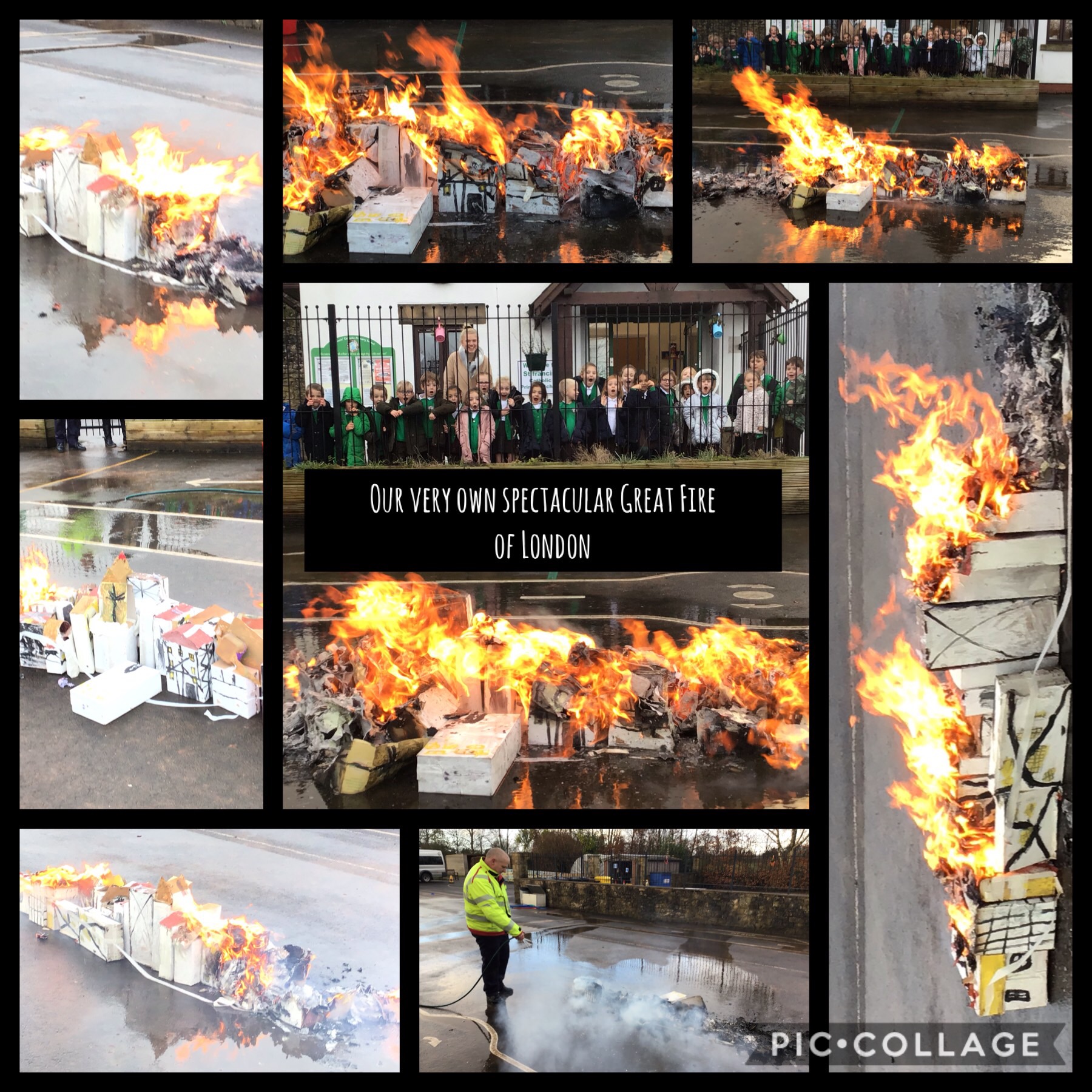 Our finished 1666 houses

Design Technology
Parlick class have been very creative in class constructing their very own 1666 houses. The next stage is painting them.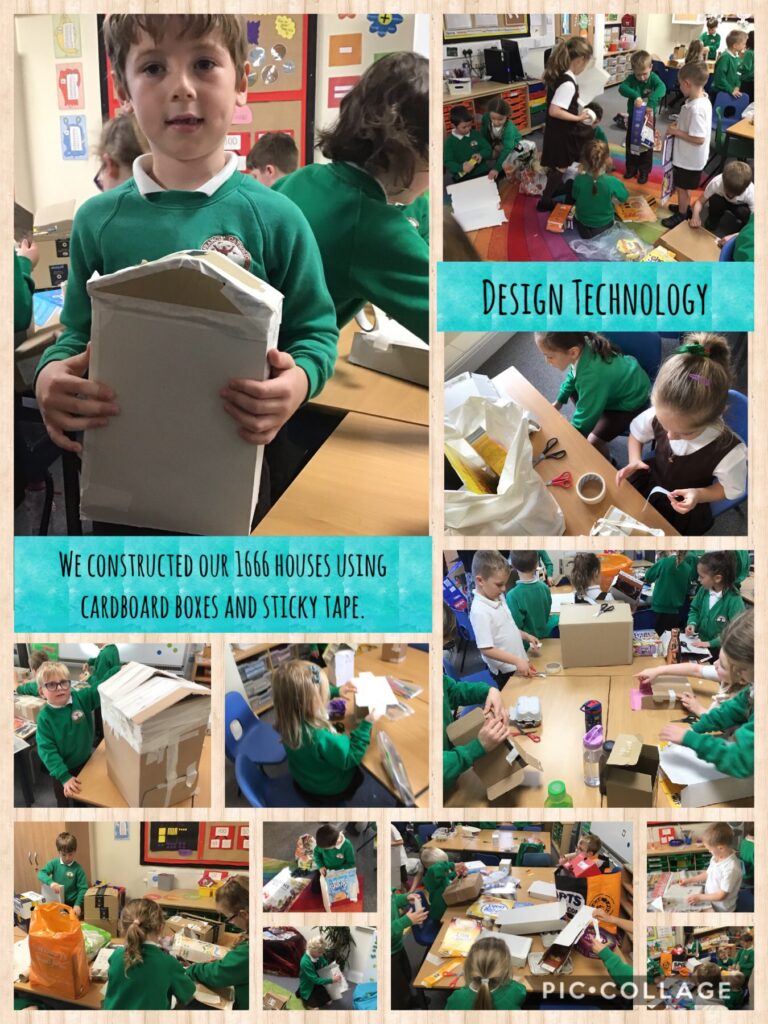 We're going on a shape hunt
Year 1's having been learning 2D shapes this week, they had lots of fun being detectives finding them all around school.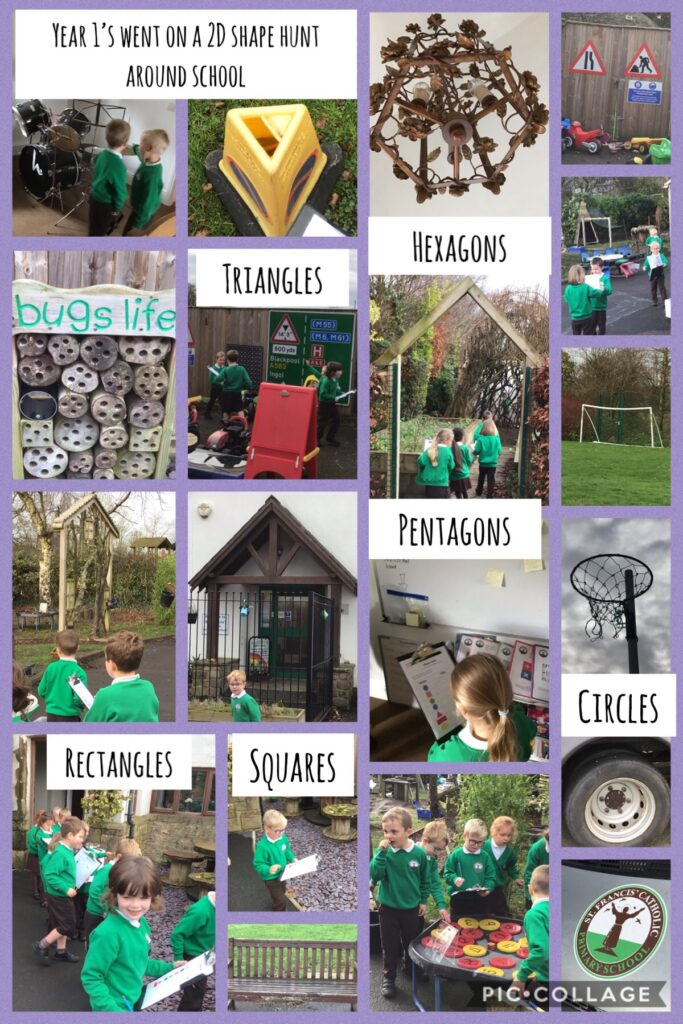 Children in Need fun!
Parlick class had lots of fun today taking part in lots of Children in Need activities. We started the day wearing our spectacular spotty outfits. The pupils then took part in a Joe Wicks 24 hour workout, followed by an exciting virtual duck race. We were amazed at the wonderful entries for the talent contest, we have a very talented class of artists, magicians, dancers, singers, gymnasts and many more! Superb effort everyone!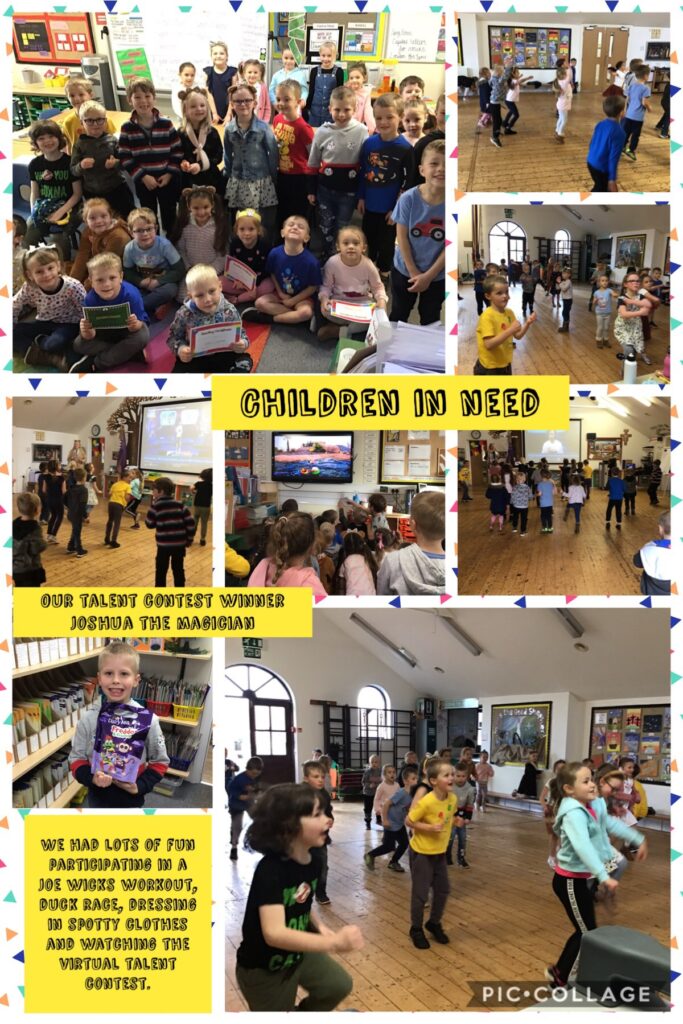 Remembrance Day
Pupils have created a beautiful wreath of hand sewn poppies, and a silhouette of a soldier to commemorate Remembrance Day. Pupils wrote lovely thoughtful prayers to go with it. We also went around the school to view other classes beautiful work to celebrate Remembrance Day.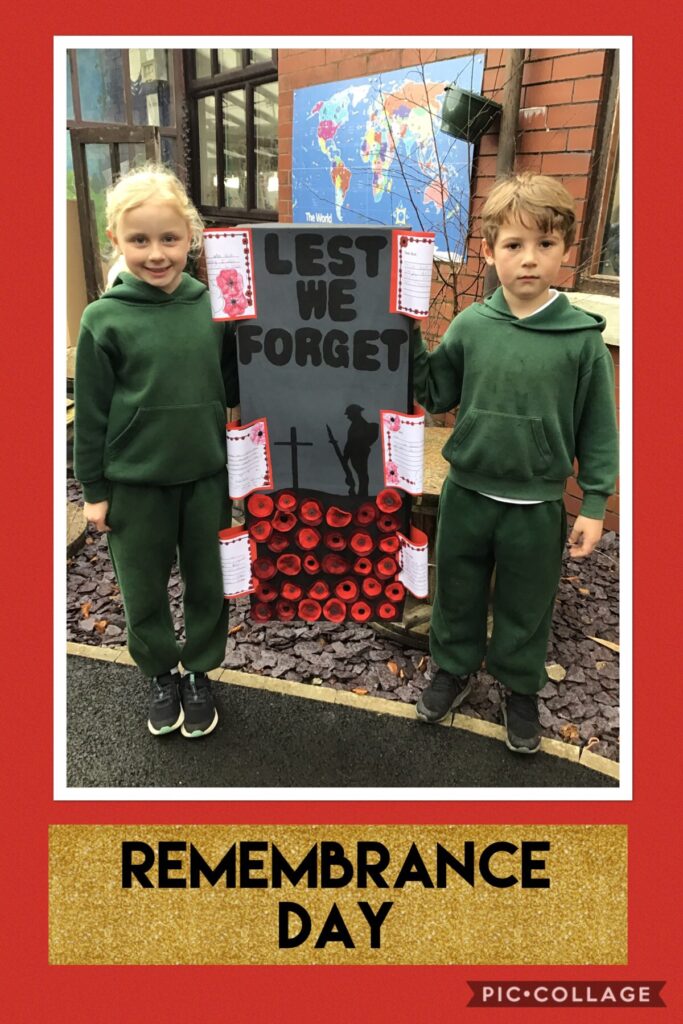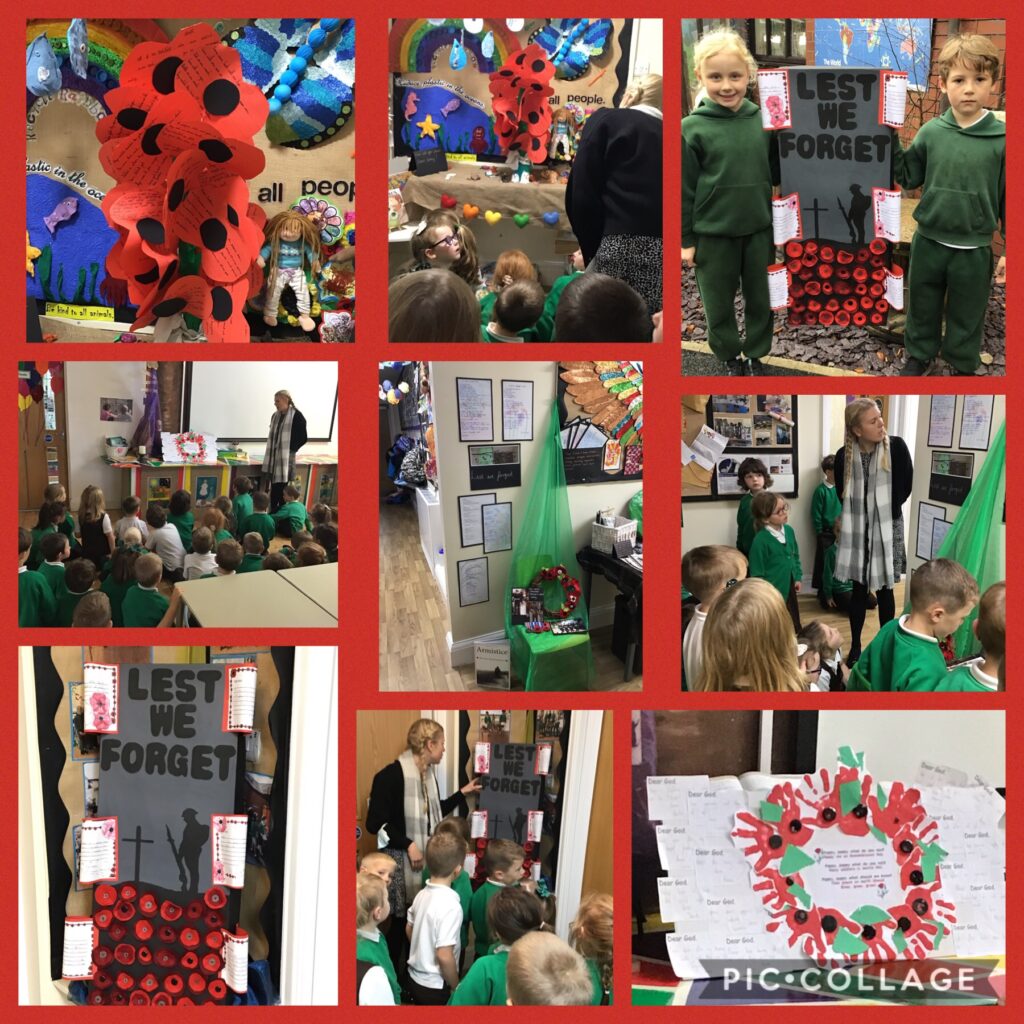 Fire, Fire!
Our fantastic Great Fire of London display!
Mrs Tyrer has completely blown us all away this week and made a wonderful Great Fire of London display for the classroom. This is to get us ready for our exciting new topic, Fire, Fire! Pupils will be learning all about the historical events of the Great Fire of London through fun and interactive activities. Pupils have already started to design their own 1666 houses in D.T. to build into our very own Parlick Class Pudding Lane. We have lots more exciting learning ahead!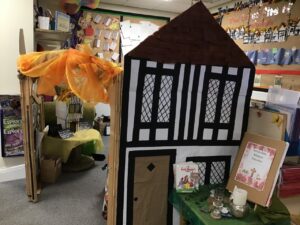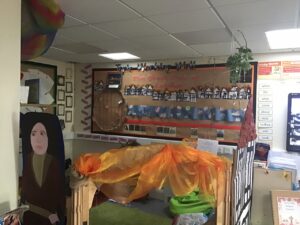 The Jolly Postman and other People's letters
Parlick class have thoroughly enjoyed this story, learning all about different types of letters and narrative writing. Year 2's produced some wonderful Cinderella story books presented in beautiful envelopes dressed in ribbon. The Year 1's produced some delightful Goldilocks and the Three Bears story books as well as some very thoughtful wolf sorry letters to the Three Little Pigs for blowing their houses down. Year 1's wowed me with their amazing sewing skills making their very own postman satchels to put their letters in. We just had to present Parlick's super work on our school corridor display for all to see.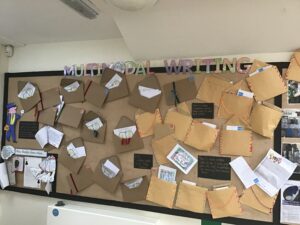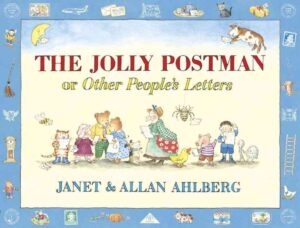 ---
Black History Month
In Parlick class we have combined Black History Month with our music lessons. We had lots of fun looking at influential black music artists through the decades going from Ella Fitzgerald to Beyoncé. We had lots of fun appreciating the amazing music by these artists and couldn't resist a little dance in class.  As well as influential black artists, we learnt about Nelson Mandela's life and all the work he did to give him worldwide status in fighting for black people's rights. We finished our lesson by playing our new percussion instruments to the song "Free Nelson Mandela", finding the beat and rhythm.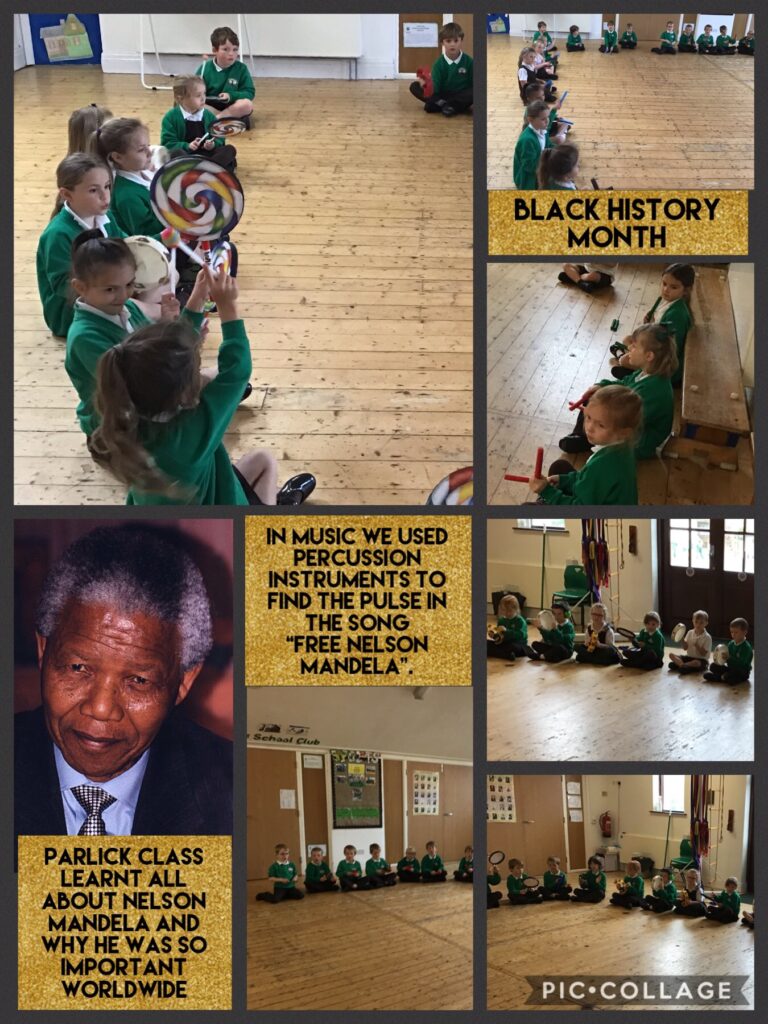 Class Worships
Parlick class enjoy their weekly class worships and enjoy taking turns to prepare and plan their own. Pupils have learnt the 'Lord's Prayer' with actions and have been thinking about 'Respectfulness' this term. Parlick class have learnt that it is important to always make someone feel important and cared for.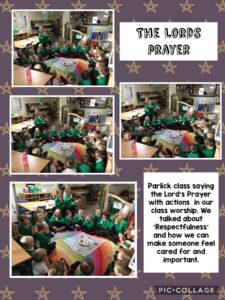 Space Week! 
Wow! What a busy week Parlick have had, we have completely invested ourselves in everything space related. We have really enjoyed learning about space this week, from creating our own fantastic marble planets and satellites, to sewing and construction. The focus this year was Satellites, the children looked at what satellites do and used role play to investigate this further.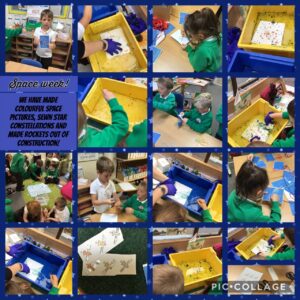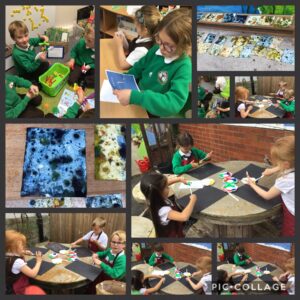 ---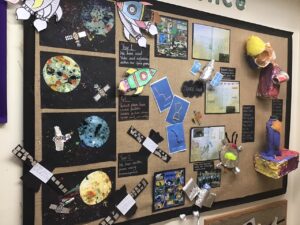 All things Science!
We had a fantastic time looking at different ways we can make our paper helicopters spin faster. The children had some very good suggestions from making them heavier to using a thicker card, however we decided that making the wings shorter, it might just do it! By testing the helicopters we found that our prediction was right and concluded that by making the wings shorter, we can make the helicopters even faster! Although, was it a fair test? As Parlick make an excellent observation, due to the weather raining, was it really fair that the shorter wings were a little wet? It was a great point to note on our evaluations, well done Parlick class!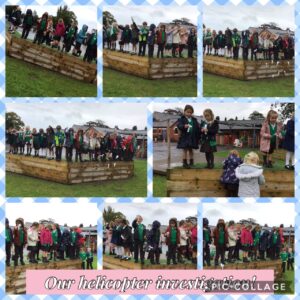 Scientific Enquiry
Parlick class had lots of fun today being scientists. They carried out a scientific enquiry looking at the effects of weathering and erosion has on human and physical features. We tried to create coasts, beaches, rain, wind, chemical reactions and many more. Pupils made predictions of what might happen and recorded their results, as well as evaluating their findings.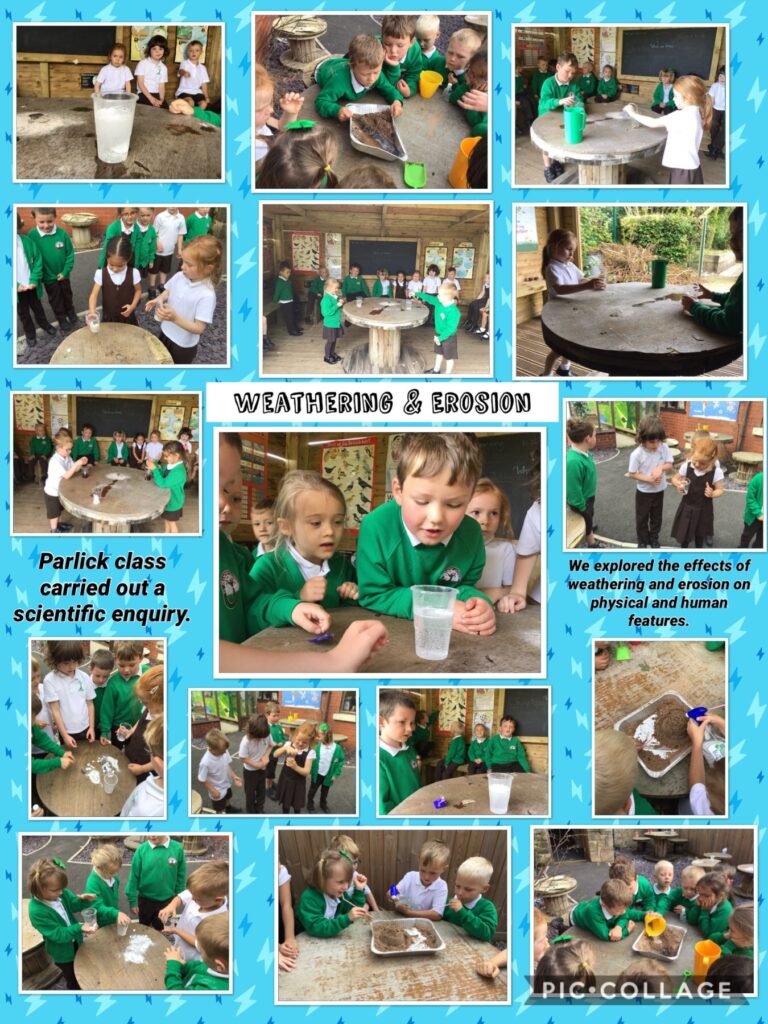 It's fantastic to be back!
A warm welcome to our new Year 1's and our fabulous Year 2's. Its's so great to be back at school with our amazing pupils. Parlick class have been very busy this week getting back into routines and diving straight back into their learning. Our topic this half term is 'Great Goosnargh'. We will be looking at our local area and learning all about maps and why we use them, as well as learning what human and physical features are. Please see our detailed topic booklet below and also on our topic book page for our areas of learning this term.
Pupils have enjoyed taking part in lots of drama the past week exploring the Katie Morag stories and getting inspiration for our big write projects. Parlick class have also enjoyed getting hands on and practical in our maths lessons looking at Number and Place value.
Please see below a snap shot of our very busy first week back…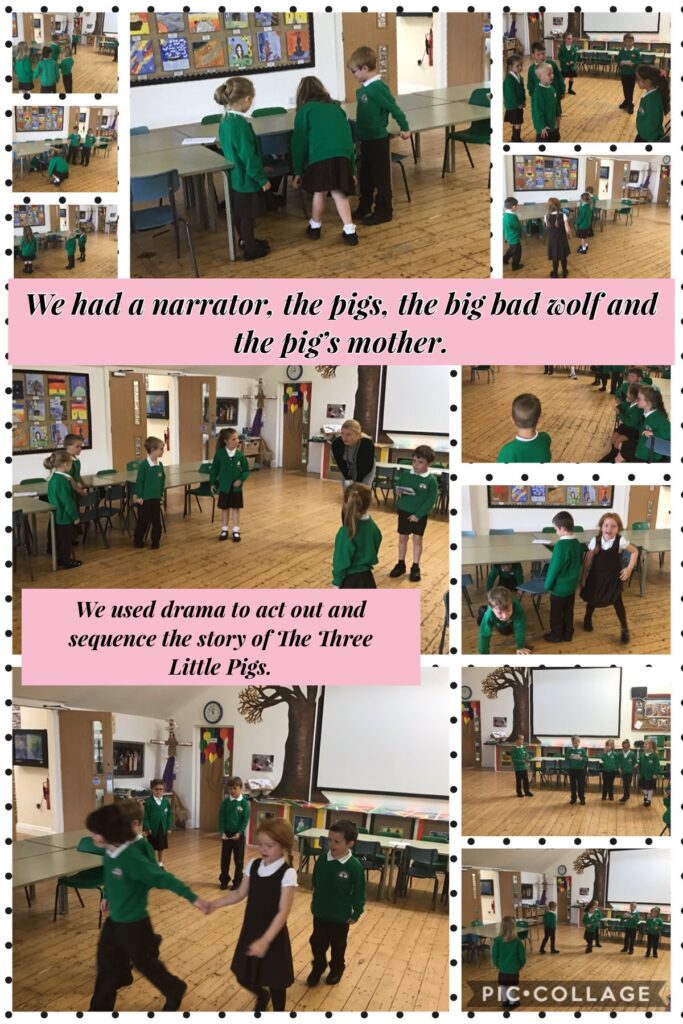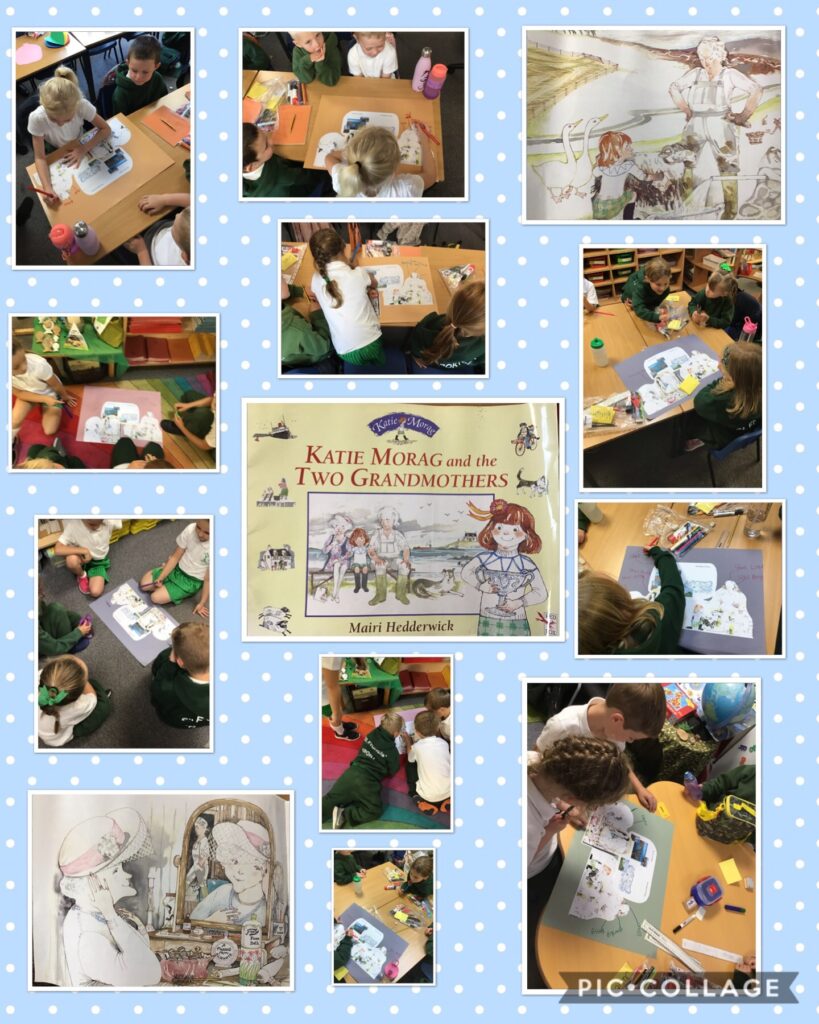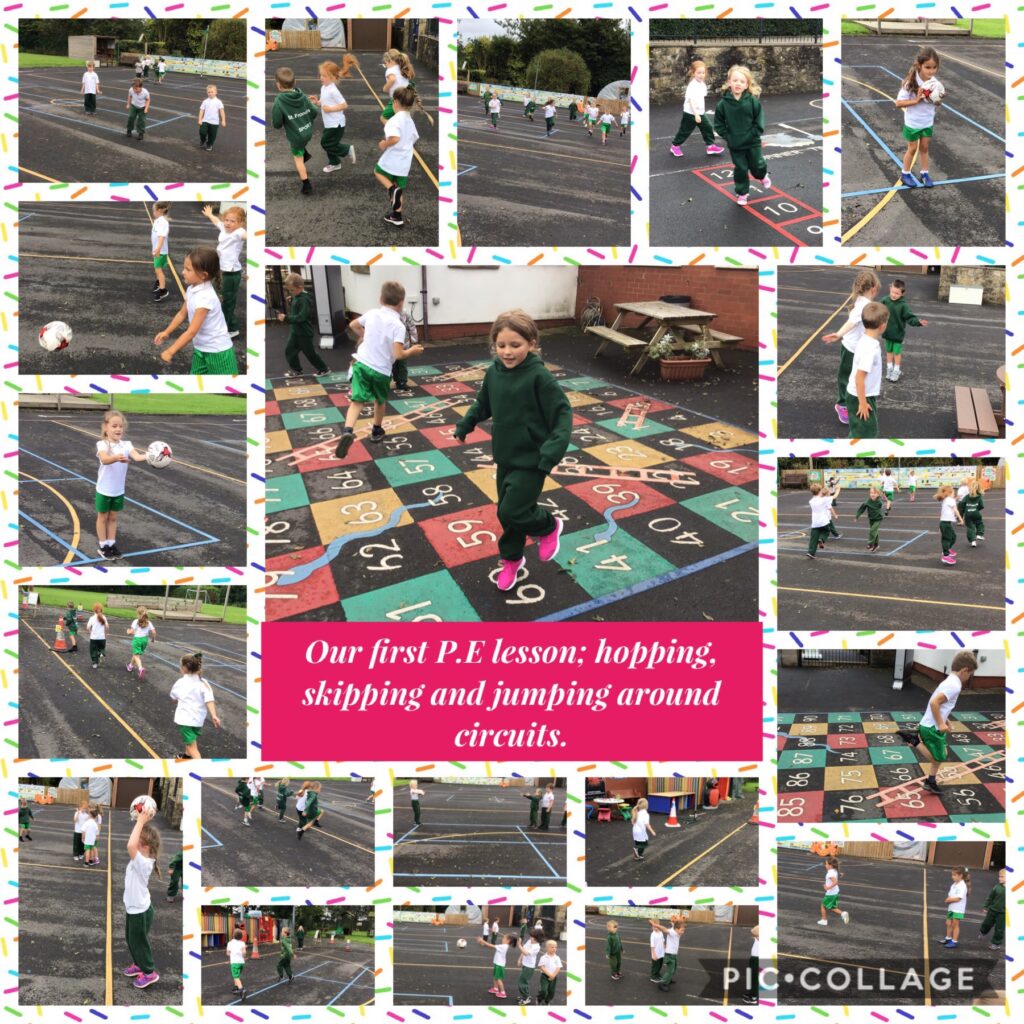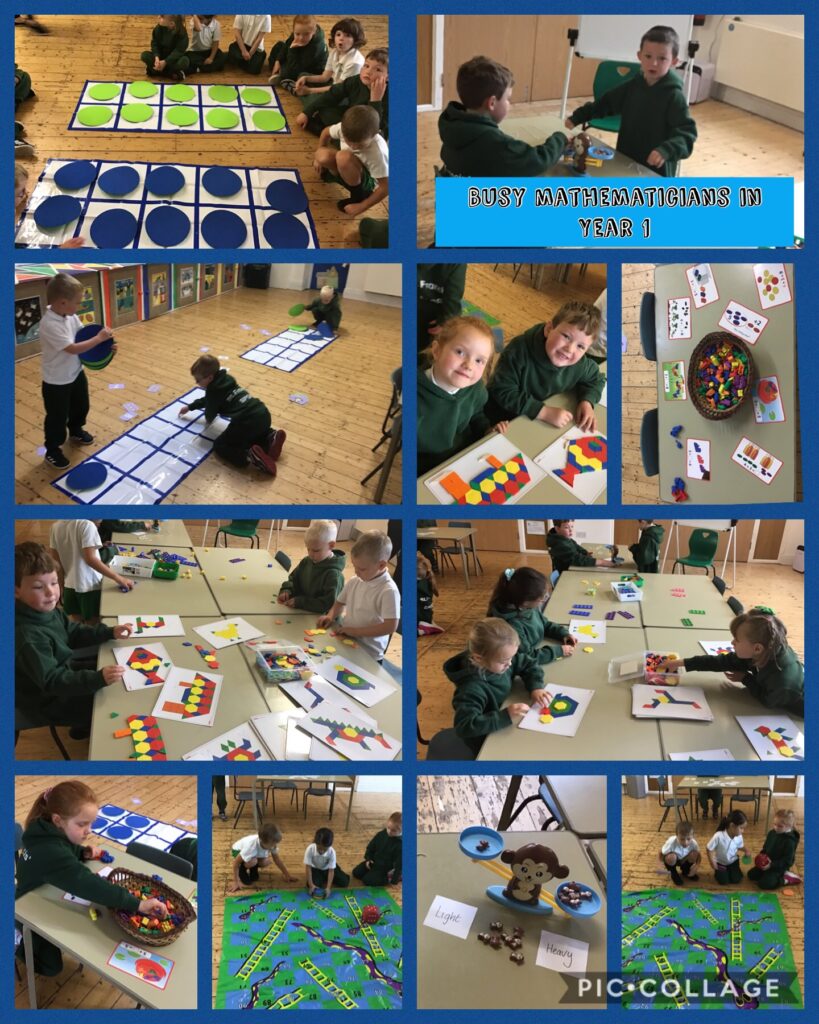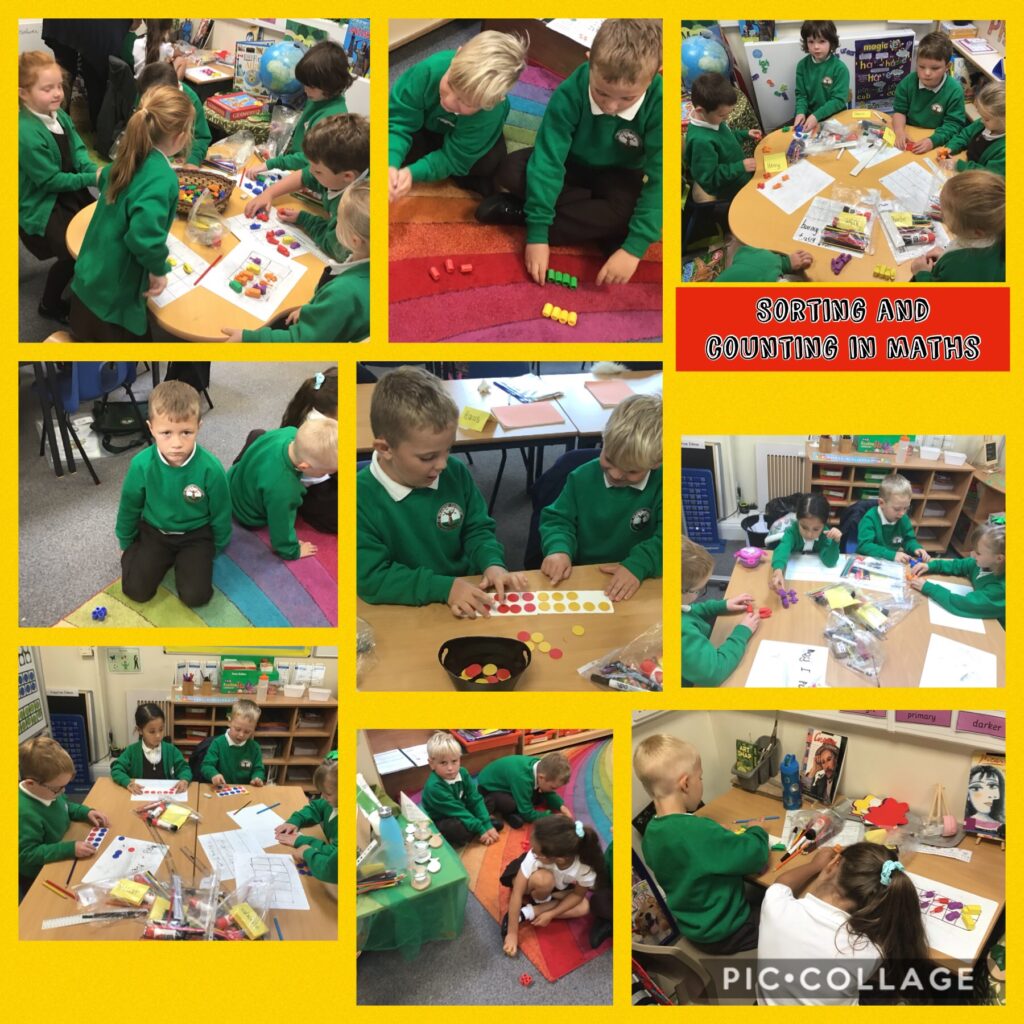 Our final topic of the year is Robots! Summer term 2 is full of designing and making our very own robots. We will be covering lots of exciting learning this term, including the human body and the senses and writing our own instructions for the robots we have made. In this uncertain time we are continuing with our home learning, where the children are working super hard!
We are now onto our topic, The Great Outdoors! This topic focuses on Geography and Science where there is lots of interesting learning to explore. This includes, everyday materials, where we will be looking at what objects are made of and how they are used. We will be drawing our own maps and ariel views of our households. As we continue to home learn children have plenty of exciting learning to be able to flourish and learn during this uncertain time.
Within our Spring 2 half term we are exploring the topic, Growth and Green Fingers! We have many exciting science activities taking place with plants being our focus. This term also includes Science Week which we will be using our scientific skills to conduct experiments and learn new, wonderful things! We will be tasting smoothies and creating our own soups. There is much to look forward to this half term!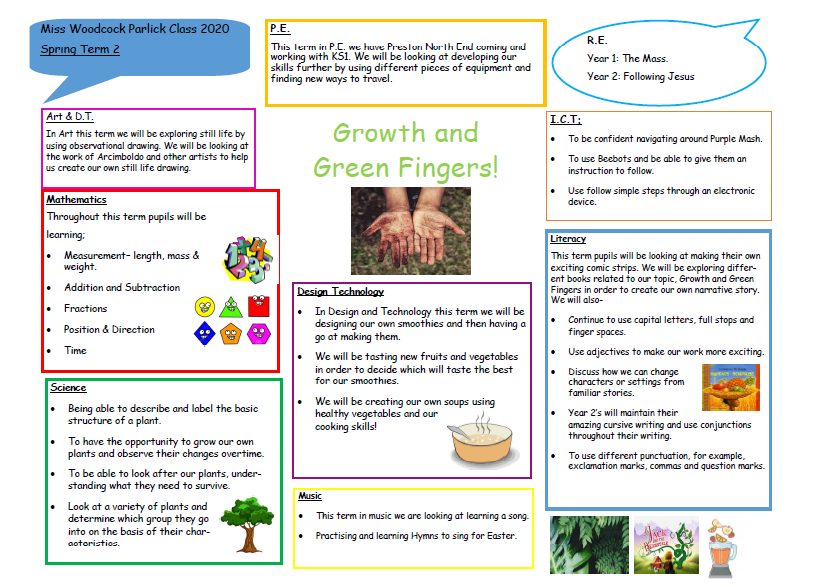 Agadoo Day!
We had a lot of fun on Friday 20.03, we decided that we would call the day 'Agadoo Day' which involved, quizzes, dancing outside and teachers Vs Year 6 netball tournament. In these uncertain times we wanted to ensure that we had a fun filled day, which we sure did!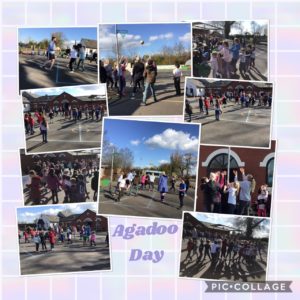 Science Week 2020
It has been a busy week in Parlick Class as we have been taking part in Science Week! We have conducted experiments, been on nature walks and even made our own soup! On Thursday the whole school then came together and showed off the amazing science!
                 World Book Day!
We have had a fantastic World Book Day this year with the characters getting better and better! From Willy Wonka to Horrid Henry, the costumes have been amazing. A great effort from Parlick Class, well done!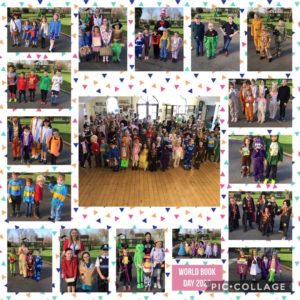 This Spring Term 1 we are covering Family Album! We have lots of exciting things happening this term, including celebrating Chinese New Year, creating our own cottages for our traditional tales and planning a visit to the Harris Museum.
We have been very busy exploring safety week! Parlick Class have had many visitors and discussions, including, road safety, Dog's Trust, water safety, Fire Fighter Dave, Sam the Nurse and Heatbeat. It has been a wonderful week and we have learnt a lot of useful information.
Our wonderful Maths work this half term, we have worked super hard on tricky topics, from money to multiplication!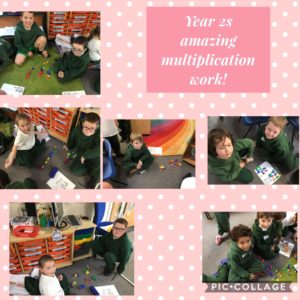 We have used role play throughout this term to explore our Traditional Tale, Little Red Riding Hood. Parlick have used role play and put their own endings that they practiced into their amazing stories!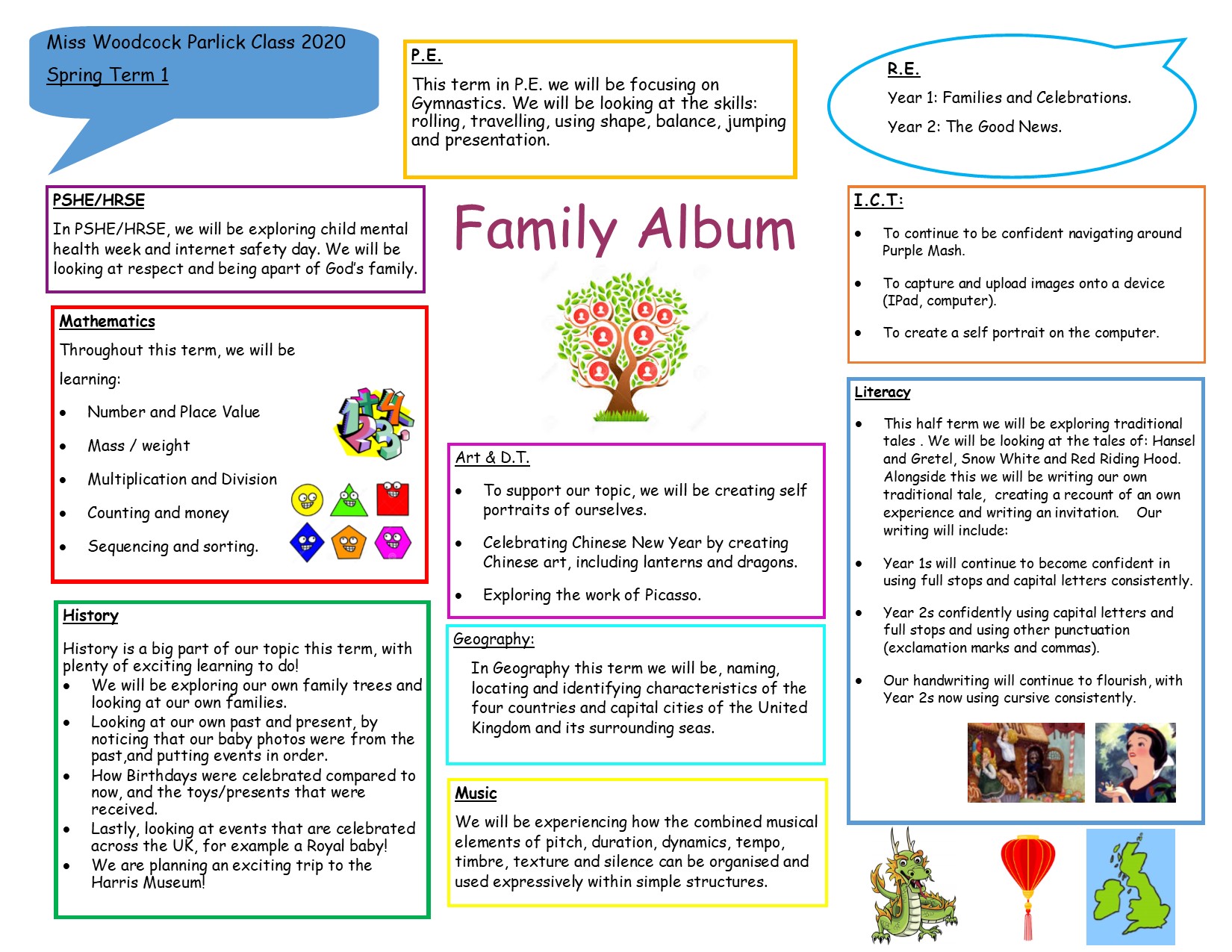 Paper Bag Princess Writing
Some best bits so far this year…
Harris Museum Masterpiece Sculpture day
We are very lucky to be the only school in Preston to have been selected to have a sculpture masterpiece in our school for the day organised by the Harris Museum. Parlick class have had a fun filled art day responding to the beautiful sculpture 'Gloria Victis'. Pupils have explored working with water paints, paper sculpture and splatter art outdoors. Pupils enjoyed learning all about how bronze sculptures are made using various materials and moulds. Please see below a few fabulous moments from the day.
Space Day
Parlick class had lots of fun learning all about space this week. Pupils got messy making moon sand and alien slime, and loved making star constellations with sticks in our new D.T. area. We finished the day with a school assembly sharing learning from all the other classes. The first man on the moon landing re-enactment was very entertaining from Fairsnape and Parlick class were very impressed with Beacons Lego coding moon rovers.
Lost and Found
Parlick class have thoroughly enjoyed looking at the story 'Lost and Found' this term by Oliver Jeffers. The pupils have been very busy writing their own penguin adventure stories in literacy and getting very creative in Art and D.T. not forgetting the pupils amazing efforts in their homework. Please see below all the wonderful work the pupils have been up to so far.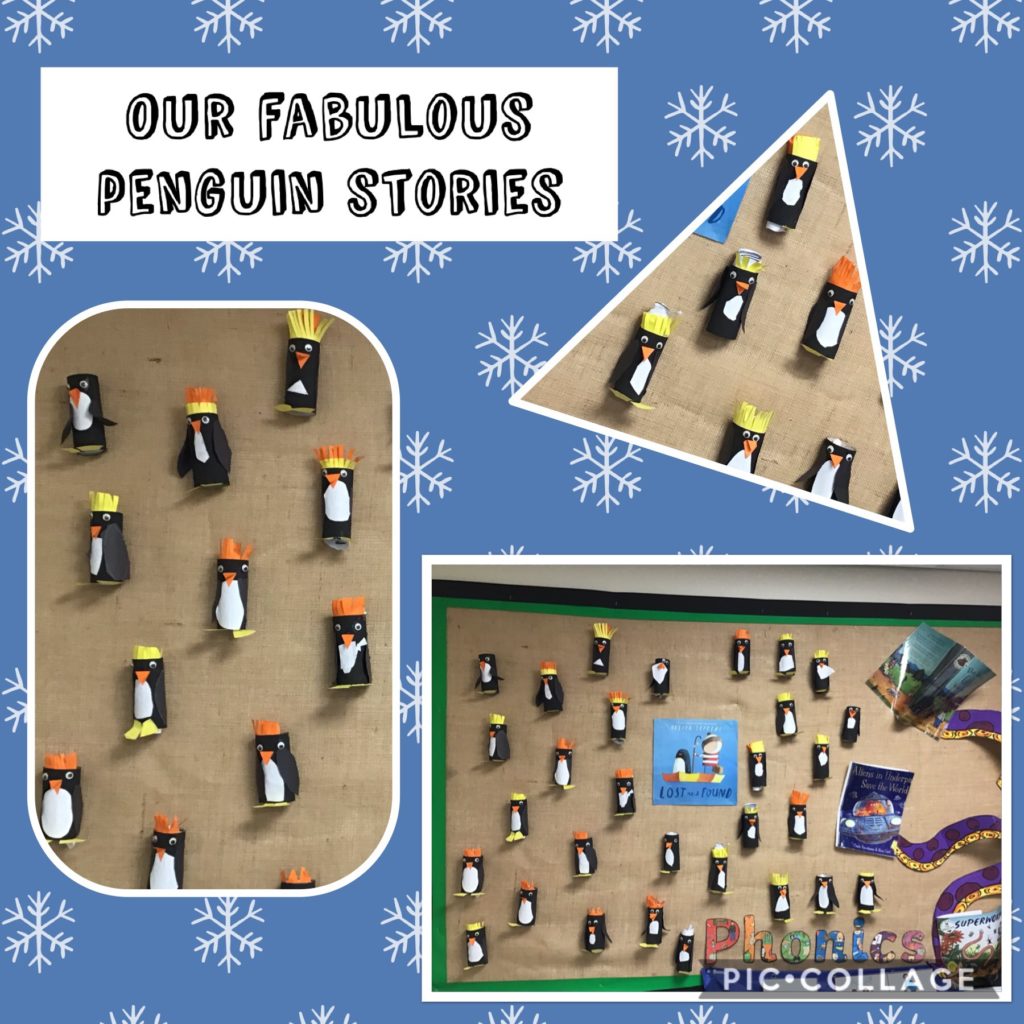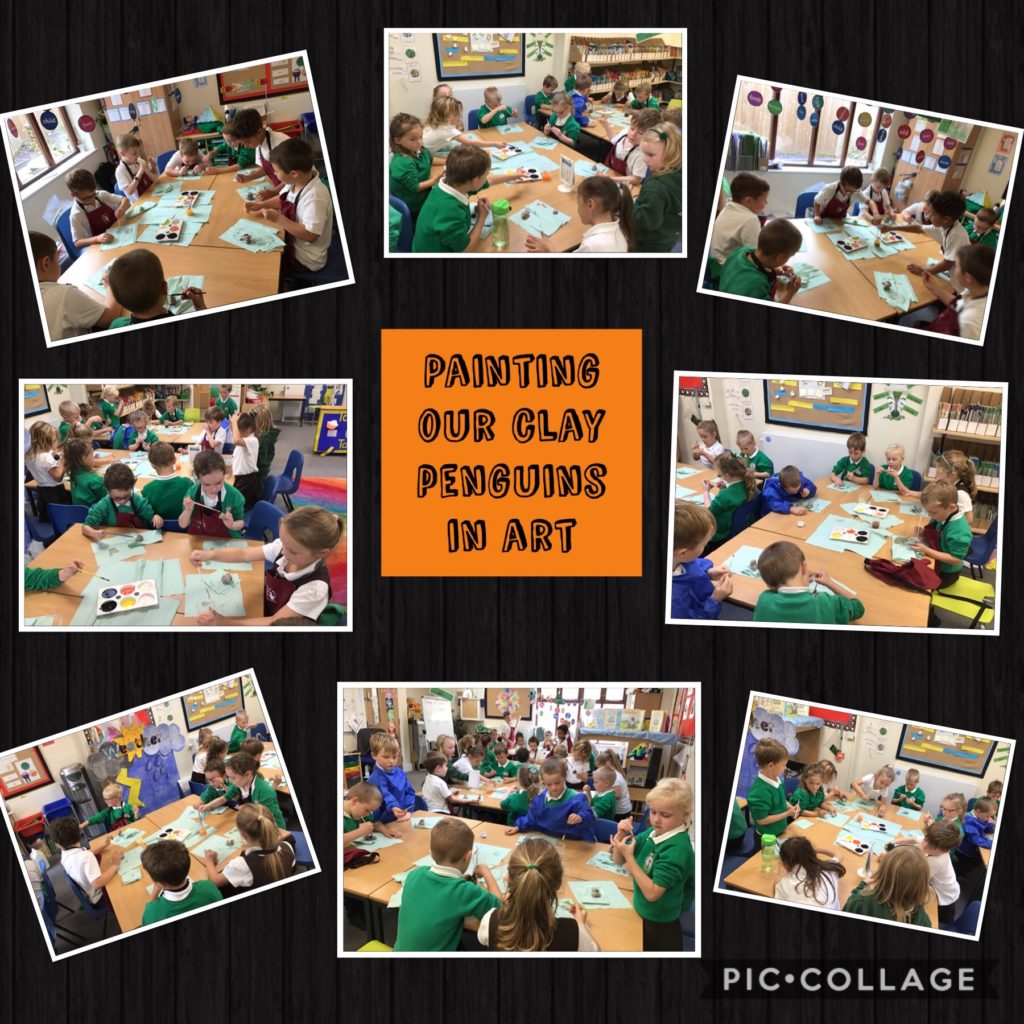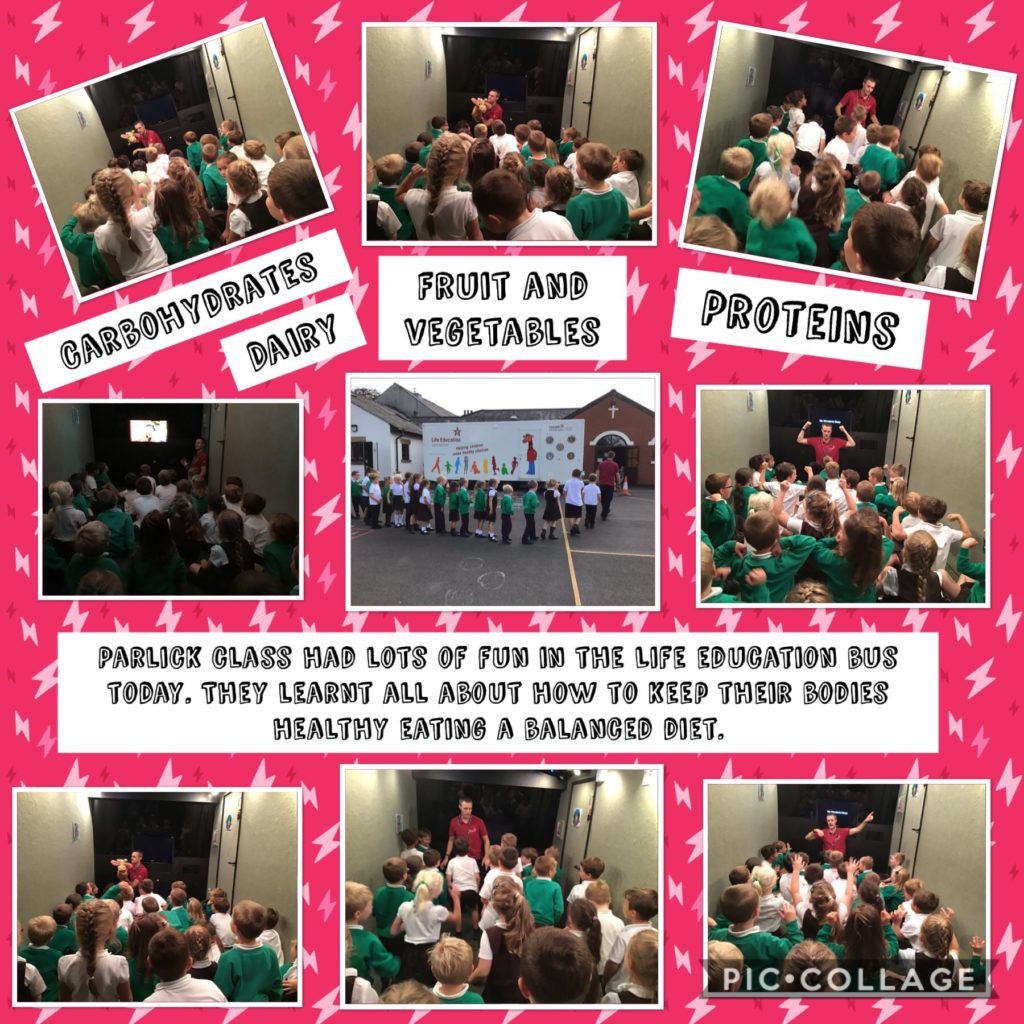 Autumn term 1
Welcome back everyone!
A warm welcome to our new Year 1 pupils and it's a pleasure to see our Year 2 pupils helping the younger ones settle into our class so well. We have been very busy this week getting emerged into our fabulous learning. Our topic this term is 'Penguins, Possums and Pigs. We will be looking at seasonal changes and weather patterns in the UK in our Geography lessons and in Science we will be looking at which animals live in hot and cold countries, as well as identifying similarities and differences in common animal structures. In Parlick class we thoroughly enjoy bringing our story writing alive with our multi model writing incorporating our Art work with our Literacy work. Please see below our class topic map showing the areas of the curriculum we will be covering this term.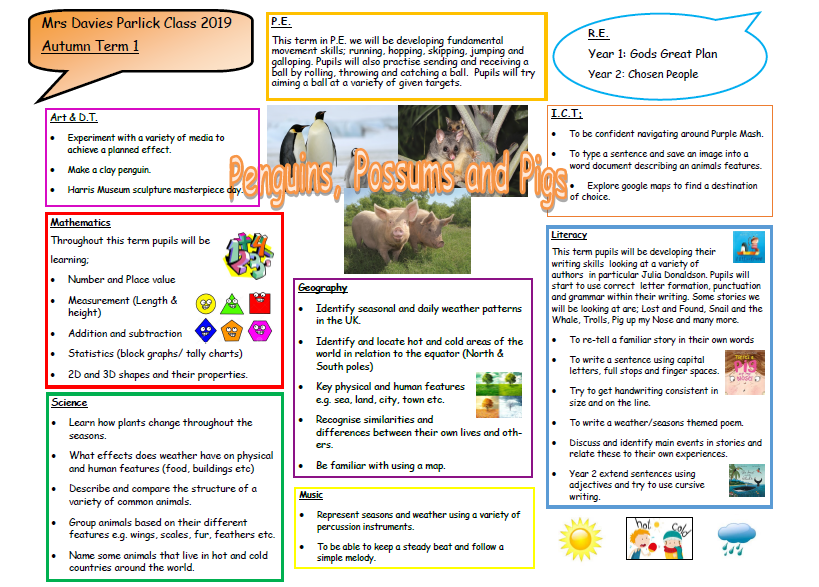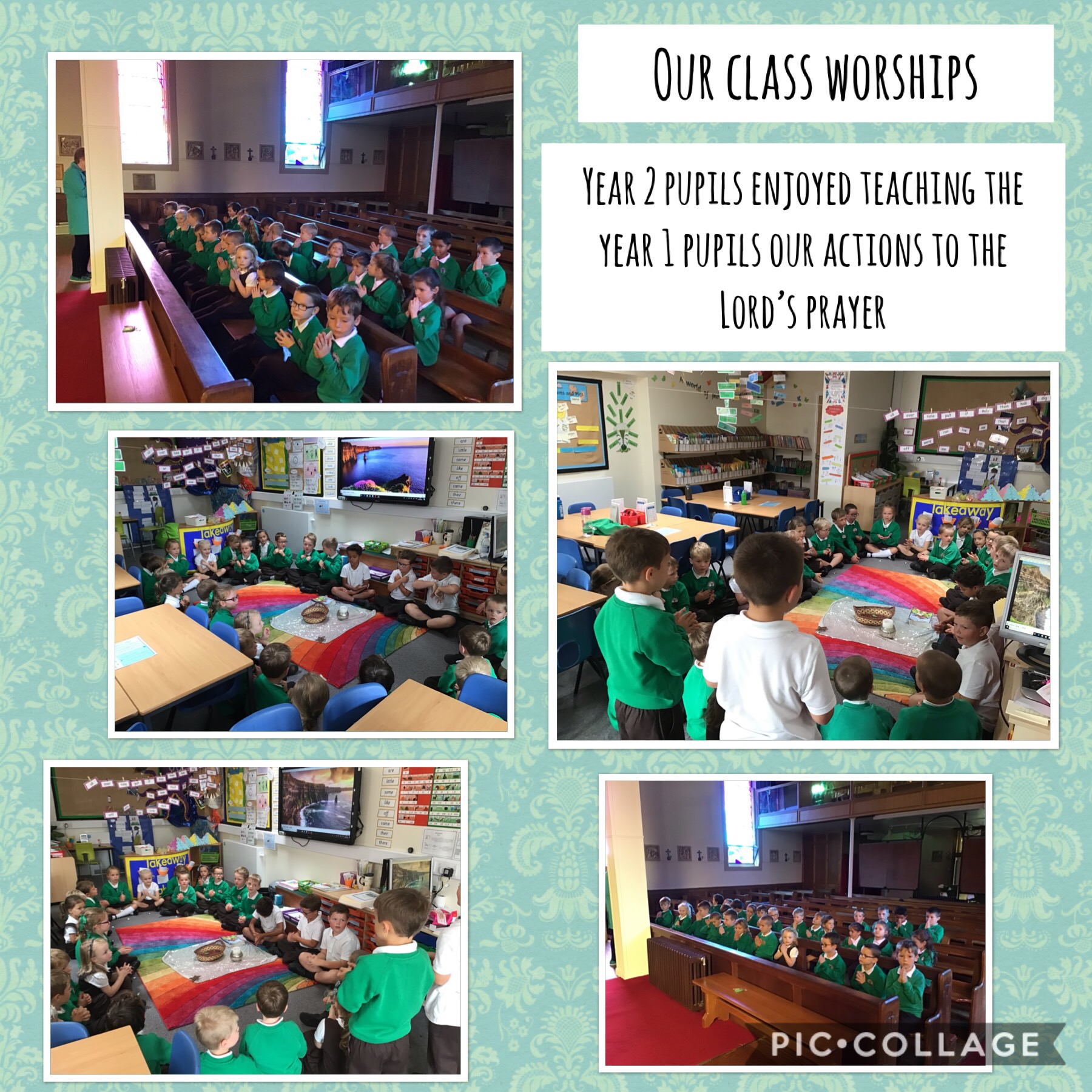 Parlick class 2018-2010
Our fantastic trip to Blackpool Zoo
Pupils had a great time at Blackpool Zoo. They loved watching the sea lion show and they were in awe feeding the giraffes. They had lots of fun exploring the zoo and meeting a variety of animals. A very successful school trip!
Summer term 2 topic- Amazing Africa
Wow! Our last term of school. I can't believe how quick the year has gone! The pupils have made so much progress since September its such a delight to see how competent they write independently and how quick they are at solving problems in maths, they are little super stars. Our year 2's did exceptional in their KS1 SATS, so proud of them and i'm sure the year 1's will be following their footsteps passing their phonics screening tests. The pupils have blown me away with their efforts and hard work on their half term Africa projects. The pupils have thoroughly enjoyed presenting their homework to the rest of the class.
This term we are exploring Africa and looking at animal structures/ grouping in science and looking at continents in geography as well as getting creative in Art/D.T. producing some wonderful cultural art work. We have a very exciting KS1 trip organised for the 3rd July to Blackpool Zoo where pupils will have the hands on opportunity to feed giraffes.
Please see our Amazing Africa topic map below for more information about our fun-filled final summer term.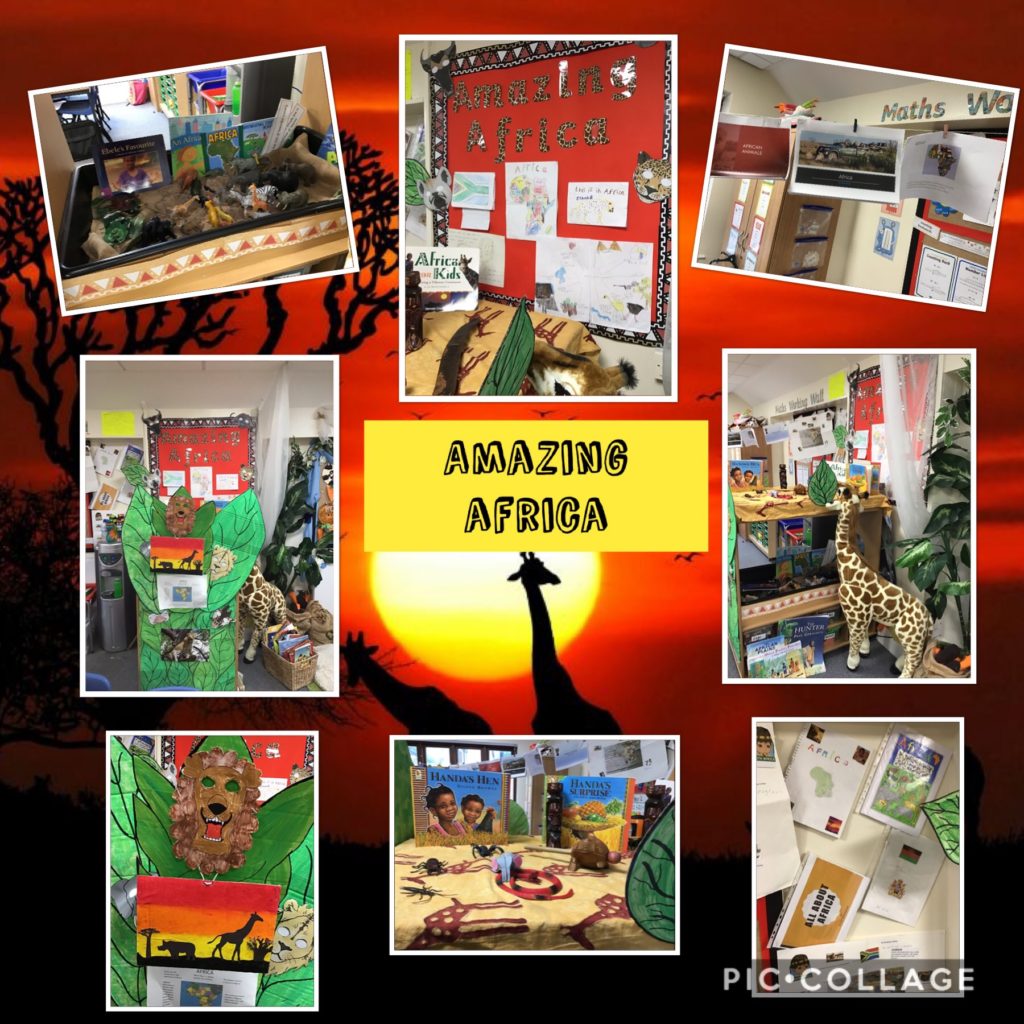 "Twist and hop the minibeast bop"
This week in literacy Parlick class have been looking at pattern poems and rhyming words. Pupils got into groups to act out the poem the minibeast bop. Pupils showed some fabulous expression with their reading and groovy dance moves.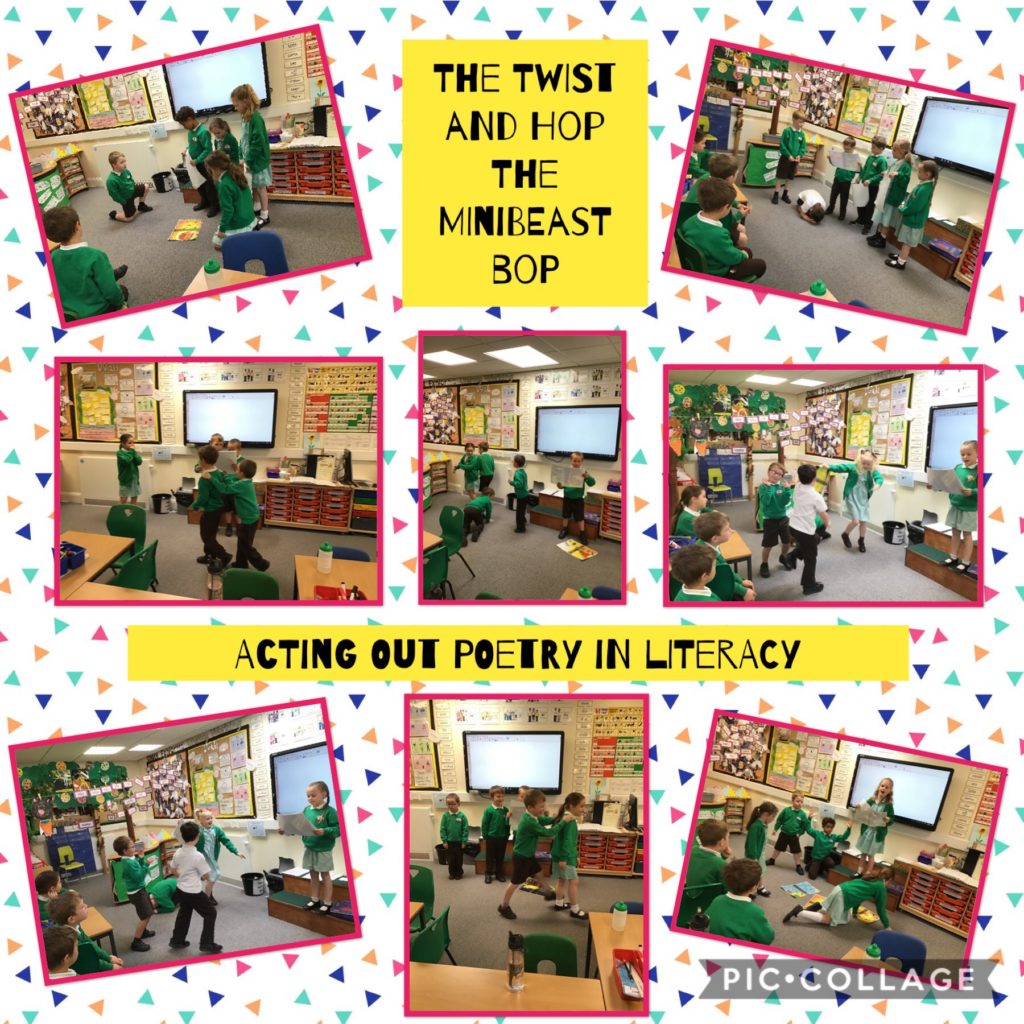 Bug hotels
Parlick class enjoyed creating micro-habitats for bugs that live in our millennium area. Some wonderful and creative designs!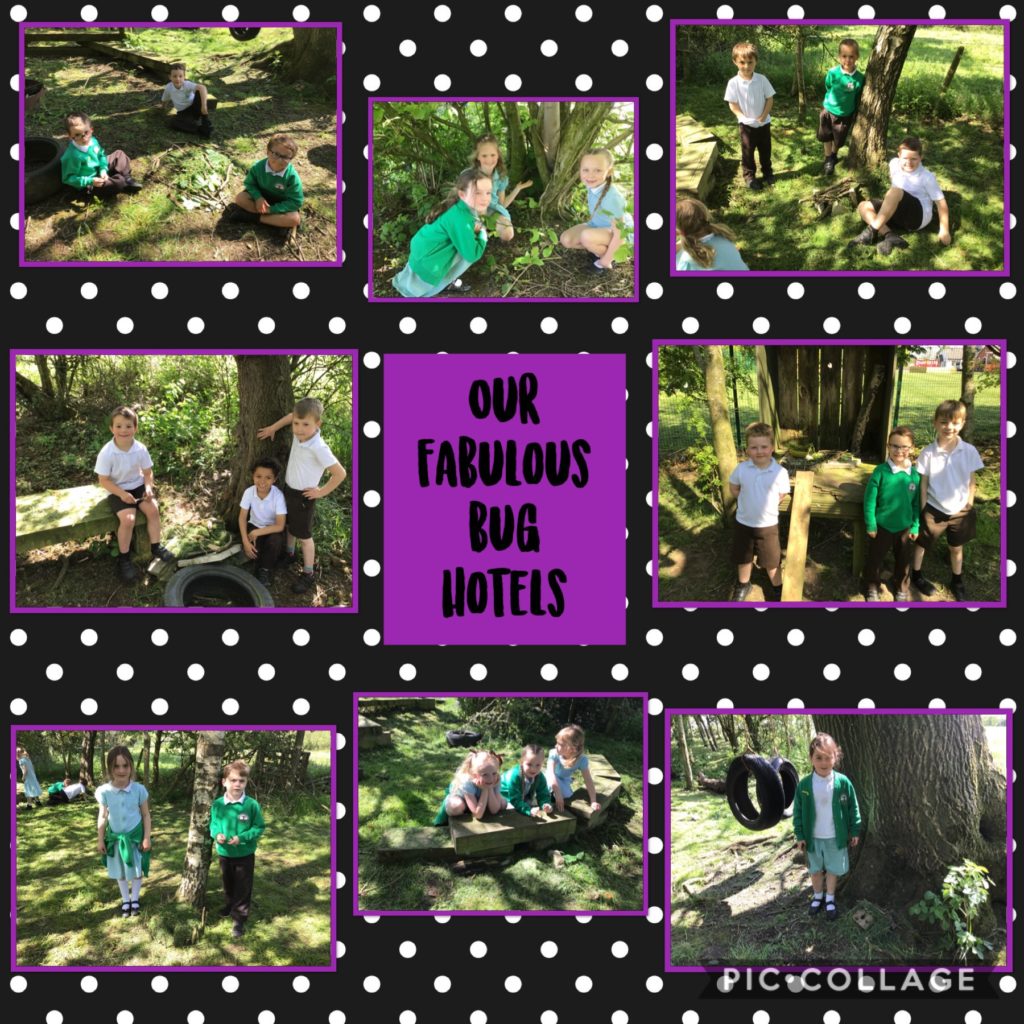 Minibeast Hunt
In science pupils went on a minibeast hunt around our school. They discovered lots of different micro-habitats.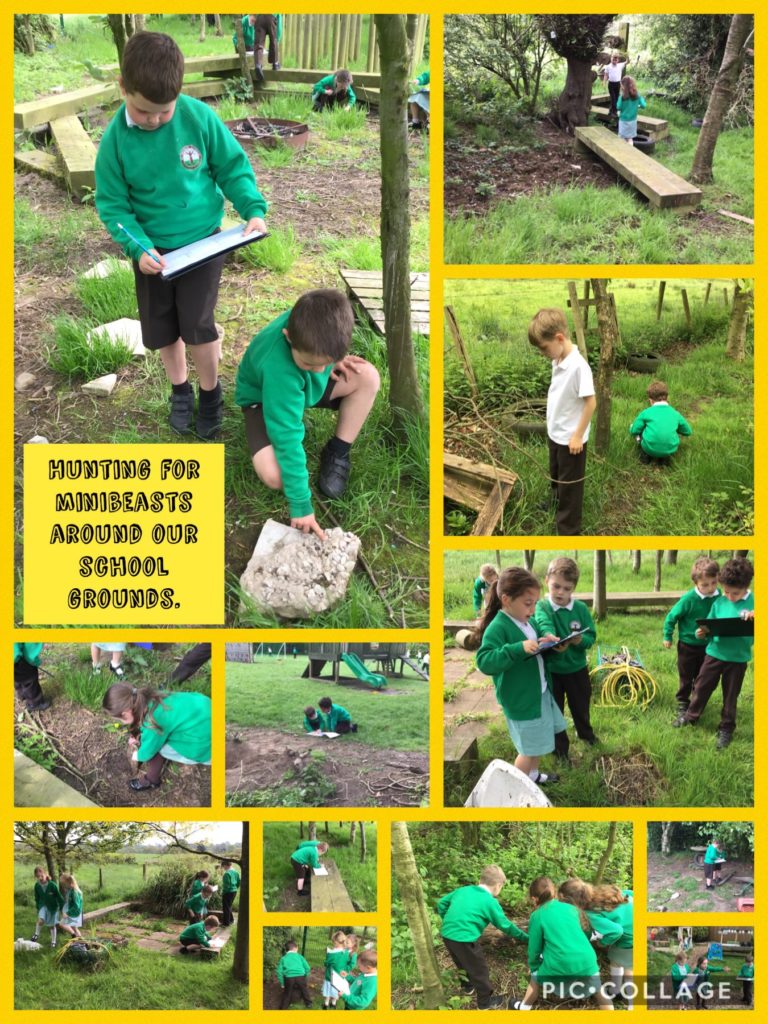 On your marks, get set, go!
Parlick class having been looking at different areas of athletics this term, learning new techniques and skills. Year 1's have been perfecting their sprinting skills.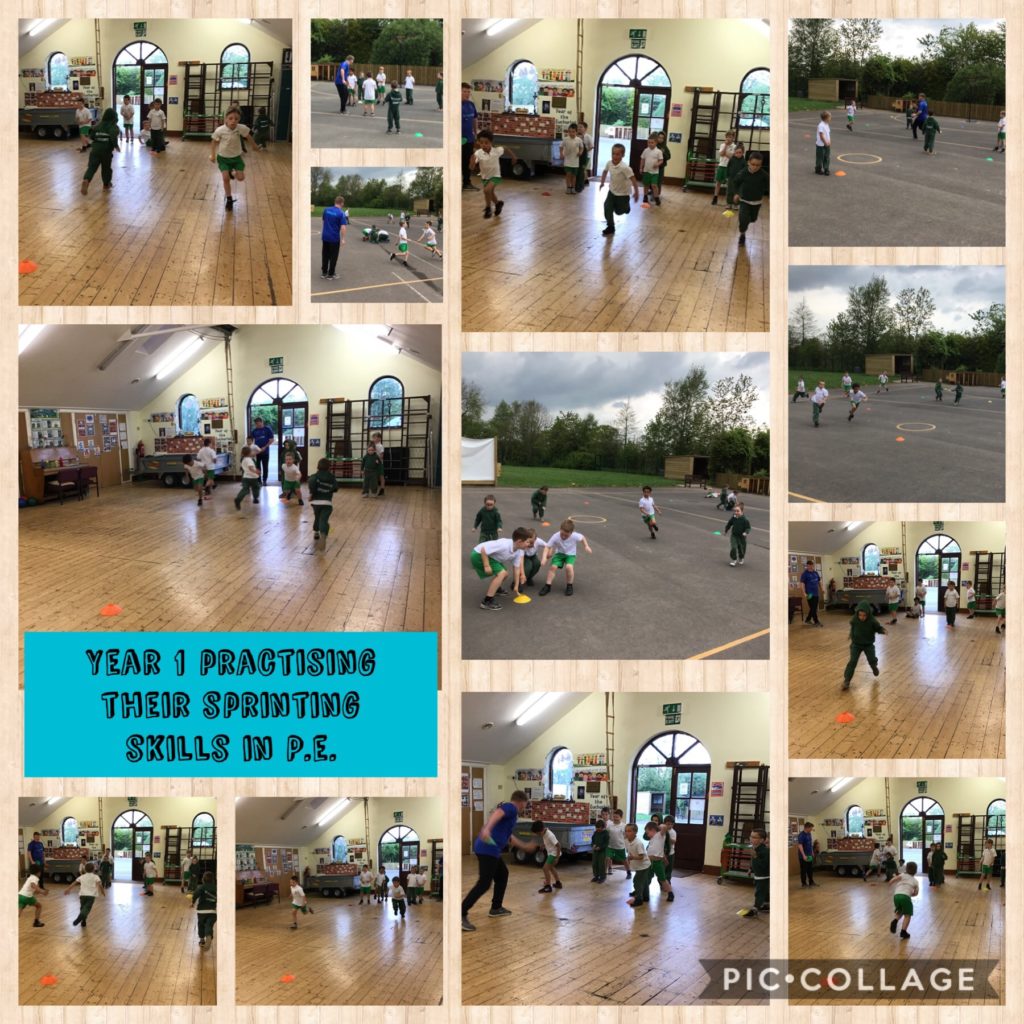 Welcome to summer term 1
The year is flying by I can't believe we are in our summer term already. Our topic this term is 'Minibeasts'. We will be exploring living things and their habitats in science, utilizing our beautiful school surroundings to learn about nature. We will be reading Harry the posonious centipede in class, superworm, The minibeast bop and many more minibeast adventure stories as well as looking at factual books to learn amazing and fascinating facts. A huge thank you to all parents and pupils for creating their marvellous minibeast creations over the Easter holidays, we have put them altogether to bring our minibeast art display to life! Please click on the link below to view our topic map for this term.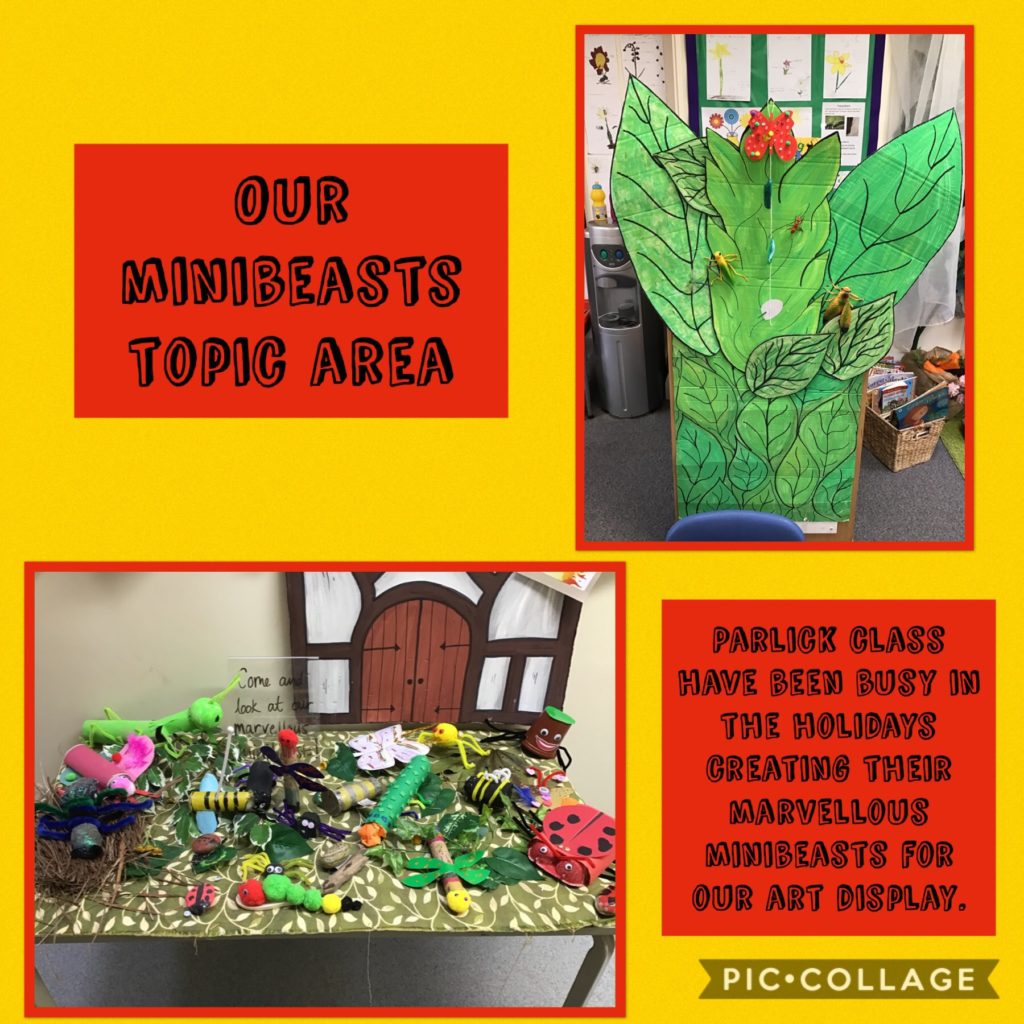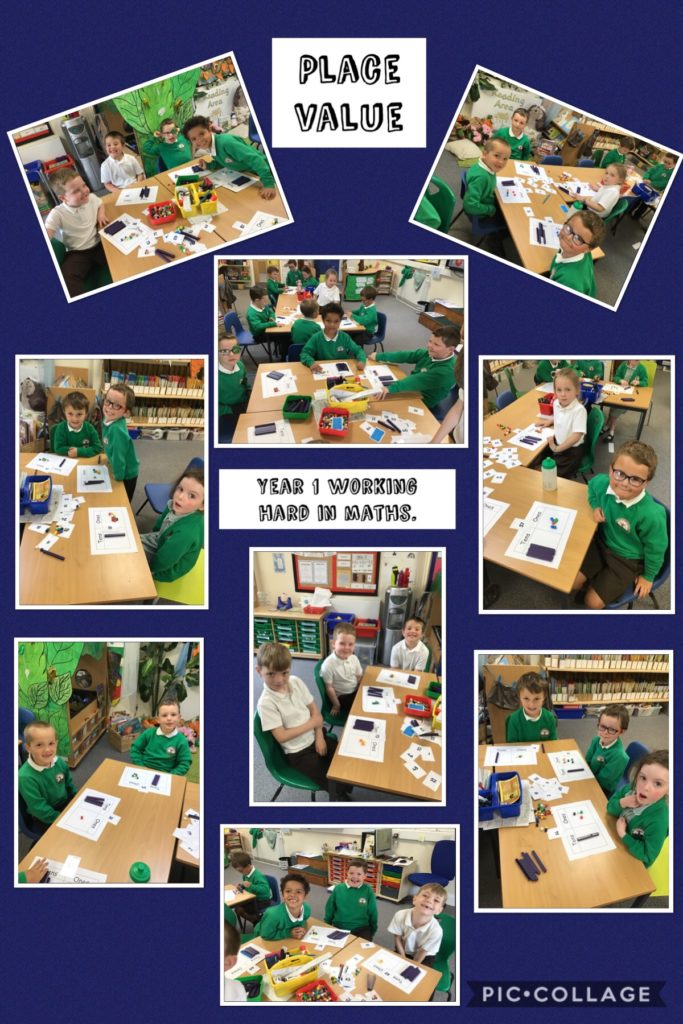 Cobble Hey Farm and Gardens Trip
Parlick class had lots of fun on our class trip to Cobble Hey. In the morning pupils learnt all about how we get produce from plants and animals, then they made their own plant pots with newspaper and planted some lettuce leaves. To finish off our planting workshop we explored the beautiful gardens and saw how seeds grow into plants. In the afternoon the pupils had lots of fun in the hay bale maze, walked to the top of the windy hill and met all the animals who live on the farm. To finish off our wonderful day the pupils fed the baby lambs and chickens. Please have a look at the photos below that capture our muddy, fun-filled day.
Our Parlick class growing project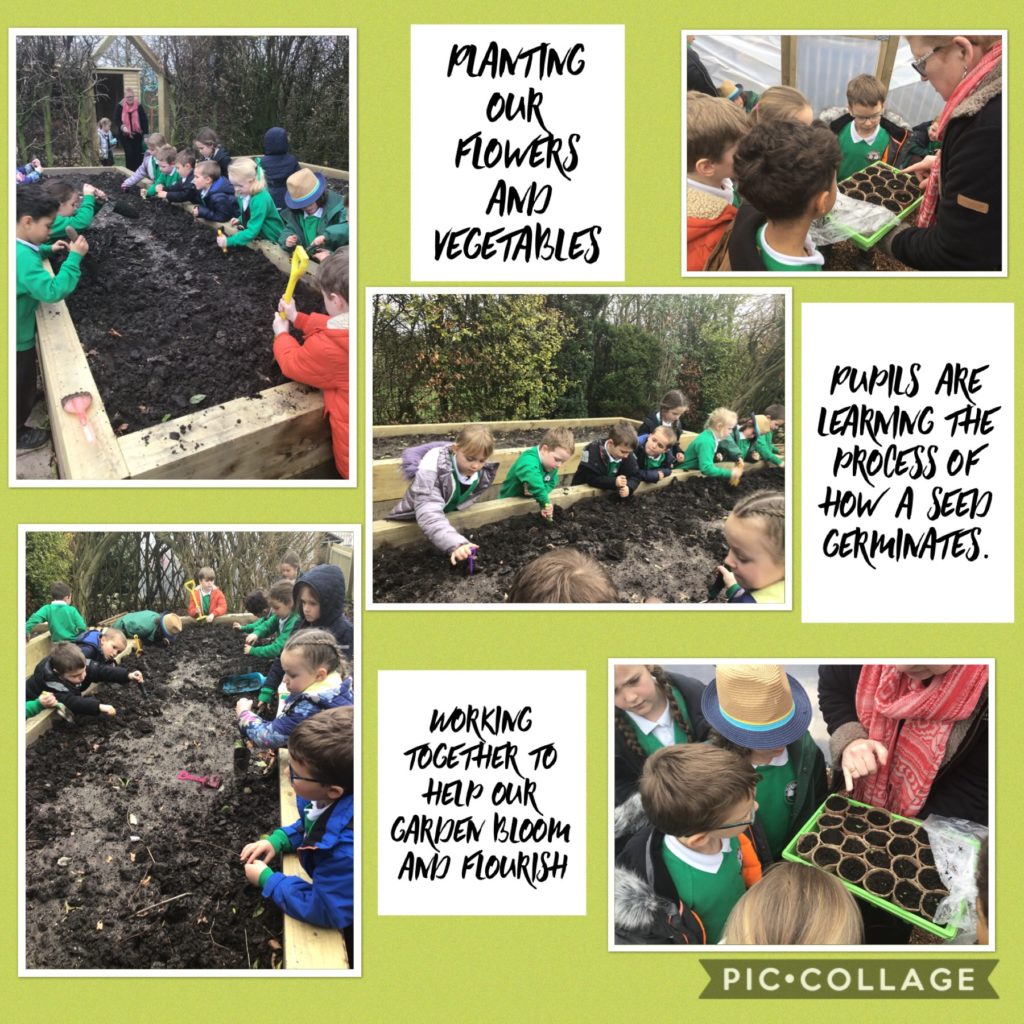 Feeding The 5000 Day
Year 2 enjoyed a wonderful R.E. day with our cluster catholic primary schools. In the morning pupils participated in lots of creative activities to understand the meaning of the story 'Feeding the 5000' by making; fish bookmarks, collage fish and writing their own prayers. Then, in the afternoon pupils performed freeze frames to re-tell the main events of the story. We completed the day with a reading and blessing in church.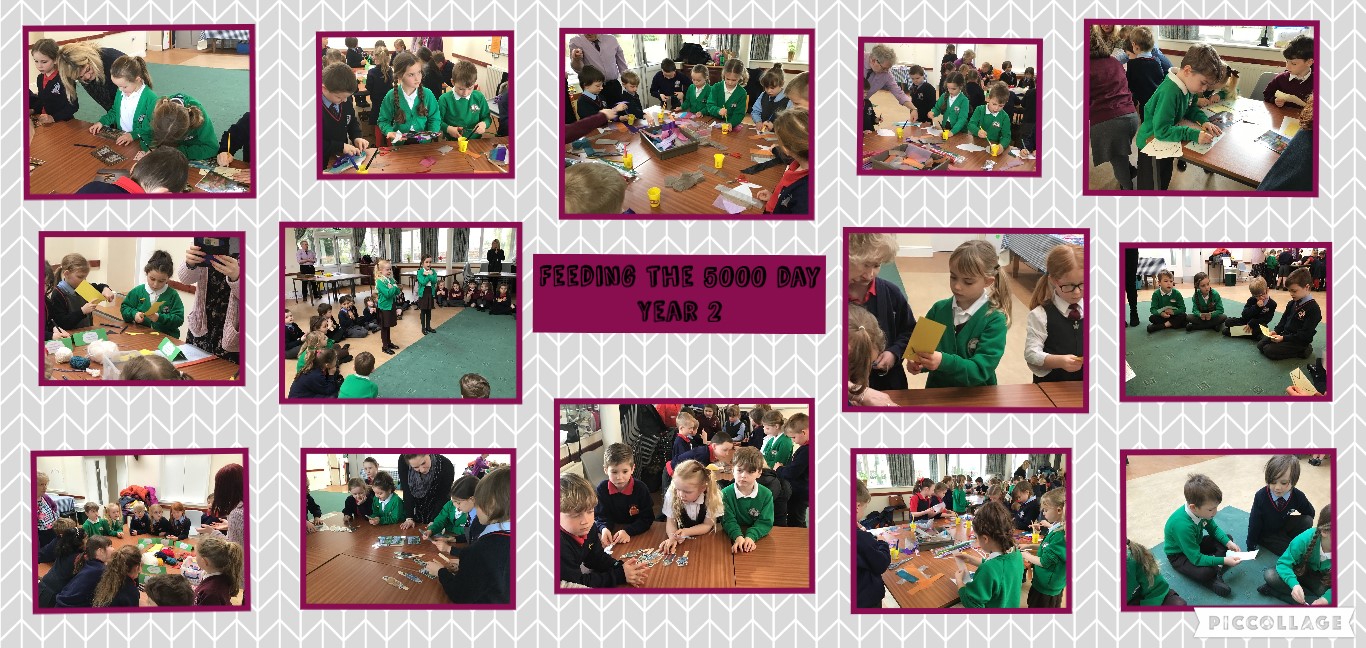 Science Week!
Parlick class have been enthusiastic scientists this week embracing science week. We got very messy during our slime workshop. Pupils observed how materials can change form and texture. They also carried out an experiment dyeing plants. Pupils used celery, flowers and lettuce to investigate how plants absorb water and if they change colour over a period of time. At the end of the week pupils presented their findings and products in front of the whole school.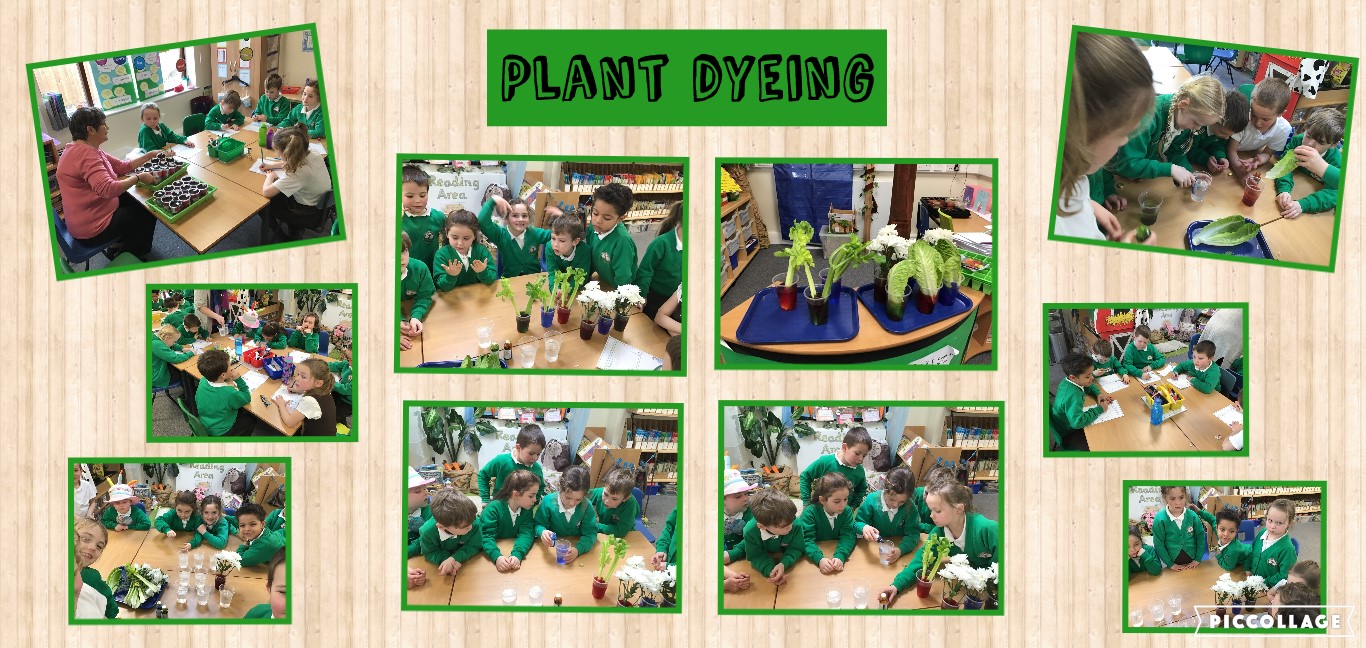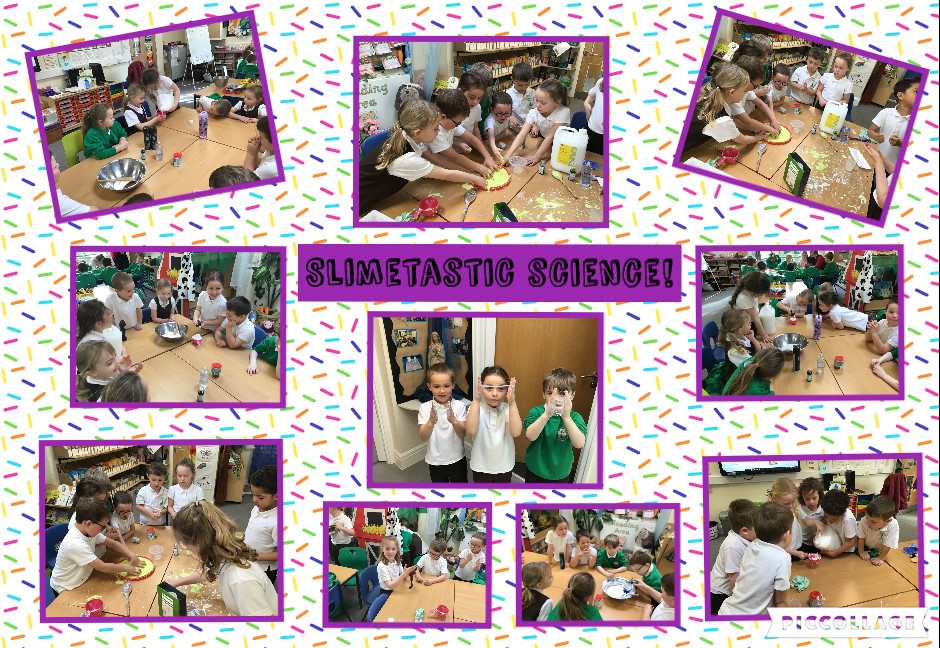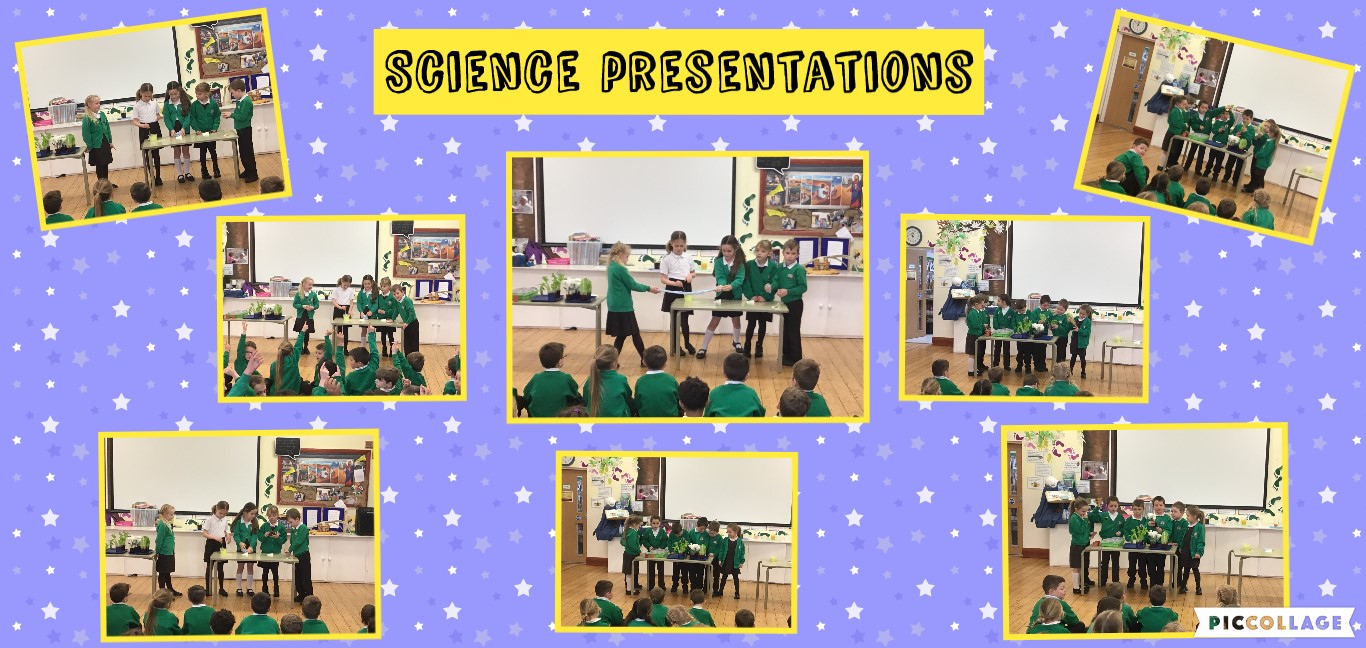 World Book Day!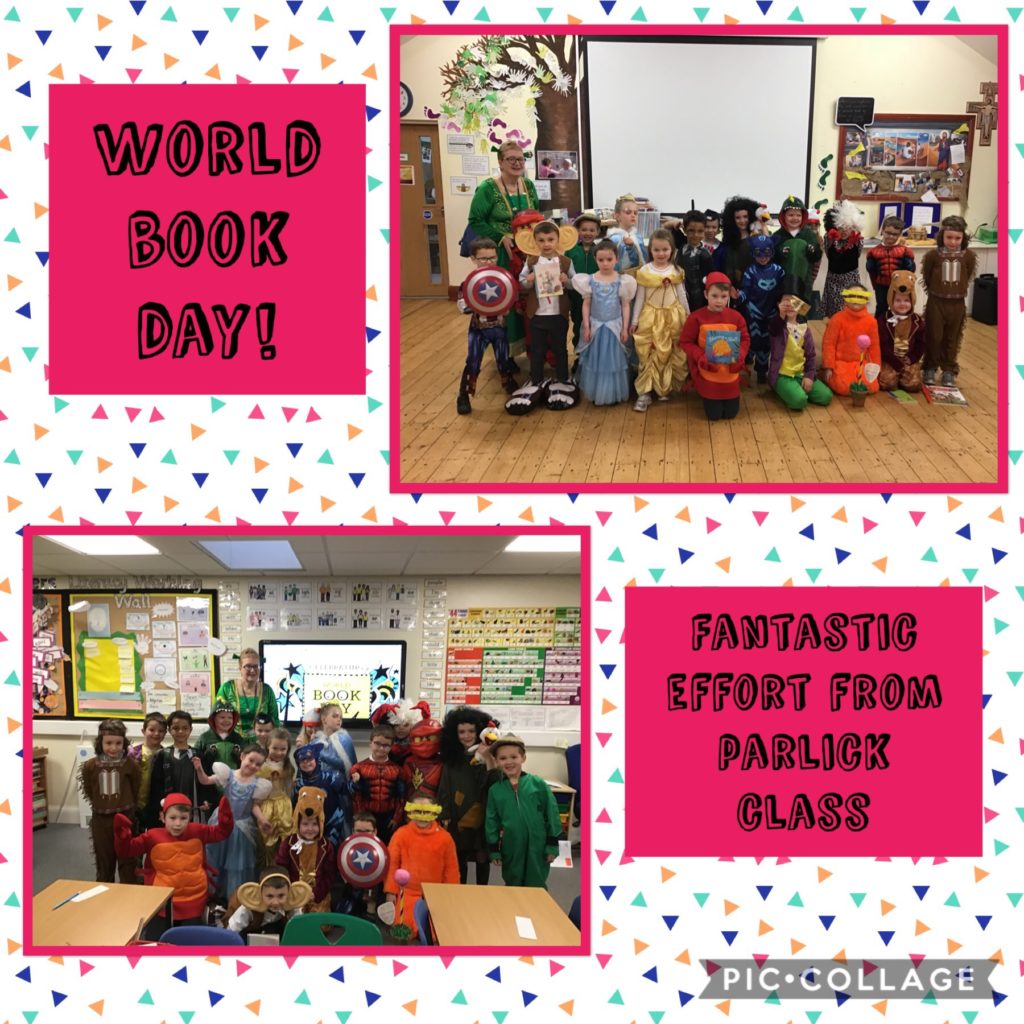 Our exciting learning with a spring in our step
Parlick class have brought lots of enthusiasm to the new spring term, getting fully engrossed in all their learning across the curriculum. They have been buzzing mathematicians solving division problems, writing riddles in literacy and exploring the great outdoors for music and science, not forgetting their amazing learning log egg box farm creations.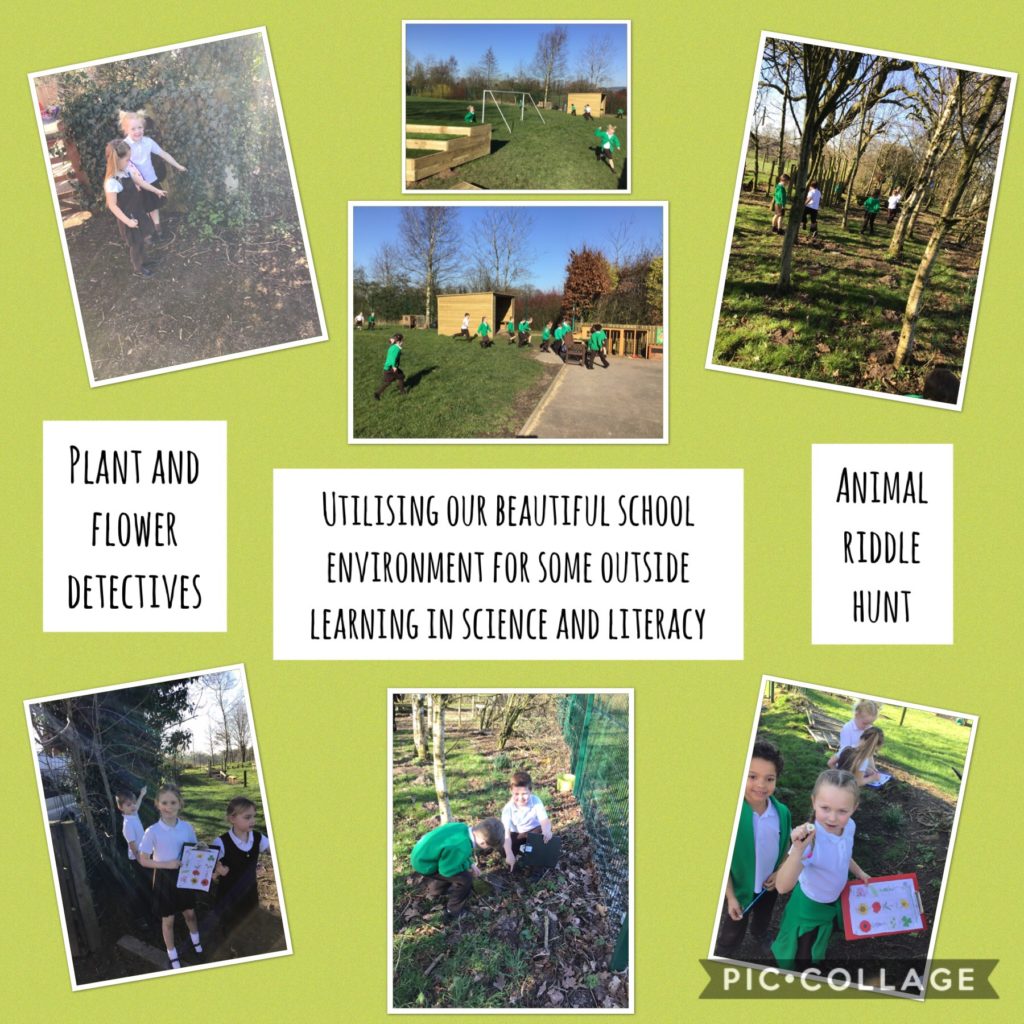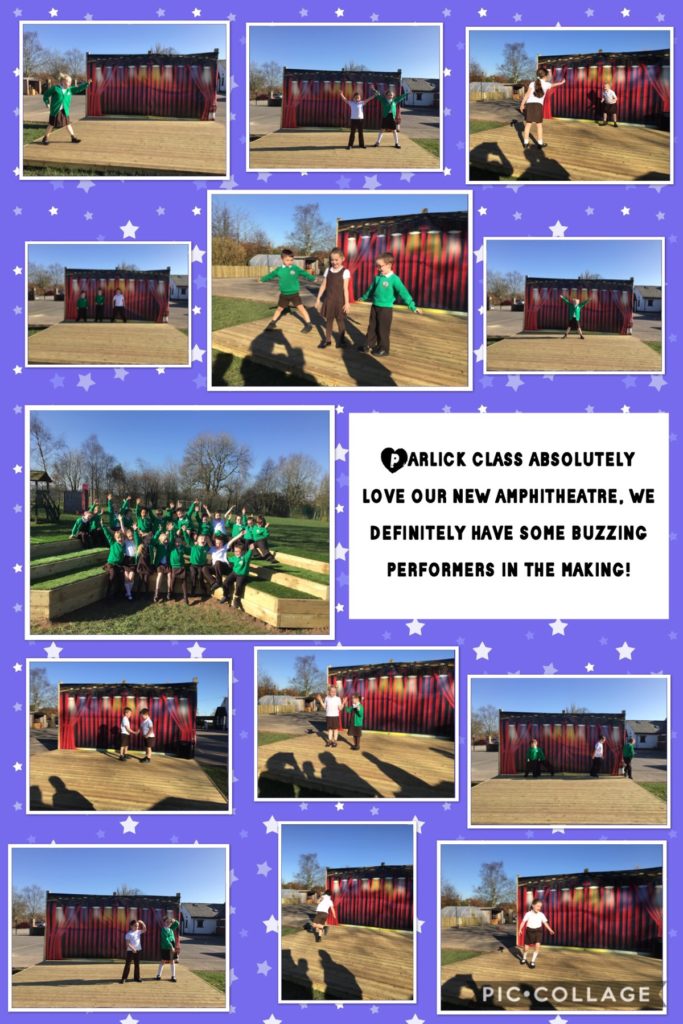 Outside Worship and visiting church
Welcome to spring term 2- The Farm Shop
Our topic this term is the 'Farm shop'. Pupils will have a hands on approach planting seeds and watching them grow throughout the spring. They will learn how to keep their plants and flowers healthy, as well as getting creative in D.T. making some tasty treats with farm produce. We also have a fun class trip planned to Cobble Hey Farm very soon! Please see below our topic map for this term.
Safety Week!
Wow! what a fabulous week of interactive learning. The pupils have had lots of fun learning about how they can keep themselves safe. Pupils have learnt about online safety, where they created their own avatar and made up their own rules to help them use the internet and games safely. Pupils took an interactive approach to learning for safety around the home and outside. Pupils were safety inspectors walking around school, washing dolls, learning how to protect themselves from germs and cleaning Steve the skeletons teeth. Not forgetting Mrs BM's dangers around the home and recovery position. I would like to say a special thank you to Mrs Lancashire who spoke to the pupils about first aid and the Police officers for leading a road safety and stranger danger workshop.
Story Telling Week
Parlick class have had a very exciting week! They have been very busy planning their space adventure stories. Next week they will use their fantastic story maps to publish their wonderful imaginative stories. To round off a fun-filled week, Year 1 read their stories to Fairsnape class and Year 2's read their stories to Nursery. We were very lucky to get a play of Red Riding Hood performed by the nursery children, which was brilliant!
En garde! Allez! Parlick are coming…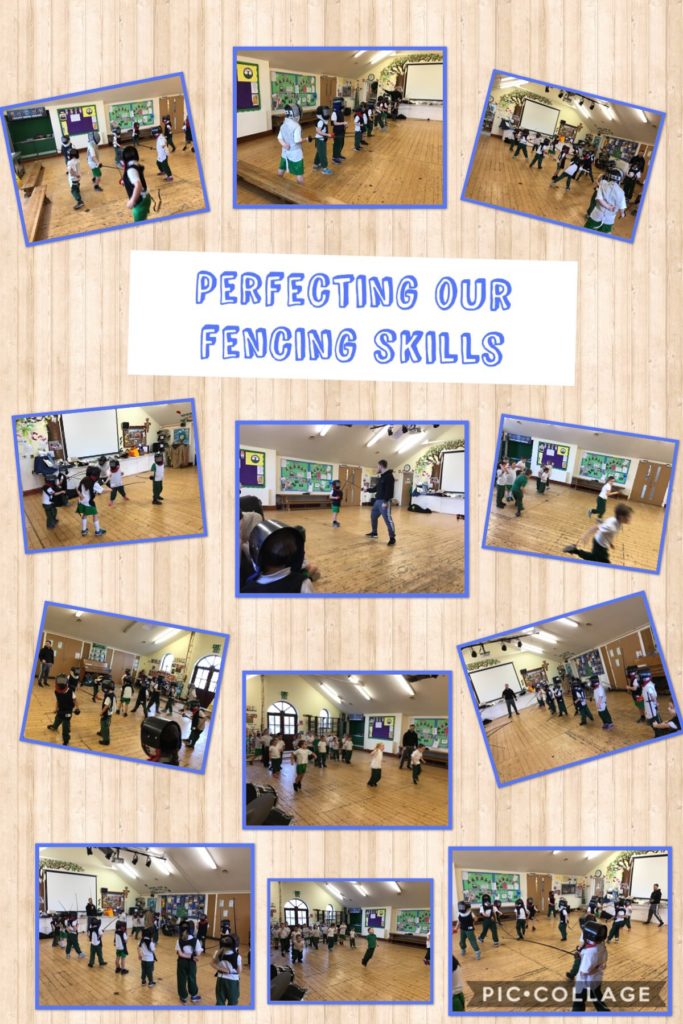 National bird watching week
Parlick class enjoyed learning outdoors with an exciting bird watching lesson using our wonderful school surroundings. They found various types of birds and kept a tally of what they saw and put their data into a bar graph. Second part of the lesson they made their own bird feeders. It was great opportunity to combine our science, D.T. and maths skills altogether, as well as exploring the great outdoors.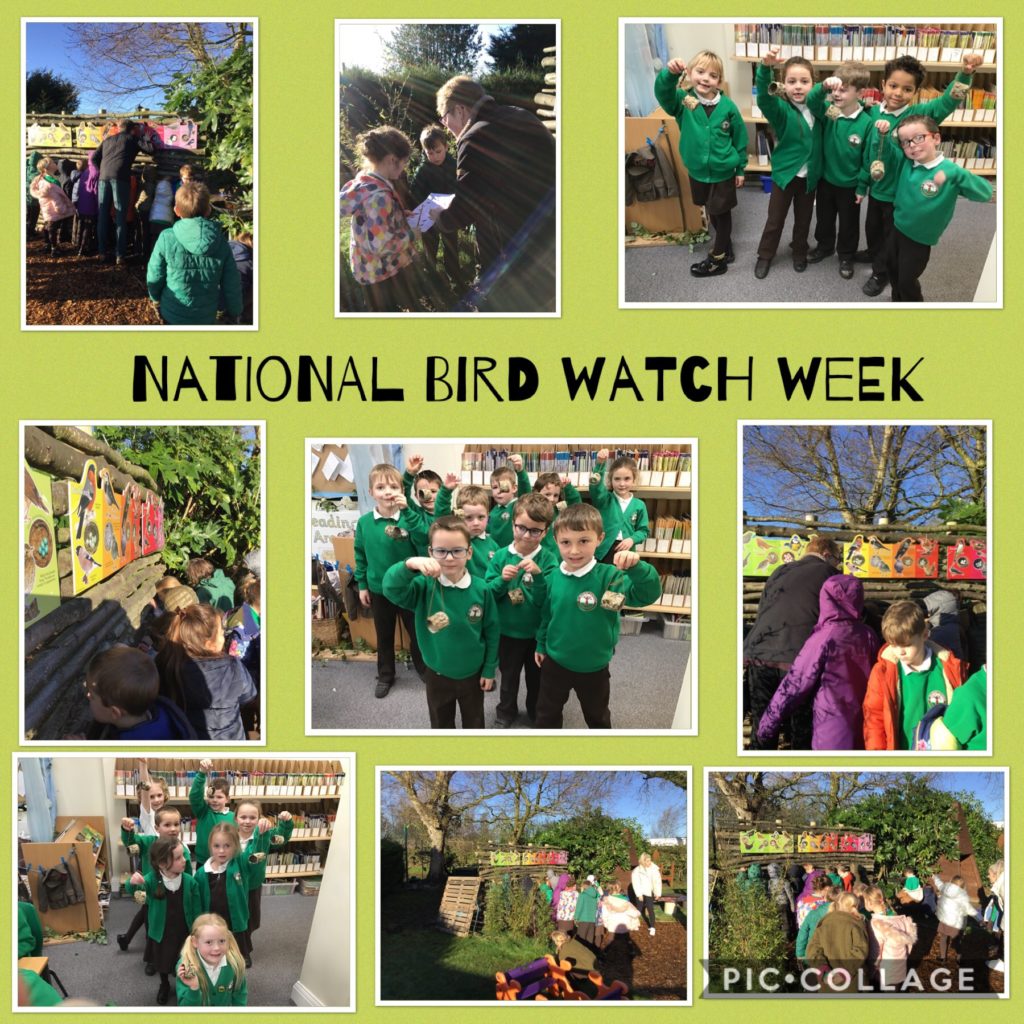 Epiphany
In our R.E. classes we have been learning about the meaning of 'The Epiphany' and why the celebration was so significant. The pupils have responded to a piece of religious art showing the visit of the three kings bringing gifts to the baby Jesus. Pupils made their own special gift boxes and placed letters inside for Jesus thanking him for all that he has taught us and done for us, to us who we are today.
A wonderful sporting opportunity 
Parlick class took part in a fencing workshop this week. The children loved every minute. They enthusiastically learnt new skills and techniques of fencing. It was a joy to watch the children be fully engaged and thriving. I can't wait to see how the class improve over the term. Look out parents, the future musketeers are 
in the making!
Welcome to Spring Term 1- Space Explorers
Parlick class are going to be space explorers this term. Discovering new worlds and going on exciting adventures meeting aliens, astronauts and moon trees. We will dive into our creative imaginations and also learn about significant explorers in history e.g. Neil Armstrong, the first man on the moon.  We will look at rocket launches and learn about our universe. Pupils will also be learning about what humans need to survive, grow and keep healthy. Please see below our topic map of what we will be covering in the curriculum this term.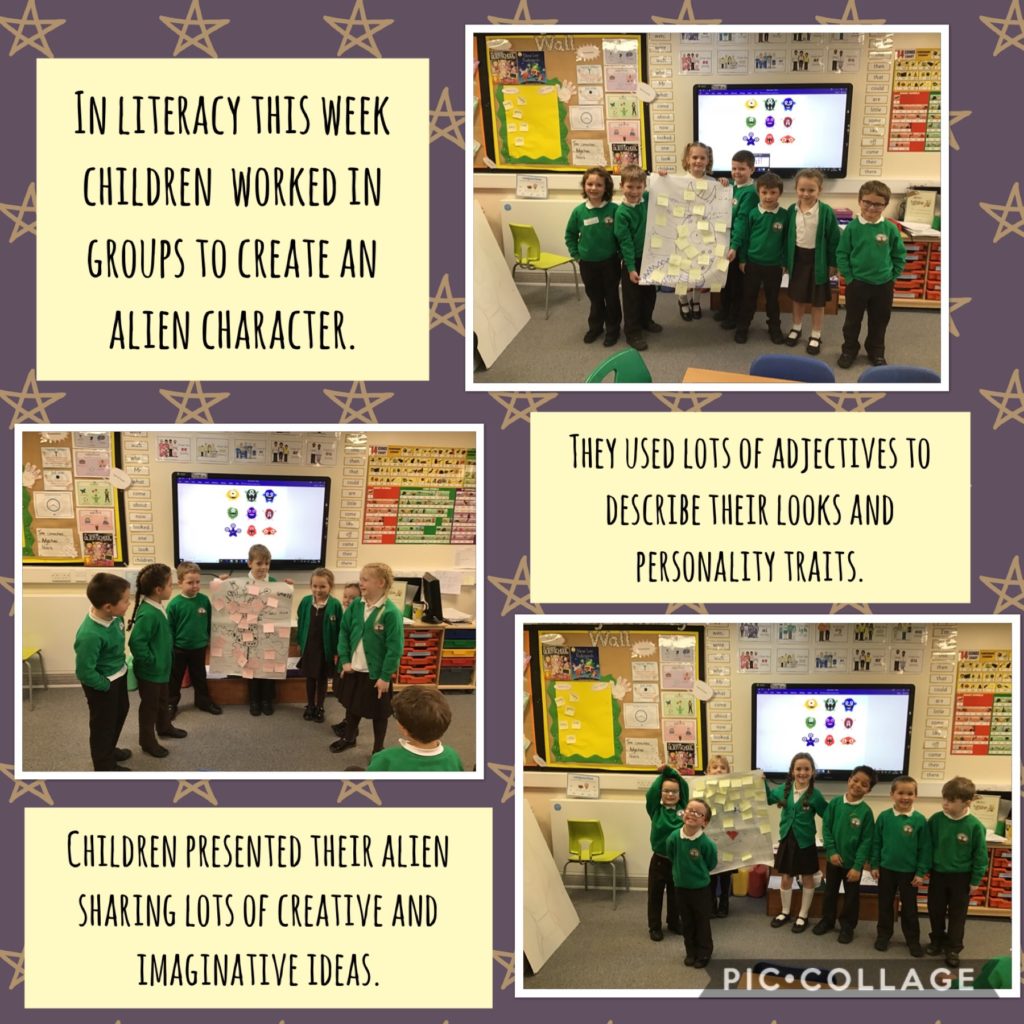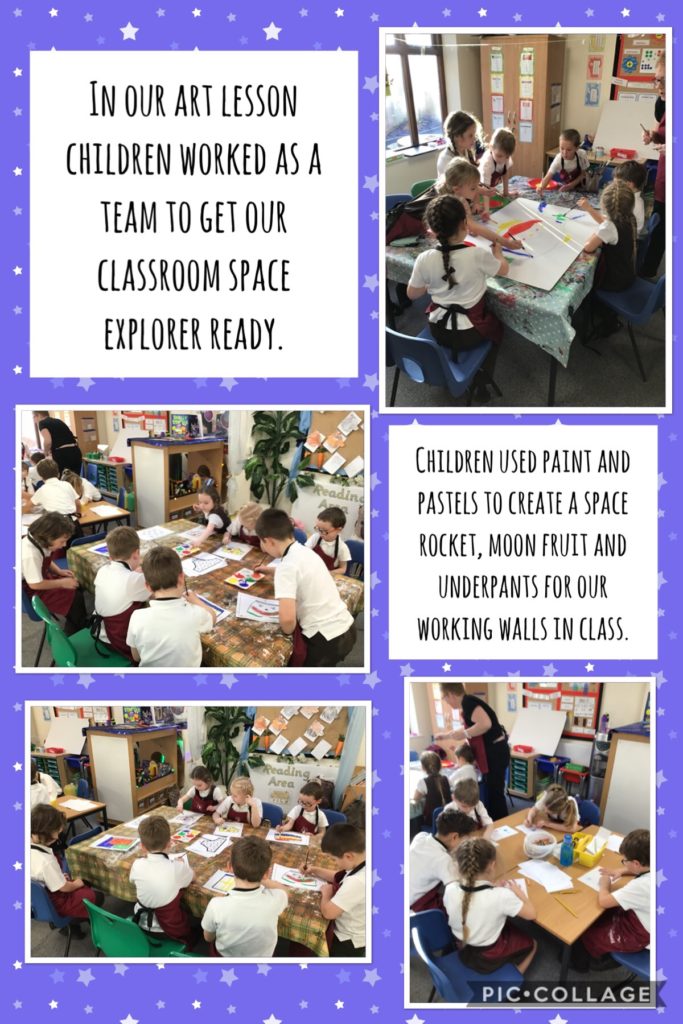 "It's a miracle in town!"
Key Stage 1 performed their Nativity 'Miracle in Town' for family and friends in church. What a wonderful nativity it was, they were absolutely amazing! I'm so proud of them. The pupils have worked so hard this term to learn their songs, actions and lines. Here are  some photos of the super stars in action!
Our Pudding Lane project
Parlick class have worked really hard in D.T. these last few weeks making their 1666 houses. First, the pupils used a variety of junk modelling materials to build the structure of their houses. Then, they painted them to look like a London house in 1666. Finally, pupils put their houses together to make their very own Pudding Lane. Firefighter Dave Gilmour helped us to recreate the very night of 2nd September 1666 in the baker's shop where the fire began.  The pupils were amazed at how quickly the fire spread from house to house. Please see below pictures and videos of our exciting D.T. project and reenactment of our very own Great Fire of London.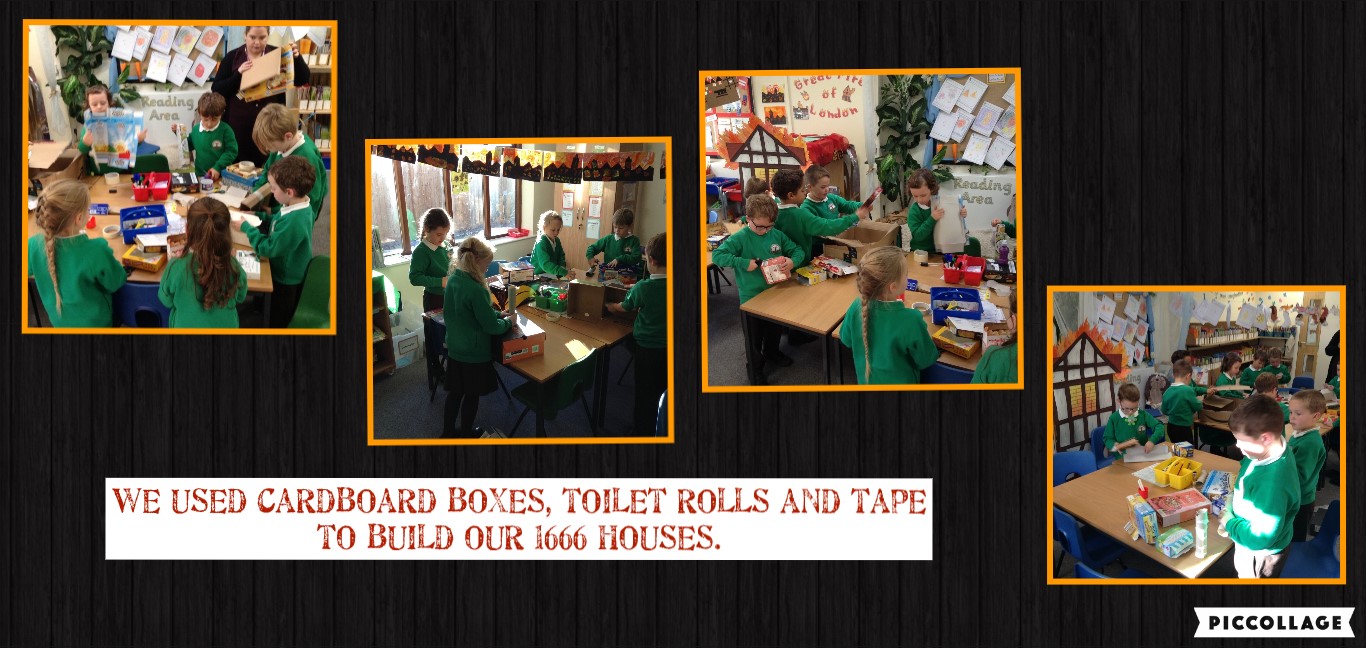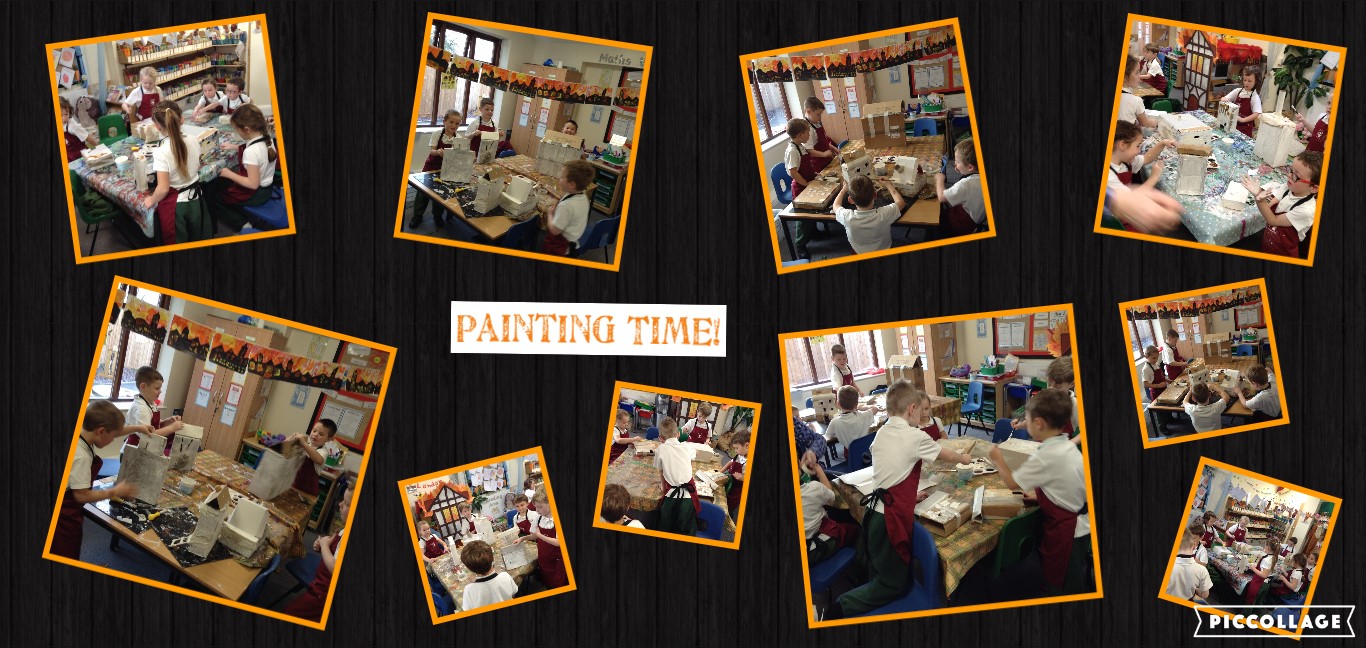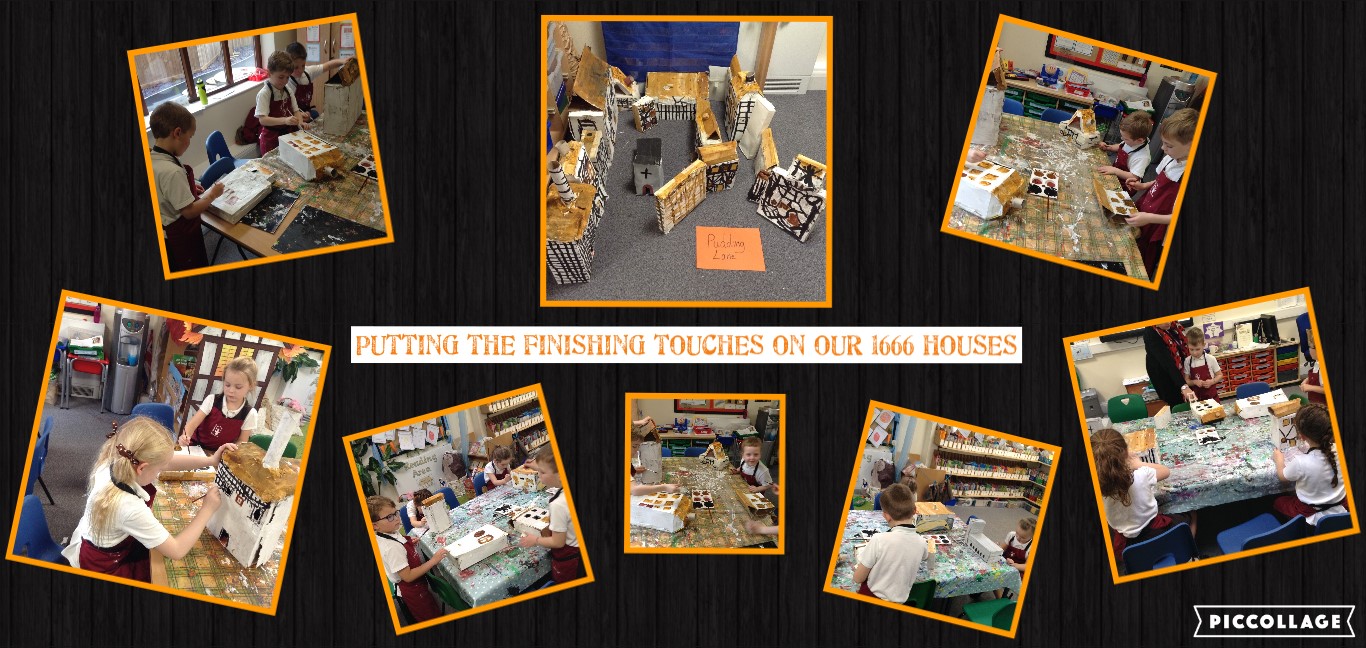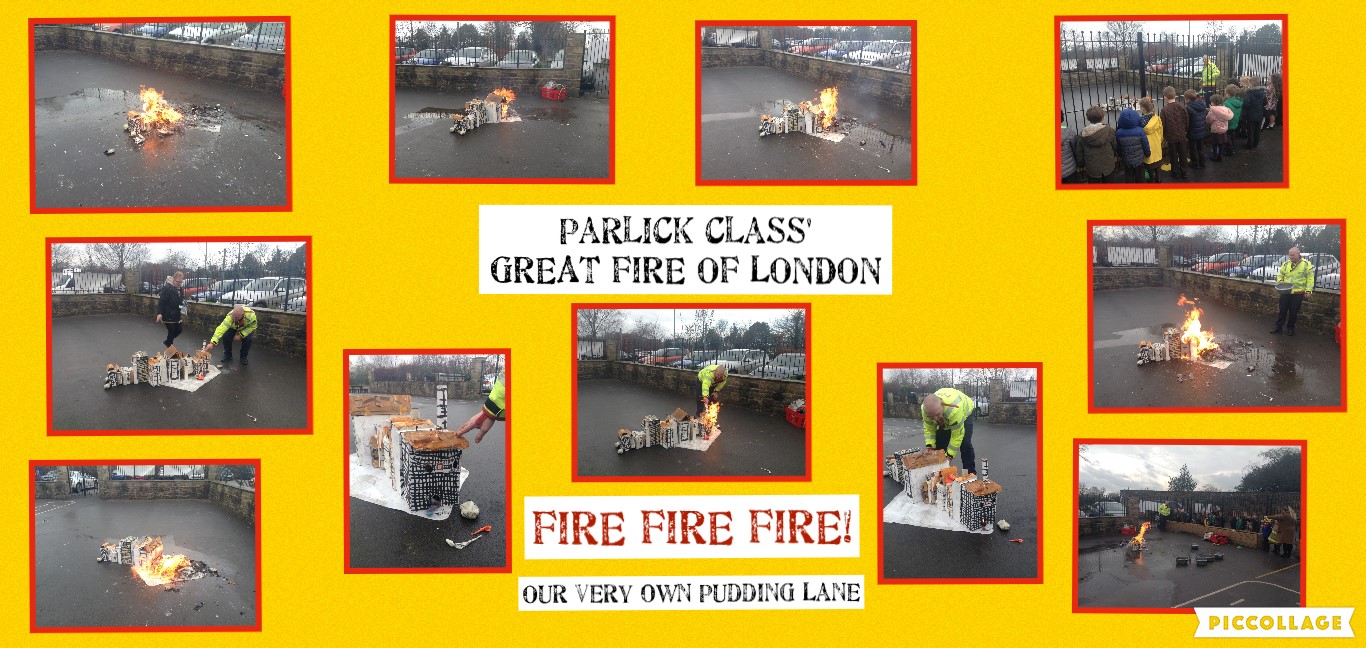 Video's of our Pudding Lane fire…
Drama freeze frames
Parlick class enjoyed acting out the story, 'Vlad and the Great Fire of London'. The story is about a flea who experiences the tragic events of the Great Fire in 1666. The children demonstrated some very convincing facial expressions within their tableaux.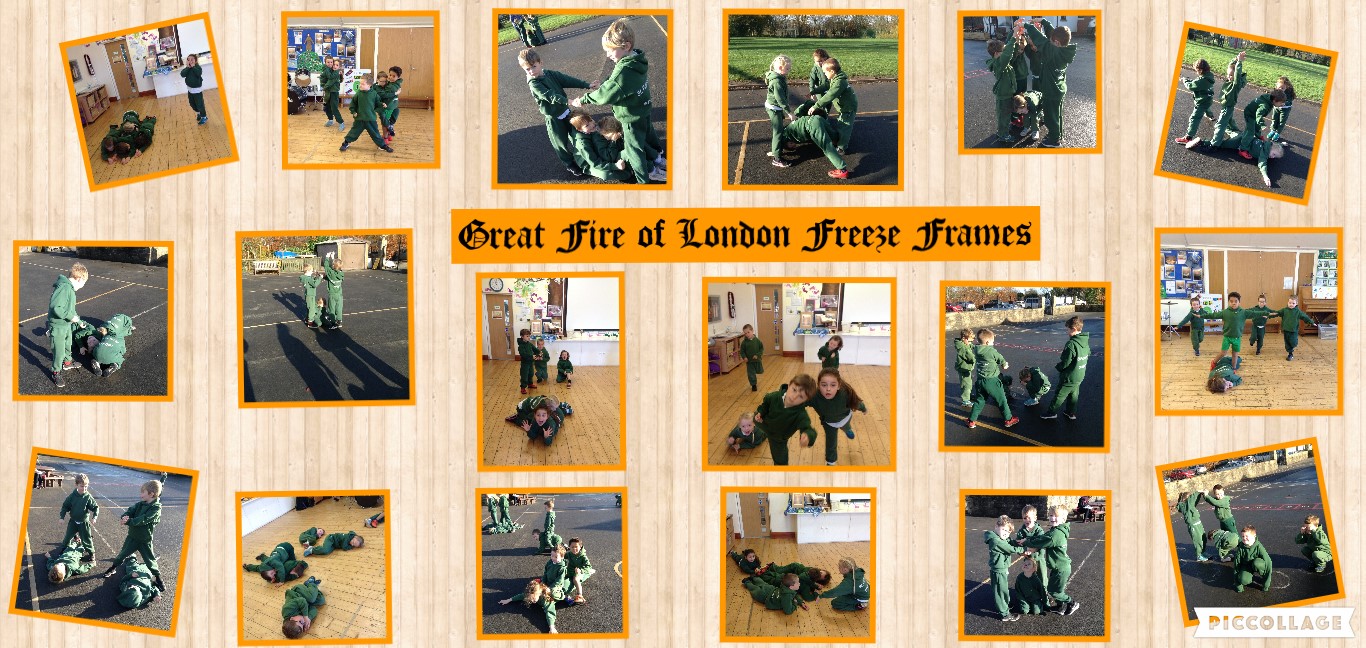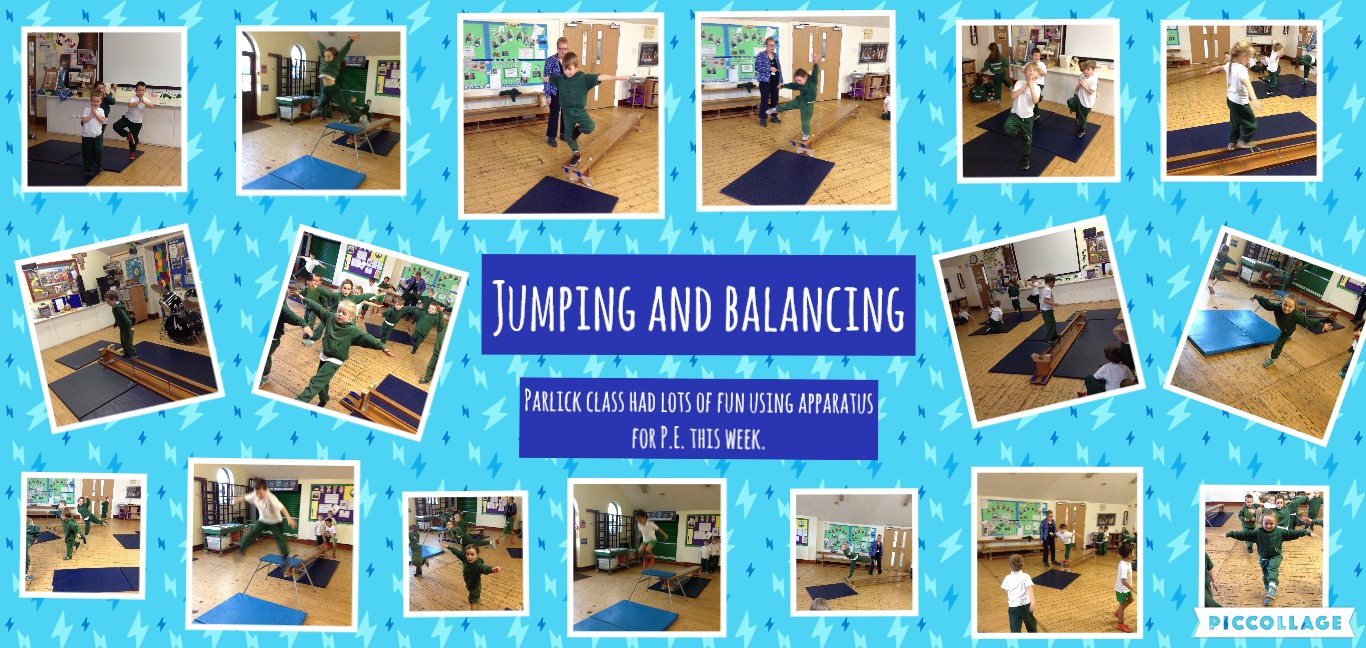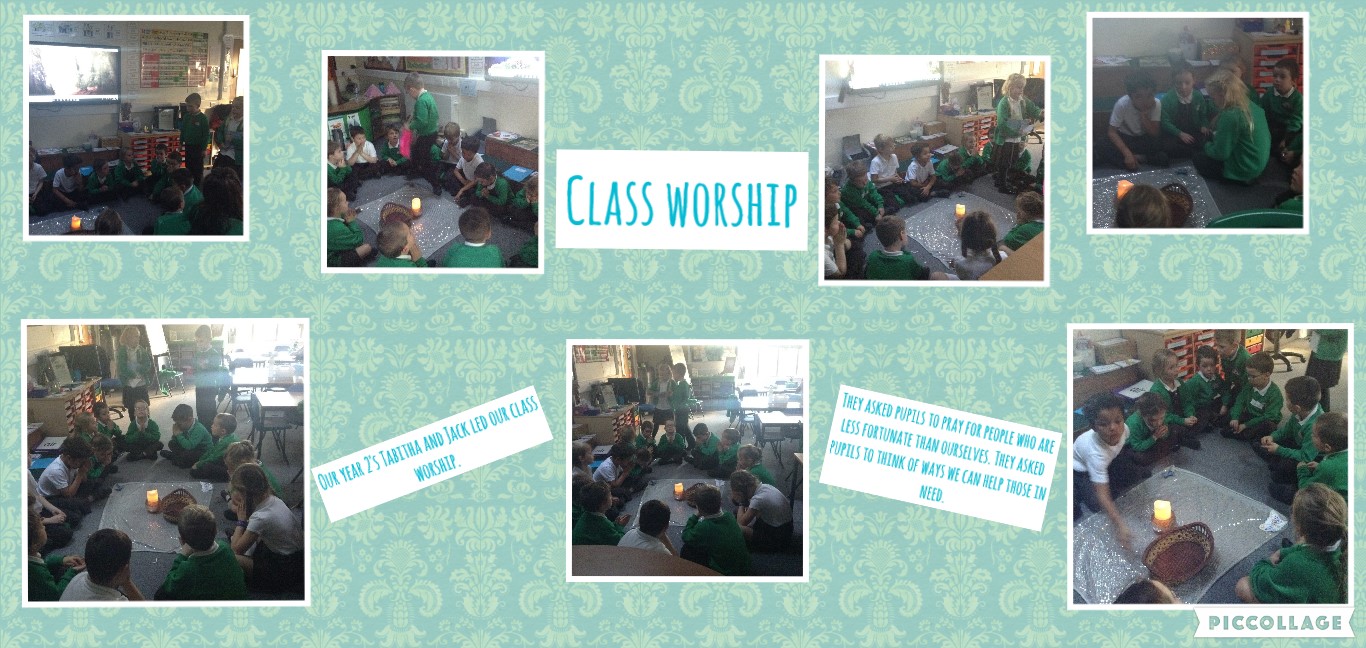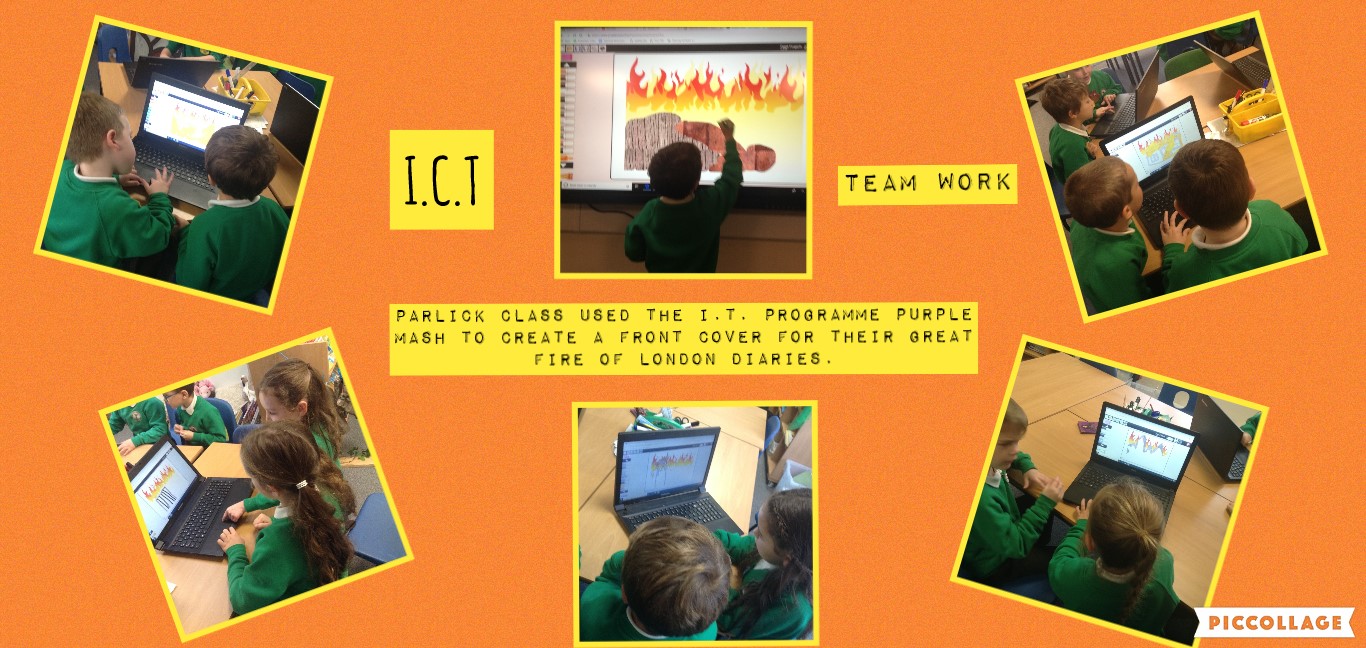 Pizza making Time!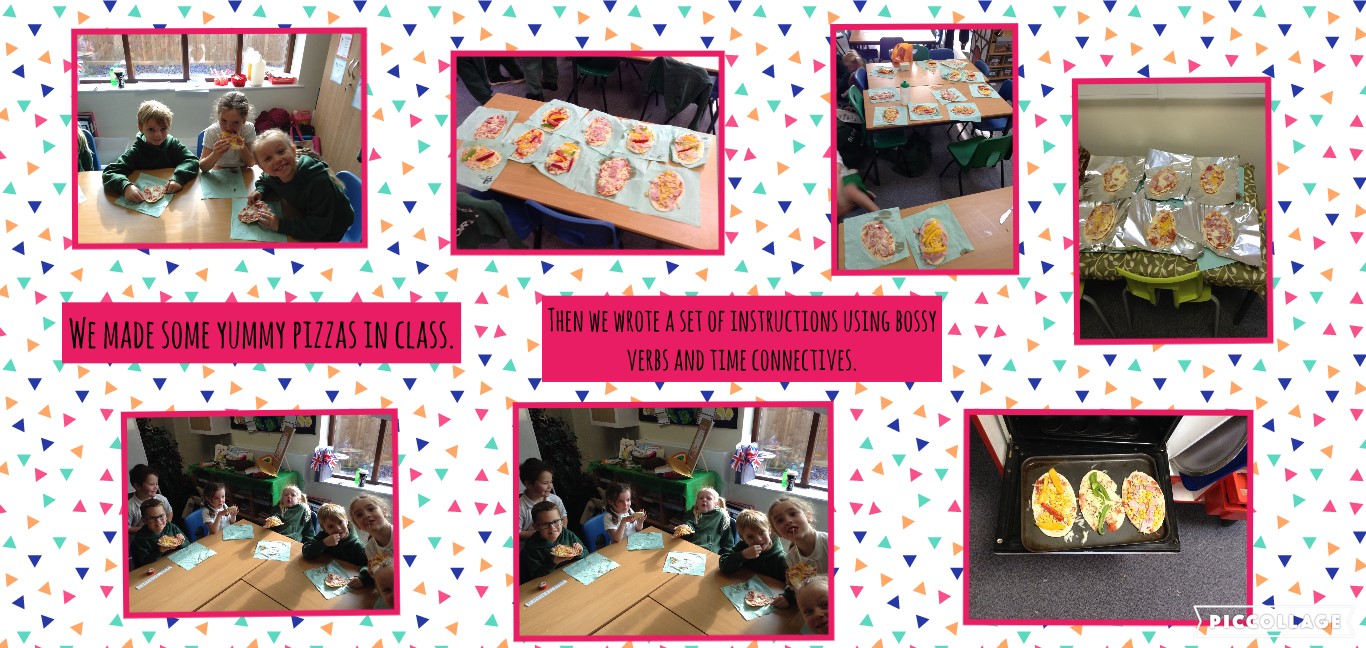 Our Super class work…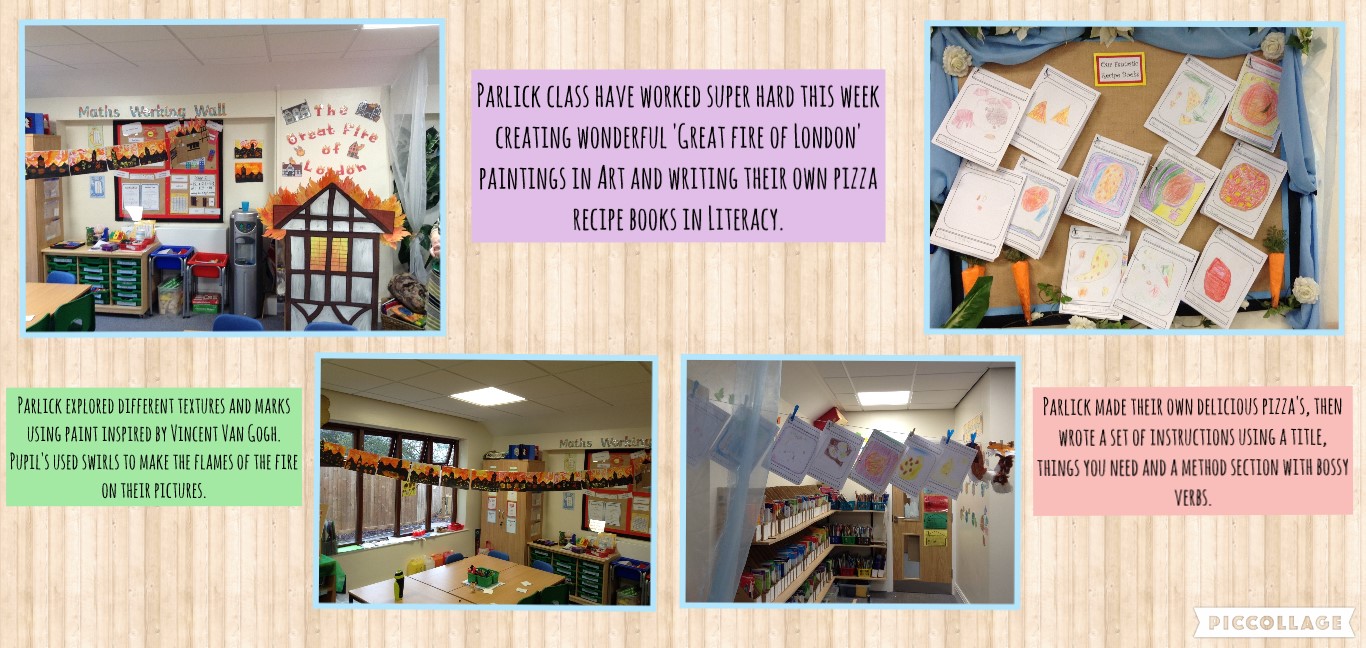 Parlick Class Worship
Parlick class worked together to make a beautiful wreath for our Remembrance Family Mass. Each pupil wrote a very thoughtful prayer, thanking the soldiers and remembering those you lost their lives during the Great War. Year 2's amazed me with their excellent maturity and organisation skills to create, conduct and lead our class worship. So proud of you!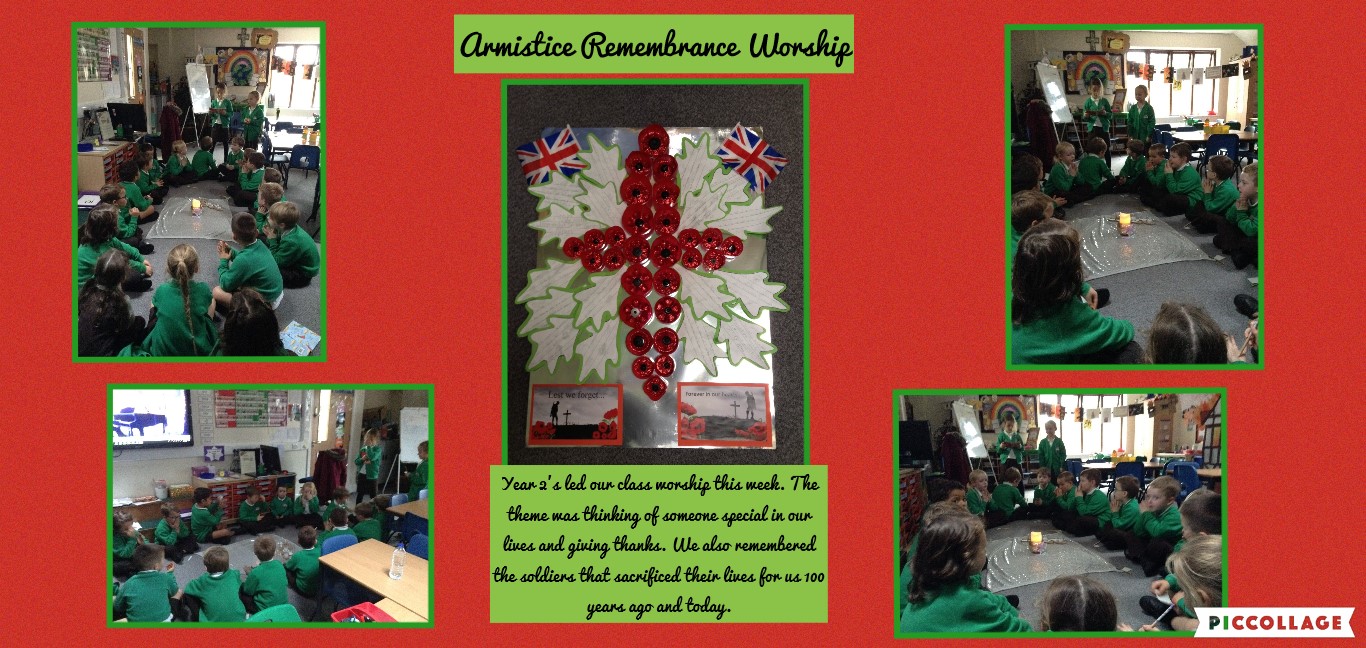 Our enthusiastic gymnasts!
Parlick class have thoroughly enjoyed our gymnastics lesson for P.E. this term. We have explored different types of rolls, balances and jumps. The children worked in pairs this week to put together a sequence of lively jumps. Pupils' demonstrated leaps, frog jumps, star jumps, turning jumps, tuck jumps and jumps side to side. They were fabulous!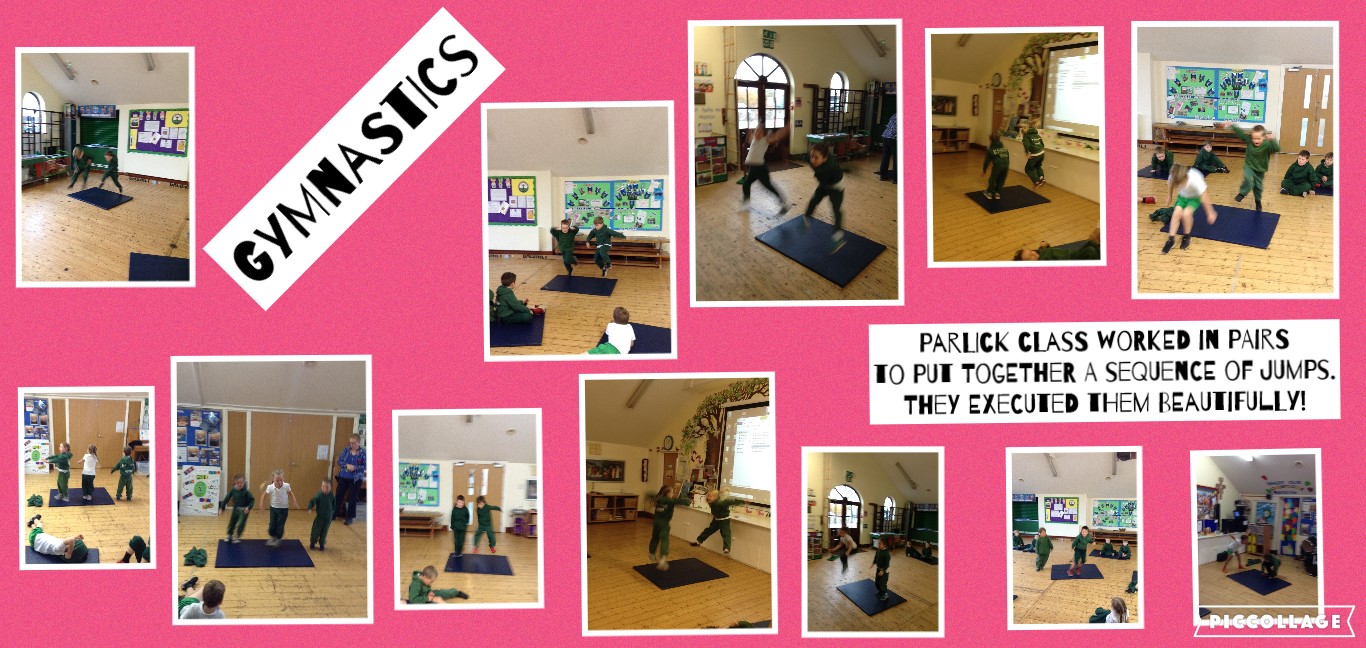 Sequences and Patterns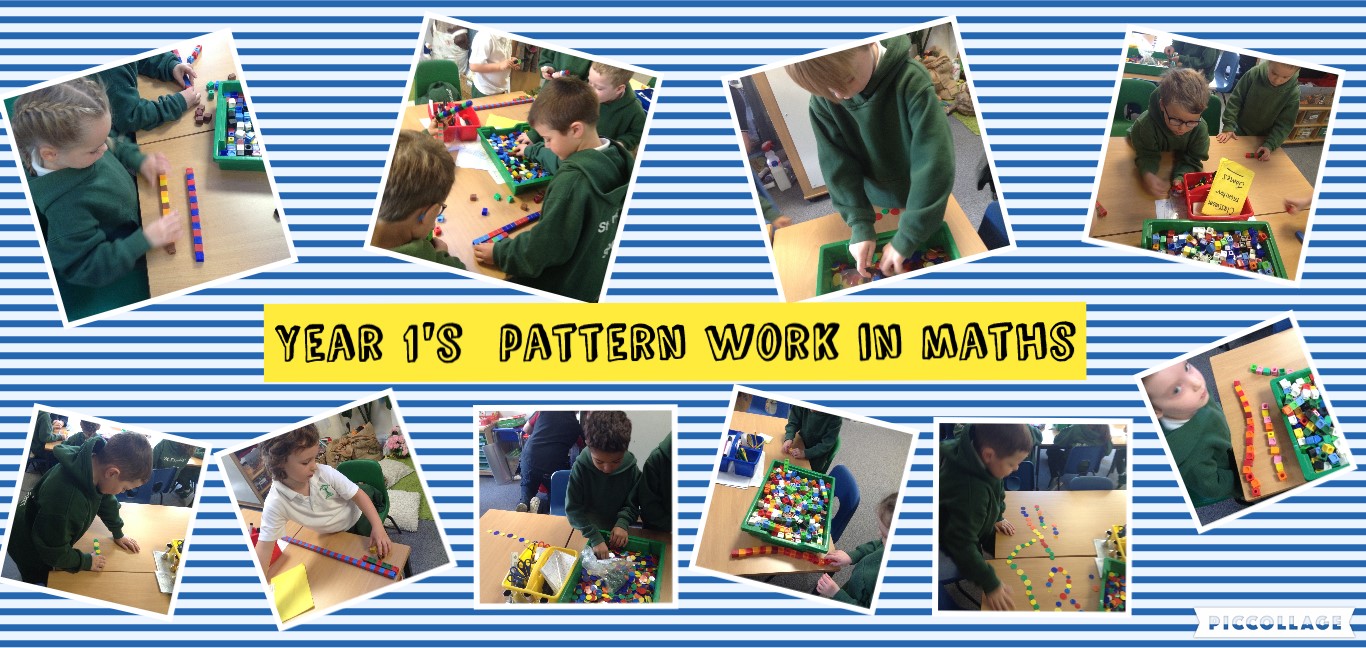 The Great Fire of London
Parlick class are thoroughly enjoying this terms topic, 'The Great Fire of London'. I was amazed by the pupils efforts with their half term projects researching 'The Great Fire of London'. The pupils have shown great maturity and confidence presenting their hard work. The pupils have blown me away with their outstanding power points, art work, fact files and 3d houses.
Please see below our topic map for this term…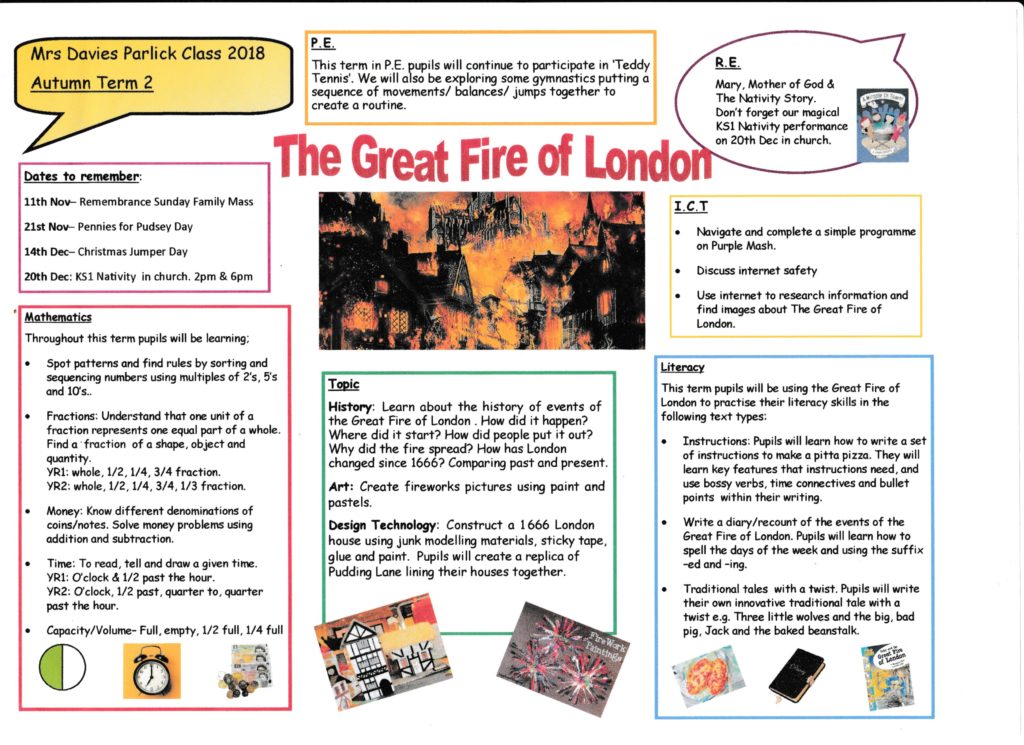 Armistice Exhibition
Parlick class were transfixed by the beautiful exhibition in church for the Armistice celebrations. The children were intrigued finding out all about the soldiers lives and where they served and sadly died. The parishioners worked so hard to make the church look fantastic, a big thank you to them for educating my class all about the war and helping them relate to local people from Goosnargh/Longridge that served for their country. We carried out a little worship in church to pay our respects to those who sacrificed their lives and families to protect our country.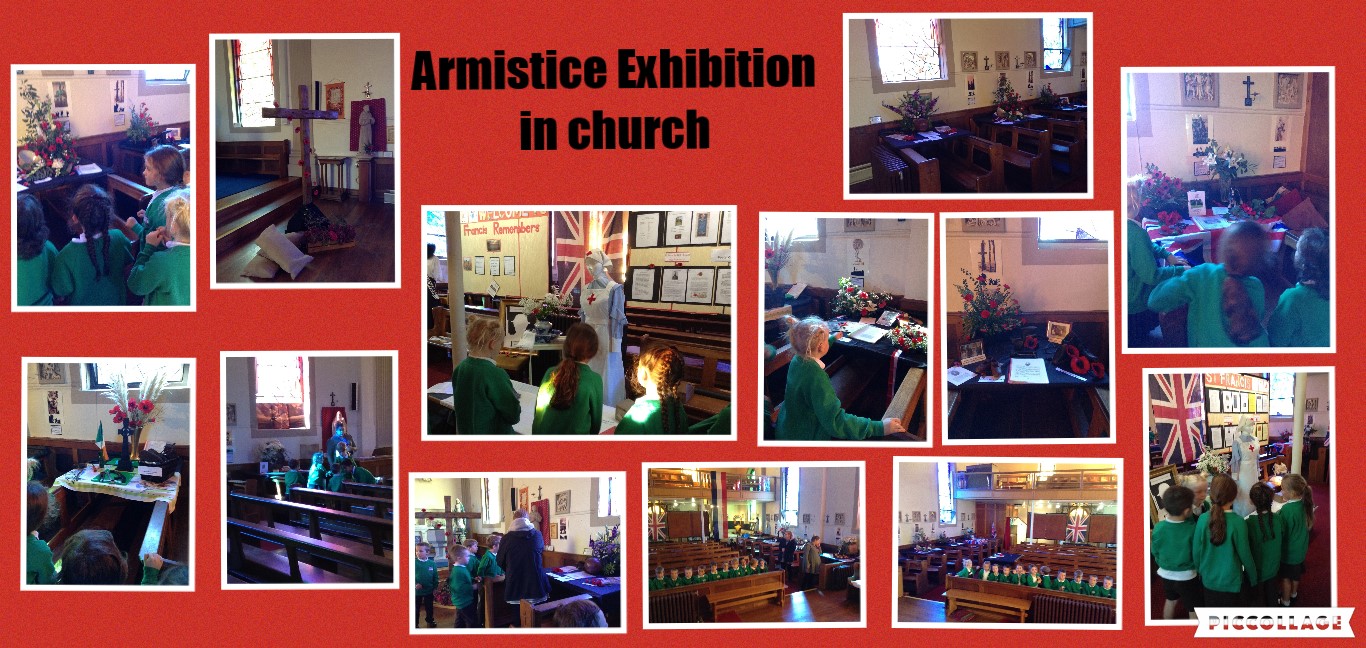 Let there be music and dance!
Parlick class took part in a music lesson exploring rhythm, tempo and pulse. The children explored different percussion instruments following a pulse. We also explored the pitch of our voices following a melody and putting music and movement together singing high notes and low notes. We finished our lesson with the Animal Boogie.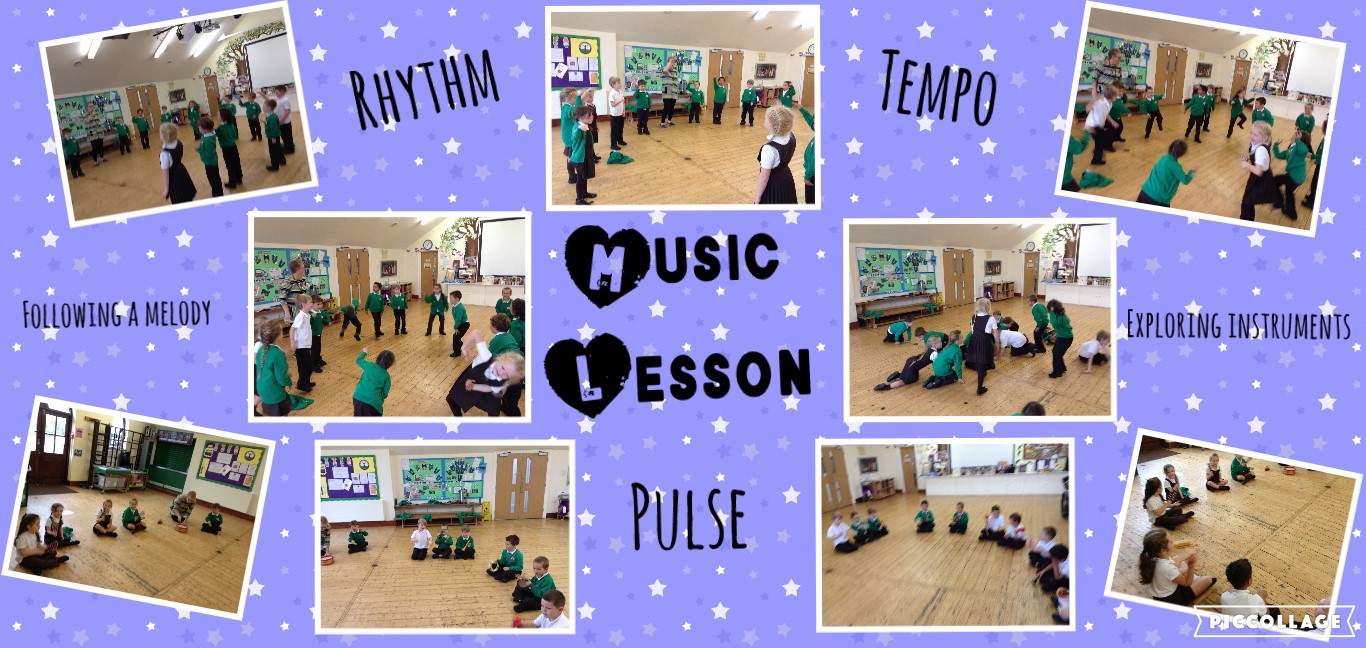 The Jolly Postman
Parlick class have been learning how to write a letter, using an address and creating their own stamp. Miss Mercer, our student teacher planned a fun letter hunt around school. During literacy pupils had the opportunity to write their own letter to the Three Bears from Goldilocks.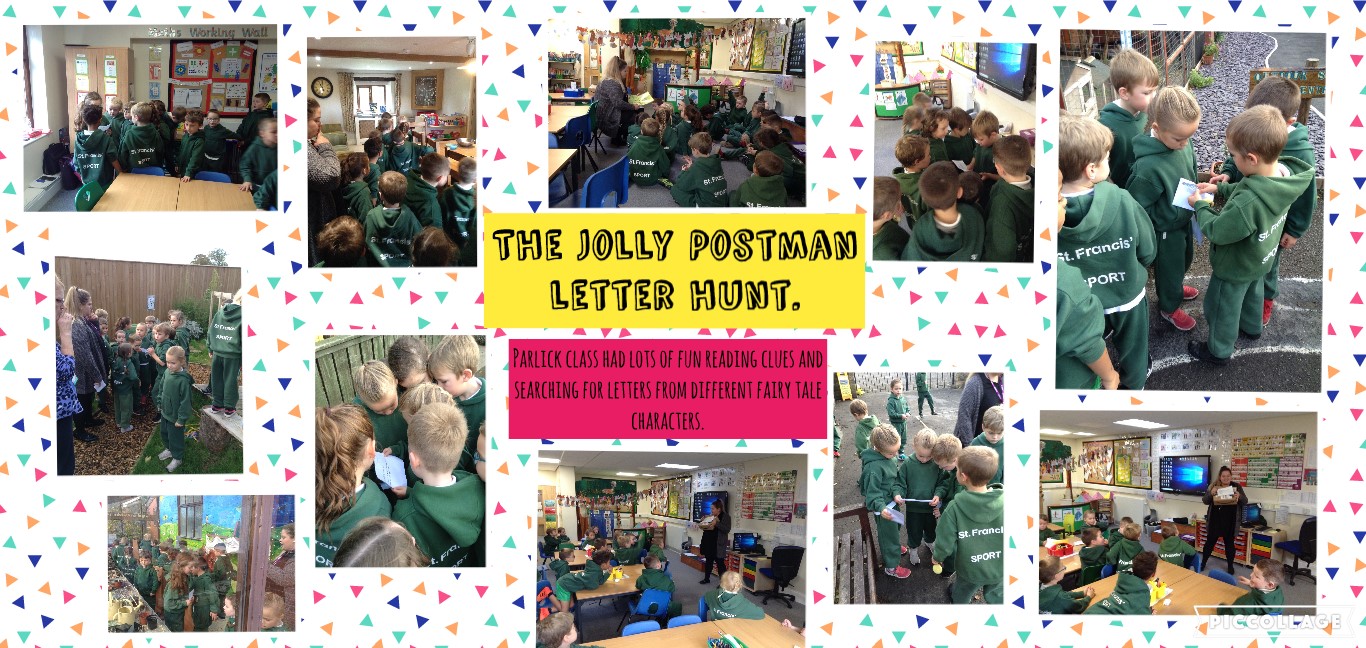 Forest School Fun
Parlick class are thoroughly enjoying Forest school on Wednesday afternoons. They have made birds nests, built dens, gone on minibeast hunts and took part in many more exciting activities. This week the children had to match natural materials to a colour spectrum chart. The children were amazed at all the different colours that can be found in our school environment.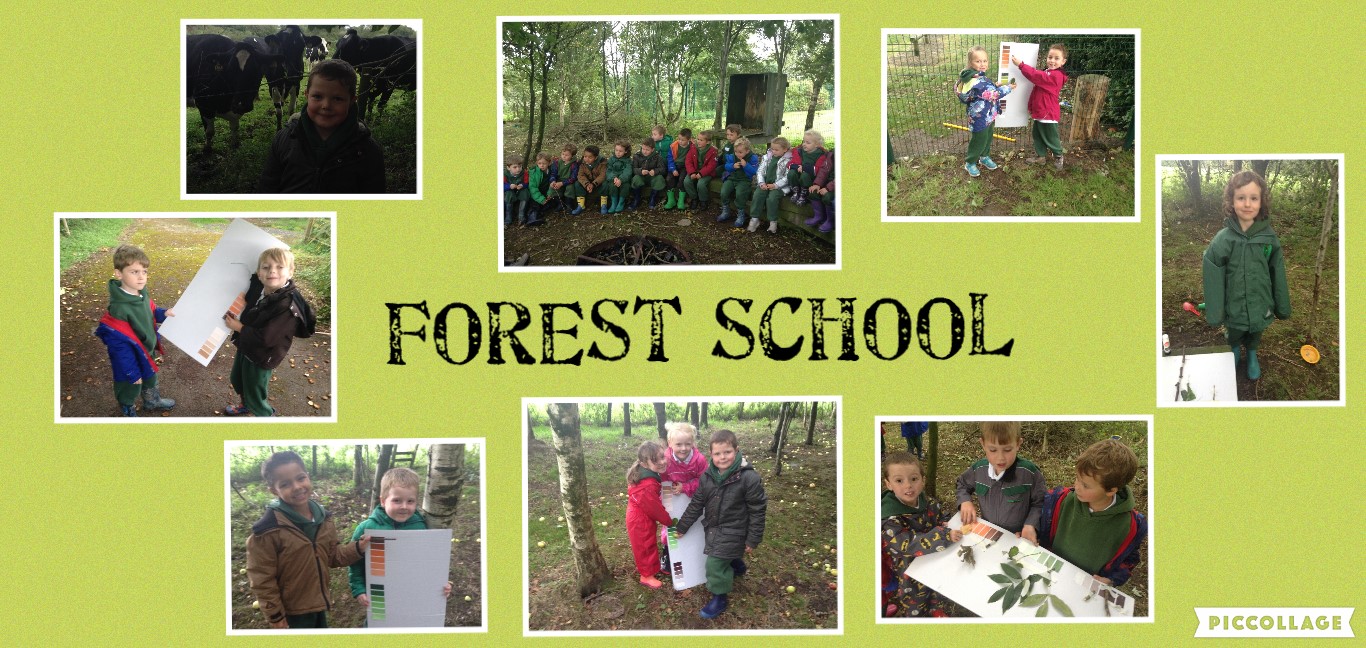 Life Education Bus
Children learned all about feeling's and how their bodies use energy. We also learnt about the different things we can do to keep our bodies healthy with a helping hand from Harold the giraffe.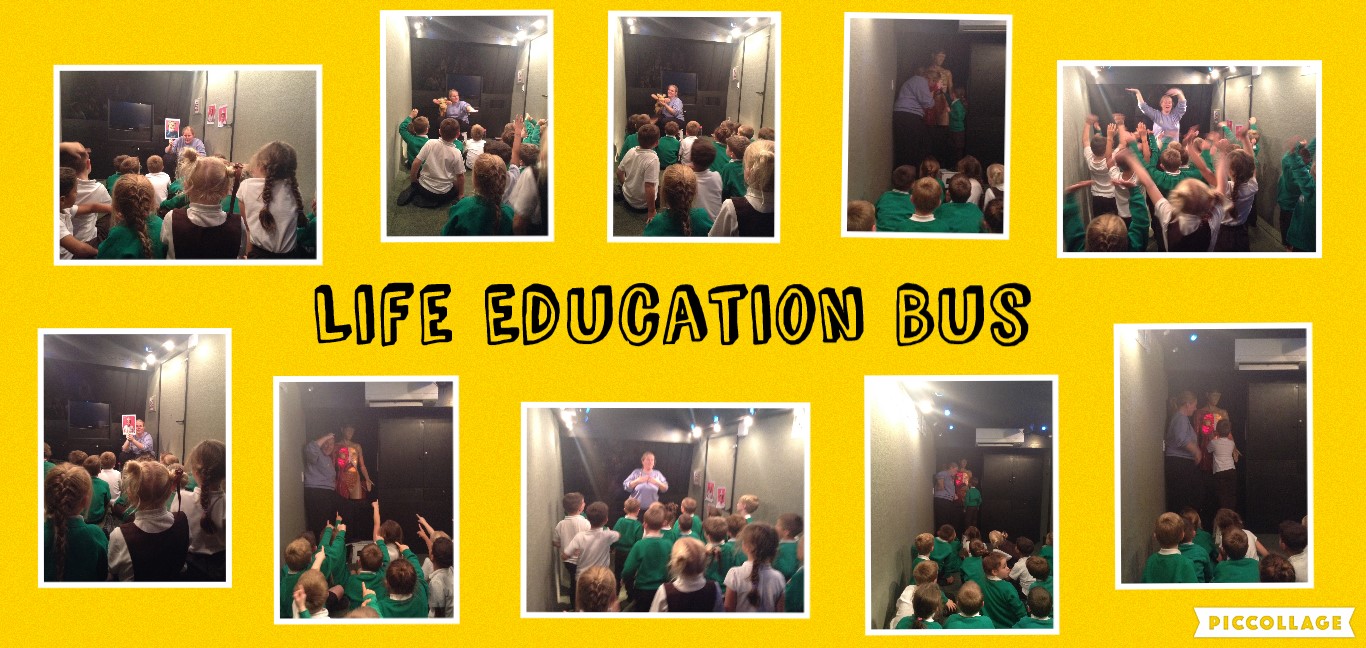 God's Beautiful World
In R.E. we have been learning all about God's beautiful world. We have listened to the story of the seven days of creation and during worships shared how we can look after and care for God's beautiful world. Also, during our forest school lessons we found some delicious apples that had fallen off the trees, so we made a tasty apple crumble with the help of Mrs BM (our fantastic baker) to guide us through the process. We had lots of happy children after it was cooked.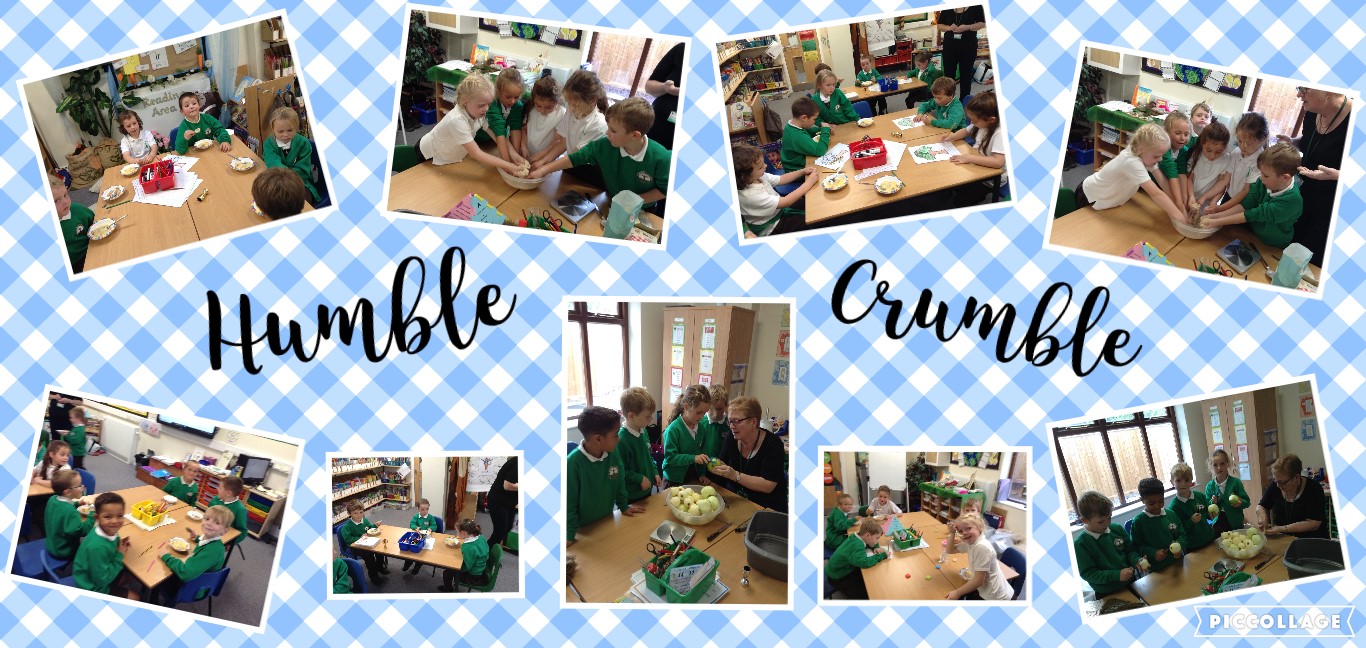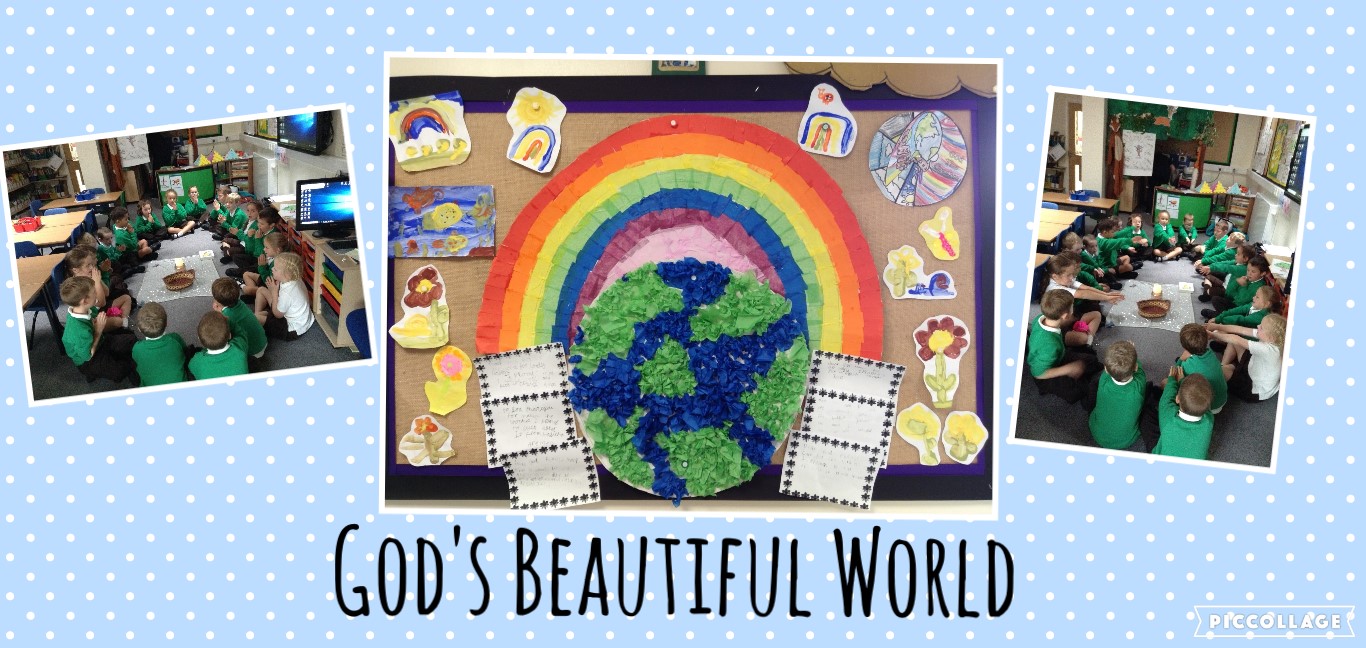 Fantastic Mr Fox Drama Lesson
Part of our story study this term, Parlick class have enjoyed developing their acting skills by re-telling the first chapters of the story Fantastic Mr Fox. We had some very convincing sneaky foxes, and some mean, grumpy farmers.
Teddy Tennis
Parlick class have thoroughly enjoyed participating in Teddy Tennis this term for P.E. lessons. The children have been learning how to use forehand, backhand and hit the ball over the net.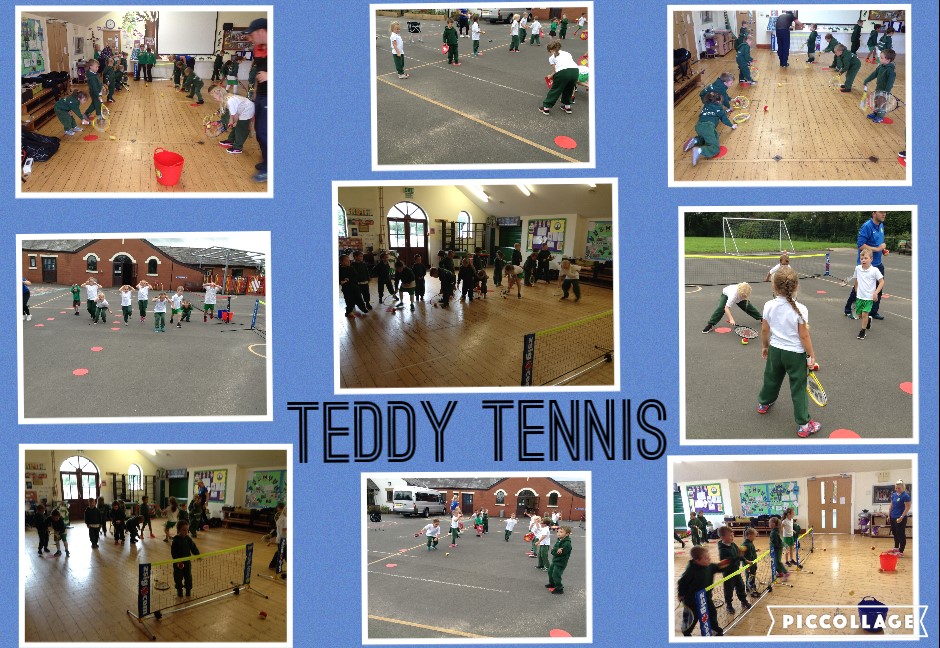 Our Topic Map- The Place Where I Live
Please click the link below to see what our pupils will be learning this term.
Our first day in Parlick Class
Parlick class getting straight back into learning
---
2017-2018
27th June 2018
FOOTBALL FEVER – WORLD CUP PENALTY SHOOTOUT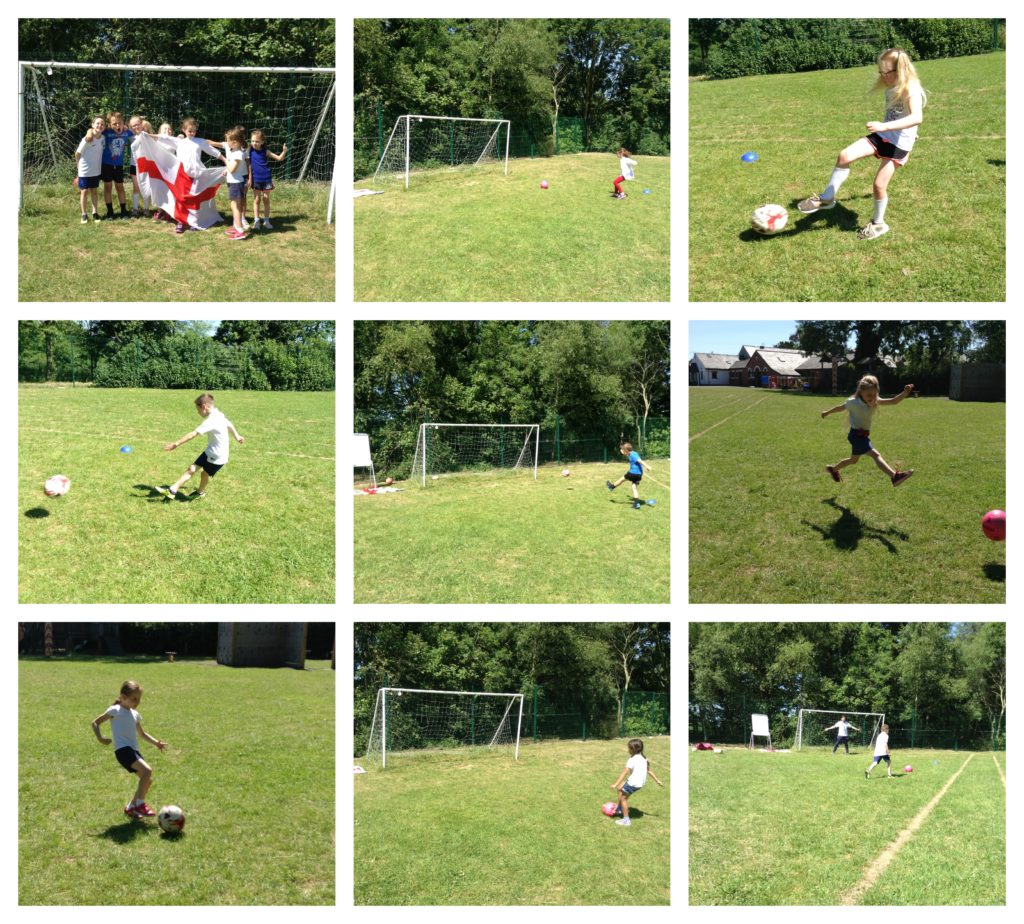 12th June 2018
RE Day ' Feeding the 5000'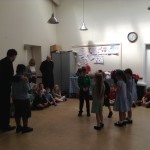 The children in Year 2 joined together with other groups of Year 2 children from schools in our small schools cluster. The schools met at St Mary's & Blessed George Haydock Catholic Church, in Cottam. The theme of the day was the story of Jesus 'Feeding the 5000'. The children spent all day together, taking part in several fun filled activities, ending with a mass in the church. The children made puppets, created a drama, made prayer cards and created a fishy piece of art work. The children made lots of new friends from the different schools and enjoyed their day out, learning about giving to others and trusting in God. It is a fulfilling experience for the children to link together with other local schools and learn together as children of God. The children came away from the day sharing stories and their experiences. We look forward to linking up with the small schools cluster next year.
8th June 2017
CURRICULUM MAP
Click on the link to view the curriculum map for the final half term of this academic year.
20th May 2018
U7 GYMNASTICS CHAMPIONS
Gymnastics champions again! We have had a fantastic year for gymnastics – with the children achieving across all age ranges. Having won the open age Preston gymnastics event, then having the boys U9 champion in Frankie, we have now  added the U7 Preston champions title also. We have such enthusiasm for gymnastics across our small school, it is incredible that the school has been able achieve such feats this year. The U7 team saw Eva, Sophie, Skye, Elsie and Frankie take to the floor and the vault. The children have been practising at home (at big thank you to parents) and in school to prepare their floor routine and their vault. Miss Stewart and I have had the mats outside at lunch times on the sunny days, and in the hall on those on those not so sunny days. The children listened to advice given to them, thankfully most of the advice was given by Miss Stewart and not me!  Each individual did themselves proud with some fantastically executed routines on the day. They performed with such confidence, with big smiles on their faces, cheering each other along. It made Miss Stewart, parents and me very proud of our children. We always say that we do well for a such small school, challenging those bigger schools, who have so many more children than we do; but this event must rank as the biggest feat of all for St Francis. Having only nine children in Year 2, and with five of those children making up the team -for us to win is a remarkable achievement. Let's hope for more incredible achievements in gymnastics next year. We will receive the trophy and medals hopefully this week, we will update this page with pictures of the children and their medals as soon as they arrive. Thank you to the parents that came along to support the children, and to Miss Stewart for giving up her free time to help coach the children at lunch times. WELL DONE EVERYONE!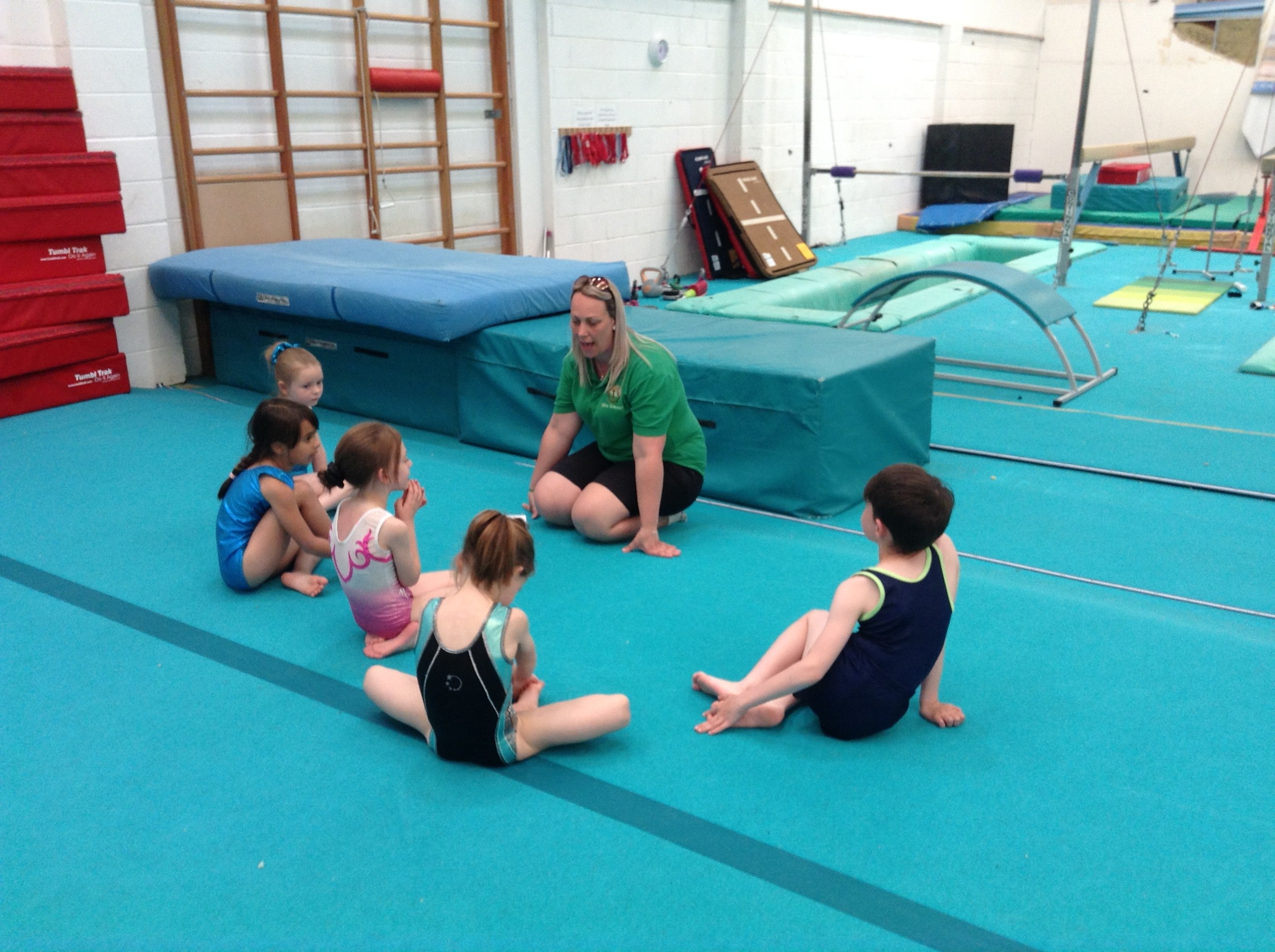 6th May 2018
MINI BEAST HUNT!
Children have been searching high and low in the search for mini beasts! We have explored the new outdoor area and the Millennium Walk, in the hunt for min beasts! The children have been learning about habitats and how our outdoor area is the perfect habitat for many different mini beasts. Children went on the create our very own small minibeast world that will be kept in class for the children to investigate and maintain. We found, centipedes, ladybirds, slugs, snails, spiders, worms, woodlouse, crayflies, beetles and butterflies! What we couldn't find was ants to put into our ant home! The children even went for a separate walk looking through ant habitat area around school – but no luck! I'm sure we will find some in the coming weeks. The children have discussed how we need to maintain the mini beasts, thinking about emulating the habitat that the mini beasts have come from. We now have a group of mini beast experts looking after all the mini creatures. The children have been working on artistic drawings, paper folding and Power Points to add to their project books.
5th May 2018
SATs PREPARATION
Preparation for the Year 2 SATs have been underway for a while. There is an information YouTube clip all about the Year 2 SATs. The link below will give you information about the upcoming SATs tests.
 23rd April 2018
WIND IN THE WILLOWS
Click on the link to view our curriculum map for this term – The Wind In The Willows.

9th March 2018
A VERY BUSY WEEK
A very busy week, trying to catch up after the 'Beast from the East!' Children have been working exceptionally hard, we have got a lot done this week. I hope all the mums like their personalised cards and mini-book. It was great the hear hope much the children love and care for you mums – they all put a lot of thought and effort into making them personal and special.  We have been working hard with time and money this week, two aspects of mathematics that need lots of time (pardon the pun), effort, practice and patience. The children have bee giving it their all solving problems and improving each day. Next week, is Science Week, where we can really get into the topic. The children are going to become young farmers and will each be given the responsibility of growing their own vegetables. We will record which germinate first, how often they are watered to see which plants grow quickly, and which need a little more time. We continue into Lent and have been rehearsing for the Key Stage 1 Palm Liturgy, which is on Thursday 22nd March, from 2:30pm. We also have a class assembly coming up to celebrate Holy Week, on Tuesday 27th March at 9:05am, where the theme is 'The Garden of Gethesmane'.  There are a few photographs of the children solving money problems below.

1st March 2018
THE BEAST FROM THE EAST!
Just a few pictures of the children LOVING the snow! Despite the cold temperatures, the children enjoyed building and creating in playground!
10th February 2018
CASTLE ON THE HILL!
The children enjoyed a wonderful day out at Clitheroe Castle.  Firstly the children built motte and bailey castles from sand, stones and lollipop sticks. The children created  all the different features you will find on a castle. They put the work in class to good use in the sandpit. Following this children were treated to a tour of the keep, where we were told about the history of the building and how it has been used throughout history. After a quick lunch break, the children were told the story of the 'Clitheroe Dragon' and were challenged become 'dragon slayers,' learning distinctive moves to learn the trade. The children have really enjoyed learning about different dragons and where they can be found. In class, the children have done follow up work, creating their own dragons and with their own features. The children have also completed work on Purple Mash, creating their own stories and dragons. Work will be sent to Clitheroe Castle to go up on display.
13th January 2018
RSPB BIG SCHOOLS BIRD WATCH

Each time this year the RSPB ask schools to create a Schools Big Bird Watch. The purpose is to gather data on the different species of birds around the UK. Over the last few years, the population of many well-known birds are on the increase. Year 2 Parlick Class, did their part to add to the data and support the different species of birds around school.  The children have had an incredibly busy week, learning about different birds, setting up and completing the big bird watch. The children set up the classroom, creating a window bird hide, as well as searching for birds in the Millennium and around the school grounds.  From measuring, slicing, cutting, creating posters of different birds – the classroom was set up ready. Children also made bird feeders from water bottles, and have placed them around the school grounds. On a weekly basis, the children will continue to fill up the bird feeders and support the local wildlife. The class have ended the week with more knowledge ad appreciation of the local wildlife and the importance of looking after them.
ANIMAL CLASSIFICATIONS
1st December 2017
The children have really enjoyed their topic work this last week. They have been creating mini-booklets, Power Points, measuring the length of some of the biggest animals in the world and classifying them into their groups. The children are very much aware that spiders are not insects, but trying to say arachnids clearly, is a hard enough task for any adult. The children have bee so happy to show off their understanding to anyone that dares ask – or even give an opinion of animal groups – don't ever confuse a whale or a dolphin for a fish! "Fish have gills and are cold blooded." On child kindly told Father Sony. The enthusiasm for learning has been infectious and many adults around school have commented on the enthusiasm of the class.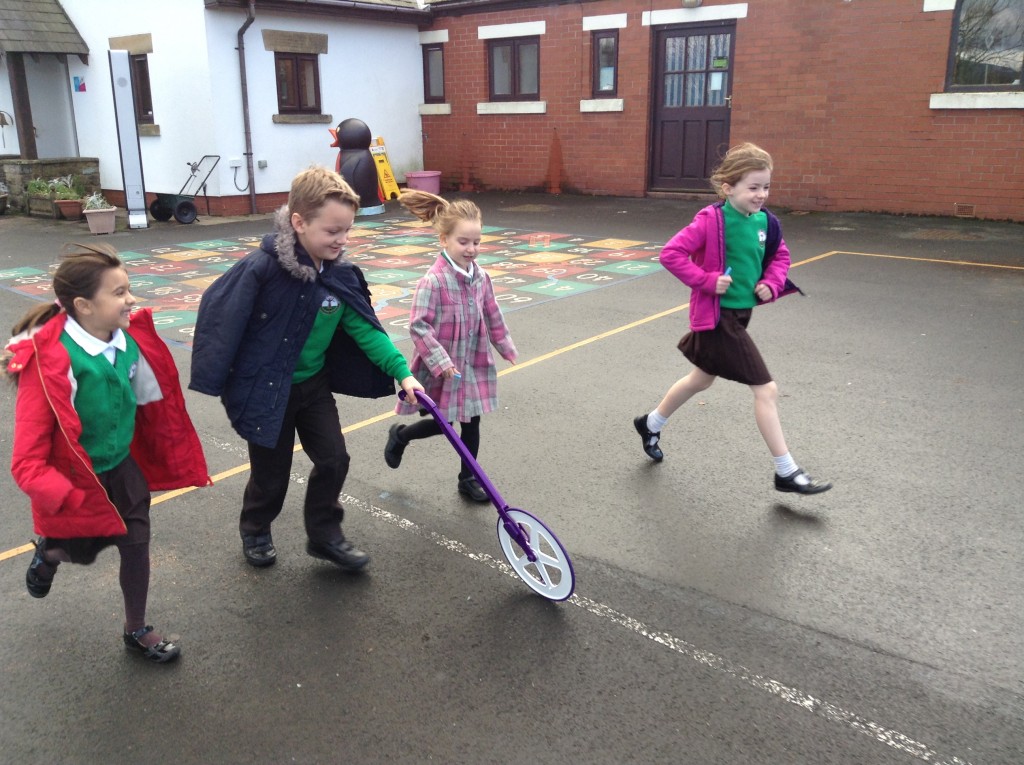 MULTI-CULTURAL ART AT UCLan
November 2017
Year 2 have been invited by the University of Central Lancashire to form links with a school in Taiwan. The children went along to an art exhibition done by children from the country, based upon their aboriginal community and heritage.  The children got to meet the curator of the exhibition, learning about their future friends and life in Taiwan. The children had a fantastic day and have already created a piece of art to send to their new friends in Taiwan, telling them a little something about themselves. The curator, along with locals from the Taiwan community are due in school in time to send christmas cards to our new friends in Taiwan. What a wonderful opportunity for the children to create links with other children around the other  side of the world!

ST.FRANCIS FEAST DAY
4th October 2017
What a day the children have had! After a morning at church to celebrate the feast day of St. Francis, where Year 2 took an active part in the offertory procession, supporting Year 2 with the statue of St. Francis, they joined KS2 in all day RE workshops. It is important for the children to learn about the impact Saint Francis has had on the Catholic community. From looking at being stewards of the earth, creating prayers to Saint Francis, signing a pledge to our continued support for the Pope's Laudato Si and creating hand-prints for our tree display, to show we are the hands of God on earth. The children learnt about what we can do to make the school, community and world a better place. The children were so grown up and asked some incredible questions about the days events. A very successful day in honour of our inspirational Saint.