"When love and skill work together, expect a masterpiece." (John Ruskin)
Hello and Welcome!
I am Miss Deakin, Headteacher of St Francis' School.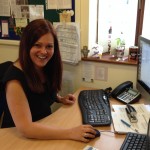 At St.Francis' we work together as co- creators with God, recognising and developing each other's unique gifts and personalities.
We have so many wonderful things to tell you about but we welcome you to visit the school to see for yourself. 'St.Francis' is a caring community with a real buzz of excitement' (parent of Year 6 child). We have so many enrichment activities for the children both inside and outside of the curriculum. It really is our aim to develop the whole child and give them every opportunity to shine in a variety of ways. We want our children to be excited every morning on coming to school-I know the staff certainly are! We have worked hard to create a stimulating learning environment where children take ownership of their learning and know exactly how to move their learning on.
God speaks to us through Jesus. He wants us to have life in all its fullness. We encourage our children and community to grow in love and understanding of God, God's people and God's world and motivate them to help those in need and care for each other, as Jesus Christ taught us to. We foster a dynamic interaction between home, parish and school to provide a happy, caring community in which everyone is valued and included. We support parents as educators of faith.
Our Catholic school ethos is an outward representation of our vision where the Gospel is alive and underpins all aspects of daily school life. We want all of our children to know that they are loved by God and to love God, themselves and each other. We encourage our children to be resilient, caring and considerate, thus fully equipped with the life skills and love of learning to prepare them well for life within and beyond our school.
We see the beauty in everything as we grow together and appreciate our wonderful gifts and talents. We nurture children's gifts and work hard to know and understand each individual child's interests and needs. We search for excellence because our children deserve the very best all round education to develop emotionally, socially, spiritually and academically. We always try our best.
We are fortunate to be collaborated with St.Mary's Catholic Primary School, Claughton and, as two small schools, we do many exciting things together. Have a look at our website, where you will get a feel of what life is like in our school.
We look forward to giving you a warm welcome!
Visits are welcome any time by appointment. Please do not hesitate in contacting us should you require further information.
Requests for paper copies
If you request a paper copy of the information on our school website, this will be provided free of charge.