"When love and skill work together, expect a masterpiece." (John Ruskin)
Hello and Welcome,
I am Miss Deakin, Headteacher of St Francis' School.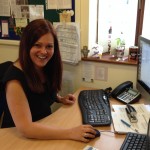 Welcome to our school tour. We hope that this will give you an idea as to the facilities we have to offer. Should you require any more information, please email Shelley Taylor, the school secretary. She is always so welcoming and ready to help whenever she can. At St.Francis' we work together as co- creators with God, recognising and developing each other's unique gifts and personalities.  We have so many wonderful things to tell you about but we welcome you to visit the school to see for yourself. 'St.Francis' is a caring community with a real buzz of excitement' (parent of Year 6 child). We have so many enrichment activities for the children both inside and outside of the curriculum. It really is our aim to develop the whole child and give them every opportunity to shine in a variety of ways. We want our children to be excited every morning on coming to school-I know the staff certainly are! We have worked hard to create a stimulating learning environment where children take ownership of their learning and know exactly how to move their learning on.
Here are just a few things we have to offer: tennis, table tennis, dodge ball, mini dodge ball, fencing, art club, rugby, cricket, swimming, music lessons (piano, brass, percussion and woodwind), school band-all ages, school choir, football, athletics, chess club, Eco Warriors, School Council, Fairtrade, Peer Mediators, Buddies, golf, orienteering, forest schools and much more!
The children particularly love UFA (University of the First Age) which takes place on a Thursday afternoon in the juniors. The children have a range of activity options which they can apply for and according to their interests. These change every half term just to keep the breadth and excitement going!
We have a new outdoor learning area in our Willow Dome area called The Pod. There are many exciting areas around school to facilitate outdoor learning, including our outdoor Science centre and Design and Technology Greenhouse workshop.
Visits are welcome any time by appointment. Please do not hesitate in contacting us should you require further information.
Requests for paper copies
If you request a paper copy of the information on our school website, this will be provided free of charge.