ST FRANCIS' PARISH
All Saint's Day Mass

St Francis' Feast Day mass

Altar Server training
Today, we had a visit from Mrs Marshall who led some training for our new group of altar servers. They are looking forward to carrying out their duties at mass.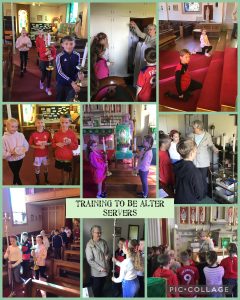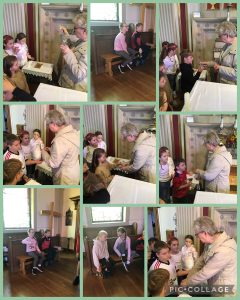 Class masses
Our weekly class masses resumed last week, starting with Beacon class, who led readings and altar serving beautifully.

First Holy Communion 2023
May Procession

Ascension Mass
Holy Week Assemblies
We invited our families, parishioners and governors to class assemblies throughout Holy Week to share in our reflections about Jesus' last days on Earth.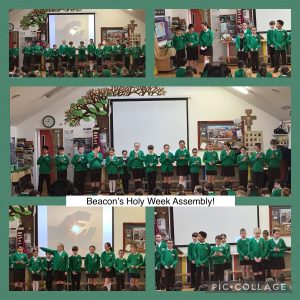 Key Stage 2 Advent Service
Children in Key Stage 2 led a beautifully reflective advent service, focusing on the true story of Christmas. They explained the symbolism of Christingle and led us into the Christmas period with joy.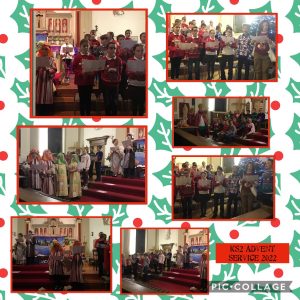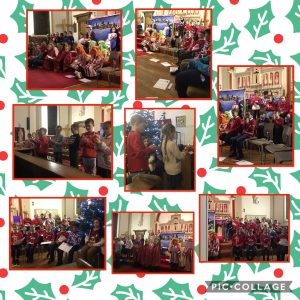 Harvest Celebration
Each class have created a creation display for a Harvest Celebration in church. We teamed up with members of our parish to celebrate all things created by God.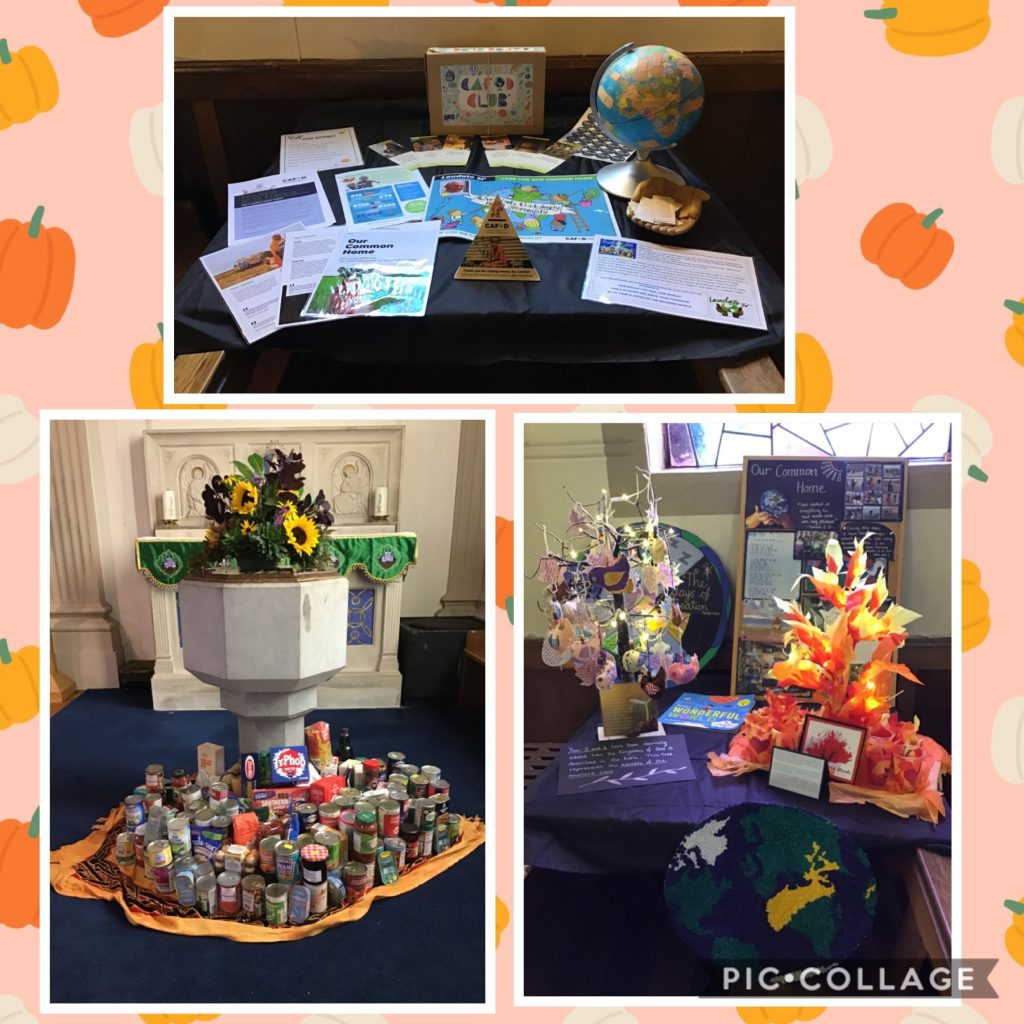 FIRST HOLY COMMUNION 2022
A special thank you to Mrs Doran, who has started sacramental preparation with 14 of our children.
ST FRANCIS PARISH – WHO ARE WE?
At St.Francis' we have such strong links with our Parish community. We are so lucky to have the church within our school grounds. Father Sony is a regular visitor in school and we always enjoy Family Mass every second Sunday of every month. The school choir and band sing and play and there is such a feeling of true Liturgy and celebration. We are delighted that so many children now attend Family Mass. Come along and join our celebrations. Mass begins at 10.30am every Sunday. Fr Sony puts school information on the Parish newsletter each week and Miss Deakin always invites parishioners into school at every opportunity. School newsletters and curriculum letters are put at the back of church for all to see. School sends home monthly 'Ten Ten' newsletters and RE curriculum map newsletters that are separate to our Learning Logs. This is to keep you all informed about our RE curriculum, which comes from the Diocesan Curriculum Wheels (adapted from the RE Curriculum Directory).You can find school information on the notice board at the back of church. We work hard to build our community links -these being local, national and global. The Catholic Life of our school is dear to us and to our parish. You are always very welcome to come into school to have a look at displays,  individual class Prayer and Liturgy big books and out beautiful 'Christ at the Centre' big books in our entrance area.  We always welcome you in to work with our children and staff. Any skills and interests you may have can always benefit our children!
We have introduced a new programme for the preparation of the sacraments of Reconciliation, First Holy Communion and Confirmation. The 'With You Always' programme is an exciting opportunity for parents to be closely involved with their child throughout, being the 'first and best educators of your child in their faith'.
Click on the link (picture) below to access the Hill Chapel website. See the latest events and newsletters.
Welcome to the Roman Catholic Church of St Francis in Goosnargh.
Clergy: Fr. Sony Joseph Kadamthodu Tel: 01772 865229
For baptism and other spiritual needs please contact the parish priest on his personal email – jkadamthodu2@gmail.com
In case of emergency and if unable to make contact with Fr Sony please contact:
Fr Dutton 01772 782641 (St Wilfrids) or Fr Doyle 01772 782244 (Our Lady and Saint Michael Alston Lane)
St Francis Hill Chapel is a beautiful historic 'barn style' church set in colourful gardens, it was founded in 1755 and the 16th century Roman Catholic martyr, George Beesley was born on the site on which the church now stands.
The picture above is of a stained glass display within the church of Blessed George Beesley, a martyr, who was born about 1562 in the farmhouse that became our Presbytery. He died on 2 July 1591, his feast day is 1 July.
More information at http://catholicsaints.info/blessed-george-beesley/
Grateful acknowledgent is given to Anthony Stubenrauch for the design of the stained glass, the drawing of our church in the header and for the millenium plaque in the church grounds. Sadly Anthony passed away 13 January 2016.
St Francis Catholic Primary school is adjacent to the church. There are very close links with the school and with the community of Goosnargh and Whittingham. Further information is at www.st-francis.lancsngfl.ac.uk, the headteacher runs a very informative blog of activities at the school this can be found via the school website or direct www.stfranciscatholicprimaryschool.co.uk/category/headteachers-blog/
 Parish Mission Statement "Our Parish, guided by the example of our patron, St. Francis, seeks to be a welcoming, Catholic Community, by living, sharing and growing in faith. We strive to deepen our own relationship with Christ and to meet the needs of others."
We are a small rural Parish in the heart of the countryside, close to the village of Goosnargh.  The Parish Administrator is Father Sony Joseph, contactable on clergy@stfrancisgoosnargh.org.uk.  The Parish is linked with the parish of St Thomas, Claughton also in the diocese of Lancaster.
Have a look on our RE section to see what is going on in school, additional to our RE curriculum. You will find out RE section under Curriculum.
---
First Holy Communion
Some of our children made their First Holy Communion this weekend. It was a lovely service.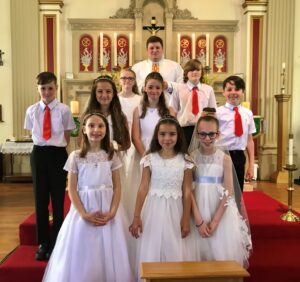 Remembrance Day Family Mass
We remembered those who gave their lives during the war at a special family mass on Sunday. Art work produced by each class was displayed and crosses for each of the 11 parishioners who lost their lives in WW1 and WW2 were brought to the altar during the bidding prayers.
Our Christmas fayre, which followed our family mass, was very successful and we thank everyone who helped out. Please enjoy the following pictures from the festive day of fun.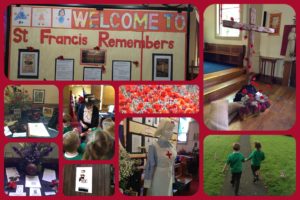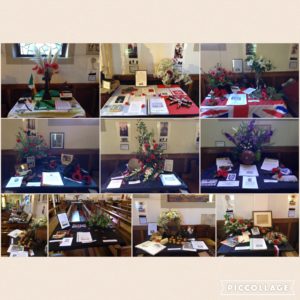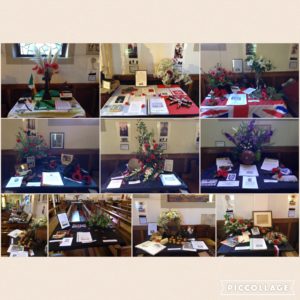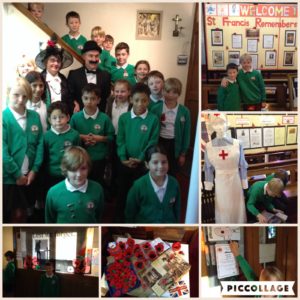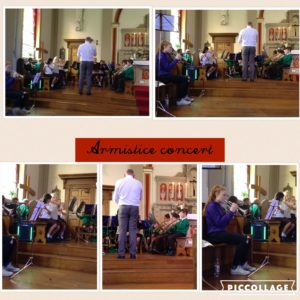 Come along to Family Mass every second Sunday of the month!