ST FRANCIS PARISH
FIRST HOLY COMMUNION 2019
Congratulations to Maggie-Mae, Phoebe, Grace H, Grace W, Ryan and Lucy H on completing their First Holy Communion. Thank you to all those involved within the school and the parish for supporting the children on their Catholic journey.
ST FRANCIS PARISH – WHO ARE WE?
At St.Francis' we have such strong links with our Parish community. We are so lucky to have the church within our school grounds. Father Sony is a regular visitor in school and we always enjoy Family Mass every second Sunday of every month. The school choir and band sing and play and there is such a feeling of true Liturgy and celebration. We are delighted that so many children now attend Family Mass. Come along and join our celebrations. Mass begins at 10.30am every Sunday. Fr Sony puts school information on the Parish newsletter each week and Miss Deakin always invites parishioners into school at every opportunity. School newsletters and curriculum letters are put at the back of church for all to see. School sends home monthly 'Ten Ten' newsletters and RE curriculum map newsletters that are separate to our Learning Logs. This is to keep you all informed about our RE curriculum, which comes from the Diocesan Curriculum Wheels (adapted from the RE Curriculum Directory).You can find school information on the notice board at the back of church. We work hard to build our community links -these being local, national and global. The Catholic Life of our school is dear to us and to our parish. You are always very welcome to come into school to have a look at displays,  individual class Prayer and Liturgy big books and out beautiful 'Christ at the Centre' big books in our entrance area.  We always welcome you in to work with our children and staff. Any skills and interests you may have can always benefit our children!
We have introduced a new programme for the preparation of the sacraments of Reconciliation, First Holy Communion and Confirmation. The 'With You Always' programme is an exciting opportunity for parents to be closely involved with their child throughout, being the 'first and best educators of your child in their faith'.
Click on the link (picture) below to access the Hill Chapel website. See the latest events and newsletters.
Have a look on our RE section to see what is going on in school, additional to our RE curriculum. You will find out RE section under Curriculum.
---
First Holy Communion
Some of our children made their First Holy Communion this weekend. It was a lovely service.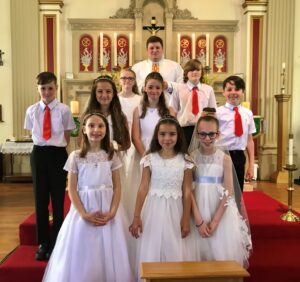 Remembrance Day Family Mass
We remembered those who gave their lives during the war at a special family mass on Sunday. Art work produced by each class was displayed and crosses for each of the 11 parishioners who lost their lives in WW1 and WW2 were brought to the altar during the bidding prayers.
Welcome Mass 2018
We welcomed our 17 new Reception children and other new starters at family mass this weekend. It was lovely to so many families there to celebrate mass and to join us in school afterwards for coffee and cake.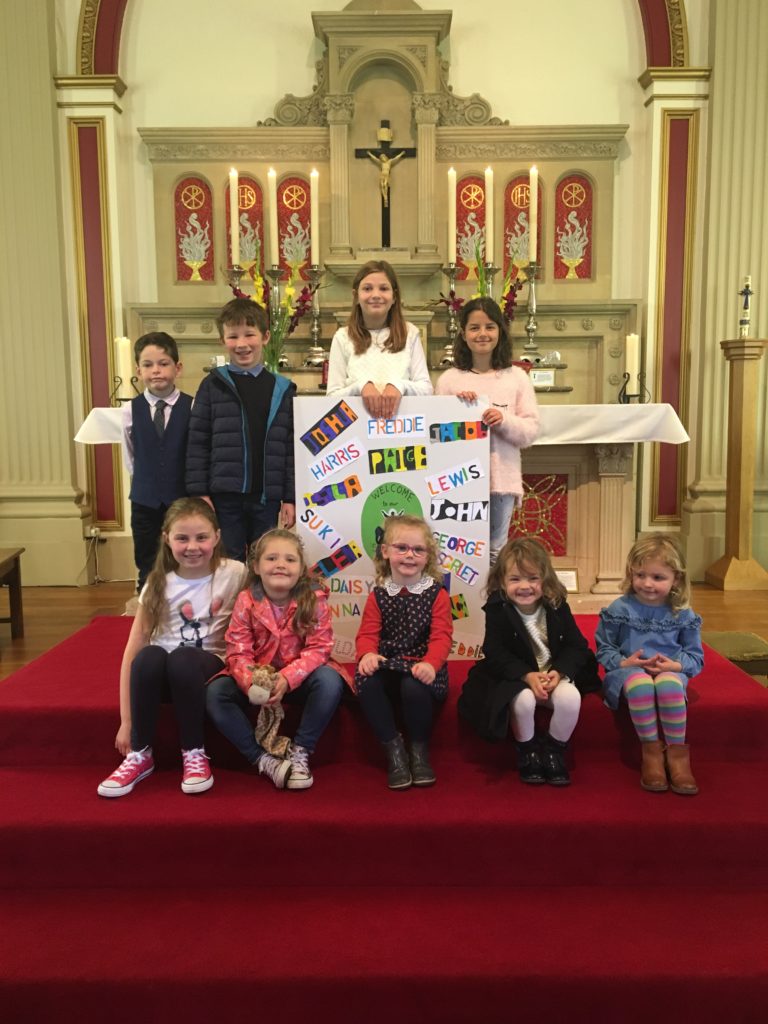 First Holy Communion 2018
First Holy Communion and Reconcilition preparation 2016/17
Some of our year 4 children will soon be joining other children from our parish in preparing for their First Holy Communion and Sacrament of Reconciliation. The course will begin on Wednesday 16th November with an interactive 'treasure hunt' style session in church. Children, along with their parents, will discover the treasures of the church and talk about baptism as the beginning of their life-long faith journey.
With You Always programme 2015/6
Our parish First Holy Communion and Confirmation programmes have now been completed for this year with our year 4,5 and 6 pupils. We adopted the innovative 'With You Always' programme which allows parents to work with their children, moving forwards together as a family in their faith journey. Catechists are present at all sessions to offer support and guidance. It was hugely successful and we look forward to developing the programme further next year.
Our First Holy Communion Mass….
We were delighted to welcome Bishop Michael for our Confirmation  mass….
Our Christmas fayre, which followed our family mass, was very successful and we thank everyone who helped out. Please enjoy the following pictures from the festive day of fun.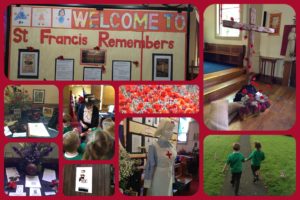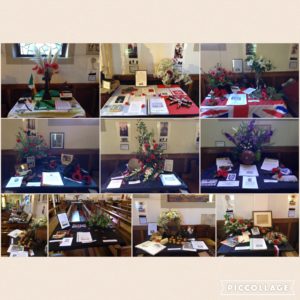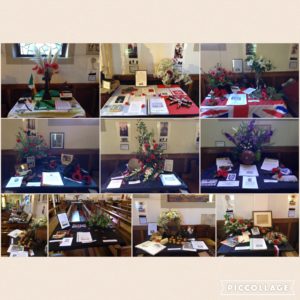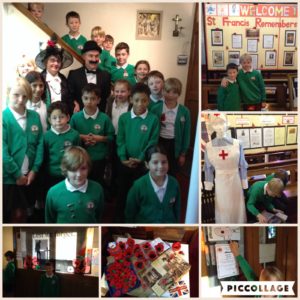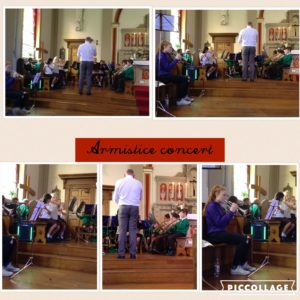 Come along to Family Mass every second Sunday of the month!