What is the Sports Premium?
The Government is providing funding of £150 million per annum for academic years, which has been extended to 2025. This is in place to provide new, substantial sports funding for primary schools . This funding is being jointly provided by the Departments for Education, Health and Culture, Media and Sport, and will see money going directly to primary school headteachers to spend on improving the quality of sport and PE for all their children. Click here for the Department of Education link to the Primary School's Sports Funding page.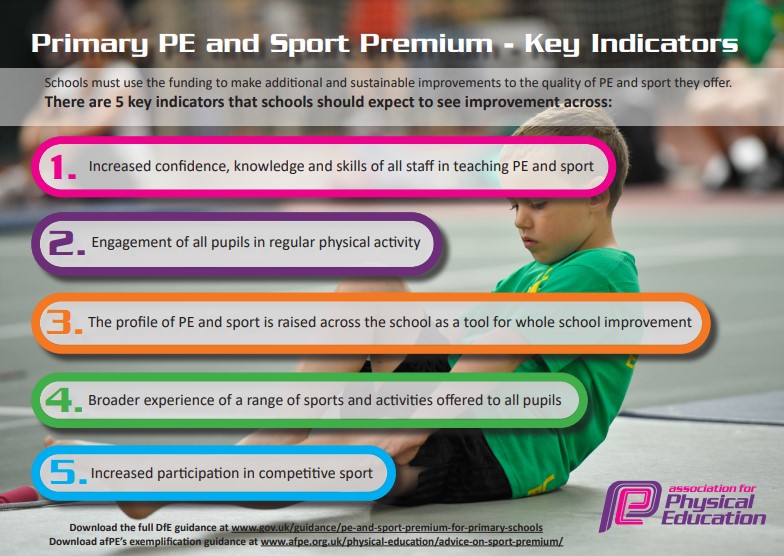 Purpose of funding
Schools will have to spend the sport funding on improving their provision of PE and sport, but they will have the freedom to choose how they do this.
Possible uses for the funding include:
hiring specialist PE teachers or qualified sports coaches to work alongside primary teachers when teaching PE
new or additional Change4Life clubs/ other sport clubs
paying for professional development opportunities in PE/sport
providing cover to release primary teachers for professional development in PE/sport
running sport competitions, or increasing participation in the school games
buying quality assured professional development modules or materials for PE/sport
providing places for pupils on after school sport clubs and holiday clubs
creating opportunities for children to develop as healthier young people
How we are spending the Sports Funding and who will benefit?
The Governors agree that the money must be used so that: all children benefit regardless of sporting ability; that the most able children are given the opportunity to compete in advanced tournaments; that staff have access to training opportunities and continued professional development. Having achieved School Games Gold, Silver and Bronze Awards in recent years (please click here see the Sports News page) we are really trying to build on the enjoyment and participation in PE and sport at St Francis.
SPORTS PREMIUM FUNDING
2022/2023 – SPORTS PREMIUM FUNDING
2021/2022 – SPORTS PREMIUM FUNDING
2020/2021 – SPORTS PREMIUM FUNDING
2
018/2019 – SPORTS PREMIUM FUNDING
2017/2018 – SPORTS PREMIUM FUNDING
ACTIVE SCHOOL PLANNER 2017 2018
Below is a report to show how sport and being active is analysed in school. We are always looking for ways to promote sport and activity in school. We have big plans for the future to continue the development.
2016/2017
St Francis' Catholic Primary School Sports Funding Report 2016/2017
2015/2016
St Francis' Catholic Primary School's Sports Funding 2015/2016 Report
Click here for the Department of Education link to the Primary School's Sports Funding page.
Click on the link to view the spending for sport at St Francis 2015/2016
Click below to the sports funding update for the summer term 2016 PE-funding-2015.16- UPDATE SUMMER
The sport funding can only be spent on sport and PE provision in schools. This year we have £8340.
Providing Specialist coaching
In 2014-15 we used the Sports Funding to pay for qualified coaches to teach PE lessons alongside class teachers. Children across both key stages benefited from 1 hour per week of specialist coaching, focusing on key areas detailed in the new National Curriculum. Coaches provided teachers with lesson plans and pupil assessments.
In 2015-16 children will again receive specialist coaching from a range of sporting genres. With school, having enjoyed specialised coaching in tennis, football, gymnastics, and cricket last year, for 2015/2016, we have decided to offer a wider range of activities to allow children to access a scope of sporting genres. This year we will be offering specialist teaching and coaching in yoga, fencing, dance and judo. We hope this will allow all children to access a wider range of sports for their development and enjoyment. ​
Providing additional after school sport clubs and increasing participation in school sport
​Our school already offers a range of extra-curricular sports clubs, accessed by children from Key Stages 1 and 2.  In addition to these, we will continue to use the Sports Funding to pay for specialist equipment to allow our staff to run further after school clubs.
Throughout the year we will offer a multi-sports, dodgeball, mini-dodge (KS1) football, netball and table tennis after school sports club. As well as lunch time multi-sports activities run by the sports leaders in KS2. In addition to the three children in Year 6 who are our sports leader, two children will be selected from Year 5 to go on Youth Sports Trust course. The aim of the course is to give the children to skills to lead sporting activities within school, with a view to running lunch time clubs for their peers and younger children. The children will be accompanied by Mr Gilmour who will mentor them in their roles.
Increasing opportunities for competition in school sport
​For the second year in succession we are part of the local Preston Schools Football League. We gained promotion last year into Division 1, and we hope to continue our success. Football training takes place every Wednesday night and the age range has been extended to allow younger children from KS1 to be mentored by the KS2 children. This not only increases the amount of children participating in sport, but will also create a sustainable team for future competitions.
Professional Development Opportunities
Professional Development of staff is essential to ensure that children are taught key skills correctly and safely. We continue to use Sports Funding to provide opportunities for staff to regularly update, and expand, their knowledge of teaching sport. ​So far this year, we have looked at courses to enhance the scheme of work, assessment with levels and KS2 sports leaders.
Equipment and Resources
 Having used the sports funding in previous years to purchase new football goals as well as a host of different equipment (please see report from 2014-2015) this year we intend to again use some of our sports fund to buy additional equipment. All the staff and the children have been heavily involved in deciding where this money goes and how best to use it. As a school, we have considered equipment that will allow more children to access sport and that has some longevity and sustainability to fulfill sporting needs for years to come. Please see the financial report to see the list of new equipment for this academic year.
2014/2015
Click on the link to see the up-to-date spending on sport at St Francis foe the academic year 2014/2015
Having gained new resources and facilities the previous year, our aim was to develop teacher CPD, through courses and coaching within school, as well as to continue to gain new facilities for both key stages.  Within the Autumn Term,  we have a Tennis coach delivering outstanding lessons to KS2. The Netball team received their bespoke netball hoodies. In addition to this new equipment to develop many throwing, catching and target games came in school. Year 5/6 will be swimming for the whole term.
Within the Spring Term, Preston Gymnastics have come in to develop outstanding practice within KS1 and KS2. After the Easter half term, we have FA Football coaches coming into school to work with KS2 to develop their football skills and team game skills. KS1 get the expertise of our Tennis coaching. Excitingly, for the first time at St Francis we have an exciting Superhero Sports after school club, running for three weeks across January and February. Year 3/4 will be swimming for a whole term.
The Summer Term will see Lancashire Cricket Council come to St Francis to work with KS2, developing their team sport knowledge further.
Throughout each term, Teachers are attending courses specific to their Key Stage to develop their knowledge and seek best practice, bringing new ideas and development of PE and Sport within St Francis.
2013/14
For the first year of our Schools Sports Funding, here ar St Francis, we looked to improve the facilities and resources that we have available for school, to make PE and Sport more inclusive and enjoyable. We now have new football nets and football kits for the football team, which are also used for Curriculum PE. We have new netball nets and bibs for the netball team, which are also used for Curriculum PE. In addition to this we have a host of new equipment to support Games within both KS1 and KS2. The funding also allowed for both Year 3/4 and Year 5/6 to swim for an additional term. We also used the sports funding to bring in specialised sports coaches to deliver Athletics and Games to KS2. After a successful year of sport here at St Francis, we look forward to facilitating further opportunities for PE and Sport within our next school year.