SHALOM ACADEMY LINKS
We have continued our strong links with the Shalom Academy in Kenya. The children share letters, videos and we regularly have collections to send to our friends at the Shalom Academy. This year we decided to share some hymns with our friends to show how we praise God and give thanks. The children at the Shalom Academy have enjoyed the videos and hymns that we have shared and decided to record their own version of the hymn, 'If I were a Butterfly' to send to the children at St. Francis.
RAISING MONEY FOR THE SHALOM ACADEMY
We have continued our connection with the Shalom Academy School in Kenya. As part of our Harvest Festival cake sale, we decided to split the money between Macmillan Cancer Support and our friends in Kenya, at the Shalom Academy. Thanks to the wonderful cakes made by parents, grandparents and friends of the school, we managed to raise a brilliant £200. It is wonderful to see the school raise money and support different charities and communities. As part of our link, we have sent a video of a class assembly, with the singing to one of their favourite songs! The children in Beacon Class continue to write letters and keep in touch with their friends at the Shalom Academy.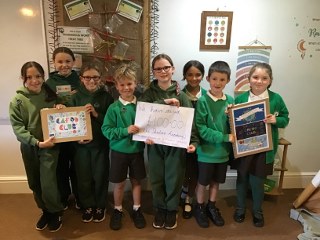 WRITING LETTERS TO OUR PEN PALS