Welcome to our Geography Page!
Aims, Objectives and Intent
At St.Francis' we are committed to providing all children with learning opportunities to engage in Geography. This policy sets out a framework within which teaching and non-teaching staff can work, and gives guidance on planning, teaching and assessment. It has been developed through a process of consultation with school staff and governors.
Geography is an essential part of the curriculum, it provides a means of exploring, appreciating and understanding the world in which we live and how it has evolved. Geography explores the relationship between the Earth and its people through the study of place, space and environment. It contributes to the cultural, social, spiritual and moral life of children as they acquire knowledge of a range of different cultures and traditions, and learn tolerance and understanding of other people and environments Geography is the subject in which pupils learn the skills of understanding a locality and how and where people fit into its overall structure. Developing geographical skills is essential as children live in a world that is wide open to them. With opportunities to travel and work in different cities and countries across the world, pupils need to use efficiently maps, charts and other geographical data. The opportunities for the children to carry out geographical enquiry are also of value.
The teaching of Geography would be difficult without acknowledging the future of our planet. The Geography Curriculum places great importance on the interaction between the physical and the human environment. Many areas of study give opportunities to make children aware of these effects upon their surroundings, their own responsibilities and how they can contribute to improving the environment, however small that contribution might be.
Beacon Class Canal Field Trip
Year 5 and 6 have been learning about human and physical features in our local area. They put their mapping skills into practice with a field trip to Lancaster Canal in Bilsborrow, mapping  their journey and adding Ordnance Survey symbols.
FAIRSNAPE VISITED ROME AND VOLCANOES
ALL AROUND THE WORLD TODAY (WITH A BIT
OF HELP FROM VIRTUAL REALITY)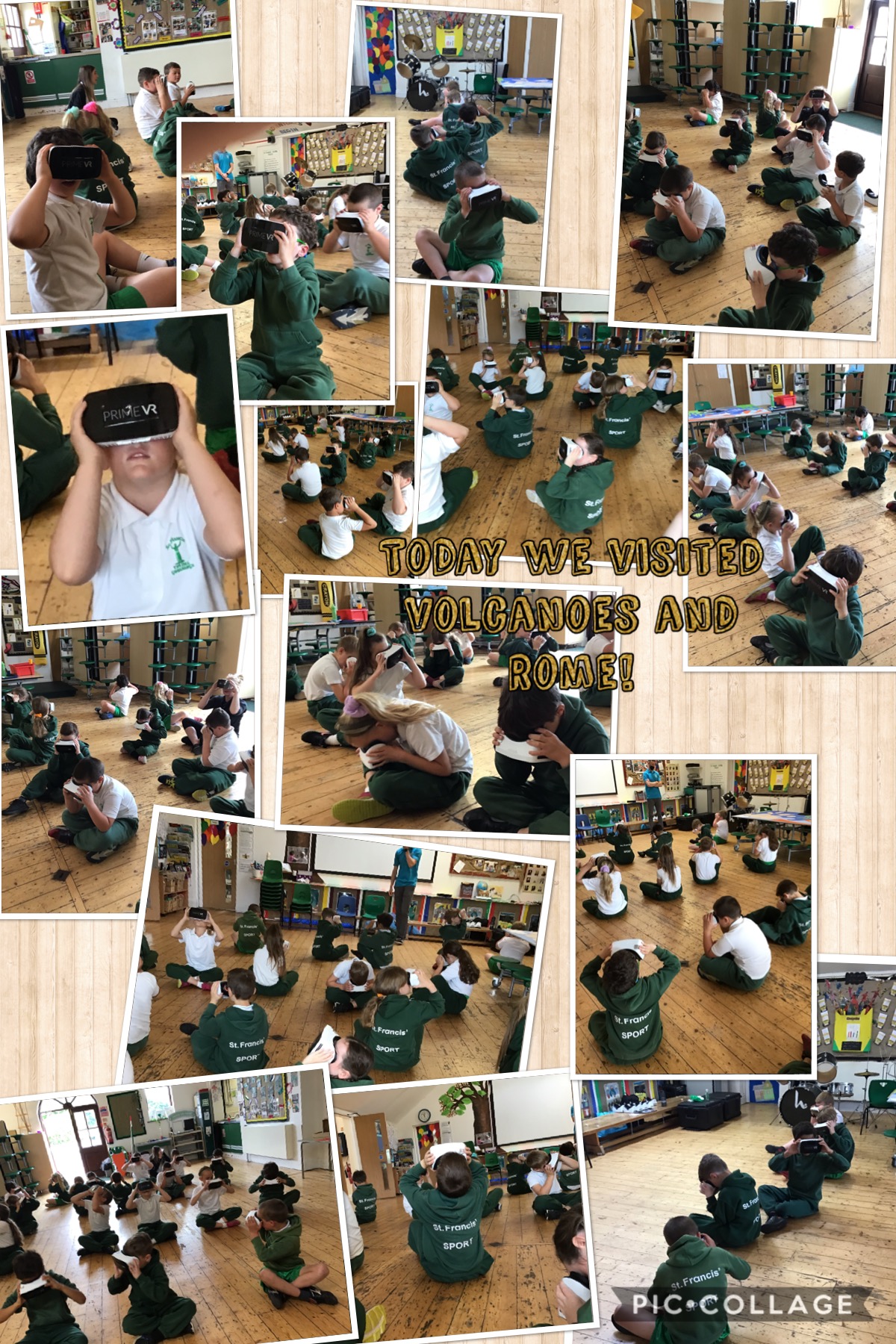 BEACON FELL GEOGRAPHY AND
STEM DAY
Children in Fairsnape, made their own sandwiches (after learning about healthy eating) and headed up the fell – sandwiches in hand! After filling their stomachs, we set off on a hike, following the map and tracks, the children collected items from their scavenger hunt list. A range of different leaves, sticks and stones were collected along the way as we looked at the signs of Autumn across the beautiful Fell. Staff and children had a great time and learnt so much!