WORKING WITH CAFOD HEADQUARTERS
It was wonderful for our school to have been acknowledged by CAFOD for our work in developing our CAFOD Club. We had two separate visits from CAFOD headquarters after they asked for our help in developing a new global initiative -CAFOD club for kids. We showed them our resources, minutes of meetings and celebration books of all the service and social justice elements of our work.
CAFOD Headquarters in London, came to visit our school to speak specifically with the CAFOD Club. The CAFOD Club has been up and running for four years now, and we are the first official Primary School CAFOD Club in the UK.
We have supported CAFOD develop resources for their website, and resources to send out to school – so that all other Catholic schools can start-up their own CAFOD Clubs. The children took the opportunity to show CAFOD what we have been learning about in school, and to show them what an assembly by the St. Francis CAFOD Club looks like! We look forward to continuing to support CAFOD, helping them get important messages out to more young people!
Following the final visit, we advised on useful resources that could be incorporated within the packs to be sent out to schools-how exciting!
Here are some of the lovely emails from CAFOD :
Hi James and Sarah,
Thanks for getting back to me so quickly.
I've made a few amends to the overview document, which will go out to schools. The latest version includes a photo and quote which references your school's CAFOD group – see attached. I hope that helps. If it's helpful I can also send you the photos I took on the day to use as further evidence.
Going forward, as I develop more resources, I hope to use more of the photos and examples from your group to illustrate your great practice. As these resources develop I will send them though for you to use as evidence.
Thanks again for your support.
Best wishes, Gemma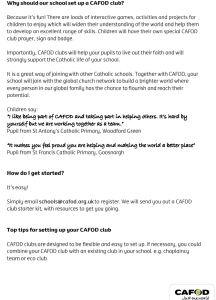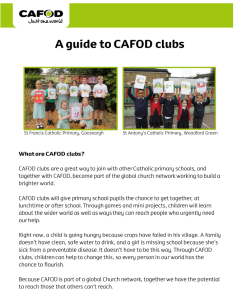 Dear Sarah and James,
I hope you are both well and had a great summer break.
It was so great to spend time with you in the summer term and meet your fantastic CAFOD group. Thanks again for giving up so much time and for agreeing to trial our resources for CAFOD clubs.
I'm pleased to say that the brand new CAFOD club starter kits are almost ready, and one should be finding its way to you next week. As always, we would welcome any feedback you have on it. If possible, I would love to come and visit yourself and your CAFOD club later this term, at a time that suits you.
In the meanwhile, I have attached an overview of CAFOD clubs for your information.
Many thanks once again for your support.
Best wishes,
Gemma