SEND SCHOOL INFORMATION
HERE YOU WILL FIND LINKS TO DOCUMENTS OUTLINING THE SUPPORT OFFERED TO CHILDREN WITH A SEND. YOU WILL ALSO FIND LINKS TO SUPPORT FROM LANCASHIRE, IF YOU HAVE CONCERNS ABOUT YOUR CHILD.
Click on the link below to look at the SEN report for St. Francis.
Click on the link below for information about the type of provision for children with SEND
Click on the link below to have a look at the Waves of Provision offered to children with different SEN.
The link below will take you to the Lancashire County Council website for information about the Local Offer and for any support you need.
Click on the link below for our SENS Policy.
Special Educational Needs
At St.Francis' Catholic Primary School we aim, in partnership with parents/carers, to meet the individual needs of every child attending our school, including those with additional needs.
Special Educational Needs  and Disabilities (SEND): What does it mean?
The term special educational needs has a legal definition: children with special educational needs have learning difficulties and/or disabilities which make it harder for them to learn than most children of the same chronological age. Children with special educational needs may need extra help or different support from that given to other children of the same chronological age. It is widely acknowledged that many children may have special educational needs at some time in their educational career. At St.Francis' we seek to help all our pupils to overcome the barriers to learning that their additional needs may present.
What can you do if are you are worried that your child may have additional needs?Please talk to us. If you think your child may have additional needs that have not been identified or you are concerned about your child's development and progress, it is best to begin by talking to your child's class teacher. You can also make an appointment to see the school's Special Educational Needs Coordinator (SENDCO) who is Mr Gilmour, the  Assistant Headteacher. Remember – you know your child better than anyone! We want to work with you in order to resolve any worries or concerns that you may have. The closer the partnership between home and school, the more successful any interventions/support for your child will be.
Who's who?
All primary schools are required to have a person who is responsible for coordinating the day-to-day provision for pupils with special educational needs. This person is known as the Special Educational Needs Coordinator or, for short, the SENDco. At St.Francis' this person is Mr J Gilmour, the Deputy Headteacher.
A member of the school's governing body is appointed to have particular oversight of special educational needs provision within school. At St.Francis'  this person is our Foundation Governor, Mrs Alison Holden. She liaises closely with the school's SENDCO and frequently visits school to discuss SEND and report on provision and care.
We have a Special Educational Needs Policy that gives more detail about how we aim to provide for our pupils with special educational needs. Please see the Policies section of the website.
Graduated Approach
WAVES OF INTERVENTION
Click on the link below to see the Waves of Intervention support for child at St Francis.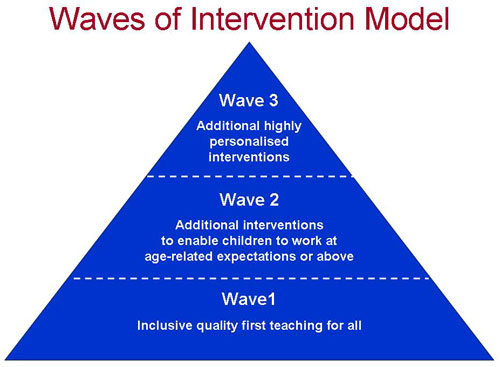 FIND (Family Information Network Directory)
NEWSLETTER LANCASHIRE COUNTY COUNCIL
Looking for help or support with a child with SEND? Check out the FIND Newsletters below
Click on the links below to download the latest FIND Newsletter: