GIRLS FOOTBALL TEAM PREPARING WITH PNE
The Girls Football team working with Preston North End this afternoon in preparation for the upcoming Lancashire Finals in January. Thank you to PNE for putting on some extra sessions with the girls – they really enjoyed it.
WE ARE THE CHAMPIONS…AGAINNNN!
Our gymnasts are winning again! The boys and the girls from KS2 competed against the small schools of Preston, and once again came out on top! The boys finished in first place,  the girls second place  – with the school winning the overall prize. The children did fantastically well learning their routines (thanks to Mrs. Luke and parents) to come out on top. We are once again incredible proud of our gymnasts! We had a wonderful celebration lunch when we arrived back in school – well done everyone!
KS1 ATHLETICS – SECOND PLACE!
6 boys from Year 2 took part in the Preston Schools Athletics Competition – amazingly we came second! After putting in lots of practice in school, the boys did an incredible job, working well as a team to bring the second place trophy back to St. Francis! From throwing, running, jumping and catching – perhaps all the extra work with the Sports Young Leaders (KS2 children and our sports coach Mr. Howarth), the GGG Giant iPad group and work with Preston North End is paying off? Well done boys, we are very proud of you!  It was great to have many parents and Miss. Deakin there to cheer the boys on!
Read about our donation with Longridge Town Juniors F.C
KIND DONATION Click on the link to view.
PRESTON SMALL SCHOOLS GIRLS FOOTBALL CHAMPIONS!
The girls won 3-0 in the final, with goals from Kitty, Maggie and Charlotte. We move on to represent Preston in the Lancashire finals later this year. As part of our partnership with Preston North End, they have offered to support our preparations for the finals with extra training for the girls. For their first tournament, they represented the school incredibly well, and they had such an amazing day – as you can see from these smiles! Well done.
Netball & Football Tournament
Children from Year 4, 5 and 6 took part in the Preston schools football and netball tournaments, The children represented themselves incredibly well as always. Well done all!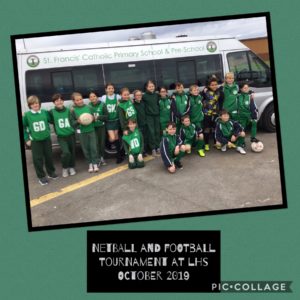 ST. FRANCIS YOUNG SPORT LEADERS
OUR ST.FRANCIS YOUNG LEADERS COMPLETING TRAINING READY TO LEAD SPORTS GROUPS AT BREAK TIMES AND LUNCH TIMES. THEY HAVE BEEN LEARNING: TACTICS, GAMES, LEADERSHIP AND MOTIVATIONAL SKILLS IN ORDER TO LEAD AND RUN SPORTS CLUBS EACH DAY IN SCHOOL. MR. HOWARTH IS MAKING SUCH A BIG IMPACT ON OUR CHILDREN, HELPING DEVELOP SKILLS THAT WILL LAST A LIFETIME!  CHECK OUT THE SHORT VIDEO CLIP BELOW.

SPORTING OPPORTUNITIES FOR THIS TERM…

PE FOR 2019 2020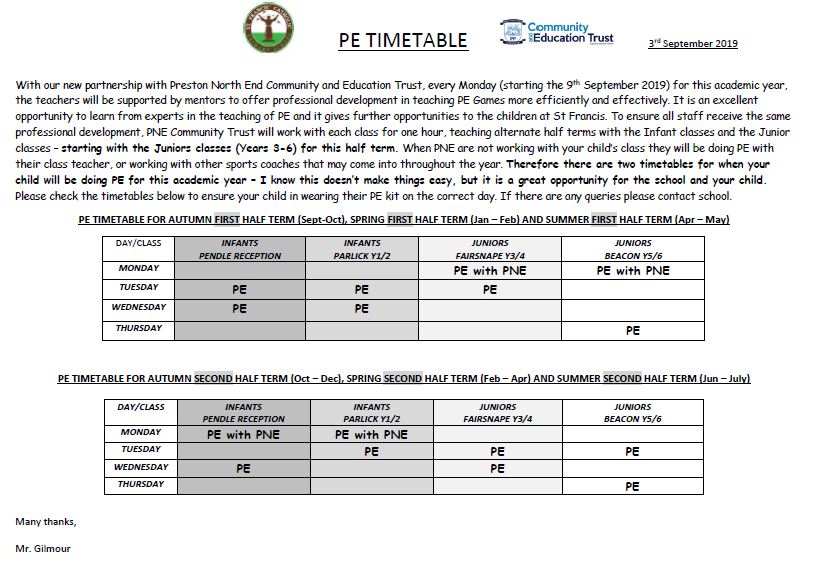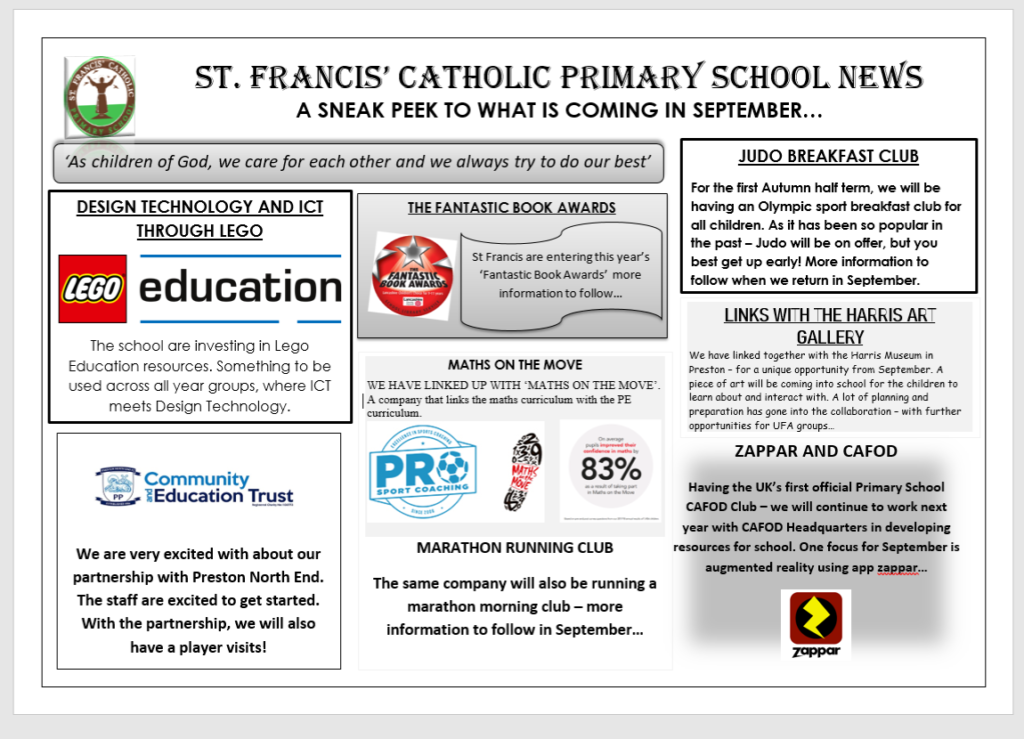 SPORTS DAY 2019
The sun came out and stayed out! Thank you to everyone that came – what an incredible day of sports – the children had a great time!
YEAR 5/6 JUDO  JUNE 2019
It was the turn of Year 5/6 to experience an Olympic sport. They have really enjoyed participating in Judo this term.

Clip & Climb June 2019
KS2 took the high ropes to test their climbing skills! What a day.
Football Festival June 2019
Year 6 took part in a football festival at Myerscough College. They played brilliantly and supported each other so well.
High 5 Netball
Our netball team represented us so well at the local netball tournament – well done boys and girls!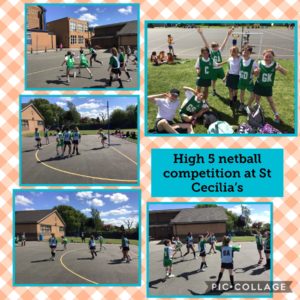 May 2019
The children have had a very busy week – spending lots of time outside enjoying the sunshine, and inside having far too much fun! Our young leaders have been working with all the children across the school getting them playing different sports and taking part in different activities during break and lunch time. Having a wander around the playground at lunch time to see what the children were up – turned into me becoming a judge of an impressive variety talent show – something I am very experienced at, having pretended to be Simon Cowell on many talent show panels – this was of course done with the help of some very observant Year 2 children, who also fancied themselves as judges.  The children are so very creative and fun to be around – it really is a pleasure to wander around at lunch time to see what they are getting up to. My wandering on Thursday afternoon reminded me of my very first visit to St Francis. I visited on a UFA afternoon some 10 years ago, and I was blown away by the variety, smiles, laughs and skills that the children were demonstrating. It is nice to see after so many years, that spirit of UFA has definitely not faded over time. UFA is a favourite part of the week for children to access different aspects of the curriculum, in fun creative ways – and the children love it! Check out the photos to see the children in their UFA groups. 
Six children representing Reception Class had a wonderful morning earlier today (along with Mrs Rossall and myself), as they took part in the first ever Preston Mini Skills Under 5 Athletics Competition. They demonstrated their development throwing, catching and running abilities. It is inspiring to be around them – they are so full of energy and spirit – it was a great way to end the week. Check out some photos below.
Next week, we welcome the Mayor of Preston – who is coming to talk to the children about the charity he was been working with over the last year – Headway. This is a charity close to his heart and we are happy to support him raising funds for such a worthwhile charity. We have established great links with the Mayor of Preston, having welcomed him (along with the BBC cameras) to the opening of our Land of Pure Imagination last year. Last weekend, the choir singers were asked by the Mayor to sing in the mass the celebrate his year as the Mayor of Preston. This week, he is conducting an assembly in school, and coming along to our music concert on Friday!
Have a nice weekend everyone.
Mr J Gilmour
              
Congratulations to our five gymnasts that won the KS1 Preston Schools Gymnasts competition – we walked away with 2 gold medals, a silver and a bronze! Well done everyone!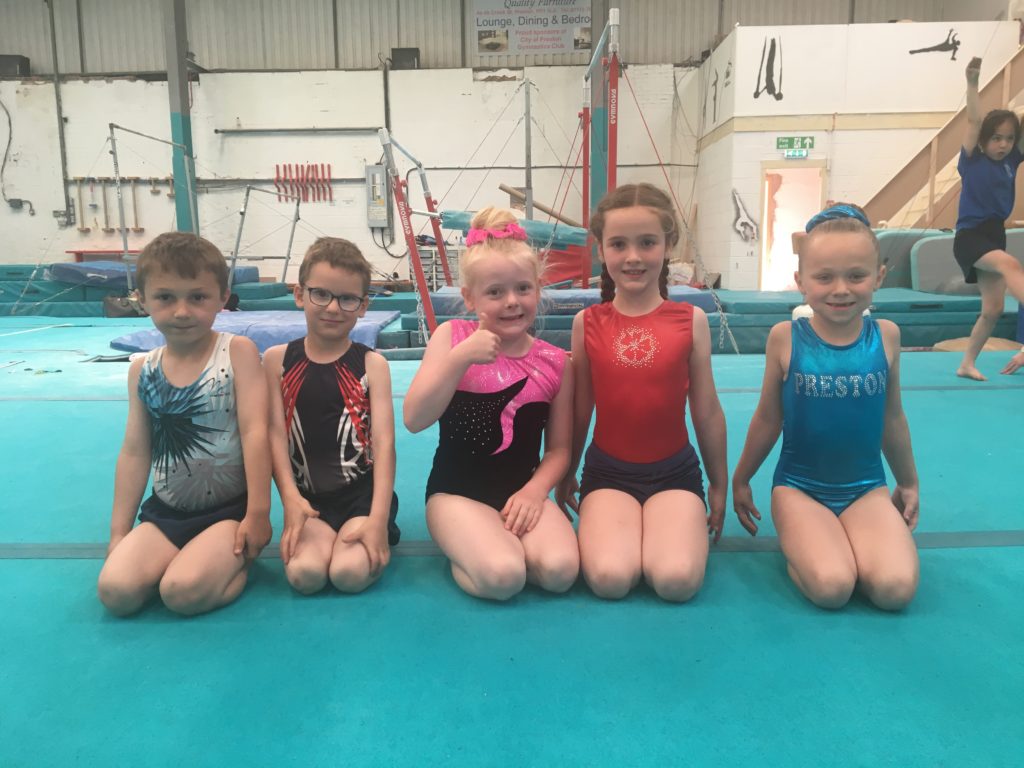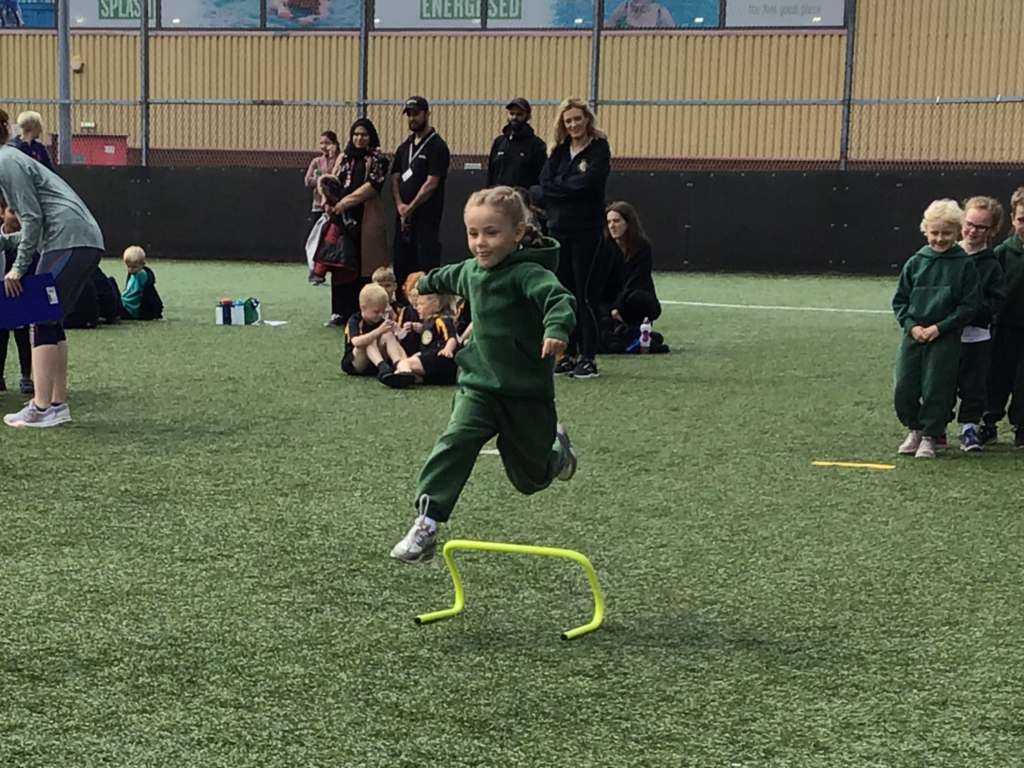 March 2019
Young Leaders Lunchtime Club
Our young sport leaders have been working on lots of games and activities to share with the other children. Mr Howarth has been impressed with their mature attitude and enthusiasm – well done young coaches!!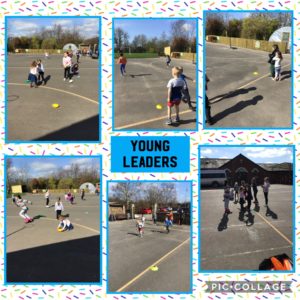 Nov 2018
Netball/Football Tournament
Our netball and football teams braved the bitter cold weather this week to compete in a tournament at Longridge High School.
The footballers showed amazing sportsmanship and were a credit to the school. After a tough start, they finished on a high with a 12-0 win!!
The netball team also played really well. With many new players – including some year 4's – they played suberbly for their first tournament. Felix and Kitty were a strong shooting partnership and Katrina captained the team competently.
MAY 2018
U7 GYMNASTICS CHAMPIONS
Gymnastics champions again! We have had a fantastic year for gymnastics – with the children achieving across all age ranges. Having won the open age Preston gymnastics event, then having the boys U9 champion in Frankie, we have now  added the U7 Preston champions title also. We have such enthusiasm for gymnastics across our small school, it is incredible that the school has been able achieve such feats this year. The U7 team saw Eva, Sophie, Skye, Elsie and Frankie take to the floor and the vault. The children have been practising at home (at big thank you to parents) and in school to prepare their floor routine and their vault. Miss Stewart and I have had the mats outside at lunch times on the sunny days, and in the hall on those on those not so sunny days. The children listened to advice given to them, thankfully most of the advice was given by Miss Stewart and not me!  Each individual did themselves proud with some fantastically executed routines on the day. They performed with such confidence, with big smiles on their faces, cheering each other along. It made Miss Stewart, parents and me very proud of our children. We always say that we do well for a such small school, challenging those bigger schools, who have so many more children than we do; but this event must rank as the biggest feat of all for St Francis. Having only nine children in Year 2, and with five of those children making up the team -for us to win is a remarkable achievement. Let's hope for more incredible achievements in gymnastics next year. We will receive the trophy and medals hopefully this week, we will update this page with pictures of the children and their medals as soon as they arrive. Thank you to the parents that came along to support the children, and to Miss Stewart for giving up her free time to help coach the children at lunch times. WELL DONE EVERYONE!
MARCH 2018
SPORTS WEEK FOR SPORT RELIEF 2018
What a week we have had! I have to say, this has been one of the best weeks in school since I arrived here 8 years ago; the children thought much the same, if their smiles and excitement is anything to judge them by. The amount of children that have told me how much they have loved school this week, reminds you what school should be about; fun, enjoyment, determination and trying your best to succeed. As well as maths,  RE, English, science being an important part of education; sport and being active plays an incredibly important part too – and the kids LOVE IT! After starting the week off with 4 fun-filled bouncy castles, along with our daily challenges  and to finish it off with an incredible 189 miles, it has been a week to remember. Have a look at the pictures below, you can see how much enjoyment the children have had. Not only have the children had a great week, we have also managed to raise close to £200 for Sport Relief. For such a small school, this really is a remarkable achievement. Thank you to everybody that bought merchandise in school, gave their change and/or donated on the JustGive page (see link on the News Page click here). We still have money coming in this weekend. It is not too late to contribute, if you wish too, either online on the Just Giving link or by sending money into school. Thank you to all involved.
A SHORT WRITE UP FROM THURSDAY – The children were absolutely incredible completing their 100 mile challenge this morning, for Sport Relief. Amazingly, we surpassed all expectation and managed to run an incredible 189 miles! All the children and staff involved managed to complete at least 1 mile each. Many of the children completed 3 or 4 miles each, showing great stamina ans determination. We are extremely proud of our thoughtful, caring children. Well done everybody! Thank you for all the donations and supporting such a worthy cause. : – )
March 2018
PRESTON SCHOOLS DIVISION 4 CHAMPIONS
This is the highest ever achievement for our little school! All Preston schools are divided into 6 swimming divisions. We have spent our entire time, since the competitions began , between division 4, 5 and 6. Being one of the smallest schools that take part, we will be going into division 3 next year to compete with much bigger schools, for the first time! We enjoyed swimming with our friends from other local bigger schools and we cannot believe we were placed champions of division 4.
Incredibly, every child ( Gracie, Lizzy, Amy, Katrina, Jimmy, Leo and Vinny) managed to finish in the top 2 in their heat, resulting in all the children reaching the final of their event. The children competed with determination and great support for each other. Win or lose, the children gave it their all and cheered each other to the finish line. They all achieved beyond expectation once again, making us all very proud – picking up the big trophy and a great sense of pride as a result. Well done everyone!  I look forward to assembly to reward the children for their great achievement – well done to the swimming team!
February 2018
PRESTON BOYS U9 GYMNASTICS CHAMPIONS
A group of Year 3 and 4 children (Frankie, Felix, Kitty, Lucy and Maggie) took part in the Preston Schools Under 9 Gymnastics event. Hosted again at the City of Preston Gymnastics Centre, over 150 gymnasts took part. Incredible, for such a small school the team achieved beyond expectation. We really have forged a reputation for a talented sporty small school that can compete with much bigger schools. We finished in 5th out of 23 schools, the team were denied victory by just 2 points. The top 5 schools performing with great consistency. A standout performance came from Frankie Rossall, who came in 1st place in the boys category – being crowned the Under 9 Preston Boys Champion. The children performed exceptionally well, learning their routine to perfection. The children were also treated to a free dance session, by a professional street dancer. Ultimately, the children had a great time and came away with a great sense of pride and achievement. They really enjoyed competing, and it was great to see our wonderful young children represent themselves and the school so well. Well done to all those involved – you made us all very proud.

January 2018
PRESTON SCHOOLS CHAMPIONS!
We have made a great start to our Spring term. In a huge event, at the City of Preston Gymnastics Centre, over 200 gymnasts were present, with the competition lasted close to six hours, with some of the biggest schools in Preston taking part. St Francis was represented by two girl teams and one boy team (made up of Amy Peacock, Gracie Holden, Katrina Grixti and Maggie Luke – as the first team. Grace Davies, Lizzy Moran, Libby Riley and Kitty Rossall as the second team. Liam Hamer,  Leo Briggs, Frankie Rossall and Felix Spinks as the boys team.) The children had spent the last two weeks preparing their routines, in school and and at home.  Our girls first team, came first overall, out of 32 teams, made up of 128 individual girls.

Making St Francis, the Preston Schools Gymnastics Girls CHAMPIONS!

Amy Peacock,  won the individual award, as the most outstanding gymnast in the girls category. Gracie, came 4th overall with an incredible routine.  The boys team, made up of two children who are new to gymnastics, came third overall, out of 16 teams; an incredible achievement.Frankie and Leo finished 5th and 6th respectively, just missing out on the medals.
We are very proud – well done children! You can see how professional they came across from the pictures below. Thank you very much Miss Stewart, Mr Gilmour and parents for preparing the children so well. Not only did they perform really well, they had a great day out also.

March 2017
Well Done Swimming Team! 
Congratulations to all swimmers, who came an overall third in the competition. Well done to Ellie and Gracie who won their races!
12.01.17
ST FRANCIS AND STEPH SLATER  MBE
HIT THE HEADLINES!
Steph Slater's visit to the school before Christmas, hit the headlines in the local news – as she was awarded an MBE by the Queen. Congratulations Steph, very well deserved!
20.12.17
ST FRANCIS WELCOMES
PARALYMPIC STAR –  STEPH SLATER 
Steph Slater joined Mr Gilmour at this morning's assembly to give out swimming certificates to Year 3. The children went swimming last term, all of them showing great development in learning how to swim. All the children received their certificates in assembly. They were extremely lucky to receive their them from a GOLD medalist from the Rio Paralympic Games. We thank Steph for inspiring the children – teaching them to never give up – even when it gets tough. A big thank you to Mrs Riley and Libby Riley who invited Steph in to meet the school, She met each class and got a small tour courtesy of Preston Swimmer, Year 6 pupil, Ellie Moran. You are welcome back any time!
27.11.16
PRESTON GUILD ATHLETICS EVENT 
A host of schools gathered at the Preston Guild to take part in a grand athletics competition. St Francis were represented by Sports Captain, Millie and Richie, along with children from Beacon Class; Millie, Ruby, Kaitlyn, Luke, James, Jimmy and Henry. They competed in a range of relay and field events in the small schools section. Overall the children finished 4th in a highly competitive section. The children spent time on Wednesday afternoon training with Mr Gilmour and creating their team flags to represent Finland. They represented their school and themselves superbly. What a fantastic group of children we have.
20.11.16
DO YOU KNOW, JUDO?
77% of the school take part in after school activities. Judo had an amazing 21 children (nearly one-third of the school) at 8:00am Tuesday morning. Six of the children moved onto their red belt, after taking part in Judo last year. Again, we see an incredible turn out for sport at St Francis.
30.09.16
75% of the school take part in a sports extra-curricular club! Astonishing.
The breakfast and after school clubs are beginning to get up and running. The focus this year was to get as many young people as active as possible, whilst enjoying sport and having fun. In an attempt to put on something for everyone, we have  6 sport activities over  the 5 days of the week!!!
Monday – Table Tennis   KS1&2
Tuesday – Diddy Dribblers KS1 and Netball KS2
Wednesday – Multi-Sports KS1&2
Thursday – Fencing KS1&2
Friday – Football KS2
Coming in November is a JUDO breakfast club before school. Following the feedback from the children, they were desperate to develop their judo skills, following taking part in Judo for the first time last year. Watch this space…
A GREAT VARIETY OF SPORT ON OFFER!
23.9.16
Sport, fitness, health and well-being are at the forefront of life at St Francis. Following the success of Fencing in Year 3&4 last year, Fencing club has come to our first sporting breakfast club! From 8:00 to 8:45 the children take part in learning the art of fencing. With the club open to children from Reception to Year 6, there has been lots of interest. It was very rewarding to see the dedicated children turn up  early to school to take part in sport! Well done.
DIDDY DRIBBLER TASTER DAY!
The Diddy Dribblers are back by popular demand. With new children coming into Reception class, the Diddy Dribbler crew put on a morning full of football activities for the children in Early Years and KS1. The after school club will start on Tuesday 4th October and will run for 5 weeks. The children learn precious coordination, team-work, balance and agility skills that will help them become active sports young people of the future.

For such a small school – we are very competitive!
Children from Year 4 – Year 6 took part in the annual football tournament at St Lawrence Primary School. Many schools turned up for the vibrant tournament – looking to take a trophy home with them. After winning the tournament last year, the children were confident of progressing to the latter stages of the tournament once again. Led by the inspired Can Doguer (easily the player of the tournament) the children managed to get to the the final – beating Oliverson's B team in the quarter final – then beating Oliverson's A team in the semi-final. The final itself was one game too many for our young team. The boys played fantastically well all afternoon – their behaviour and conduct – impeccable as ever. They should be  extremely proud of themselves – you made Mr Gilmour and your parents very proud indeed. Well done!
Take a walk on the wild side!
Outdoor Learning
Year 5/6 took to the Millennium to create and complete their own outdoor adventure courses. Armed with washing line, trees and blindfolds – the children were asked to create a course that enabled team work, trust and cooperation. Using their creativity, the children were able to create an array of fantastic courses – even the head teacher and school governors got involved. Well done everyone.

Judo  – welcomed to St Francis!
After learning the etiquette, dress code and discipline required for the martial art of Judo Year 3-6 were able to get their first taste of this great sport. The Judo teacher was extremely impressed with the behaviour, amplitude and enthusiasm to get involved and try something new. Again, we have again discovered some young talented sports people – an Olympic hero for the future? Who knows…
CROSS COUNTRY SUCCESS!
Congratulations to Sam, Can, Richie, Ilayda, Millie and Imogen for taking part in a highly competitive cross country event at Archbishop Temple High School. Out of the 80 boys in the boys race, Sam came an incredible 8th! Well done everyone.
ST FRANCIS CHANGE 4 LIFE!
Our Change4Life team (Jessica and Tallulah) are running sports events at break times, every Tuesday and Thursday for both children in KS1 and KS2. Having completed their training last month, the girls have been mastering their skills with all the children at St Francis. From relay events to dinosaur tig games, the children are loving the extra games run by Jessica and Tallulah.  It is fantastic to see so many children enjoying sports at St Francis. Having the opportunity not only through the curriculum but before school, at break times and after school,  has created a vibrancy for sport and staying healthy at St Francis. Keep it up and Change4Life.
Click on the link below to download a Change4Life booklet on how to keep healthy.
What a great event!
Here are some pictures from Friday's Sport Relief day. Our elected Head and Deputy Head Boy and Girl, led the Sport Relief event for 2016. Having researched and discussed activities for Sports Relief, they decided upon: KS2 to run one mile and KS1 to create a conga around the field. Thank you to all of you who sponsored children on their cross country run and giant Conga! The children were sponsored to run one mile, which instead turned out to be a small marathon!  It is fantastic to see healthy children enjoying exercise, especially within our beautiful grounds. The GIANT conga at the end was a heart warming site. Here are just some of the pictures. The children had an amazing time and raised lots of money for a fantastic cause. We feel it is extremely important for children at St Francis to care for others, both in their community and around the world. God created us all equal and we should show our love for each other in all that we do. Well done everyone!
Two Year 5 pupils (Tallulah and Jessica) have been selected to run 'Change4Life' sport activities at break times and lunch times in school. The children spend the day at 'South Ribble Valley Tennis and Fitness Centre to receive specialised training on how to run activities for their peers. Tallulah and Jessica have also decided to link up their sporting activities with healthy eating. The girls will link up with the existing Sports Captains and the fair-trade team to come up with a range of new fair-trade food to sell in school after their Change4Life sessions. Healthy eating and being active in school is an integral part of the Physical Education at St Francis.
Look out for the yellow t-shirts at break time and lunch time, go and have a go and stay healthy!
Over 60% of children have signed up to take part in the new Sports After School Clubs! Children love sport at St Francis! To enrich the already extensive curriculum, EVERY night after school, their is an after school sports club. From Dodgeball to Table Tennis, there is something for everyone. 
Please see the link above. If your child would like to join the after school clubs please let us know.
ST FRANCIS ARE AWARDED THE SCHOOL GAMES SILVER AWARD!
Click here to See the St Francis Sports Home Page on the School Games website.
Congratulations
Athletics Team on coming 2nd in the small school's competition!
Children from Year 5 and 6 competed in the latest Athletics event at the Preston Guild Hall. From javelin to relay races, the children put in some fantastic performances, they were a credit to the school. They thoroughly enjoyed their day out and brought back another wonderful trophy. Well done!
FOOTBALL SPONSORSHIP!
St Francis School would like to announce a sponsorship deal with local business J HOLDEN LTD, who have kindly donated money for a new football kit and further football equipment – photos to follow.  A big THANK YOU!
Beacon class will be having swimming lessons in the Autumn Term.
Fairsnape class wil be swimming in the Spring Term.
All of Key Stage Two have improved their tennis skills in the Autumn Term, with specialist tennis coaching. KS1 will have the benefit of tennis coaching after Easter.
We enjoy sports and will update on matches and events as the term progresses.