The 'James Henry' ukulele band…and Supertato!
I am just glad to be back to normal this week…well, as normal as things can be when you are in the middle of a building project. School is going to look amazing and the works will hopefully be completed ahead of schedule.
Not having an office space is quite interesting because I am doing a lot of walking around school and learning about the building process. Yesterday evening, I tasked a group of children with assembling two sit on diggers and we JUST managed to complete one (and that was only because Mrs Kerr came to the rescue). The site manager has taken control of this today and the children will be able to sit on diggers to dig the mud in our mud pit.
It is amazing how children carry on through disruption around school and still manage to organise clubs and various meetings.
Yesterday, I joined a new club. I have named it the 'James Henry Ukulele Band' because James and Henry have taken the time, and initiative, to teach other children the ukulele every Thursday lunch time.
Obviously, I had to get involved in this and I am their newest recruit! I am very proud of the boys, who organised music and taught the beginners new chords. We have 14 members and Mrs Kerr will be the 15th! Children have taken the ukuleles home but please look after them and remember to send them back into school on a Wednesday, ready to prepare for the club on Thursday.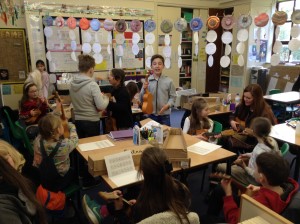 I took register in Pendle Class and noticed a comical book on the table. I also noticed jelly and peas in a tray and knew this could only mean one thing…Supertato. For those of you who do not know Supertato, he is a brave potato who saves the vegetables from the evil pea. I sat down to take register and told the children I loved the story of Supertato and I was immediately corrected! The different pronunciation had caused uproar in Pendle Class. You see, I said potato and they said potaaaato. So I said tomato and they said tomaaaato. You can see that this is heading into the song 'Let's call the whole thing off' sung by Ella Fitzgerald and Louis Armstrong or Astaire and Rogers in the film 'Shall we Dance'. It was when a little boy in Year 1  started singing along with me that I realised someone actually understood what I was talking about. This is rare but it does happen from time to time! I thought he must have heard the song from a grandparent or an advert but it tuns out it was from me last year.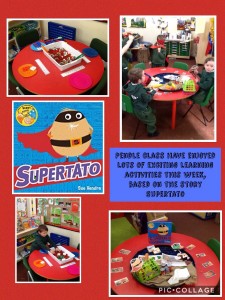 World book day was fantastic and the children looked amazing. Thank you for the effort made. It was wonderful to see the children mixing from all year groups and enjoying learning and reading together.
We have two children dressed as Wally. Have a look at the pictures below… Where's Wally?
We have four baby rabbits in school: Dunkin, Donut, Ronald and Burt. They have settled in very well already. Tomorrow, members of the Deakin household will be building 'Rabbit Kingdom' next to our greenhouse. I do hope it will be as spectacular as it sounds. We have plenty of wood, space and high expectations so I am sure it will!
Fr Sony has passed on information about Easter Masses. You will receive another newsletter on Monday to inform you of special services for Holy Week and Easter. Our Eco Warriors have written a newsletter, which will be on the back of the Easter newsletter so please look out for that.
Times are as follows:
22nd March: KS1 Palm Liturgy in Church at 2.30pm –families and friends all Welcome!
 28th March:  Family Easter Bingo 6.00pm start at Whittingham Social Club
Families and friends are all invited to attend our very special class assemblies and Palm Liturgy. Class assemblies are as follows:
26th March:   9.00am:   Pendle Class assembly                 The Last Supper
27th March:   9.00am:   Parlick Class assembly                 Garden of Gethsemane
28th March:   9.00am:   Fairsnape Class assembly          The Stations of the Cross
29th March:   9.00am:   Beacon Class assembly              The Resurrection of Christ
29th March – Maundy Thursday – Mass with foot- washing ritual in St Thomas Apostle Church, Claughton at 7 pm
30th March – Good Friday – 3 pm Commemoration of our Lord's Passion at St Francis Church, Hill Chapel
31st March –  Easter Vigil – Mass in St Thomas Apostle Church, Claughton at 8 pm
Ist April – Easter Sunday – Mass at 10.30 am in St Francis Church, Hill Chapel
Parishioners at St.Francis' Hill Chapel have kindly asked for more volunteers to serve refreshments after Mass. If any of you think you can help, please contact school.
We are looking for more volunteers to help with children's Liturgy on a Sunday. Full guidance and resources will be given. Anyone interested can contact Mrs Rossall.
To all ladies and mothers out there, have a lovely day on Sunday. Mothering Sunday Family Mass is this Sunday at 10.30am. It would be lovely to see you there.