Welcome to Reception Class 
Our class is called 'Pendle' after Pendle Hill, which is close by. We always have great fun learning and growing together. We follow a creative curriculum led by the children's interests, which allows the pupils to access all areas of learning in an engaging and interactive way.
CLICK ON OUR WELCOME VIDEO FOR OUR 2020 RECEPTION CLASS STARTERS. WE LOOK FORWARD TO WELCOMING YOU TO OUR WONDERFUL SCHOOL
17.9.21
Say cheese! The camera must clearly love us as we have had our second set of pictures. I know reception year is such a milestone and a year to cherish so the pictures are in your child's bags. Our phonics adventure continues and children are building up their bank of sounds. Children are really picking up on how to use their robot arms and the processes of segmenting and blending have already begun. As our repertoire of sounds continues to grow the range of books we send home will too. We have also launched Bug Club Online this week and please feedback and let us know how you get on. Just like your home reading books we will update the books online with the sounds we have completed in school. Currently we have looked at S,A,T,P,I,N,D,M,G,O once again this list will grow very quickly so read as much as you can. In mathematics we have had some number races with a friend as we had to match the quantity to the number, it was great fun in having some speedy math sessions. After the children's brilliant ideas we decided to turn our rack into a petrol station show and at these prices I would be tempted. At the moment we have some fresh fruit and vegetables, car wash and petrol station, open to any well-mannered paying customer. We have created our very own brooms for Room On A Broom and tied them up to the wall, as we cannot have broomsticks flying all over the place! We even entered the deep, dark wood and kept an eye out for the Gruffalo on a minibeast hunt, some children even claim to have seen/heard him, I will leave that up to you. Next Week we will be reading, What The Ladybird Heard – great stuff. God bless and see you all Monday!
10.9.21
Well! Well! Well! I could not be more proud of Pendle Class as they have not only shown what a great reception class they are, but what caring individuals they are too. We carried on our phonics journey this week learning a range of sounds, segmenting words and even trying to blend – WOW! We have used our phonics books and children are showing real pride in their work. In mathematics we used our numbers to help us organise fish, dinosaurs and animals; trying to correctly match value to number. We looked at The Creation story this week and learned who created the world. We looked at key values and our kind hands was something we discussed as a class. All children fed back to the group with a wonderful example of how we can use our kind hands and what we would consider unkind hands. With the help of Miss Gardner the children were supported with how to use MiniMash, the children made their own animal creations to get put onto our display in all of their glory. Thank you all for the wonderful work that is coming in via Seesaw, it is a joy to see. Every Thursday please hand in your Learning Log to me and we shall send them back out on Friday. Have a lovely weekend together, next weeks book will be Room On The Broom.
3.9.21
Welcome Pendle Class 2021! We have had 2 action packed days which I am excited to share with you. It was a real treat that everyone came in with a smile on their face ready to start their reception adventure with us. As you can expect we went over the classroom basics, pegs, bathroom, class rules and started to breakdown the areas of our classroom. It is great to see the children feel so comfortable and begin to gel with other so quickly in a new classroom. This terms topic is 'All About Me' and the author study is Julia Donaldson – children love her tales! We have explored the classroom in all of its glory. Unfortunately, for me I have been told that I have several witches in my classroom, however, they are nice witches which I was pleased to hear. Next week we will be reading the Gruu, Gruu, GURFFALO! It is going to be a fab full week, so I hope you all get some rest. I would like to wish a sincere welcome to any new parents starting with me and welcome back to parents of older siblings that I have taught (where is the time going!) my door is always open for you. I update the Pendle class page every Friday with pictures, what has happened and any other weird and wonderful things that may have happened in the week. Please remember your P.E kits for Monday, they spend the day in the kits so you do not need to pack any school uniform. Finally, thank you so much to Miss Gardner for all your help, the children already adore you and another big thank you to our buddies for helping us at lunch and break time, you are the talk of the town. I hope you all have a safe and relaxing weekend together and see you all Monday – God bless.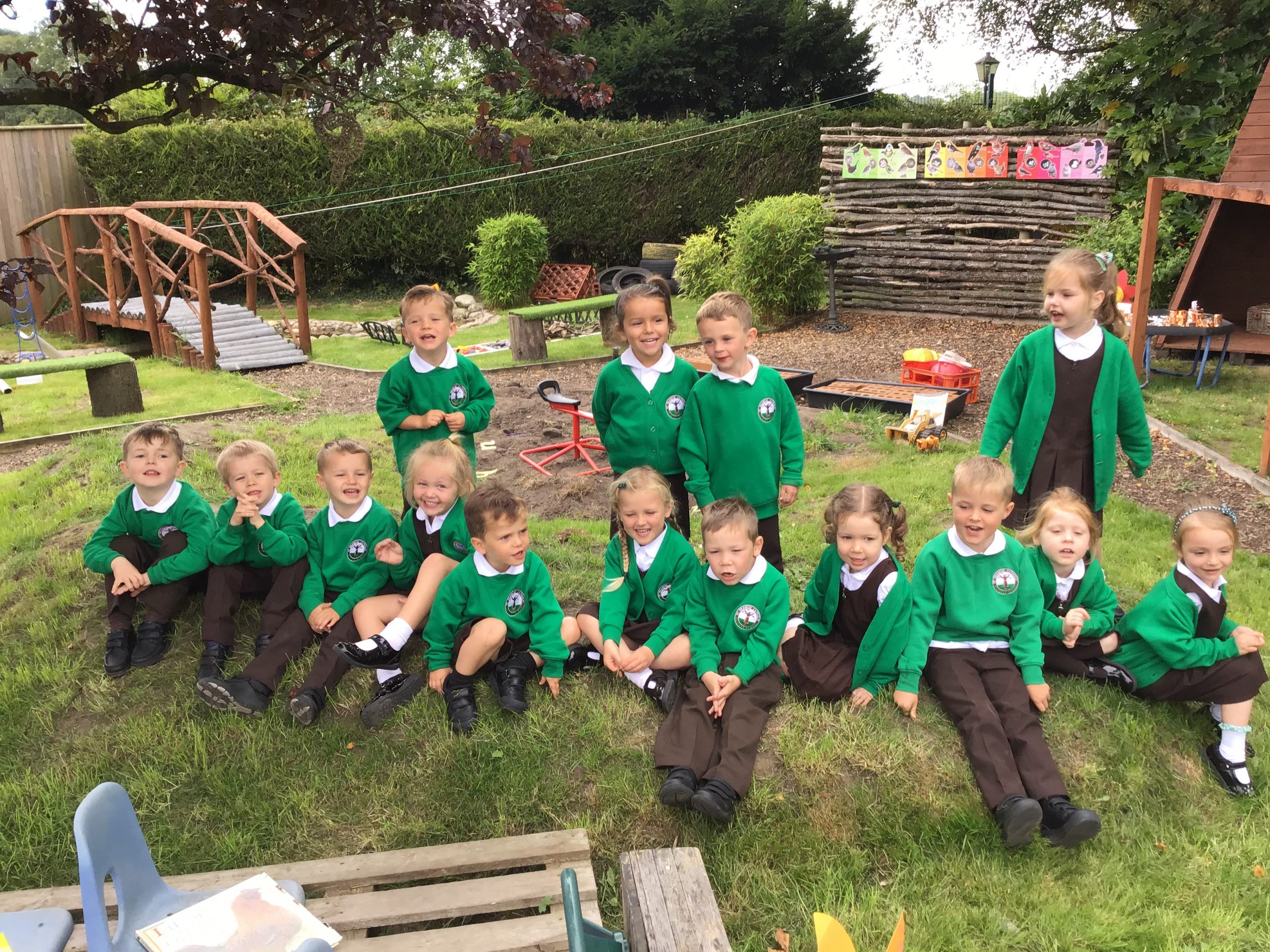 16.7.21
So long, farewell, auf Wiedersehen, good night! Like that another year is over and I am sure you are all thinking where has the year gone? This week may have been a crazy old week, but Pendle Class kept up their phonics work and continue to do themselves proud. You all need a lovely break but please do not leave it 6 weeks to pick up a pencil or book! Keep it up team and you will hit the ground running in September. I have put a little resource pack together for you to do with your children if you so choose. This week we completed our map treasure hunts, had ice cream and partied liked it is 1999 which pains me to think is not even close to my current classes date of birth. A special thank you to the wonderful Miss Gardner who has been incredible this year, the children love you and supported everyone in this class. Thank you to Mrs Tyrer for all of your love and support also throughout this school year, the children will love seeing your familiar face throughout the year in Parlick! A sad farewell is needed as Miss Woodcock is leaving to join another extremely lucky school, you shall be missed. Thank you Pendle Class you have been a delight throughout this busy year. Finally, thank you to all of the parents support and understanding throughout the year, you have played an enormous part in your child's success. I wish you all a safe and happy holiday and hope you all get to spend to much deserved time together and families. God bless everyone.
9.7.21
What an action packed week we have all had! As you can imagine Sports Day has been a key focus this week and we have been working very hard on our preparation to tackle any challenge. I promised Pendle Class that if they have their listening ears switched on they will have a brilliant day and they did not disappoint – well done Pendle! In our last P.E session it was great to see children give it their all and we went a little sticker mad, but the children loved it and why not! The story we read this week was Mr Wolf and the enormous Turnip, it was a short funny tale the children enjoyed this busy week and a great way to get some unusual vocabulary into our writing. We returned to the Millennium to finish our maps and take more photos, the photo aspect of our map is completed all we have left to do is complete the labels and painting which will be done next week! A special thank you to Miss Gardner and Mrs Tyrer who worked especially hard and make sure we were ready for Sports Day!  Mrs Davies was full of complementary adjectives for her new years 1s, she has very kindly provided me with pictures for you to look at. To any new parents looking below I am delighted to tell you all more of the same, a wonderful, fun-filled morning – thank you. I will attach some pictures below for you. Thank you all for a superb week and see you Monday for 1 more week – unbelievable.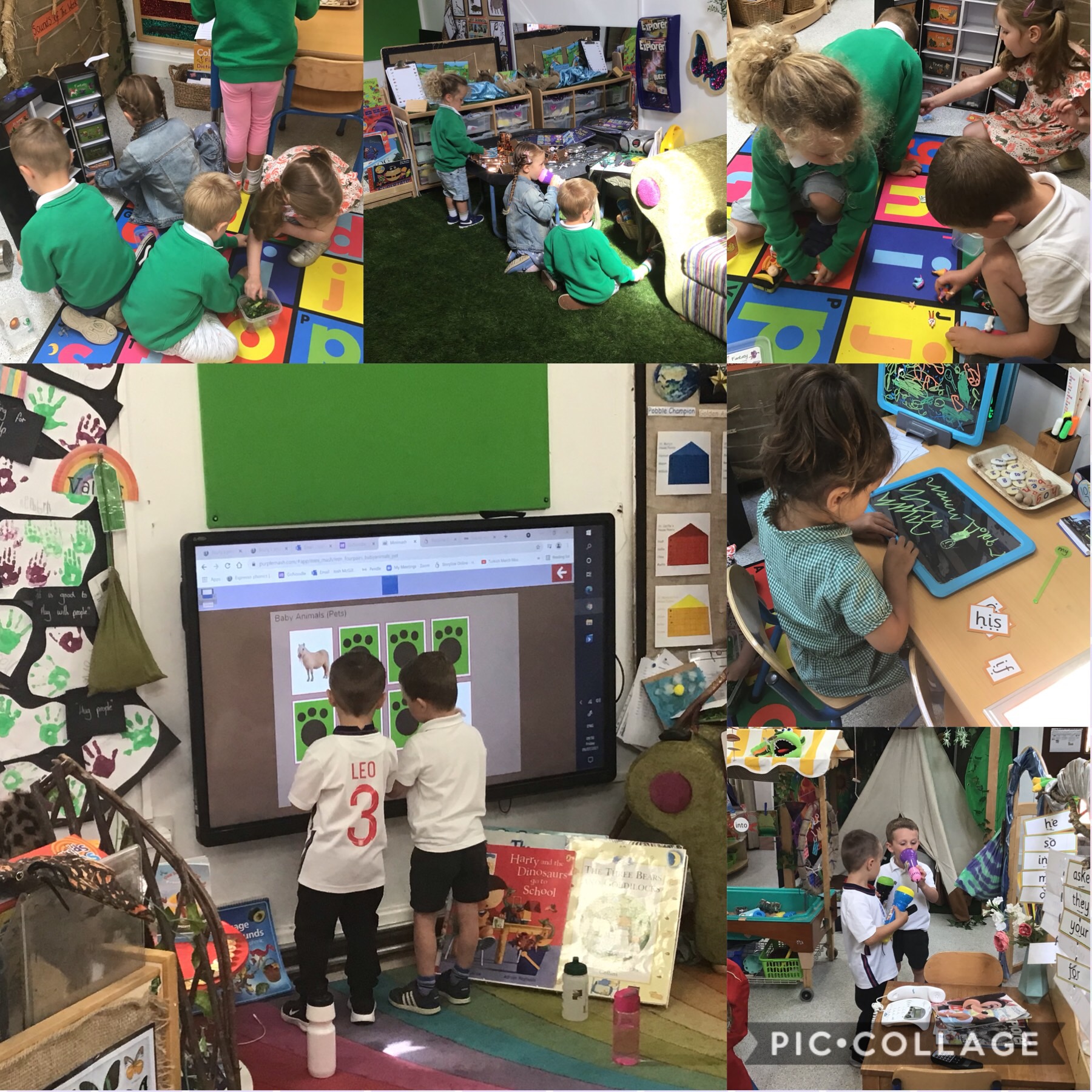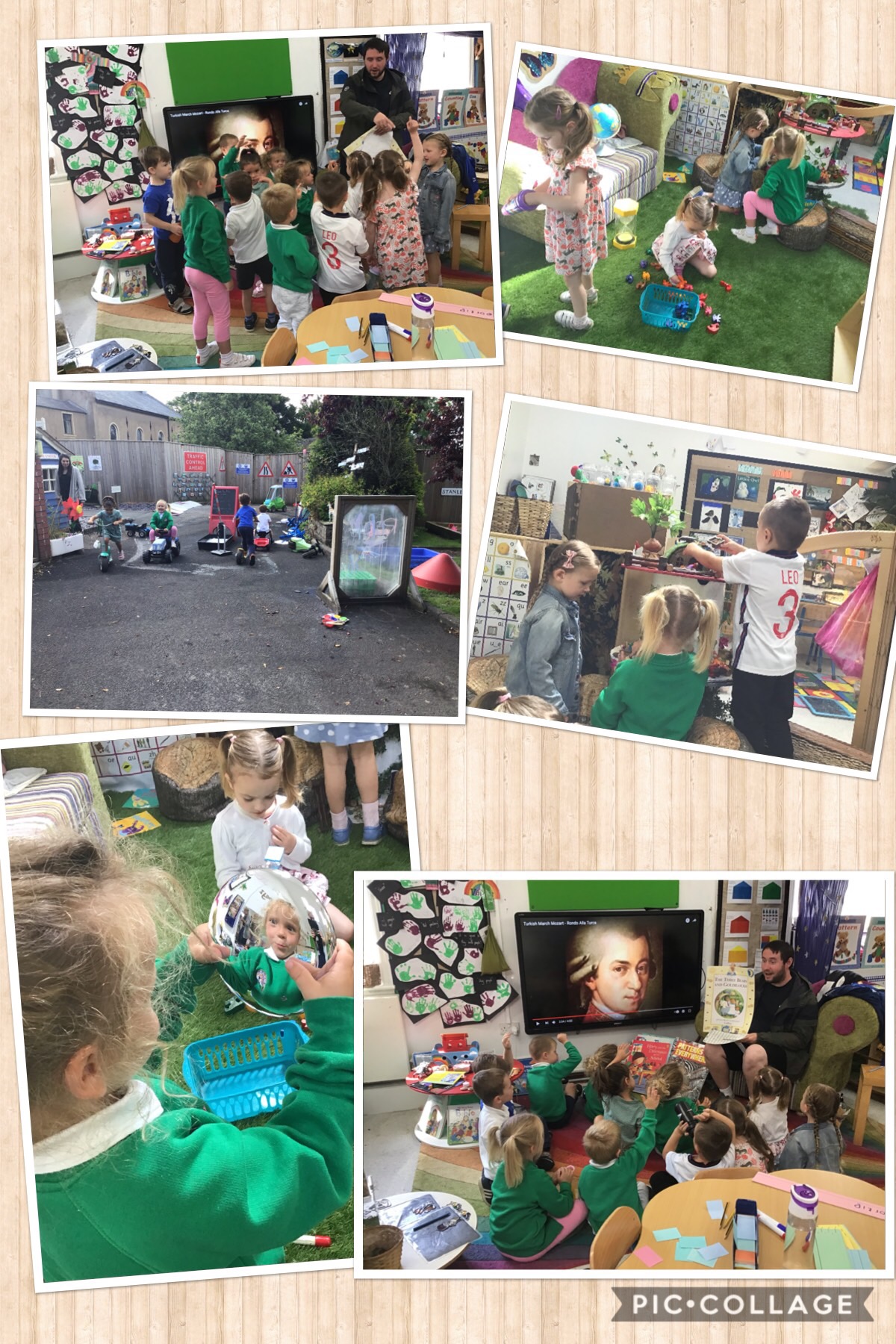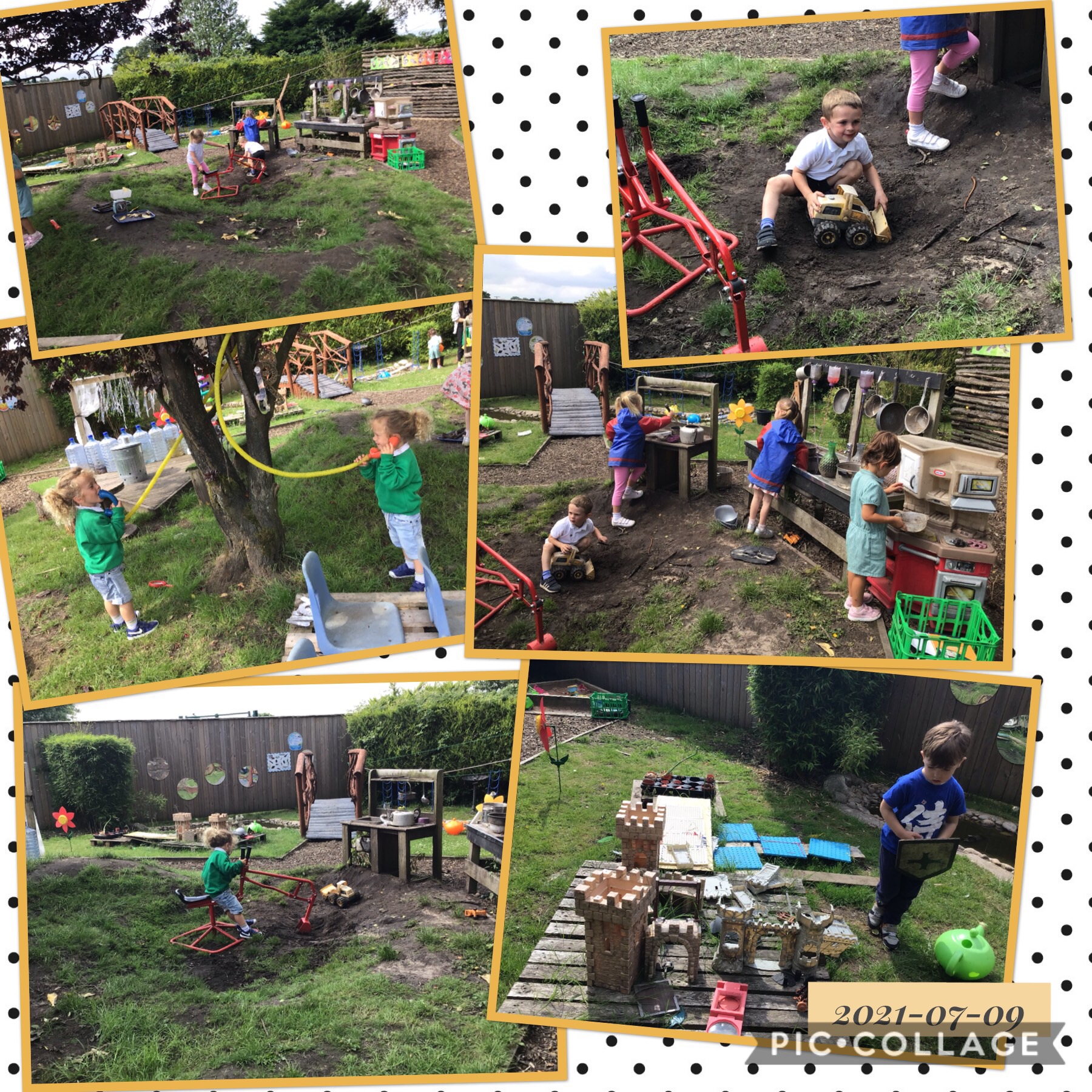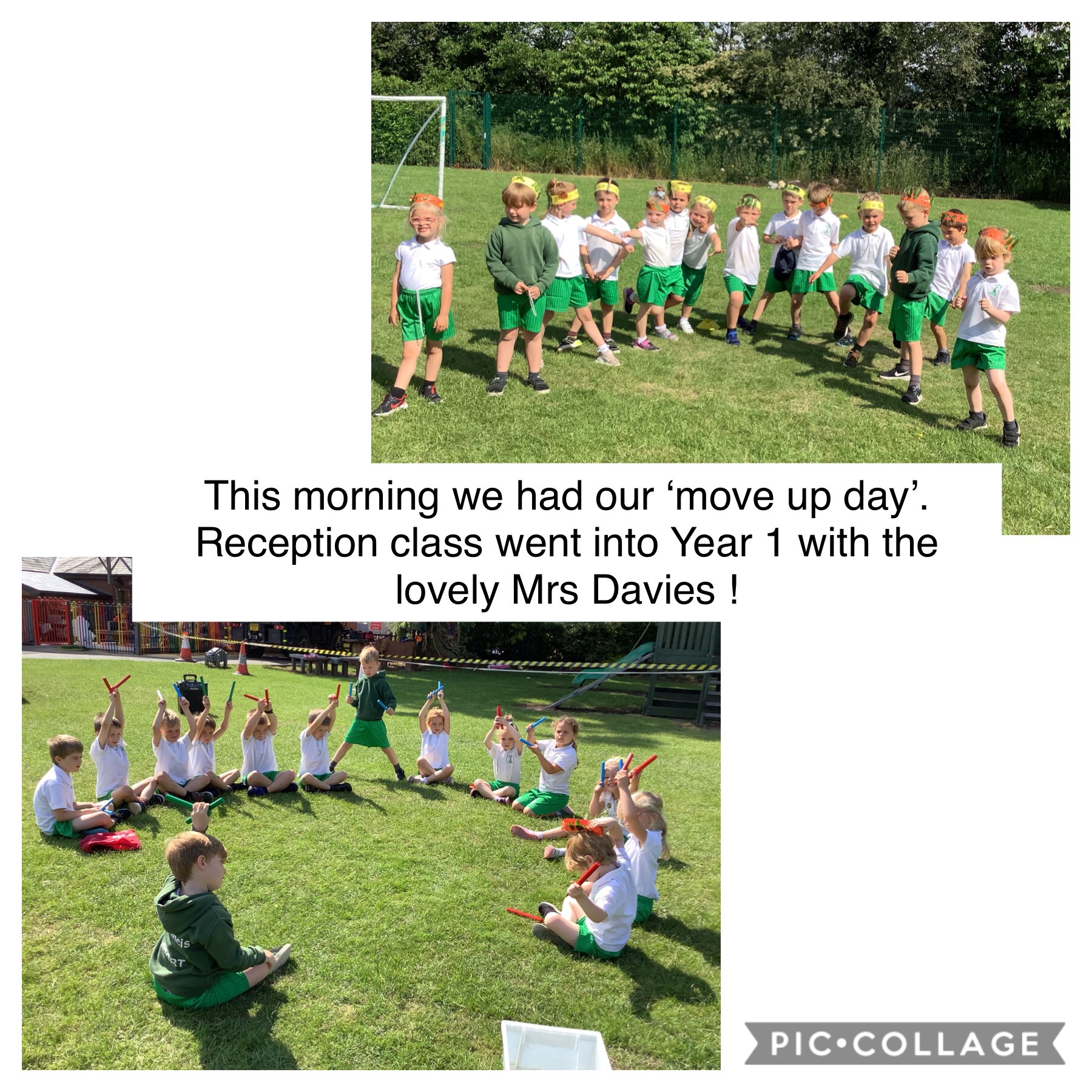 2.7.21
What a FANNNNtastic week! We continued applying all our phonetic knowledge in our phonics and in literacy tasks. The wonderful story this week was 'What the Ladybird Heard' and children thoroughly enjoyed it. We wrote one of the versions we chose and worked very hard at expanding upon what we have written to add more flavour to our writing and draw from our every growing vocabulary. A prominent feature of these tales were the hapless Hefty Hugh and Lanky Len as they used a map to carry out their daring heist.  This gave us an idea to create our very own map. We ventured into the Millennium to look  for key features that we would remember on a map, to figure out what we meant by this we instructed others to stand by certain areas, after that we made our own plan using felt pens and card to create a practice map. Our own maps are prepped and are ready to be created next week. The children became mini photographers with Ipads and took pictures in pairs of places of interest too; we will use these pictures to help our drawing and reference points for our maps -how fun! Pendle Class have worked very hard on their Big Bear Funk musical and are fantastic with the quick actions, song and rhythm with or without the glockenspiel. The St. Francis' Car Wash is going well and children are now creating their very own shops for items around the classroom to their peers. Strangely, tea bags became a big feature in the classroom for our tea rubbings, but the children especially loved the water blowing art and with practice it became a beautiful work of art. Thank you to Miss Forshaw and Mrs Davies who showed Pendle class a wonderful time this Friday as not only was I delighted to hear that all the pupils did the class proud, but that had lots of fun and set an amazing standard for next year when they are in year 1 – unbelievable! A very special treat for me was that my new Reception students came to me today and we had an amazing morning together. We read stories, painted, wrote, counted, chatted, played and met our new friends; it was a real delight for me and Miss Gardner so thank you to everyone that came, I cannot wait to see you all next week! If I do have any new parents reading this, please look below to see pictures of the morning. I cannot wait to start another week – take care everyone.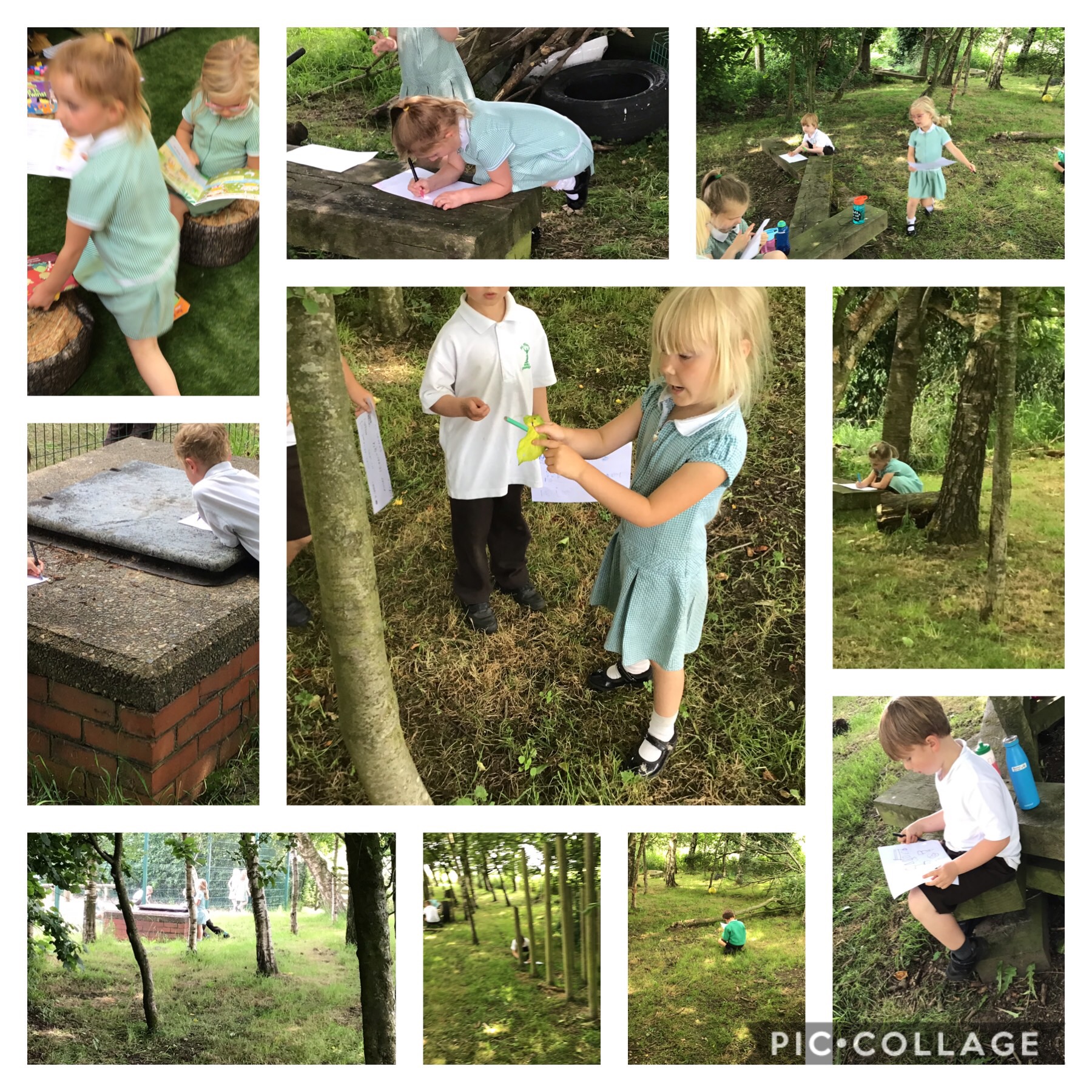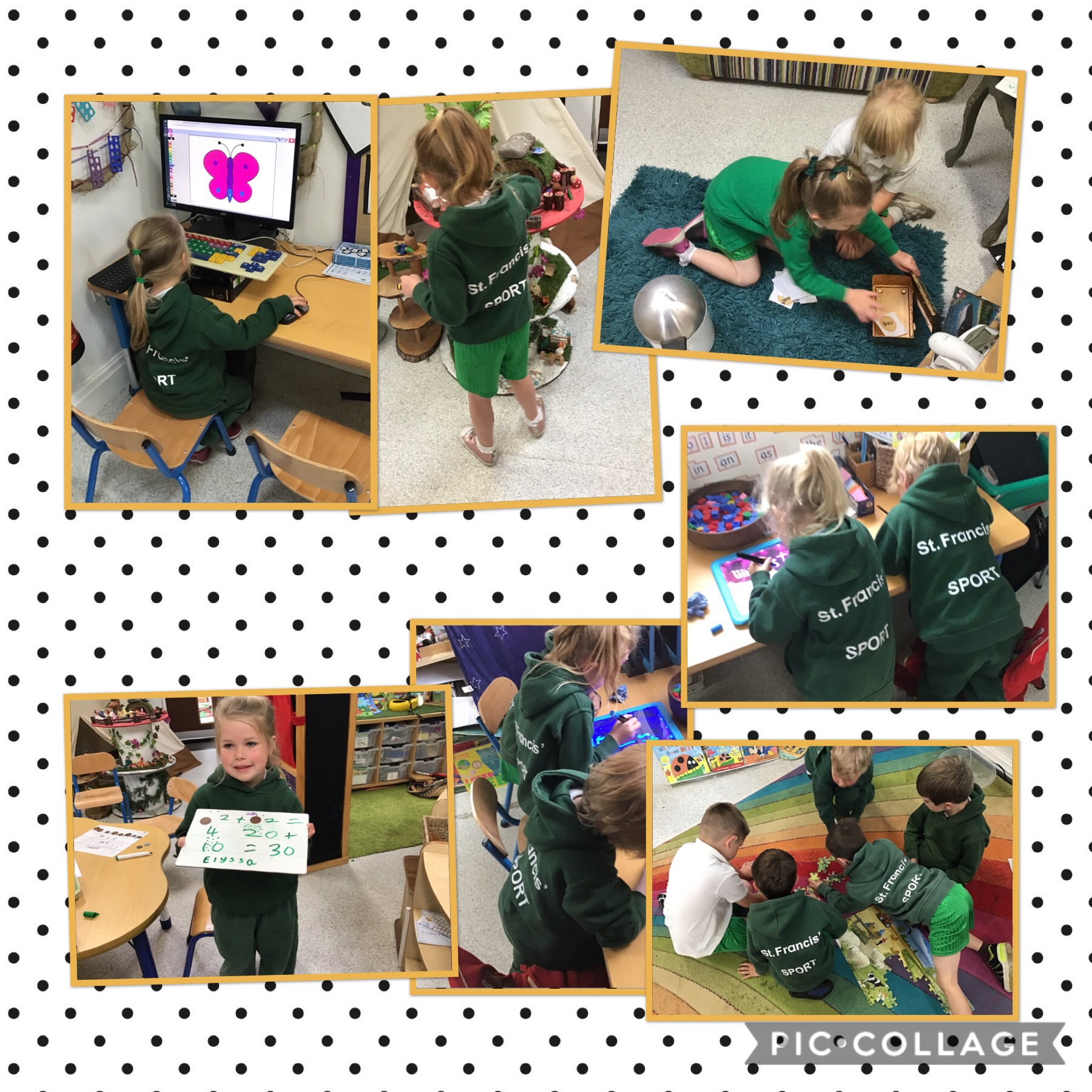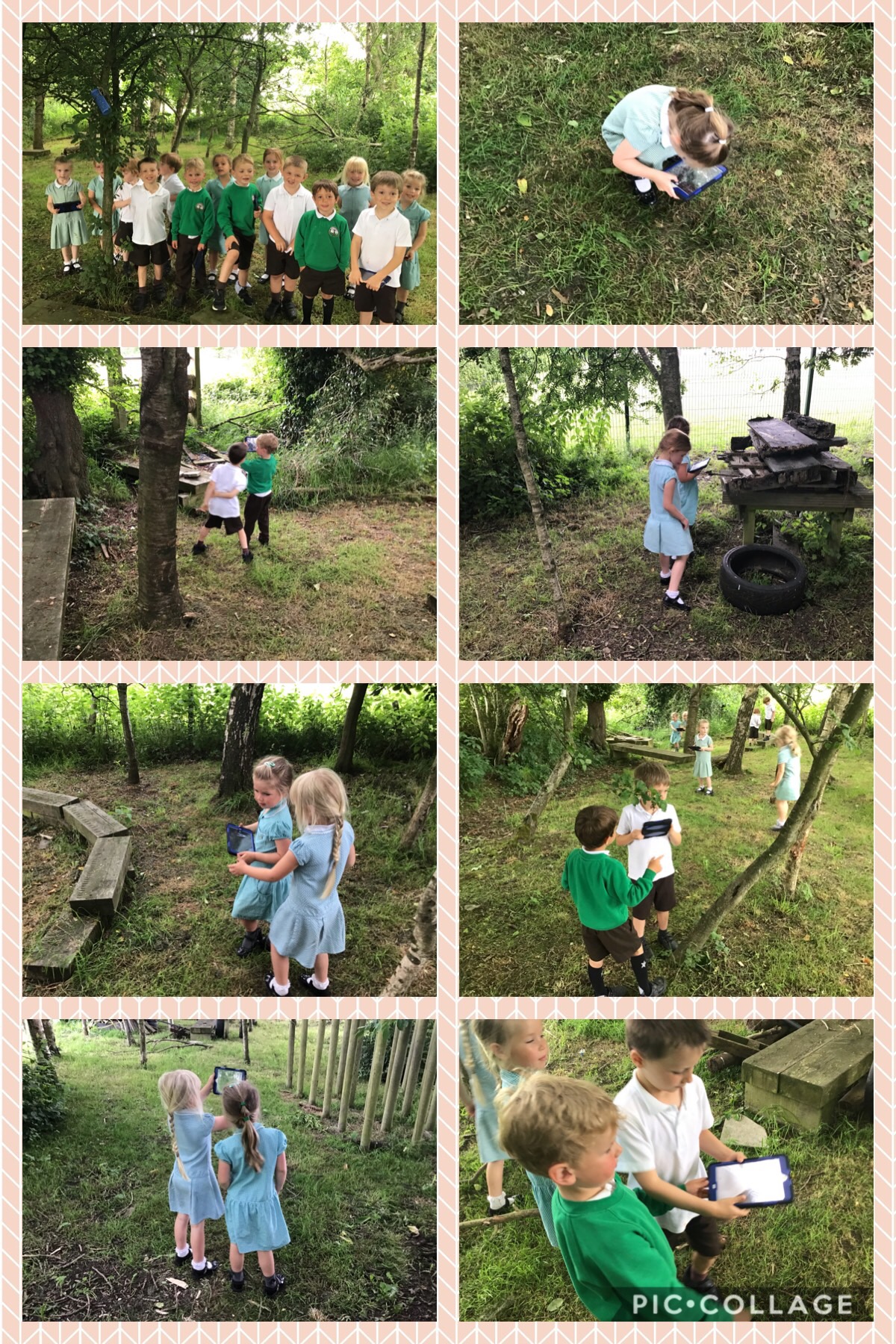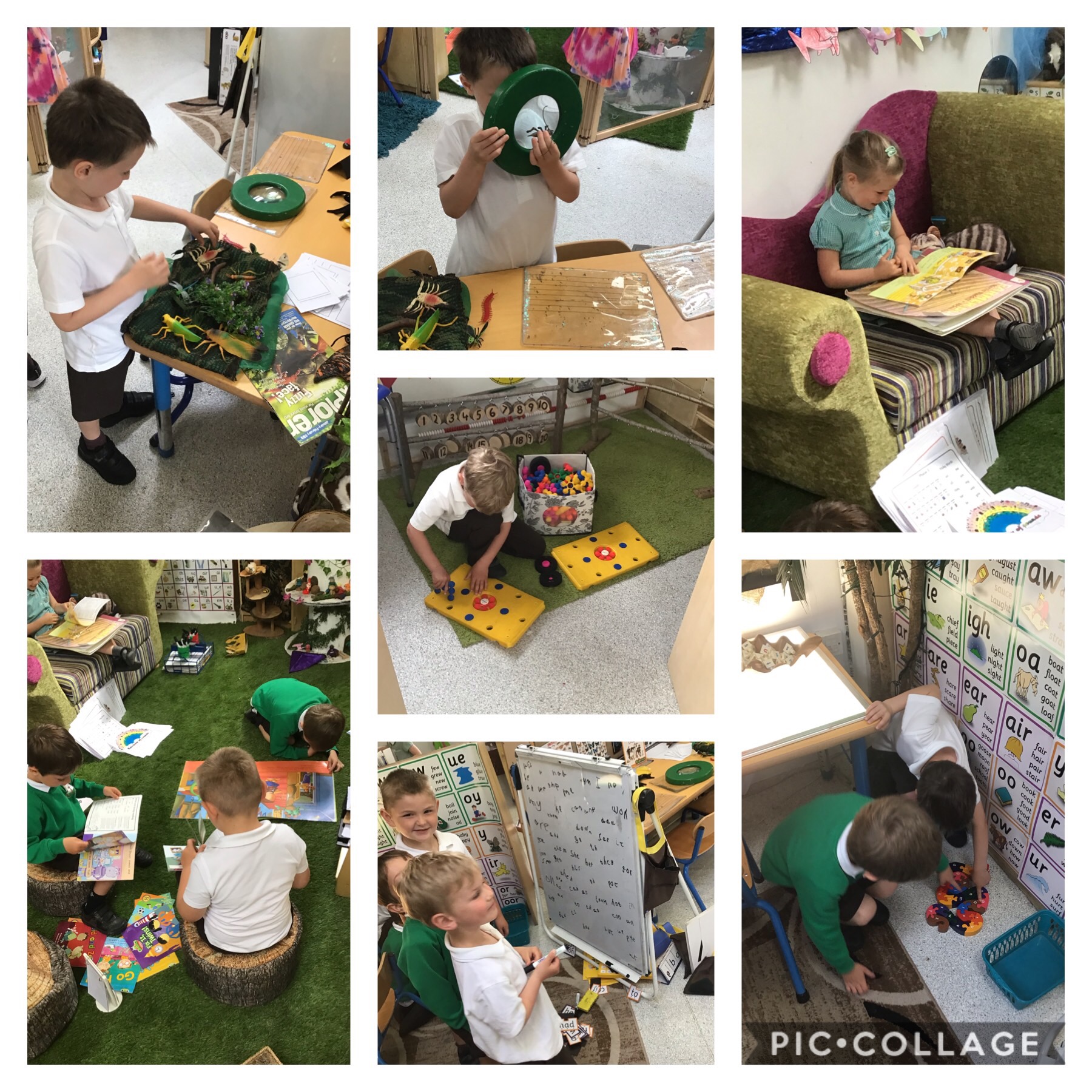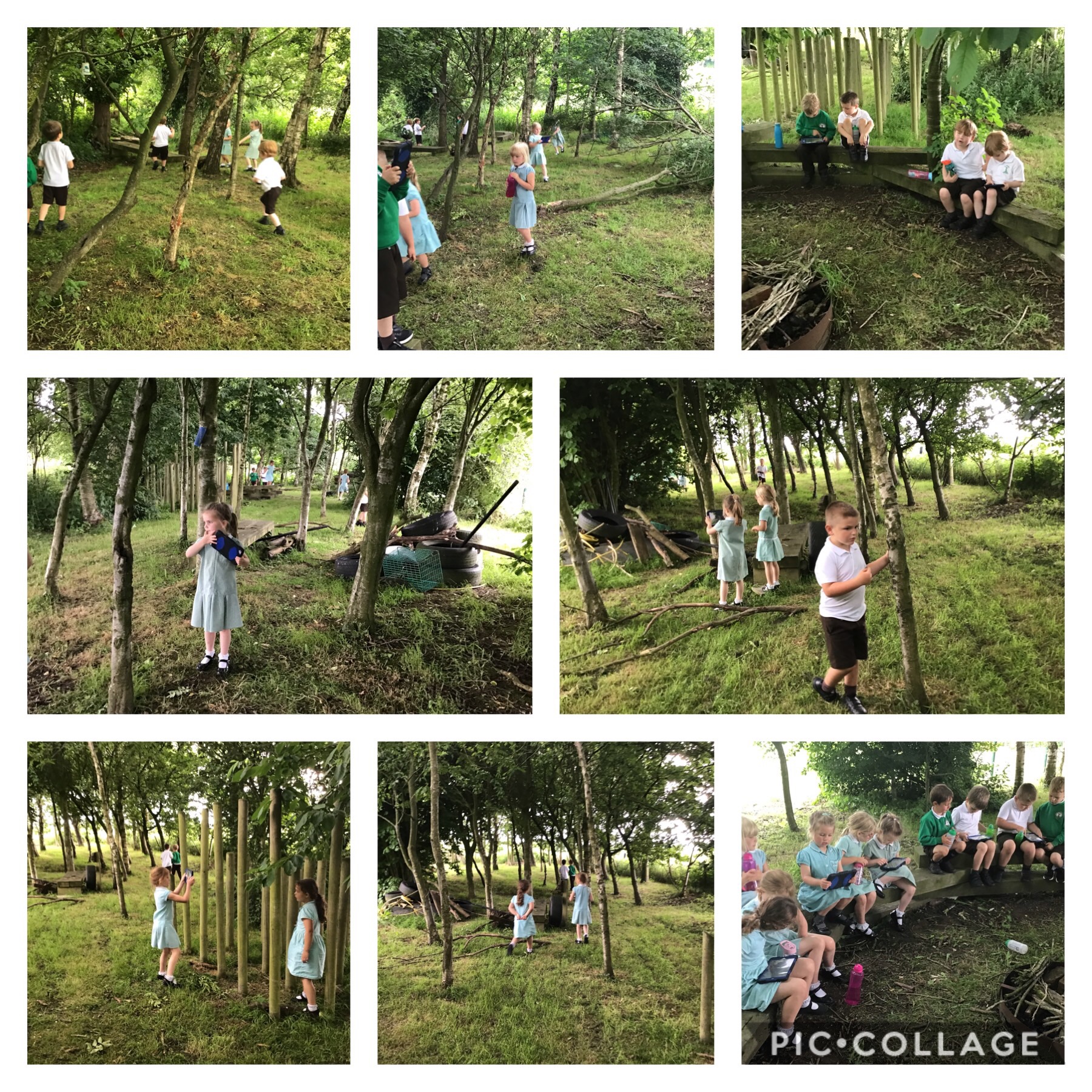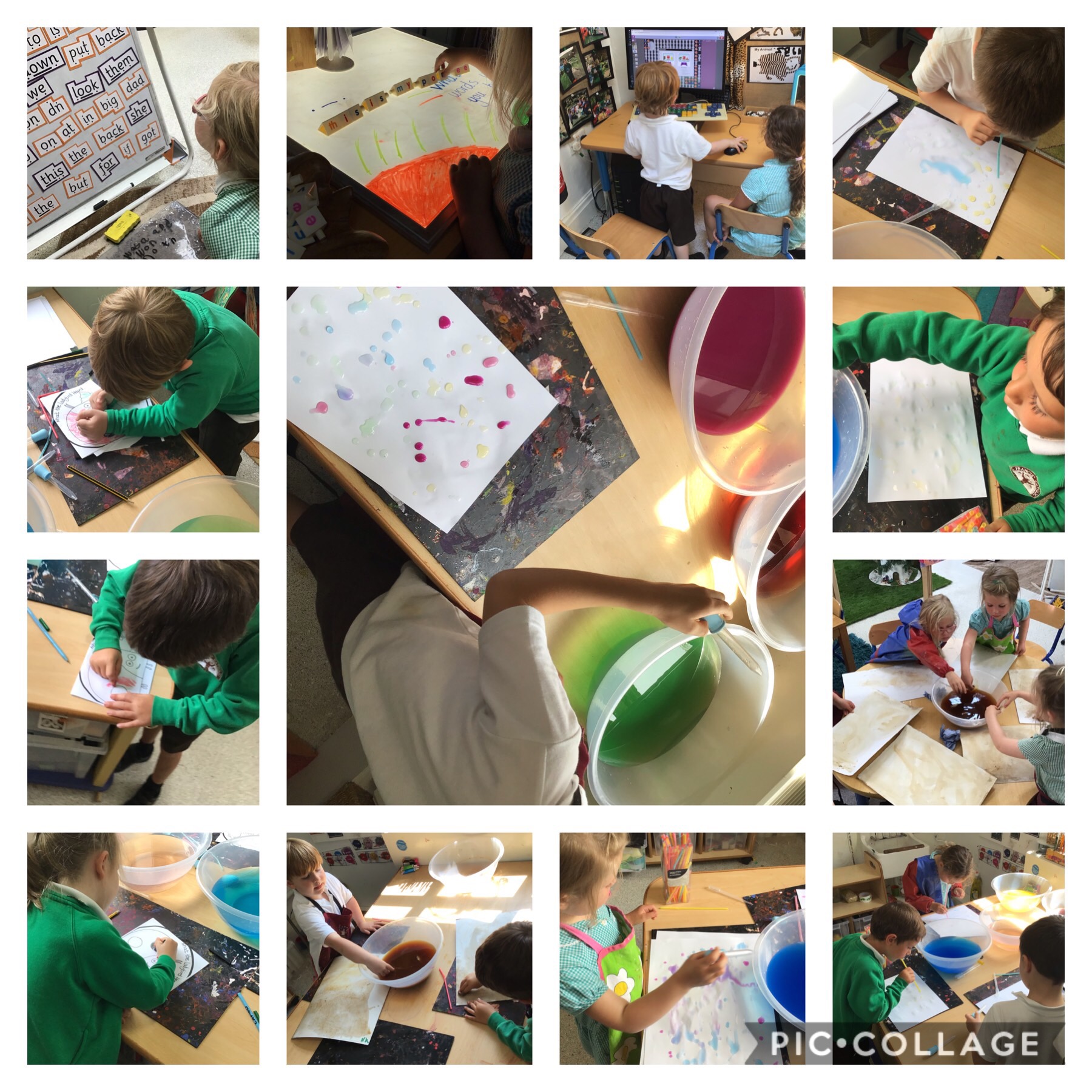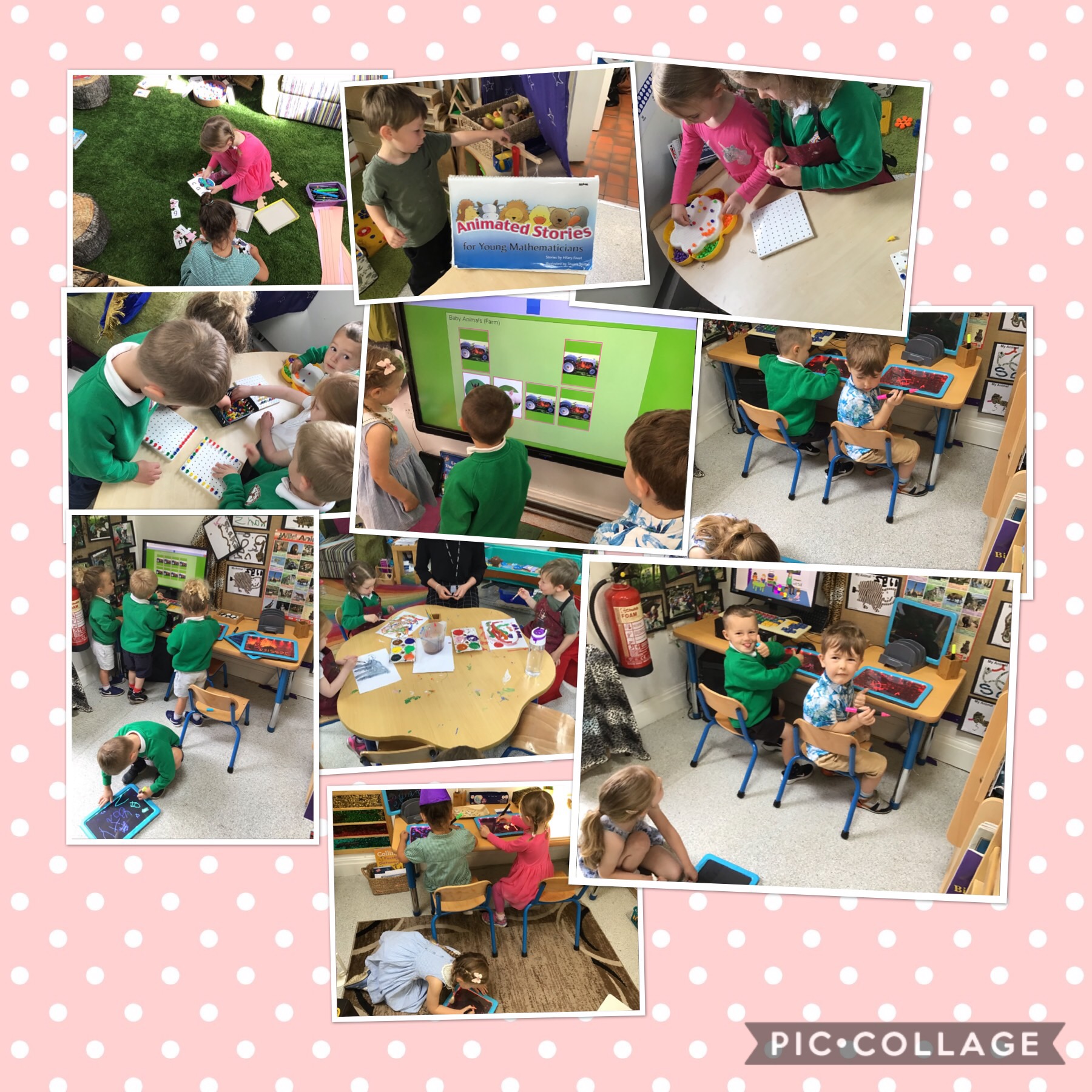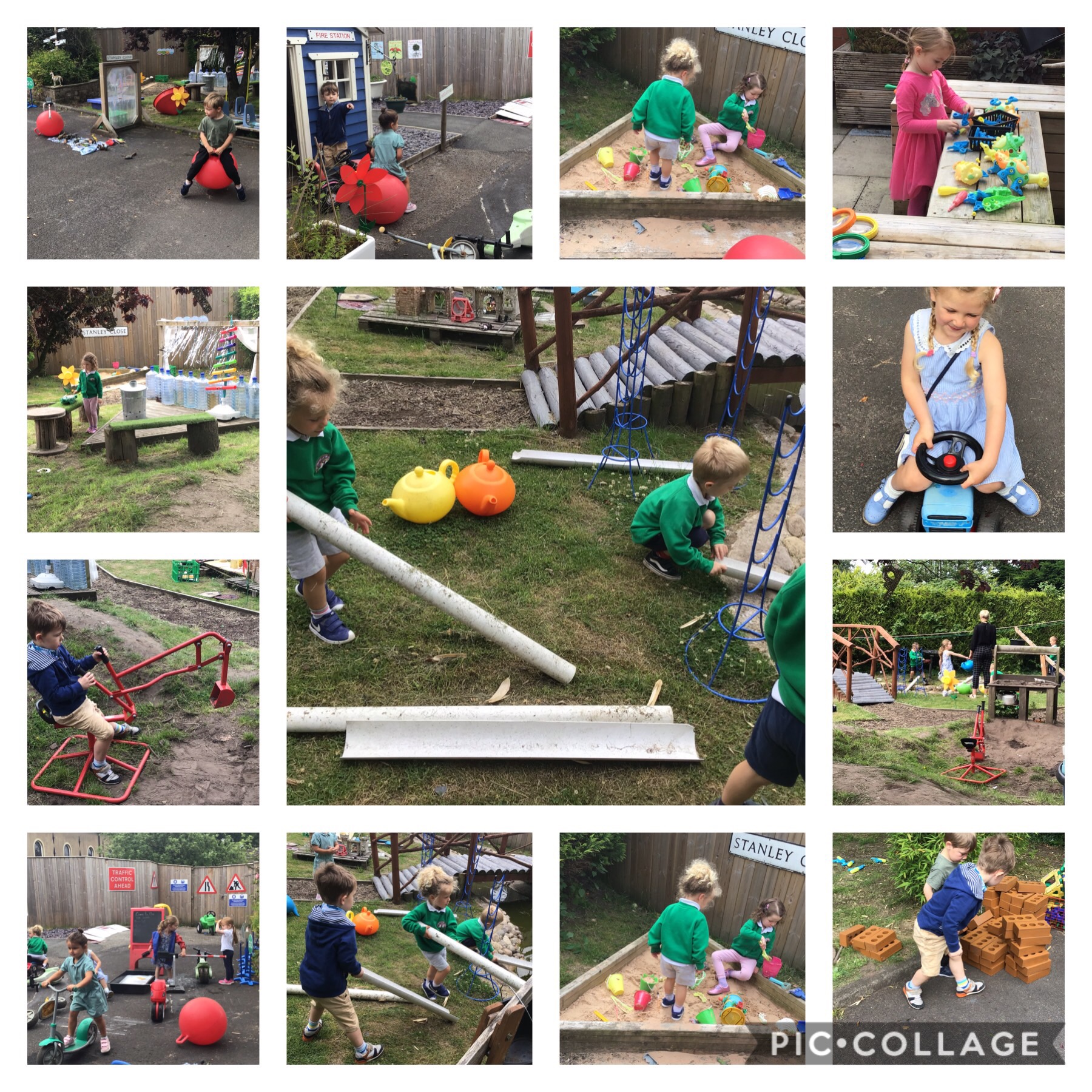 18.6.21
Quack! How goes the work? Very well thank you. This week we have loved the tale of Farmer Duck and although he was weepy and sleepy that did not last for long. The children completed their Farmer Duck stories with their usual enthusiasm, it is fabulous to see all this hard work on their handwriting paying off. We are continuing our journey with phase 5 sounds and our tricky words where we can refer back to another phase 3 sound independently if needed. All children are making great strides in their independent writing and are building up their stamina as it will soon be time for them to leave and join Parlick – unbelievable. In mathematics children have applied their knowledge not only with 1p coins but expanded it to other coins, trying their best to understand that a 5p coin is worth the same a 5 pennies. When purchasing items, you do not want to over or under pay! Especially at the St. Francis' Car Wash; I hear the owner is a real stickler for the correct amount. Our farming topic took us down a very interesting path of Fairtrade and what it means. I was blown away by the understanding of what 'fair' means and what that looks like. We understood that farmers deserve a fair price to buy things we can easily take for granted like clothes, shelter and even food! We also got to see farmers all around the world. The lovely Ruby Red Slippers came into our school this week and spoke to Pendle Class about History – how exciting! Ruby helped us understand what a timeline is and how that organises things in relation to time E.G. morning, afternoon and night. This is given context by thinking about when we were little and even much further back, exploring dinosaurs, which we were experts about. Next week we shall be reading All Pigs Are Beautiful. I wish you all a wonderful Father's Day and a peaceful weekend.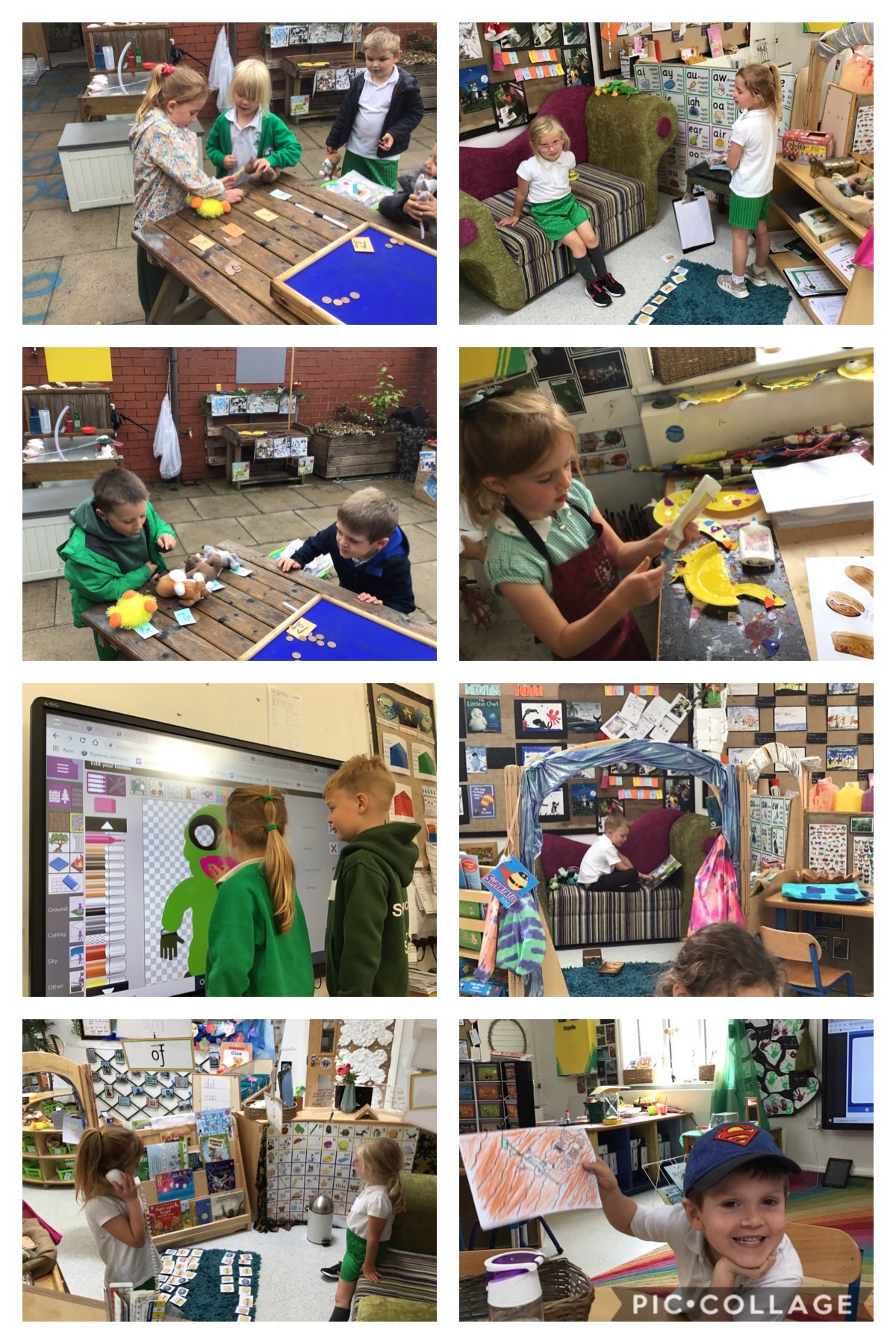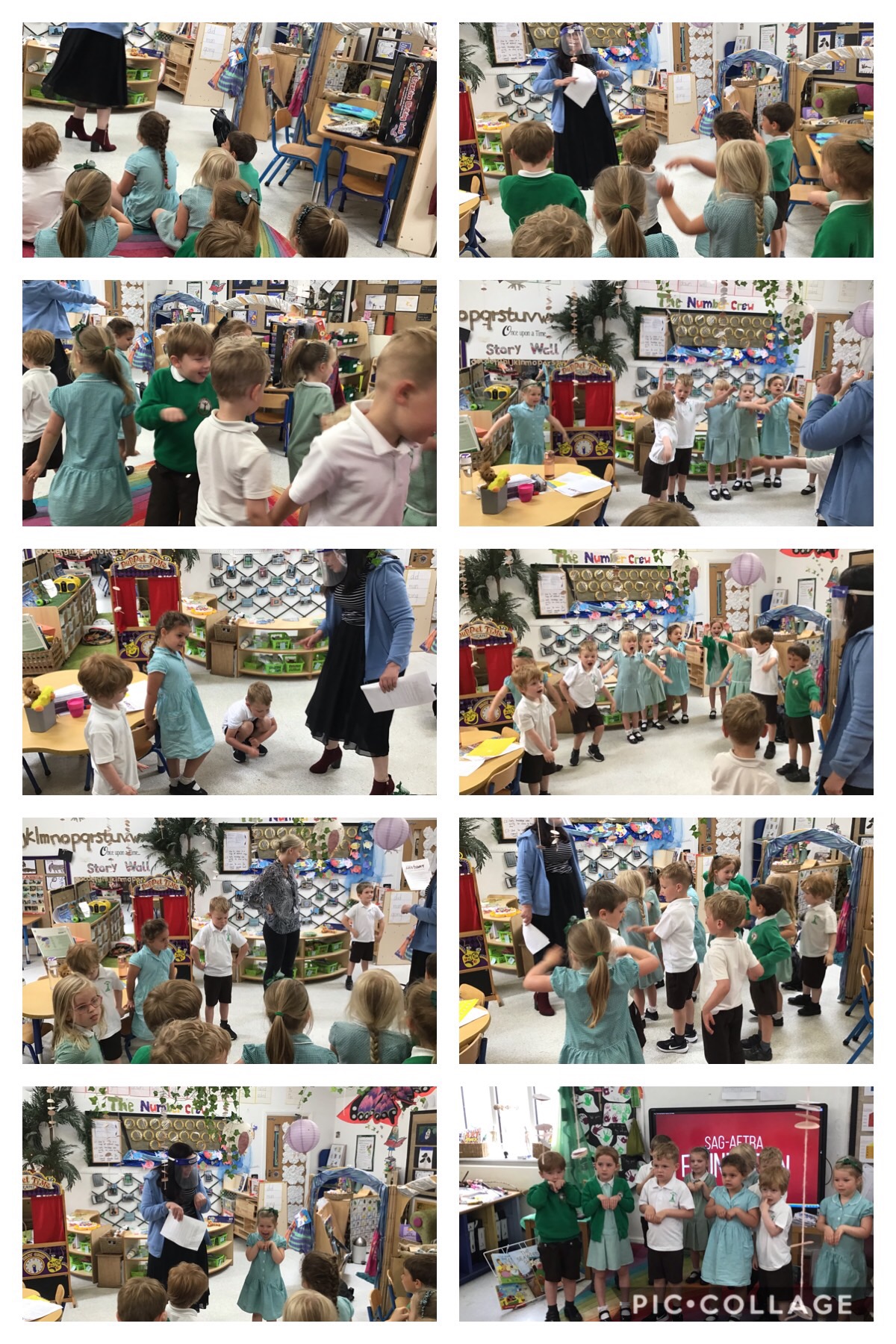 11.6.21
It is great to have you all back and ready to finish this year on a high! We started off our topic with the familiar face of Winnie the Witch.  Unsurprisingly, a spell that Winnie had cast had gone awry and ended with a gigantic pumpkin! The children thoroughly enjoyed the story and loved independently writing their Winnie books. It is delightful to see our writing come together so beautifully and you cannot help but reminisce to how far each and every child has come. We shall keep up the handwriting and the hard work! In mathematics we are beginning to have an in-depth look at money and to begin with; we need to understand what a penny is. We have discussed this and made some mock shops and car washes to experiment with purchasing and counting out the correct amount. We also made the links that a 5p coin has 5 pennies hiding inside it and a 10p coin has 10 pennies hiding inside it etc, so we could understand the value of these coins. You cannot read a Winnie story and not look create a broomstick and/or magic wand! The children gathered the resources they needed to create their wands/broomsticks and with tape, string and teamwork managed to create their very own broomsticks – great work. After we created our broomsticks we needed to decorate them and they are going to look stupendous when finished, waiting for paint to dry is never entertaining. We also went on a minibeasts and bird hunt to see what we could discover and we found a range of birds and minibeasts to draw and write about-  putting our clipboards to good use my little scientists. Thank you for a fantastic week team. The story for next week is going to be Farmer Duck – it is going to be quacking! I hope you all have a lovely weekend and see you Monday.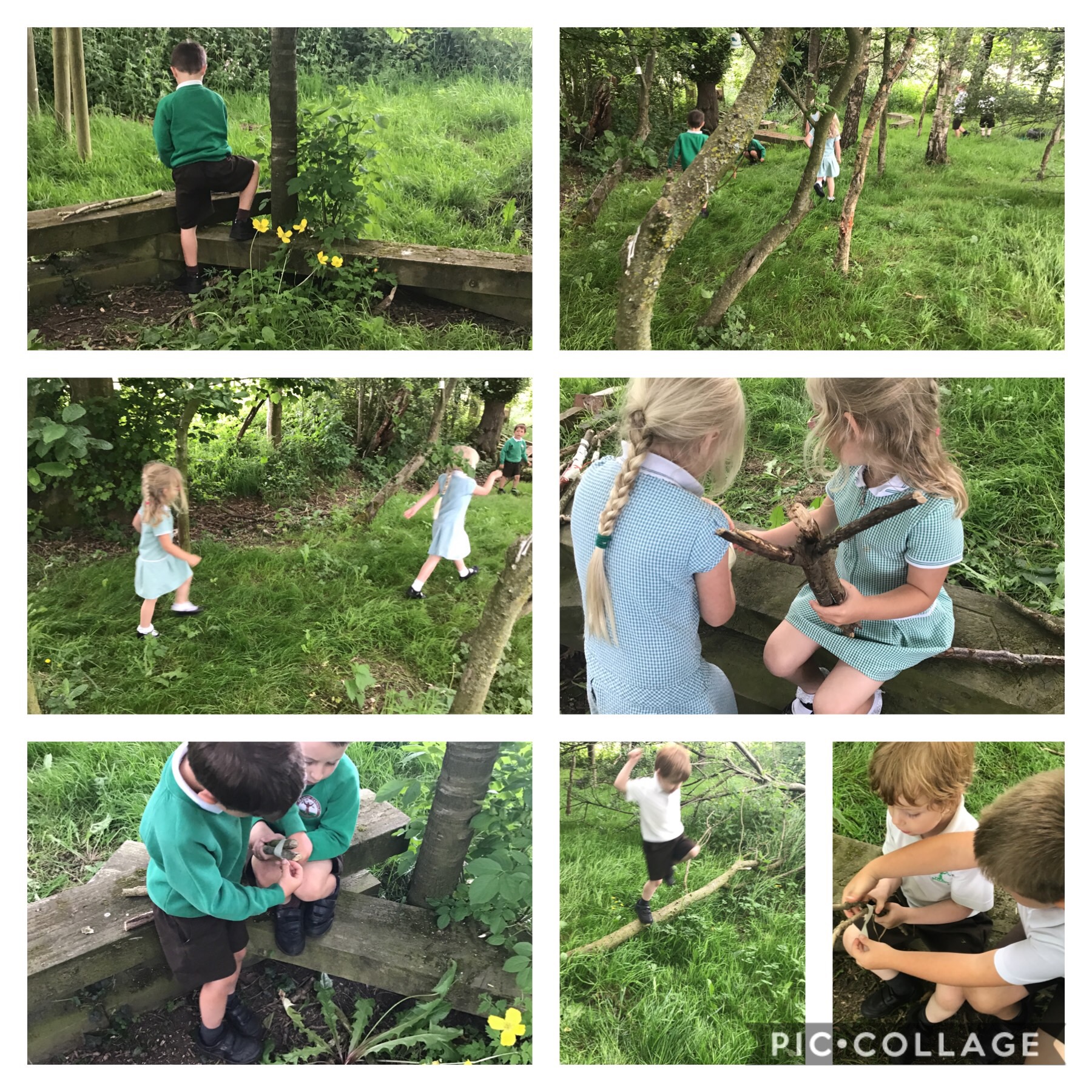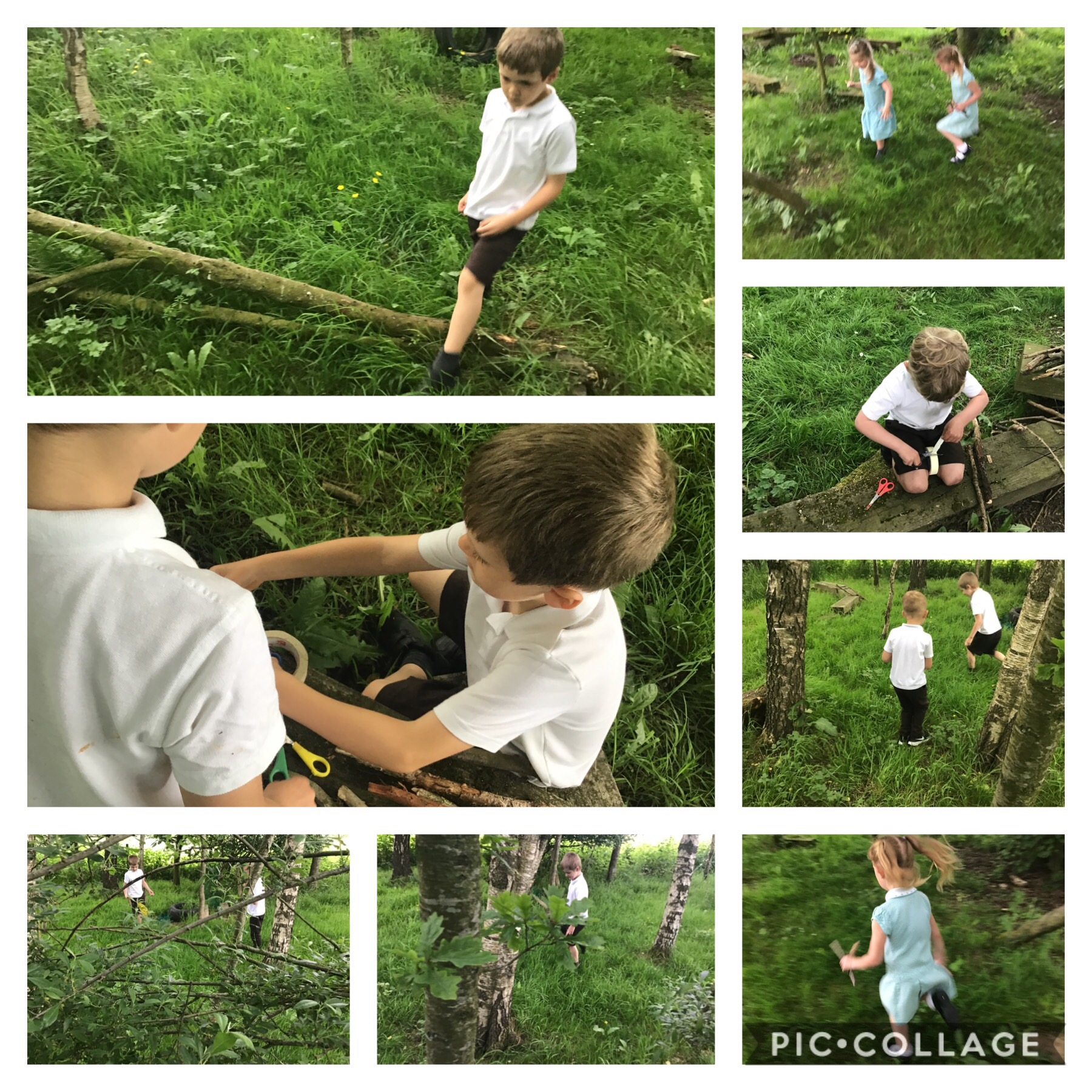 28.5.21
Sophisticated, elegant and dignified were just a few words that were not used to describe me in my crayon outfit -strange. Regardless, World Book Day was great fun and it was fantastic to see the variety of costumes everyone had on. The Day the Crayons Quit was a lovely story and it was great to read it as a class and to hear Miss Deakin read it too. We created our very own bickering crayon story with a variety of colours complaining to Duncan about a particular issue e.g. Yellow thinks he is the right crayon to colour the sun, when it is so obviously meant to be orange; or so orange tells me. Our handmade clocks proved incredibly useful to help us tell the time. We experimented with a range of times on the clocks and made a clear and obvious understanding between the minute and hour hand. Great work team on such a tricky topic, we will keep an eye on time as we explore money next term. This week was our first ever school assembly in which Fairsnape (3/4) presented to us and Parlick about seed dispersal with some great visual and interactive props, the exploding seeds proved to be very popular and the balloon and glitter demonstration went down well. We have made some astute observations about our tadpoles and noticed they are growing legs! As a class we decided they needed to be put into the rill as when they turn into froglets and cannot stay in the water permanently. We placed rocks in the rill for the tadpoles to use as hiding places from predators and put the last bit food in for them. We also loved the great eruptions we got some our island volcano, underwater volcano and mountainous volcano, a great bang to end a fun filled topic the children helped build. Pendle Class would like to give a massive thank you to Timothy Knapman who joined us on our world book day and read a range of his dinosaur stories and answered some questions from the class – thank you Tim! The class also got to use the Chrome Music Lab for the first time to create their own mini beat and thoroughly loved using it, we shall continue using the music lab to create more elaborate and interesting pieces of music next term. I hope you all get to spend time with each other during this half term. Take care and see you all soon.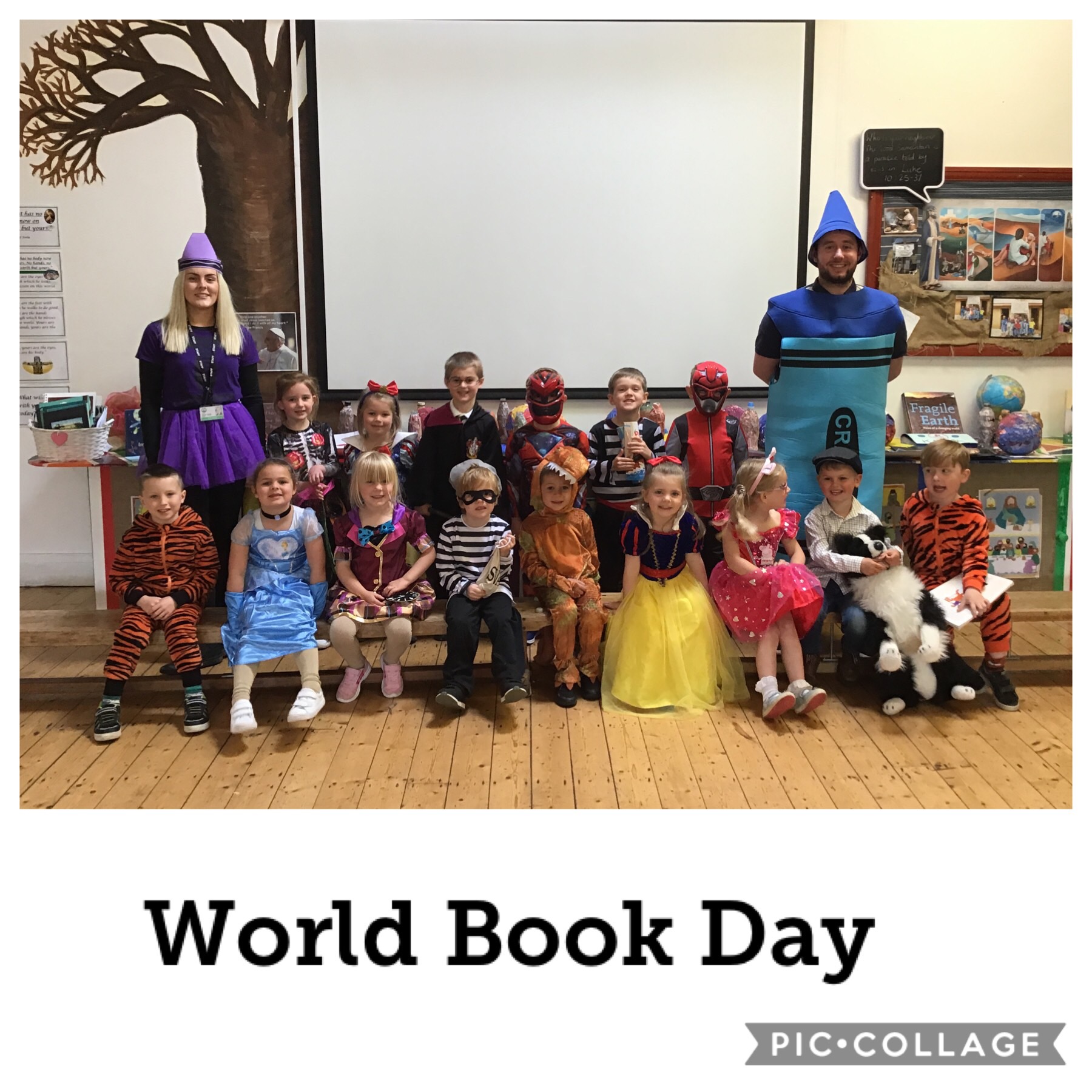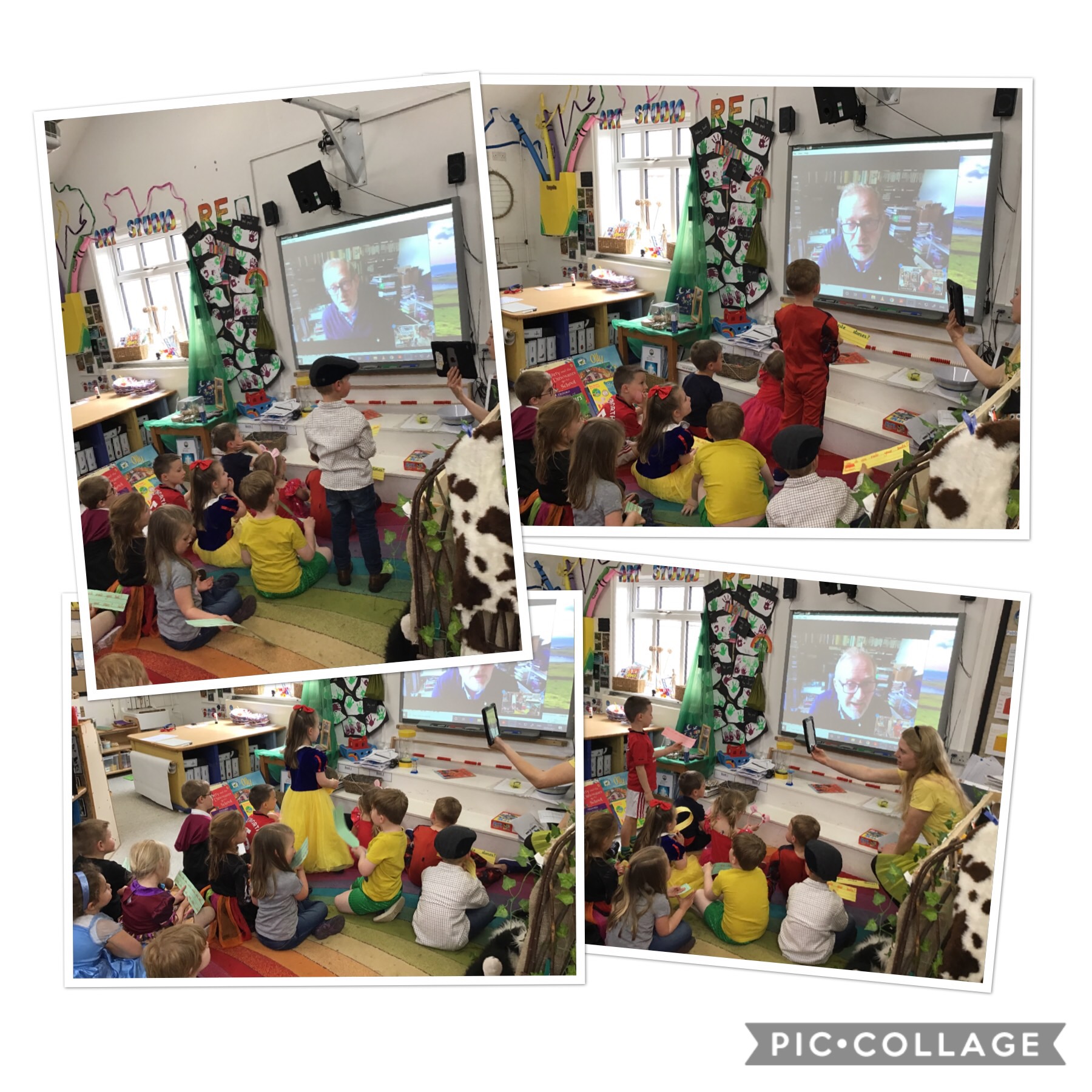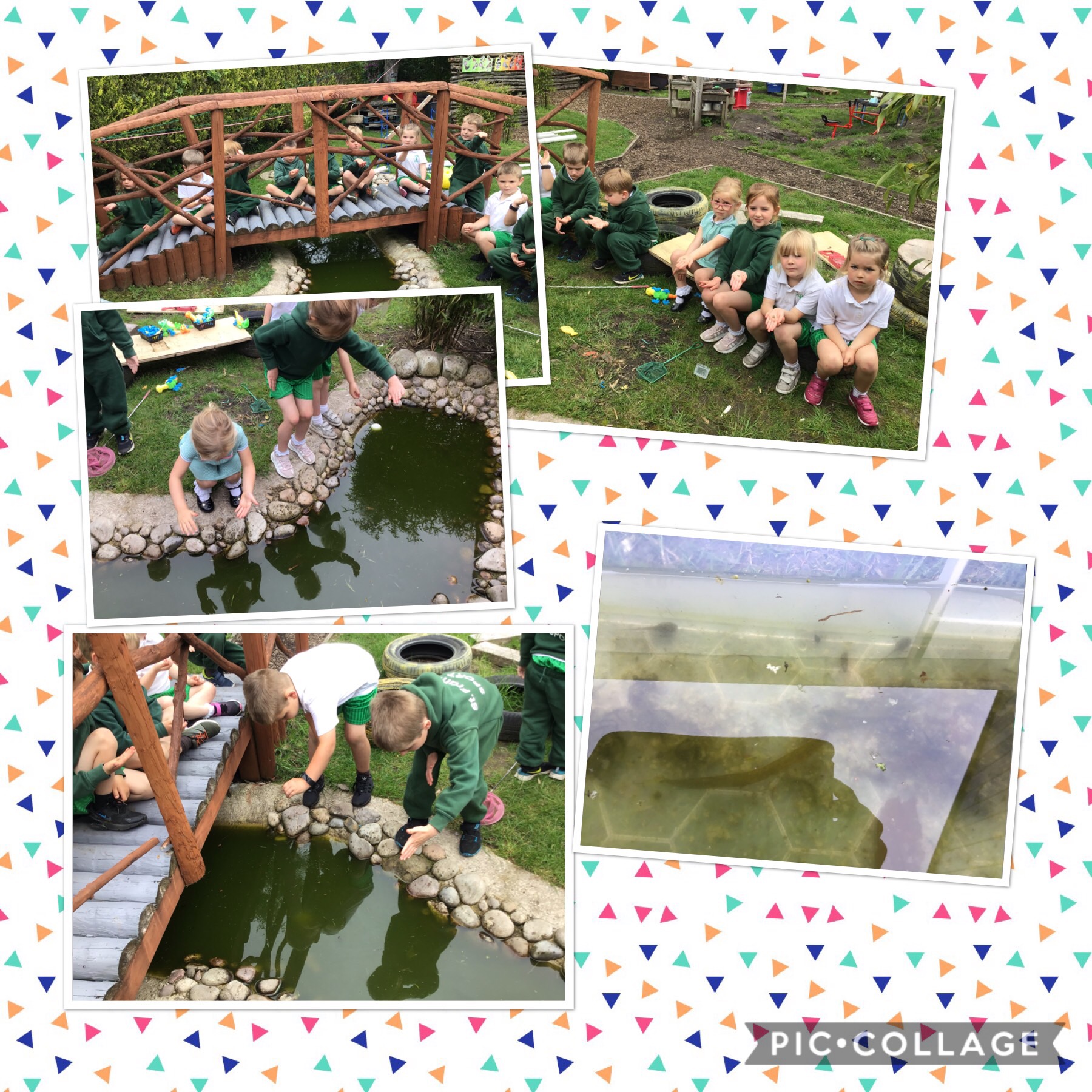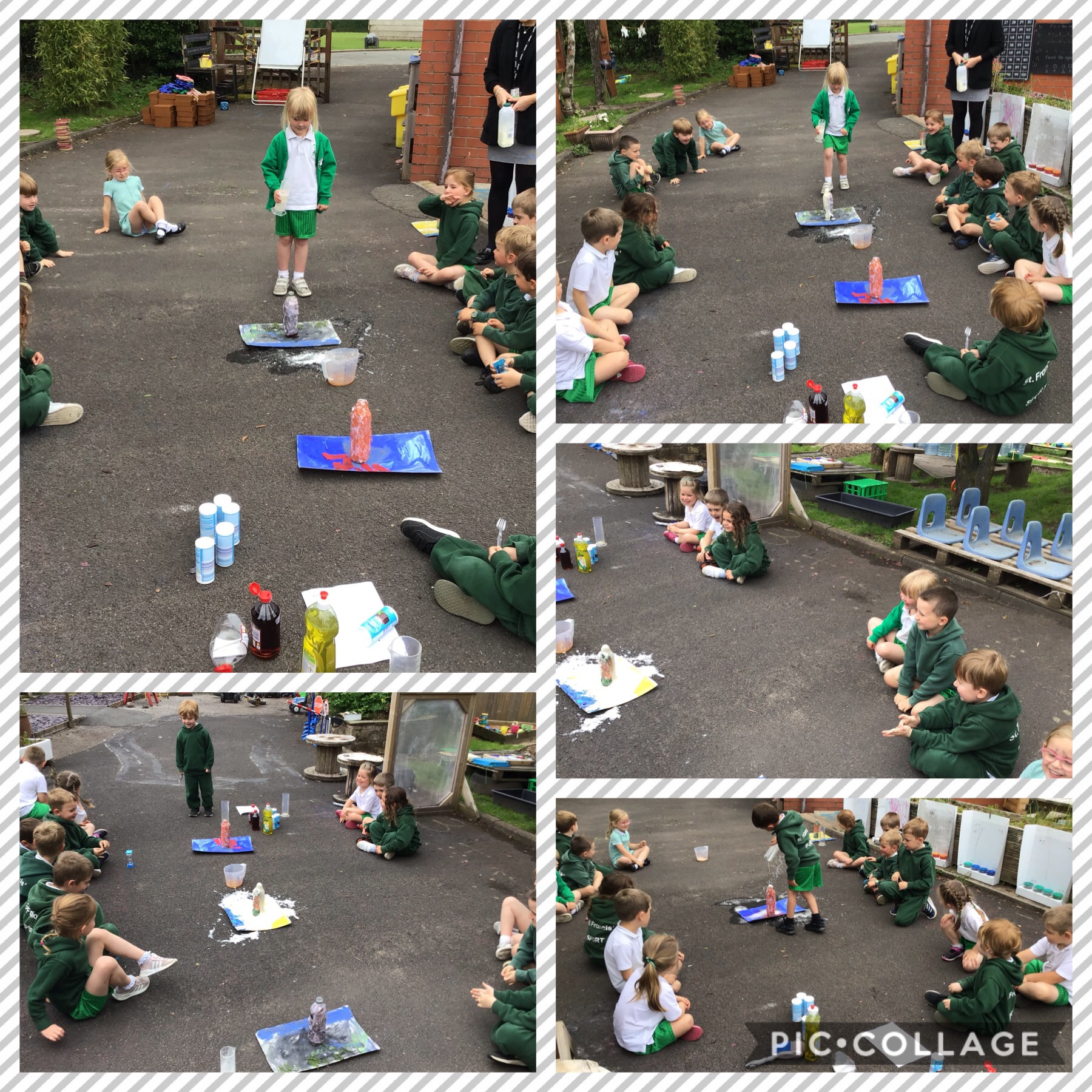 21.5.21
1 Week left to go! I said that the time will fly by. We have had a wonderful time creating our incredible dinosaur investigation work and Miss Silvester was impressed with them. To finish off our dinosaur topic with a bang we are going to erupt our volcanoes with Fairsnape. To help excite us and continue investigating and learning about dinosaurs, we shall share our facts with Fairsnape and ask them for a question to further our learning. This week we have had a slight twist to help us with learning about time – The Hungry Caterpillar. We used to story to help us sequence days and order time that way. We also created 2 clocks to accompany our story. 1 basic clock so we know how a clock should be structured and an individual clock fit for a time telling expert. We shall use these clocks to help with our learning. In phonics we are solidifying our knowledge and working towards writing independent sentences. It is incredible to look back at the start of the year and see the progress we have made – well done everyone! As a class we continued to learn about The Good Samaritan and what a dilemma is. Individually we were presented with a dilemma and had to break it down and resolve the problem with understanding and compassion, using the teachings of Jesus to guide us. Thank you to Mrs Tyrer for your support in helping the class with their Chranga music session as they were fantastic singing and preforming the actions. To let you all know our rescheduled World Book Day is next Wednesday (26th) and you can come in your world book day costumes, my character might be feeling a little blue. We have started Fair Trade Friday again to purchase something from the shop. Please can you bring in the correct amount of change to minimise the handling of money. Please place the money in an envelope with a label stating what your child would like. I hope you all have a lovely weekend and I cannot wait to see your costumes – take care.
15.5.21
This week we have had a blast as we prepare for our eruption next week! The children continue to work hard on their handwriting and phonics. We continue to draw on a wide range of sounds and work on the tricky words and sounds we do not know. Our brand new phonic books help us keep track of this and we get to celebrate every achievement and know our next target – great fun. In mathematics we continued to work on time and I am delighted to see the progress we have made. Next week to really demonstrate our time keeping skills we decided to create our very own clocks. It is wonderful to see children coming in with watches and proudly discussing time with me and showing their peers. In R.E continuing are dilemma work we revisited the story 'The Good Samaritan' and will break down the dilemma's of that too, and why the Samaritan acted with kindness. The class dinosaur booklet and final art pieces are ready for the big unveil and we will be showing the wonderful Miss Silvester to show off our dinosaur knowledge. We also entered a competition to create our very own stamp for the Royal Post Office. We will keep you updated so please keep your fingers crossed! Our design was on a local superhero like a nurse, firefighter, shop keeper etc. We had a wonderful treat on Thursday as we had the wonderful chance to read with Miss Deakin again (distanced) as Miss Deakin read 1-1 with children on the story bus outside, The children adored reading with Miss Deakin and she loved reading with us – thank you Miss Deakin. We did have to say farewell to our dear friend Mrs. Proctor as she is leaving the school in her official role to be with her family. However, she has promised to not be a stranger and will return for visits and school trips! Thank you for all of your love and support Mrs. Proctor, you will be missed. I hope you all have a wonderful weekend together and I shall see you all on Monday!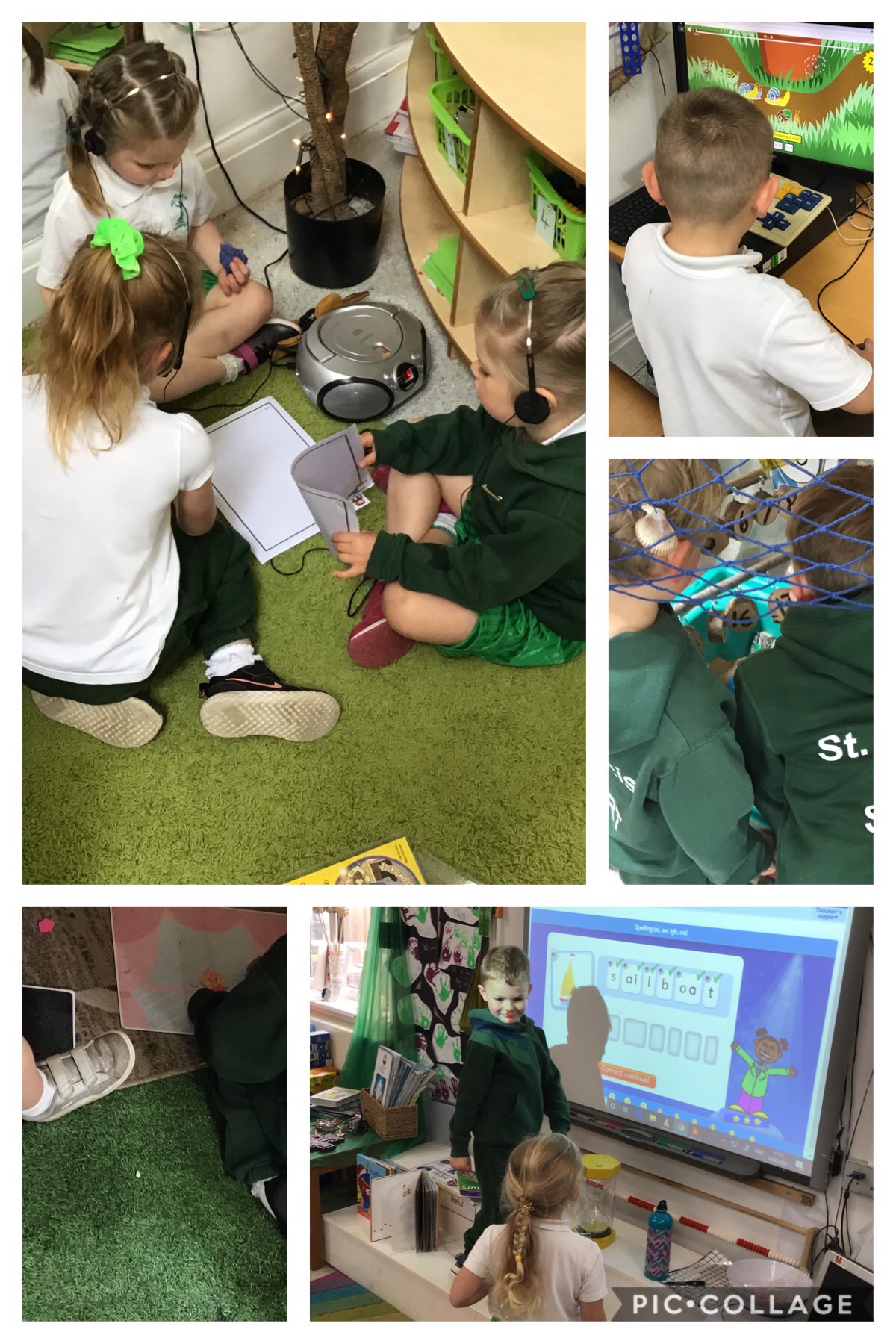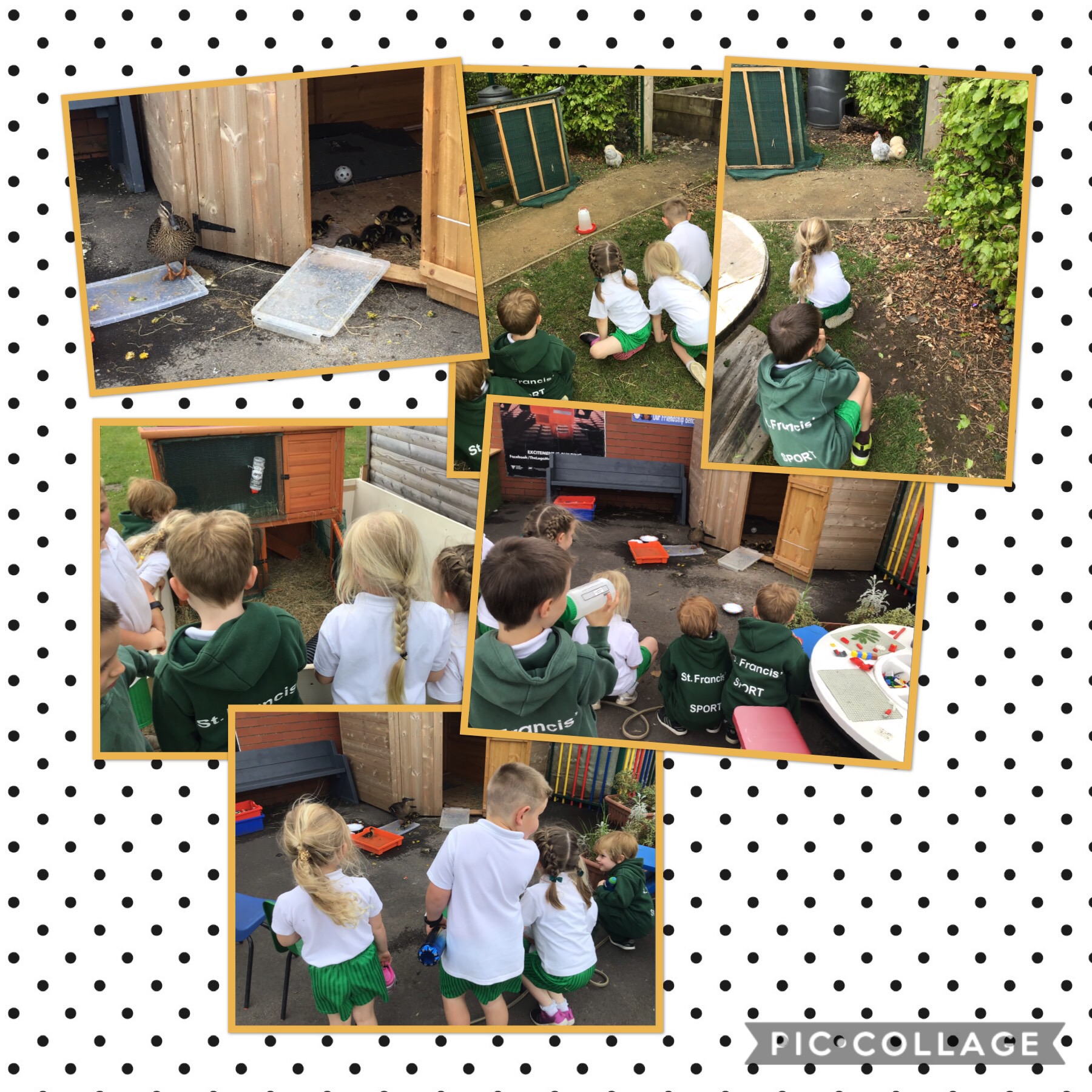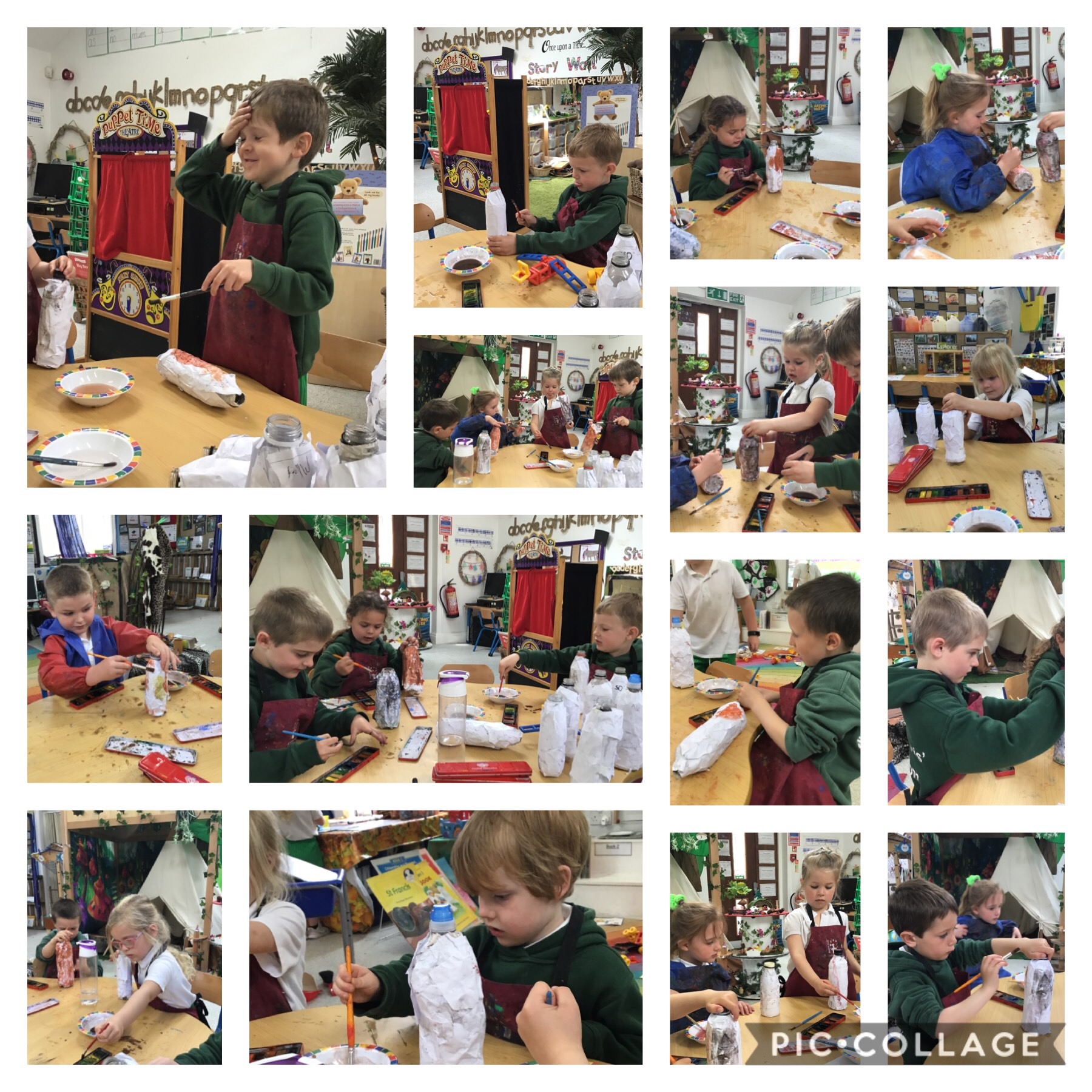 7.5.21
It was fab to see so many numbers on show today. Thank you to everyone who donated, we are very thankful for your support as always! This has been a rather special week as we had a special guest come to St. Francis' and film parts of our school. It was a privilege to show off our school. None of Pendle class students were in the shots, but they upheld our high standards and I am very proud of them for it. During this week we created our salt dough dinosaur fossils to accompany our dinosaur investigation. They are now baked and ready to be painted to make them really stand out and further inspire our dinosaur fossil writing booklets. In mathematics we put a wide range of time skills to the test as we worked on recognising the time, drawing hands on a clock, sequencing events and discussing and ordering events that we do regularly. We are continually drawing from our phase 3 knowledge and really showcasing these skills independently when playing in areas of provision in the classroom. It is amazing to see a few phase 5 digraphs sneak into our work too. The final joyous piece of news I can share with you is that we have a couple of wonderful additions to the St. Francis' family! Pink and Lavy are the flamboyant names of our wonderful chickens at school. Just to let you all know while the chickens are settling in to begin with, please be considerate around them as we want them to feel safe. I hope you all have a lovely weekend and see you all Monday.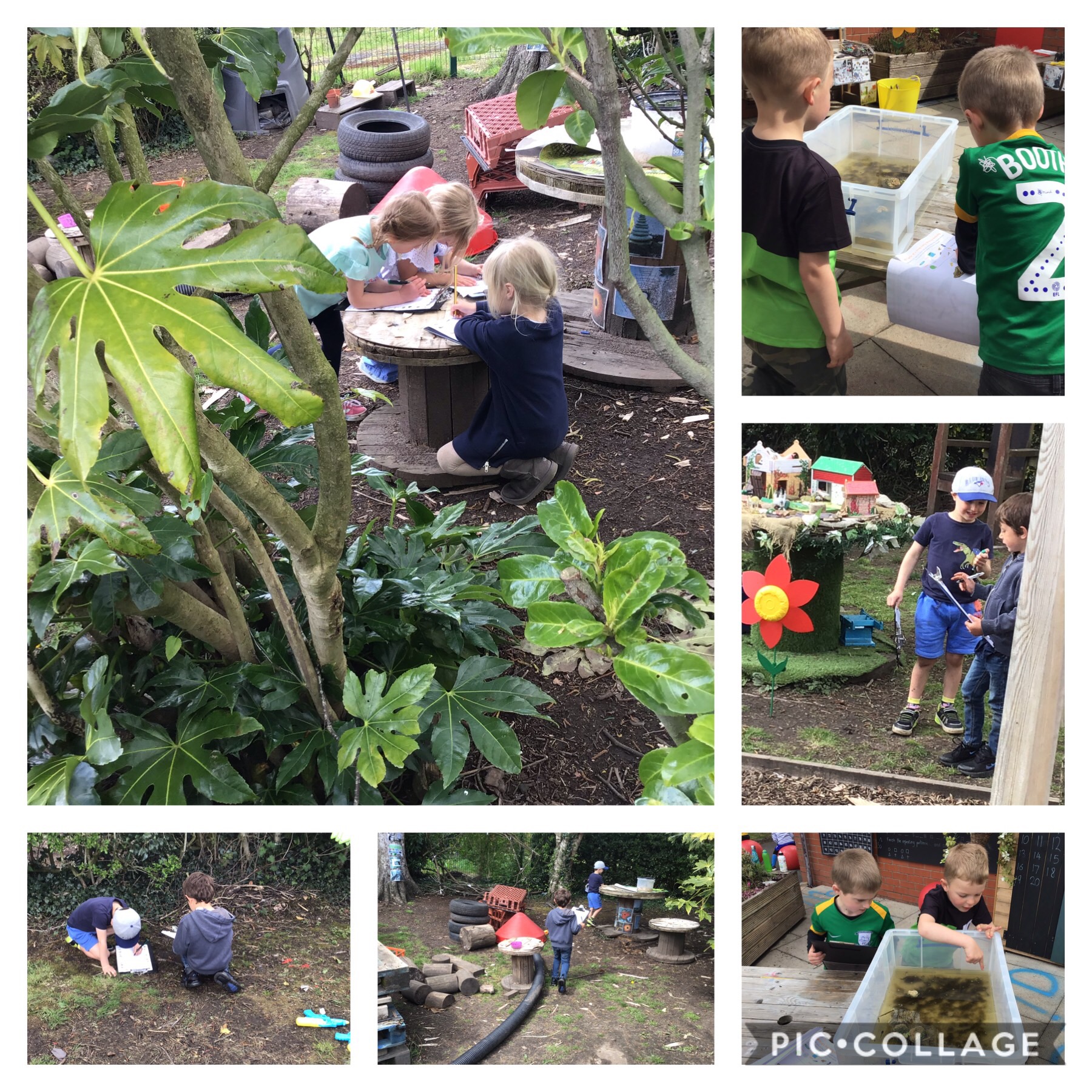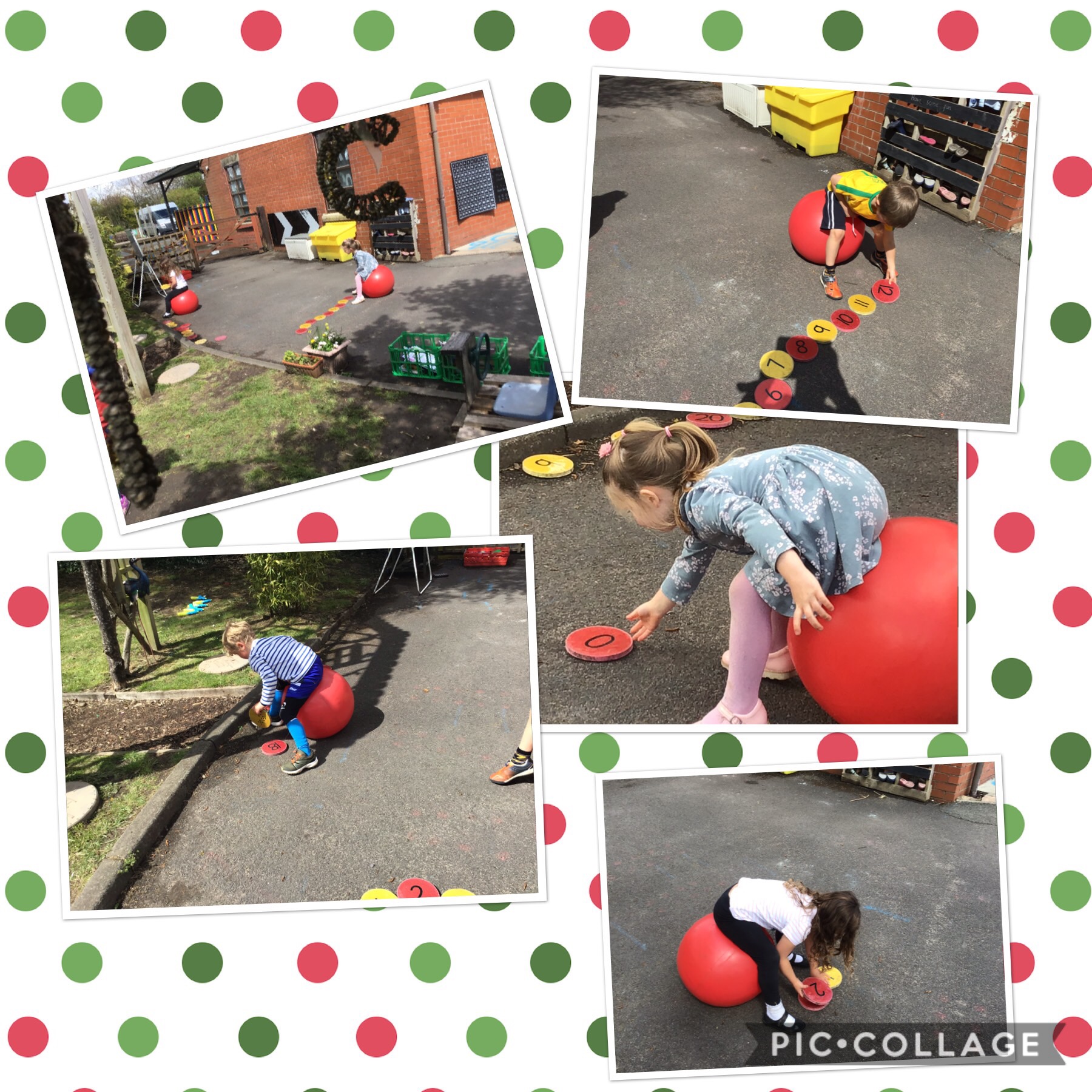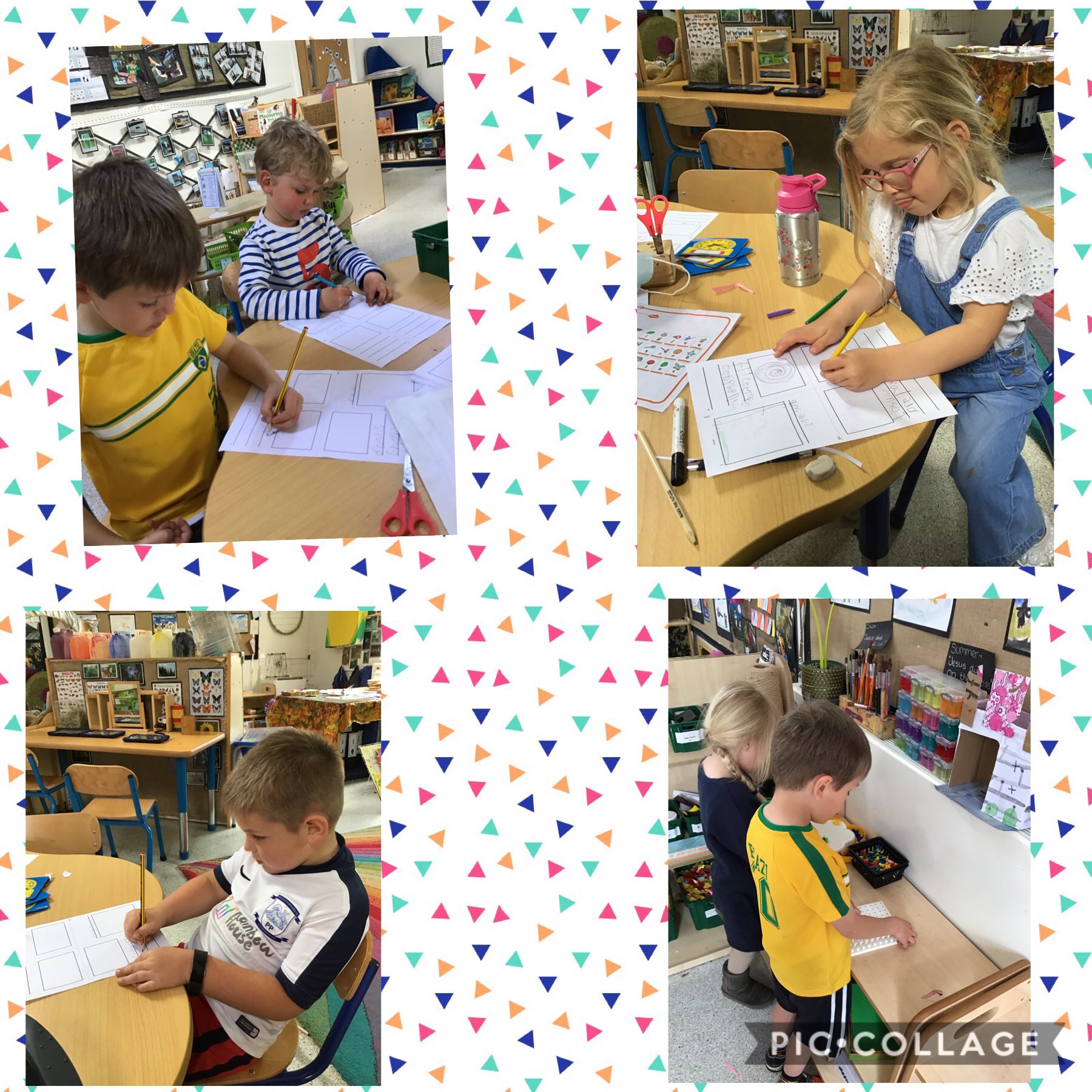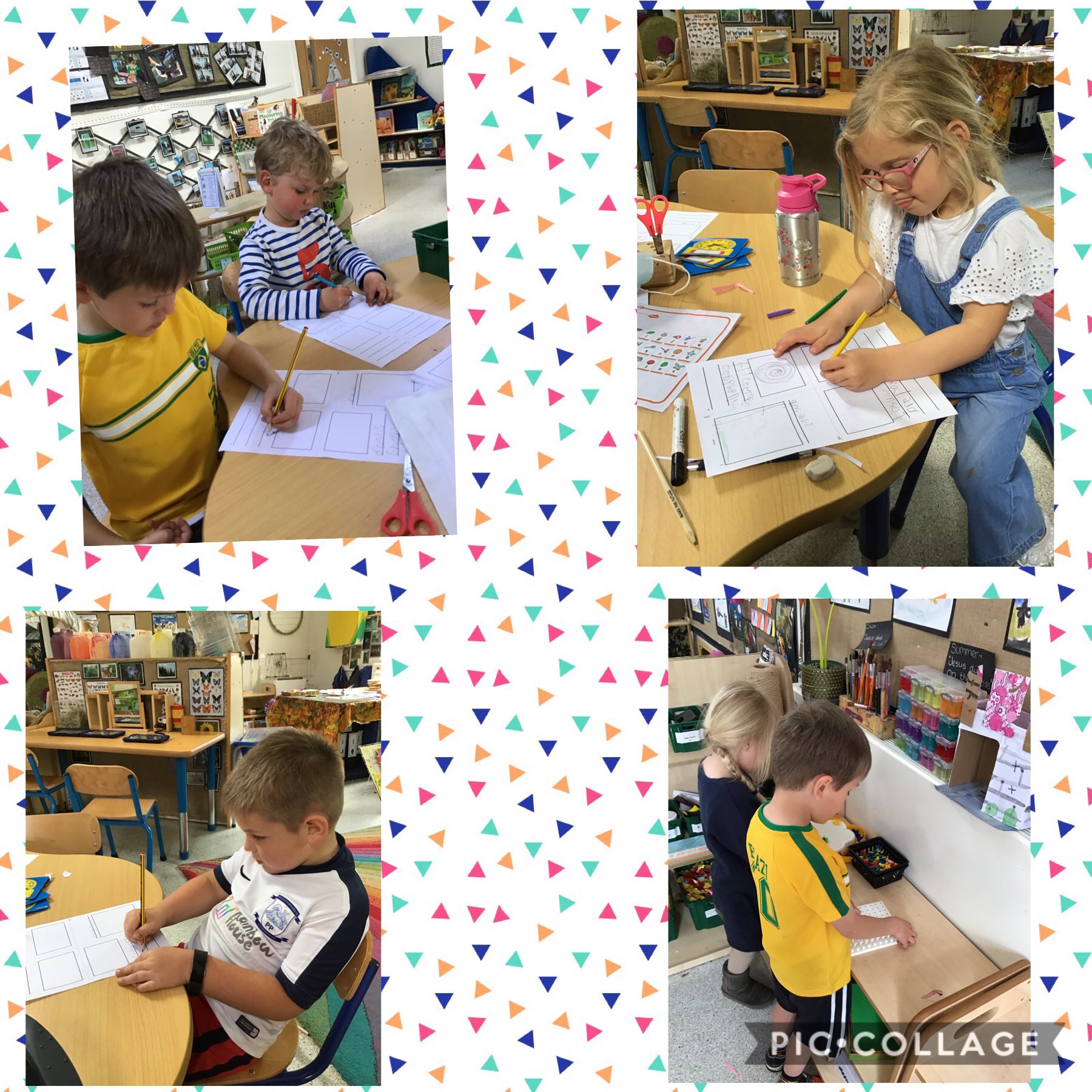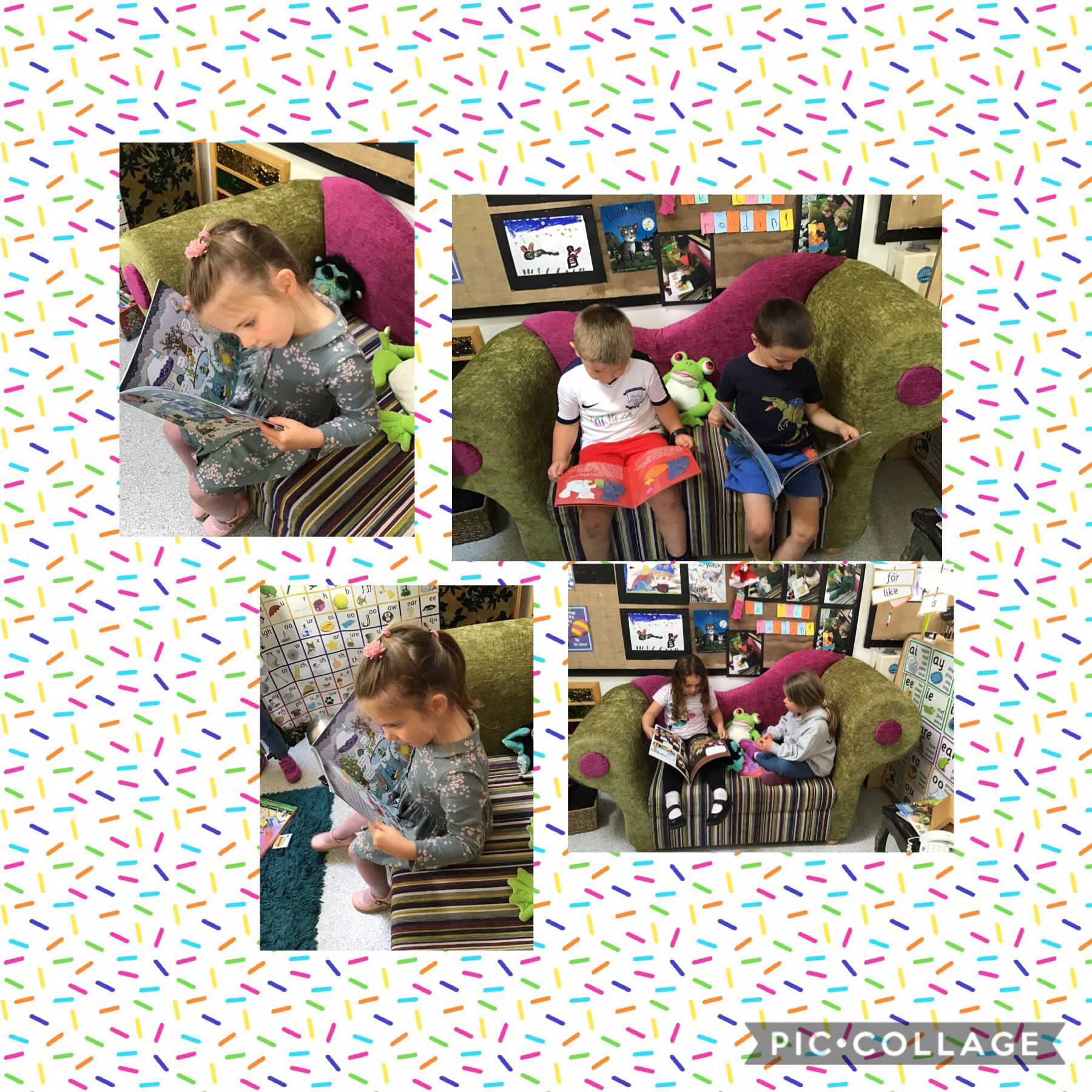 30.04.21
Another week goes by like a flash – 4 weeks to go. Before we begin a huge thank you to you all at home, as it is fantastic to see you all reading; it has a massive impact so please keep it up. As we continue our journey through phonics we are solidifying our phase 2/3 phonics and moving onto phase 4/5.  The class have started our own handwriting books to take our writing to another level and hit the ground running in year 1, it will be here before you know it! In mathematics we are using key vocabulary to organise and sequence events e.g. first, second, next and last. These words can give us an idea of where specific routines/events of the day happen. We continued with our work with clocks using IPads to help us position the hands precisely to really understand the movement of the clock and see that happening. We are creating our very own dinosaur egg to accompany our fact file, it will be our show stopping piece and we have a few exciting ideas to accompany this too. It was fantastic putting our musical skills to the test with everyone using an instrument. We worked on keeping a beat together and then experimented with the tempo of the music. We had snail for slow, elephant for steady and cheetah for fast. We experimented with the different sounds we could make with the beaters and combined those as a class. In P.E we had a competitive edge to it this week as we pitted team against team in a variety of games. The children not only responded well to the challenge but celebrated the win or took the loss well. We also combined into 1 big team to support each other and beat me. It pains me to say they beat the clock and won – darn and blast! Thank you to Ms. O'kane who helped us with potting the school plants. The children worked together to repot the plants and are ready to look spectacular once again. Unfortunately, it did not require any watering as we had plenty of that, but we did not let the rain keep our spirts down. I hope you all have a lovely long weekend and see you Tuesday!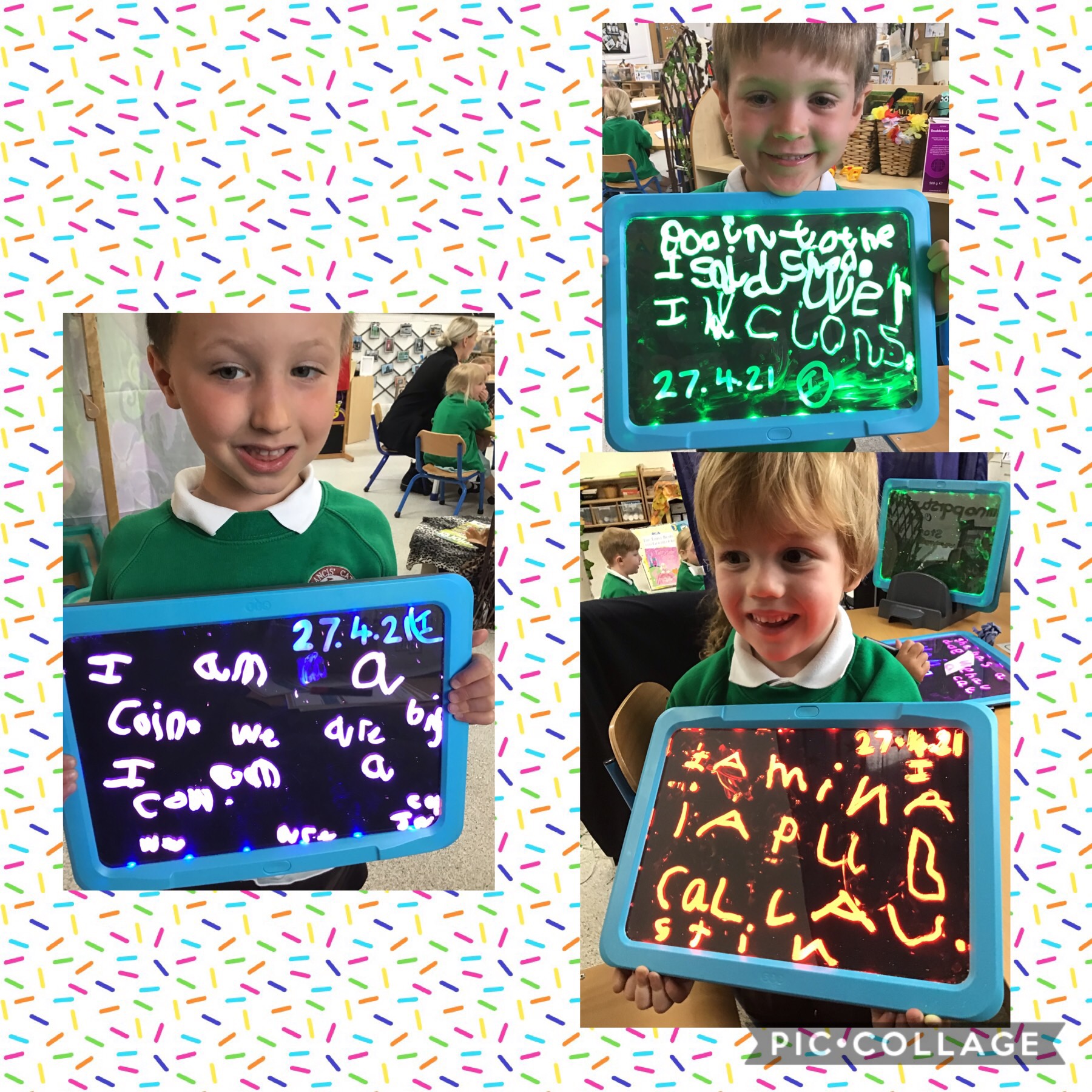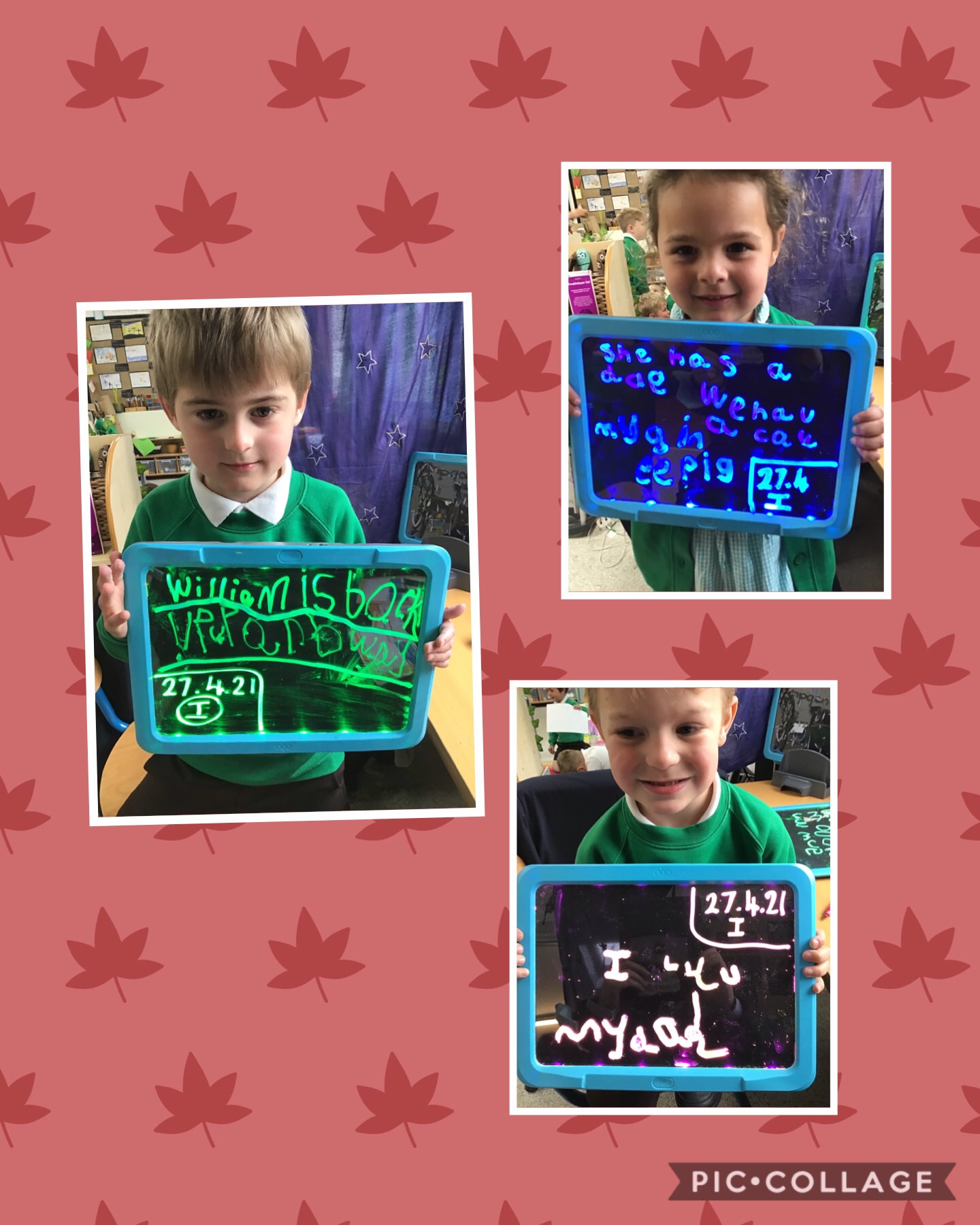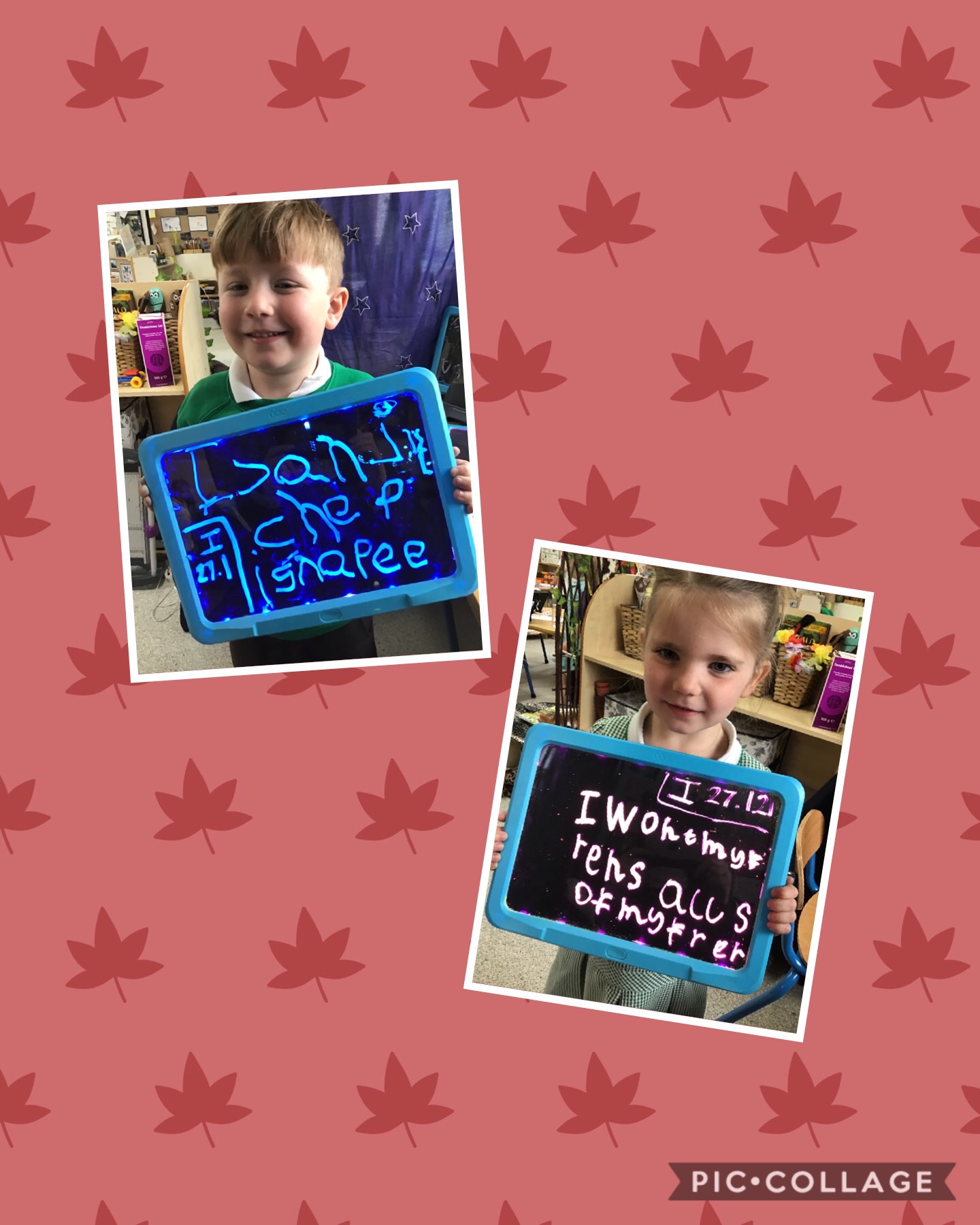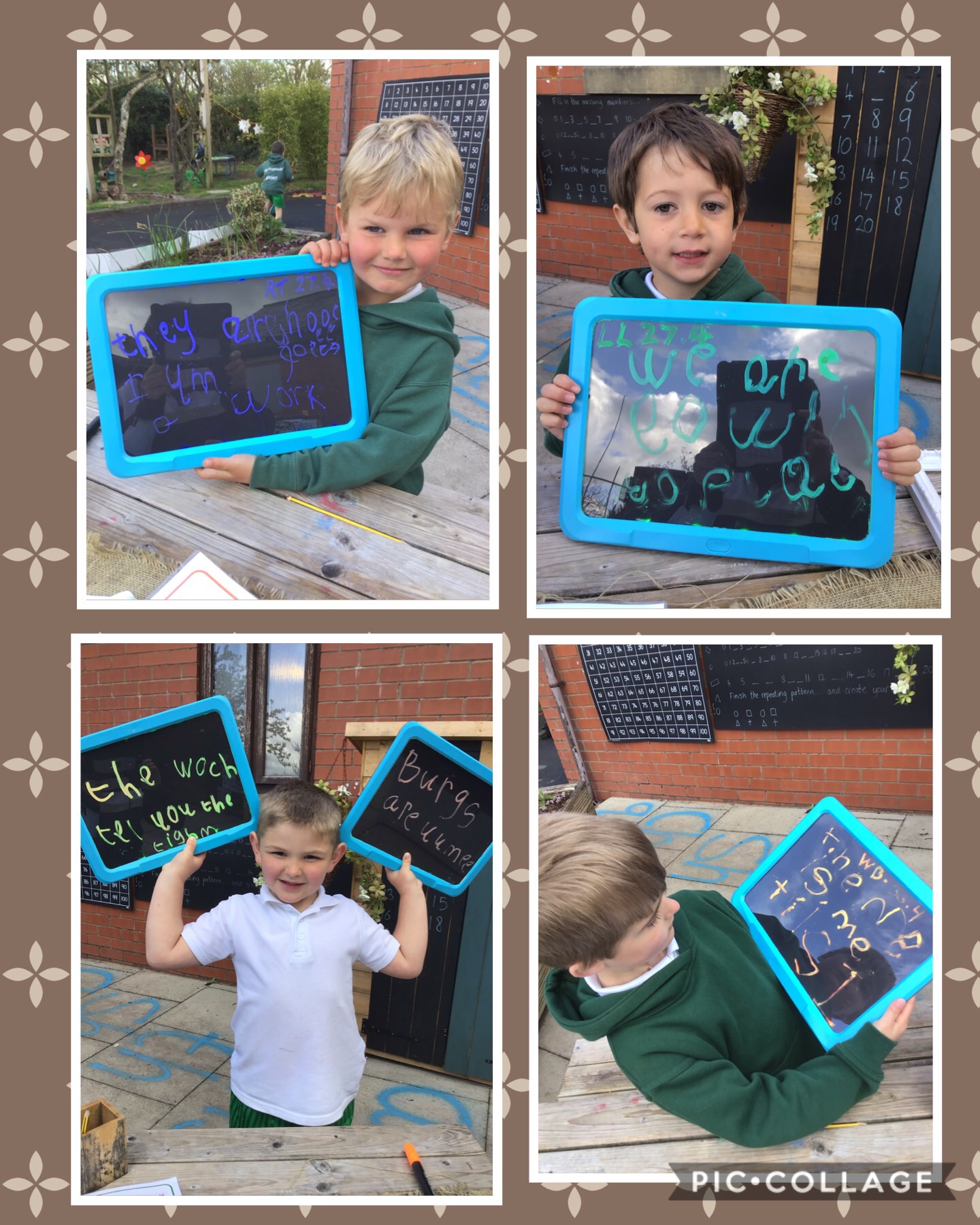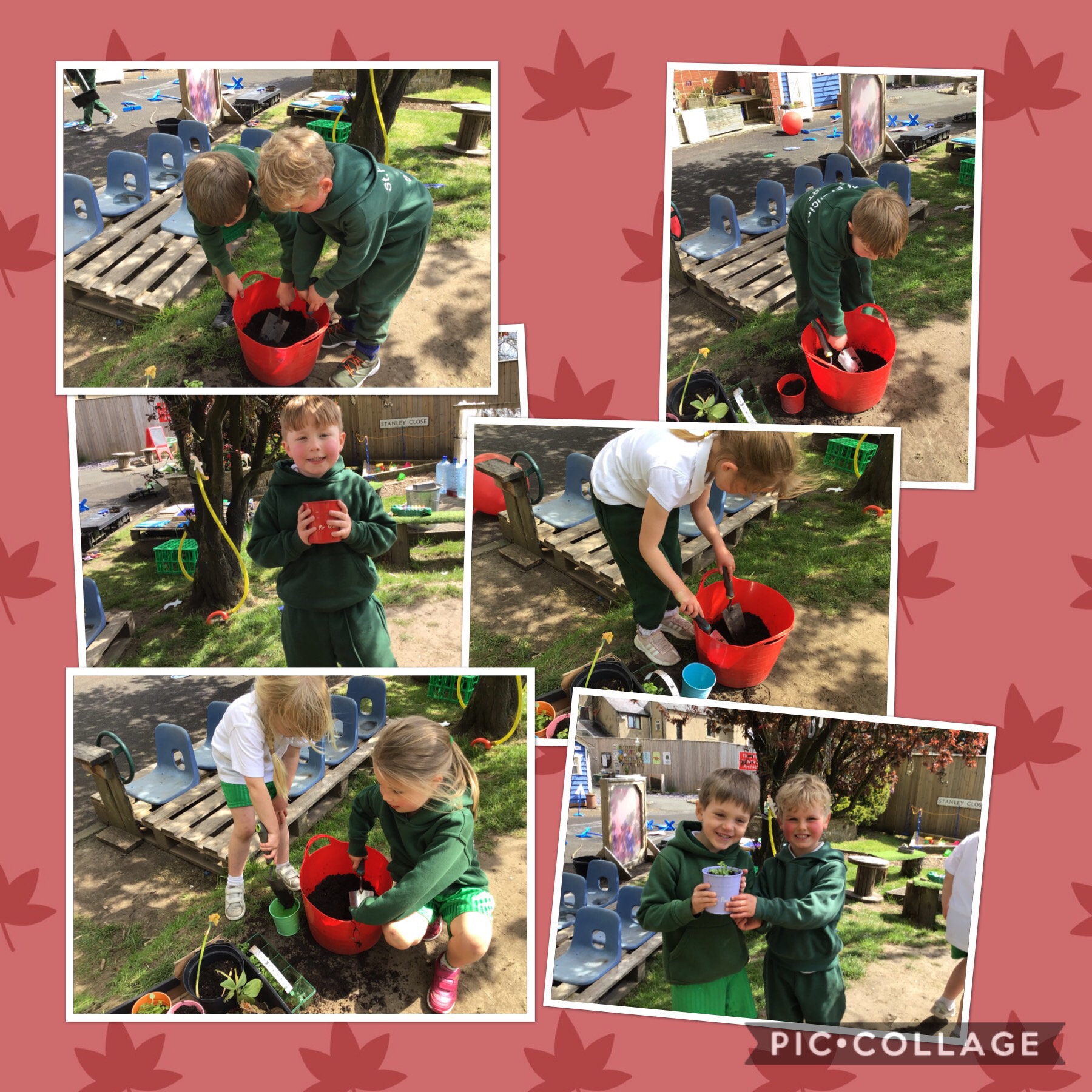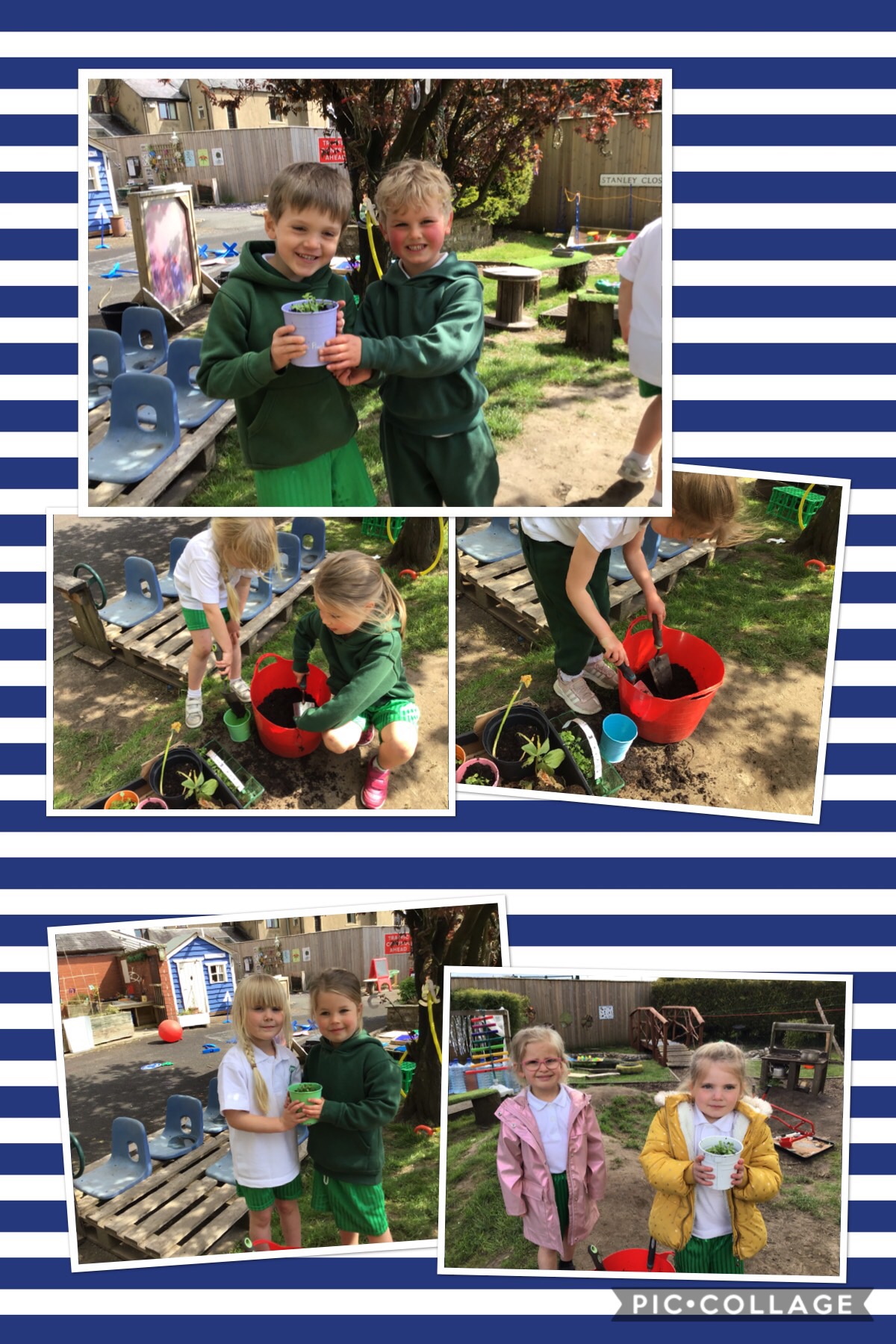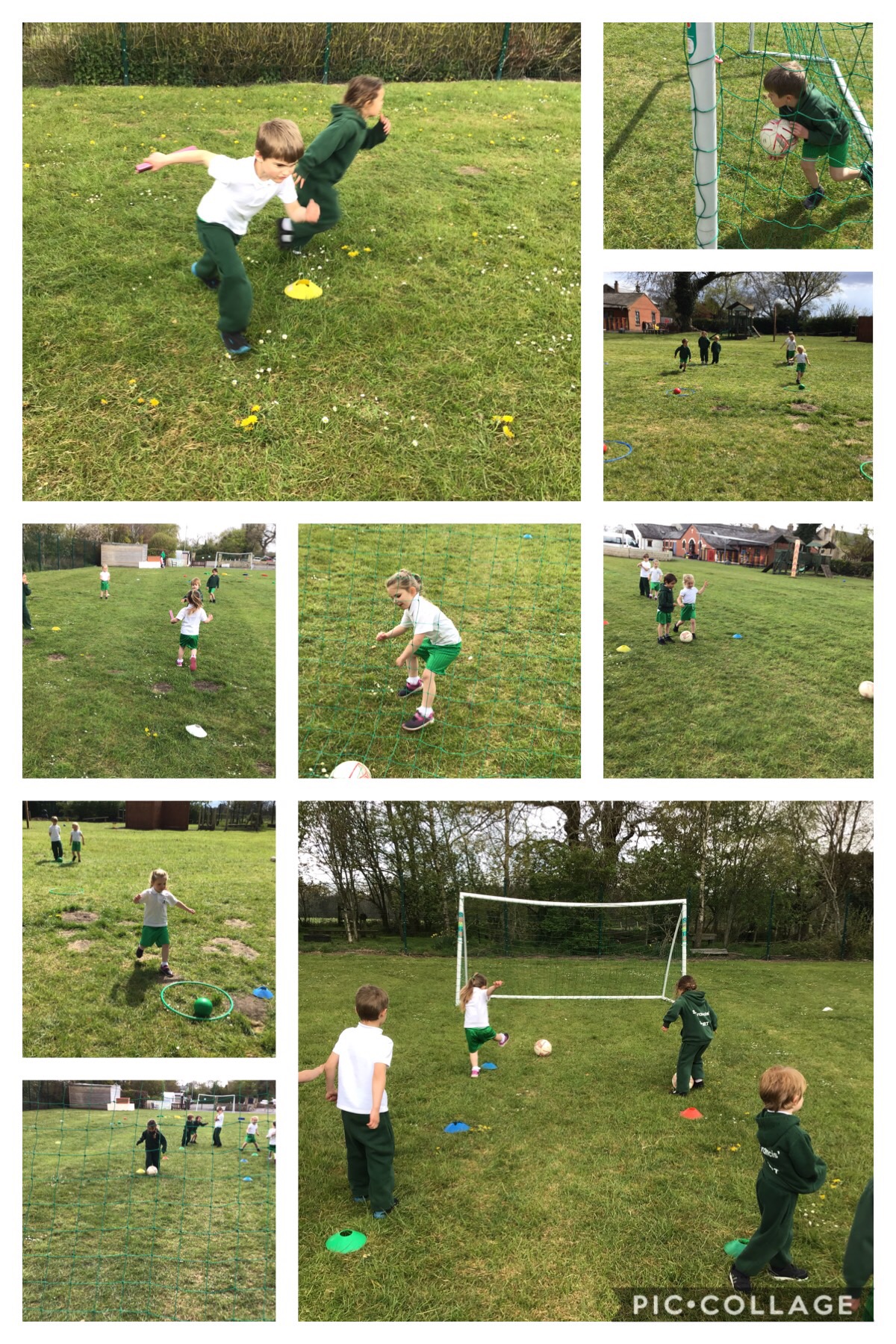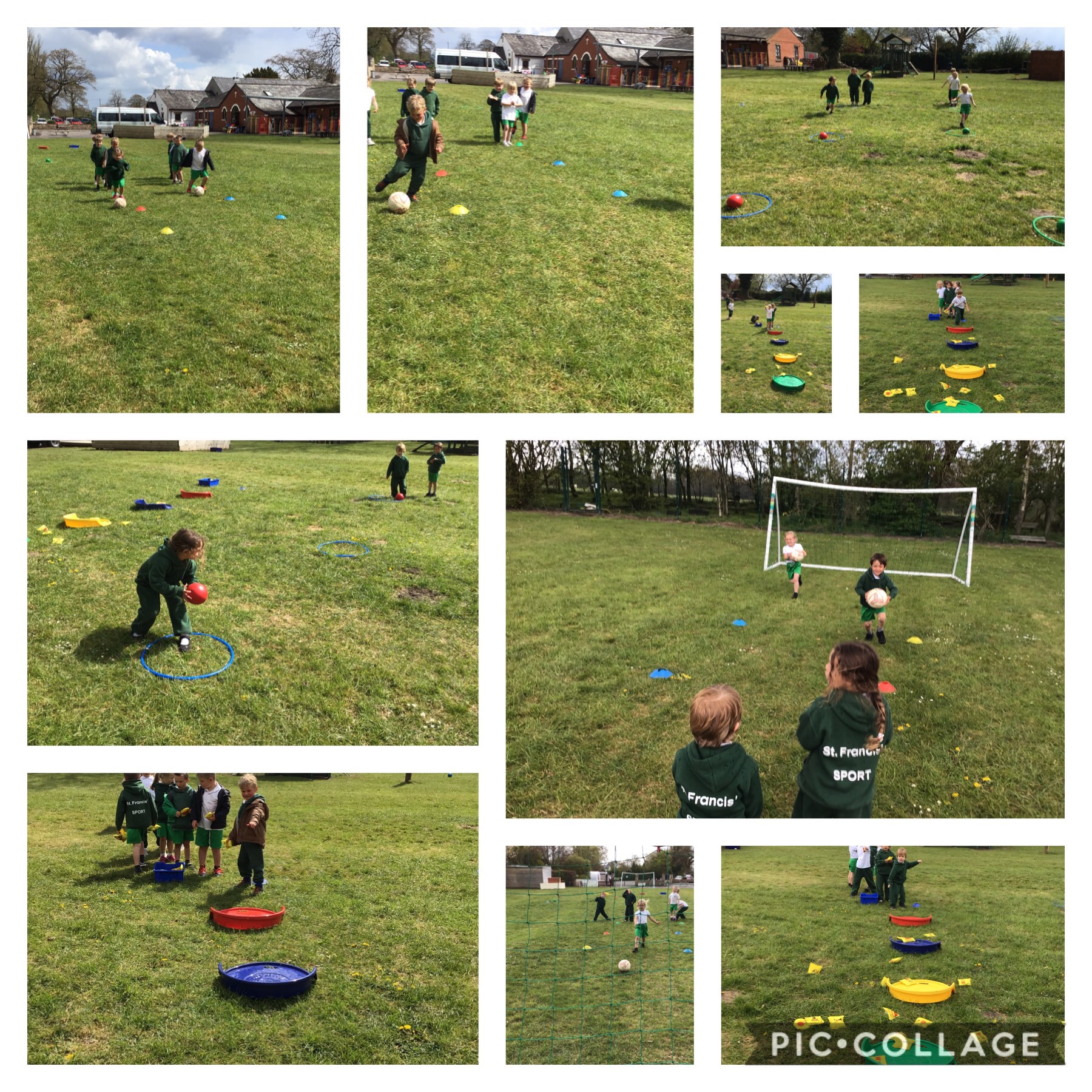 23.4.21
The sun is shining, oh what a wonderful week we have had. As we continue to delve into the wonderful world of dinosaurs with Ian Whybrow, we decided to make our very own non-fiction dinosaur booklets. They contain a huge amount of brilliant facts. As a class we worked together as a team to find in our books. After we found a fact we thought was interesting we had to type it up on an IPad. Please have a sneaky peak below to see what they look like at the moment. We have continued looking at and learning about time and we started that by sequencing a day. They ranged from our school day or our complete daily routine, the essential part was making sure it followed in time order. We also looked at half past as a class and are getting much better at understanding the positioning of the hands and where they go. We are very quick at O'clock right now. Unexpectedly, I never knew we had wild parrots in Preston but currently we have a very interesting feathered friend. Unsurprisingly, we know it will be a beloved pet so if you could share the post the school shared to try and track down the owner, we would greatly appreciate it. The children have enjoyed our feathered friend this week and we have provided him with food and water too. In P.E we have applied a range of skills and even added a team element to these games where we have to rely on our listening ears. We have had a few suspicious attempts at our skills race, but the children gave it 100% and had lots of fun trying their best. As we are continuously watching our tadpoles grow and caring for them we created a water colour picture of them. The aim is to label our paintings and better observe the changes in the lifecycle of a frog. It is truly fascinating. I hope you all have a lovely weekend and see you all Monday – take care.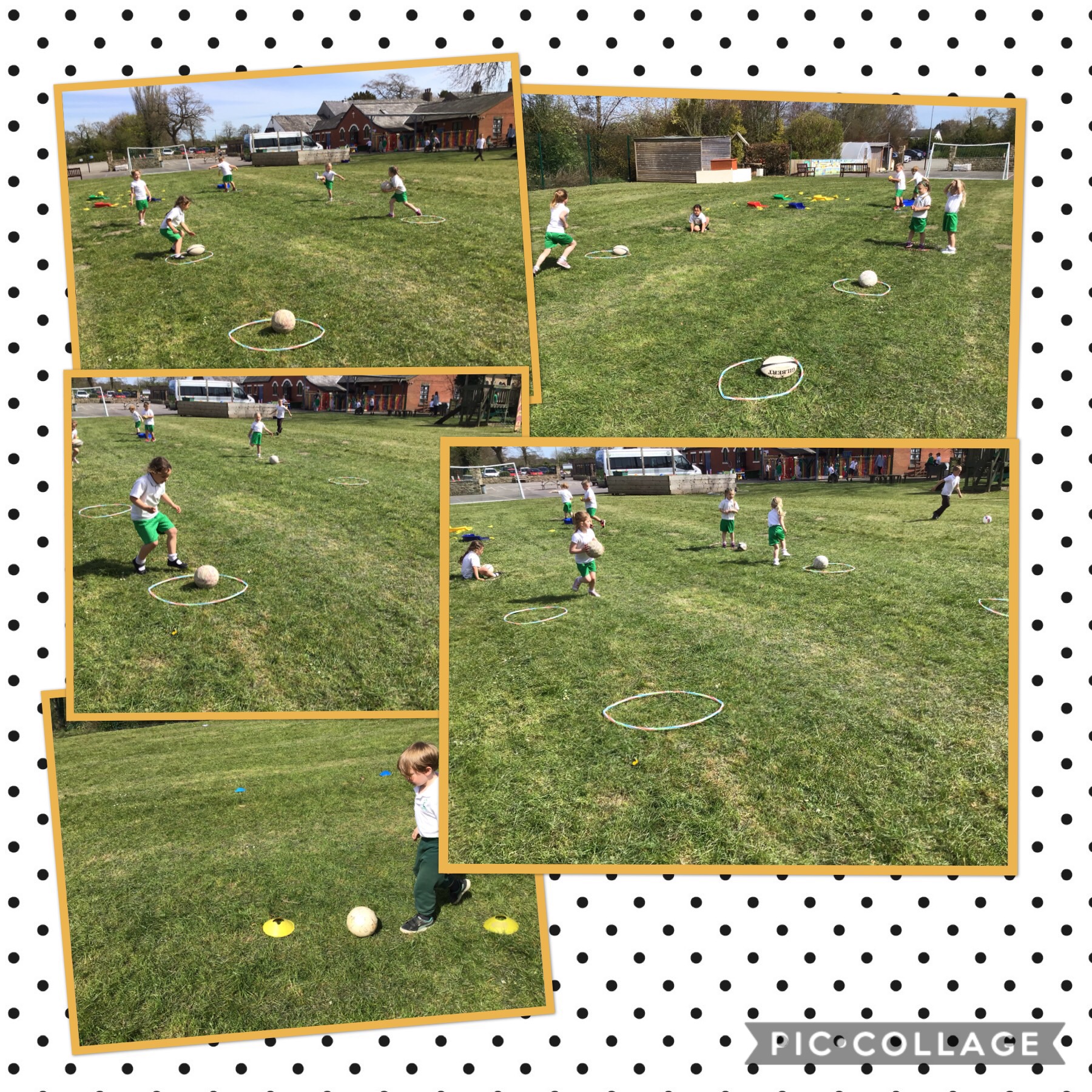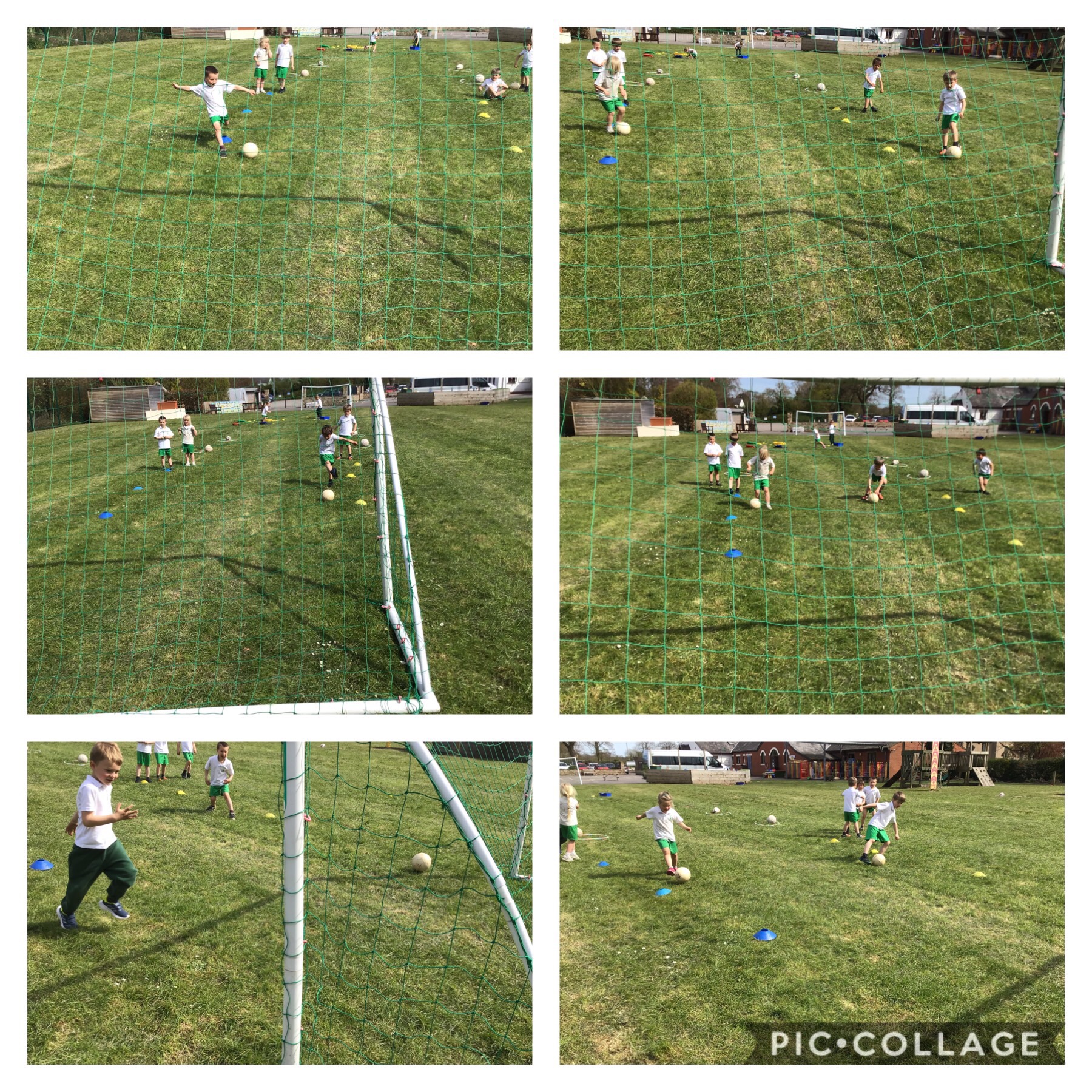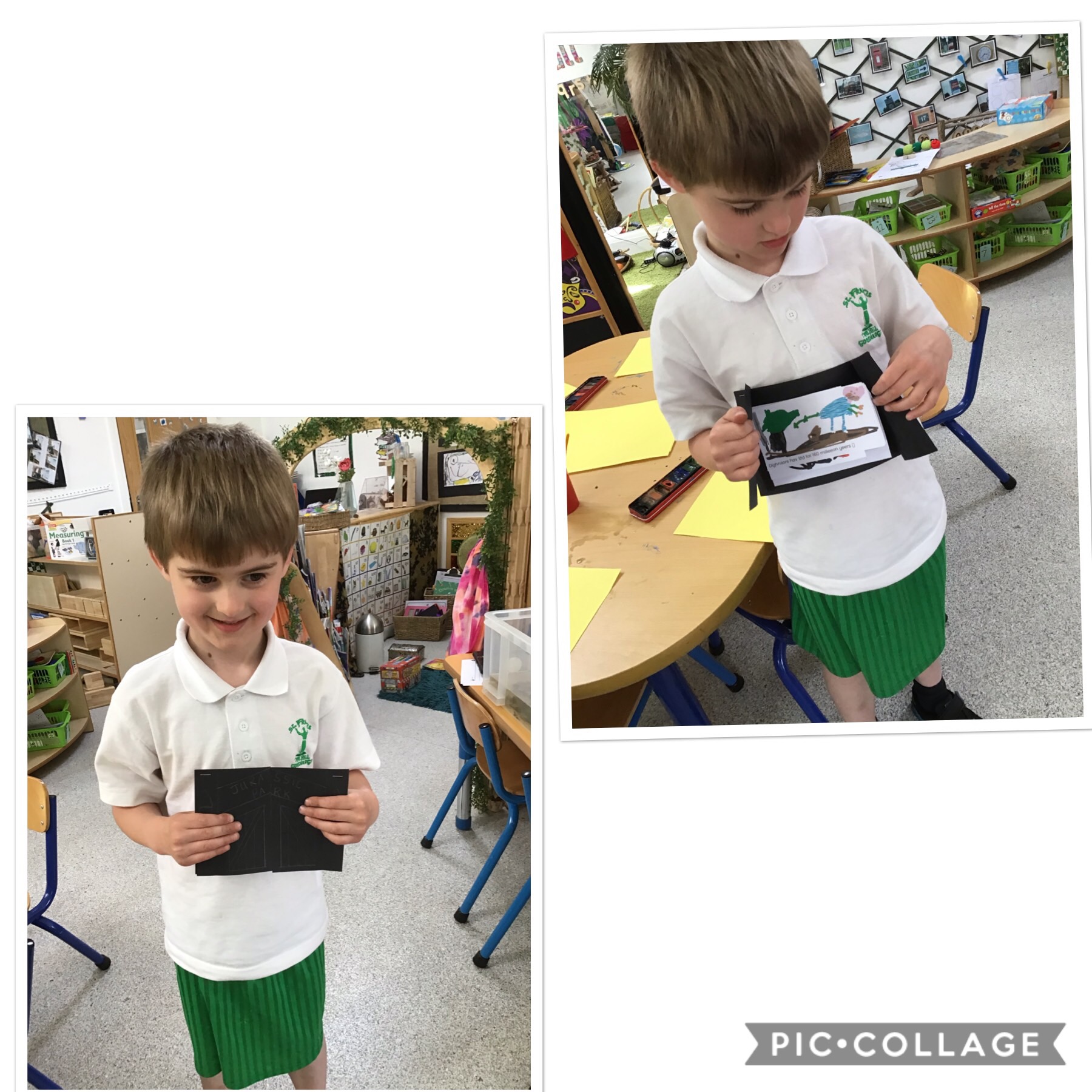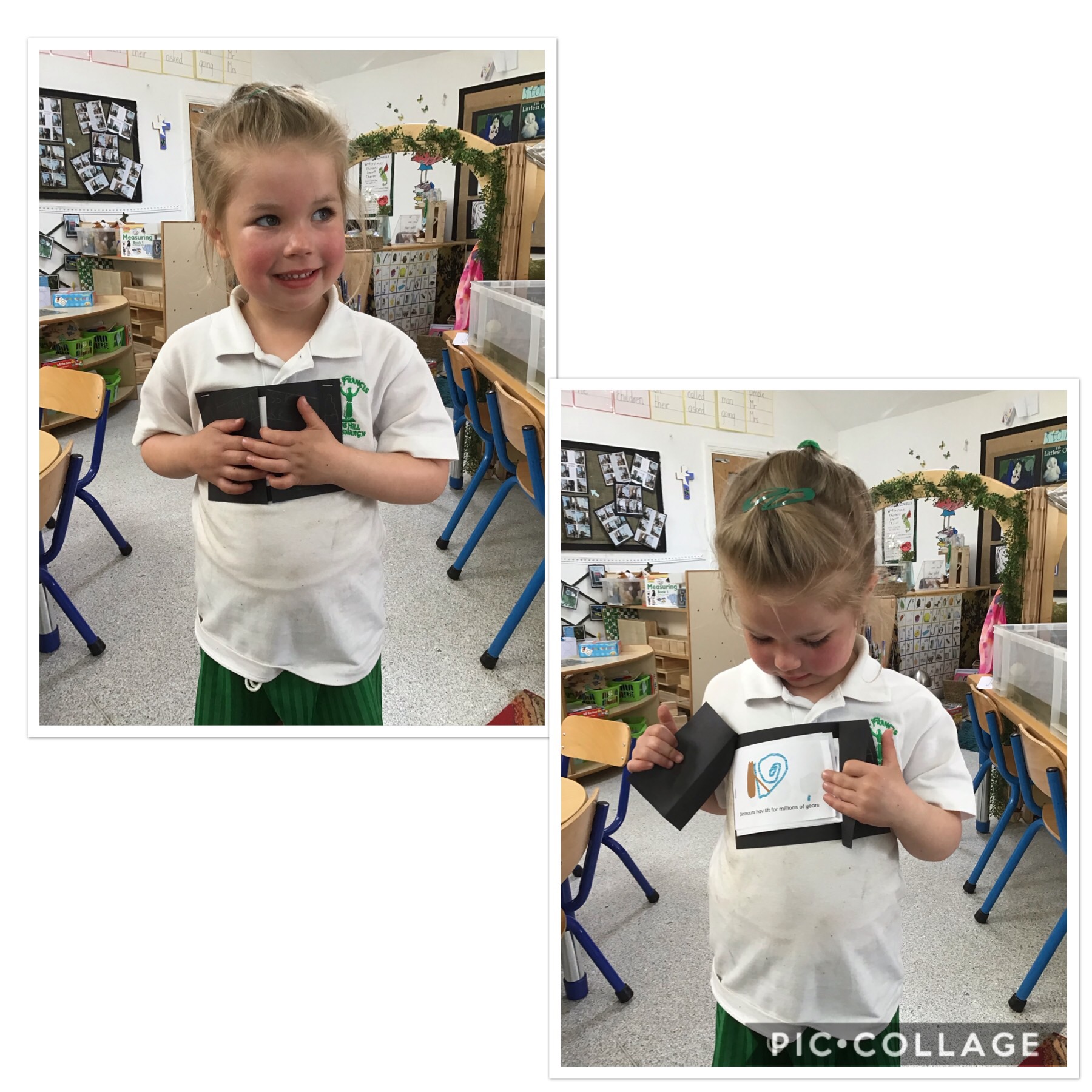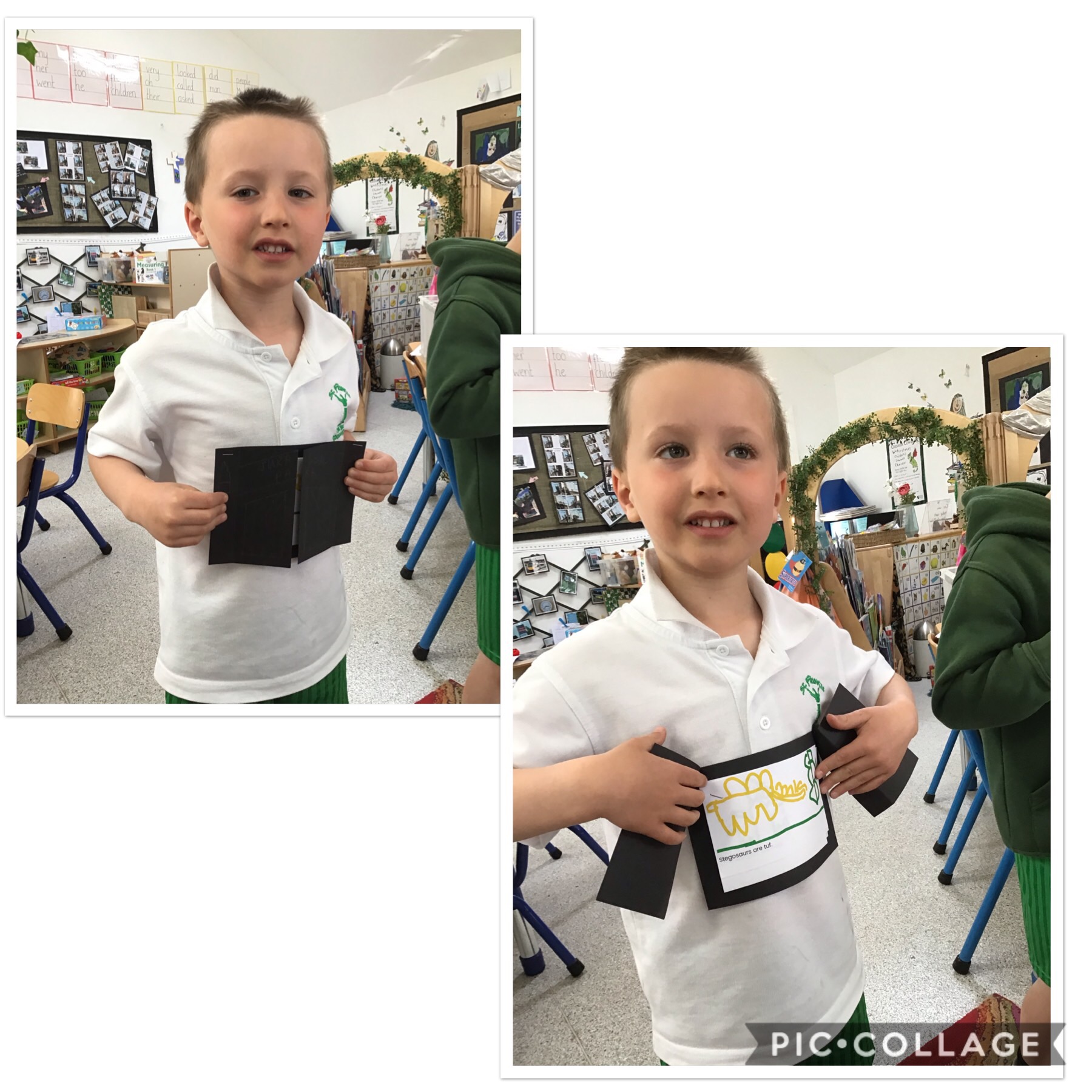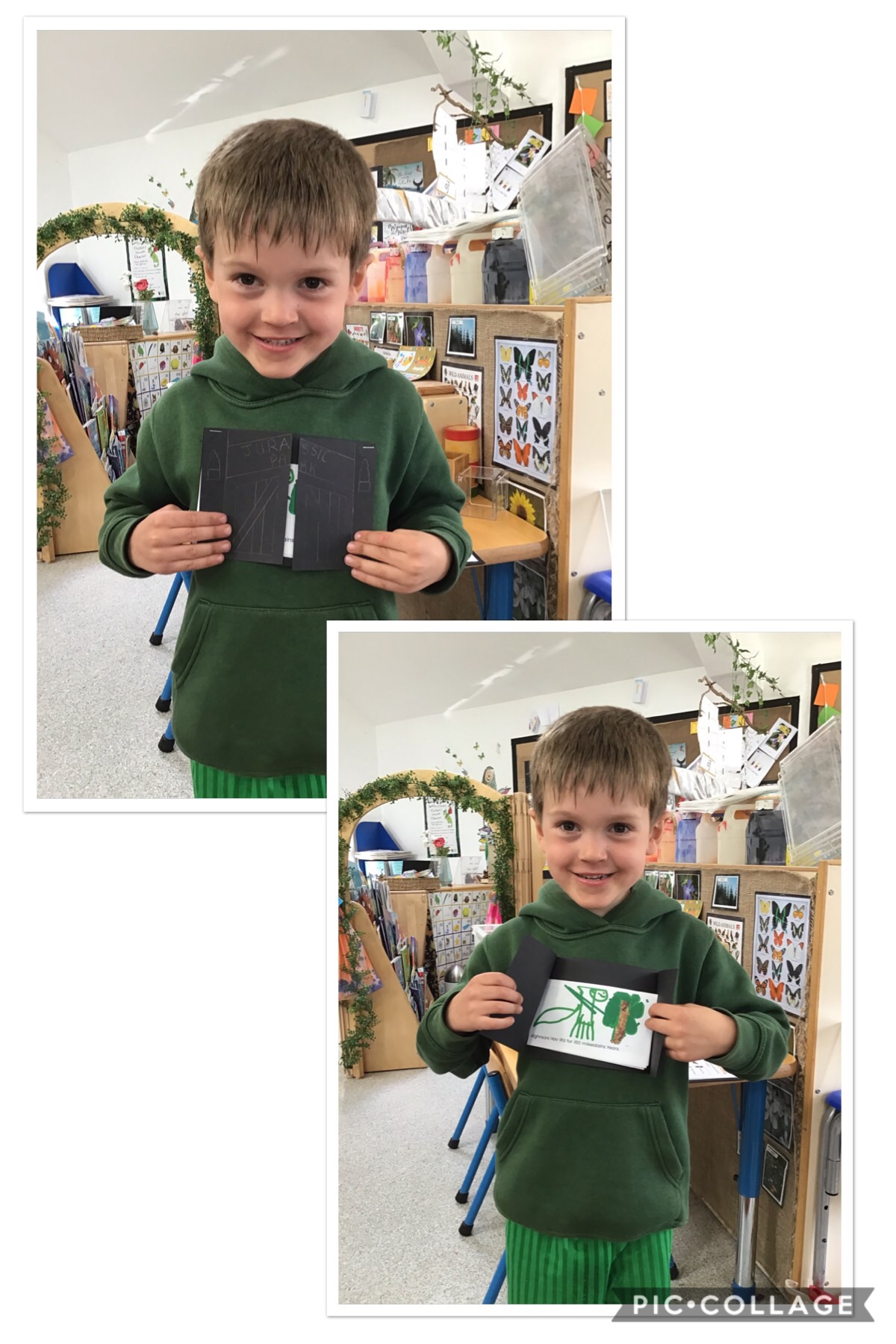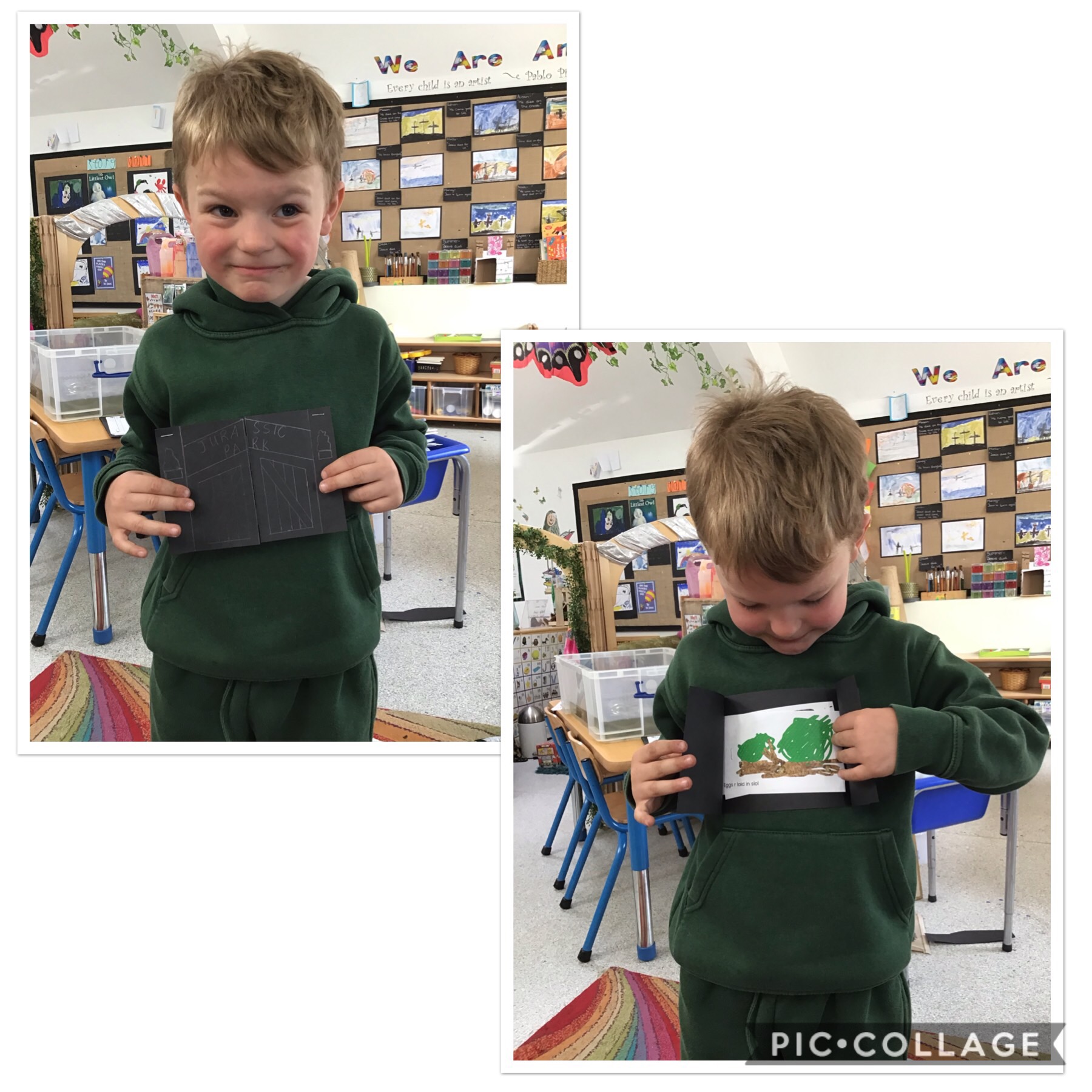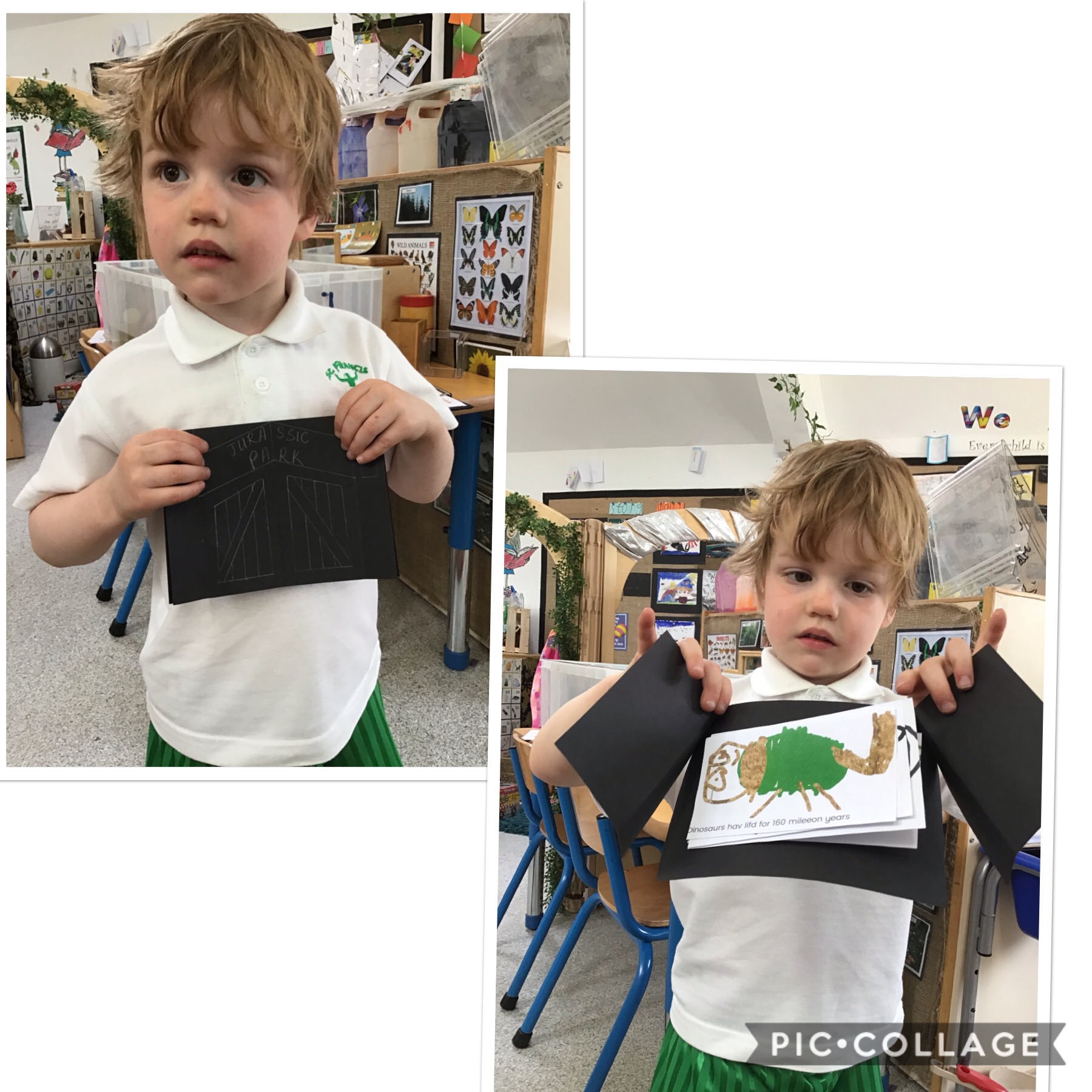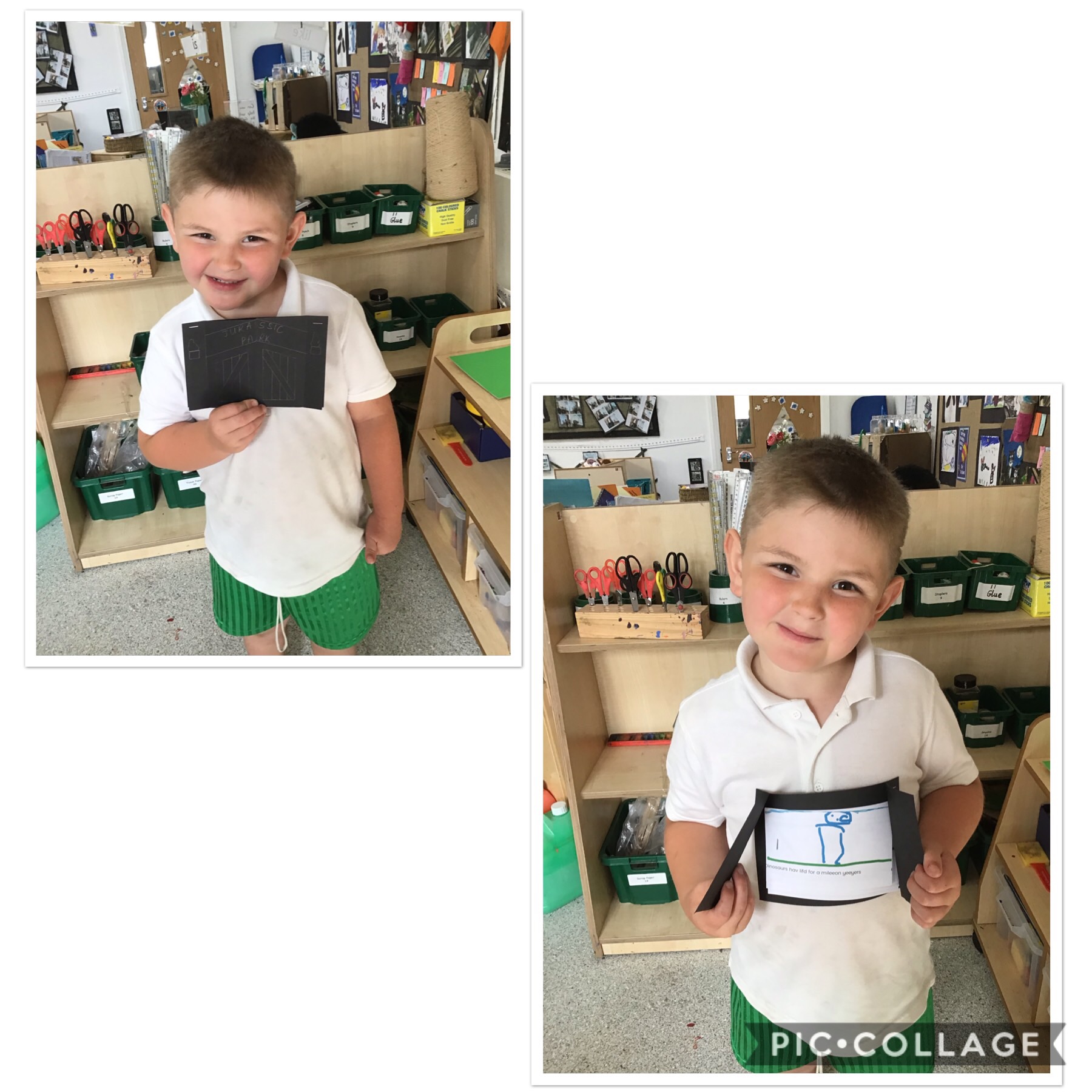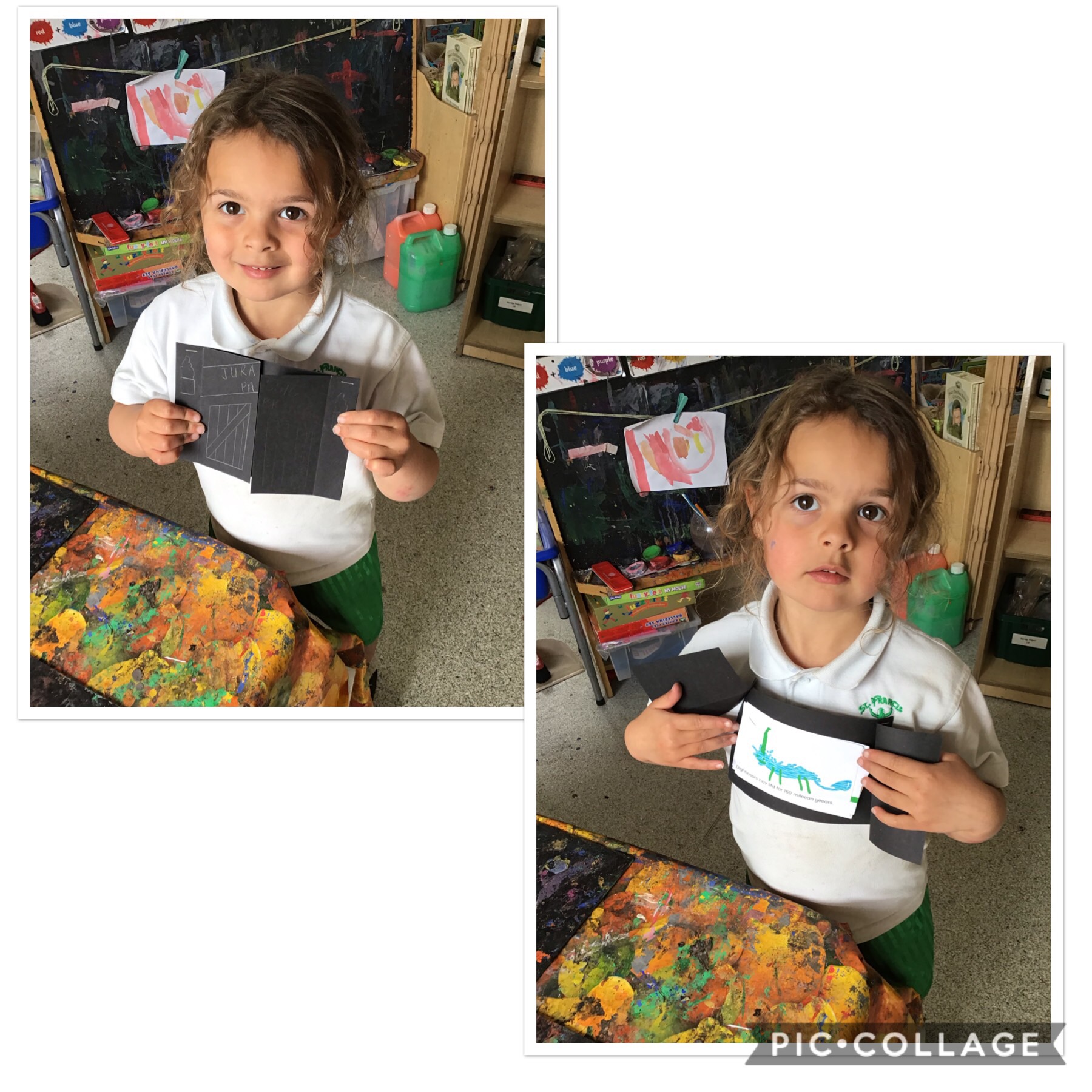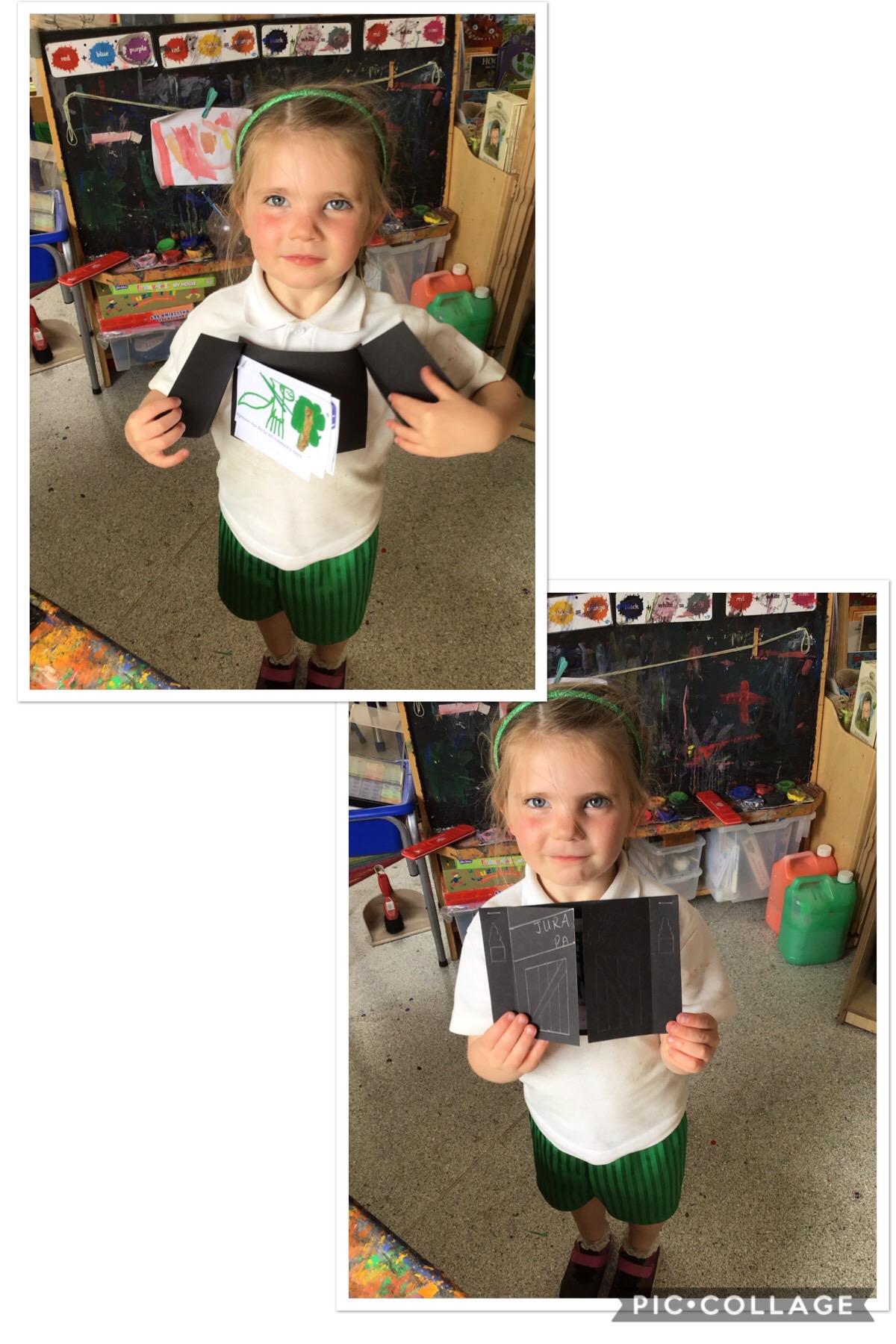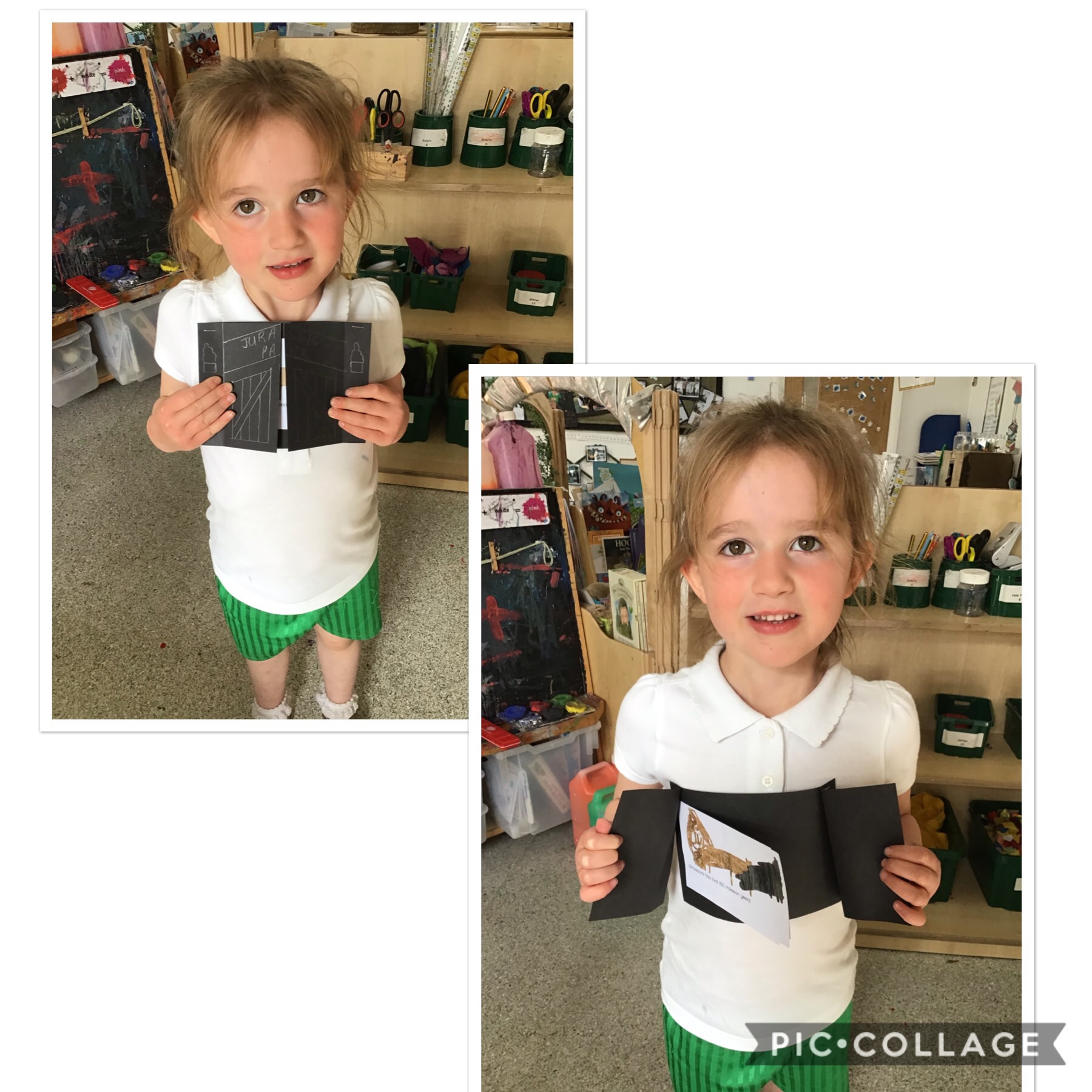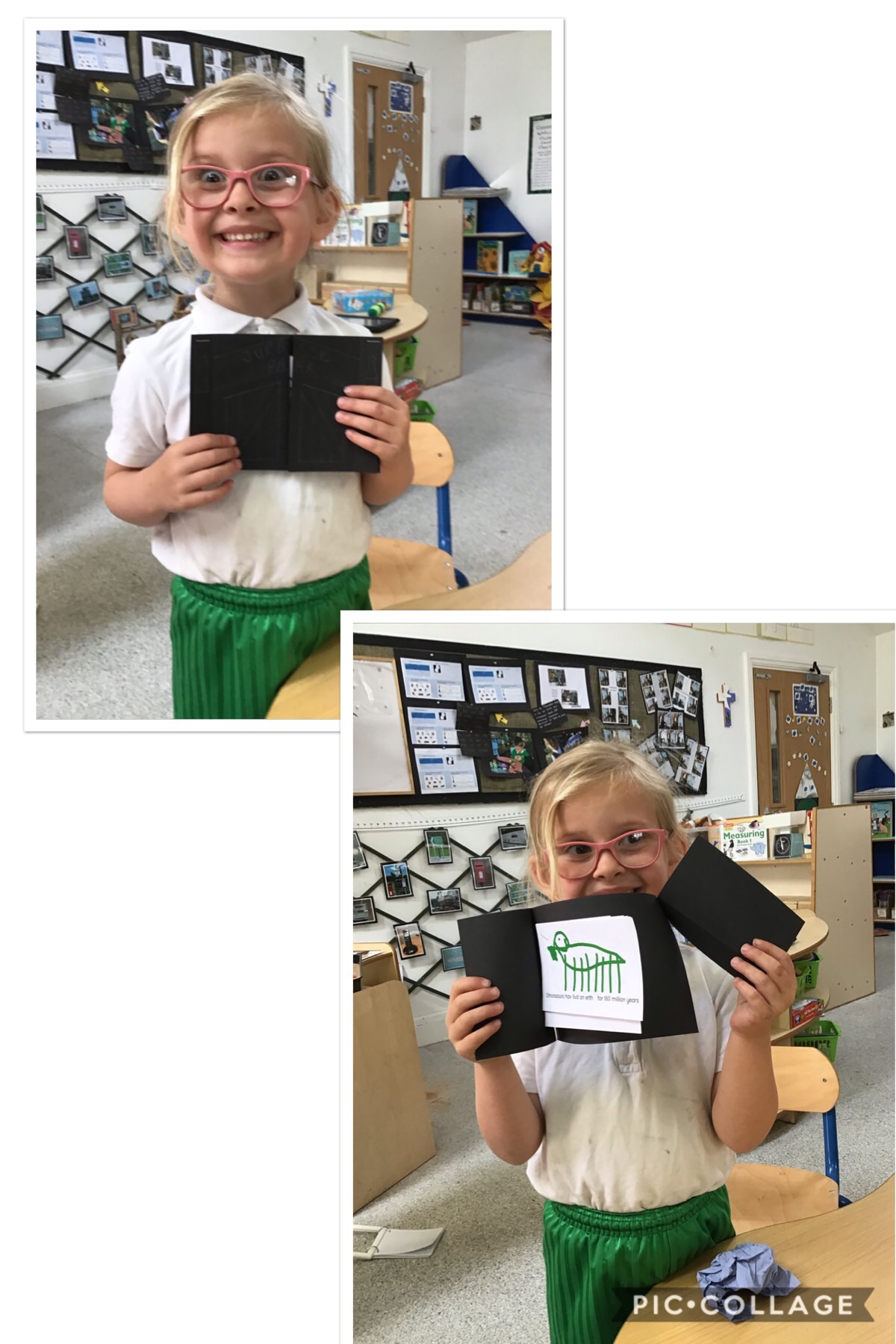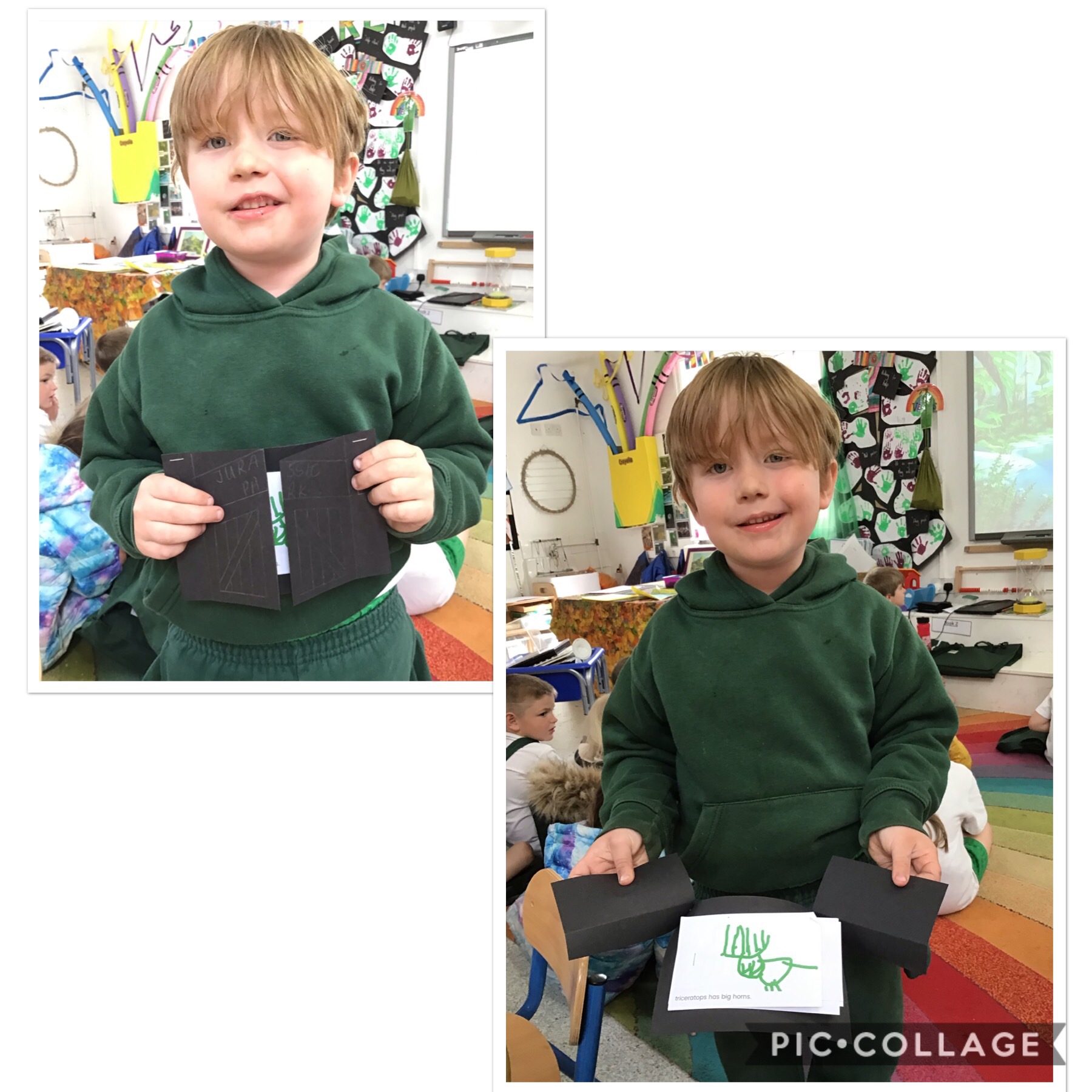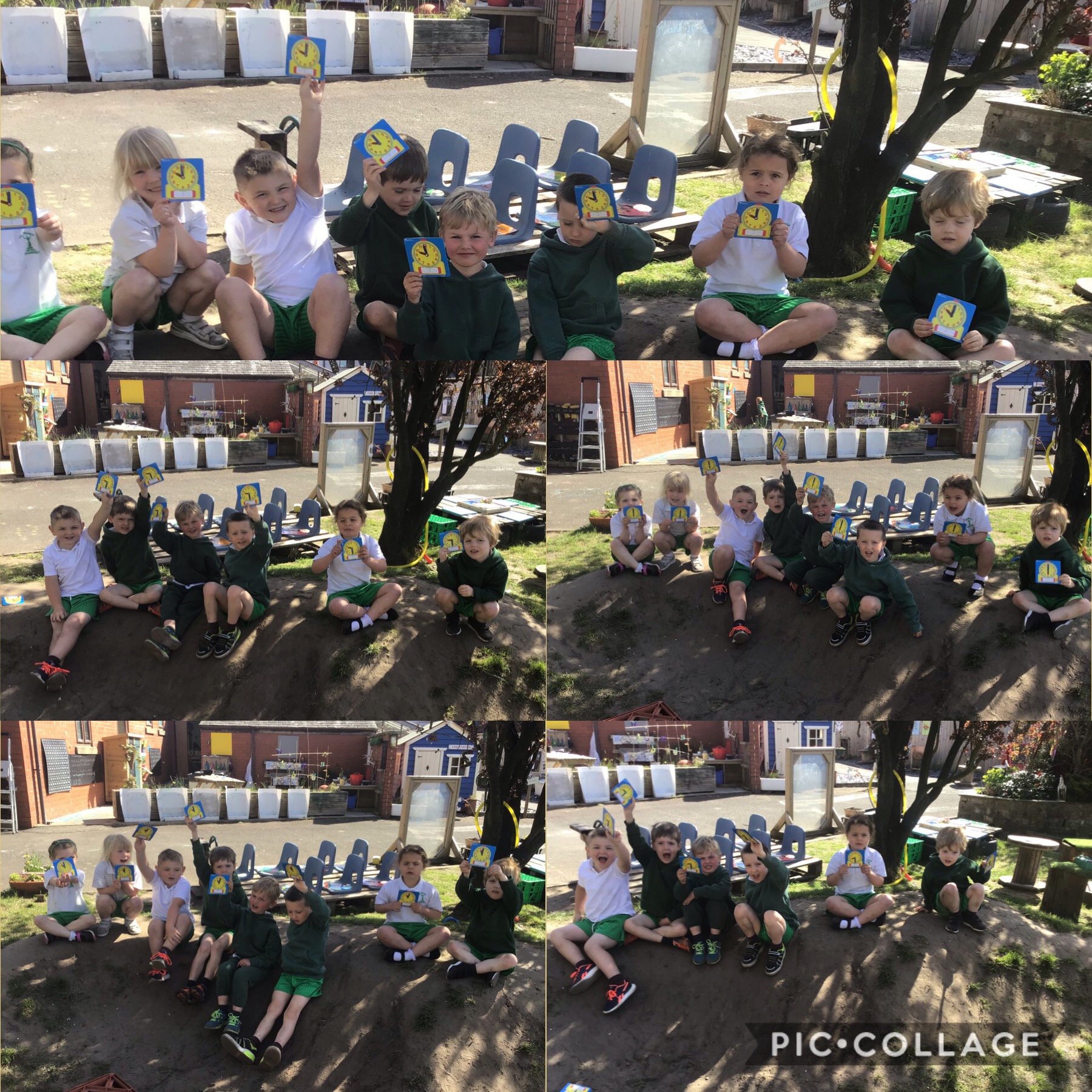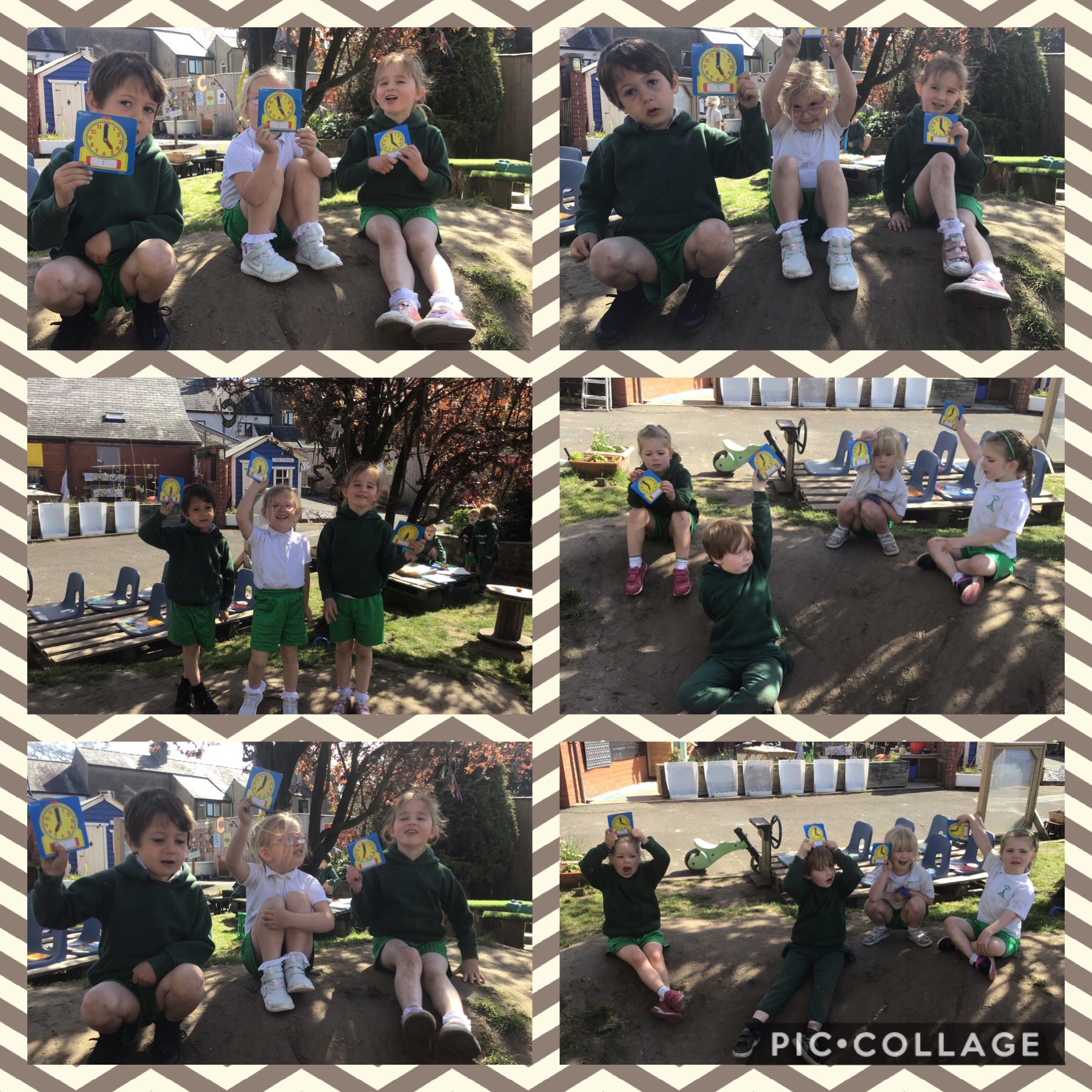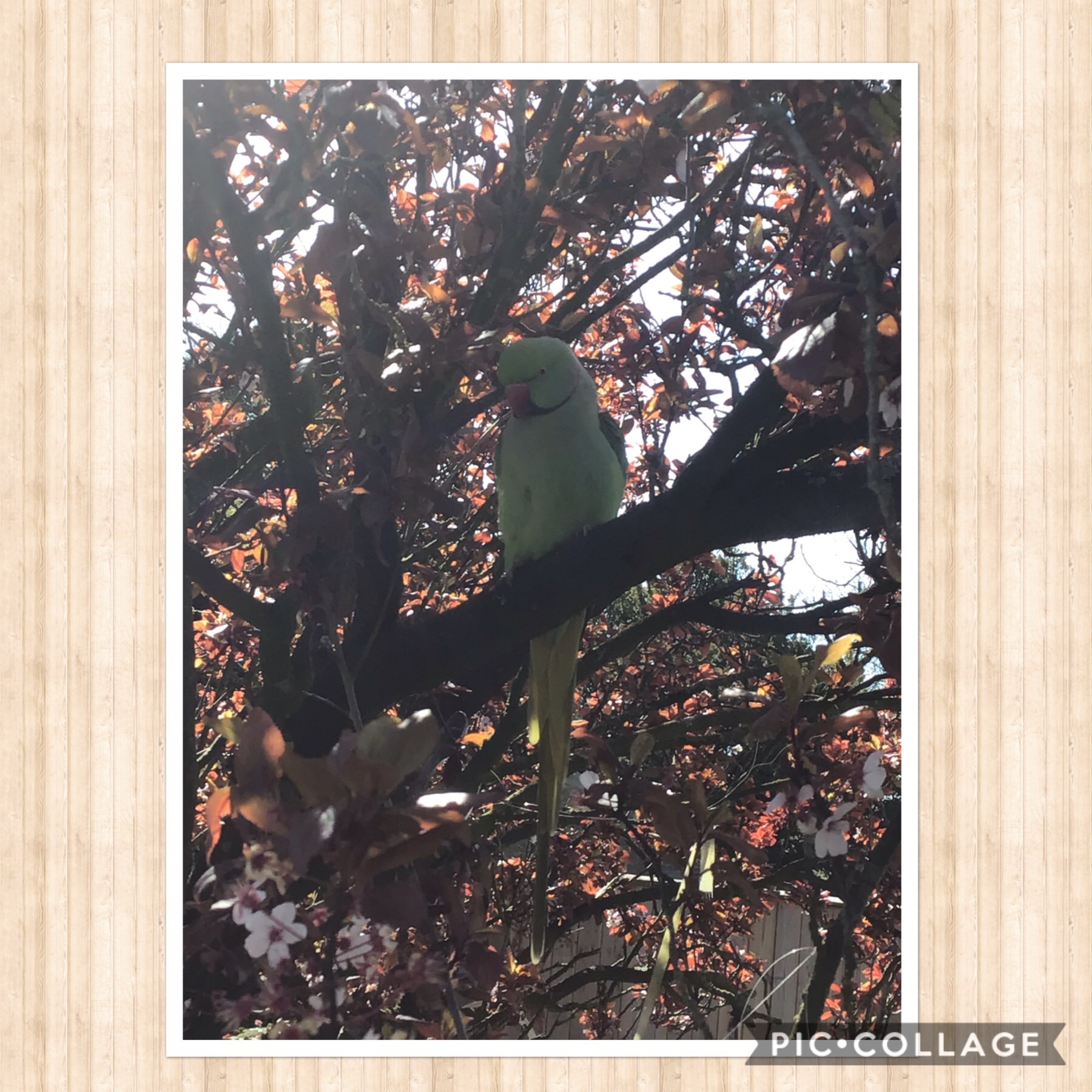 16.4.21
The first week is down and 6 more to go, as we know it will fly by! Pendle Class received a lovely letter in the post this week asking us to enter a riddle competition. Of course we entered and have risen to the challenge! We have had riddles about, unicorns, jaguars and tractors to name a few. It will end with a very special surprise at the end of term, so I shall have to keep you all in suspense. Miss Deakin shared the story of 'Doubting Thomas' this week and we have tried our best to break down a tricky story together. We used some of the striking art work related to the story to illustrate a key part of it and then wrote about the scene we created. We are loving the tales of Harry and the Bucketful of Dinosaurs by Ian Whybrow, we even created our own version of his tale this week. In mathematics we have really hit the ground running and children were looking at the key features of a clock. Once the clock was understood we decided how to create O'clock for a specific time. Ensuring that children realise that the minute hand completing one full rotation is an hour – tricky stuff. A massive thank you for Mrs Foy for bringing in tadpoles and feed for us, they have captivated the class. They have the joy of spending the weekend at my house, I am sure my partner will be delighted. In P.E we are moving onto key fundamental balls skills, not just with our hands, but our feet too. We all had great fun dribbling, throwing and pinching a dinosaur egg through obstacles. To cap off a brilliant week, we used Ipads to begin our research into dinosaurs and labelled key features of them, we will be using this information next week – I cannot wait! I hope you all have a lovely weekend and see you all Monday.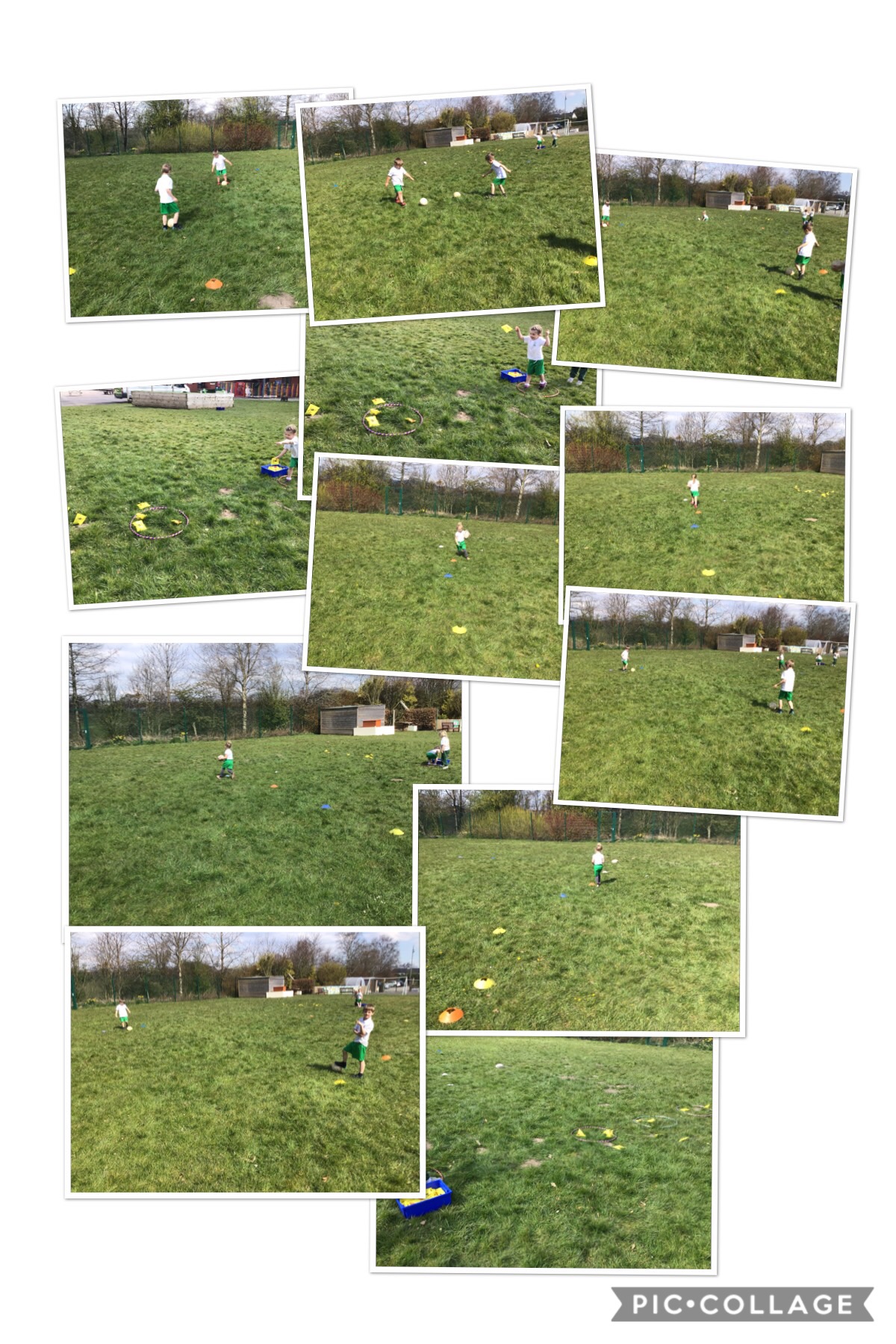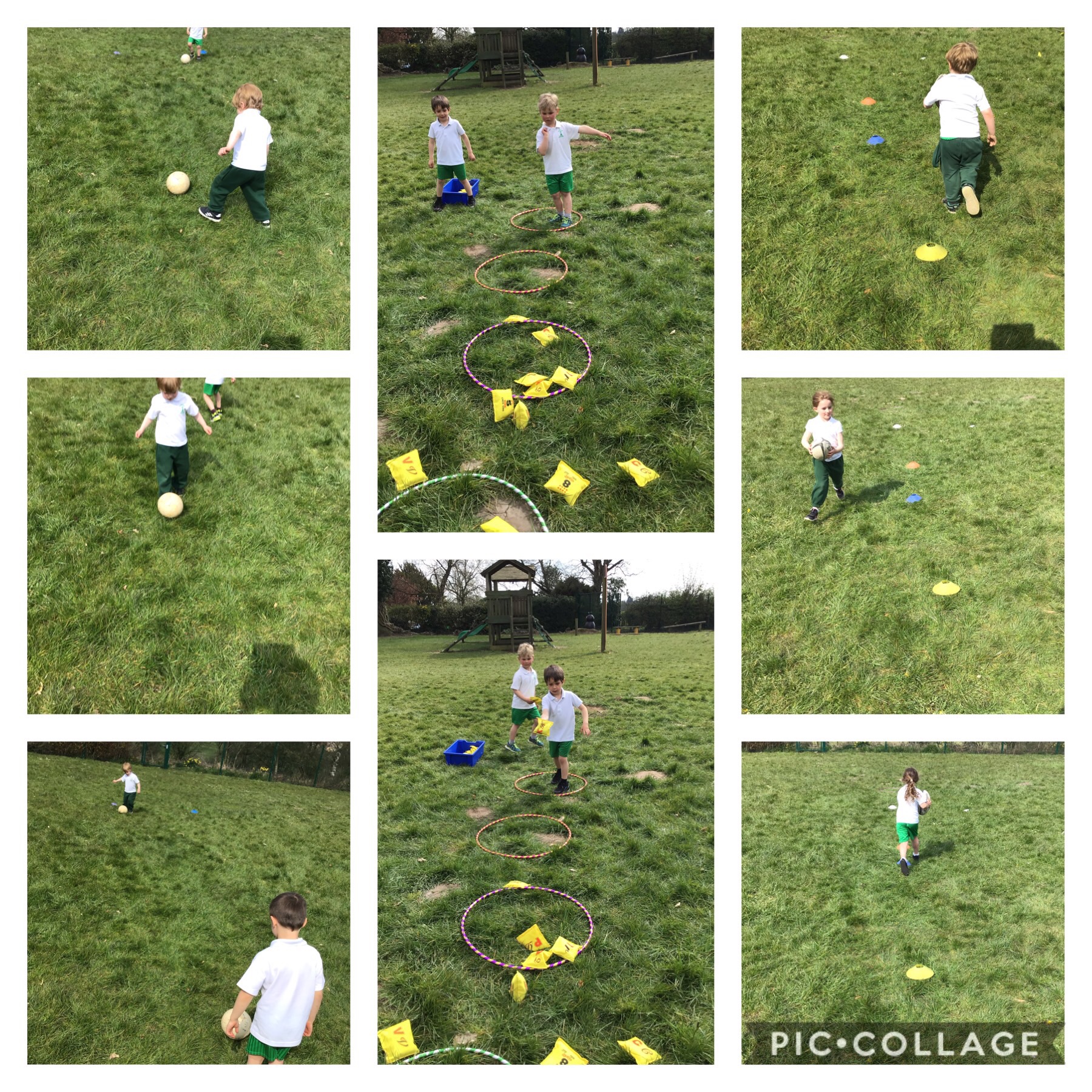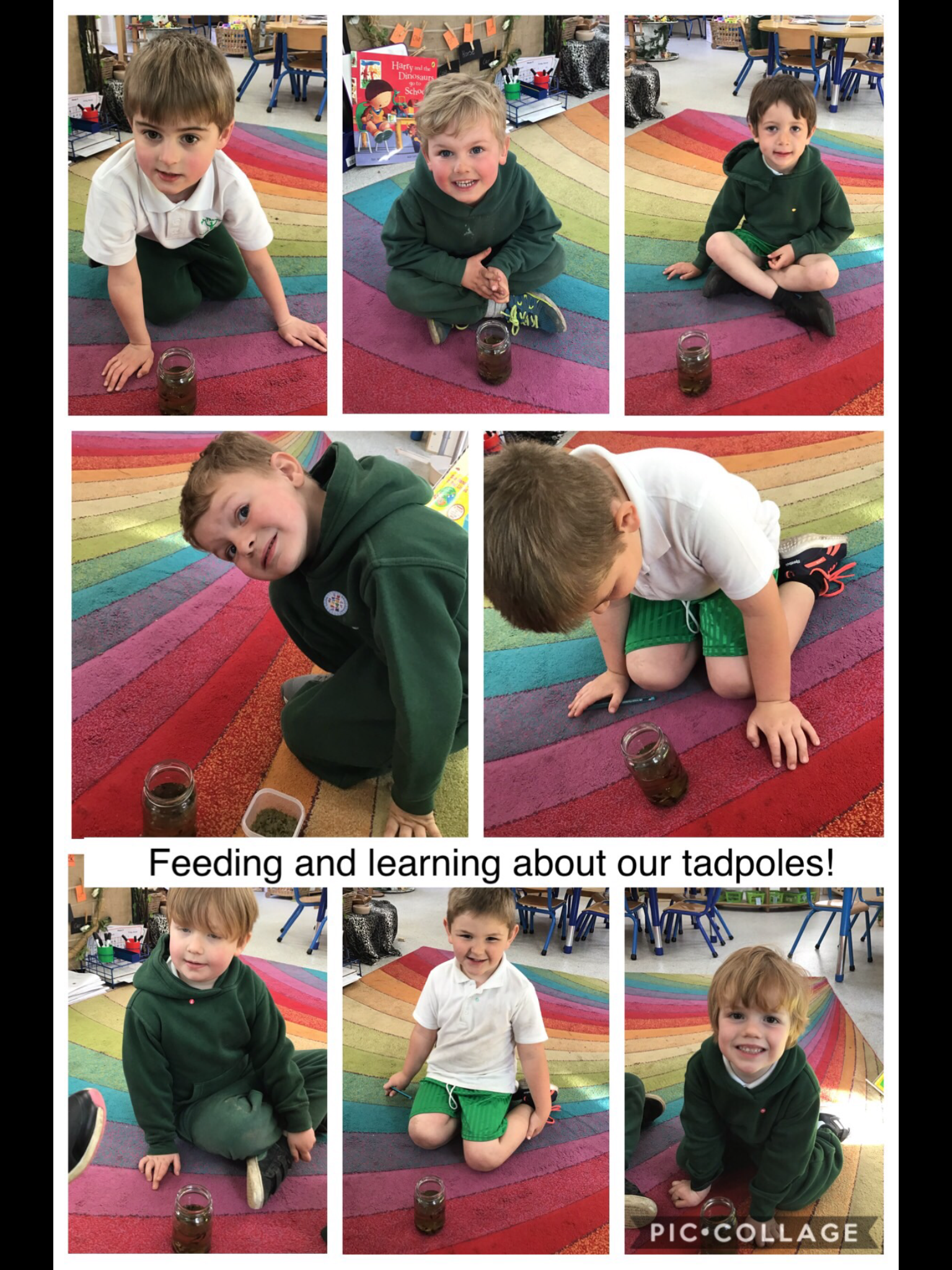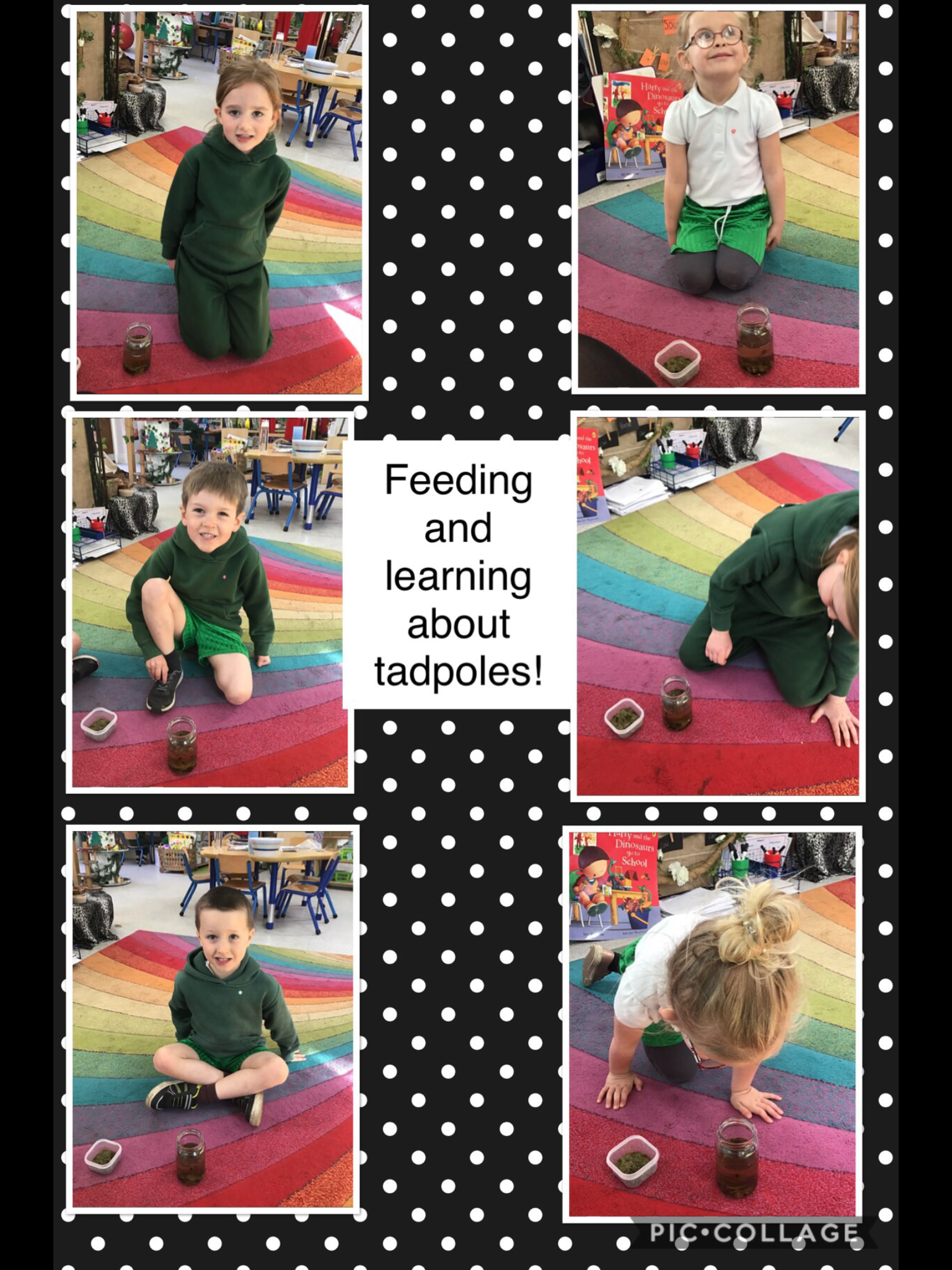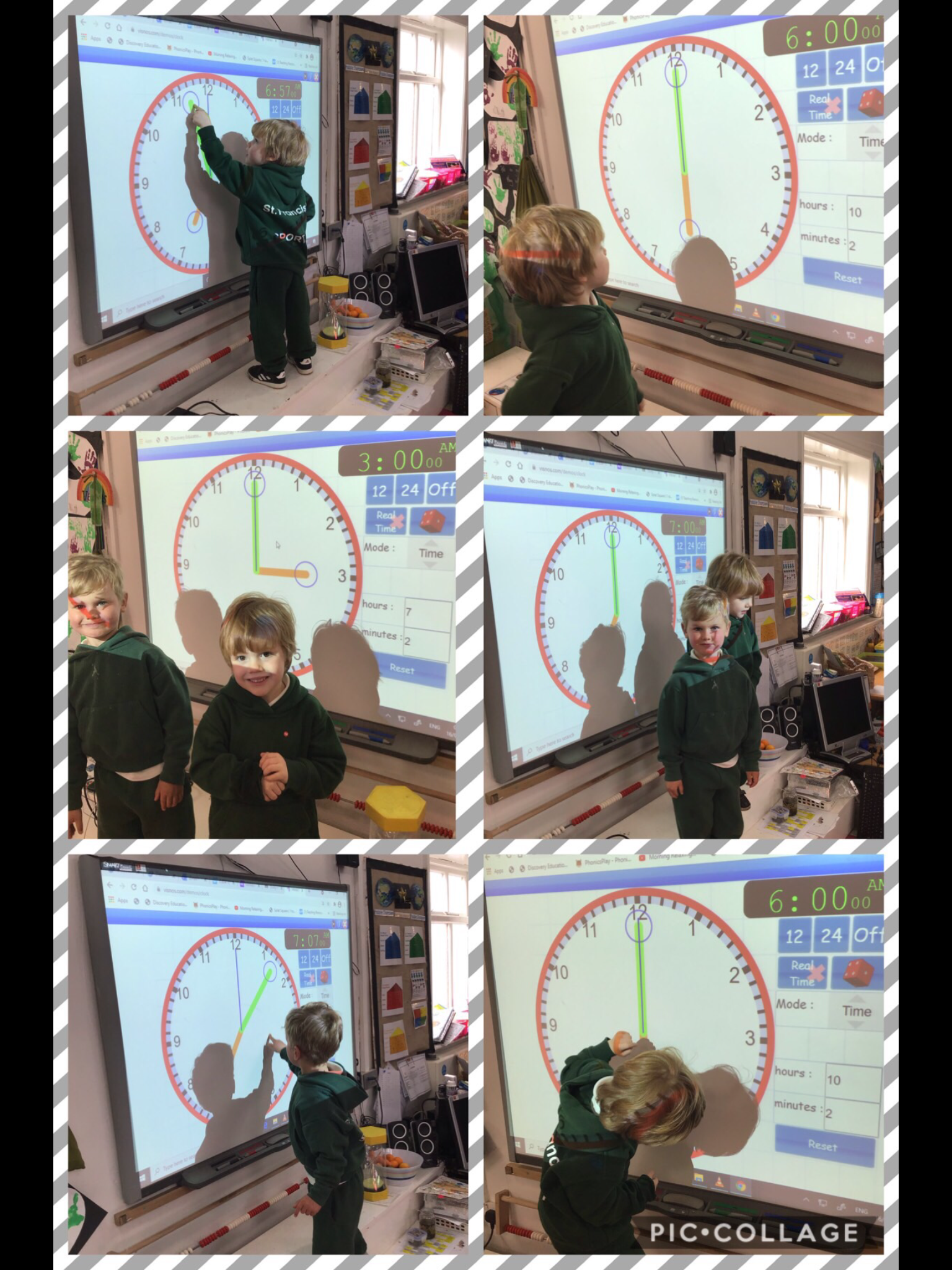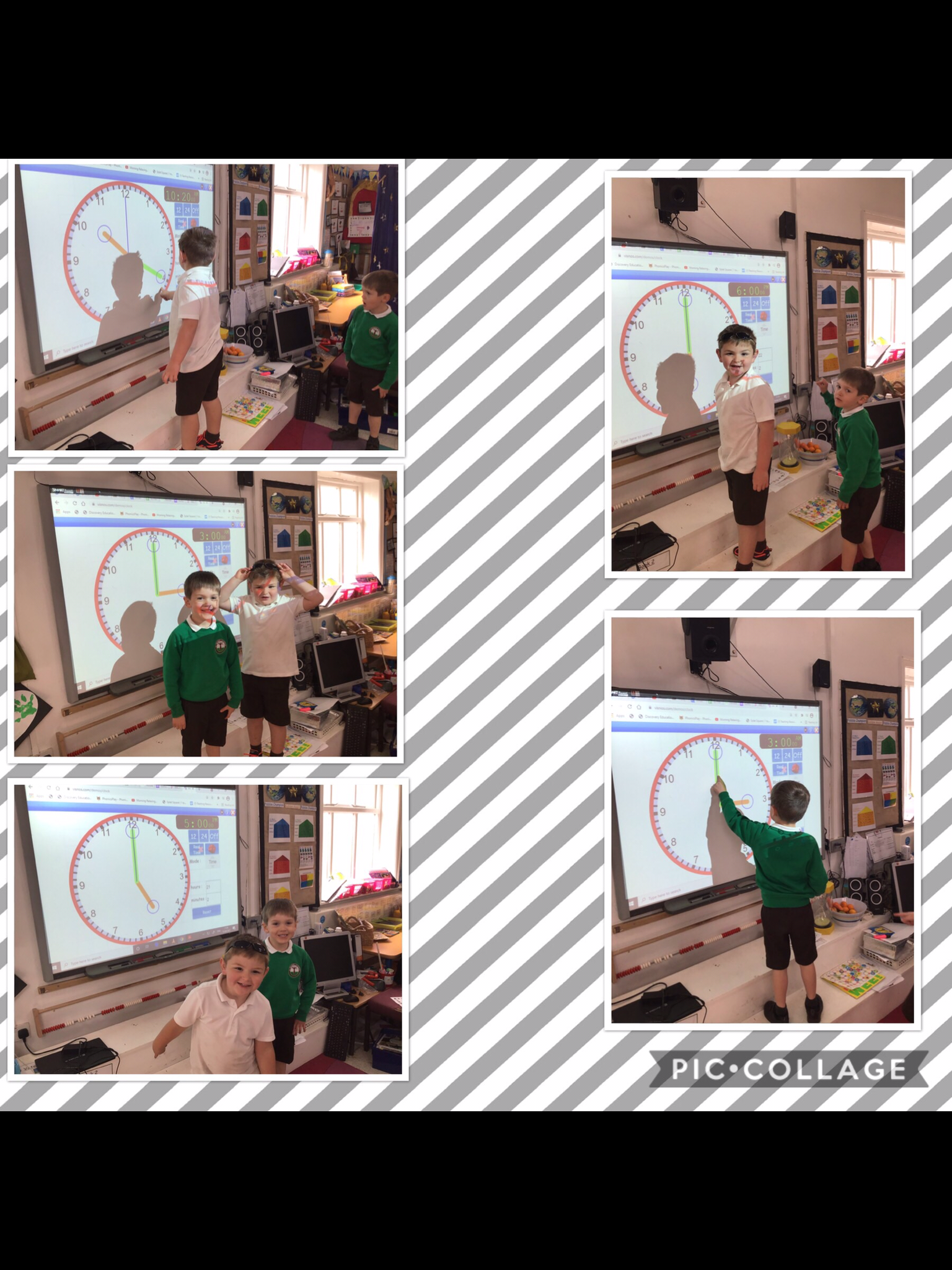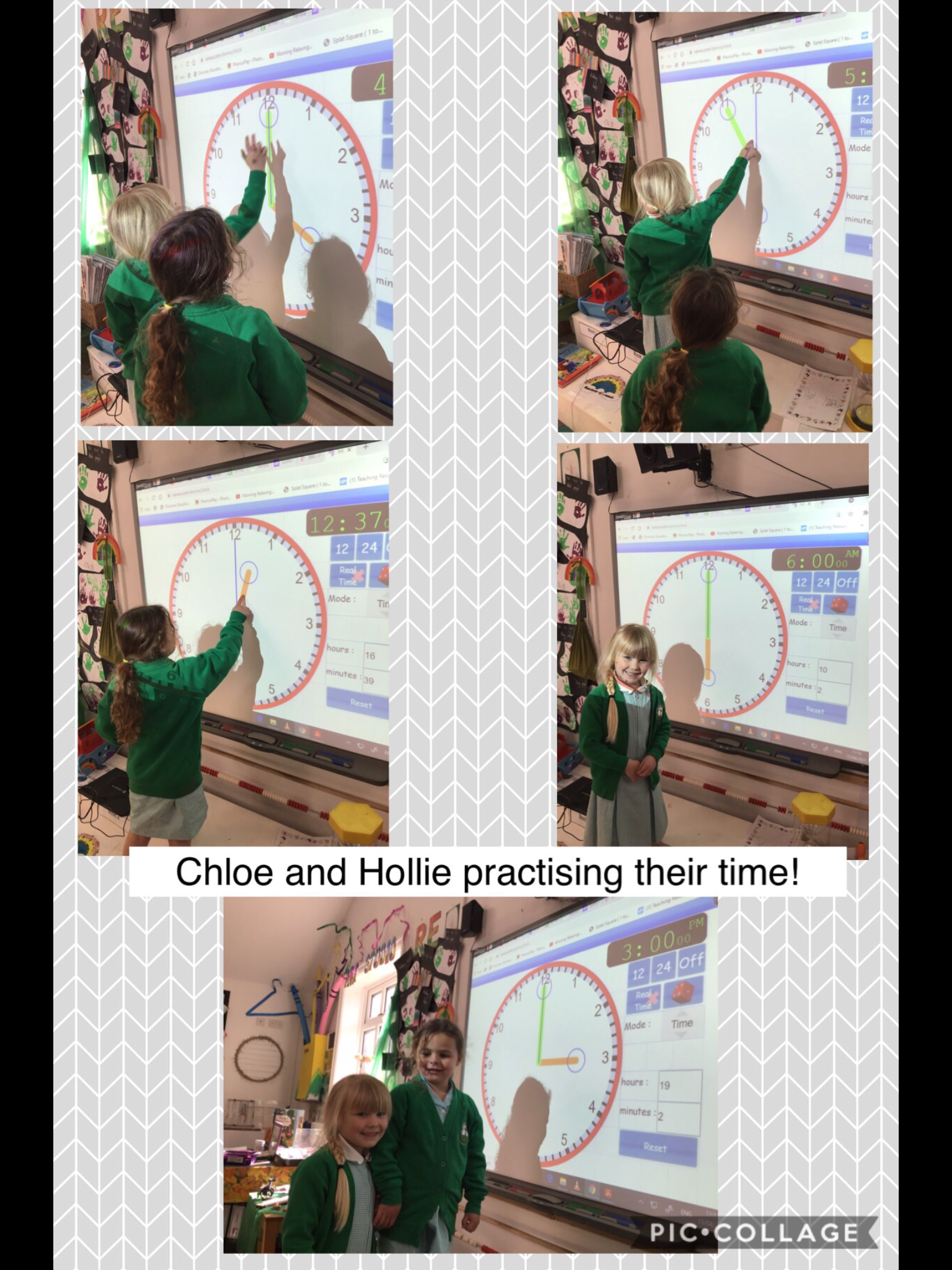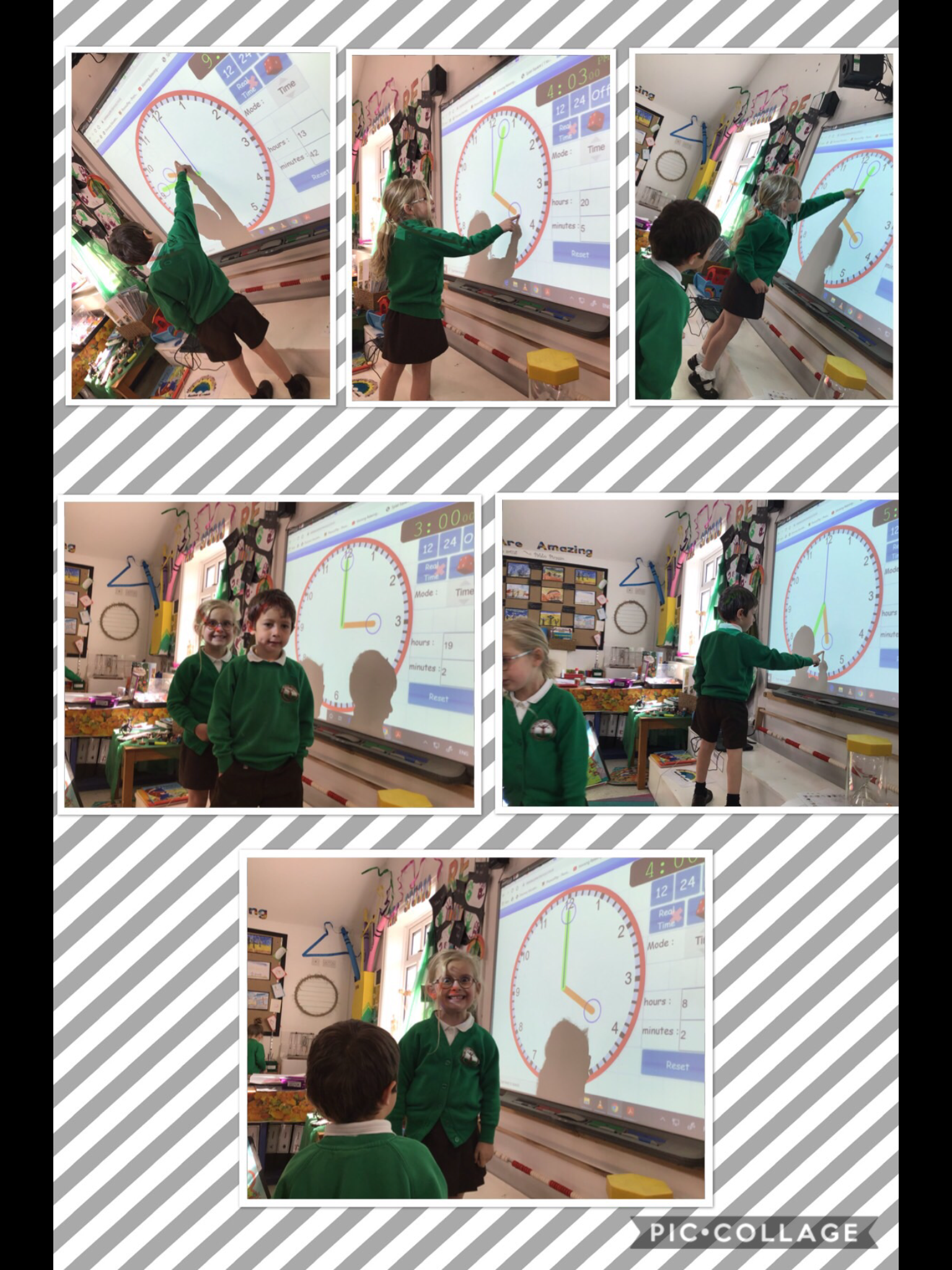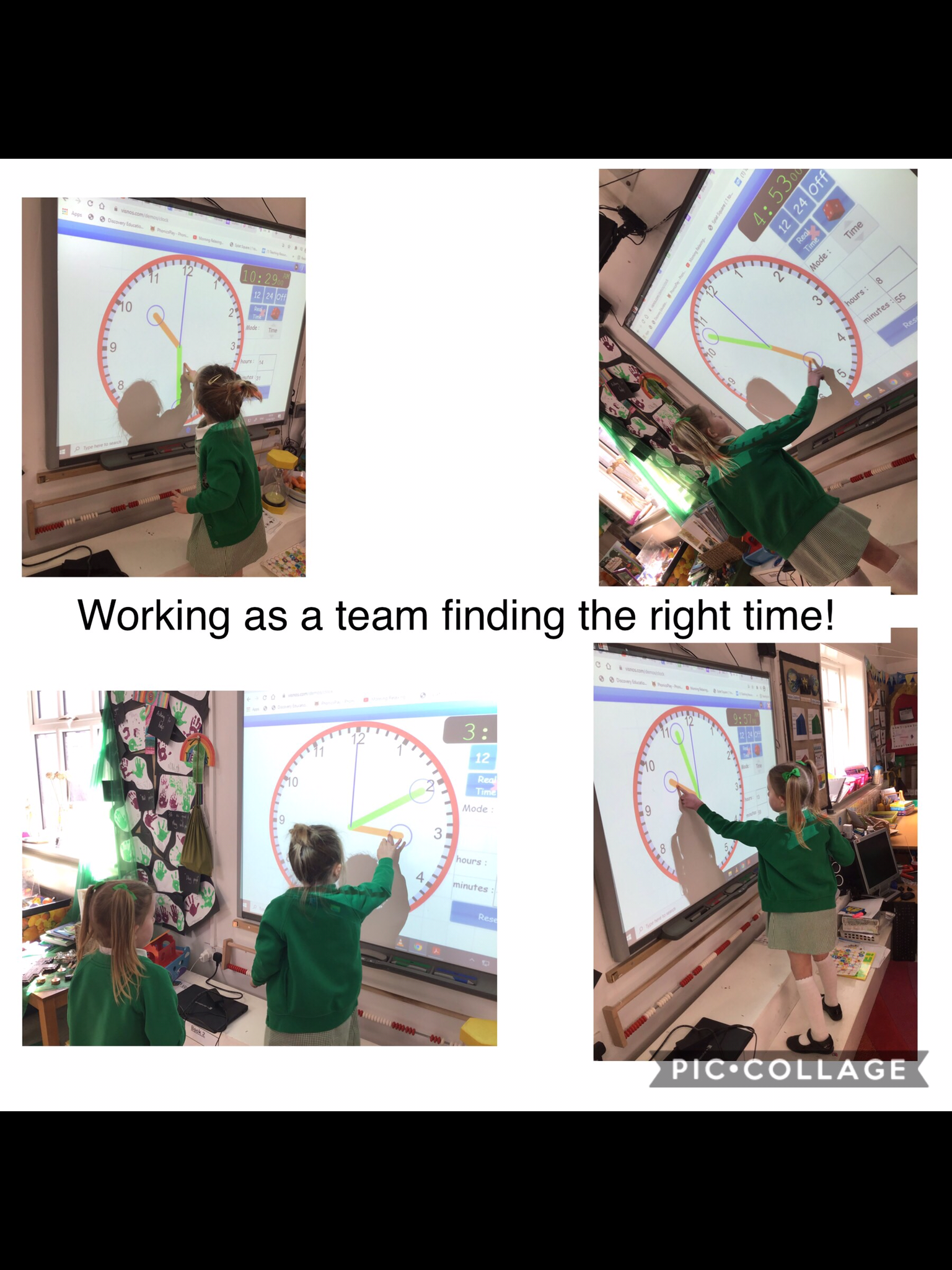 26.3.21
Just like that the second full term is over – time truly flies. We continued with our phonics jumping feet first into tricky word sentences independently. It is truly delightful to think back to September where we were covering beginning phase 2 phonemes and graphemes and now we are writing full sentences – WOW! We will continue to work at key writing principles such as letter formation, fingers spaces and capital letters and begin to expand our knowledge with phase 4 tricky words as we move onto phase 5. Please remember to read your books over the Easter break and continue to work on your sound mats; it is so important. In mathematics this week we have worked with a partners to double and half, as the principle works very well when you compare with a friend. To keep our noggins continuing to tick with numbers, we used spaces hoppers for a number race, call, find and 1 more and 1 less. Our frogspawn have been a great source of inspiration for our writing. We sequenced our own lifecycle of the frog, painted a frog or a tadpole and broke down each step of the lifecycle of a frog with a sentence. In R.E we have had the joy of writing a prayer to make the world a better place and tried our best to understand the importance of Easter. Thank you all for your hard work this bizarre term. I hope you all have a lovely break and see you all soon!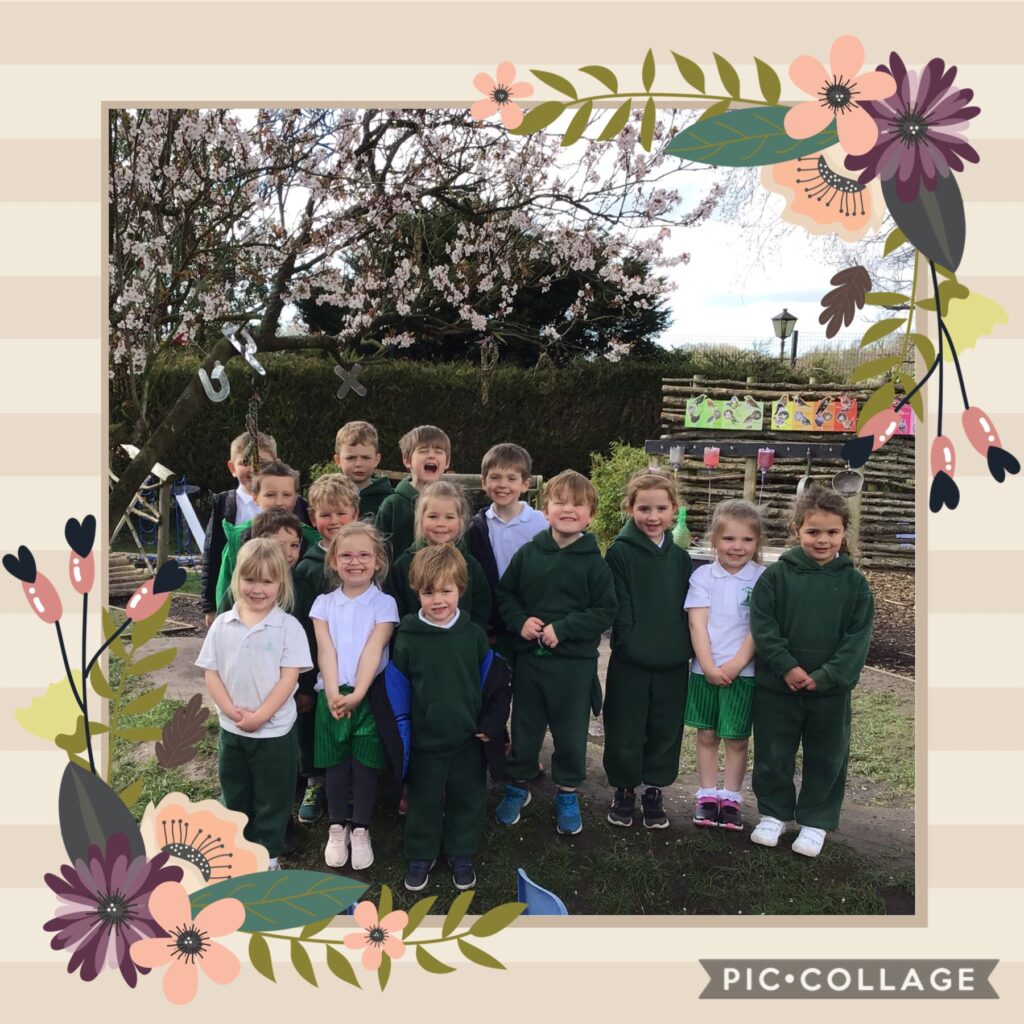 19.3.21
We have had another glorious action filled week. To begin we have been bombarded by brilliant jokes all in the name of Comic Relief. I am delighted to say we have raised £100.20 – thank you! Thank you for everyone who donated and told a joke; you made the whole event what it is. As we had jokes on the brain we all decided to write our own joke down and tell it to a friend (we especially liked this part). In mathematics we have worked very hard on all of this terms key skills of sharing, halving and doubling. We have put a multitude of our mathematical skills to the test in our mini math quiz and I am so proud of how hard you all worked. We have been continuing to learn about the important story of Easter. The class painted Jesus on the cross, which was an extremely sad part of the story, but a very important one. The children's pictures are stunning and I hope you enjoy looking at them all. We have also created our own salt dough eggs which we have made from scratch. Children had to follow instructions to create their own salt dough to use to mould their egg. it was good, messy fun. Thank you so much to Mrs. Foy who donated tadpoles for us to watch them grow, we greatly appreciate you thinking of us. We also have 2 lovely additions to the St. Francis family as we have 2 female Guinea pigs. They are yet to be named so feel free to think of your name suggestions. Thank you for another great week. We just have 1 week left to go and I cannot wait!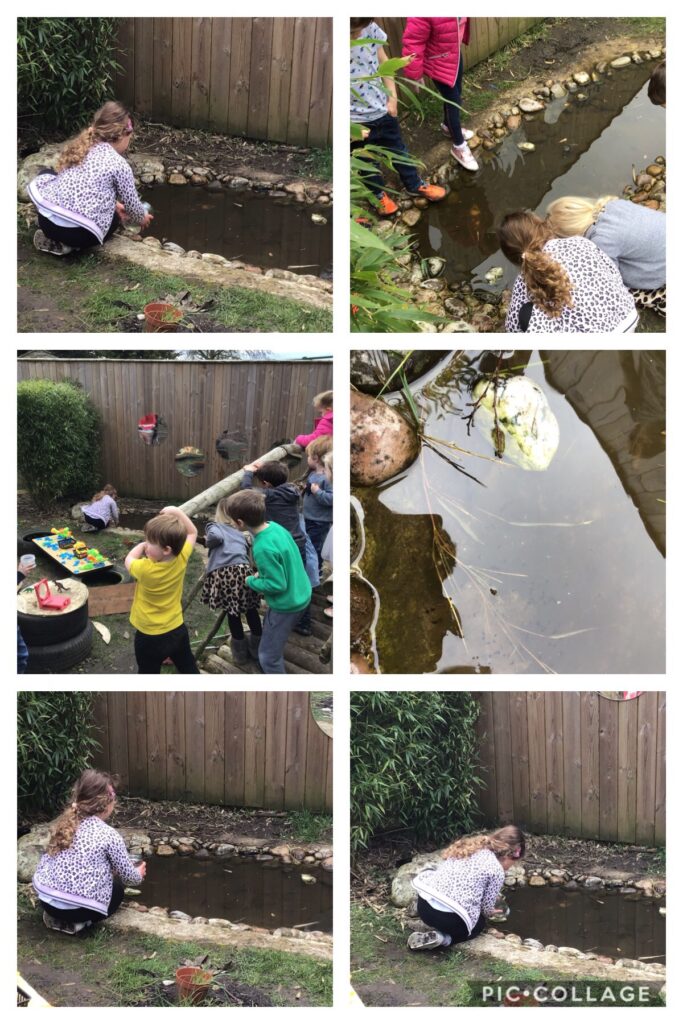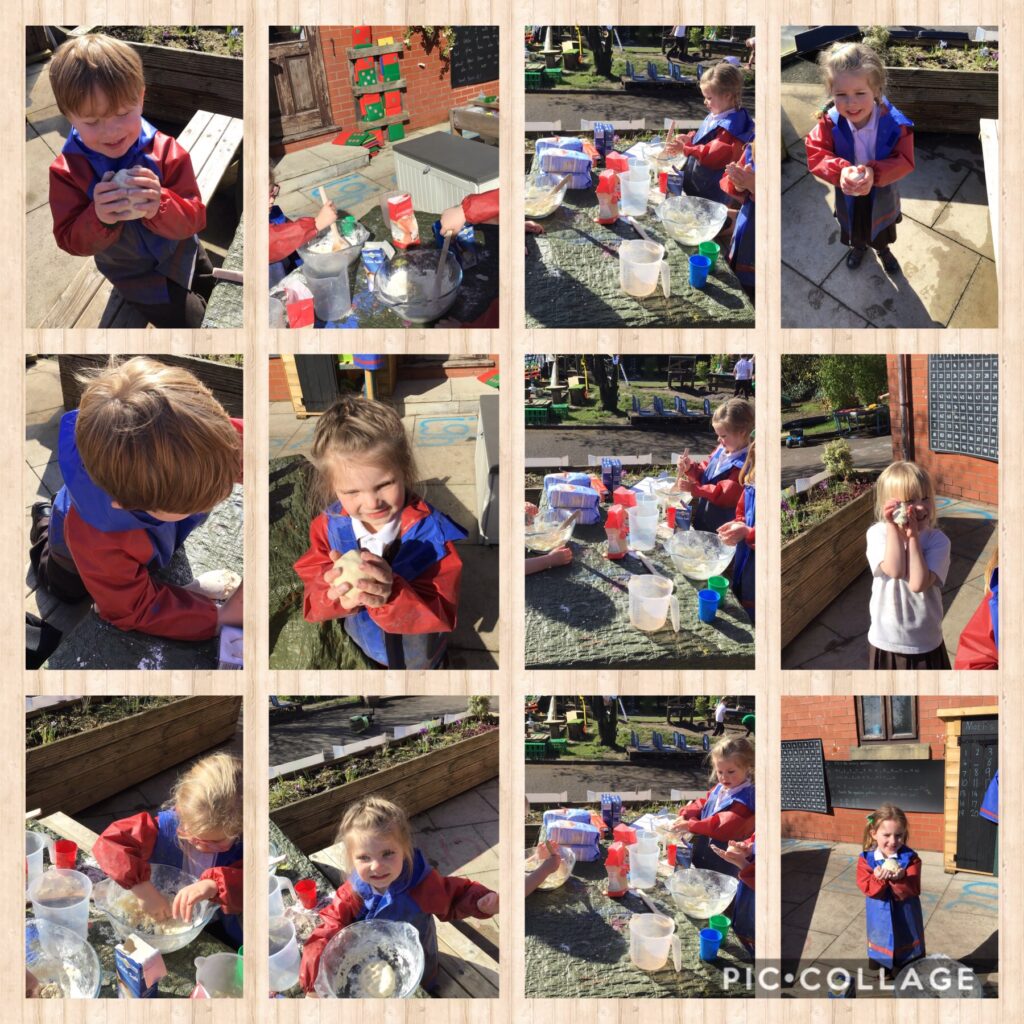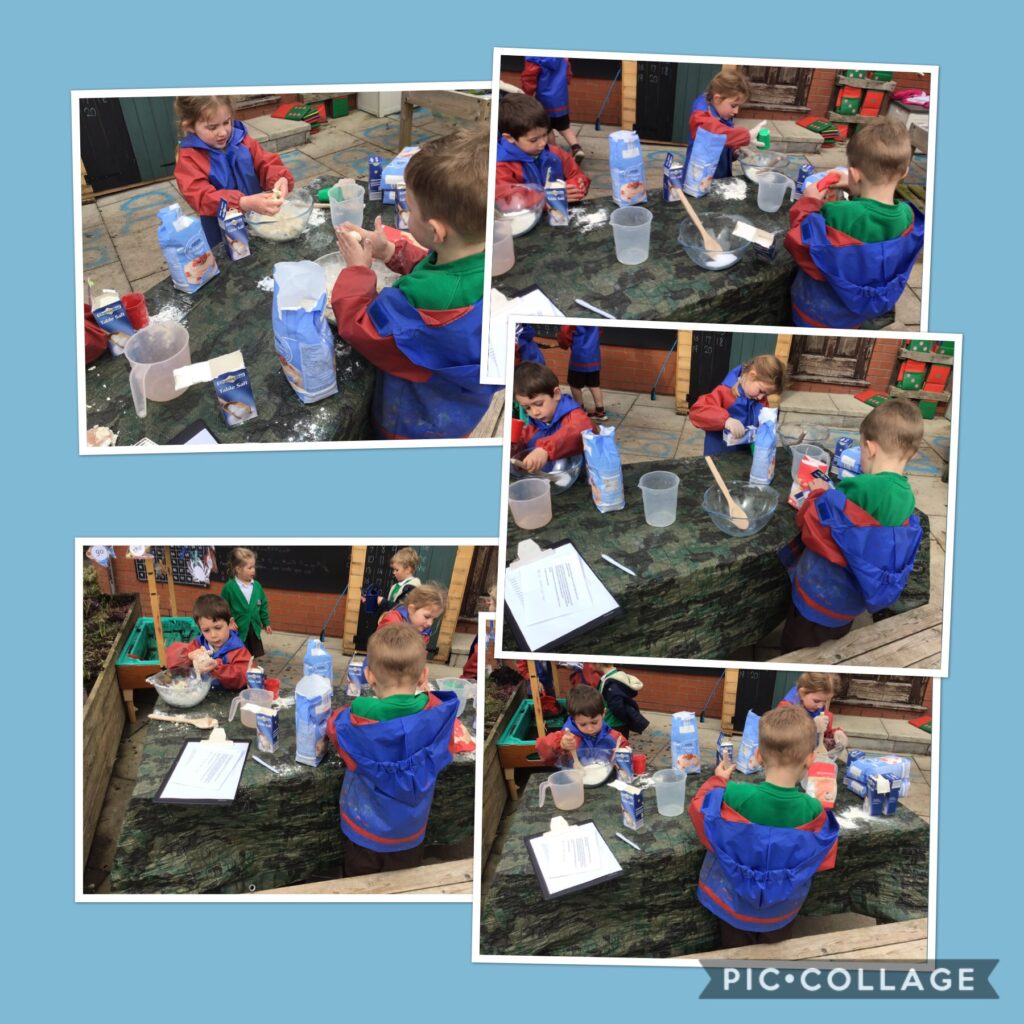 12.3.21
We are back! This has been a truly wonderous week and I would like to start off by saying a big thank you to Miss Gardner, parents and my incredible class. We have not missed a beat this week and I have loved everyday! For our first week back during phonics we are continuing to recap our sounds and tricky words. Our big challenge in our phonics lesson was applying these skills in our sentences that we create on our own and using finger spaces. We also used a timer to keep us focused and trying to beat our previous record. The stupendous Miss Silvester organised our British Science Week and we choose to create our own invention or machine to 'help' someone. The ideas are as bonkers as you can imagine, from an animal feeding machine on a farm to a classroom building robot. Please enjoy the pictures below and the accompanying sentence. In mathematics we used our halving mats to halve numbers and share them out. We are working at noticing patterns with numbers, especially between odd and even numbers and thinking about it if will be shared evenly. For our big write we have sequenced the Easter story by using comic strips in which we have illustrated and wrote about key parts of the story.  To finish we have been working on something very special this week as we prepare for a wonderful Mothers Day. Children planted daffodils last term in preparation for this and as a class we have cared for them. You will also find a card made by some special hands just for you. I hope you all have a wonderful weekend and see you all Monday.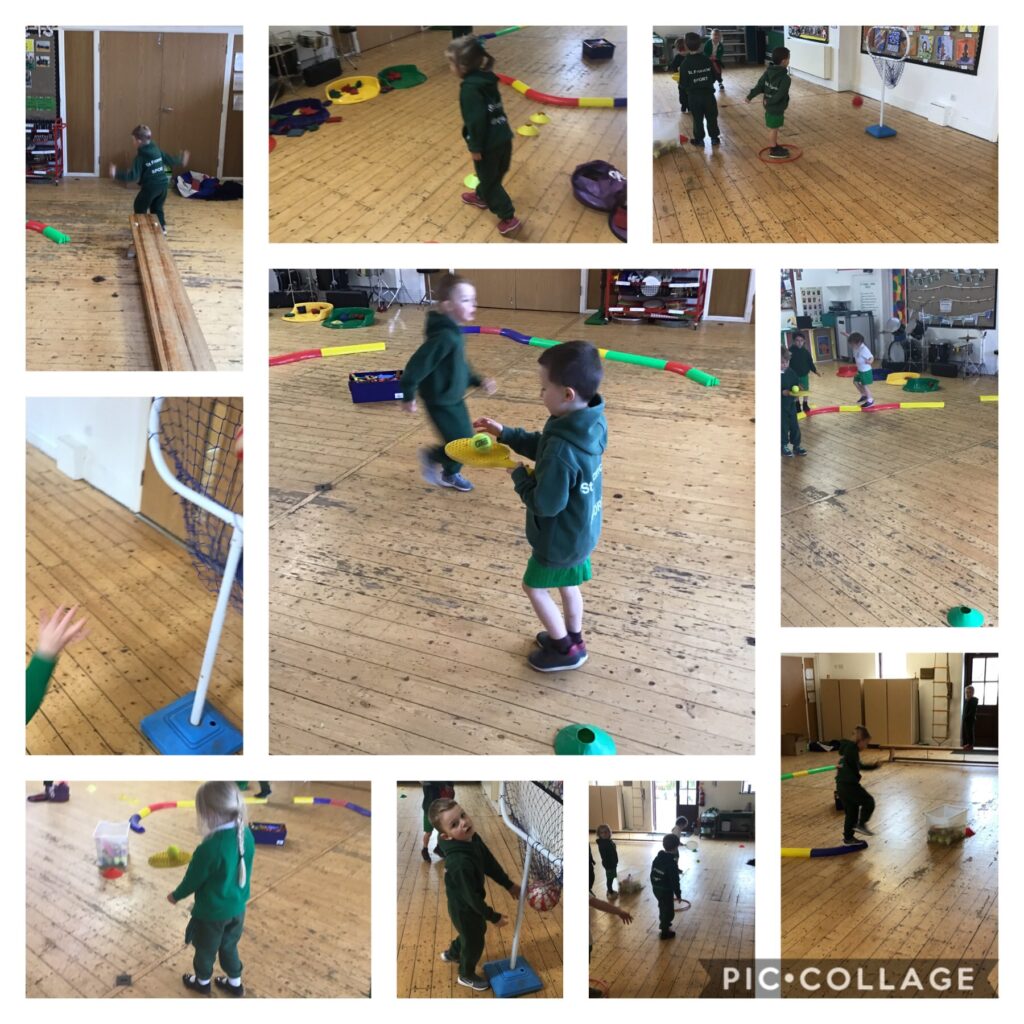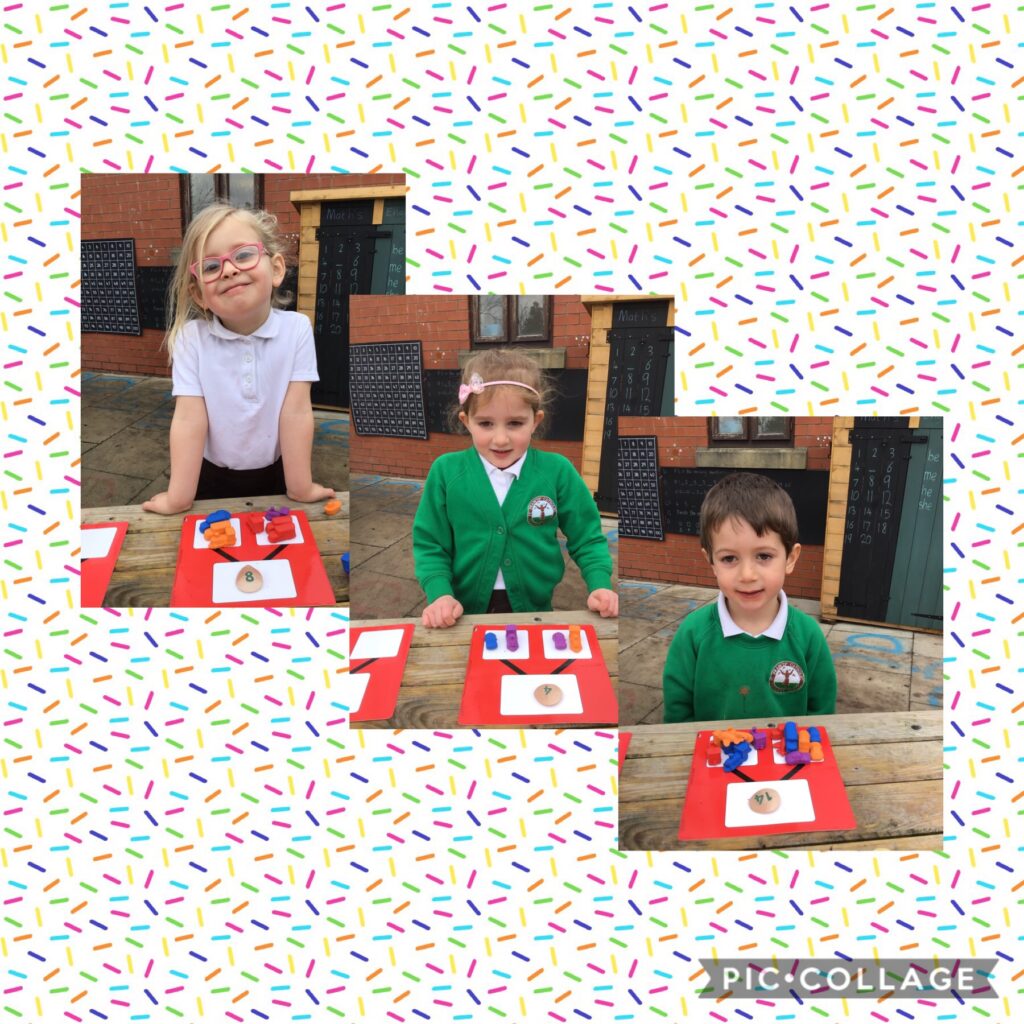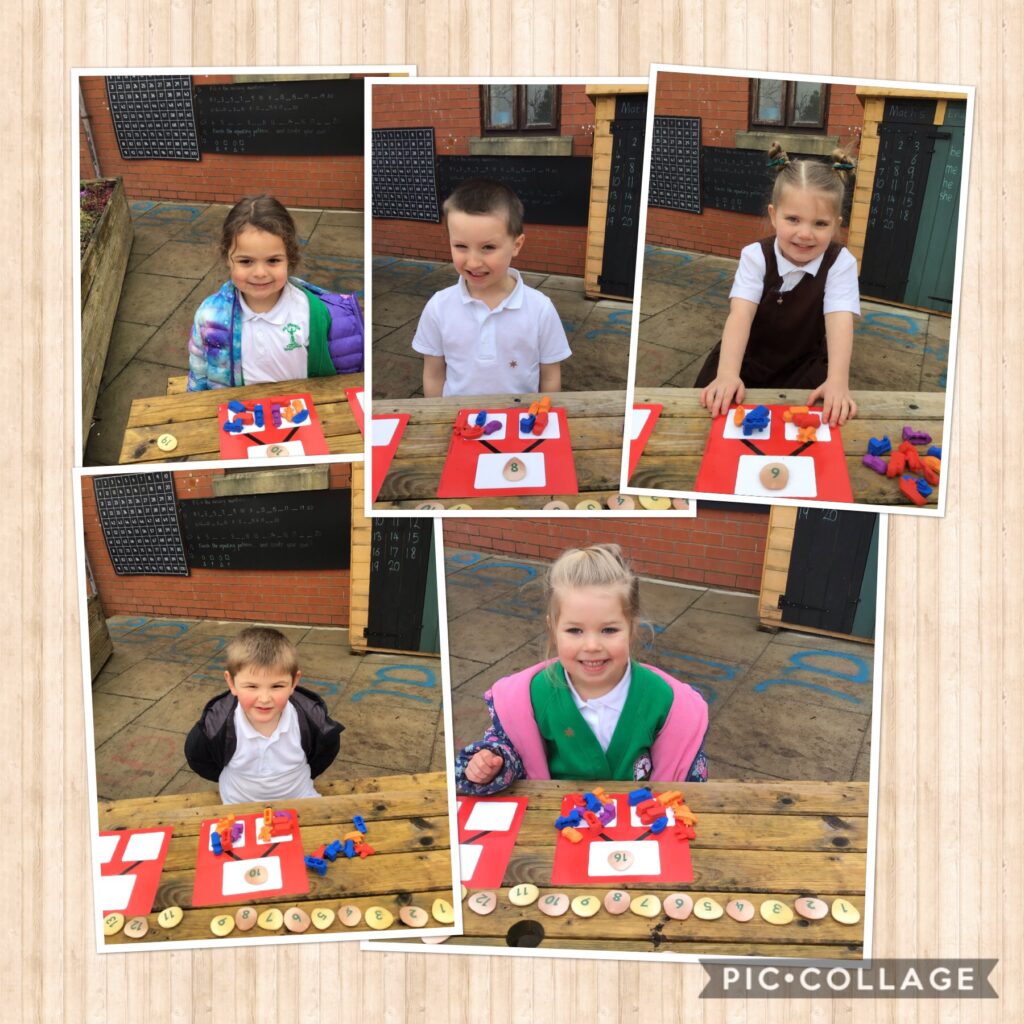 1.3.21
Supertato Additional Resources Please click the link to access the additional resources.
23.2.21
Welcome back! Please find your new Pick & Mix Homework Menu and Curriculum Booklet below.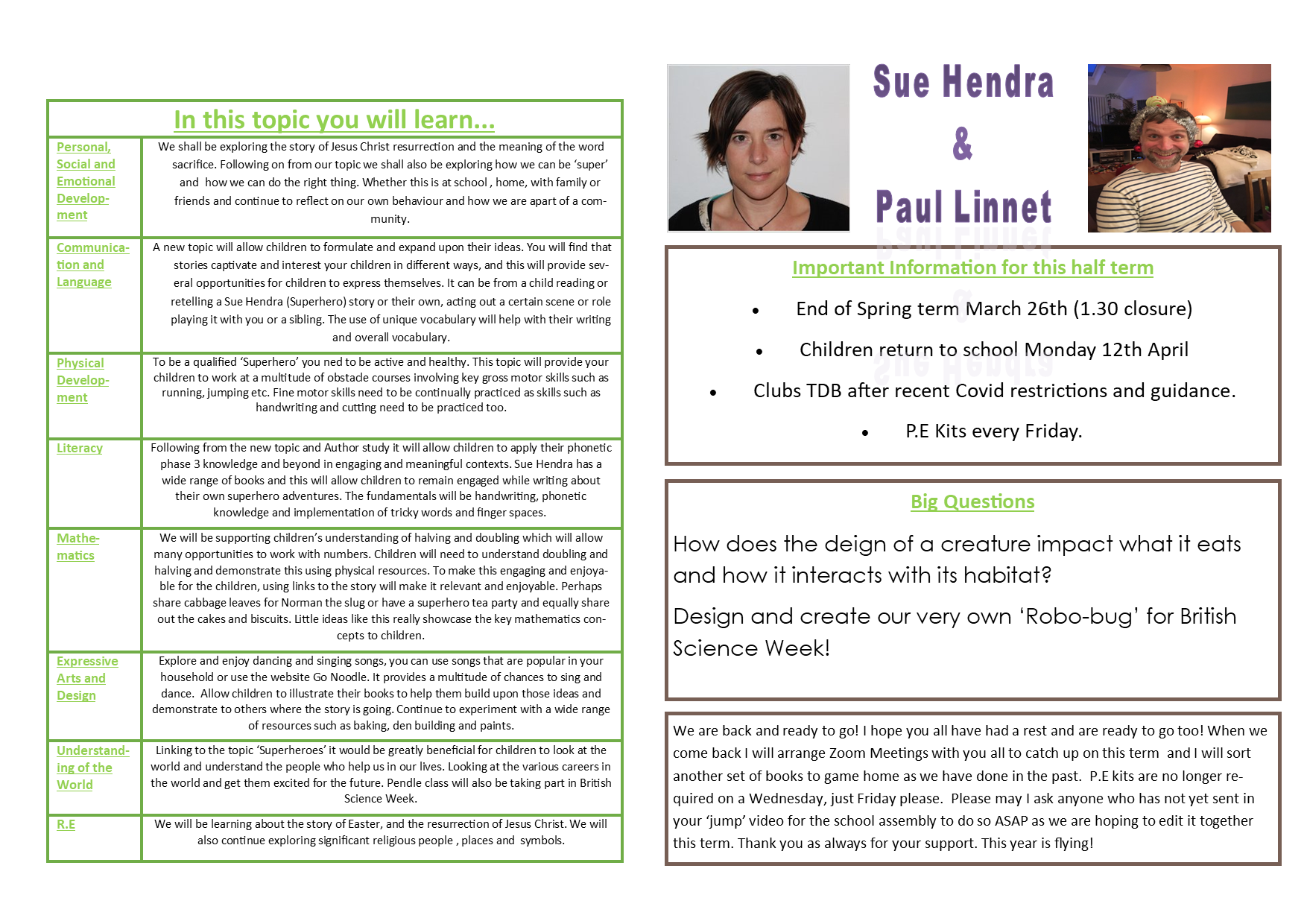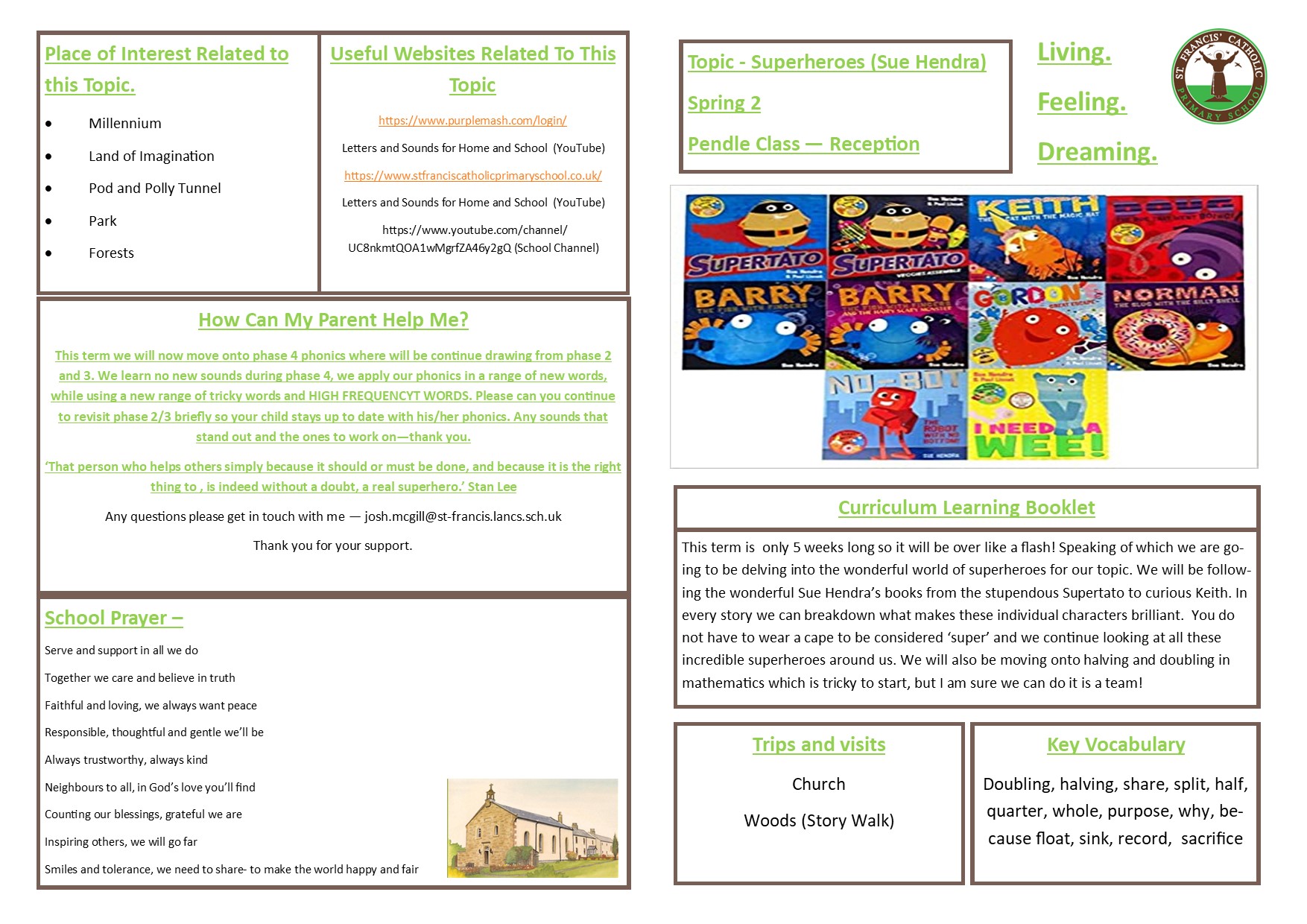 8.2.21
1.2.21
Please click the link to access the additional resources.
TF-T-091-EYFS-Little-Red-Riding-Hood-Adult-Input-Planning-and-Resource-Pack
25.1.21
Please click the links to access the additional resources.
18.1.21
3 Billy Goats Gruff Please click the link to access the resources.
8/1/21
Jack and the Beanstalk Please click the link to access additional Jack and the beanstalk resources.
5/1/21
Resources Click the link to access Goldilocks and the 3 bears resources.
18/12/20
IT'S CHRISTMAS (holidays) !!! Just like that we have completed our first term – congratulations to Pendle and a special thank you to parents and guardians for all your support through these strange times. I would also like to thank Miss Gardner, Mrs Tyrer, Mr Howath and Miss Forshaw for their support this term. This week as you can imagine has been even busier than usual. I am glad to see that the Nativity was thoroughly enjoyed by you all – well done to Pendle!  It is not easy to remain focused for all that time and I thought you all did brilliantly. As you will all know from this term, time certainly does fly and we did not waste a moment of it. This week in phonics we brushed up on our phase 2/3 knowledge and tricky words and put them into a sentence. In mathematics we completed an SSDD challenge where we put our addition and subtraction skills to the test in slightly different ways. As we recorded our Nativity it seemed only fitting using a picture of ourselves to break down the Christmas story and all the key individuals that were involved in the birth of Jesus Christ. We hope you enjoy looking through your Christmas hamper bags; they are full of little treats for you and a tasty one for your children. Thank you for all your feedback about reports and as always, come to me if you need any support or guidance and I shall do my best to help. I hope you all have a wonderful Christmas and New Year! Stay safe, care for each other and stay away from the sprouts – vile things if you ask me!
4/12/20
It is beginning to look a lot like Christmas! The tree is up, tinsel is everywhere and a bright star can be seen, we must be getting closer to our Nativity. Thank you all for your positive feedback, it is great to hear (and see) how much your children have loved working on Purple Mash at home. As Christmas is unique with the type of excitement and wonderment it can bring we have selected a range of Christmas stories to excite us in our Literacy and wider learning. This week we read 'Dear Father Christmas' where we made our own list for Santa and told him what we wanted. These lists provided us with a wonderful range of words we can try to apply our phonics to. I have seen trampolines, Spiderman figures, quad bikes, sweets and chocolate and a talking dog to name a few. Santa certainly has his work cut out. In mathematics we had our very own Christmas tree to help us with some subtraction sums. We started with 2 numbers, decorated the tree with the biggest number and then take away the smaller number. What we were left with will be our answer and it is great fun decorating a Christmas tree. In R.E we sequenced the Nativity story and talked about key characters. We have thoroughly enjoyed looking at the wide range of animals recently and we had a special look at where those animals live. We noticed patterns with how an animal looked and where it was likely to live. We then designed our own and thought about where to should live too –it was fab. It is great fun singing our Christmas songs during R.E and understanding who all these key characters are. The book we will be reading next week will be 'The Christmas Bear'. Thank you to everyone for working so hard on your songs at home, you are all doing great. Have a lovely weekend and see you all Monday.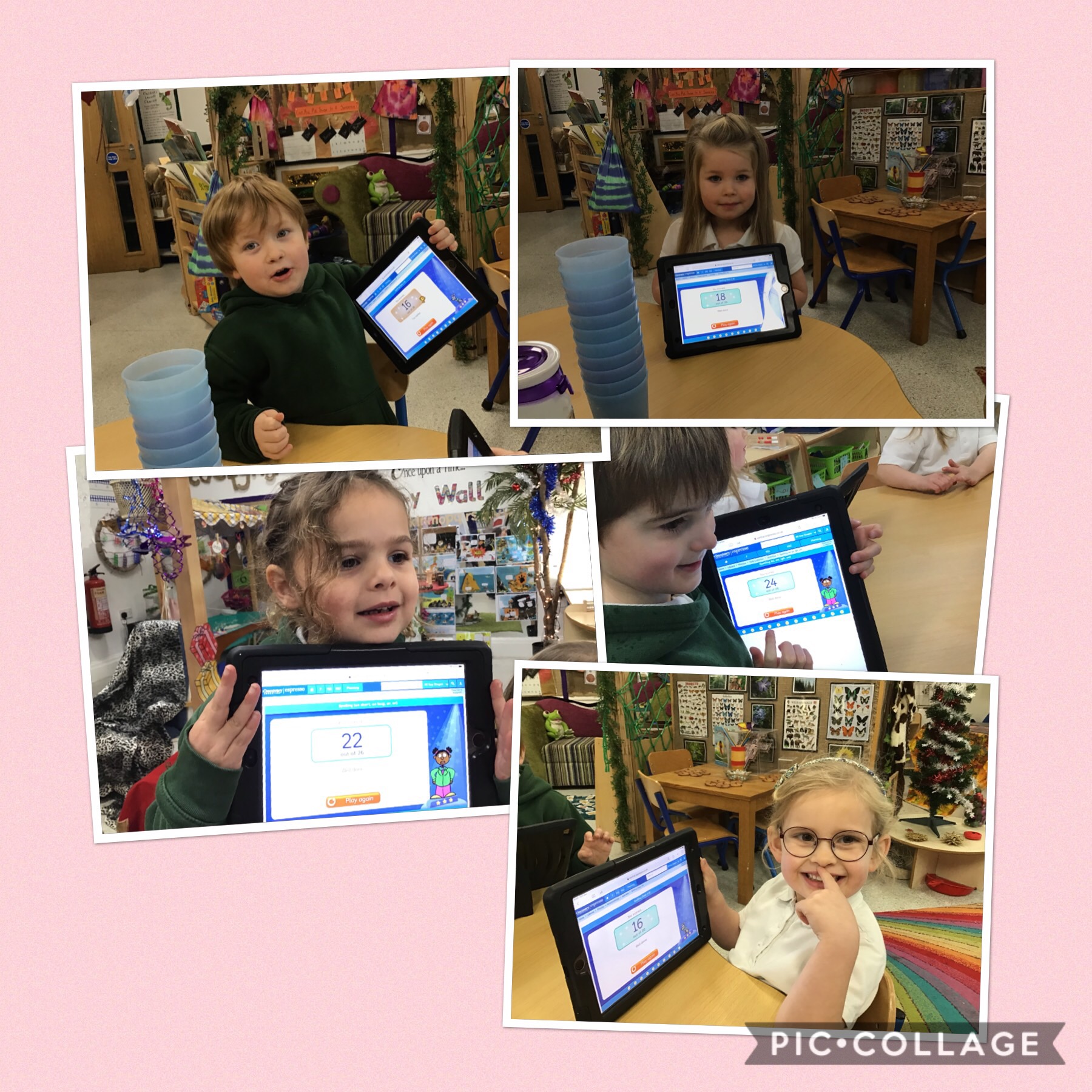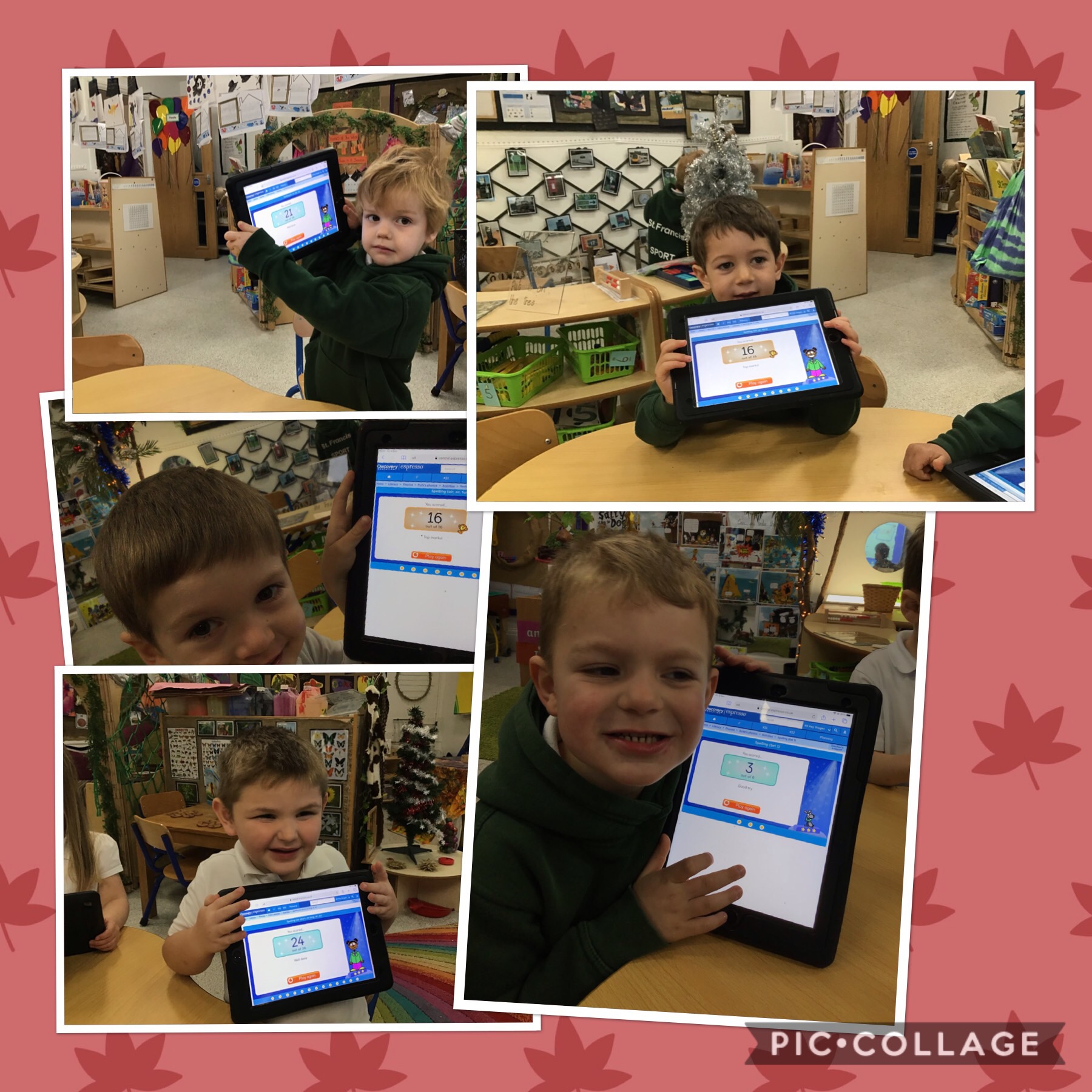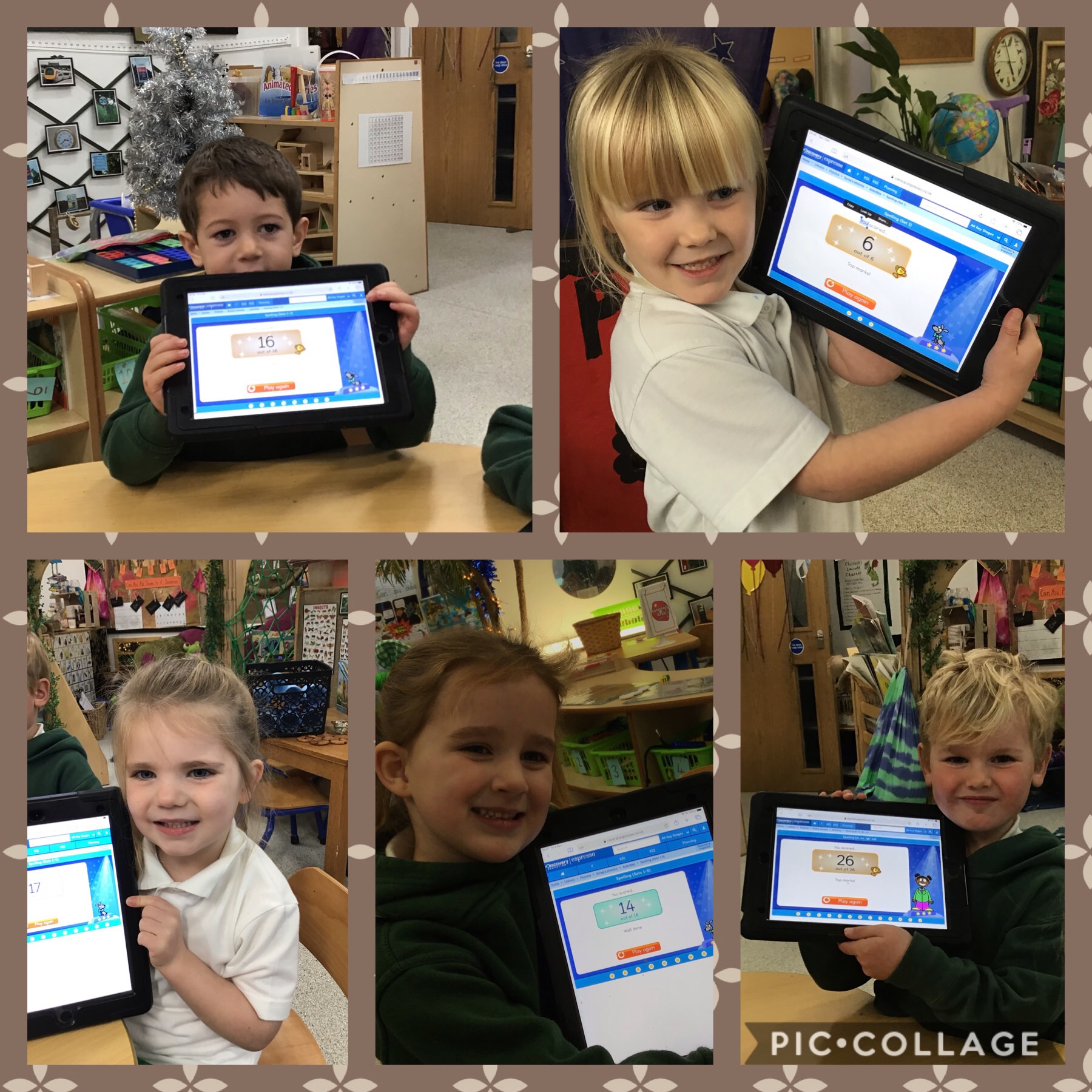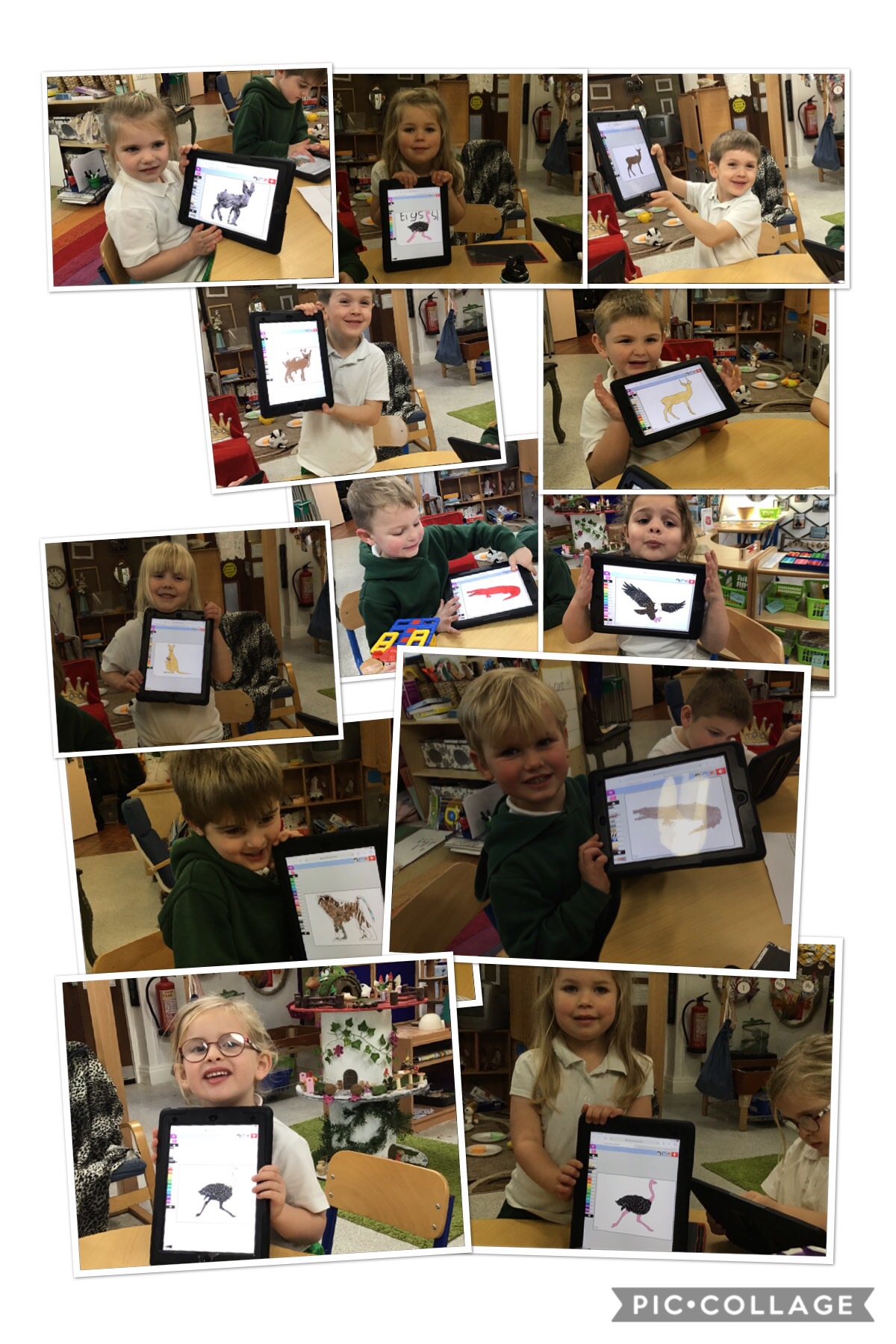 20/11/20
Where is the time going? We only have 4 weeks left of the 2020 at school! I have had to hold my socks firmly this entire week as the children have tired to knock them off with fantastic addition. We have used random numerals to generate our own sums this week and tried a variety of ways to record our findings. The children brilliantly combined 2 numbers and counted what that number has now become. We drew the numbers as counters and recorded them this way and to really show off we attempted to use the + = in a written calculations and read it as a number sentence we could understand – tricky stuff. Our writing has been barrels of fun this week as we managed to create and draw our own mythical creatures. To begin with we discussed what we wanted to make, sketched and then painted it. After we had it painted there was only one thing left to do, write where it lived and what it looked like. I am not a fan of the teacher eating unicorn for some reason. Please see the pictures below. This week we have learned about Diwali and the story of Rama and Sita. We learned it is a happy festival of colour and light, where we give presents and spend precious time with our family. Pendle class liked the custom of giving sweets to make someone think sweet things about you. We even made Diya lanterns out of clay, we will send them home next week as little tealights for you to remember the Festival of Lights.  The Christmas preparations have gone into full flow and we are working hard to learn all of the songs and actions to them. Please use the link below to practice your songs at home. Next week we will be reading; Salty Dogs. Have a lovely weekend and see you all Monday!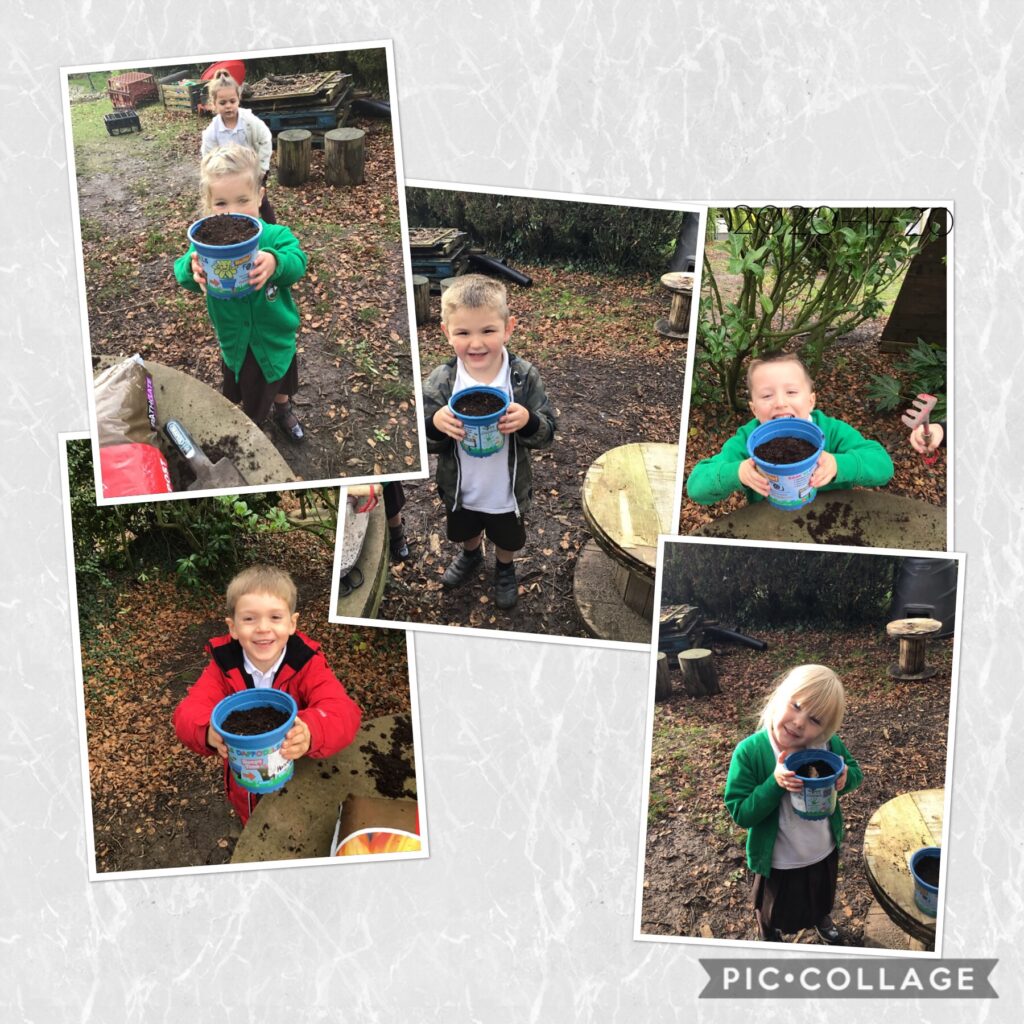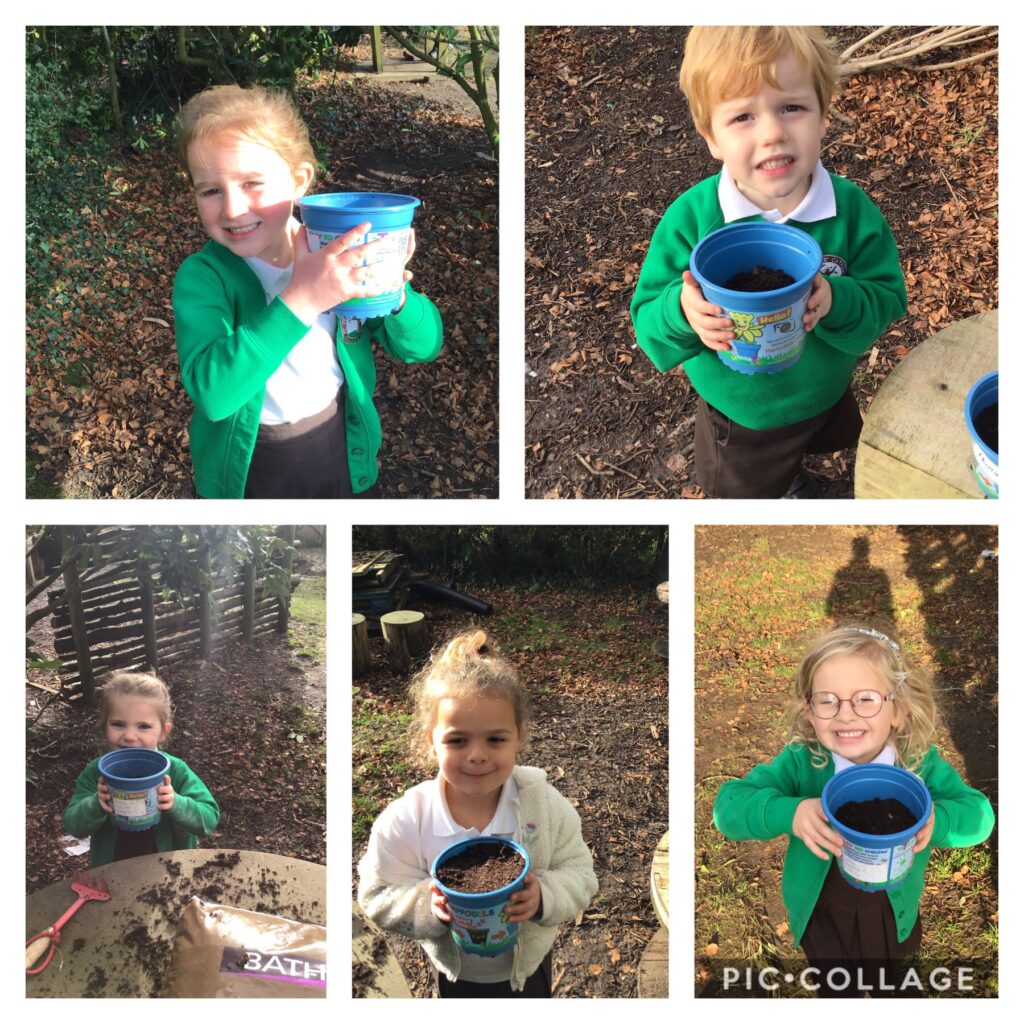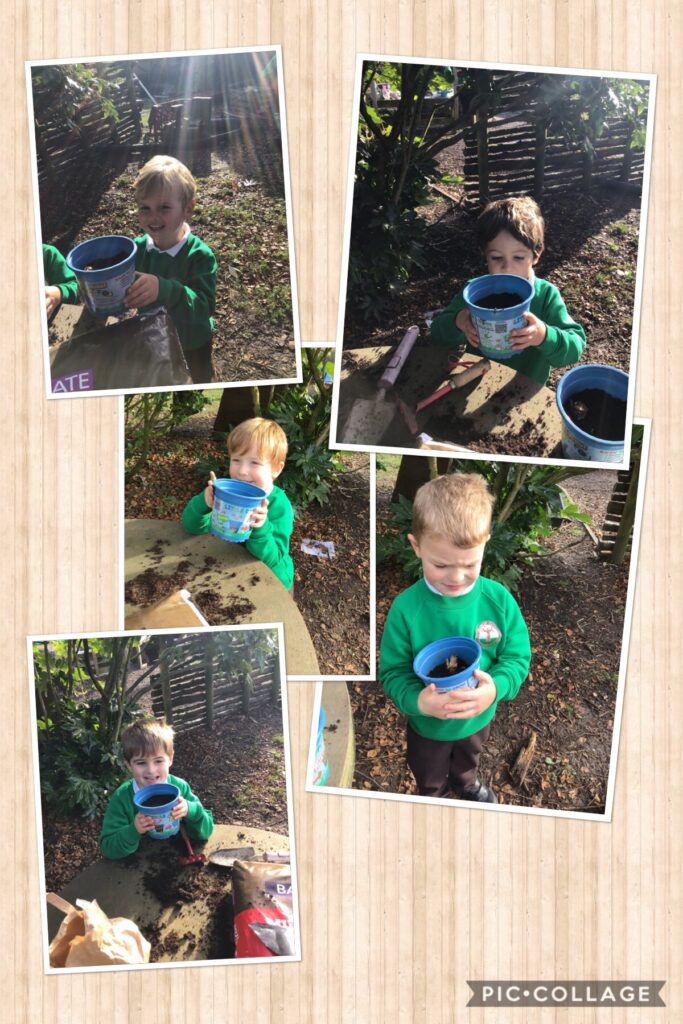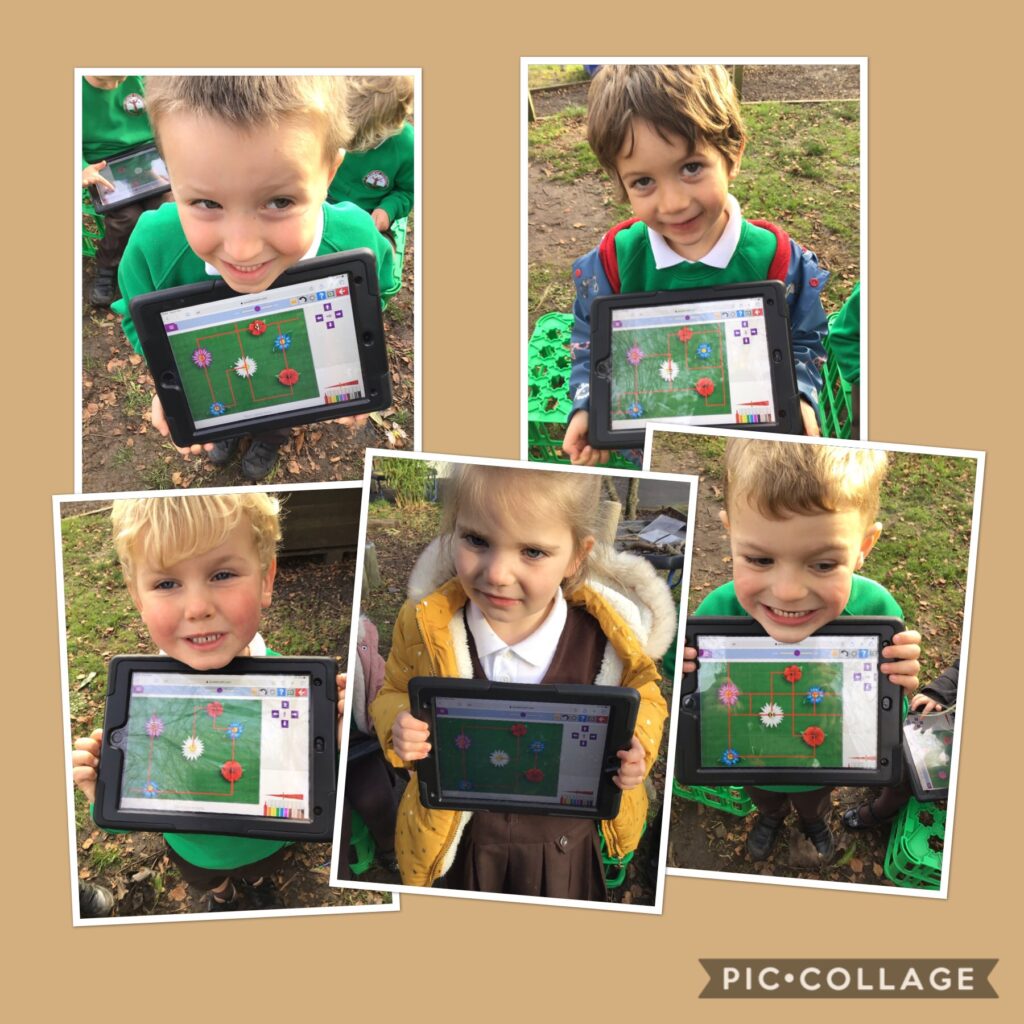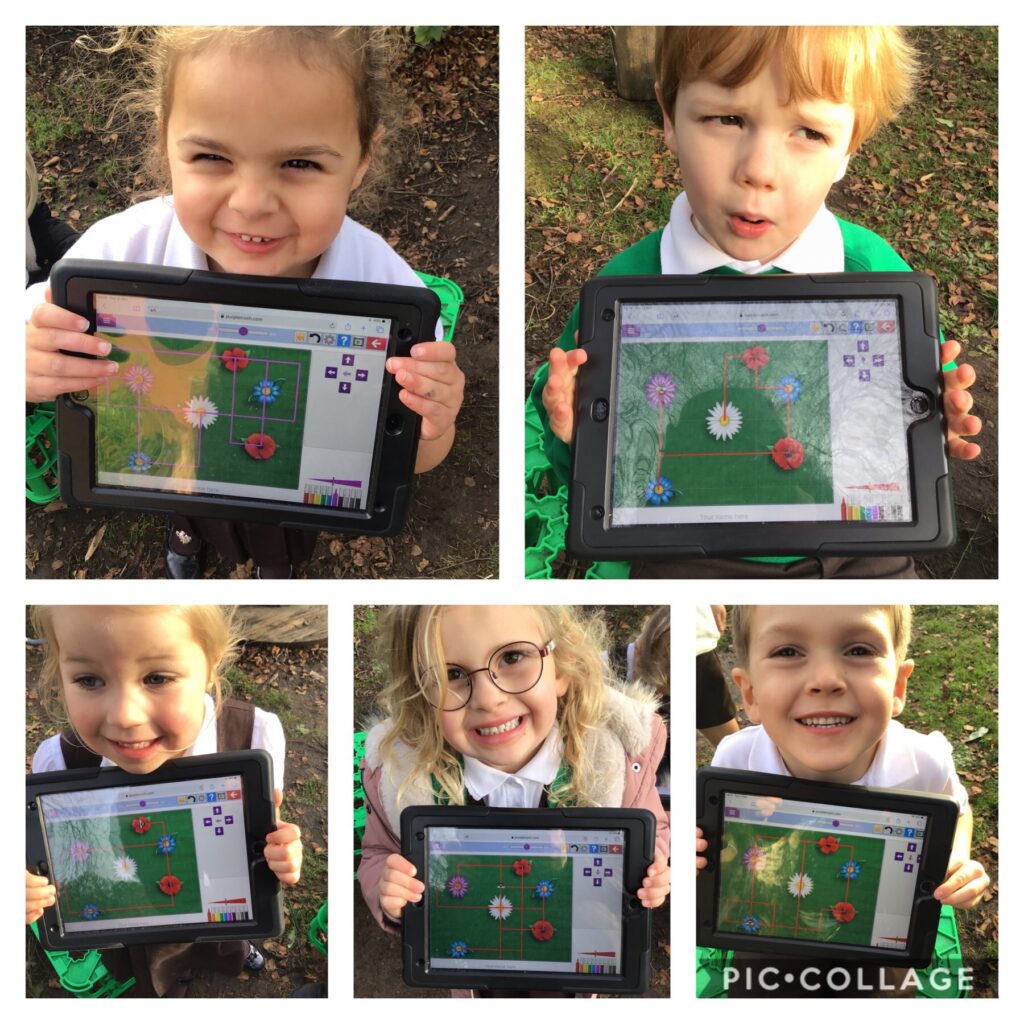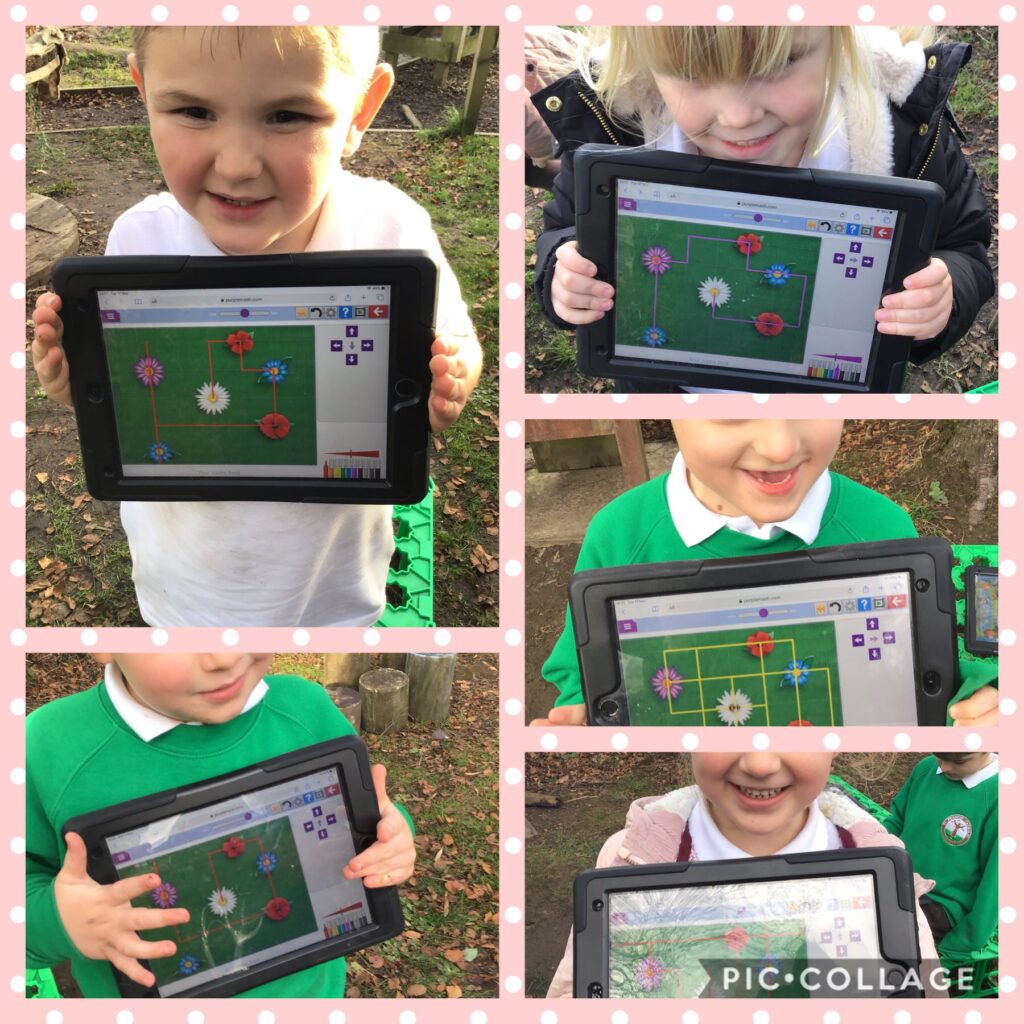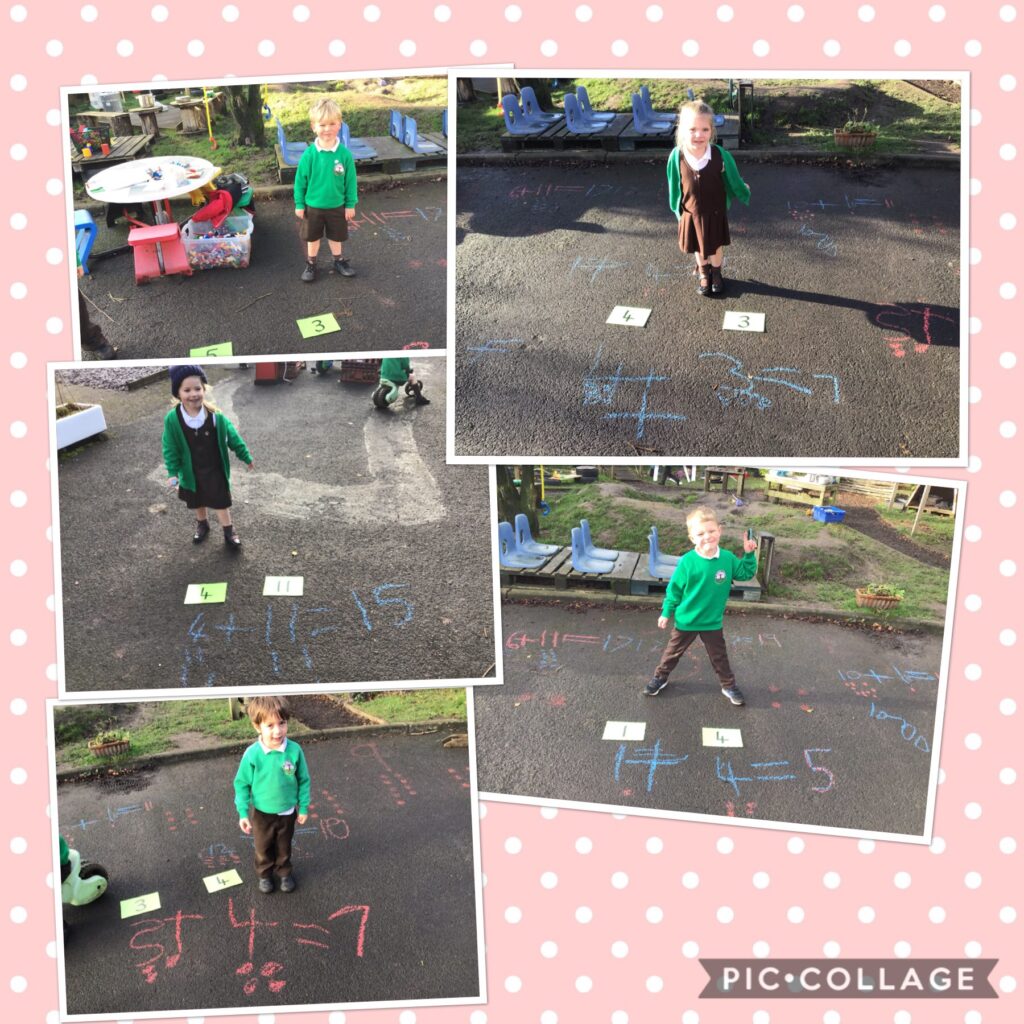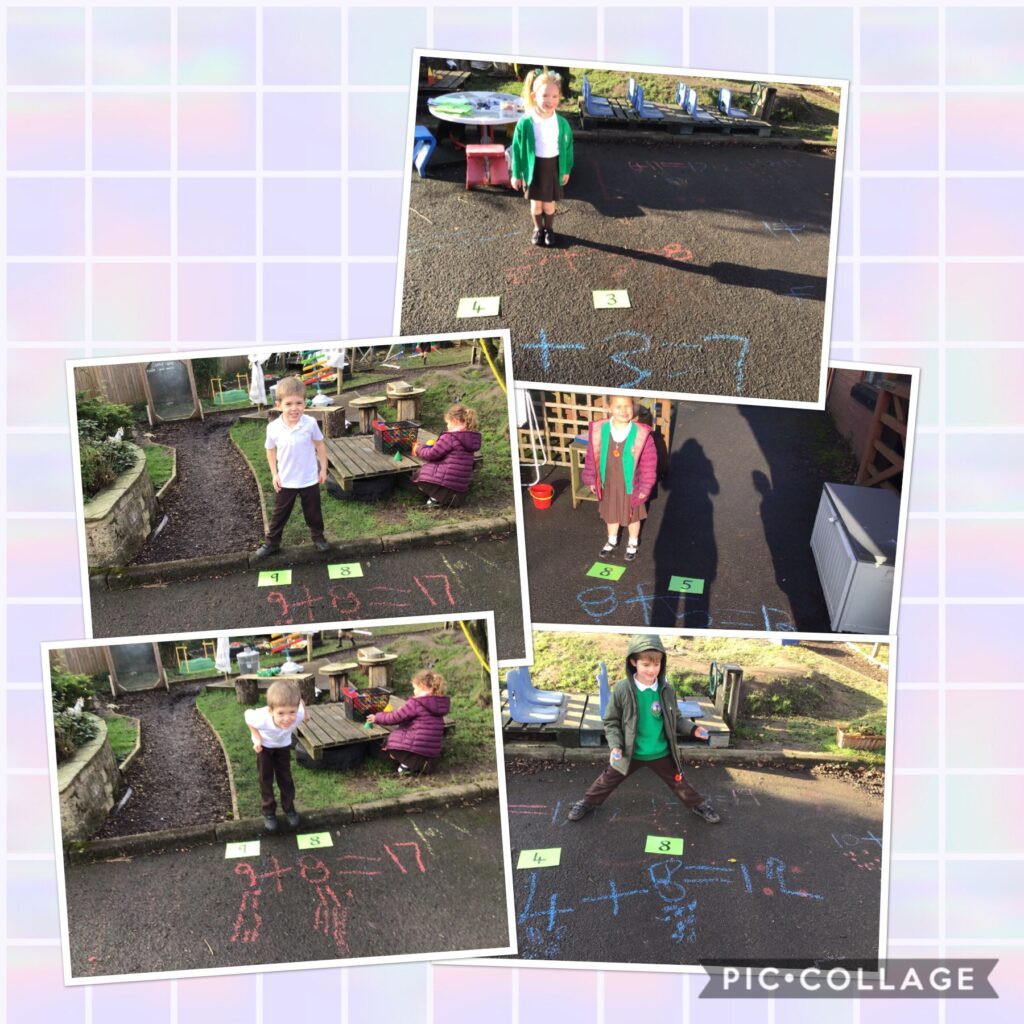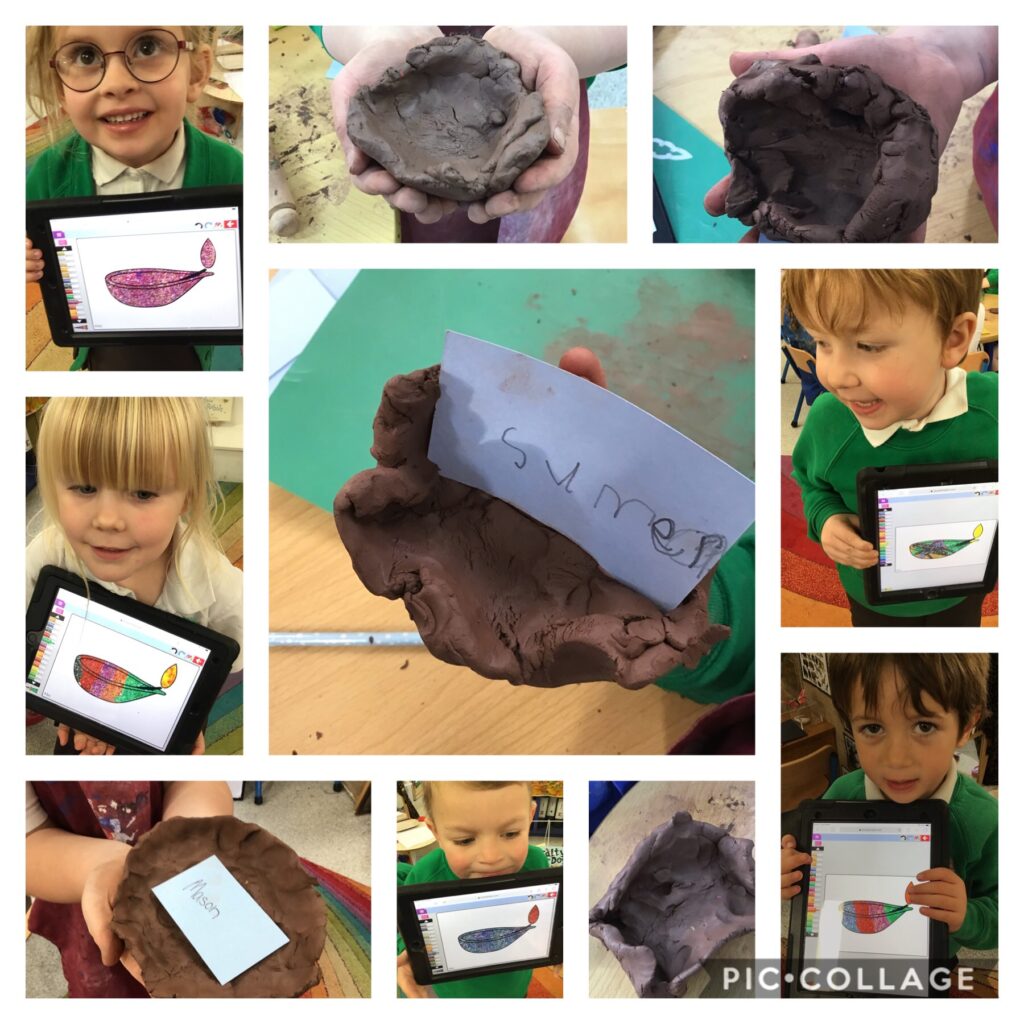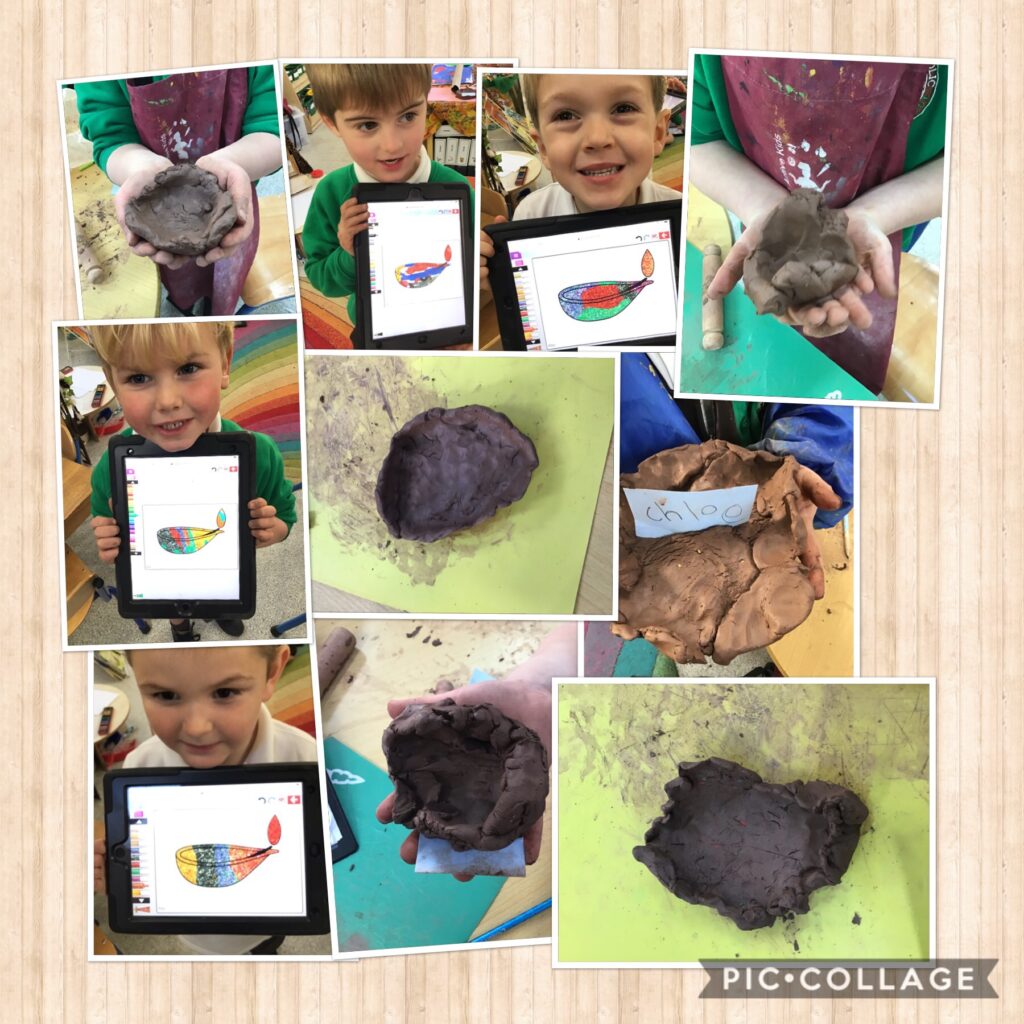 13/11/20
How on earth did Holy Quackamole not win? This week has been another busy one and that is just how we like it here! I would like to begin by saying thank you to everyone who sent in money for the British Legion for a poppy. The children worked very hard on their Remembrance Day poppies and prayers. It was great for us as a class to reflect on each classes work to understand the importance of a poppy and what it means for us to wear one. It was brilliant to see the whole class in their own clothes or spotty outfits too. A special thank you to everybody who took part in the Duck Race to help us raise additional funds. The school will announce the total figure on Monday. In mathematics the children worked very hard on their subtracting skills; completing several subtraction challenges all slightly different to truly test their skills. In phonics we have worked our way through the beginning phase 3 sounds and will continue to move along. We are beginning to formulate and write sentences ourselves and adding in our own unique vocabulary to it all. Learning these phase 3 sounds will only continue to help further our understanding and broader our writing. As we have come across a huge amount of strange and wonderful creatures and animals in the Super Happy Magic Forest and the Slug of Doom we decided to create our own in MiniMash, coming in all shapes and sizes. All of your Purple Mash accounts have been created and I will be sending them out via Seesaw on Monday. I hope you all have a wonderful weekend and see you Monday! The book of the week will be Super Frozen Magic Forest, which is fitting if you ask me!

  06/11/20
Where do fish keep their money? In a river bank! It has been another stupendous week. The children have picked up where we left off and made a seamless transition back into normal routine. Thank you to everybody who submitted something for the talent show next week. It was great to see how amazing you all are. We have had magicians, comedians, artists, dancers, singers, footballers, musicians and a horse rider so far. From 2 – 11 we have it all and it has been a treat!  This week we dived into phase 3 and this is where our vocabulary will start to flourish. We have used phoneme frames to help us with sentence structure and apply our new phase 3 knowledge. In mathematics we have had a great time with play dough, creating our own questions for us to work out and check. We will continue to hone our skills in mathematics to help us improve and become more independent. Who knew addition was such fun? In preparation for Remembrance Day the class has started making poppies, it was great to see that the children could remember the meaning behind a poppy and the significance of them. This will be key preparation for Remembrance Day as we will be making our own prayer for soldiers while planting our wreath by Hill Chapel. We had 2 special adventures in the outdoor classroom this week. We made our own chalk bonfire pictures which look very charming. We tried 2 approaches to it and discussed our favorite; next week we do hope to use paint. We also got to use our coding penguins for the first time. We need a little bit more practice before we become professional penguin herders. The children loved Super Happy Magic Forest and certainly did not want to wait till next week to read Super Happy Magic Forest and the Slug of Doom! I cannot wait to see you all next week. We will be hearing jingles bells before you know it!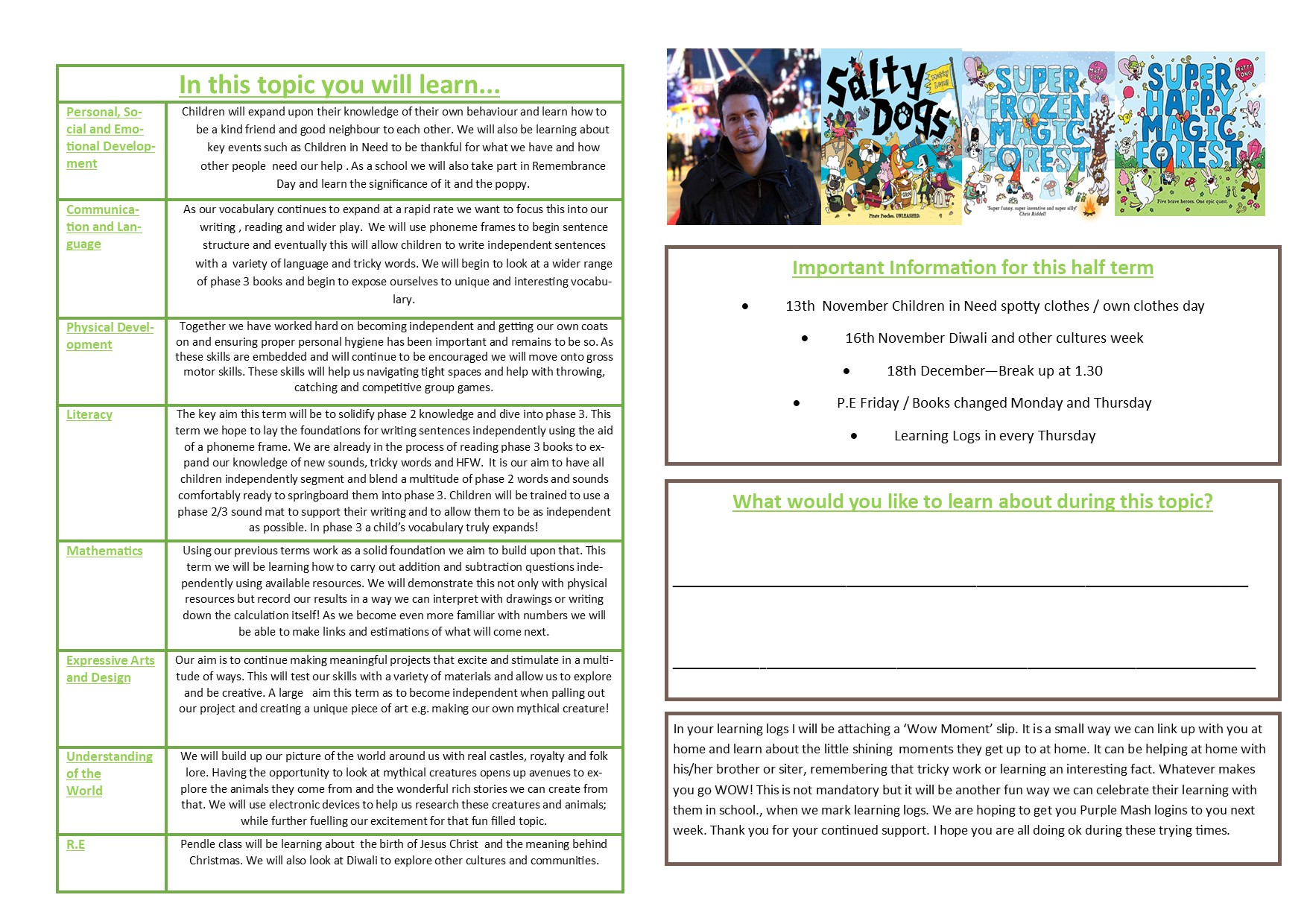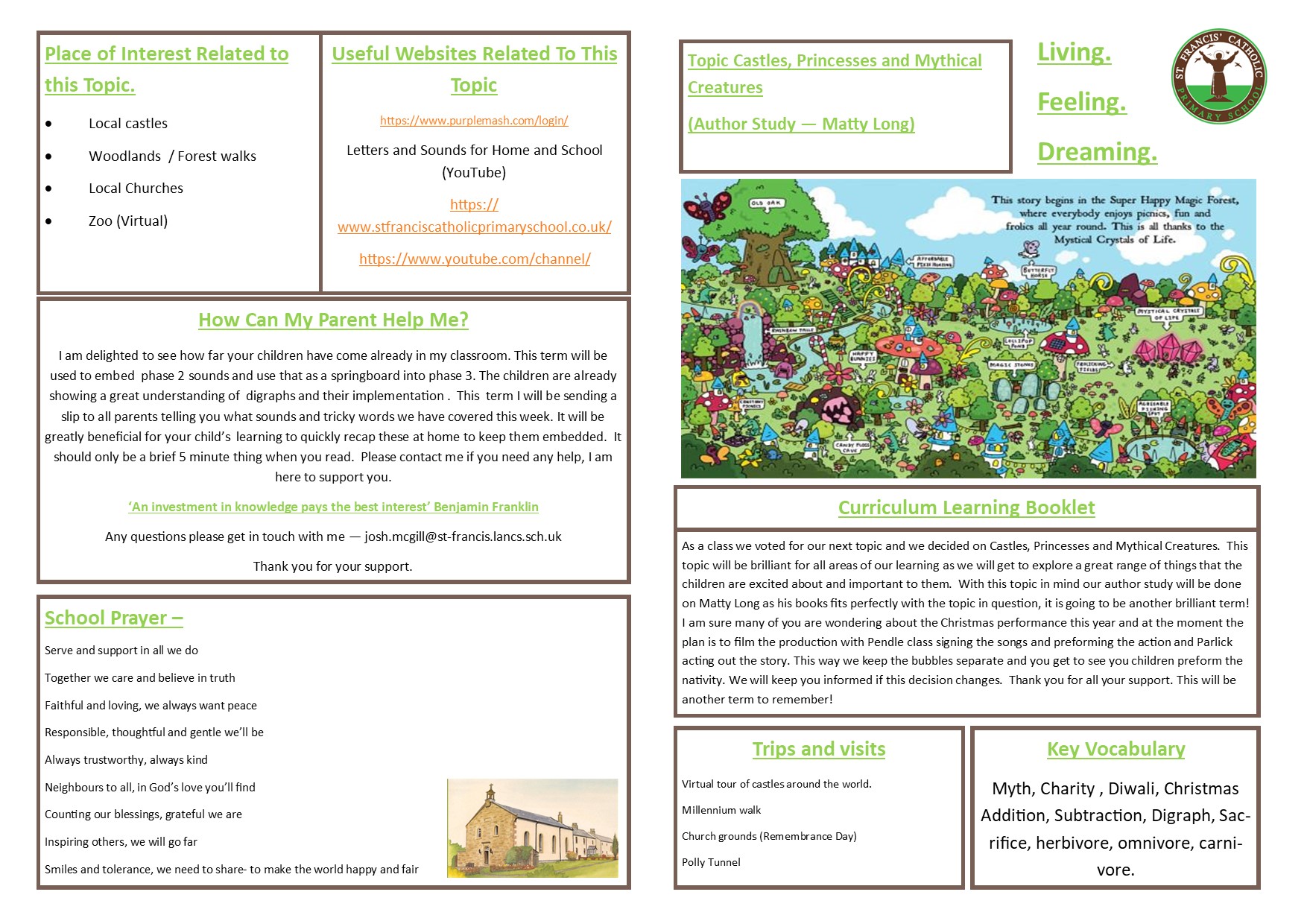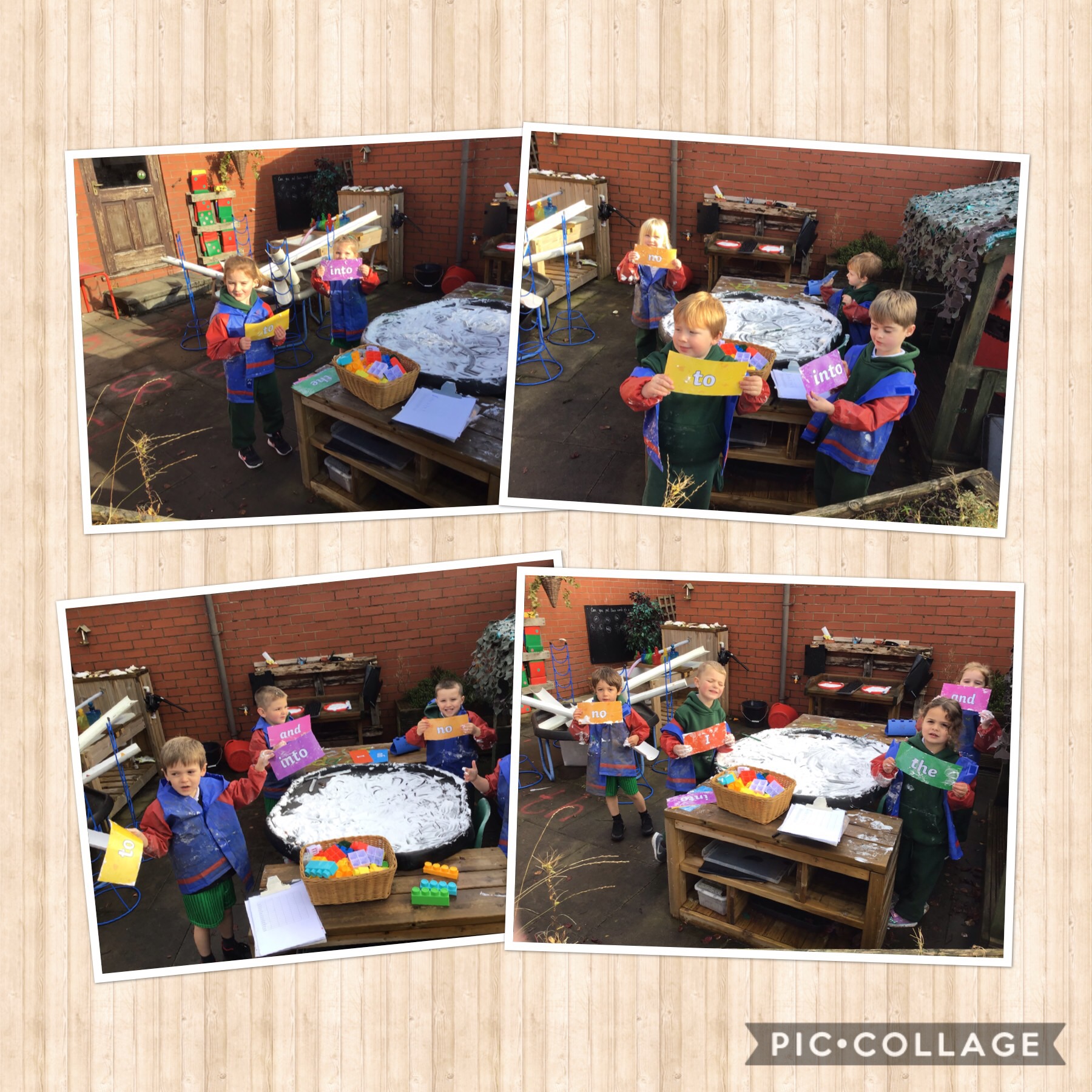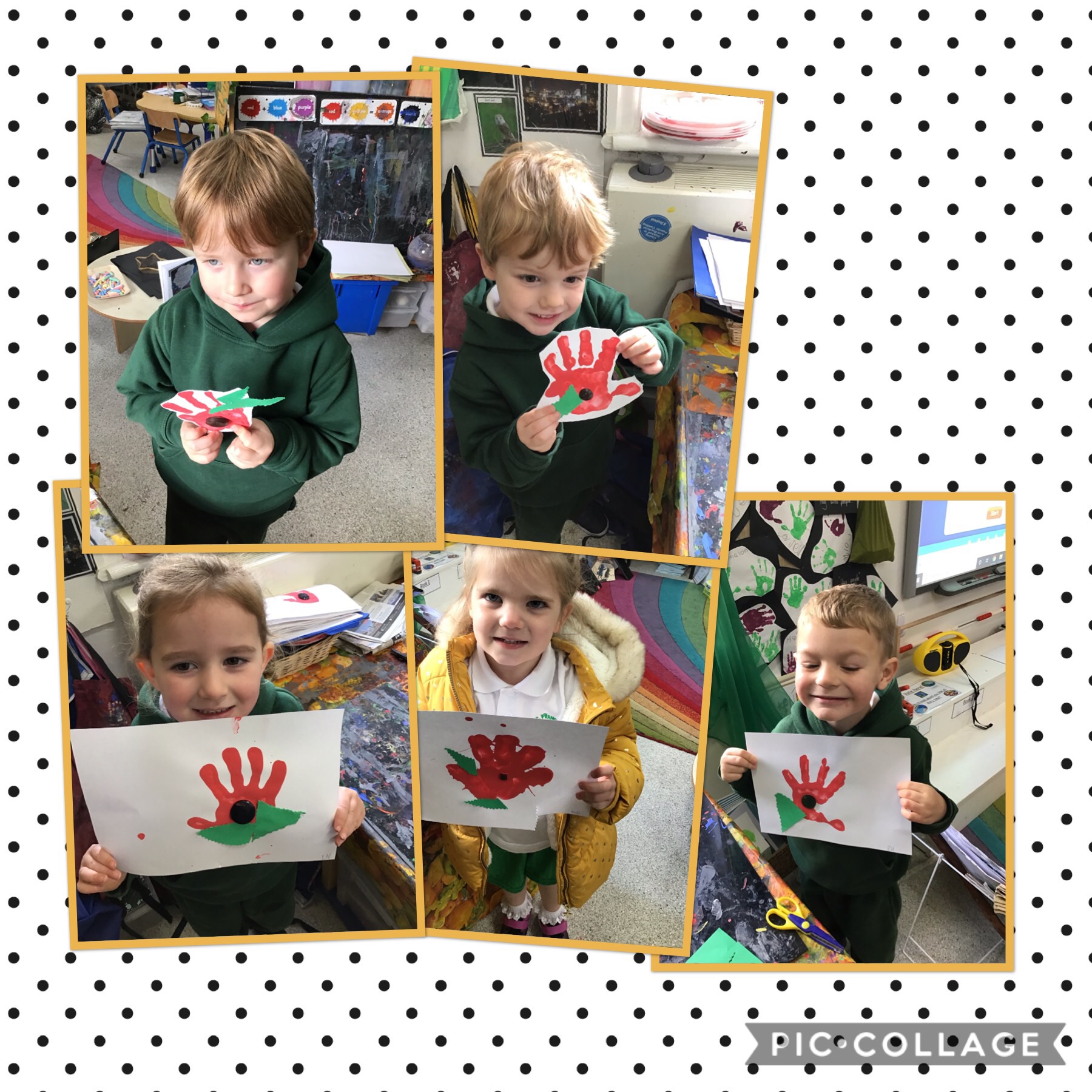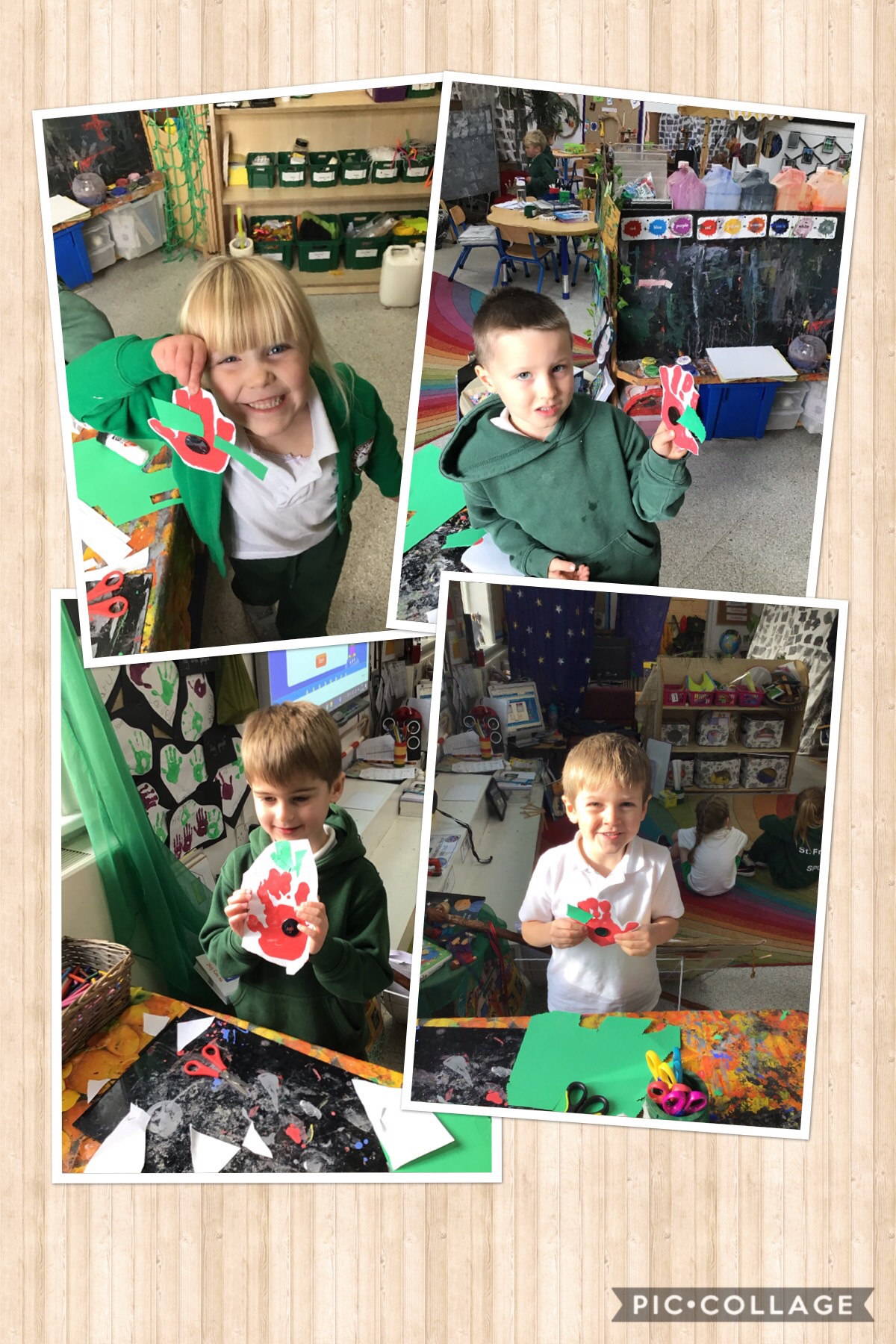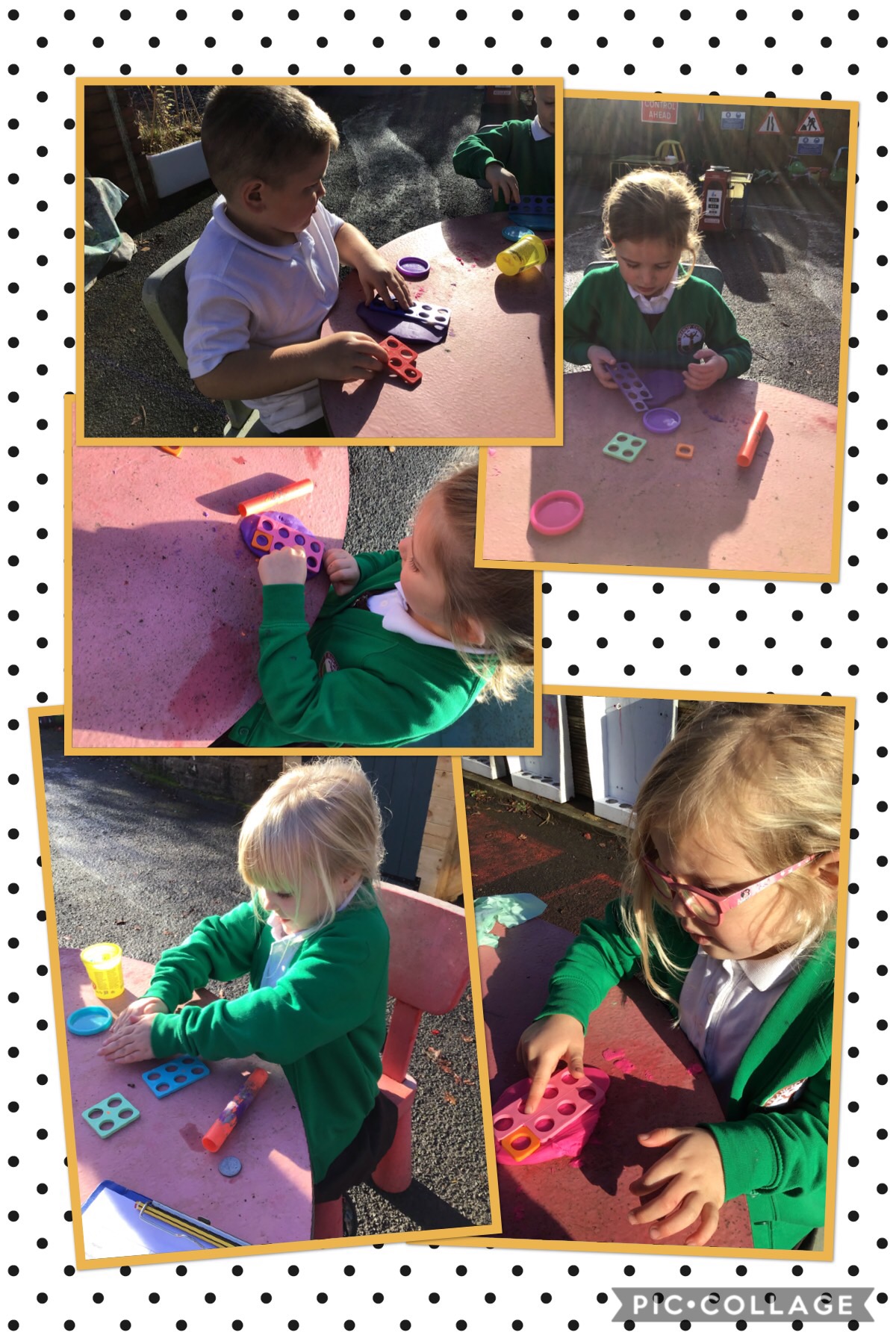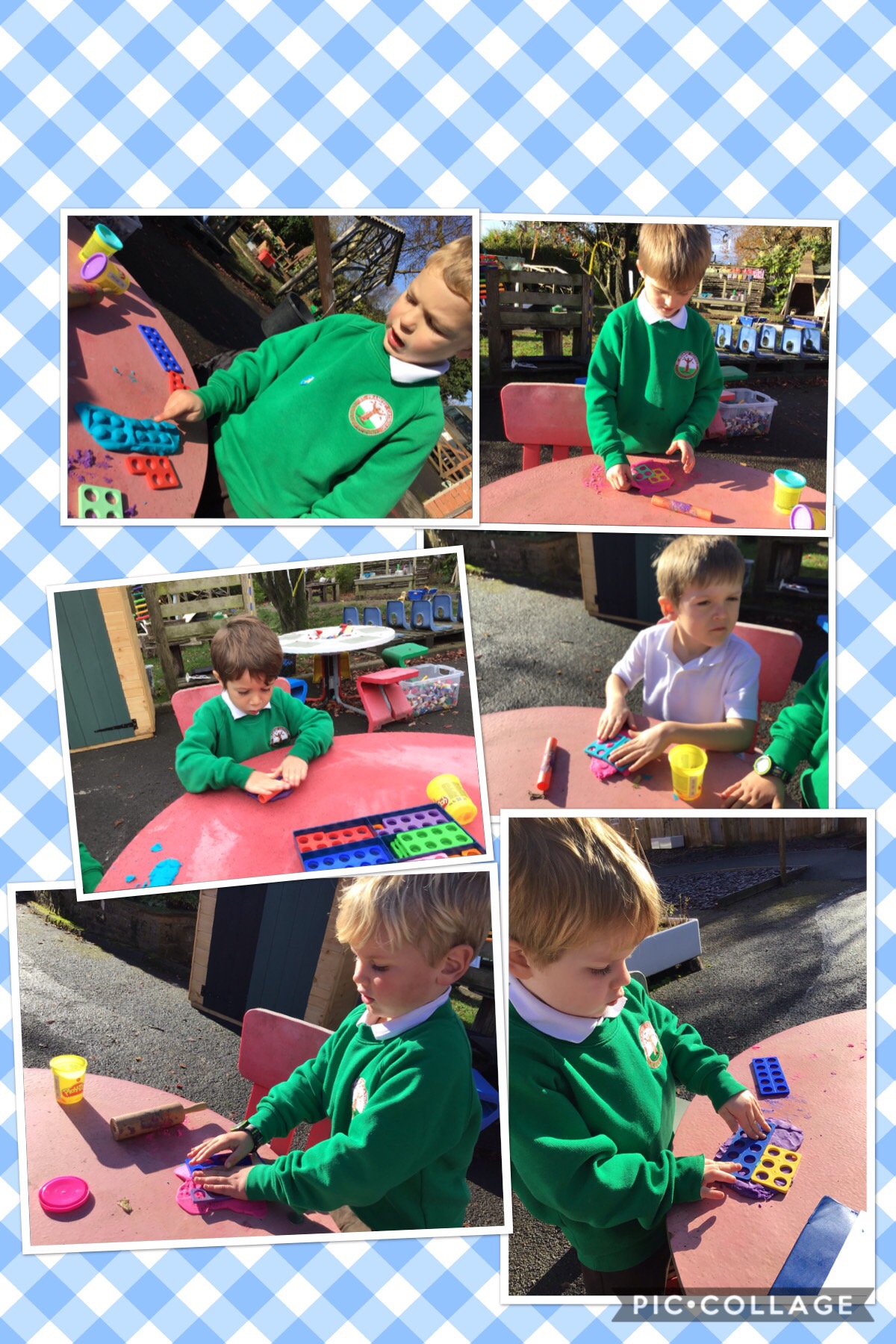 23/10/20
Where have the 8 weeks week gone? I must start this message with a massive thank you to all the parents, you have been a delight to meet and the support you have given your children has allowed them to make great personal milestones in all areas of their learning. Well done to everyone in Pendle class, I am extremely proud of how hard you are all working and how far you have come in such a small space of time. To see us off on our wonderful 'All About Me' Topic we read the final Julia Donaldson book 'Squash and Squeeze'. The children loved the story and we even made our own clay animals to get us excited to write. They came in all weird and wonderful sizes to an elephant to a duck and her eggs. To really show off how much we have developed this week we wrote 2 sentences in a phoneme frame. We were given a sentence and had to fill in the blank phoneme frame using our own phonics, we could rely on a phonics mat and the children did brilliantly. In mathematics we used the large number line outside and found resources to correctly correspond to that given number; to make it even more exciting we used a timer to add an element of competition. Interestingly, it made for a great addition number sentences too. In R.E we painted a picture of St. Francis' and spoke about the life he lived. We used this opportunity to have some 'I wonder' moments and reflect as a group on the many questions and thoughts we had. When we return back to school we will begin phase 3. Children have shown how much they love reading, writing and what brilliant work they can produce. Please use the half term as a chance to rest and recuperate. However, it is still important that you read regularly at home over this break too. It has been a lovely talking with you all this week during parents evening. Please do not hesitate to get in touch with me if you need any help or guidance. We are always here to support you. As a class we have decided our next topic will be 'Castles, Princesses and Mythical Creatures' which sounds amazing! I luckily knew the perfect author for this – Matty Long. Please feel free to give his books a peek. Have a wonderful break and see you all soon.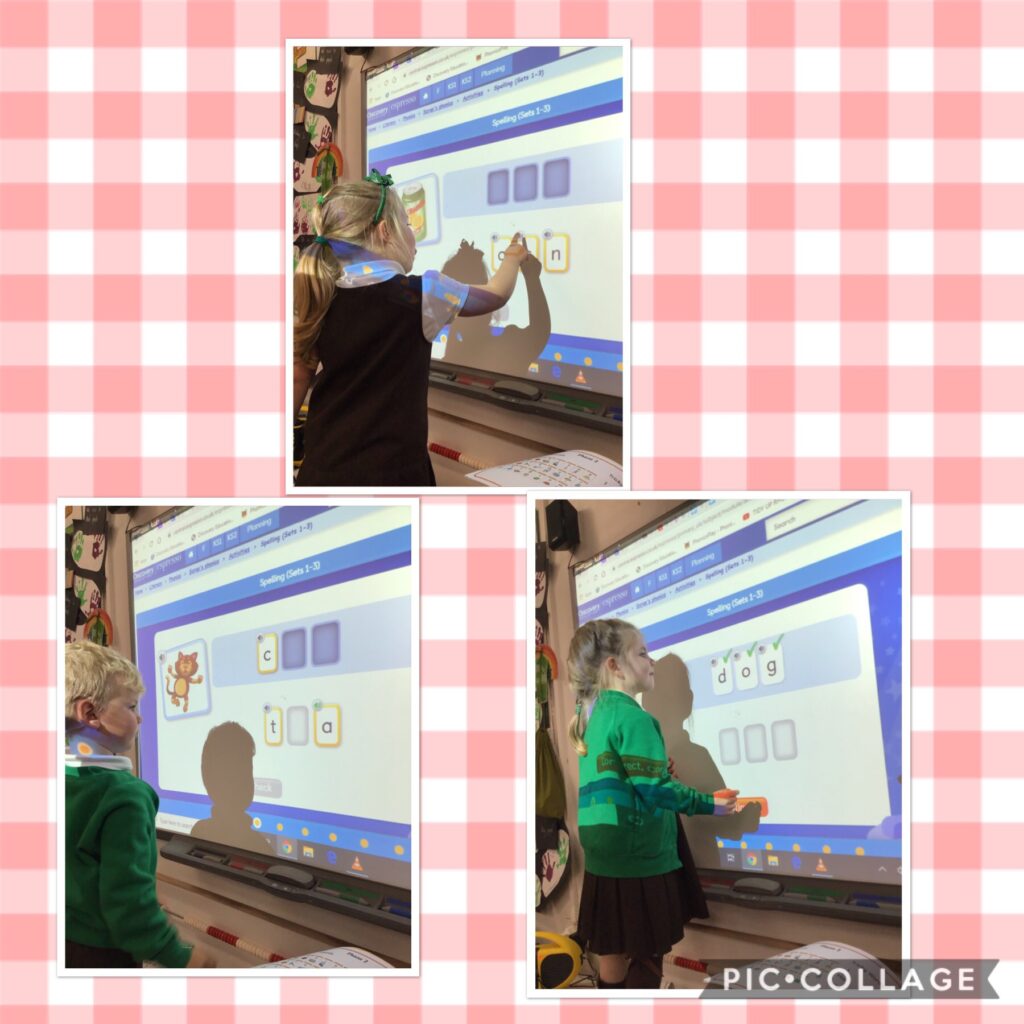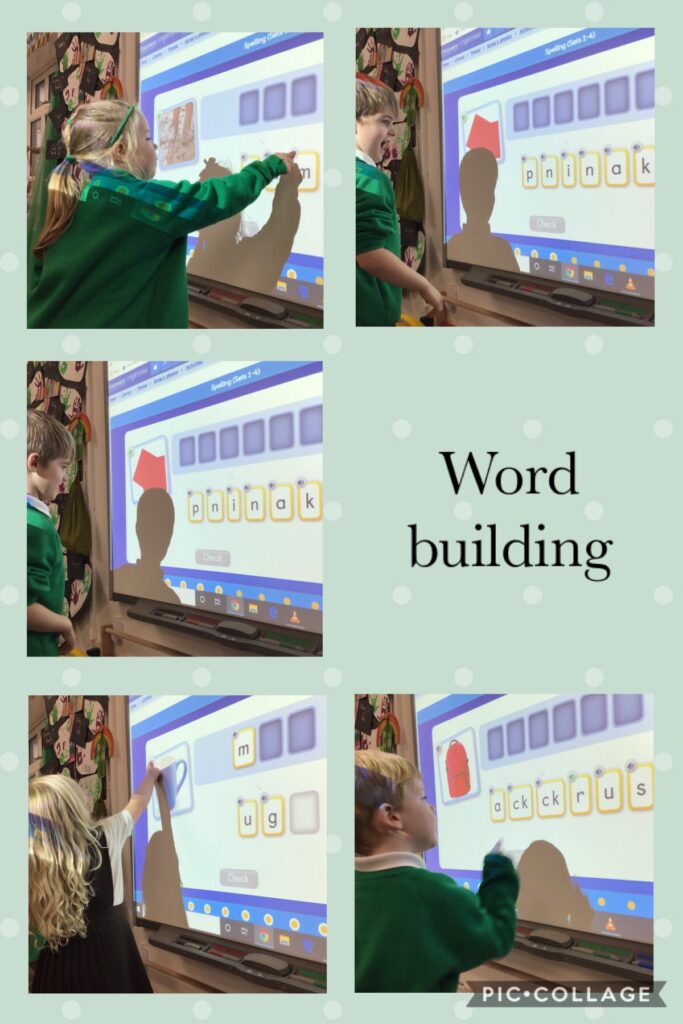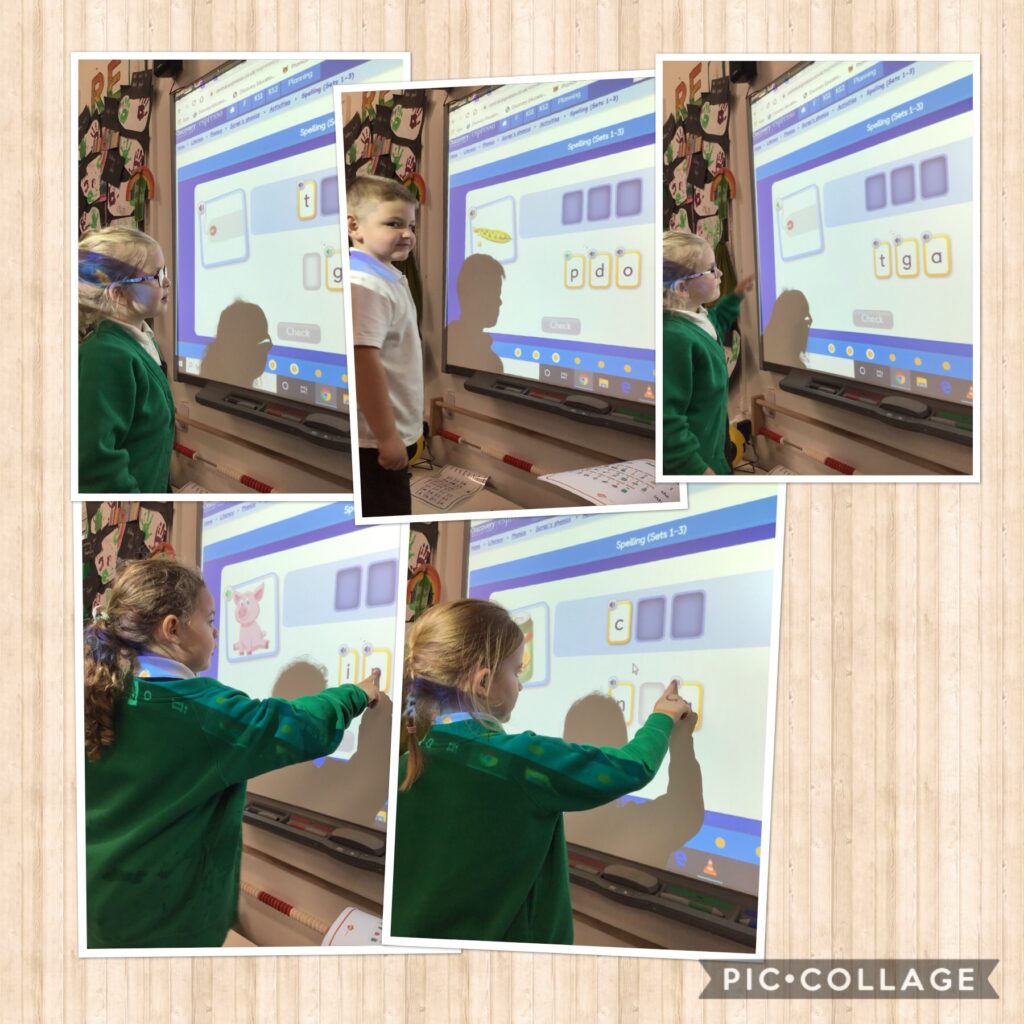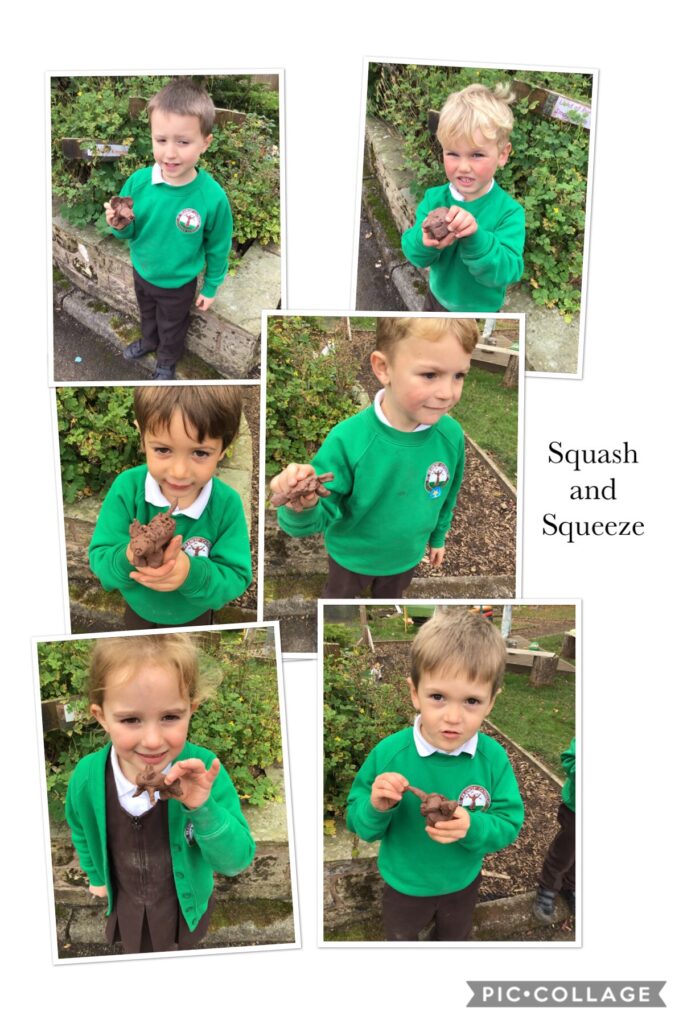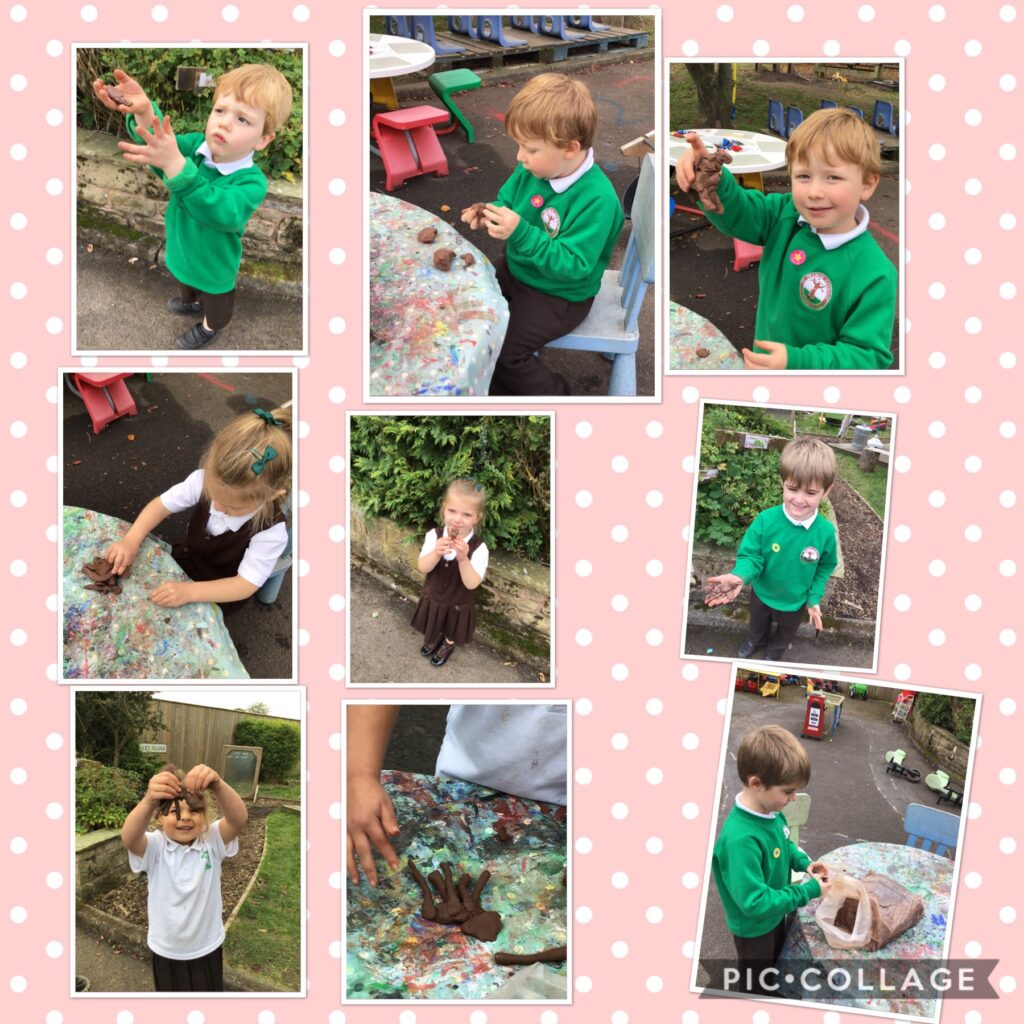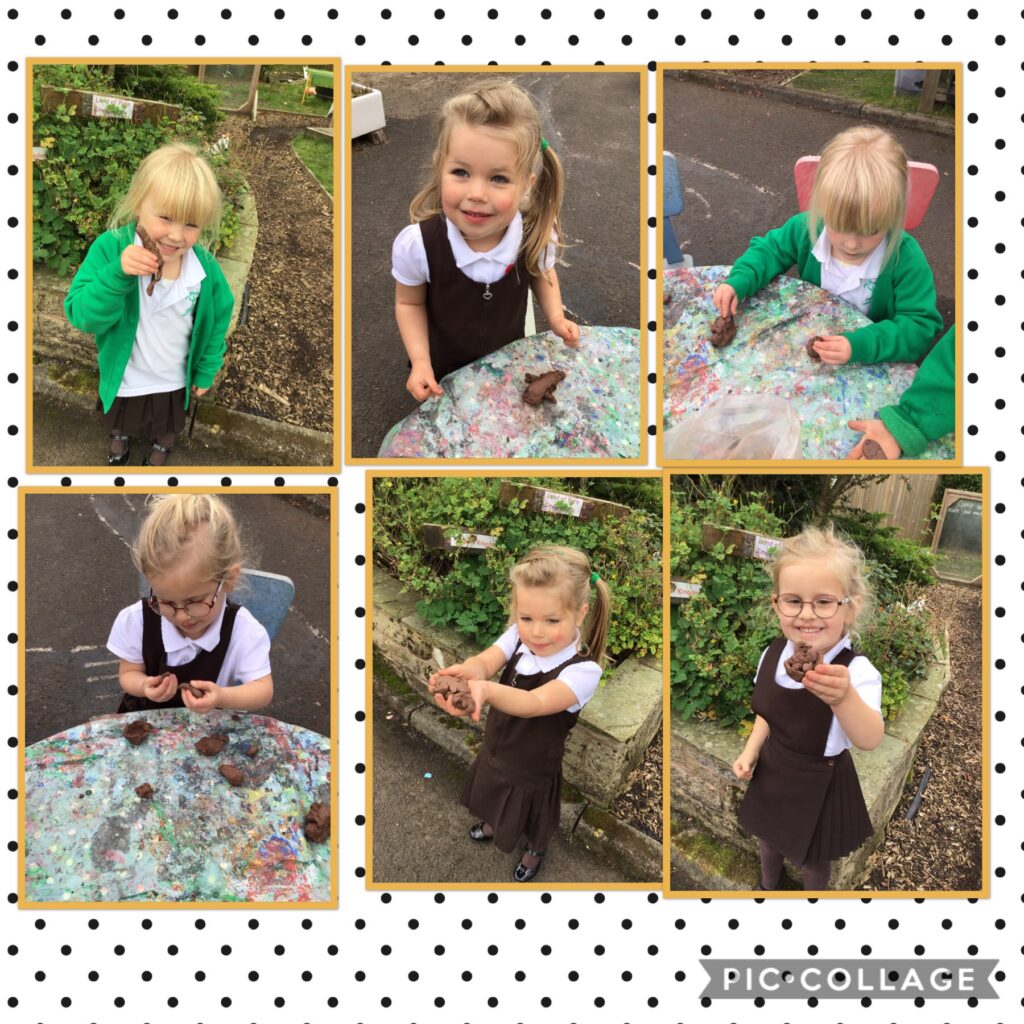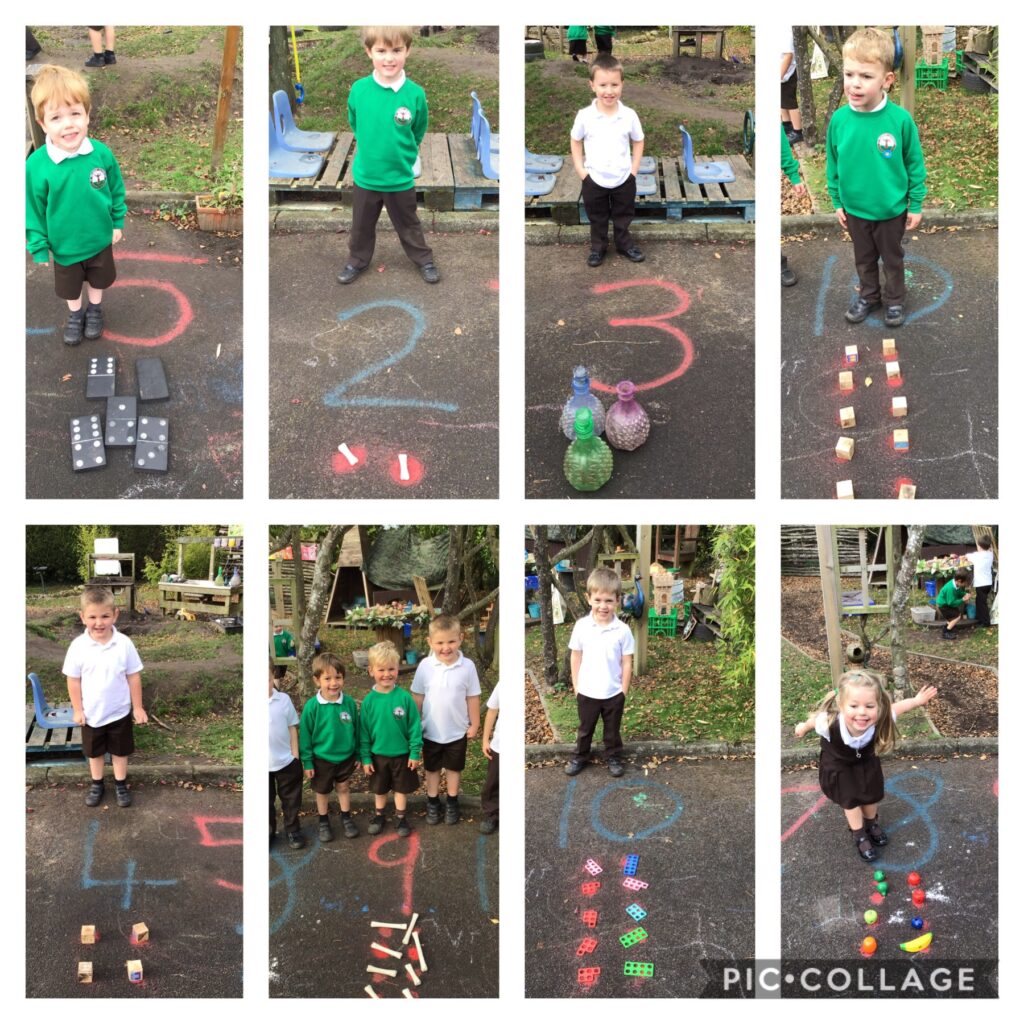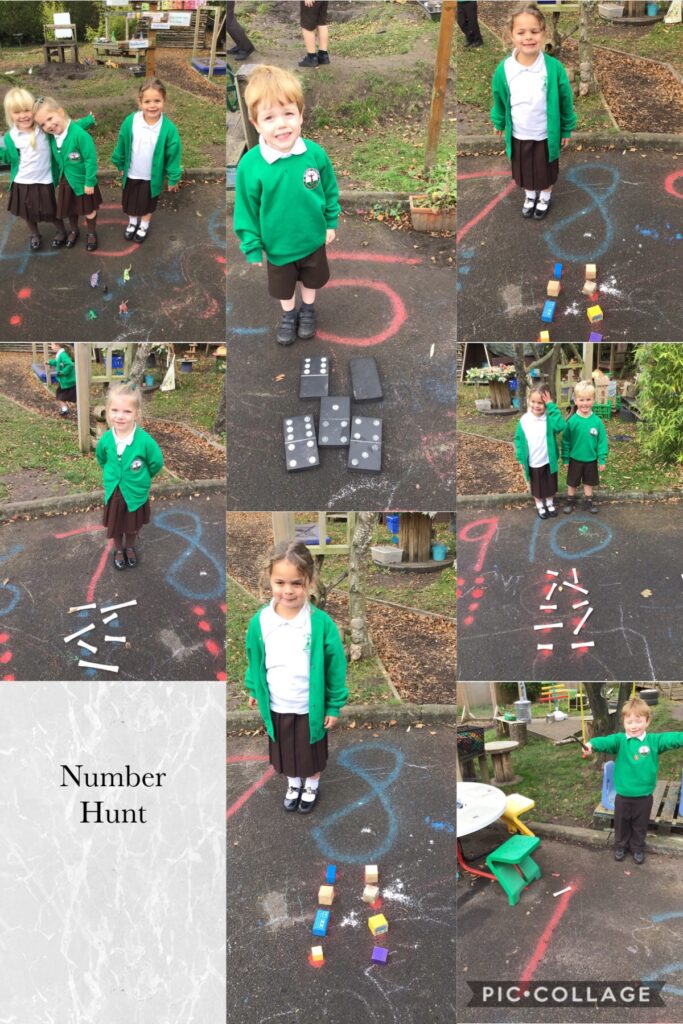 16/10/20
What an exciting week! From buddies to messages from China and whatever could be imagined in-between, it has truly been a great week. A major milestone has been achieved as all children managed to write their own simple sentence, next week I hope to push them even more and include tricky words. We used the Stick Man as inspiration to write our sentence and if you are writing about the stick man you need to make one. The obvious material to make a stick man when you are surrounded by trees is … pipe cleaners and lollypop sticks? An effort was made to use sticks but they were not as robust as I (and the children) would have liked and broke very easily. In mathematics we used a range of resources to count up to a specific total. I was amazed to see such a wide range of resources such as tractors, buckets and bones – Great work team! In R.E we used our reflection time to discuss kind actions we have performed or kind actions others have done for us. It was a really heartwarming opportunity for me to see how much each member of the class cares for each other and appreciates the things they do. Thank you for bringing in your wellies as we once again ventured into the deep dark wood and made our very own Autumn art and leaf rubbings, it was a great adventure and thank you to Mrs Tyrer for all you help. In P.E we changed up the routine slightly and worked as a team to 'tidy our bedroom!' which has a big focus on underarm throwing and spatial awareness. We had time for a game of snatch too which is all about speed. Can you believe 7 weeks down 1 to go! Where has the time gone? Our final week we will be reading A Squash and a Squeeze. Have a lovely weekend and see you Monday! A special thank you to Mr Jackson and his class for our special hello, we hope to speak to you again soon!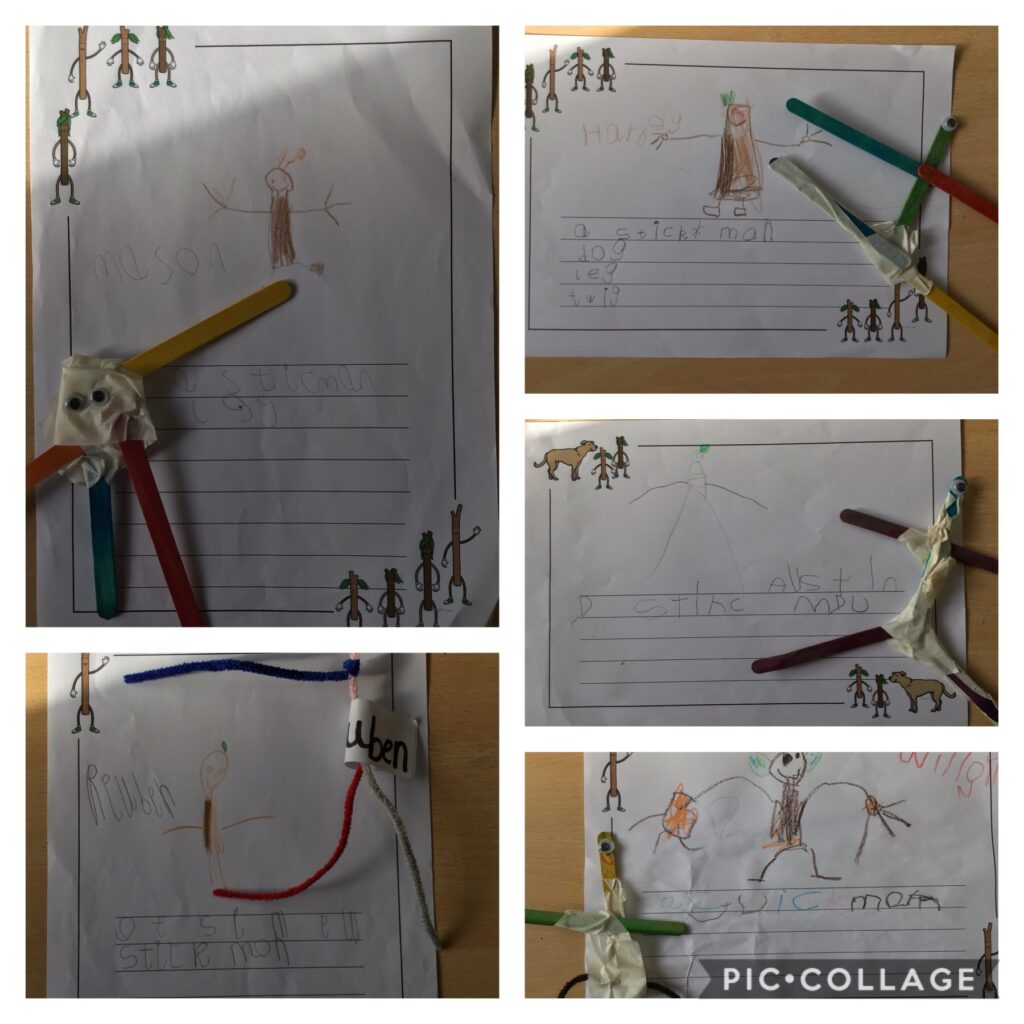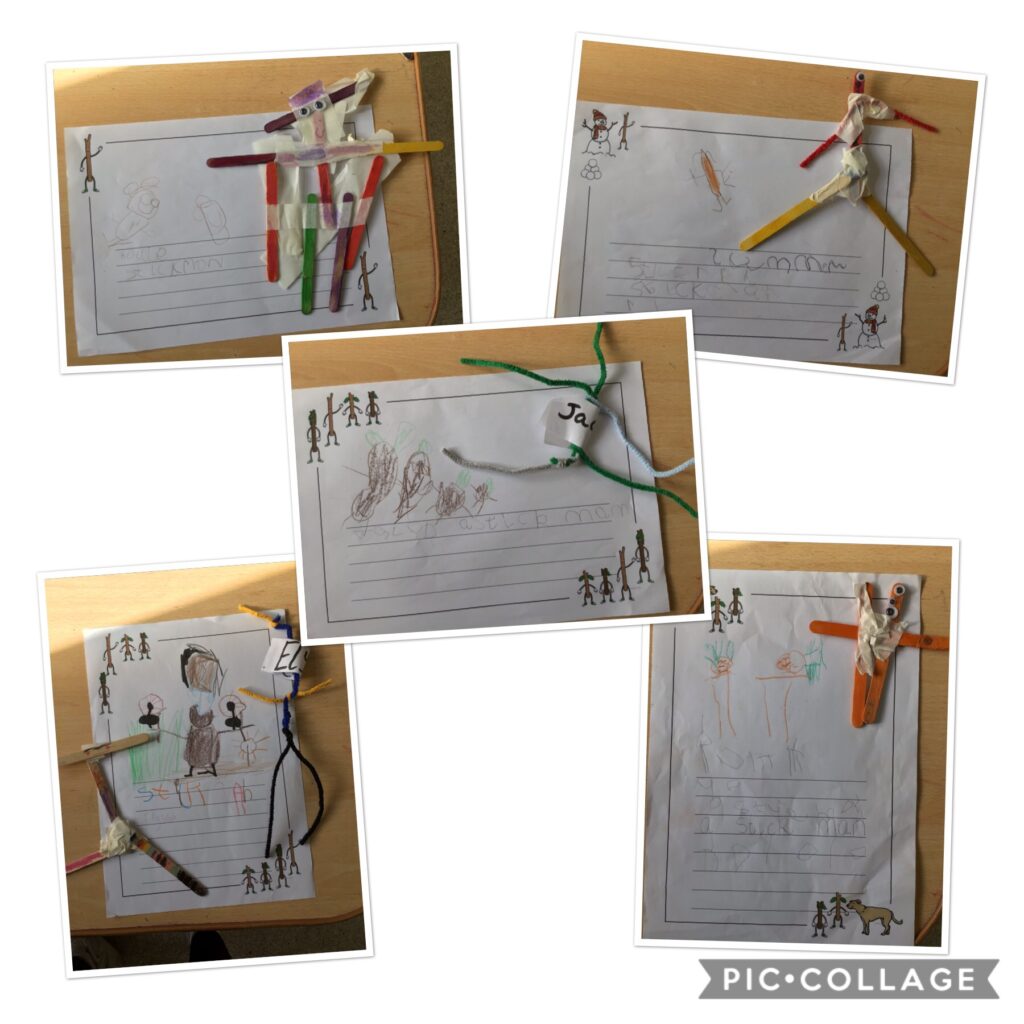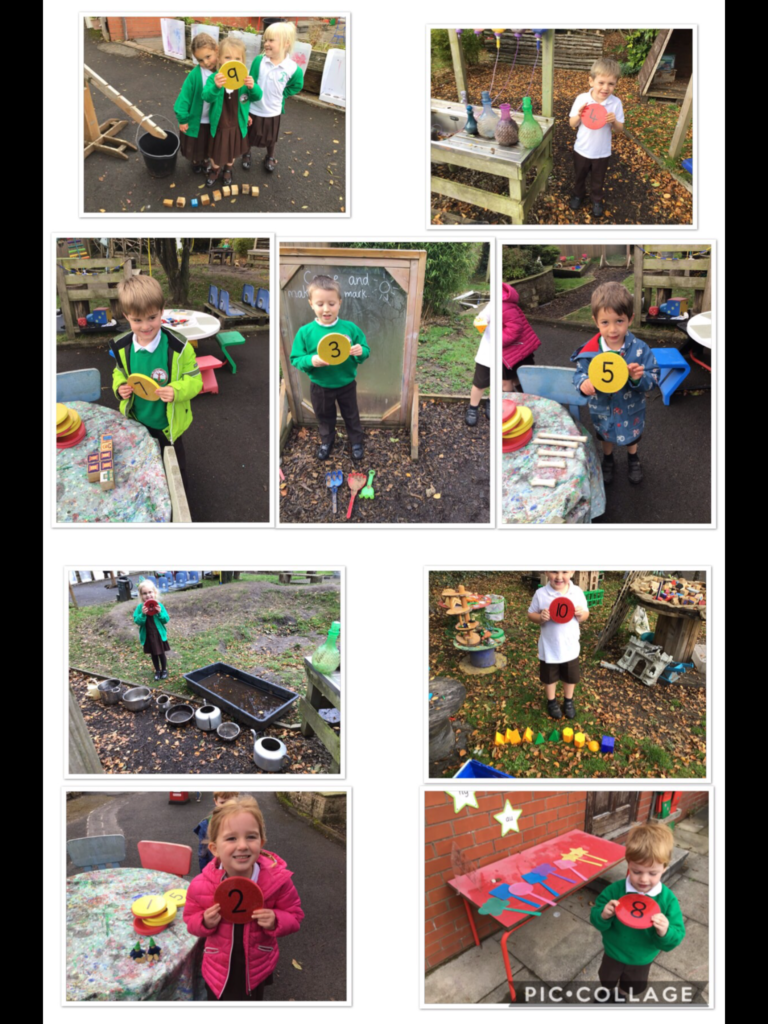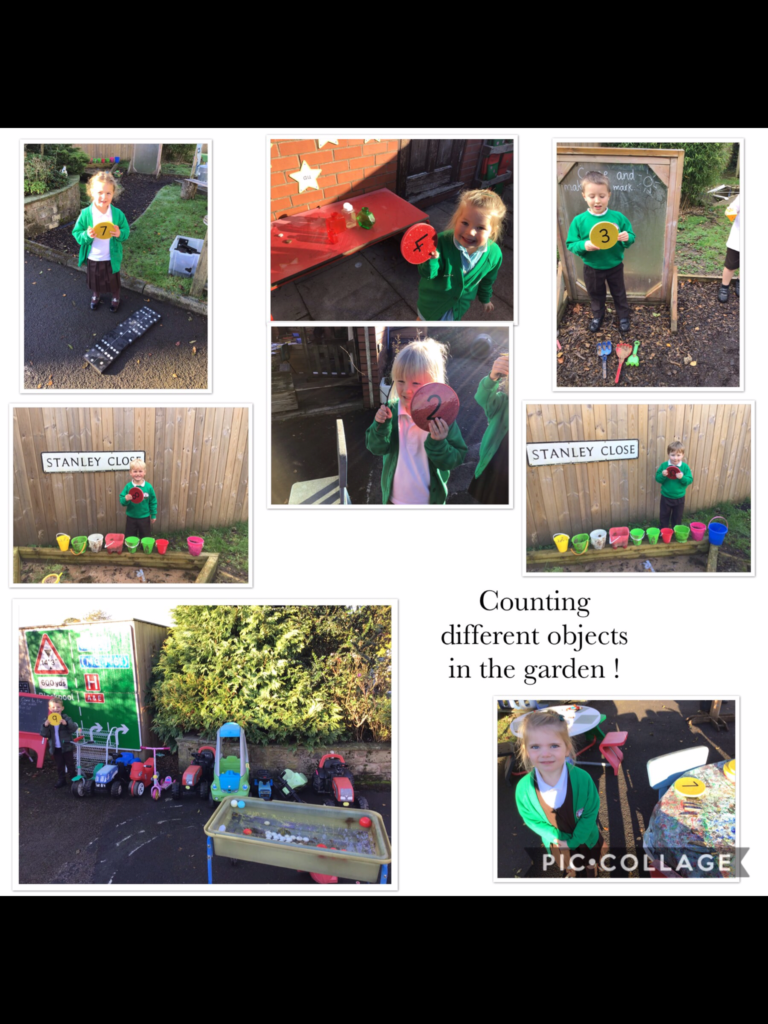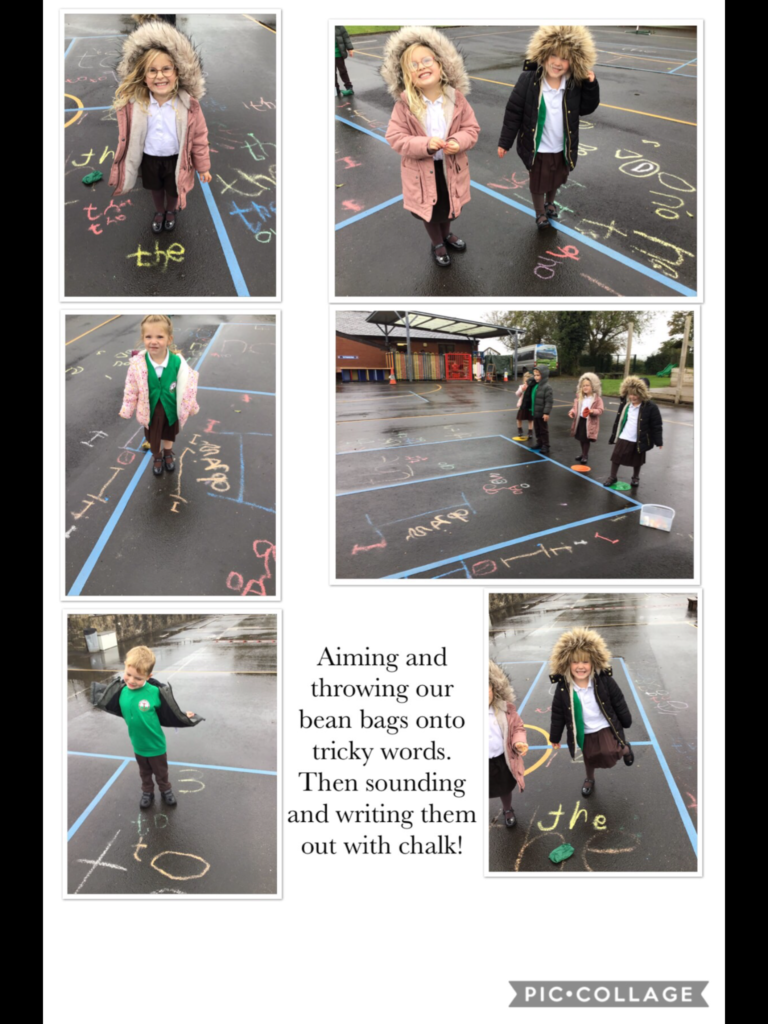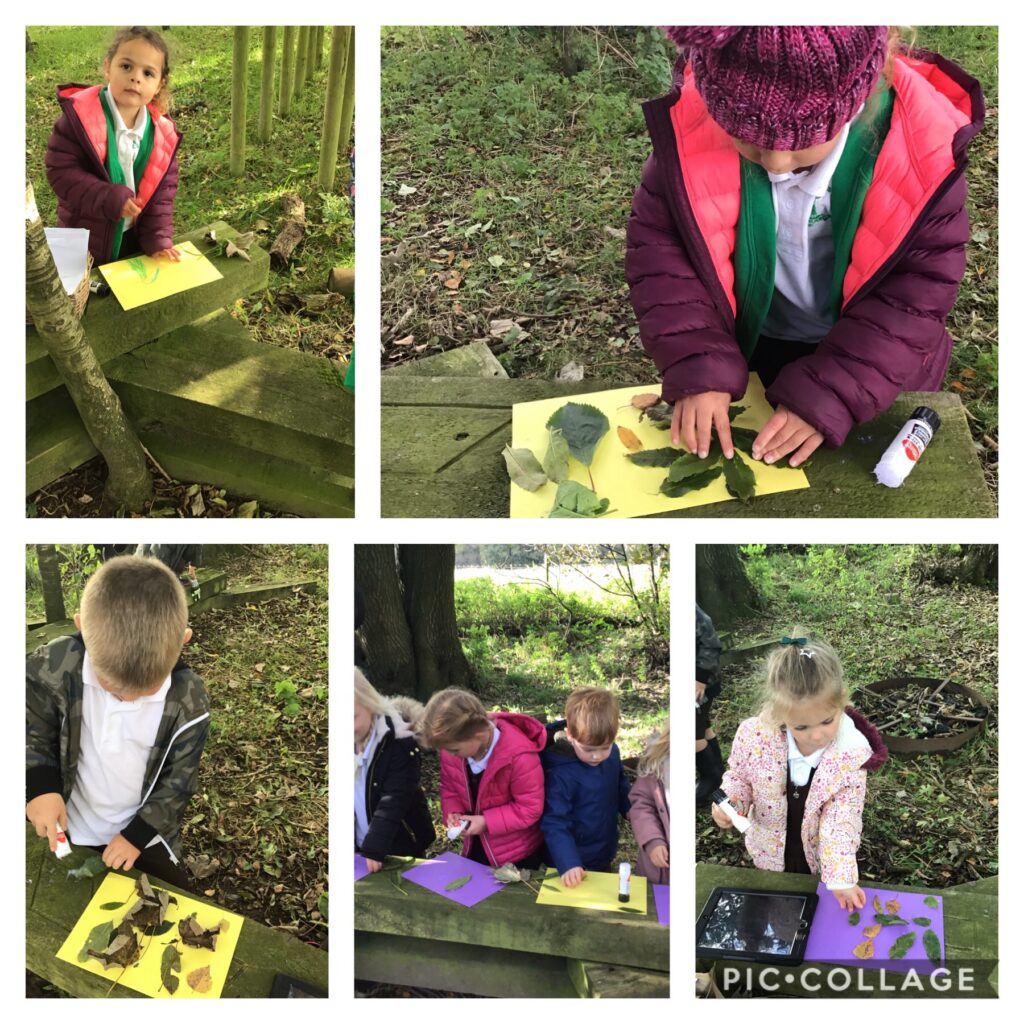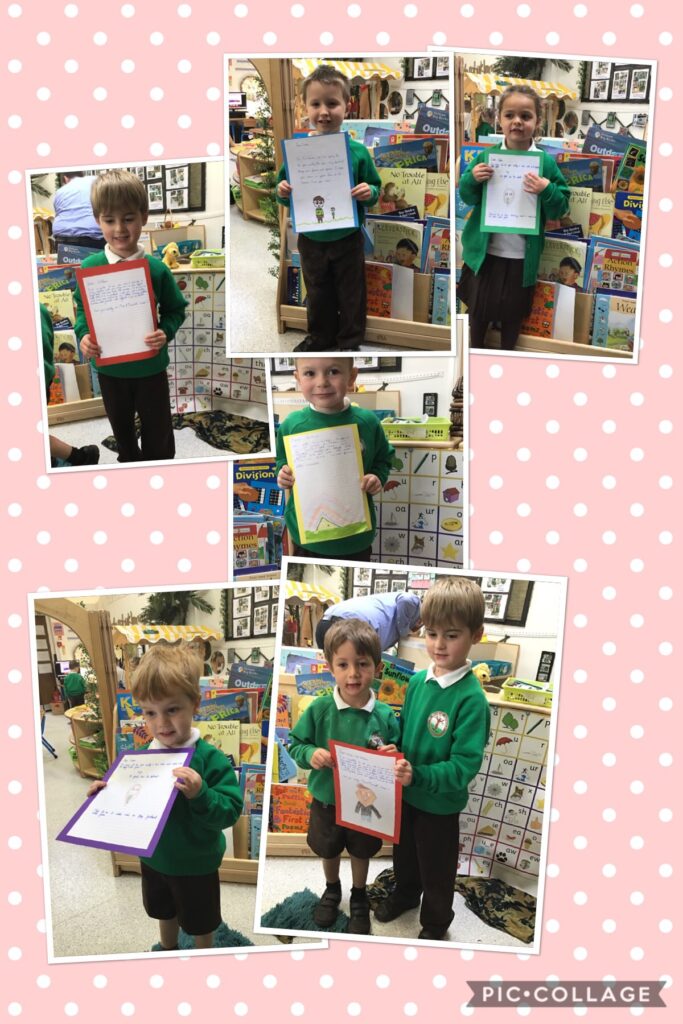 9/10/20
Nihao! It has been Science Week and we have looked at satellites and what they do and how they get into space in the first place. We thought it would be a wonderful idea to send a message to a Chinese school and pass a hello around the world (Mr Jackson and his class) who teaches in China who will send us a message back, allowing us to learn about another language and culture. On Monday we should have a message from the school, I will put the video below for you to see. Thank you for all the resources you brought in for our junk modelling, the satellites have been made and look fab. Some even have rockets attached to get them into space and astronauts to pilot them. In Phonics we are trying to continuously expand and grown our vocabulary. We have been recapping older sounds to strengthen our ability to segment when writing independently. In Mathematics we have gone back to the shop to test our counting skills and spend pennies to actively think about how much money we have and need to spend. In R.E we have been learning about the wider world and how people live different lives to us, sometimes more difficult lives. We discussed what little actions we could do to make the world a little bit of a better place for everyone and will hopefully manage to organise something as a class (and school) to make a small difference. As we could not have an assembly for the Harvest Festival we have filmed our performance of the Dingle Dangle Scarecrow for you. However, the brilliant idea of using the greenscreen, speakers and stage was brought up and is too good not to. So if you bare with me we will record it again for you for next week, it will be worth the wait! Next week we will be reading the Stick Man. I hope you all have a lovely weekend.
IMG_1874   – Click here to see our video!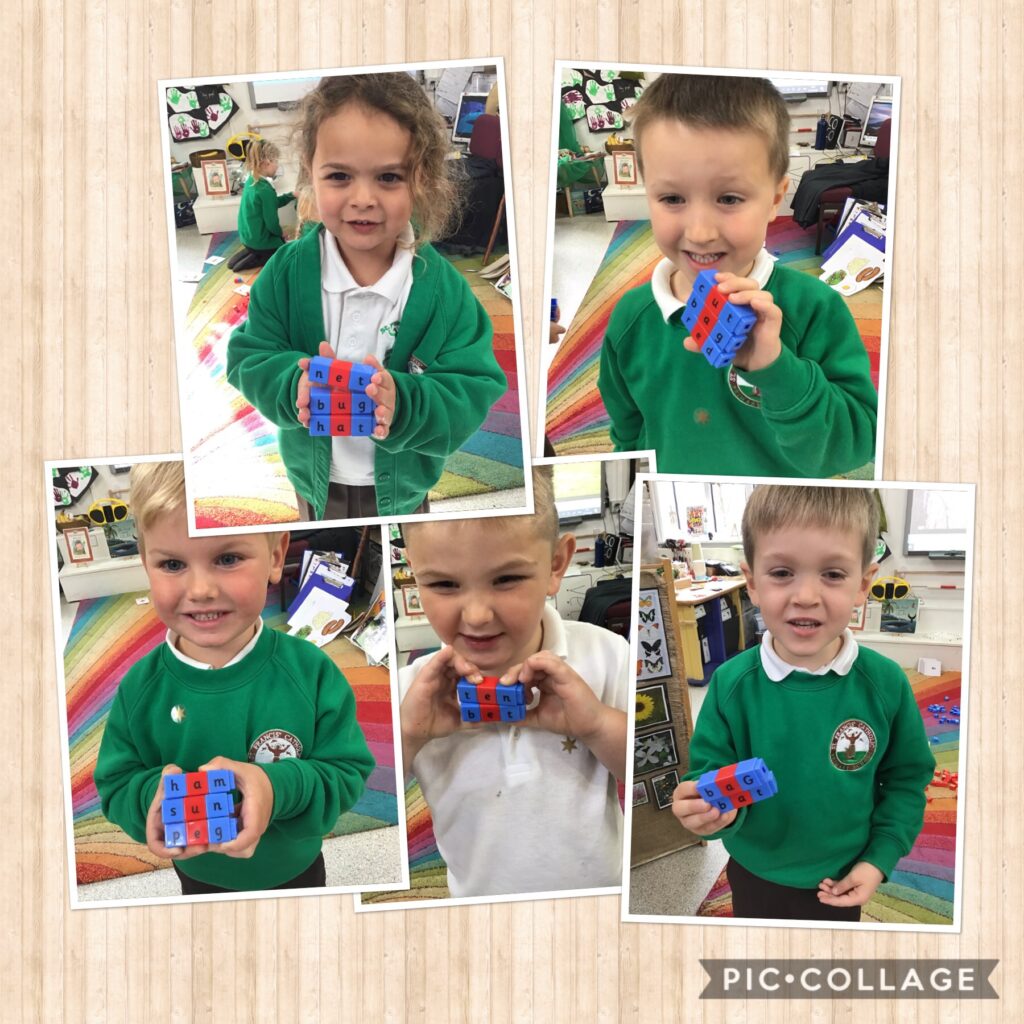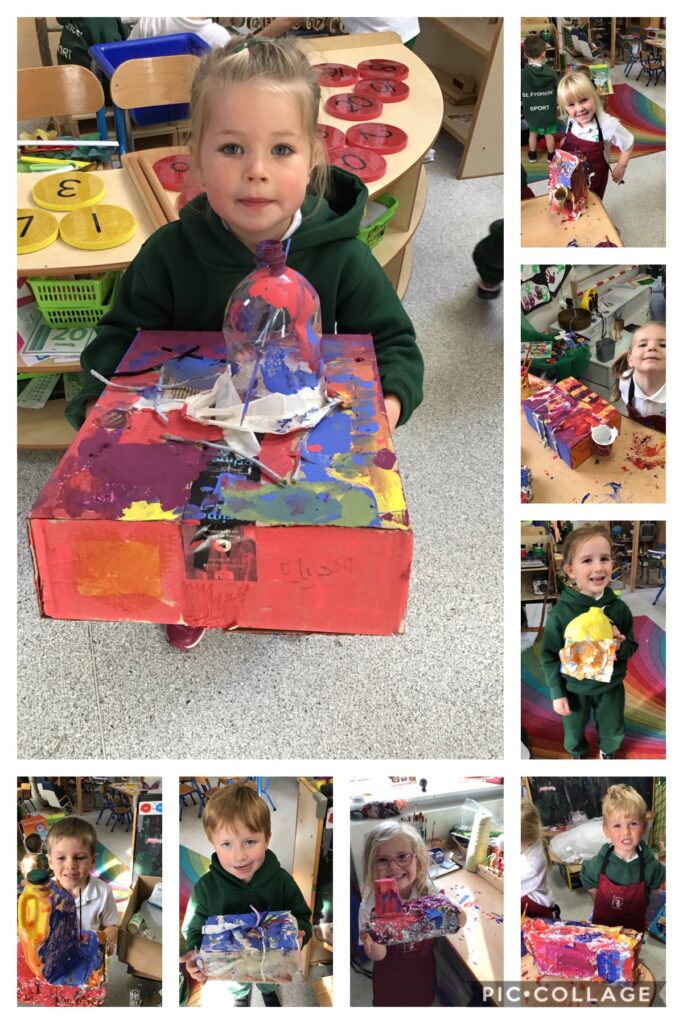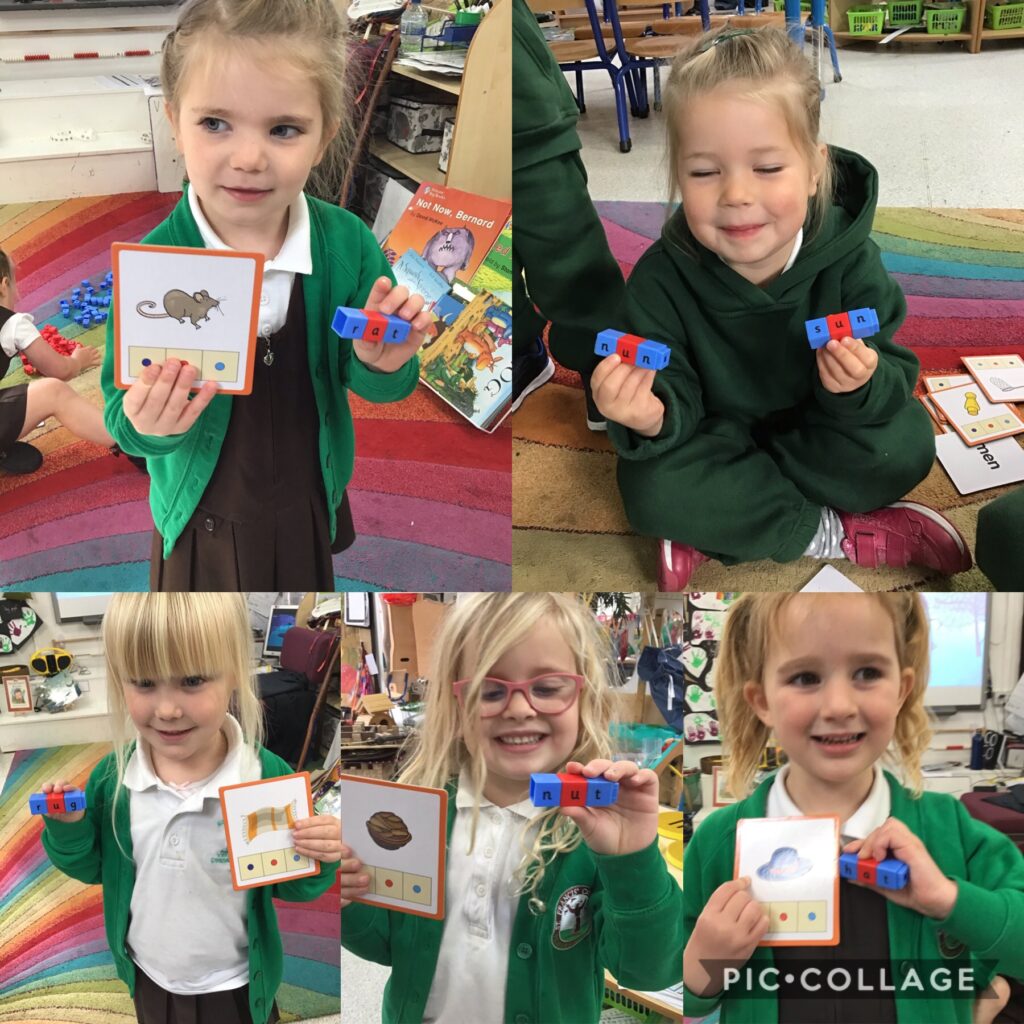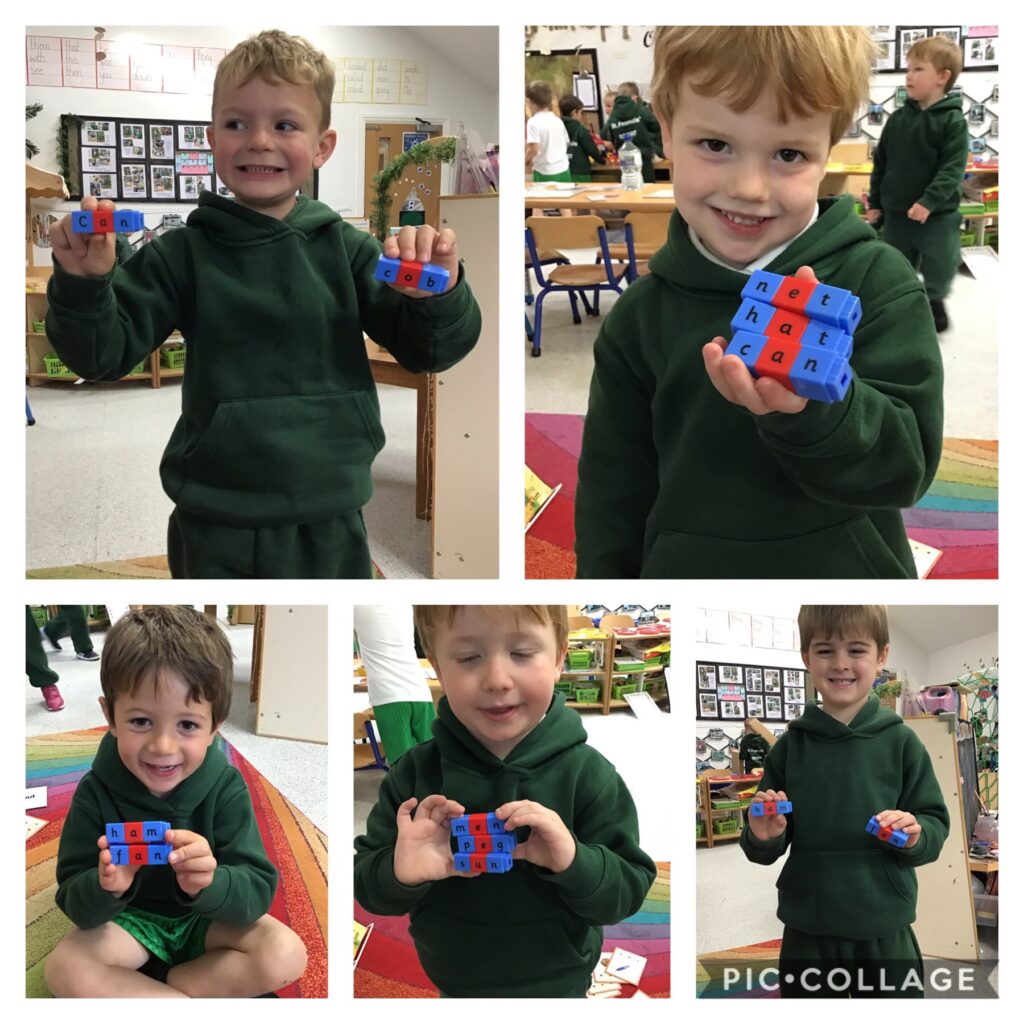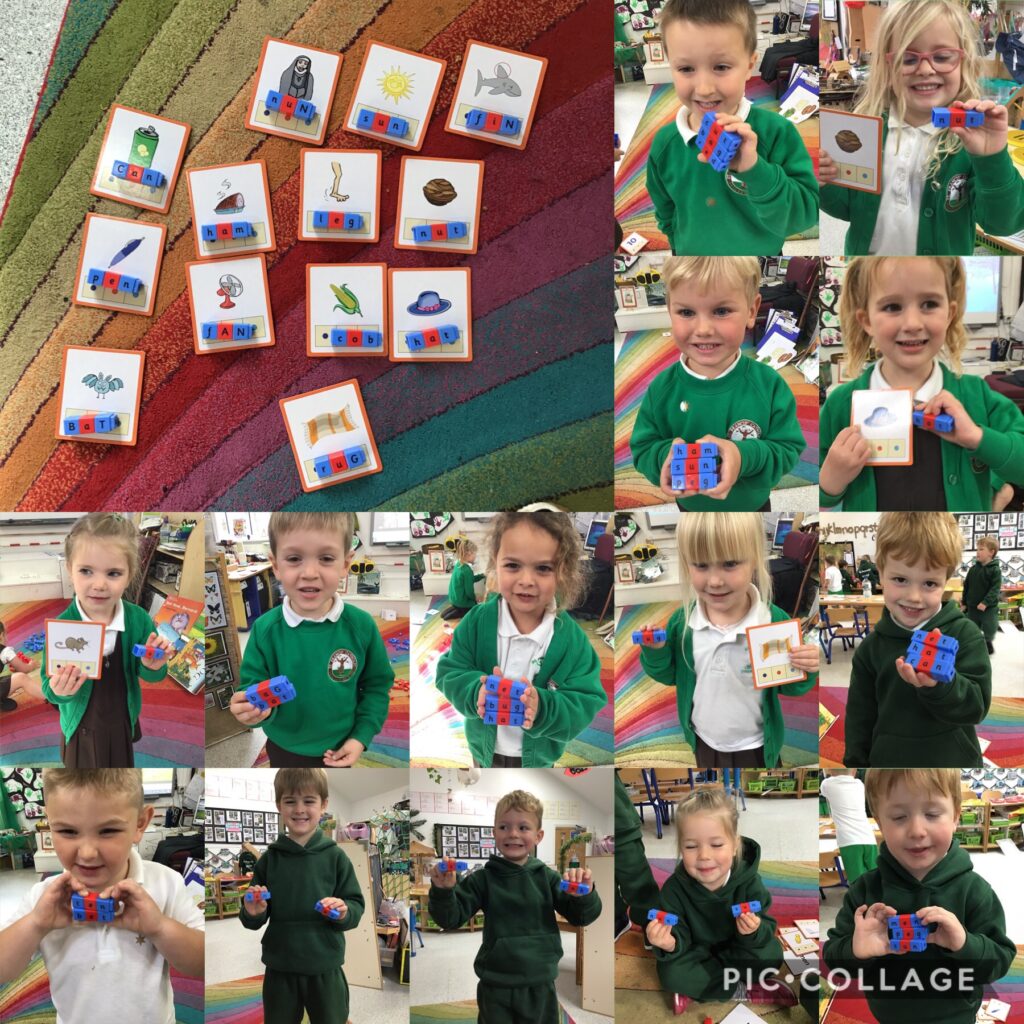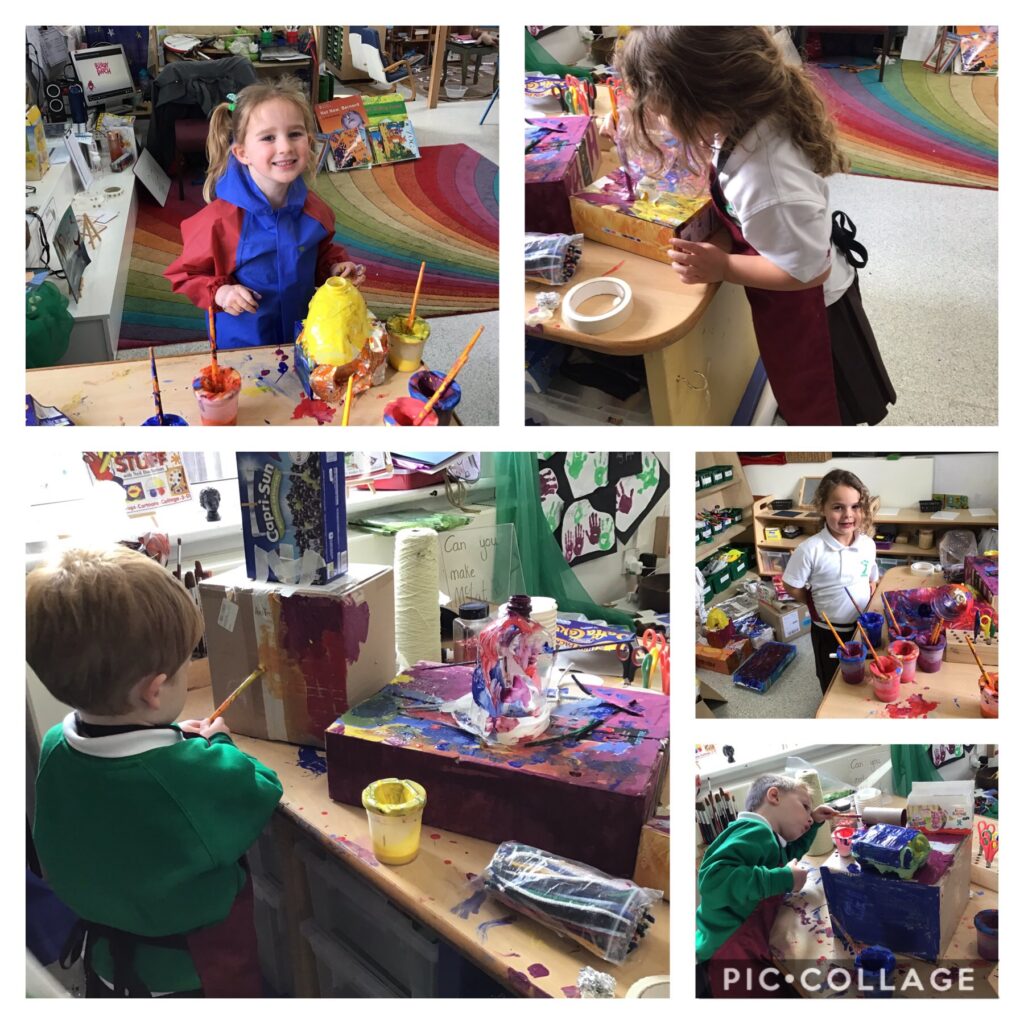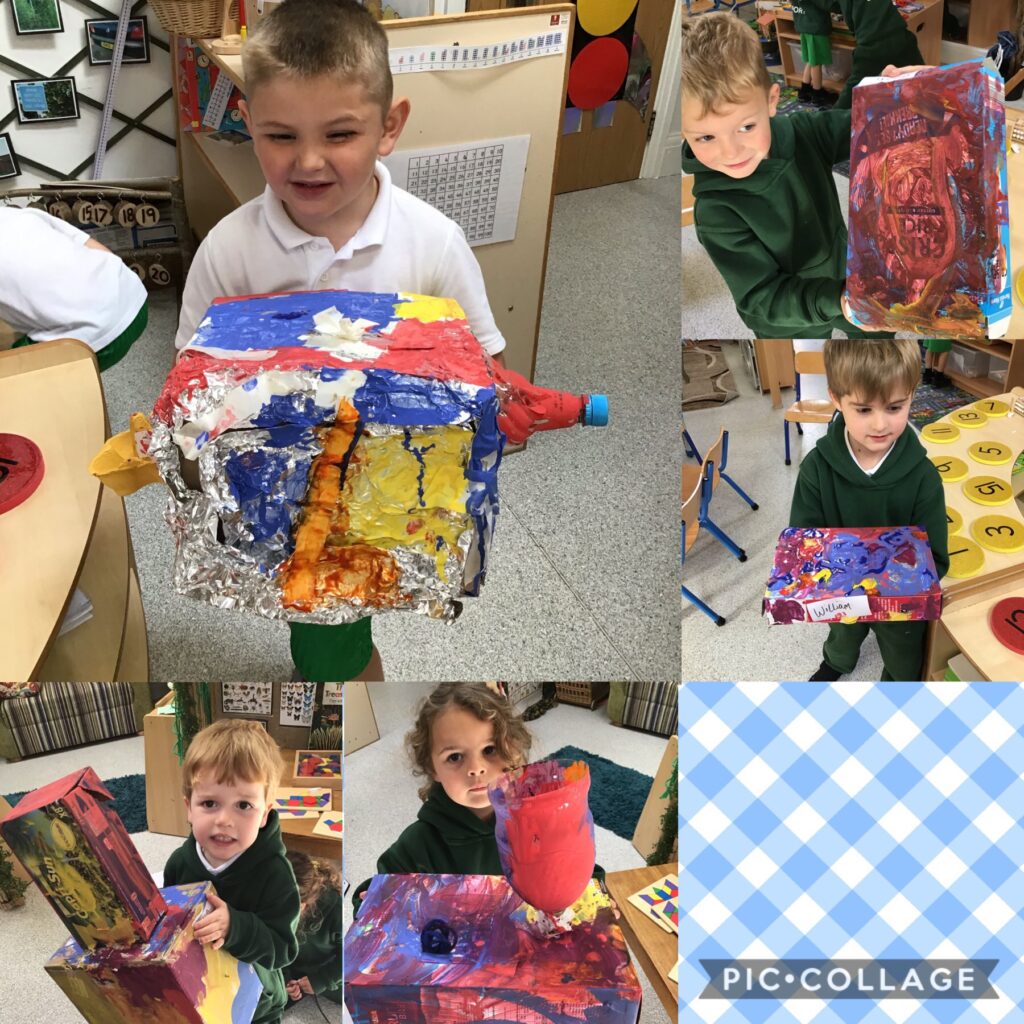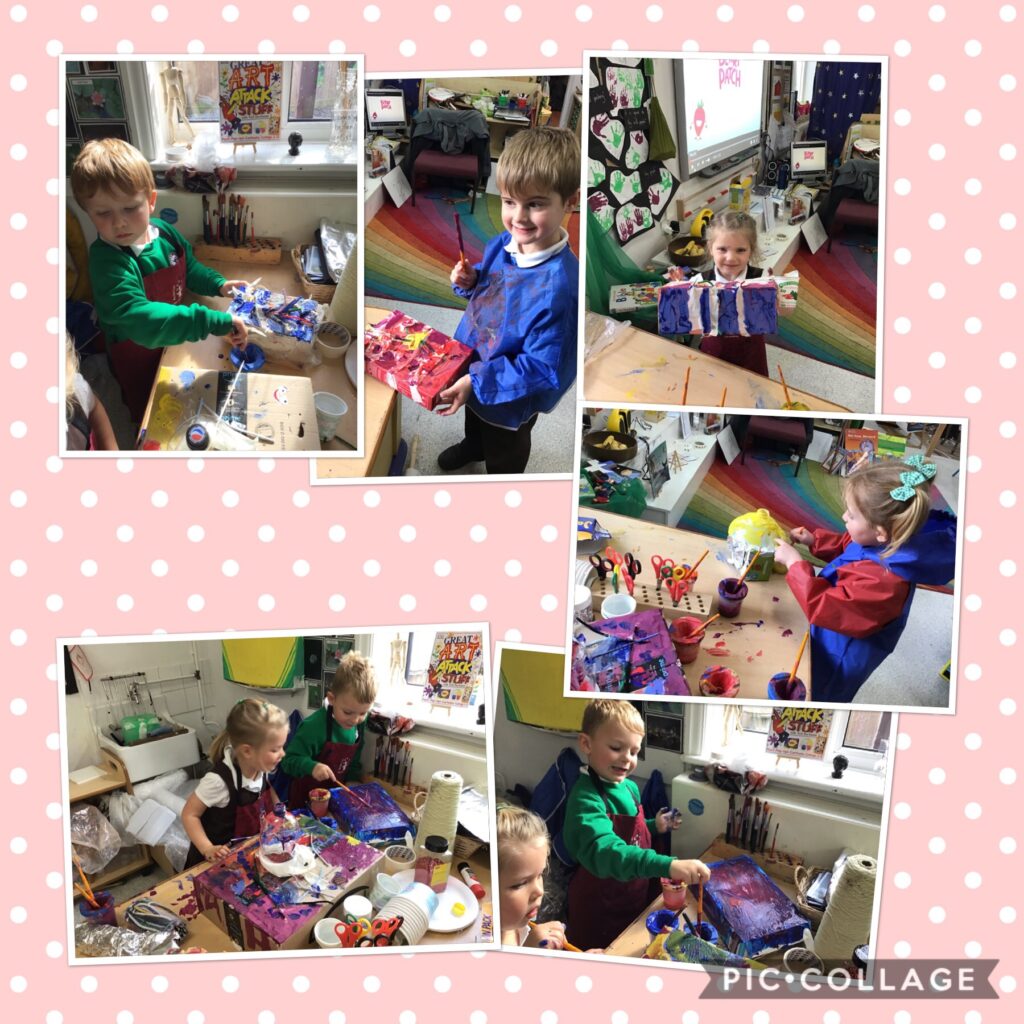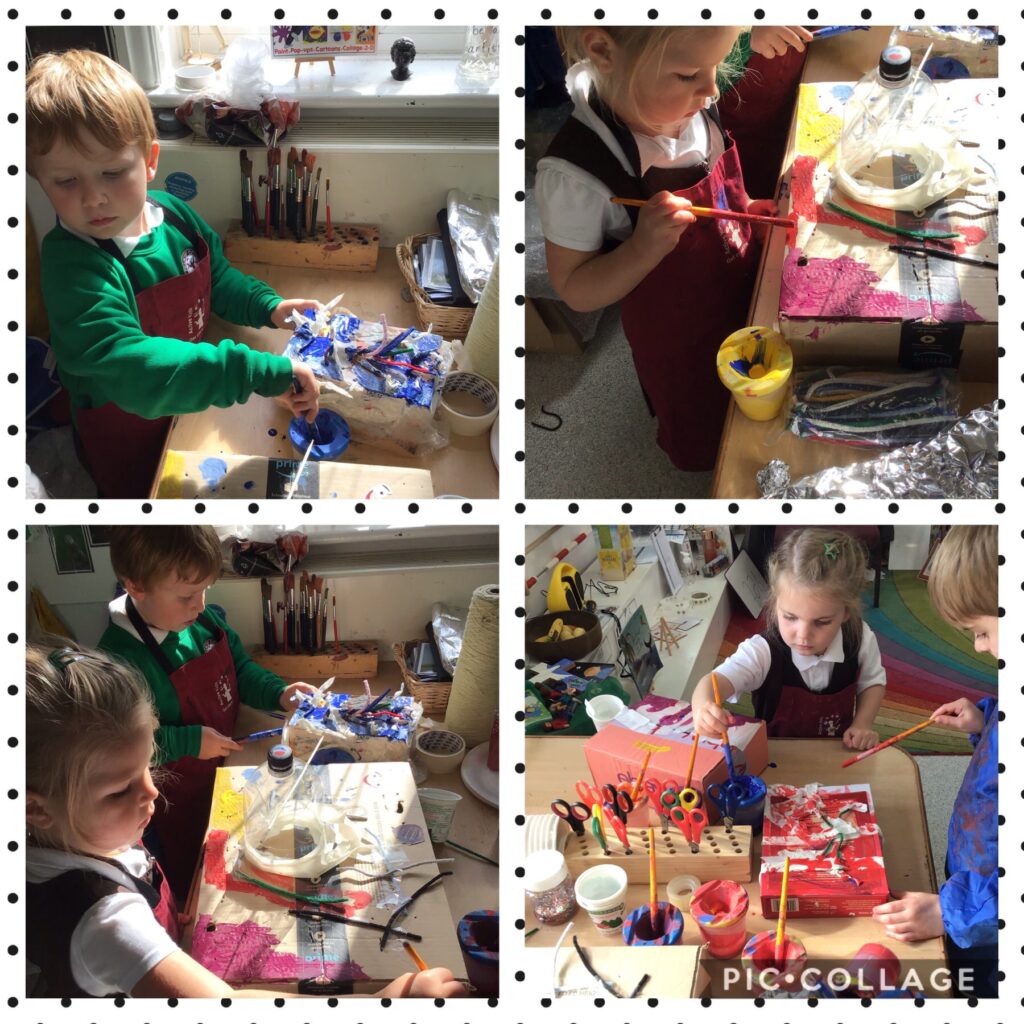 2/10/20
We have certainly not have had many puppy dogs tails but a plethora of rats ones! As we enjoyed the 'tale' of The Highway Rat we had the disgusting task to making 3 rat tails! 1 big, 1 small and 1 medium. We then used counters to measure the length of the tail and recorded our findings. In phonics we continue to put our segmenting and blending skills to the test and our vocabulary grows ever bigger every day. The children are showing they are capable to apply their phonics to a range of news words. It was lovely to be able to work together to write our own prayers, the children decided if that wanted to give thanks for something or ask God to help them rise to a tricky challenge. We used the outdoor easels the paint the cruel Highway Rat and it is fair to say the children loved painting him. The buddy cards are finally finished and the children have worked so extremely hard. Mrs Rossal will be getting a surprise Monday morning as they will be placed in her classroom with our personalized messages and handwritten cards. We have also finished off Zog's eggs which look stupendous; make sure you keep an eye on them so they do not hatch, the dragon may not be as kind as our friend Zog. Next week we will be junk modelling our very own satellites for Science Week so any plastic bottles, cardboard etc. would be great appreciated. We should also be receiving a very special message from some new friends. Thank you for a fantastic week, see you all Monday!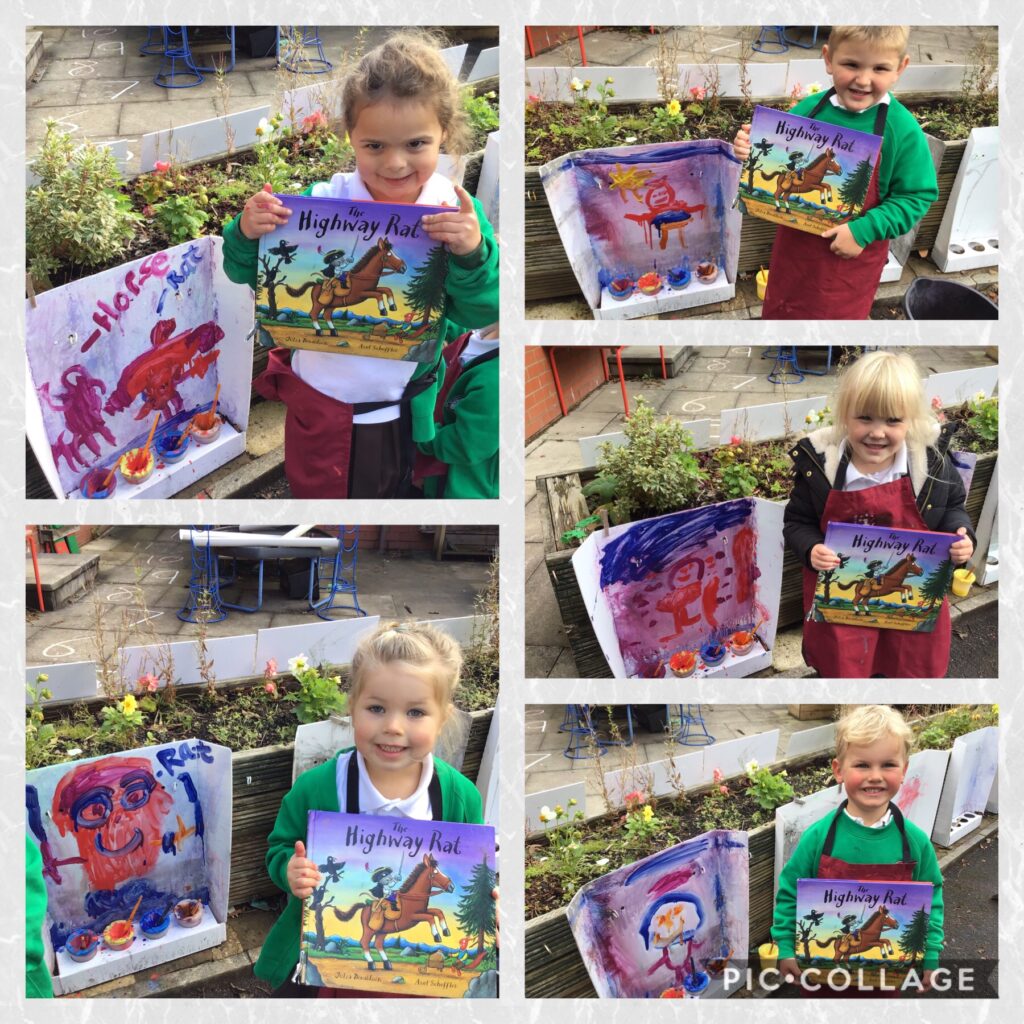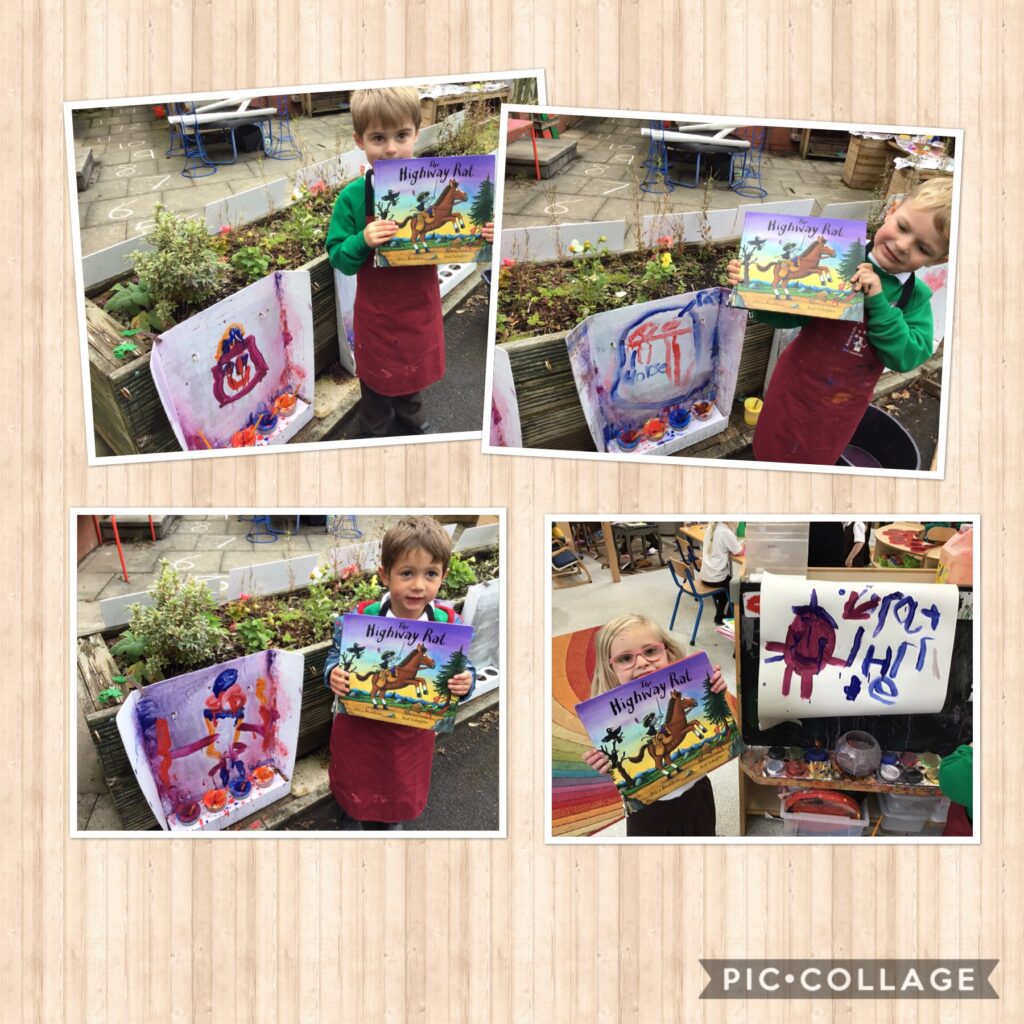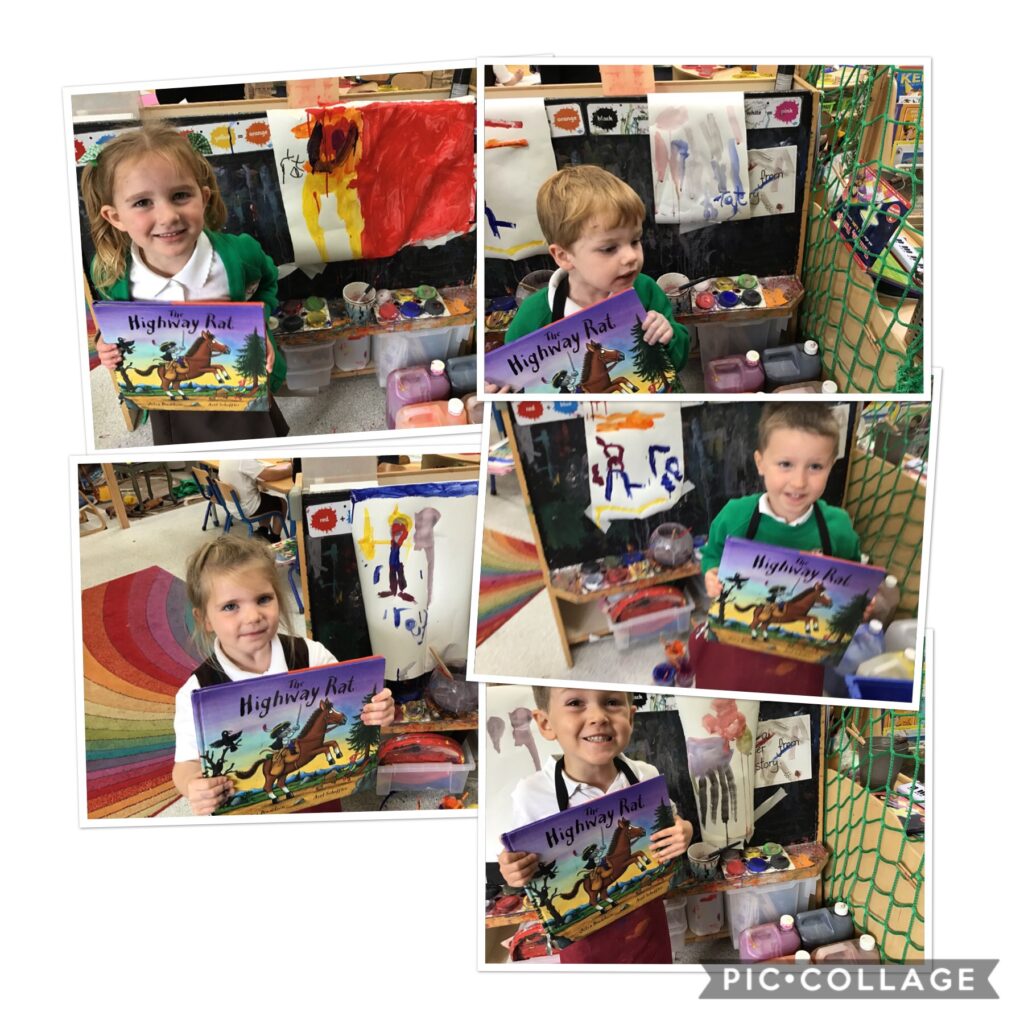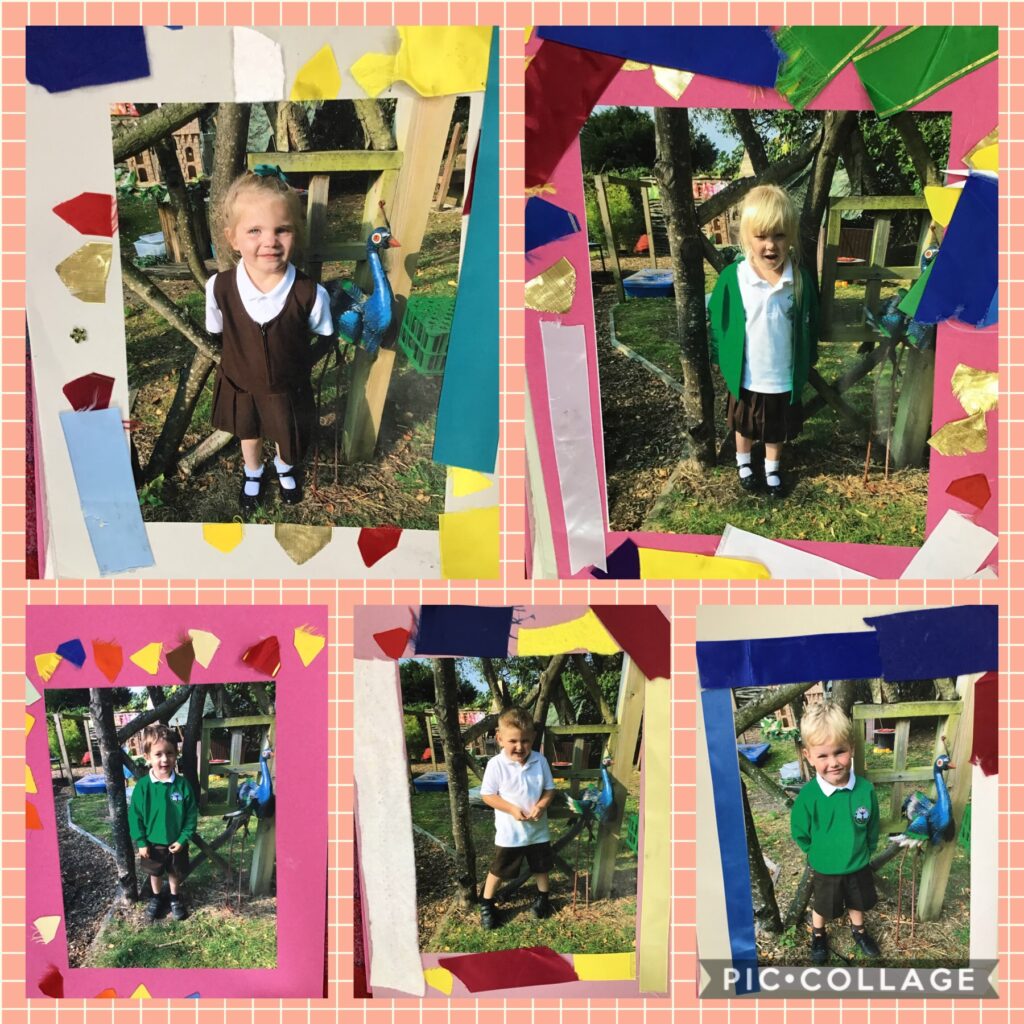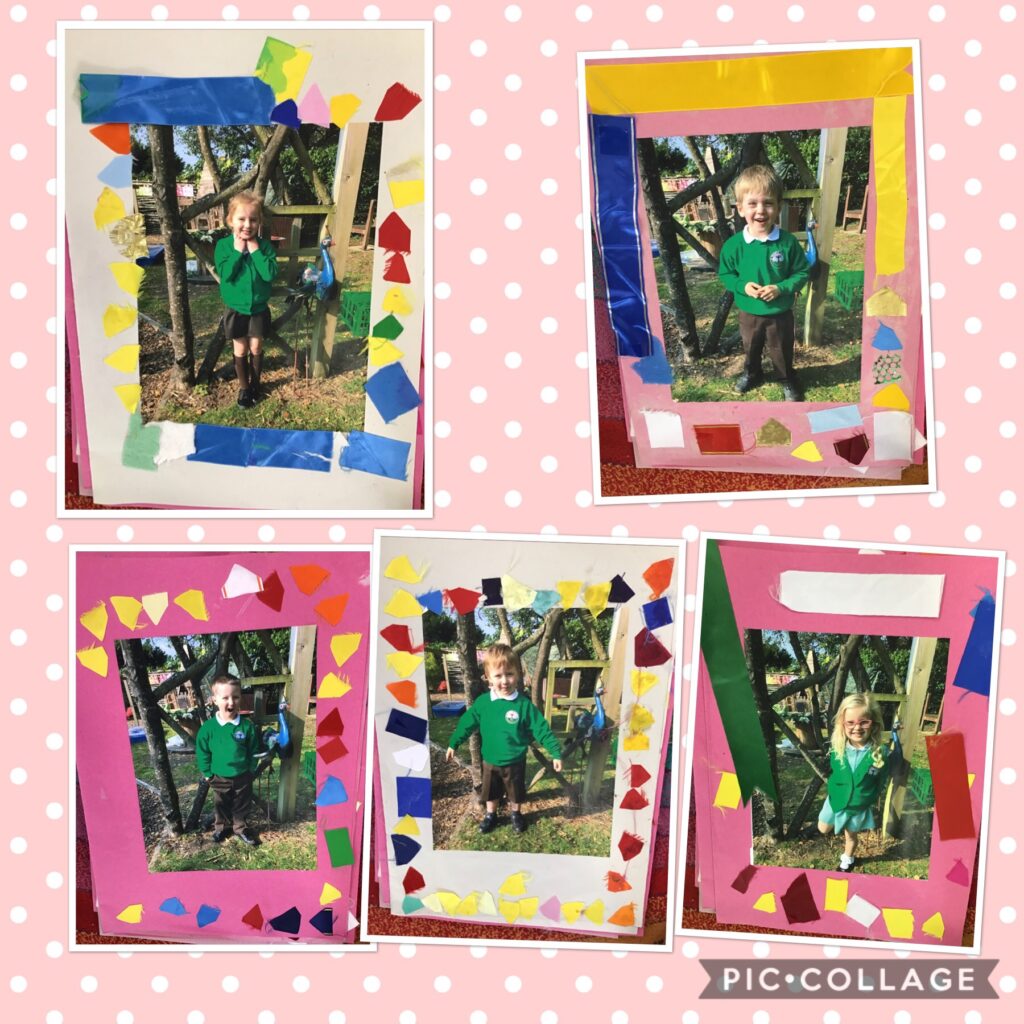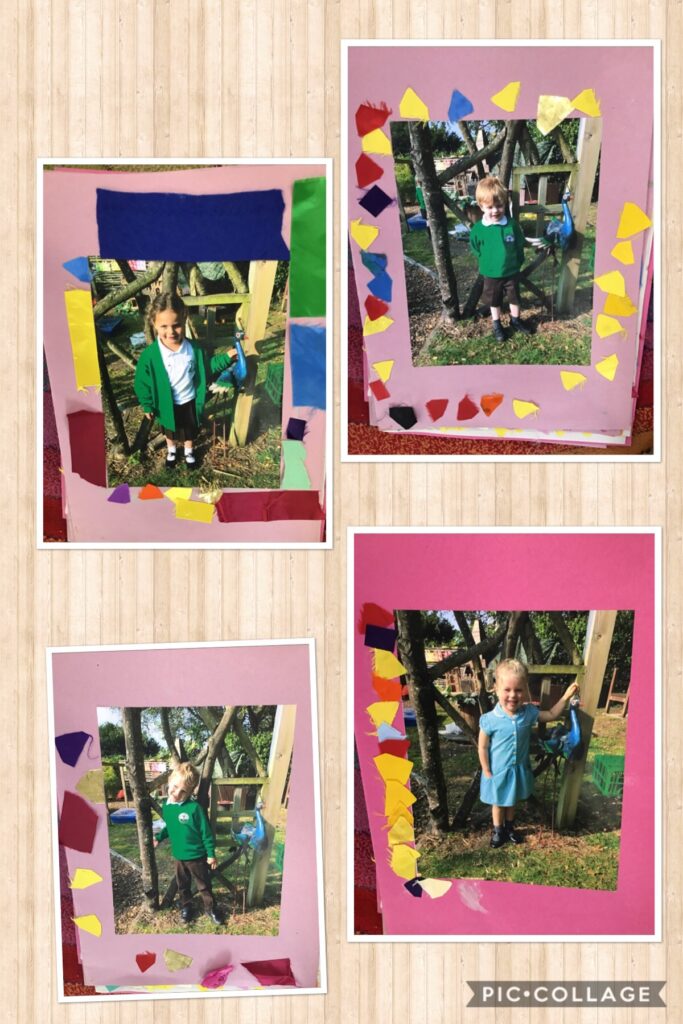 25/09/20
4 weeks down 4 to go! To continue our amazing phonics work we have delved even further and are not only building up our understanding of sounds but tricky words too. We have had a broad look at all phase 2 tricky words with the tricky word song. As a team we worked on breaking down tough sentences and spotting tricky words that are trying to trick us. As a class we decided it is rubbish that we could not meet our year 5 buddies so we decided to make them something special. We managed to give you a sneaky peak of our message to our buddy which is always tricky to record yourself speaking. We hope to accompany ourselves with a  card and a picture. Currently we have done the front cover and a page inside, we just need to finish off the letter; I cannot wait to show it off. The loveable Zog story has gone down a treat and we are now creating our very own dragon eggs. The final layer has been put on today and it should be dry by Monday ready for us to get it painted. In the story of Zog we encounter a very helpful princess who showed how to be a loving friend. We took this message into our R.E work and discussed how we can use our 'kind hands'. We had several great suggestions about what we should not do 'push, hit, snatch' and more importantly things we can use them for ' share, help , love.' which sums us up here at St. Francis'. The children are becoming more more independent when using Minimash on a Ipad and using a mouse on a computer which is amazing too. I have to say a huge thank you to everyone as it is a joy to see every parent reading at home and I cannot tell you the difference that will make over the course of the year- keep up the hard work. Next week we will be looking at the Highway Rat, lets hope he does not want to eat any dragon eggs! Have a wonderful weekend and se you all Monday.
18/09/20
Like that and another week goes by! We continued our fun journey into phonics and have learned 5 new sounds and lots of new words to accompany them. On Monday we will be encountering our first digraph 'ck'. I am sure we will be able to rise to the challenge. Throughout the week we have continued to show off our brilliant counting and pattern making skills. Using counting bears we made patterns using colour and size, we then took that 1 step further and made a 2 or 3 part peg patterns; here we had to choose our own colours and placement. Using the outside area we had had great fun playing phonics hopscotch and finding out the word at the end. To add an additional challenge we would write the word and then a CVC word we could think of. The class learned about Jesus and his miracles and the detail the children could go into was amazing. As we unpacked the various stories we all answered an 'I wonder' question which gave a unique perspective on things. One that stood out to me was that 'if Jesus can walk on water can he walk on wine?' – what a thought. Children created the wonderful Tabby McTat and he his proudly up on our working wall display – whiskers and all. The children took it another step further; once again applying their phonics and wrote the word cat. A special thank you to our head girl who gave the whole of Pendle class the converted Head Girl Award for 'settling in so well into St. Francis'. Thank you all so another brilliant week. The story for next week will be Zog, I cant wait!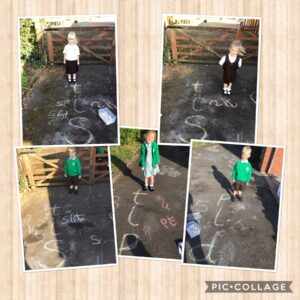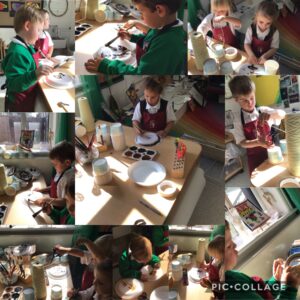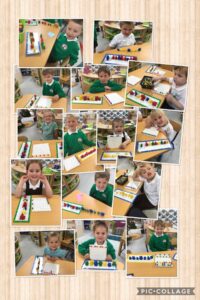 11/09/20
This week started off where we left off, loving learning and having fun. We continued our journey into phonics and worked hard at learning how to segment and blend more words. During phonics we have been working on our letter formation and writing CVC words. In guided reading we have done brilliantly with following the story, understanding what might happen next and share our own unique ideas. We have jumped onto phase 2 stories and this will provide you an opportunity to see how far they have come and to continually practice their segmenting and blending skills. We went on an adventure to the deep dark woods and kept a watchful eye out for the Gruffalo of the Gruffalo's child. As we had a mini adventure in the millennium we split into 2 groups. One group worked with me on a bug hunt, exploring habitats and seeing what we could find and another worked with Miss Gardner creating hammer art. With bugs on the mind we also did some bug counting and placed them in our jar and we played number hopscotch to keep building up our understanding of numbers.  We have looked at religious symbols this week and worked on our crosses. The first piece of work we put in our book is a beautiful watercolour painting that the children have painted of a cross or crosses. Children continue to become more confident with Mini Mash and I will be sending out the logins soon. The photographs were taken today and somewhere out there a flying pig will be found, as I do not thinks there was a muddy mark or smudge of paint on anyone – hallelujah. Thank you for another fantastic week, see you all Monday!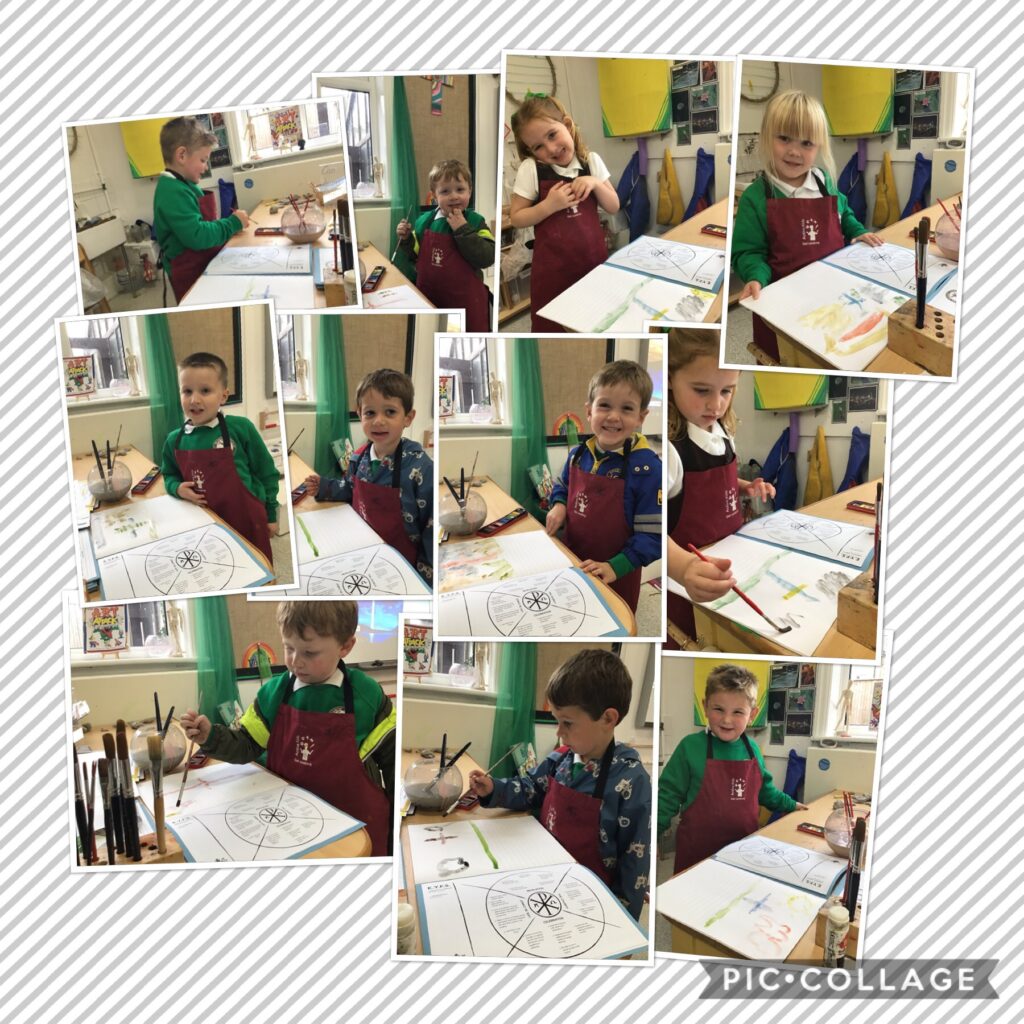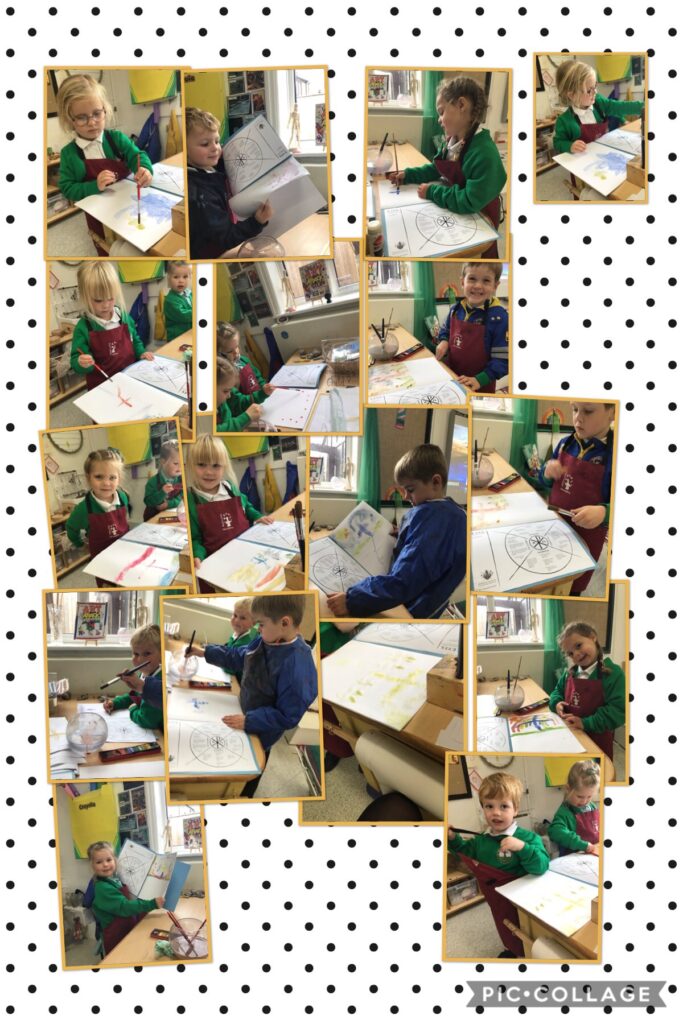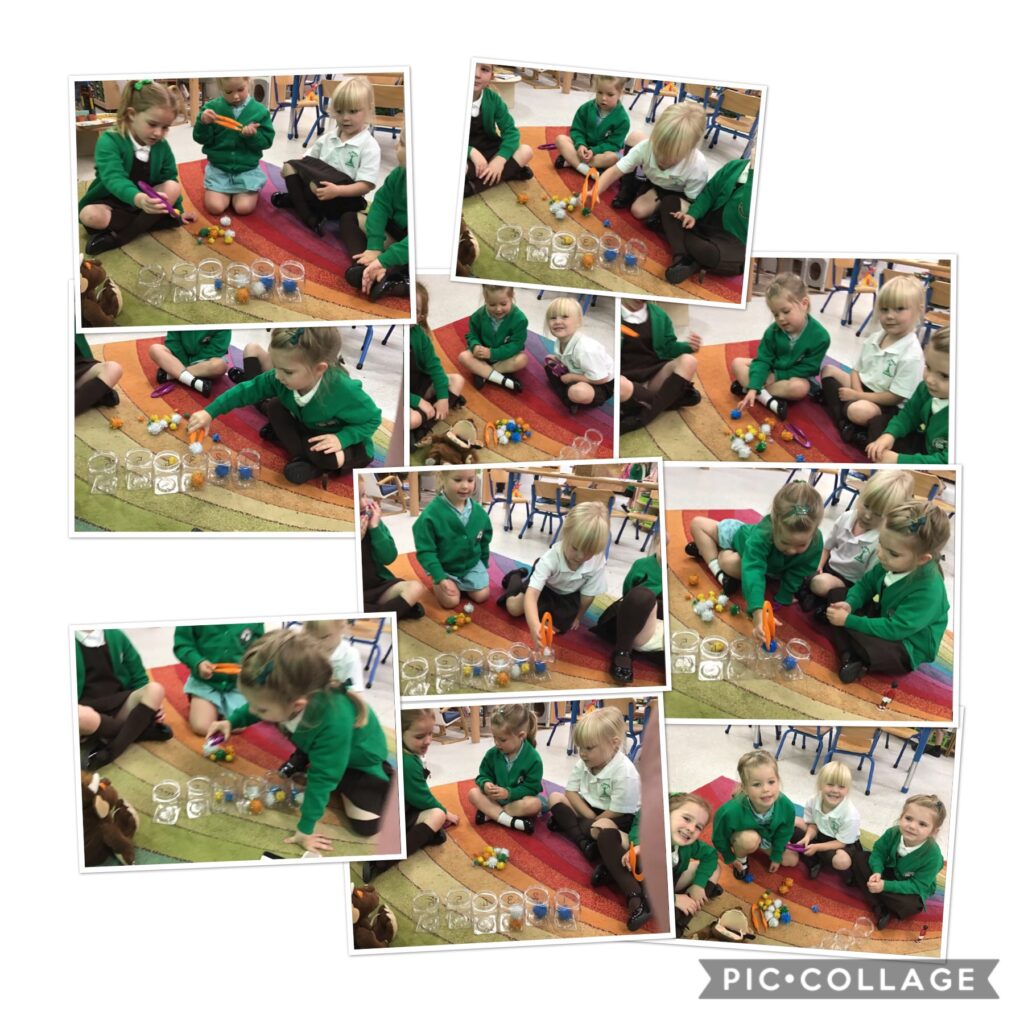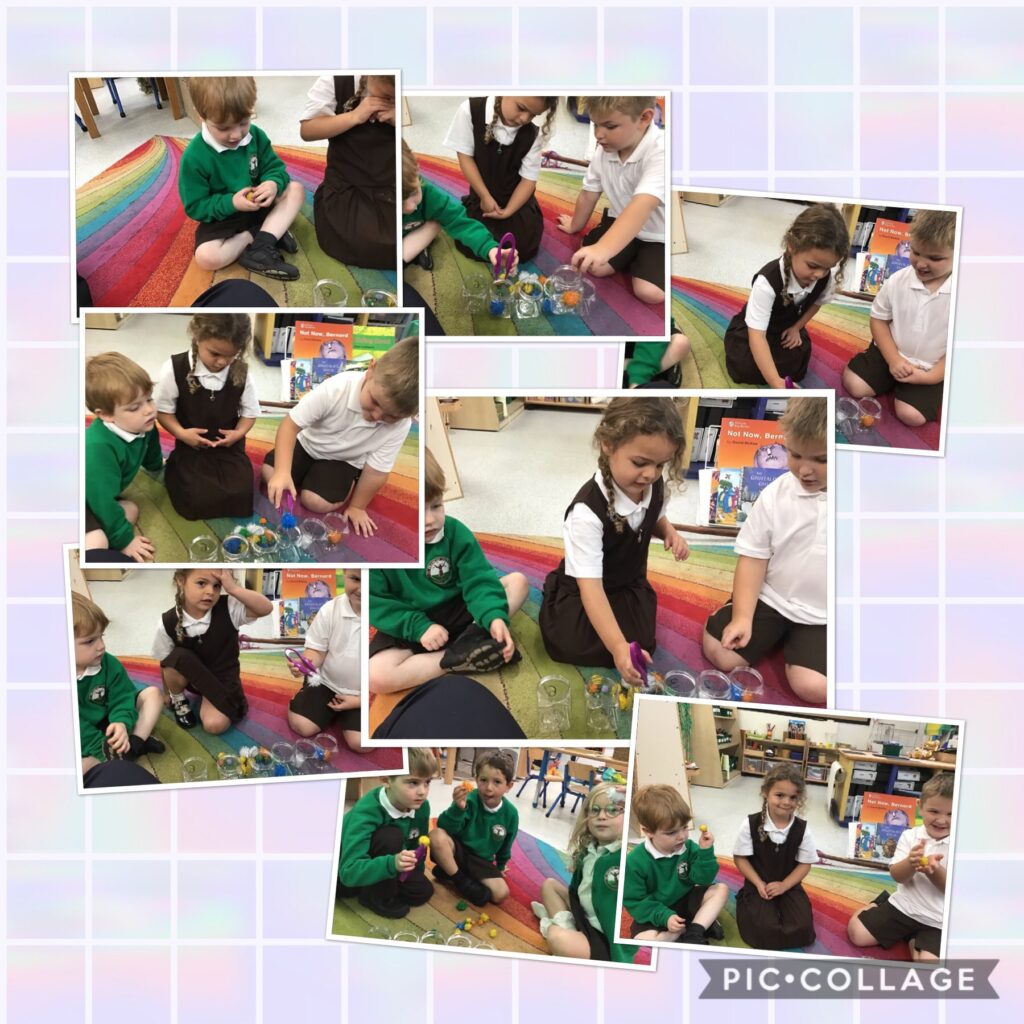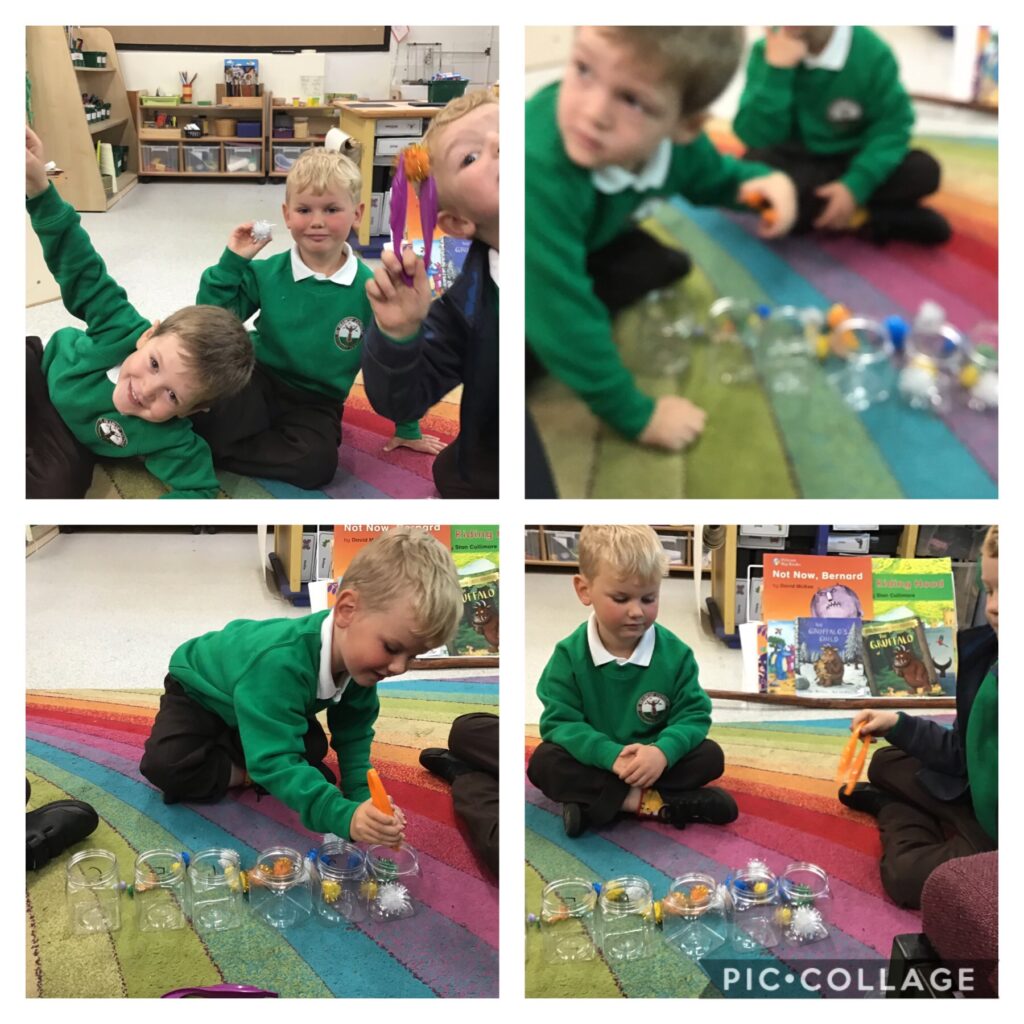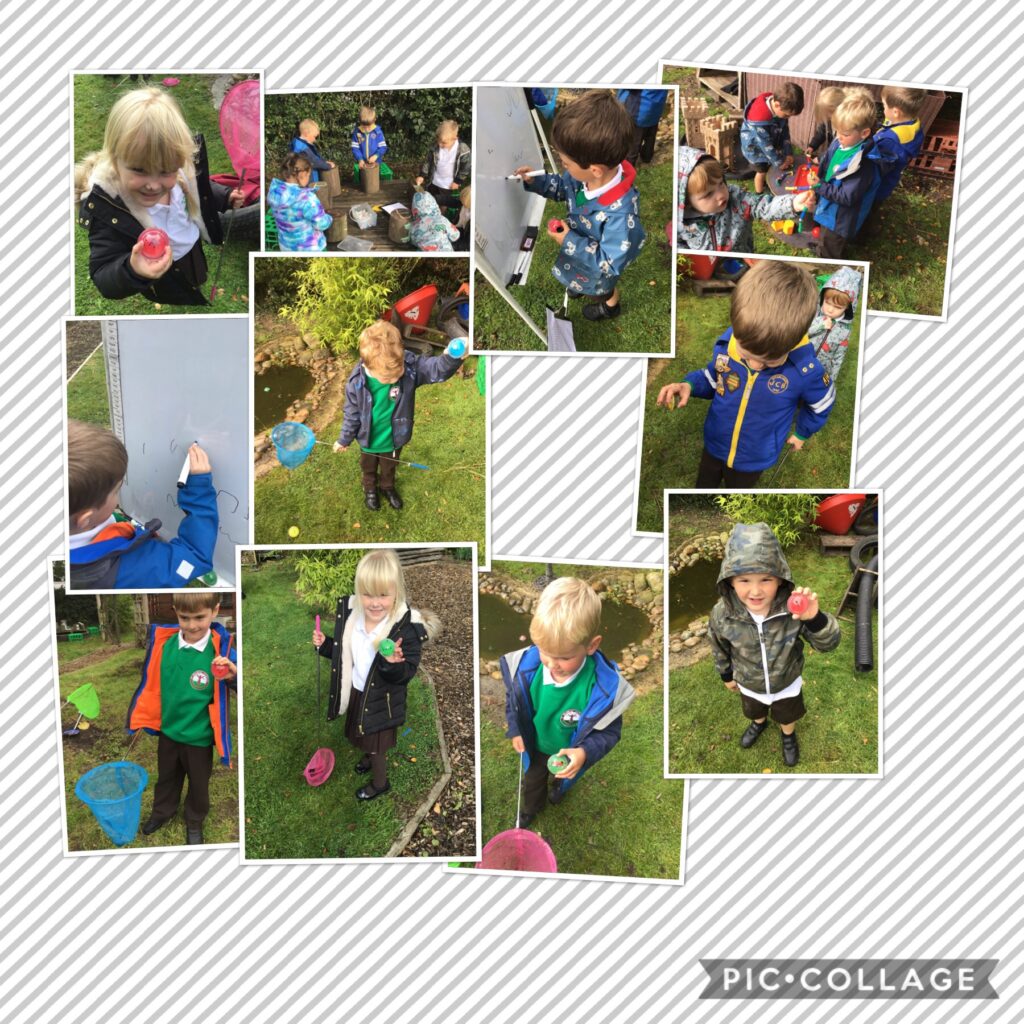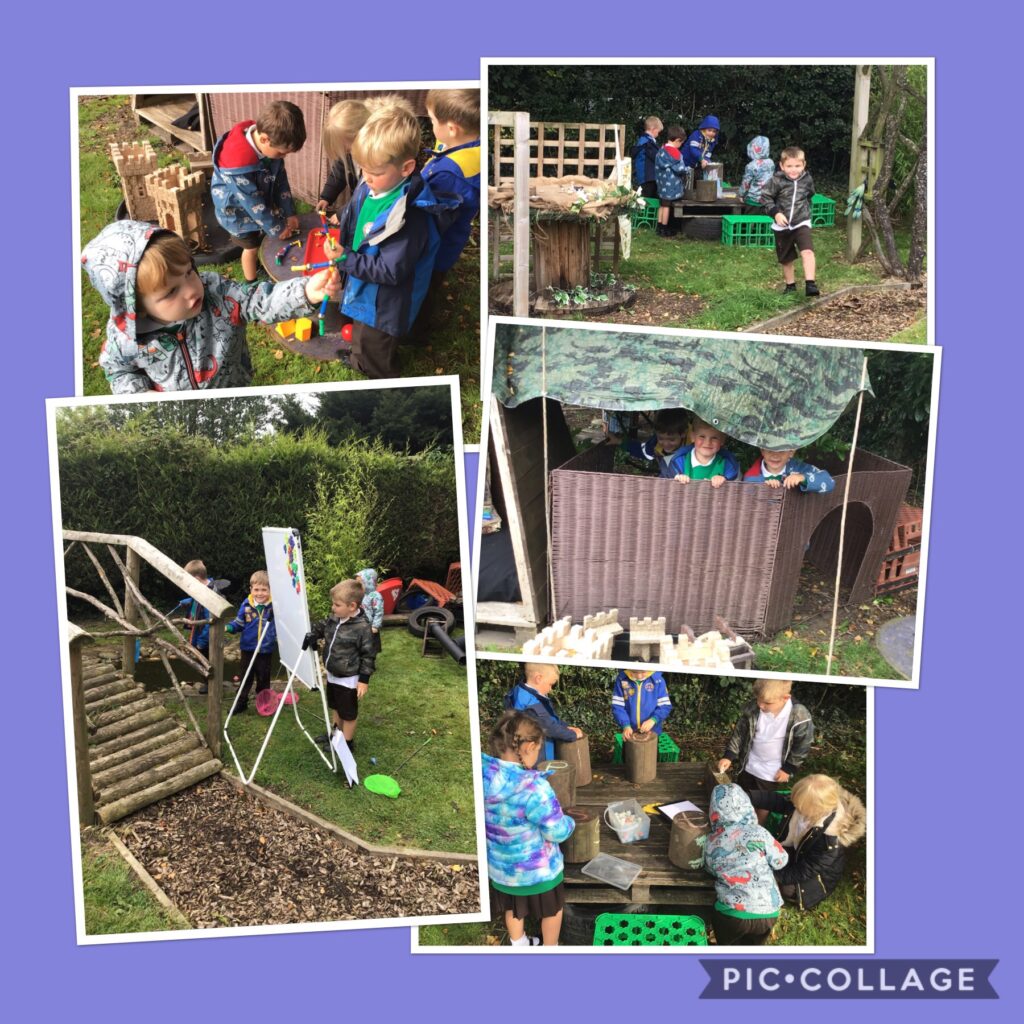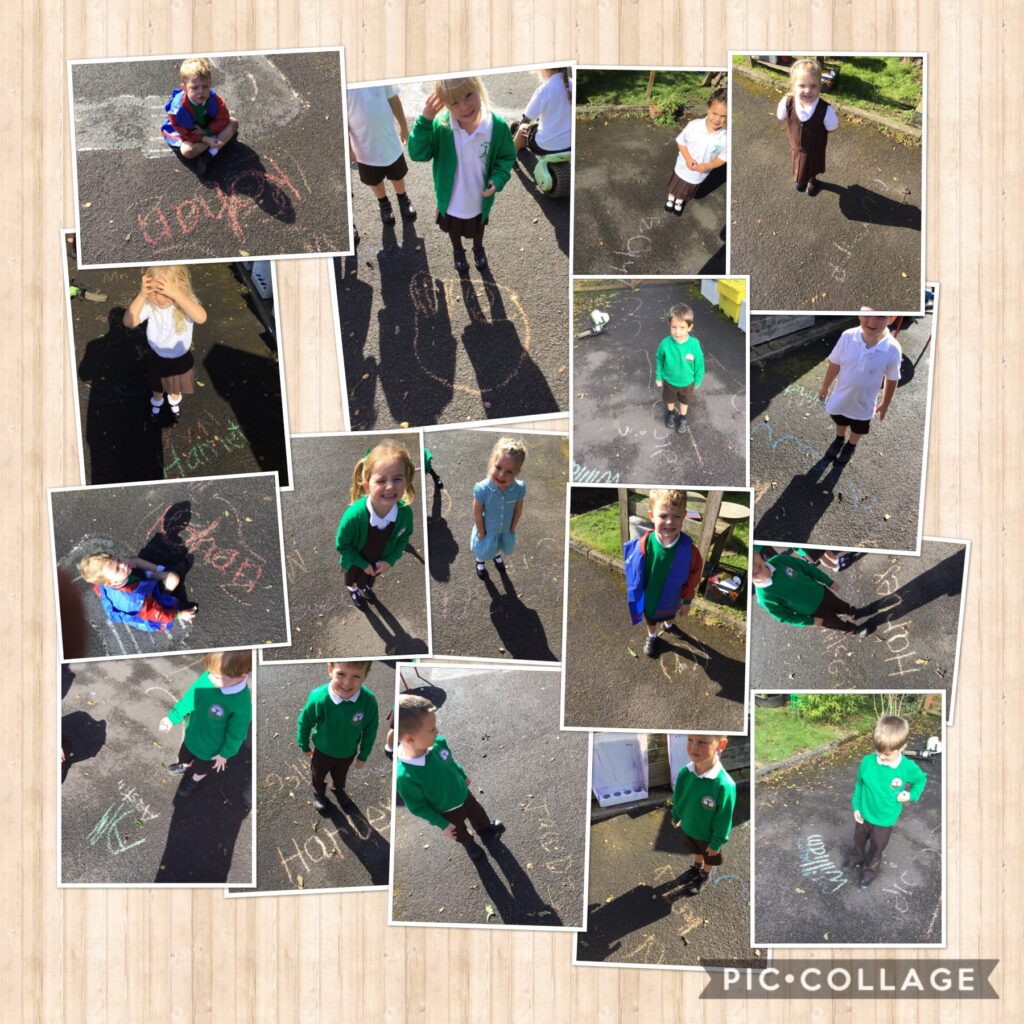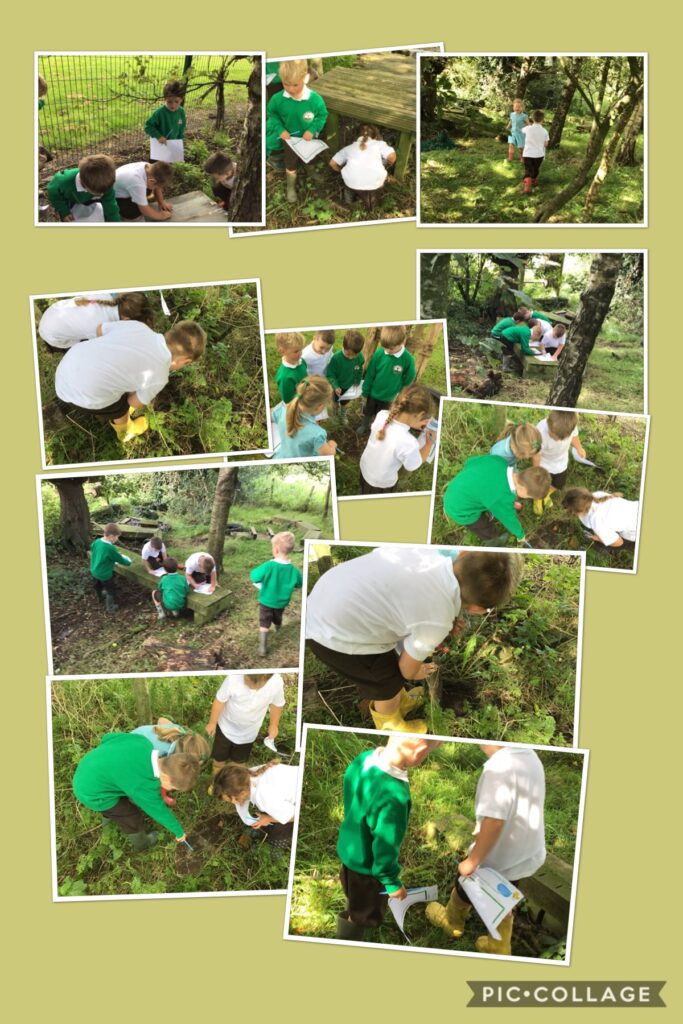 04/09/20
What a week! I have to begin by saying thank you to all the children, parents and grandparents, it has been a wonderful week. To begin we had a visit from the G-G-G-G-G-Gruffalo! The children really enjoyed the story and almost voted to have it again -it came down to 1 vote. Throughout the week we have started our exciting journey in phonics learning to use our robot arms for segmenting and blending and focusing on the sounds 's' and 'a' to start the week. You will be amazed to see how quickly your children move through phonics so please support them at home with their reading books. We have made a  Gruffalo and a cross out of clay and they looked fab, we hope to paint the crosses next week. In mathematics we have been looking at numbers and practicing our counting. As we get to know the children even more we talked about our family and the people we live with, after we discussed this 1-1 we thought about how would could represent that by painting. We looked at how to hold the brush, use it on canvas and experiment by using different colours, someone even made a beautiful sunset background for their picture. It was great to see the children writing for the first time and trying their best to write their own name – what a moment! I personally loved taking them to the library for their first guided reading session, we had great fun. Today topped off an already super week as Miss Deakin gave everybody a special Headteacher Award sticker. I would like to say a special thank you to Miss Gardener who is the TA in the classroom. The children already think the world of her and she will help all these children grow over the course of the year. I cannot wait to see you all next week! Please enjoy the pictures below.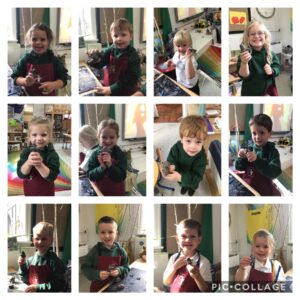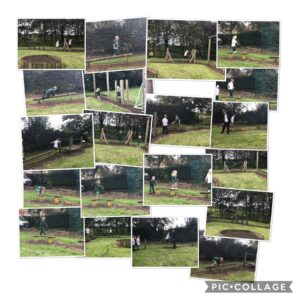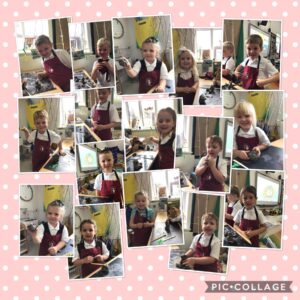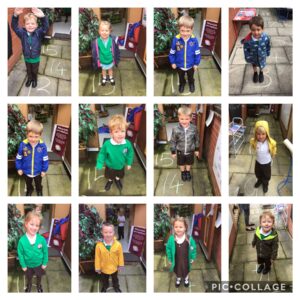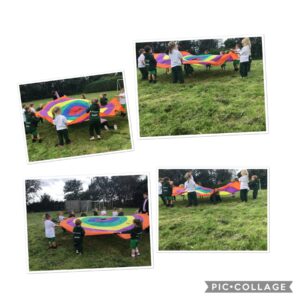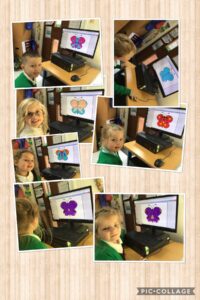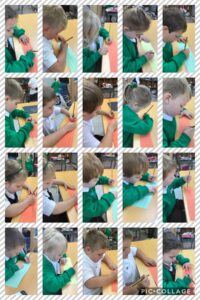 27/7/20
Stay and Play
What a day! It might be easier to say what we have not done, but  I will give it ago. Today we had a go painting our first picture in Pendle Class which will be displayed for all to see on our art wall. We also got some pictures of our super selves took,  so I could ask  what they like and get to know them a little more – great fun too! The children had a great understanding of why we need to wash our hands and did so thoroughly throughout the day. During the day children played  in all areas of the classroom which was brilliant to see. We enjoyed using the paints, writing area, small world, role play, reading area, construction, number stones, train tracks and computers. I can say I am thoroughly delighted with all my wonderful new class, as they showed time and time again their marvelous manners and caring nature – Thank you! Our picnic outside did not go exactly to plan as nobody wants soggy sandwiches, so we spread out in the hall and enjoyed our dinner distanced but together. Thank you to everyone for bringing your child, it was excellent to have a full classroom and if you have any questions please get in touch –  enjoy the pictures below. Finally, a special thank you to Mrs Luke who came in not only to be a friendly face to the children on a special day; but an excellent help too. See you all in September!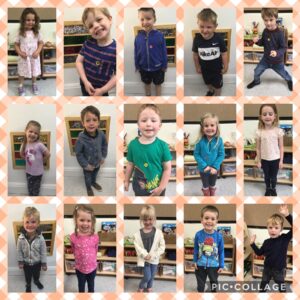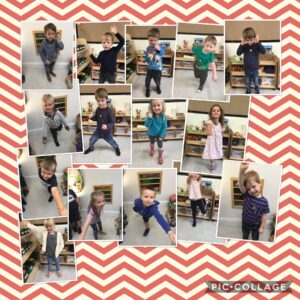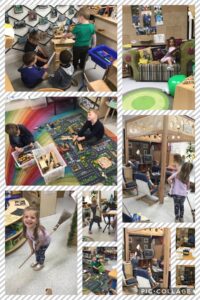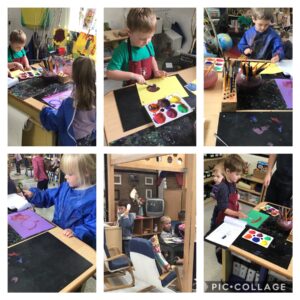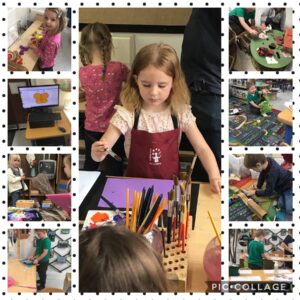 All home learning tasks are sent through Seesaw every week
8/6/20
Please find this terms Topic Map and Home learning menu. As always ,if you have any questions for me please get in touch. The topic and author study is a suggestion to make writing varied and enjoyable every week. For all the Supertato resources, please use the link below titled 'Supertato'.
Supertato (Resource File)
20/4/20
Please find this terms topic map and homework pick and mix menu. All you need to do is click the link below. If you have any questions at all, do not hesitate to get in touch with me via seesaw. Thank you for your continued support. Keep up the hard work Pendle Class – we can do this!
3 little pigs (Zip Folder)
20/3/20
It is fair to say it has been a funny old week! To begin the week children finished off their character books and they are brilliant to read! From the tales of Cat Boy to the adventures of Angelina Ballerina, it is fair to say that we have a diverse range of stories. We also managed to fit in our slime making this week which was a resounding failure in making slime, but provided some other opportunities for learning elsewhere. I imagine you will all be devastated to find out that threw away the slime instead of sending it home, as I thought it would be too messy – apologies for that. Children enjoyed painting their volcanoes after giving a brilliant demonstration of an active/dormant volcano to the rest of the school. We have also worked very hard at taking away this week looking at different strategies to take away and record our working out. To continue our theme in R.E we continued looking at the Easter Story and why people wanted to hurt Jesus. Today we had a 'Agadoo Fun Day' and we enjoyed some games and dancing outside in which 'Agadoo' starred. To finish the day the rest of the school cheered on the Y6 children in the teachers vs staff netball competition. Thankfully the world hasn't gone completely upside down yet and 'teachers' won! Please contact me via Seesaw if you have any questions; silly questions don't exist and I am here to support you all. I will share any resources or useful websites on Seesaw for you. Thank you for the brilliant year so far and I hope to see you all soon.
Both Phonicsplay and Twinkl are offering a month free to support you at home, I would recommend them.
https://new.phonicsplay.co.uk/
https://www.twinkl.co.uk/
13/3/20
We started our week searching through bushes and nooks on our bug hunt and ended it setting off volcanoes – so it must have been a good one! We had a spectacular week during British Science Week and a big thank you to Mrs Silvester for organizing such a fab activities. To begin our science time we looked at the world around us and the small habitats that bugs call their home. On this hunt we found a lot of worms, slugs, snails, ants, woodlice and a small frog – fascinating! After we explored these areas we drew what we could see and wrote small details about what we could observe, such as where they were and what they looked like. From the beginning of the topic we had a fascination of volcanoes and the link to British Science Week seemed a perfect fit, over the week children covered and painted their volcanoes and on Friday we showed them off one group at a time. We used words like magma, larva, active, extinct and dormant to describe our volcanoes. I am pleased to say that we had plenty of active volcanoes and a couple of dormant ones – luckily none were extinct! In our phonics children are continuing applying their phase 3 sounds into their writing and phase 4 HFW. Children are progressing well into phase 5 and the books they are reading are evidence to their hard work and love of reading – keep it up! As a class we are making books about the characters we were on World Book Day with a beginning, middle and end, we also have an exciting opportunity to enter a writing competition next week; which I am sure we will jump at the chance to do. In mathematics we have been using a blank tens mats for addition and subtraction sums, the children enjoyed it so much we even went into teams and made a game of who is the quickest, which required teamwork, good counting and good understanding of addition and subtraction.  In R.E we continue to learn about the story of Easter and the children are becoming more aware that it is about remembering Jesus and the sacrifice he made for us. I hope you all have a brilliant weekend and see you all on Monday!
6/3/20
The sunshine is on the way and we have had another action packed week! To begin our week We finished off writing and illustrating our dinosaur books. Today we even got to read them to our buddies, it was great fun to hear their feedback and see that they enjoyed our dinosaur stories, ranging from a dinosaur dentist to a dinosaur making friends with a cat (and everything in between.) Children have been looking at odd and even numbers and understanding that odd numbers can not be shared evenly but even numbers can. We tried this a couple of different ways and eventually children really grasped the concept, understanding that the number would become smaller when shared and to be truly even you would have to have the same amount as your partner. During P.E we worked with Jack from PFC and he not only warmed our bodies up but our ears too, while we listened to his instructions and ran to where we had to go. Later Jack showed us how we can move like animals and then we showed him how to move like an animal, the tiger was my favorite. To finish the session we had the hoop and spot challenge which meant every time we encountered a spot or hoop we had to move or preform a specific action such as hopping or jumping, we may have got hot but it was great active fun all round. Thursday must have been the highlight of the week as children dressed up as their favorite characters from books they have read. The range was magnificent to see; thank you to everybody who helped with your child's costumes as a clear effort was made with every single one! Next week is going to be a particularly exciting as it is British Science Week, I will not spoil too much of the surprise just yet but if you have any plastic bottles you could donate to school (Pendle class) on Monday I would greatly appreciate it. Thank for Pendle class for another brilliant week, I look forward to seeing you all on Monday, have a wonderful weekend.
28/2/20
I am glad to hear that the children have had a fantastic holiday and they seem primed and ready for the next half term. The dinosaur topic is a massive hit with both the boys and girls and Harry and the bucket full of dinosaurs has got our imagination running! our author study is on Ian Whybrow and Adrian Reynolds so if you have any stories written by them please bring them in or any other dinosaur themed books too! To begin our week we have started to write our very own dinosaur books and by this time net week we hope to have completed them and we will then read them to our buddies – it should be magical. We have had great fun carrying out our own sum games and had even more fun using the numicon to double a specific number,children really showed a great understanding of doubling seeing the  number literally be doubled before their very eyes. A special thank you is needed to Mrs B.M as she wanted to celebrate Pancake Day with the whole school and cooked pancakes for Pendle class, allowing each children to decorate their pancake. Sadly there is no photos of the pancakes as they were simple devoured – testament to Mrs B.M baking I think! On Wednesday we went to church to celebrate Ash Wednesday where Father Sony spoke to use about the sacrifices Jesus made and his time spent in the desert, he then made the sign of the cross on our forehead with ash and gave each child a blessing. Finally a massive thank you to everybody who has supported the recent bake sales and provided money for the NSPCC as over £700 was raised – thank you all! I hope you all have a lovely weekend and see you all Monday!
14/2/20
Poof! … and it's gone! Another brilliant week has flown by before our eyes and we also wave good bye to Percy. The children thoroughly loved learning about the 'Great Outdoors' from habitats to growing. We have had huge amounts of fun learning about the beautiful world around us. Pendle class has voted and selected the next topic, it will be 'Dinosaurs'. Every child has already given their ideas about what they would like to do pertaining to the topic. This fantastic week has had treat after treat! To begin safety week off we had a visit from Mrs Lancashire who is a nurse and gave brilliant safety advice to all the children in the KS1 and Reception. Mrs Lancashire even showed us how to put on slings and bandages and explained what they were used for. We then had a visit from Fireman Dave who gave important advice on fire safety and showed us the unique and interesting equipment he used, some of Pendle class even got to wear his helmet! As a class we discussed keeping ourselves safe and learned the important message Pantosaurus gave us which was 'pants cover up our private parts and if someone asks to see them tell them no!' A simple but important message for children to understand, here is the link for anybody who wishes to know a little more http://www.itsnotokay.co.uk/professionals/pantosaurus/. The final exciting visit was from Dogs Trust and we were told the 5 golden rules about dogs, 1. Stay away when they are eating 2. Stay away when they are sleeping 3. Don't hug, stroke instead 4. Do not take, but swap 5. We must always be quiet around dogs. Thank you Dogs trust for that fantastic visit. In P.E we went over key ball skills, throwing, catching and we even used a football to dribble around cones, trying our best to keep it close to our body. We have had the brilliant success of our cress heads this week, so we decided to document the process and write our own cress head diaries, the illustration and writing is great! Returning back to safety week, we thought it would be great fun to paint or make our own underpants and write about them, please look at the pictures below as they do come in all shapes and sizes. In mathematics we had great fun creating our own play dough and independently measuring our ingredients, children really impressed with their understanding of the whole process. Some children have started playing the dice game to create their own number questions independently – outstanding! I would also like to give a special thank you to Lewis, Oliver and Hugh who are 3 boys from a local high school on work experience. It is great to see 3 young men showing an interest in education, the children thought you were amazing and we all wish you every success in your future. Have a lovely half term everyone and see you all soon.
7/2/20
How can we beat last week? Add sunshine of course! To begin our brilliant week we had to get our tool belts on as Percy was in need of a new shed. Children worked in small teams to create a shed for Percy, they were left to complete this task independently to show off their skills at thinking through ideas (what would make a good shed?) and working well with each other. Please find the pictures below as all the sheds built have very unique features! Once our shed was built we then used our writing frames to draw and then write about our very unique shed. Enjoying this fabulous week and using our keen eyes to measure, children worked in 2s to draw round and measure themselves which they thought was great fun, either using teddy bears or sticks to record their height next to their outline. As a class we discussed feelings and what kind of emotions we could experience, after talking about the multitude of emotions we can experience we then discussed what we could do to address the more unpleasant emotions we fee', such as talking to a friend or an adult. Number Day from the NSPCC was also great fun and the children got to make their own Number line in our outside area using the materials from outside and chalks. In Phonics children have been working extremely hard to form their own sentences independently using tricky words and the brilliant unique / independent sentences are truly amazing to see.  In the art studio to get all hands on we used our fingers to paint out a recurring pattern, we had great fun putting our hands into the paint and then counting out the certain number of spots we needed. To top off a wonderful week Pendle class got to go and read with Miss Deakin and she is amazed to see how well all the children are getting on – FANTASTIC!  I do not believe we only have 1 week left, the time really does fly! I look forward to seeing you all next week for parents evening, have a wonderful weekend and see you Monday!
31.1.20
Make way January, February is almost here! We have had a brilliant (but wet) week and the children have loved it. We are continuing with Percy's tales and are helping Percy plant and grow a multitude of things. This week we returned to the Pod with our writing tool belts to document and write about the planting process and make sure our parsnips, cabbages, carrots and peas are flourishing. We thought it would be an excellent idea to make Percy Cress heads and put them in the Polly tunnel, which was great fun making our pot and then planting and watering it independently. We had great fun at the beginning of the week learning about Chinese New year and found out the various years can be named after certain animals, currently it is the year of the rat. Children listened to the story and made their own masks. To finish off in P.E we had our own race with our animals masks on and we noticed that it was very different to the original. In mathematics we have thought about 1 more and less and the tricky skill to pick the larger number out of a set of 3. If unsure we have built it up with blocks to give us that visual representation, which is brilliant for counting and helps estimation and measuring too; this helps us make more informed guesses. We had a lovely guest from the NSPCC to inform us about possible dangers in the wider world and how we can protect ourselves  by talking to an adult at school. We were the very kindly given Buddy, who is a speech mark and reminds us to talk to someone and not keep worries and concerns bottled up. We have got creative with our green fingers and made patterns to celebrate Chinese New Year and some potato pattern printing also, which worked very well with our High Frequency Word dotting which children are slowly getting the hang of. To finish up on Friday we are going to try and write our own stories at the end of the week about anything that has excited us, we have had such a great mix today from stories about our family, Frozen, tractors and even a Thomas the train / Avengers crossover which was a very interesting mix. I hope you all have a lovely weekend and see you on Monday. Any questions about NSPCC please do not hesitate to get in touch via Seesaw or just pop in. Thank you as always.
24.1.20
What a glorious week we have had together! To start out week off we took our measurements/capacity to another level and measured a larger range of items comparing and making estimations to go with it. Children also became scientists this week making observations about our planting project; we planted a range of seeds, cabbage, parsnip, carrots and pees! As a class we went back the following day with our writing tool belts and clipboards and wrote about what we have been up to. We decided to keep them in the Polly Tunnel to start off with so they have a fighting chance! We have also had the opportunity to go into the Millennium and do a range of tasks and explore the beautiful world Percy works in. We split up into 3 different groups and rotated as the morning went on, we used Ipads to take pictures of habitats and the environment, leaf/tree rubbings rubbings and finally using natural materials made our own collages of the animals that feature in Percy's tales. To top it all off we even made our own bird feeders to go into the millennium and place them around for the hungry birds to eat, children had a great time thinking about where they could place them. I hope you all have a lovely weekend and see you all Monday. Please enjoy the pictures below.
17.1.20
2 weeks down and 4 more to go , where is the time going? We have had a brilliant week as always and children continue to show off their love of learning. A particularly delightful treat has happened this week which is, every 2 weeks Miss Deakin will read with Pendle class -AMAZING! Not only did Miss Deakin read with us today but she gave out headteacher award stickers/slips to everybody for phenomenal reading as they have come such a long way already. We have managed to write up about what we have made Percy and I think he would be delighted with seeing what we have made and wrote about, we have also began writing a story about our friend Winnie the witch.  We have been planing what to plant outside and we are now in teams to work together and plant Percy some fruit and vegetables, we had all sorts of ideas and we are going to give a few ago. We discussed as a class the weather might be a problem so we will plant some outdoors and some in the Polly tunnel and observe what the difference is with them. Children had to estimate in mathematics which is particularly tricky when you are a perfectionist like some members of Pendle and they simply did now want to guess but to get it right, however, getting it wrong is never a bad thing! After we discussed it as a team we then went about finding an object to weight, estimate how many blocks it would be and then tests out theory with a weighting scale, to finish we drew our results on a whiteboard. We will be taking part in national Bird Watching weeks next week and hope to be inspired by the beautiful wildlife around us. I hope you all have a lovely weekend and see you all Monday.
10.1.20
I hope you all have had a wonderful Christmas and New Year. Just like that are first week of 2020 has flown by! We have thoroughly enjoyed Percy Park Keeper this week and started our week off with the Fox's Hiccups to get us into the spirit. Children how kept up their reading over the holidays and it has really shown- thank you. Children are beginning to move into phase 4 and spell longer words 'CVCC' and beyond which will build up their vocabulary and provide ample opportunities to implement and solidify their phase 3 knowledge. Throughout the week children have worked on the Numberwall, matching number to amount and in some cases experimenting with 1 more and 1 less. We have also baked this week making our very own salt dough from scratch, which was brilliant as I had to do nothing other than read out what to do next, Pendle class worked in pairs and not only showed great teamwork and sharing of roles, but a keen eye to measure and count to the stated amount, resulting in great salt dough. After we made our salt dough we fashioned them into things Percy might want or need, such as tools, food, or even sculptures of himself, they look amazing!  To get children in the mindset to read and write their own books we gave each child their own Goldilocks book to write themselves and it really showcased some brilliant segmenting and blending skills, not to mention some fantastic phase 3 knowledge, at the end children could colour them if they wanted and Goldilocks did become purple/green/bluelocks in some cases. We have also been helping Percy outside in the Pod and the planting area, currently we are weeding and tidying it up to try and grow our very own plants, we discussed as a class what we would like to try and grow, children came up with many ideas and they were very enthusiastic with the whole process – born gardeners! 5 weeks left and I know they will fly by! I hope you all have a lovely weekend and see you Monday.
17.12.19
Are you not entertained!? I thought our Nativity was knock your socks of brilliant! Thank you to Mrs Tyrer, Mrs B.M and Miss Woodcock for your support  with the Nativity as it very much was a team effort. Thank you to all of those who could attend, for those who could not attend please find some pictures attached. This week we have continued our brilliant sentence writing and the digraphs are appearing more and more often in our work, which is fabulous. Today I have sent extra books home and allowed the children to pick their very own books (I have ensured they are suitable for the child) which has got them excited as they are talking about their Christmas books; I appreciate Christmas is a very busy time but please ensure you do some reading over the holidays. Children have used the computers for mathematics, dragging shapes that they are familiar with and discussing/explaining how they know what certain shape is, using key vocabulary like faces and identifying 2d shapes that make up these shapes. It is brilliant to finally reveal our Christmas crafts that we have been making in preparation for Christmas, I will be amazed if any of the children have kept them a secret, but I hope you were thrilled to see them as they children were delighted to make them for you. I must say that me and Mrs Tyrer are extremely touched by all the cards and gifts we have been given and from the bottom of our heart – thank you. I hope each and everyone of you has a wonderful Christmas and New Year together and I know you will not all have 2 weeks off, but pray that you will get to spend some time as a family over Christmas. Stay safe, avoid the brussel sprouts and see you in 2020!
13.12.19
What a glorious week we have had! We have been treated to not 1 but 2 shows this week – marvelous! To begin our week we were invited to watch KS2 Christmas performance and not only did they sing like angels they read their scripts superbly. After we thought the week could not get any better Y5/6 invited us to go and see their performance of Oliver Twist and it was riveting; all the children thoroughly enjoyed it and at the end a few were even singing along. Thank you so much KS2 for all your hard work, you should be extremely proud. I am pleased to say that it was not just a 1 way street and we had the brilliant opportunity to perform our Christmas Nativity to them and I am chuffed to say that they thought it was 'amazing' which I personally feel is a understatement, but we have a couple more days of rehearsing to make it perfect. Children continue to demonstrate their amazing phonics skills and nearly all of the children are writing sentences with minimal support, some completely independently. With the children making this brilliant progress in phonics we will be starting phase 4 after the Christmas break, in phase 4 you learn no new sounds but greatly broaden your vocabulary learning new tricky/ high frequency words and apply their phonics in longer words, we will be sending home sounds and tricky words makes to help them retain and build up their vocabulary. In mathematics children thoroughly enjoyed drawing faces on the sides of 3d shapes, then identifying the 2d shapes that make up 3d shapes. Thank you very much to everybody that donated a Christmas costume it has been particularly helpful. Just a friendly reminder that the Christmas Performance will be on Tuesday 17th December and we will have 2 showings 1 at 14.00 and another one 18.00. I hope you have a lovely weekend and see you all Monday.
6.12.19
It's beginning to look a lot like Christmas! With the talk of advent calendars, Christmas trees and our Nativity, it most certainly is beginning to feel like Christmas. The children have worked extremely hard for the last few weeks; we have finally had a chance to put our Christmas outfits on and rehearse and we sound the part now. Children continue to apply their key phonics skills (segmenting and blending) in all areas of the classroom and continue to amaze with writing words or even sentences. In mathematics we have used our brilliant minds to model 3D shapes with magnets and used the feely bags to use our other senses to think about what shape might be hiding inside. In P.E children continue to work on key gross motor skills such as jumping and hopping to navigate spaces and balloons to use all parts of our bodies to keep our reflexes sharp and keen. Thank you for your feedback with regards to the travelling Nativity bag, it is great to hear that they children have been enjoying it and another big thank you for your opinion with regards to the new style of homework, I will pass on any and all feedback during our staff meeting. Thank you for a lovely week Pendle class, I hope you all have a brilliant weekend and see you on Monday.
29.11.19
I hope everybody has their chocolate calendars primed and ready to go, as 1st December is this Sunday – where did the time go? This week children continue to work very hard on rehearsing our Nativity and learning new actions to the songs – we are looking fantastic. We have managed to get almost everybody sorted for a costume, please can we have a carrier bag with a name on so we can keep the costumes well organised. Pendle class has been pushed very hard this week in phonics trying to write their own sentences with tricky words, once we have a few suggestions it really got us thinking and there was no end to the weird and wonderful sentences we could think of. In mathematics this week children used their brilliant knowledge of shapes and grouped various shapes by the amount of sides they have, constantly using that key vocabulary and careful counting. Following on from our brilliant elephant creations we have made monkey sock puppets, we have also described our own monkey using a monkey writing frame or a template, we will be attaching these templates to our puppets for a real WOW factor and they will be put up in our story kingdom. I have just received 2 travelling nativity bags which will be sent out daily to a different child, each bag contains a nativity set and some instructions to go with it, it should be an educational and fun experiences for everyone involved. Our big challenge this week in P.E was to keep a balloon in the air with a different parts of our body, while staying on one spot – how tricky! After we became more comfortable with the process we then played bib tennis with somebody holding a bib with 1 hand and using the other hand to hit the ball over, children had a blast playing this game. I hope you all have a wonderful weekend and see you Monday. 3 weeks to go – I cannot believe it!
22.11.19
Where has this week gone? To begin this fabulous week we had a visit from Bike Ability and over the course of the week some children have managed to ride a balance bike from scratch and even ride a bike completely unaided – Outstanding! We also had a visit from our friendly police men/women and they taught us about road safety; we even were allowed to drive cars around to get a better understanding of how to walk across roads and various crossings – thank you Preston Police department. To continue a glorious week we have used 2d shapes to create a shape pictures, which went down and treat and children show a brilliant understanding of key vocabulary. Pendle class has been working particularly hard this week for National Nursery Rhyme week, they produced their own elephant and wrote a little piece about it, thank you to everybody who could attend and do not worry if you could not make it, Mrs Tyrer filmed our performance and put it on Seesaw. The children continue to work unbelievably hard during our nativity rehearsals, we had our first ever church rehearsal today and it went brilliantly just a little bit of polishing to go! I will message out next week and let you know what parts your superstar children will be playing (if they haven't already told you). I hope you all have a wonderful weekend and see you all Monday!
15.11.19
We are on a roll Pendle class! This week we have had 3 very important themes this week with Anti-bullying, Children in Need and Remembrance Day. We learnt as a class what bullying is and how we can stop it. As a class we discussed how we can be great friends with each other during our worship and discussed why we are great friends; wonderful examples such as 'helping someone who is upset or playing with each other' came up and key words such as kindness and love were used to describe a 'great' friendship. The children wore their spotty outfits with pride this week and we are just waiting on the final total to see how much money we have raised; a special thank you to everybody who donated money or cakes – it is greatly appreciated. Children continue to delve deeper into phase 3 and are showing great understanding with the digraphs and trigraphs we come across. When we have completed all of the phase 3 sounds we will begin to write independent sentences and further down the line stories! Please keep up the reading at home, it is the catalyst that has helped the children make this amazing progress. We went on a shape hunt this week and hunted for 2d shapes armed with our ever growing vocabulary and when we found a shape we could identify we drew it on our boards, we hope to continue this next week and use the whiteboards independently. Jack came in from Preston F.C and together we worked on our agility, from navigating tight spaces, avoiding obstacles, reactions to a hopping/jumping race when we had to steal the oppositions bugs (beanbags). As a class we are steaming ahead with our Nativity and children we aim to set the bar high, we will be letting you know what roles your children will be playing as we continue to source costumes with plenty of time. The Tinga Tinga topic is going down a treat and we have planned something special to go with Nursery rhyme week next week, if you are interested details are on seesaw. I hope you have a relaxing weekend and see you Monday.
8.11.19
What a wonderful week! To start our week we had a very interesting assembly by the school council and they informed us about parliament week, we learned about our local MP Ben Wallace, democracy and the importance of voting. We continue to delve deeper into the phase 3 and children continue to work hard at implementing their phase 2 knowledge. Please enjoy the writing below to get a glimpse of what we get up to in our phonics lessons. We are extremely lucky at the moment as we have a coach from Preston FC to come in and help with our  P.E lessons, we moved in a particular way the leader told us to, we practiced our position pose and then split up into teams and had a race – great fun! Children are amazing me and Mrs Tyrer with their amazing knowledge of shapes and they are using the key words such as because to explain and think through their answers, we are also independently identifying sides and corners – wow. Pendle class have worked extremely hard at creating poppies for our remembrance reef that will be passed on to church, the class even came up with the idea to attach a prayer for our soldiers. To finish the week children enjoyed exploring our outside area after we changed and implemented their suggestions and painting our poppies on our outdoor easels. We also flexed our muscles and had a go at hammer art which was great fun. I hope the new style of homework is one you all like, please let me know if you need anything clarifying or any suggestions for the future, as always I will happily listen. I hope you have a lovely weekend.
1/11/19
Welcome back! I hope you all had a lovely break. We started off the week right and got straight back into our phonics, we are now on phase 3 and will continuously come back to phase 2. It is all about practice and perseverance and we always come back to those 2 main skills segmenting and blending. We applied our brilliant phase 3 phonics in another phoneme frame coming across ee in words like monkey, as we encourage children to apply their phonics when writing, the aim is to be phonetically plausible which doesn't always translate to the correct spelling, but do not worry, it is what we want. We have enjoyed learning about shape by making 2d model rockets and taking away our sight and using our hands to discuss shape using those key words we have introduced, we had to think logically about what shape may be contained inside. We thoroughly enjoyed our tree planting mission and learned about the important role trees play in the environment, thank you to everybody who donated seeds, they will be kept in the pod and used throughout the school for future projects. The children attended the church service on All Saints Day and received a blessing from Father Sony, thank you to all who could attend. I hope you all enjoy the new style of learning log we have created after receiving your feedback, please hand them in on the final week of term, I will send our a reminder so do not worry, as always any questions please ask. Have a lovely weekend.
18/10/19
7 weeks! Can you believe it? It has been a wonderful week as usual in Pendle class and it was truly amazing to show off your children and celebrate their every success with you. Thank you to everybody who came, it was a treat to talk to you and please do not forget if there is anything I can help you with or you have a question, please do not hesitate to get in touch with me. We had a blast completing our phoneme frame sentences, it is truly remarkable to think we have completed phase 2 and will be now entering phase 3! Please continue the amazing support that is going on at home, it is helping your children to thrive. We had great fun showing off our brilliant mathematics skills using the SSDD challenge and I look forward to exploring shape with Pendle class. We managed to partner up with Pre-School and entered the millennium to explore and take part in a wide range of activities such as, tree art, boat making, leaf threading and we even had time for a snack and hot chocolate around a campfire – splendid. We completed our earth, sun or moon and I think they look amazing, please enjoy the pictures of them below. We also learned about the amazing bravery of Rosa Parks and how she changed the lives of many people by simply sitting down, in memory of her and her remarkable bravery we made a clay model of her face. To think about Diwali and the light of the world celebration we discussed as a class what brings light and joy into our lives, we started off in the outdoor classroom and then to the playground to show off our amazing art skills. As a class we discussed what author/book we want to kick start our next topic and Tinga Tanga tales was something that greatly excited the children, so that is what we will be doing (Animals/Africa). I hope you all have a lovely break with your children, see you all soon.
11/10/19
What a lucky bunch we all are! On Monday children worked on their planet, they also had the option to make the moon or sun too. The whole class discussed and talked about  their own values which are important to them. They are strongly linked to our school values and I am immensely proud of the maturity the children showed with their values. The children have got off to a flying start with their phonics and we have almost completed phase 2! They are all very excited about getting a certificate when we have finished. We completed a whole sentence using a phoneme frame which is amazing! We have tweaked our math area and now have a scrapbook wall which is partially filled with an assortment of 2d shapes the children have made using lollipop sticks. Tuesday was our official Space Day and we discussed how the earth, sun and moon all interact with each other, we learned what rotate means and even found out that Pluto is now called a dwarf planet because it is too small to be called a planet. The following day we had a special visit from the Harris museum who brought in a sculpture for us to look at and inspire us, which it certainly did as we made our own angel sculptures out of clay. Another great lesson we had together was our autumn colour hunt when we made a collage of the leaves we found outside, I can honestly say each one is unique. Next week we will be saying goodbye to lovely Winnie and discussing our new book to inspire us and take our learning that extra mile next term, so it should be a very exciting and fun packed week. Thank you for arranging a parents evening appointment with me, I think you will be overjoyed to see how far they have come.  Have a lovely weekend and talk to you all soon.
04/10/19
Where is the time going? Another week has simply flown by and it has been an action packed one. To begin this brilliant week we read another Winnie the Witch story and made our own magic wands to help fuel our writing, apparently some children have even fought the urge to eat their magic wand, which is amazing because I failed in that regard. I am delighted to hear the children use terms like bubble friends and digraph, it shows tremendous understanding at such an early stage of the year and this understanding corresponds to their reading and writing. Children continue to impress with regards to their counting and have demonstrated this with counting the spots on their ladybird that they they put on, it was great fun. French day was an absolute blast and the children had a busy/interactive day where we looked at and made the iconic Eiffel Tower, painted our own pictures inspired by Claude Monet and made own own French Flag on an Ipad. We were even lucky enough to be invited to Beacon class and sample French music, food and even learn a few French words. I was immensely proud of how hard the children worked in the run up to Dingle Dangle Scarecrow and that hard worked paid of, as the performance  they put on today was incredible! They showed great confidence to sing and preform the actions in front of the whole school, well done everybody! Next week we will be celebrating Space Week and on Wednesday we have the special treat of a  sculpture being brought in by Harris museum. Next week our book will be Winnie in space which seems very fitting, I hope it will be a blast! Have a wonderful weekend and see you Monday!
27/09/19
What a brilliant week! We started off our week with a visit from our great friend Harold the Giraffe. Harold helped us learn about our body, how it works, how to look after ourselves and what we can do to make sure we can stay happy. Harold had lots of brilliant of ideas from dancing to talking to a friend/adult., thank you Harold I hope you come back soon! We continued this amazing week with a visit to our beautiful church here at St. Francis', we looked around the for key religious symbols: we found, crosses, an altar, a font, candles, rainbows and we were very impressed by the stain glass windows, so we decided to make our own and we are currently planning them. We started to make our very own sound stones to help us remember our sounds in the class and the children are excited to take their books home and read which is amazing. We have progressed so quickly in phase 2 and some children even attempted to write a simple sentence which is fantastic, keep it up team! We continued exploring numbers and using that important vocabulary like more and less, add and take away, is so important and Pendle class did brilliantly with 1 more and 1 less. Today we had a coffee and cake morning to raise money for Macmillan nurses, thank you to everyone who came and donated cakes and money to it. The concert was brilliant and really showcased the unique talent we have here at St. Francis', please enjoy the pictures below. The children are prepared and ready for our harvest festival next week, below is the song Dingle Dangle Scarecrow, please start it at 10 seconds and end at 1.25, the assembly will be on Friday 4th October and we hope to see you there. Next week we will be reading Happy Birthday, Winnie! Have a lovely weekend and see you Monday.
20/09/19
The days are simply flying by! To begin the week we have continued to show off our brilliant phonics skills, we even came across the digraph 'ck'. The children had a great time applying their newly learnt phonics into their writing, Pendle Class are even beginning to write words completely independently – outstanding! We have continued our counting in the classroom and are now learning how to read and write numbers. We have also  used our keen eyes to spot patterns, either by colour or even size. We then got to make our own! Some children wanted to do a 1-2 pattern and some showed amazing symmetry, it was great fun to do with our friends. We have really shown off this week by making Winnie's broomstick, we even had ago trying to write stick on a card and label it, using scissors and masking tape sensibly will help us in the day /weeks to come when we need to be hands on. To finish off our writing we also played a game with our friends which involved writing a word onto card our friend picked, to test out our phonics skills. The new book for next week will be Winnie's New Computer, I hope you all have a lovely weekend and see you Monday. Thank you to all the parents who came to the phonics evening, do not worry if you could not make it; if you need any support/advice simply ask and I will happily sit down and discuss it with you.
13/09/19
A good week is a busy one and we certainly have had that. The children continue to enjoy reading books about Winnie and they have all become comfortable with the classroom routine – which is brilliant. We continue to fly through our phase 2 sounds which further expands our ever growing vocabulary! We have had great fun building Winnie's tower, counting up all the resources we used and then writing down the total on a whiteboard. We have thoroughly enjoyed our worship time and children have even started to look at the story Noah's Ark where we discussed key points of the story, children then drew a picture to go into their ever growing R.E book, along with a split pin cross which the children made and decorated themselves. Mrs Woodhouse brought in her musical instruments for her Zumbini lesson and every child got to use a specific instrument, it was fabulous. I hope everybody enjoyed getting their child's school picture, I cannot believe every child remained pristine throughout the morning so they were looking fab for their photos, a minor miracle if you ask me. Just to let everybody know that on Wednesday 18th September we will be holding a small phonics assembly in the hall at 3.30 to help everybody better understand how we teach phonics; everybody is welcome to attend and at the end I will be around for anyone who wants to ask questions. Next week the class will be reading 'Winnie's flying carpet', I cannot wait for Monday. I hope you all have a lovely weekend with your families.
06/09/19
Week one has flashed before our very eyes, just like this year will! Me and Mrs Tyrer have simply fallen in love with our new class – they are amazing. To begin the week we read 'Winnie the Witch' which instantaneously got everybody excited as lots of children have read or seen the books before from home. Next week we will be reading 'Winnie's Midnight Dragon' if you have any Winnie books at home please feel free to send them in for show and tell, as the children are very excited about the prospect of bringing in their favorite books. This love of books/reading is a fire we will happily fuel here at school. The children in the classroom have all made a Wilbur themselves and we will be making him unique just like he was in the story. Children are already trying their best to write their own names and we continue to work hard at our new sounds, we seem to have some phonics experts in the classroom, which is brilliant! We have worked very hard seeing how far we can sequence numbers and then count that specific amount. Pendle class used the magnetic mats to trace around shapes and some children even attempted to draw them independently. We had or first worship and used prayer to talk to God and discuss what we have enjoyed this week, not to mention rehearsing our dinner time prayer too! The class have had a go at 'Mini Mash' which is a VLE for the children to explore and create in, it is so multifaceted the fun will never end, children are even navigating it independently – just WOW! Zumbini was great fun for all the children and a very special thank you is needed for Mrs Woodhouse, we will be treated to that every Wednesday. Even though the weather has tried its best to keep us indoors we have had a  opportunities to go outside and learn and explore, from the Gnome Garden to the Math Nook. Our large scale junk modelling is currently trying to build Winnie a new castle, the children even swept up! Thank you for a brilliant week back, I am looking forward to the next one. Please enjoy the pictures below.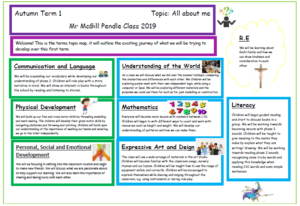 19/07/19
So long, farewell, Auf wiedersehen, goodnight! Just like that our exciting adventure in reception has come to an end; however, a new one begins in Year 1 with Mrs Davies! Everyone in the classroom found it very emotional saying goodbye to the year 6 children, as they have been fantastic role models for all of the children at St. Francis', you will be truly missed! We did have an exciting treat when we got to sign the shirts of the year 6 leavers, which was a very fun way for us all to say goodbye. Congratulations to Felix and Kitty for receiving the head boy and girl awards and congratulations to Thomas and Emily for receiving the deputy role, I am sure you will all do a brilliant job. Myself and Mrs Tyrer are overwhelmed with the gifts and cards we have received over the past week, thank you so much, we are very grateful. I would like to say that it has been a delight to work with your children for the past 2 terms, I have been amazed by how much each and everyone of them have grown and developed, well do everybody I am extremely proud of each and everyone of you; please do not be a strangers, that goes for parents to! From day 1 I have felt I have had the support from each and everyone one of you and for that I am extremely thankful. I hope you all have a wonderful summer and get to spend it together as a family as much as possible. Thank you and good luck.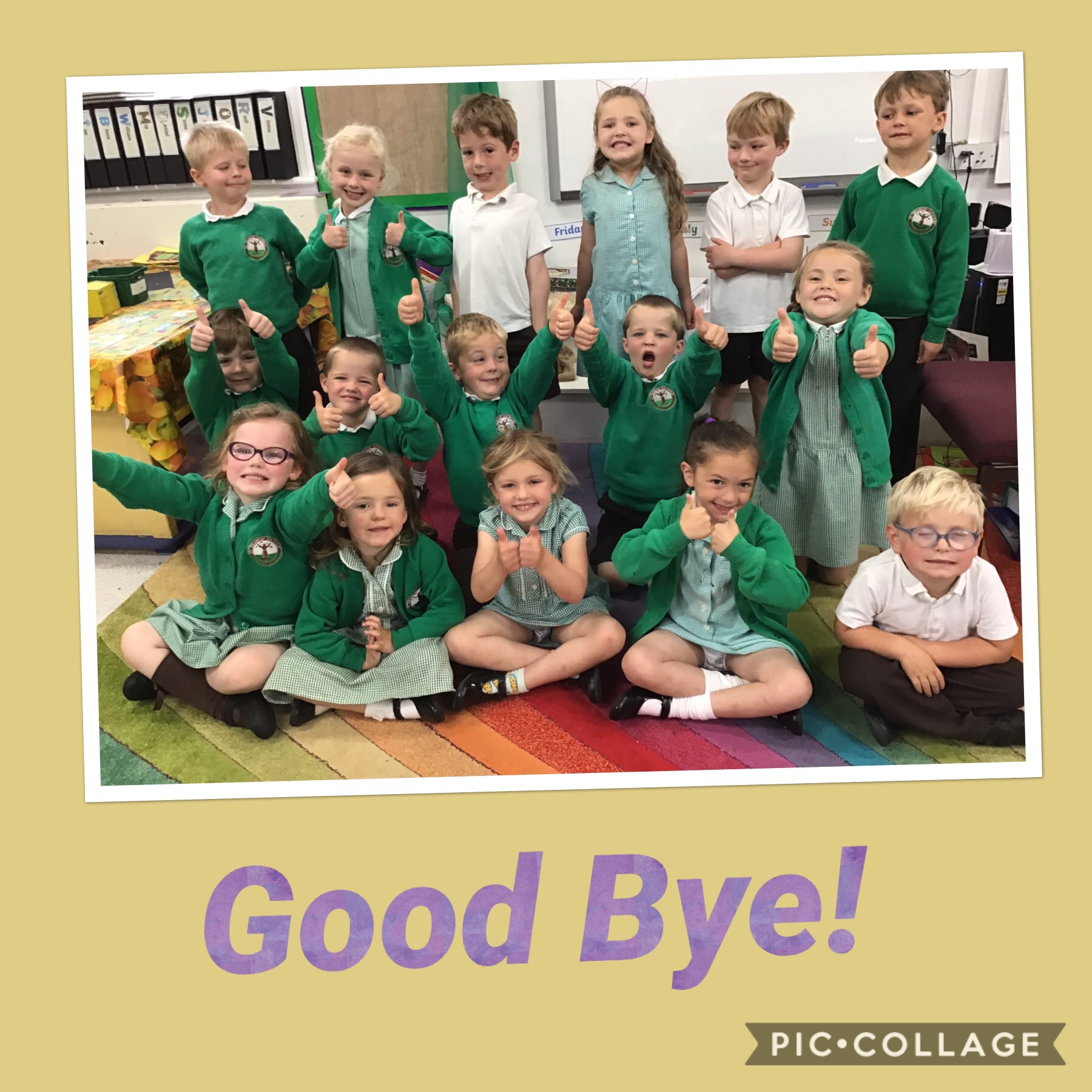 12/7/19
1 week left, how on earth has that happened? To begin the week we listened to a very important assembly about Rhinos and their plight. We learnt about how they are hunted and treated in such a cruel way. During the presentation we also got to see what the organisation involved, is doing to help protect the rhinos. We learnt about how we can help, by raising money by doing simple things like buying a cake from a sponsored cake sale. The bees are completed and they look amazing! Every child has worked extremely hard on their bee and the fact file wings really help to make it a fun and holistic activity. The story books are extremely close to been finished; if possible I will upload everyone to Pobble for you to enjoy, they really are a treat! We enjoyed the performance of the 'Sherwood Hoodies' they had us laughing from start to finish. A big thank you to the year 5/6 class, you are amazing. To top off another fantastic week, the current reception class went into year 1 and enjoyed baking and dancing; However, we got to plant some basil seeds and meet and play with our buddies, so another brilliant morning! Once again, welcome to any new parents visiting the page, please enjoy the pictures below to get a small glimpse of the morning.
5/7/19
What a brilliant week! This will come as a surprise to nobody as the trip to Blackpool Zoo was a resounding success. Children loved seeing the animals and I do not know many 4/5 year old children that get to feed a giraffe! We have been treated to gorgeous sunshine throughout the week and luckily it was around for Sports Day. Thank you to everyone who could attend, it was a great day and the children had a great time too, tacking some very tricky challenges. The cheers were greatly appreciated and it really motivated us all, thank you. We have sent our arts and crafts entries of to the Longridge and Goosnargh show, fingers crossed we hear back from them soon! Please enjoy the pictures below. The children are working very hard on their own personal books, we have anything from diggers, to mermaids to road safety. So a comprehensive list if you ask me. I also had an extraordinary treat this week as Pendle class went into year 1 for a taster day and I got to meet my new class for September, it was a magical day! To any new parents to the page welcome! Please enjoy the pictures below. I cannot believe we only have 2 weeks left! I will do my best to make sure they are amazing and fun packed!
28/6/19
The buzz around the classroom has not stopped yet! Children are well underway with their bee projects. We are hoping to get them painted very soon! To accompany our bees, we have made wings for them. However, these are not just any old wings, they are our fact wings. If you look very carefully, you will be able to see that they have sentences on them, with information about bees. We will also be patching up and painting our salt dough creations ready for the competition. We decided that if we continued to leave them to air dry, they might be ready by the time we get to year 6, so we popped them in the oven to speed it all up. Miss Silvester came into our class and helped us conduct a vote for school and ECO council, by doing a democratic vote. Congratulations to John who is now the the on the school council and Scarlett who is now on the ECO council. I am sure you will both do a brilliant job. The rainbow fish stories have been a treat and it is one of my favorite stories to read. The range of language used is extraordinary and I am delighted to see everyone so excited about writing, and I really do mean everyone! Talking to the children in these mad upcoming weeks, we came up with the idea to make our our own book, so we have a big exciting project to keep us going until the end, feel free to brainstorm ideas about it at home and keep up the amazing work everyone!
21/6/19
We are the champions, my friends! It is official, we have the results back and have been awarded certificates for each child that entered into the riddle competition. A huge congratulations to all the children that took part and a huge thank you to Mrs Tyrer and Miss Taylor who helped with it, a great team effort. The book 'Somebody Bigger' was a brilliant success and sparked an important conversation about going into year 1, as time is flying. Some children expressed what they were looking forward to going, but others stated they were a little worried by the move. So we will continue to discuss this to the best of our ability, as we want everybody to be enthusiastic and happy about next year. I have set the homework to be related to this to allow children to give their thoughts on it, in a more concise manner. We have had great fun colouring in mathematics, trying something a little bit different with colouring our sums in. Children engaged really well with the activity and continued to demonstrate and solidify how well the children understand the questions, and the concentration/ability to take in information, for what is a difficult task. We have also been very busy bees making flowers for our new God's garden and of course looked at the brilliant bee and how they pollinate the plants, create honey and how they live. Next week we will be reading the story the 'Rainbow Fish' I can't wait! Have a wonderful weekend and see you Monday.
14/6/19
We really are cooking with gas now!Children are flying through phase 3,4 and 5! It is a testament to all the hard work that goes on at home, I am truly grateful for it. The book we had this week was 'My World, Your World' it is a truly beautiful book, where children get to see other children from around the world. We came across some unfamiliar names and at times we were given the opportunity to change some, because that is what writing is all about, making something unique and enjoyable. We also used a few phoneme frames to allow some children to write what they're passionate about, what fun! 3d shapes have been truly explored and experimented with. We made 3d shapes with magnetic bars, building things with 3d shapes and the junk model sculptures people brought in were fantastic, thank you! We hope the cards and frames we made for you all are enjoyed for Fathers Day. All of the children really wanted to put their heart and soul into it, which shows how much they value their family. I hope everybody has a wonderful weekend and thank you for your amazing support!
7/6/19
We are off! What a busy, busy week we have had. Everyone has come back in great spirits, I hope it lasts until we break up, 6 weeks left now, Unbelievable! To begin the week we have read and written the story Noah's Ark. Children have blown us away with their enthusiasm and determination with very few needing any support. Children are now beginning to read each others work and identify areas to improve. We have entered  the Goosnargh and Longridge Agricultural show. Children have created a unique piece of work with the salt dough we made. We have had a busy week playing the game, will it roll? Discussing the properties of 3d shapes and then building junk models out of 3d shapes. We have been learning about the Creation story in R.E this week and will continue this learning into next week. I hope you all have a lovely weekend and rest up, see you Monday!
24/5/19
Where have the 5 weeks gone? This week has been a blast from day 1. We had an unbelievable treat this week as Emily from Camera Club came in. Emily showed us how to set up a camera, choose the correct setting and most importantly take some great pictures, IN FOCUS! We had a marvelous time. I hope we have some young photographers joining the after school club, after the half term. This week we have thoroughly enjoyed 'All pigs are beautiful' learning about pigs and how they are to be cared for. An amusing but questionable moment for me, was seeing the word 'boobees' in a child's book. Although, we did not use that word to describe a piglet suckling. The thinking and more importantly the writing was flawless, so a pleasant and innocent surprise. It always amazes us how independent our writers have become in a short space time, please keep up the amazing effort at home too! We have shown a great understanding of the story David and Goliath, demonstrating that God gave David the courage to face such an enormous foe. In our math work, we had to transform into builders, (which was particularly easy) and fill buckets to the correct amount specified. We also came across the word symmetrical and worked on making our very own symmetrical pattern. I hope you all have a wonderful break with your children. The next topic will be 'God's Beautiful World.'
17/5/19
What a busy week! To start the week off as usual we have our exciting writing. This week we have been writing about 'Farmer Duck'. We have had our very own duck here at school, making a nest and laying 3 eggs, what a lovely coincidence! The children flew through their stories and we love how they are evolving each week. You can really see the new vocabulary and the continuation of their phonics. Cobble Hey farm was a brilliant success. The children had so many learning opportunities it would take me all day to summarize, so please view the pictures below. They are a treat! We also went to church to explore and discover key items. We discussed the purpose of them and even found additional items / symbols. Such as the Virgin Mary and the bible. Children continue to impress by demonstrating their understanding when it comes to key mathematical terms such as sharing. They worked with numbers below 20 and did a fabulous job doing so. I cannot believe it, but next week will be the final week of this term, FRIGHTENING! The final book will be 'All Pigs Are Beautiful'. Have a lovely weekend and see you all Monday.