I think I'll start with…
The visit from the Mayor and our garden party …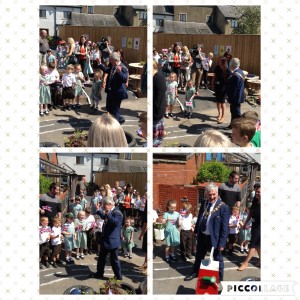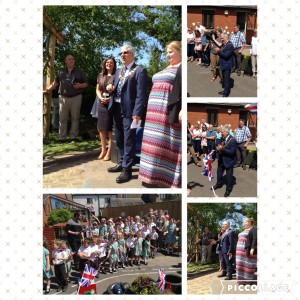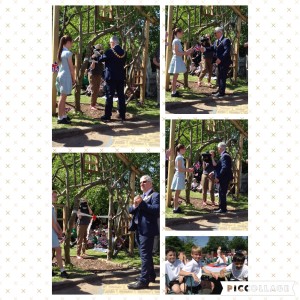 What a wonderful afternoon it was. The weather was glorious and we enjoyed refreshments and cakes on our beautiful school grounds. It is a joy to spend time together in this way and I thank all of you who came to the event and all of you who donated cakes. The Mayor and Mayoress were in awe of our school and of our new area. The Land of Pure Imagination is officially opened ( with the help of a popular Bucks Fizz song) and our children represented our school incredibly when shown on BBC Northwest. Our thanks go out to Angela Wakefield, the artist who created our beautiful mural on the greenhouse wall. We are delighted that future generations of St.Francis' children will add their marks to the mural and it will continue to be an artistic process.
Our May Procession was wonderful and I am pleased we haven't broken the tradition of singing the same song in different pitches with different verses all at the same time as we process and finally gather at the church door! I have never heard Reception and Year 1 children say prayers so loudly and enthusiastically before. We all couldn't help but smile. All children engaged in such a spiritual devotion to Our Lady.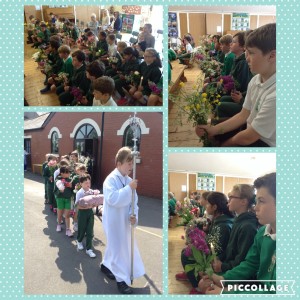 And today we finished our busy week with a concert!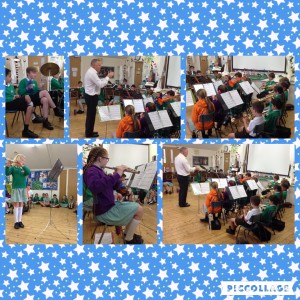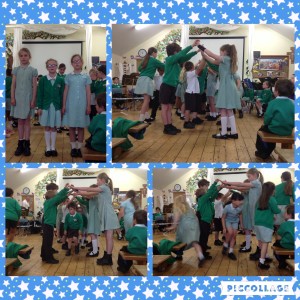 The children performed as part of the school band, choir and individually. We also had a Glee taster of what is to come at our St.Francis' Got Talent show in June. It is staggering how much talent we have in our school. I can honestly say that I could pick any child and talk at length about their individual talents. The lists are endless. I must express thanks Mr Warren for developing our school band and choir to such an outstanding level and to Mrs Davies for leading and shaping Glee Club so enthusiastically. I know how many hours of preparation and planning are spent on musical clubs. The children sparkled!
We received our Preston Gymnast Champions trophy today and the 5 children from Year 2 -the 5 who won- competed against many large schools. This is another huge achievement for us. Well done and well done to all children who performed today.
Two little artists came into my office today. They had tried to find me earlier but I was busy out of school for an hour  on another exciting venture for the school.  This involved test driving a minibus. Mr Gilmour, Mr Riley ( a man with mechanical know how) and I ( a woman with no mechanical know how) went to look at a 17 seater minibus in Preston. I will keep you posted. The artists had drawn WW1 planes- and they were incredible. They certainly deserved head teacher award pencils to draw more planes and both boys left with smiles.
On Tuesday, four pupils went to a real recording studio to record our narrative for The Armistice project…
and children from other year groups went to Barnacre to paint backdrops for the performance. All children did an amazing job and behaviour (I am told) was exemplary, as always. Please keep the knitted poppies coming!
Gordon got lost and this caused a small search party mid week. Out of our three hens, I have to say that I do have a soft spot for Gordon so I joined the search party. For those of you who aren't aware of this, we thought Gordon was male until we discoved that he wasn't but we were all so used to the name that we kept it. After all, what's in a name anyway?The hens have really started exploring further regions of school and they seem to like the bird hide area now. It must be the shade and the natural mud baths they are having. Gordon is the instigator of taking 'free range' to another level and we found her in Pendle Class outdoor flower shop!
I think I have covered everything for this week but I do finish with a plea on behalf of the parish gardening team.
If you can spare any amount of time at all tomorrow, bark chippings need to be laid all around  the new  flower beds. Just bring a wheelbarrow or just your helping hands. The gardening group will be grateful of any help.
Well done to our Year 6 class, who helped to organise the garden party, and to all staff, who have gone above and beyond- as always.
With thanks to all of our school family for such a supportive and successful week.
Have a lovely half term break.