A Sticky Disaster, even more History and a Royal…
What a week this has been. I feel like I am replicating Dawn French in the famous Christmas episode of The Vicar of Dibley, where she spent the day racing from one Christmas dinner to another. I have counted that I will be appearing at 8 Nativities, Carol concerts and various other festive treats where children will be performing. Both schools have a jam packed fortnight ahead and there will certainly be no winding down until the day we break up. This is exactly how I like it.
It really  is beginning to look alot like Christmas and we celebrate our first Sunday of Advent this weekend. On Monday, Travelling Nativity bags will be coming home and we also launch our Year of the Word. There will be more information coming home soon about this.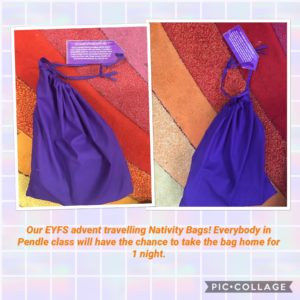 Beacon Class have been very busy riding bikes and we are delighted that all children were successful in their Bikeability training- well done! Last week, I drove back to St.Francis from Lancaster and I came across our young riders on Horns Lane. As I slowed to pull into school, I realised that I must have resembled the Queen because the children parted in the road to let me through and all I could do was wave to the children on both sides as they cheered and waved back. It really was a great welcome and I don't usually arrive in such style but children do seem to picture you differently when you are out of the school setting. It's funny because even when you see a child in a super market, there are only two options- they will run over in absolute delight and can't believe that you actually do things outside of school (like other people) or they do absolutely nothing and don't utter a word as they shyly hide behind parents. Either way, their reaction is different to the usual school day.
The Library is looking great and we have big plans to develop this lovely space even more. Our large wall stickers arrived and Mr Gilmour wasn't very handy when attempting to stick these to the walls on his own! He got into a terrible mess and even googled to find out if other people had got into such trouble sticking a sticker onto a wall. It turns out some people had so things were Ok and a new wall sticker was ordered. The stretched, torn and stuck to itself mess was out in the bin and team work proved to be vital, once again. Stickers are now stuck and we will be painting murals on the walls and ceilings. If you look closely at this picture, you can see The  Gruffalo through the window on the wall. The children are loving using the library at lunchtimes and it is great to see the older children reading to the younger children…
Fairsnape Class seemed to have abandoned school for History museums and they have had another great trip to the archives!
As I was uploading pictures, I came across an interesting picture from Mr McGill's class and I thought it was rather sweet. Reception children have clearly been having a great time as independent little learners. What super sock puppets they have made…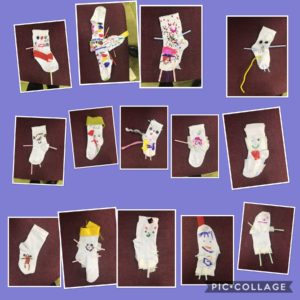 We are certainly loving learning and it is a joy to see so many children bringing me their work to show. Keep it up! A December newsletter has been emailed out, put on Seesaw and on the APP. It is also under News/ Newsletters on our website. Please check the dates for your diary section as there are so many wonderful things going on. Parlick Class are amazing us with their zest for learning and incredible progress since September and I am pleased to tell you that mother and baby are doing well-Mrs Davies has given birth to a beautiful little boy called Joseph and we can't wait to see them in the new year.
Have a lovely weekend…