A Bag of Teeth?
Mrs. Rossall and I couldn't help but laugh this morning as she presented me with a bag of teeth that had been found inside a book at our book swap yesterday! Book swaps are always exciting but little did we know there would be hidden treasure belonging to a mystery child. If anyone has lost a little yellow bag of teeth, we are keeping them safe in the school office. I explained to the children that we can write letters to the tooth fairy so parents can keep our precious teeth and I expect this is what has happened in this particular case. As I write this blog, I am in hysterics because it is a first for me but so typical for a day in our school! Well done Fynn for organising the book swap-super job! The children enjoyed swapping books and discussing new books with each other.
Luckily, I am quite a good climber and this skill has just come in use as I have just had to break off from writing this blog to rescue a small child stuck in the toilet. Armed with a screw driver and a friendly smile, Mrs B-M and I have quickly diffused a potentially frightening situation. You really never know what will happen in a school. Each day is completely different and this is what we love about teaching so much. The children have been making some incredible things this week and for our 'National Storytelling Week' we have been undertaking shared work and creative learning. I loved looking at the story boxes that Beacon class children have been making for the little ones. They are imaginative and perfect to inspire writing. Fairsnape have been making magic eggs and filling them with their stories, Parlick are making shaving foam moon books and Pendle are writing super hero stories with cape shape paper.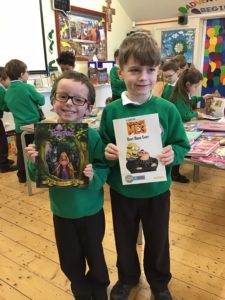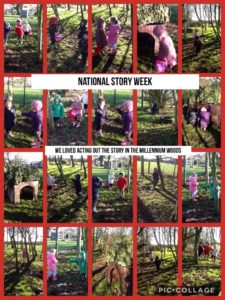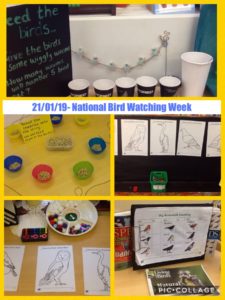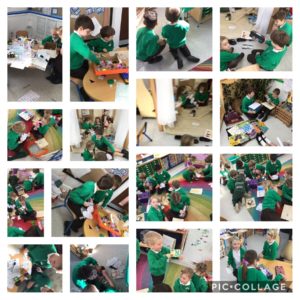 I have sent you a letter (coming home tonight) about a very exciting new adventure for our school-we will be live on Pobble soon! This is a wonderful school resource where your children's work is published online for other schools to see-globally! A parent has very kindly donated this resource and we are delighted that you will soon have a login for your child's Pobble account and we will be live. I am going for a training day on Monday 11th February and you will be given all the information you need. We give our sincere thanks to our anonymous donator.
Next week, we are holding a safety week in school. Every class be involved and there will be a different topic each day throughout the week. We are learning to be mini-medics and having first aid training from a heart foundation visitor, water safety, railway safety, stranger danger talks and much more. Our online safety will be a focus and the children are preparing a parent workshop for you to come into school and see what we have been learning about. Your teachers will be sending you information all about this.
I have been informed about an angry little robin that won't share the food pre-school school children have been making for the birds. Apparently, they have been upset to see the robin sat guarding the food in the feeding area and pecking other birds away.  What a first hand way in which to learn about the importance of sharing. We now have many bird feeders scattered around school for all to enjoy in this very cold weather. It has been very icy around school and on our local lanes. Please take your time and rest assured we keep an open register in the mornings to enable a staggered approach and avoid many cars in the immediate area at one time. Your safety in paramount so please take your time.
The children are looking forward to the concert on Sunday and we can't wait to perform for you. It is wonderful to have a wider audience. I have sent band and choir members home with music t-shirts today. Please take these out of your child's book bag. Children in Glee club will be wearing school uniform and children who are in band and choir but not Glee will wear the new music t-shirts with school uniform on the bottom half. This is to represent school in green and brown colours one way or another.
We look forward to seeing you there on Sunday. Staff will be at the venue from 1.30pm and we have been allocated a school seating area for children to sit with staff. You can leave your children with us and take your seats in the audience. The following Sunday is Family Mass and we will be singing one of our school songs for you all so please put the 10th February in your diaries too.
Have a lovely weekend.