Welcome to Reception/Year 1 Class webpage
Our class is called 'Pendle' and we always have great fun learning and growing together. We follow a creative curriculum led by the children's interests, which allows the pupils to access all areas of learning, in an engaging and interactive way.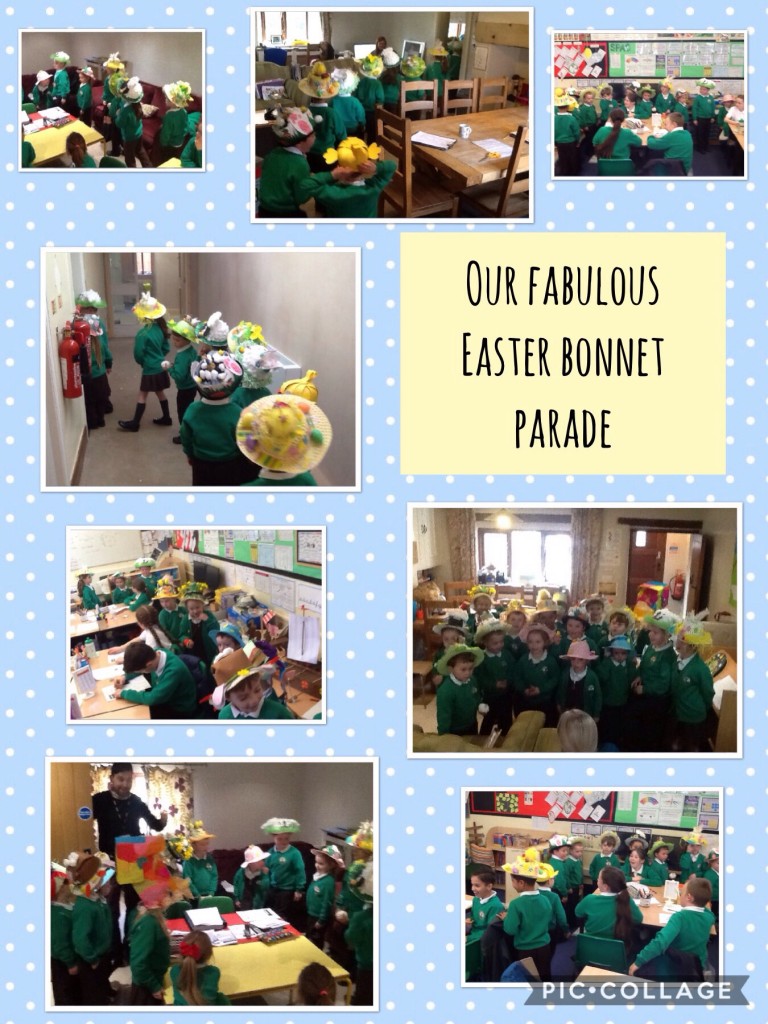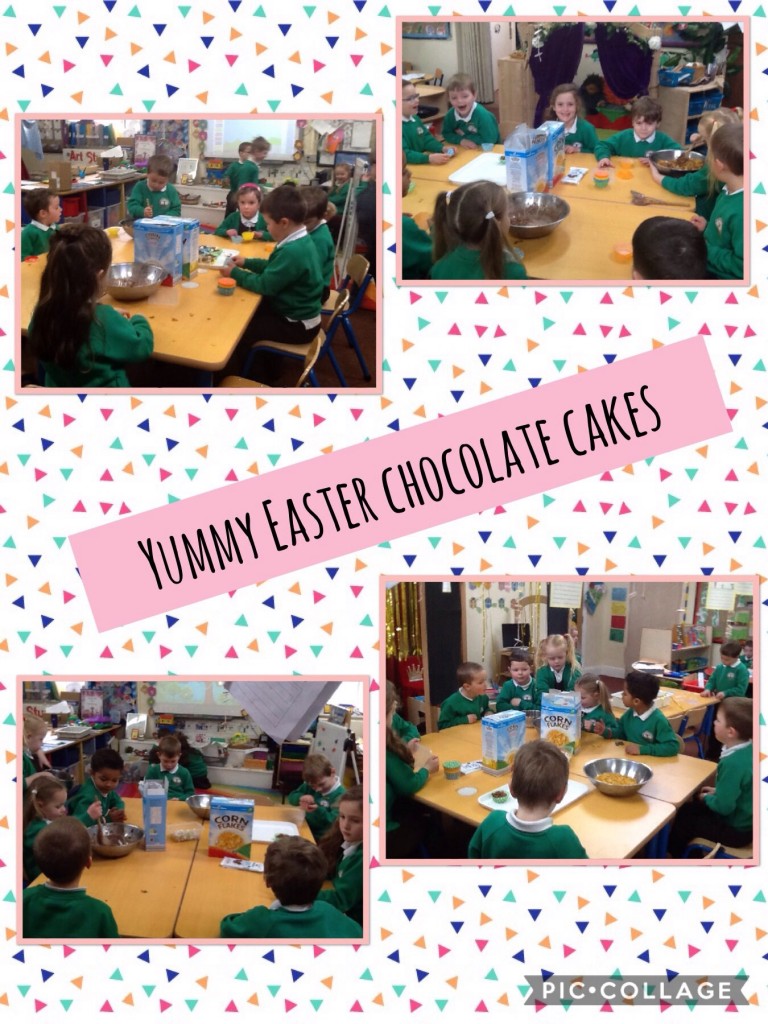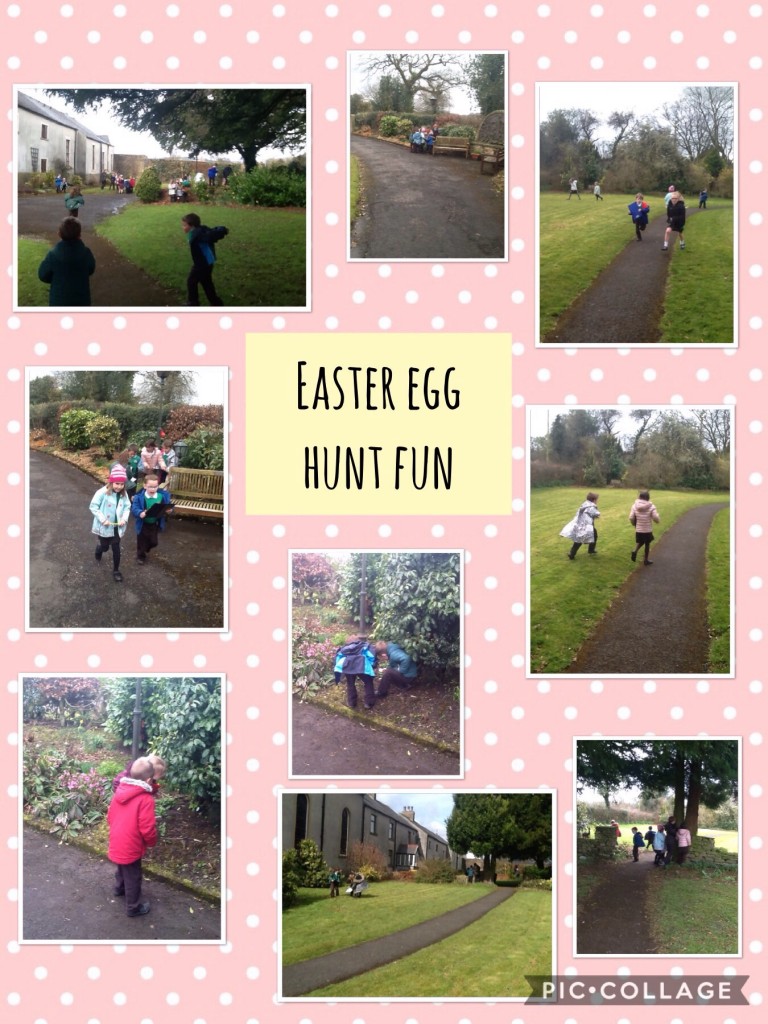 Our amazing pupils this week…
Sport relief
Wow! What a week we've had. The children loved their bouncy suprise on Monday, their reaction was priceless! They danced non stop on Tuesday in our Just dance marathon, and they finished off the week with the hundred mile run, which every child performed outstanding!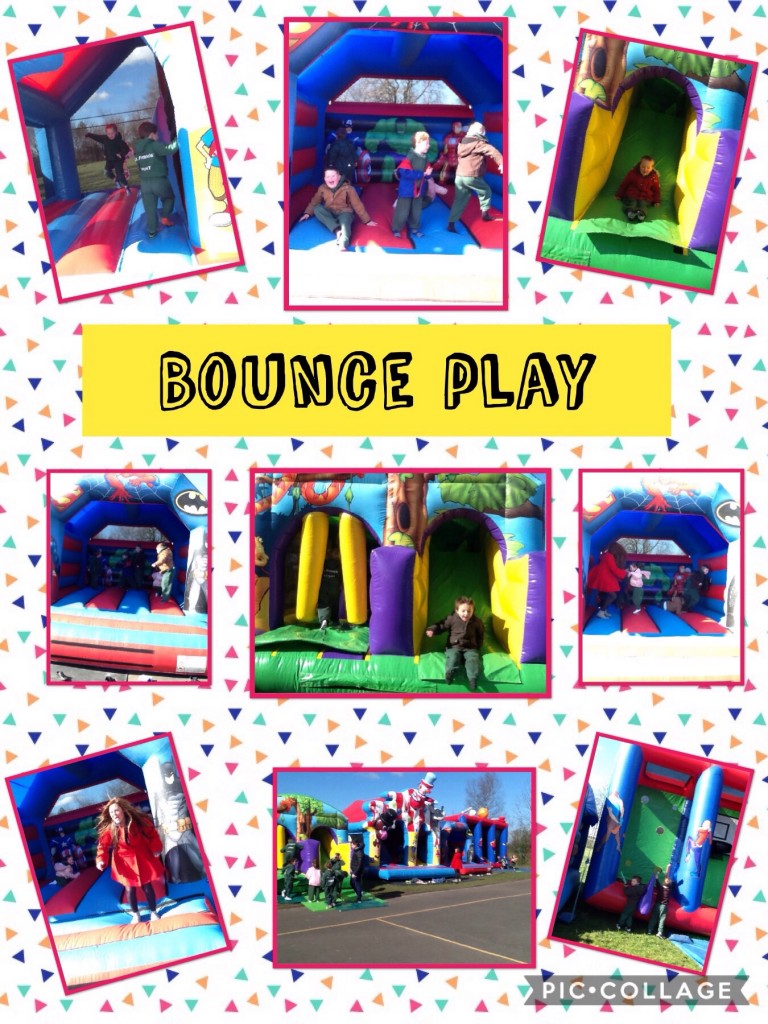 Science Week fun!
Pendle class have had a fantastic time this week, being enthusiastic scientists. We created a superhero headquarters science lab in class, to discover the best superhero powers. The children explored the following: exploding coke (flying power), dancing raisins (bubble power), villain slime (fighting power), gloop (hero defence power) and  magic rainbows (blending power).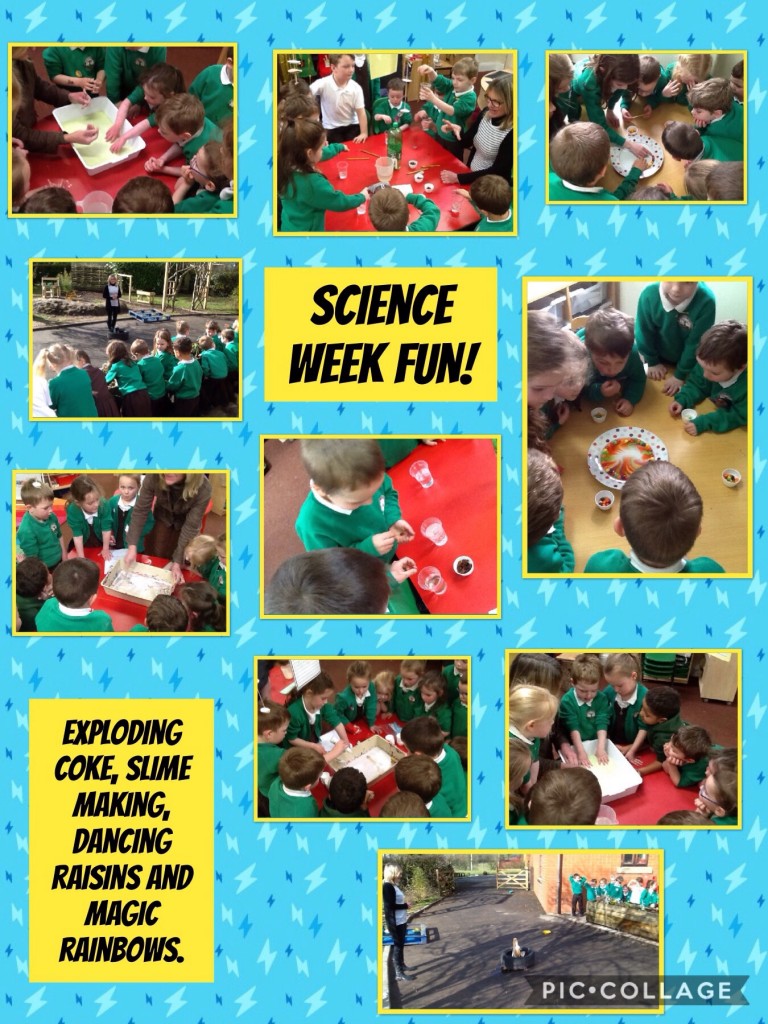 Our Outstanding pupils this week…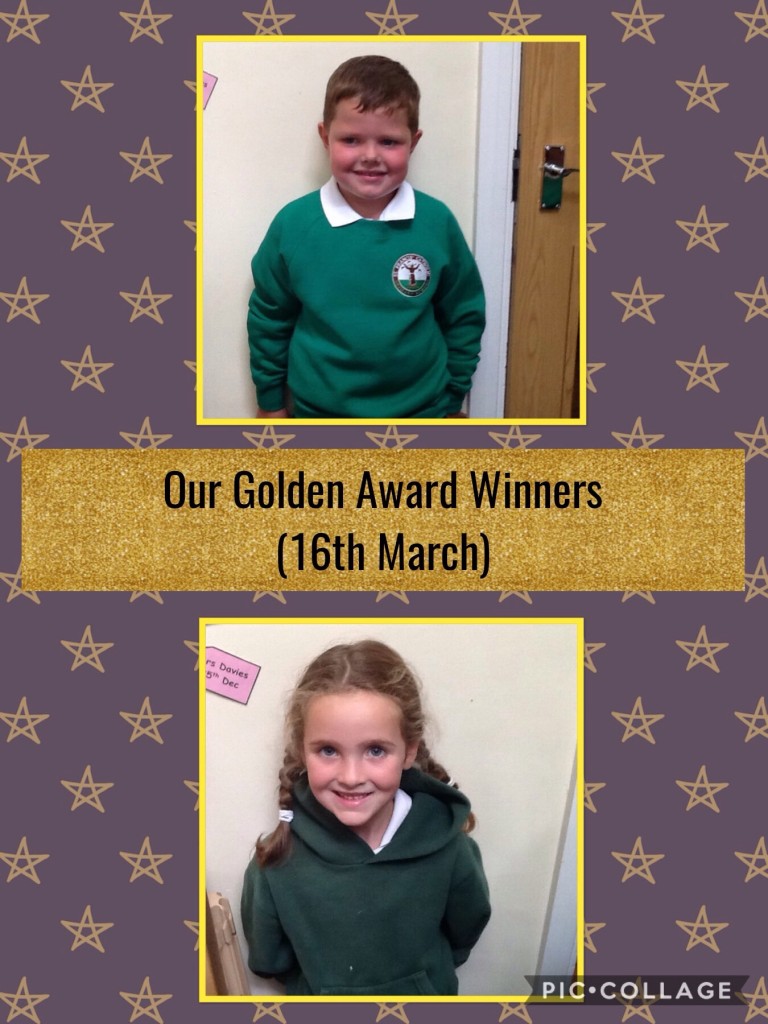 Road safety and Sirens!
Pendle class enjoyed a special visit from PC Banks this week. The children learnt all about how to stay safe crossing roads. They know to STOP, LOOK and LISTEN. PC Banks allowed all the children to have a go being a Police officer, switching the flashing lights on and sirens in his Police car. The children absolutely loved driving the electric cars around a pretend village in our school hall.
Fire, fire, fire!
Key stage 1 had a very exciting visitor today for our superhero topic, Firefighter Dave Gilmour. Children learnt all about fire safety and what to do if there was a fire in their own homes, and how to prevent a fire happening. The children loved hearing all about the role of a firefighter, and how they save lives on a daily basis. The children thoroughly enjoyed dressing up and playing with the fire themed activities. I think we have some enthusiastic future fighter fighters in the making!
Our spectacular pupils this week…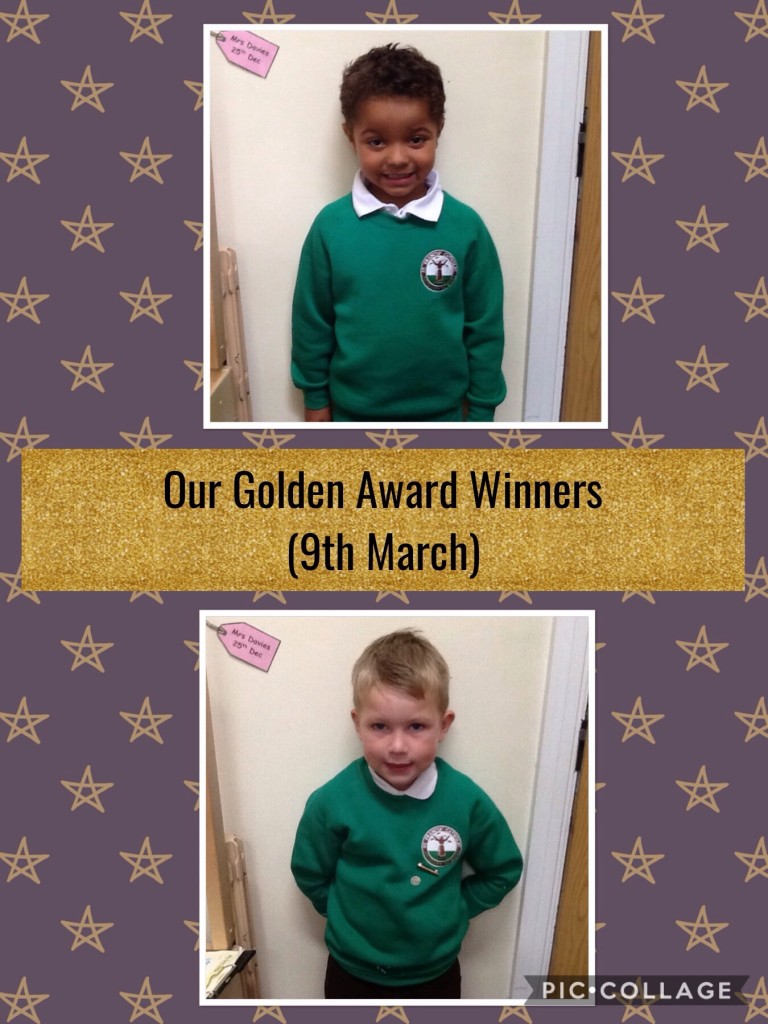 Our fantastic World Book Day costumes!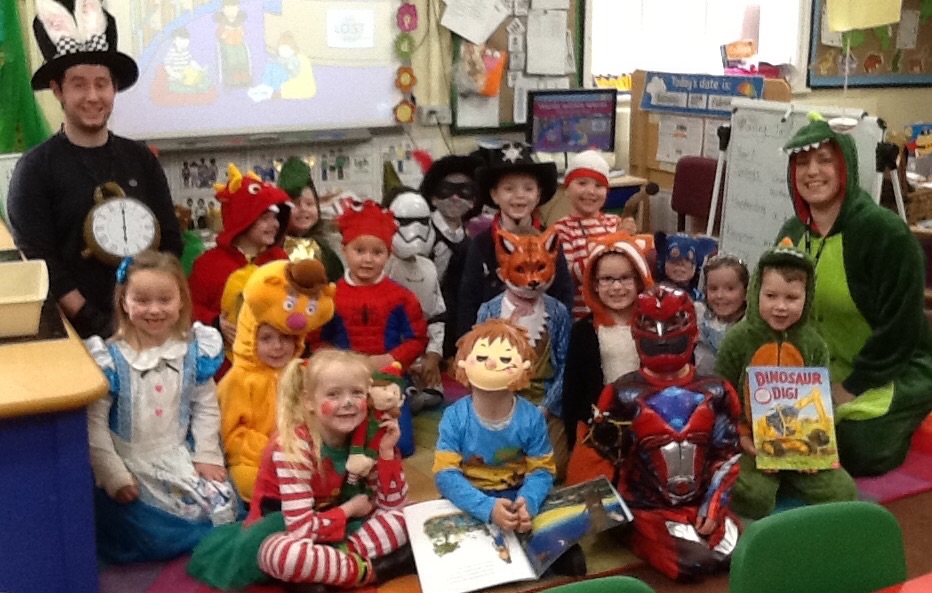 World Book Day Fun
Pendle class enjoyed a wonderful book activity organised by Beacon class. All the pupils in Beacon class painted a beautiful story pebble, and hid it in our garden of pure imagination. Pendle class pupils had to find 18 pebbles, with the help of their buddies, and guess the story painted on the pebble found. The children loved every minute! A big thank you to Pendle class for organising a fantastic pebble hunt!
Supertato to the rescue!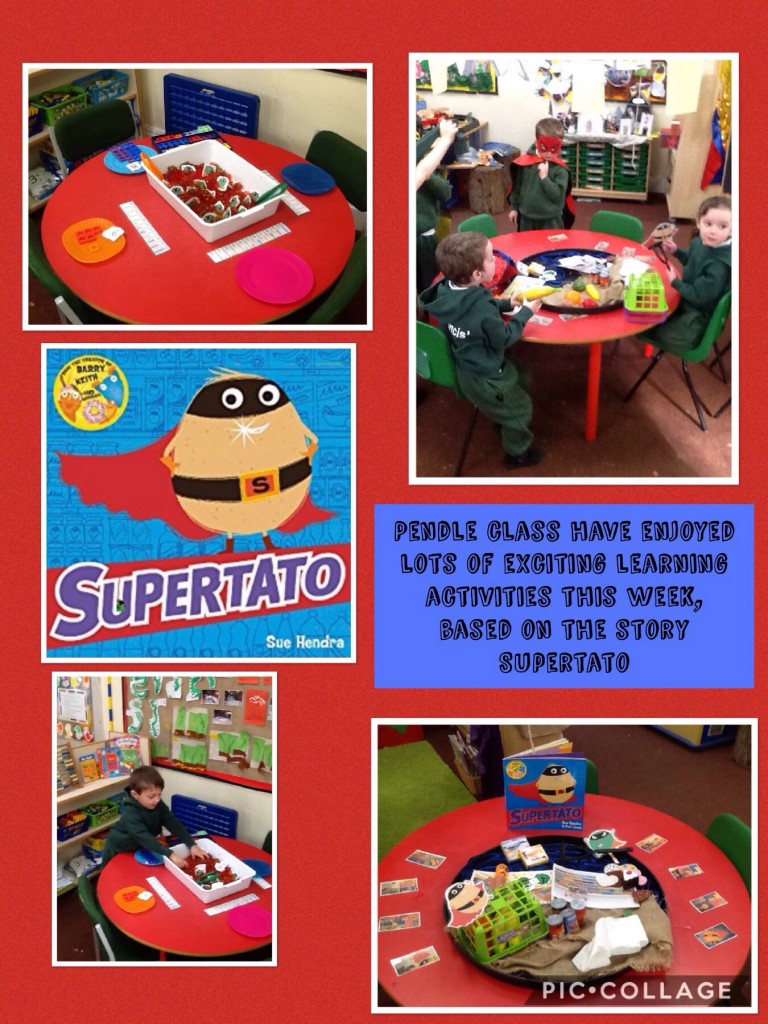 Superhero Maze Challenge
Pendle class took on the 'Superhero Maze Challenge' in maths this week. Moving forwards, backwards, left, right , under, over and many more positions and directions. They had to save a superhero by following instructions from their partners, but they had to be careful of the fire, water and mud. The children enjoyed a fun interactive maths lesson dressed as a superhero.
Nurses in the making. Having badges of fun!
I would like to say a huge thank you to Mrs Lancashire for visiting Pendle class yesterday. She taught the children how important a nurse's role is in helping people, and showing the children how to put a badge on, which most children kept on all day. Poor Miss Taylor was worried when she saw most of Pendle class with bandaged hands, she was relieved  to find out they were pretend.
Jesus and the Fishermen
In R.E. we have been looking at the bible story, Jesus and the fishermen. We have learned how Jesus chose his disciples and how his disciples believed and trusted Jesus. Pendle class enjoyed creating fish using different types of media. In our daily worships we have been thinking about our friends, asking each other what makes our friends special to us and sharing our favourite times.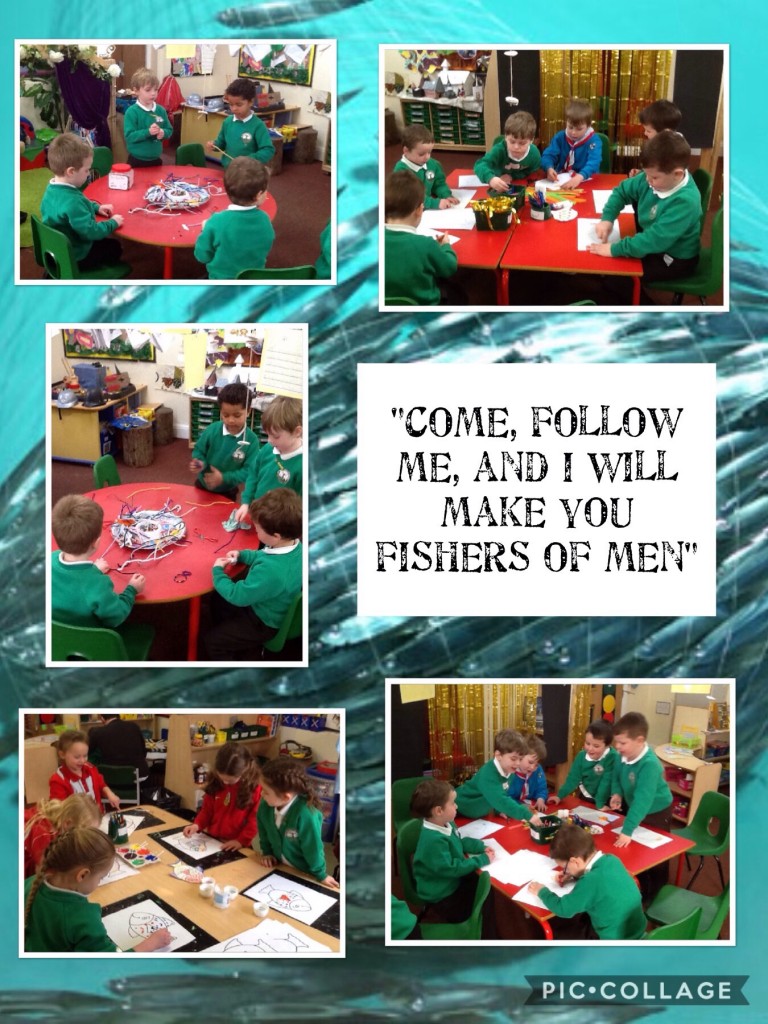 Our fabulous world of pure imagination area
Children have thrived exploring our new outdoor area this week. Putting their wellies on and get stuck in! They have made potions in the mud kitchen, stirring the chocolate river with the Giant's spoon, jumping, splashing, bird watching, digging and many more. We had fun bringing onomatopoeias to life in literacy; splashing, banging, whooshing, spinning etc. to inspire our comic book writing. Year 1 also made arrays using multiples of two's and five's using sticks and leaves in maths.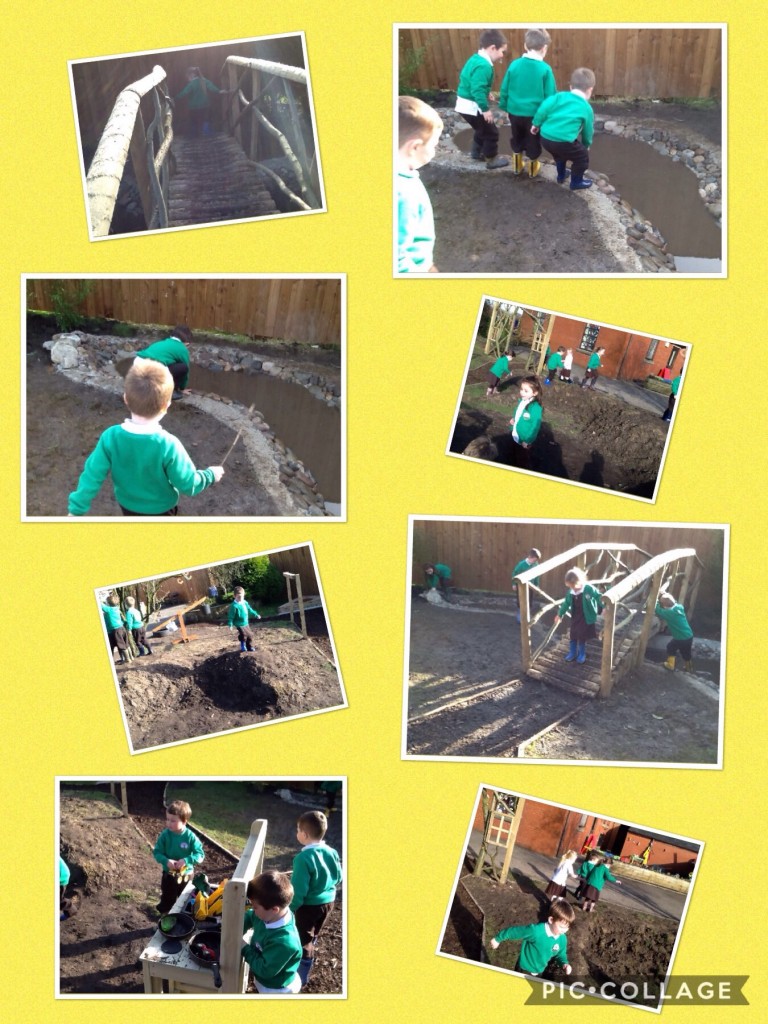 Architects in the making!
Wow! Is all I can say about these half term projects. The effort and time that has gone into these 3d church models is outstanding! A huge thank you to parents and pupils for the beautiful detail and creativity.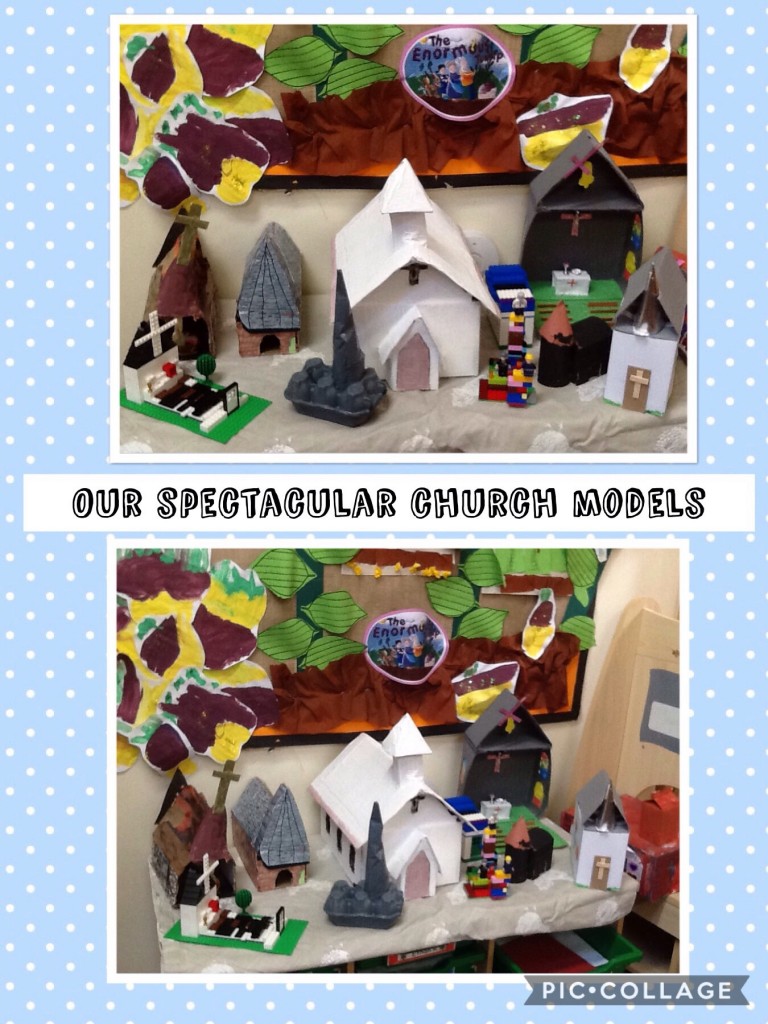 Superhero Headquarters
Children have had endless fun in our new exciting role play area, Superhero Headquarters. They amaze me everyday with their imaginative ideas and hard work. Each child has grown in confidence and challenges themselves, completing tasks independently. Please see below our creative learning this week.
Welcome back to spring 2 term.
This term our topic is 'Superheroes'. We have lots of exciting activities and visitors planned for Pendle class. We will be looking at fictional superhero characters and real life superheroes that help us in our local community. We have organised a Police man, Nurse and fireman to visit Pendle class, and tell the children all about how they help and save lives everyday! Please see below our topic map for this terms curriculum focus.
Our Amazing pupils this week…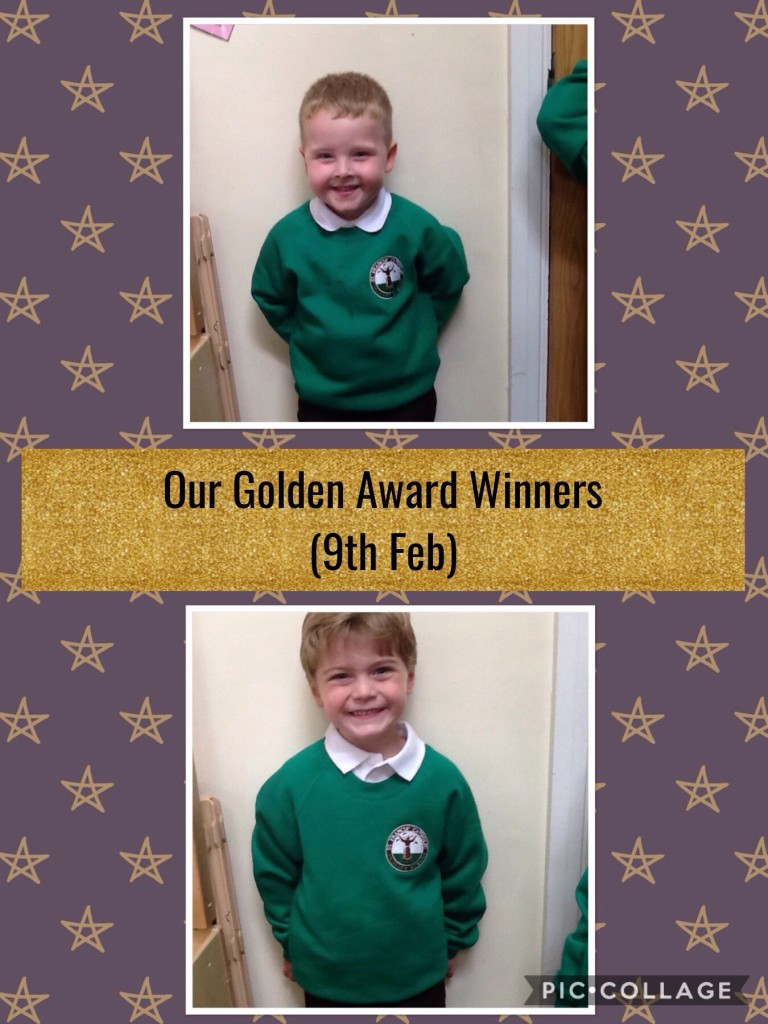 Our school trip to Clitheroe Castle
We had a fantastic time at Clitheroe Castle last week. The pupils were thrilled to take part in two workshops; Castles and Keeps, and Myths and Legends. Pupils had a brilliant tour around the castle and learnt all about how and why castles were built, and what materials were originally used. Pupils had an engaging hands on experience of building their own Motte and Bailey castle with sand, and using lolly pop sticks to make a fence and bridges.  Pupils loved listening to the story about the Clitheroe dragon, and learnt the skills to defend themselves against a real dragon,  practicing their sword skills. I'm very confident we'll be very safe if any dragons decide to come near St. Francis school with our expert knights!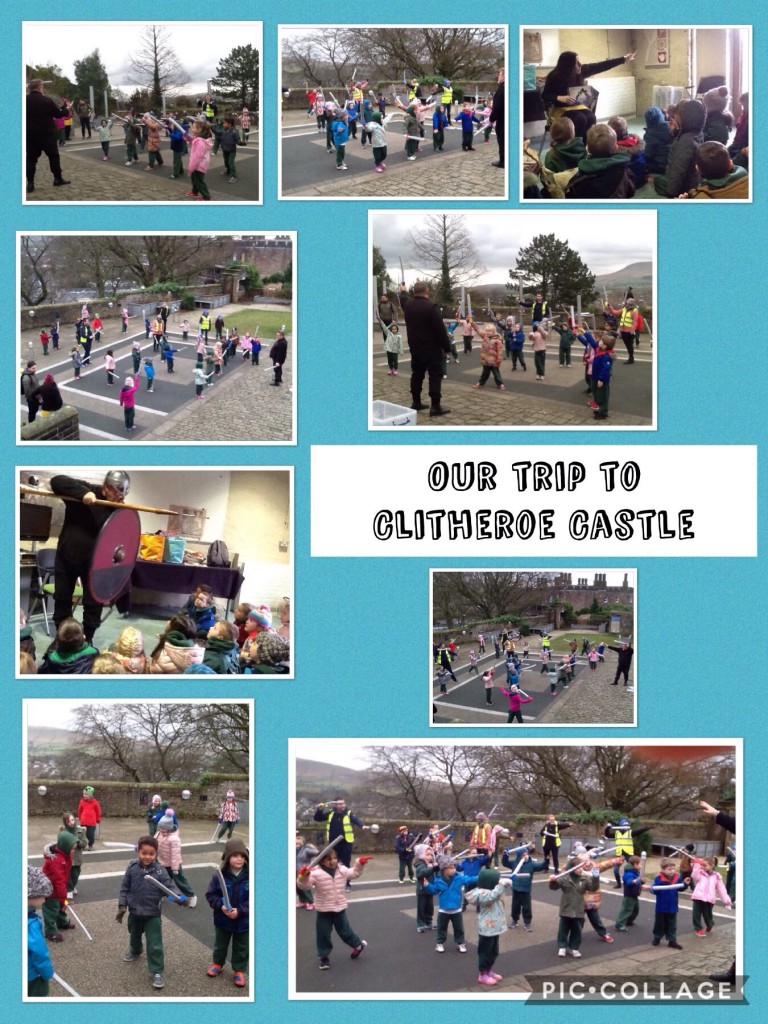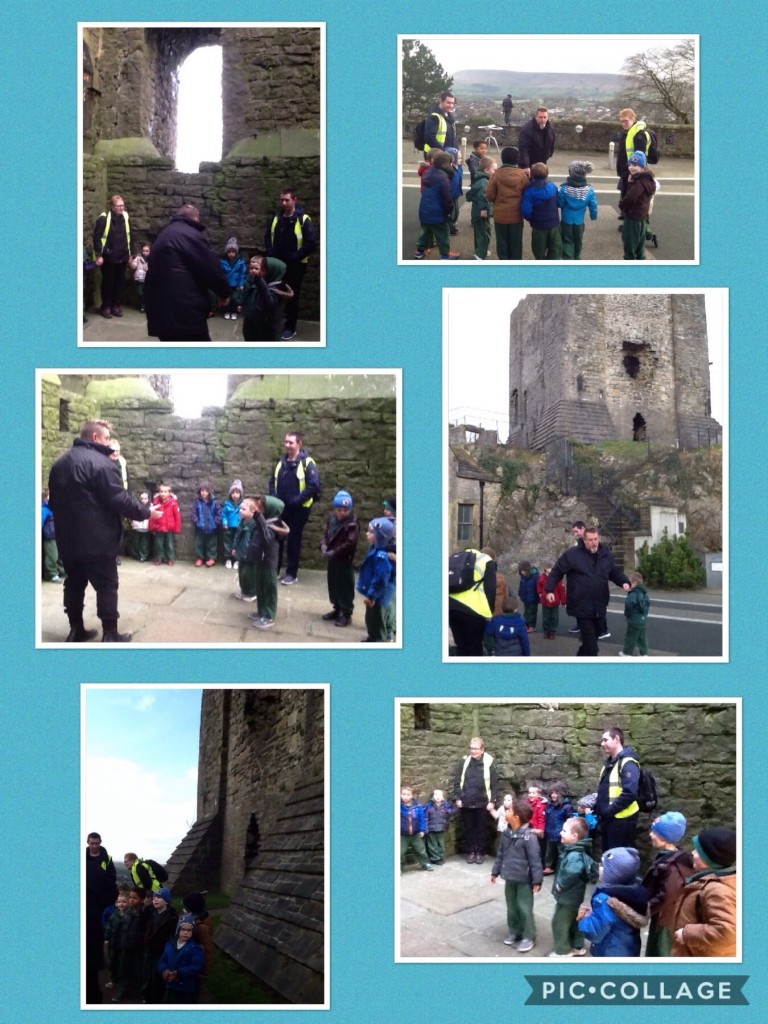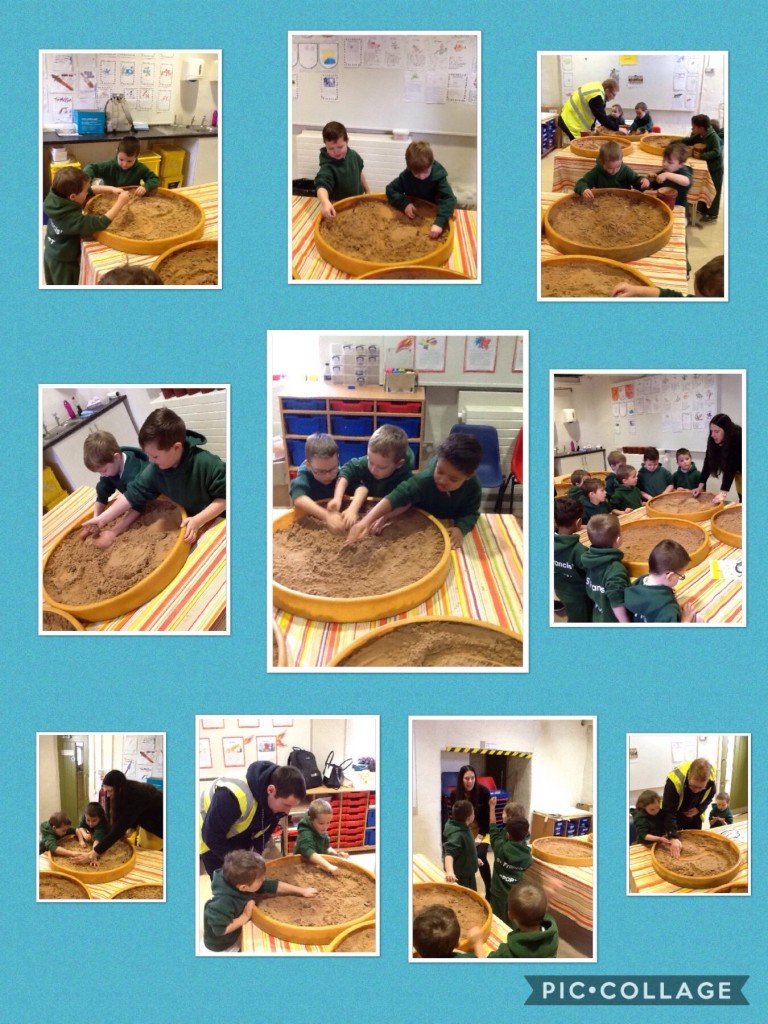 Our budding gymnasts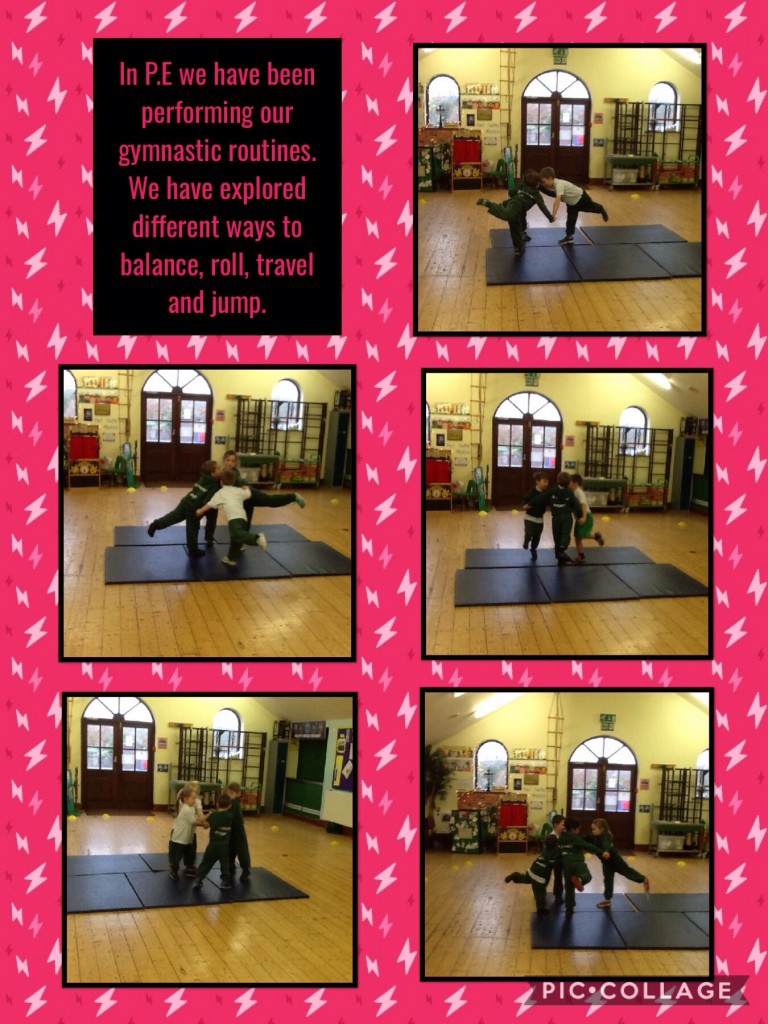 Our outstanding pupils this week…

Story telling week
Pendle class have been very busy writing their own version of the story, Princess and the pea. We have enjoyed listening to a new story everyday in class, and using our story boxes and stick puppets to bring the stories we've heard to life. We had a wonderful afternoon on Friday when the pupils from Fairsnape shared their twisted fairy tale stories with us. A real treat to hear such amazing story writing from both classes.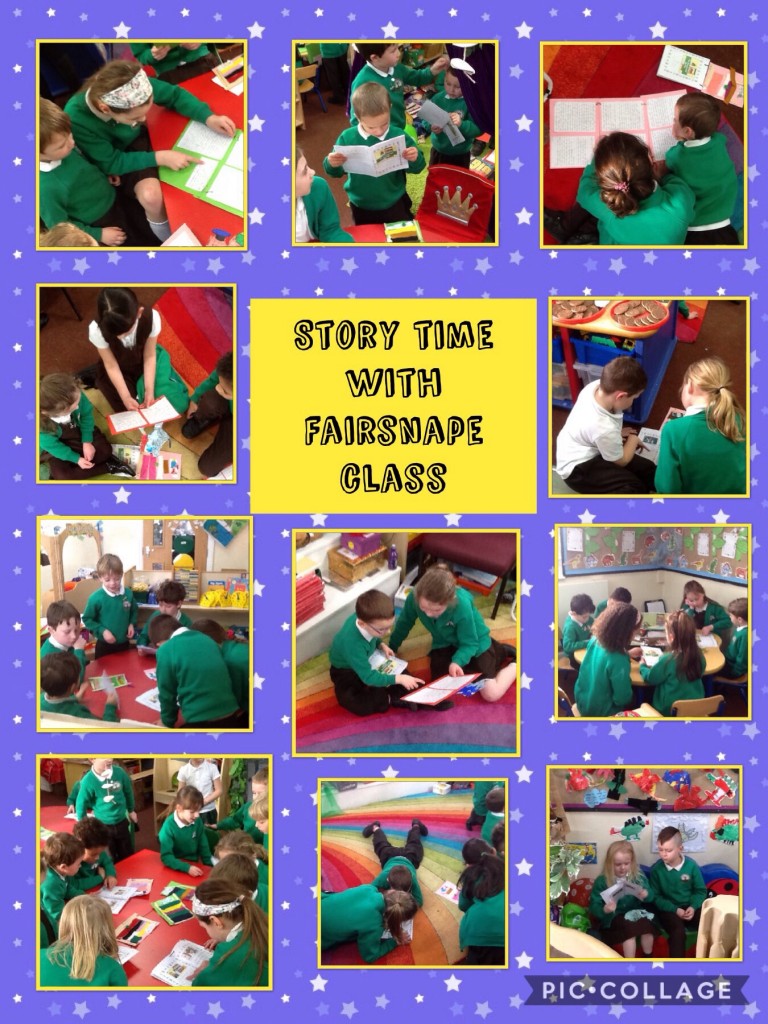 Jesus light of the world
In R.E. we have been learning all about, Jesus, light of the world. We have been looking at different symbols, signs and objects that are used in church and special occasions. Children understand that a candle lit represents Jesus is with us and listening to our prayers. We have been learning all about Baptism, and how we are all part of God's family. Children have made their own candles, and used clay to make a tea light candle holder. During worship we shared our thoughts and feelings to Jesus, and discussed how he gives us strength. We then used our candles to sing along to the hymn, 'This little light of mine'.

Our superb pupils this week…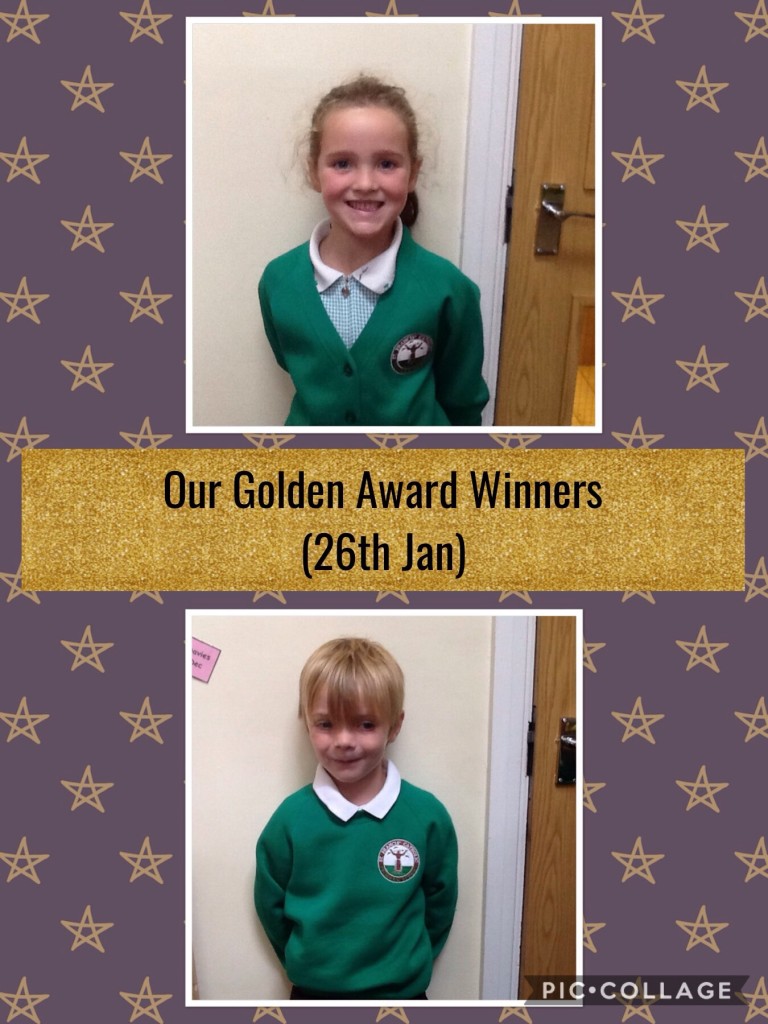 From seed to plant
Pendle class have been enthusiastic gardeners this term, watching their cress seeds blossom into cress plants. The children have been learning all about what a plant needs to grow; sunlight, air, soil and water. They have enjoyed watching the process of how a tiny seed grows into an edible plant. Pupils are now confident in labelling parts of a flower; stem, leaf, flower and roots.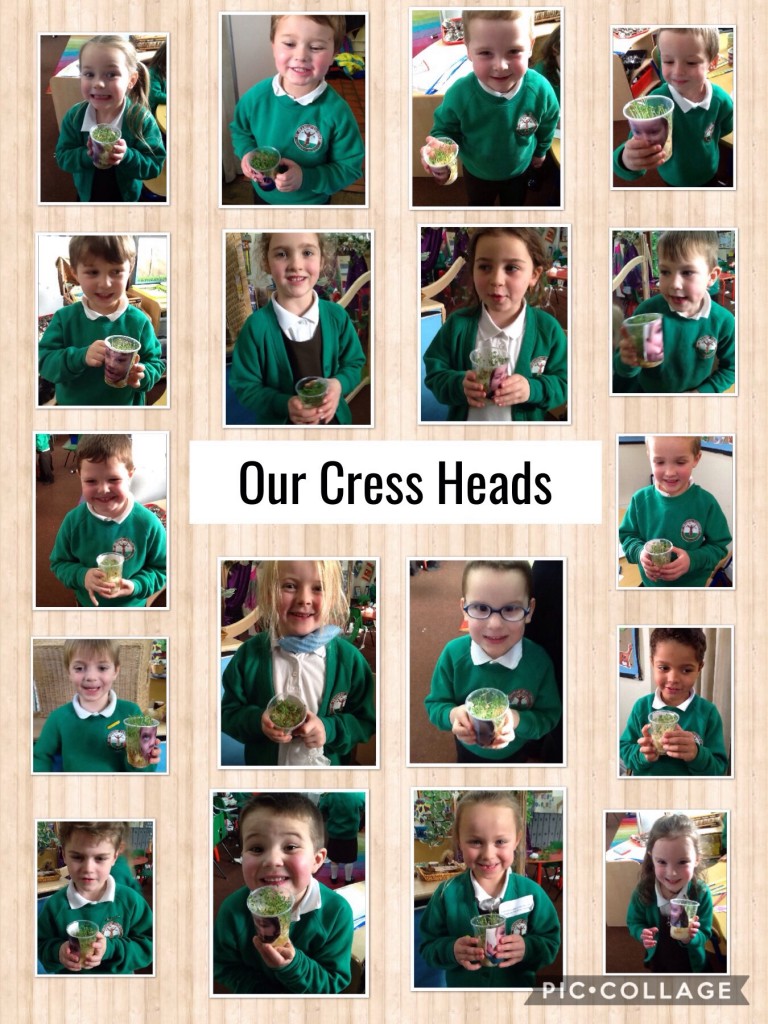 Our amazing pupils this week…
Betsy for superb gymnastics skills in P.E, and Niamh for outstanding effort in all her learning activities this week. Well done girls!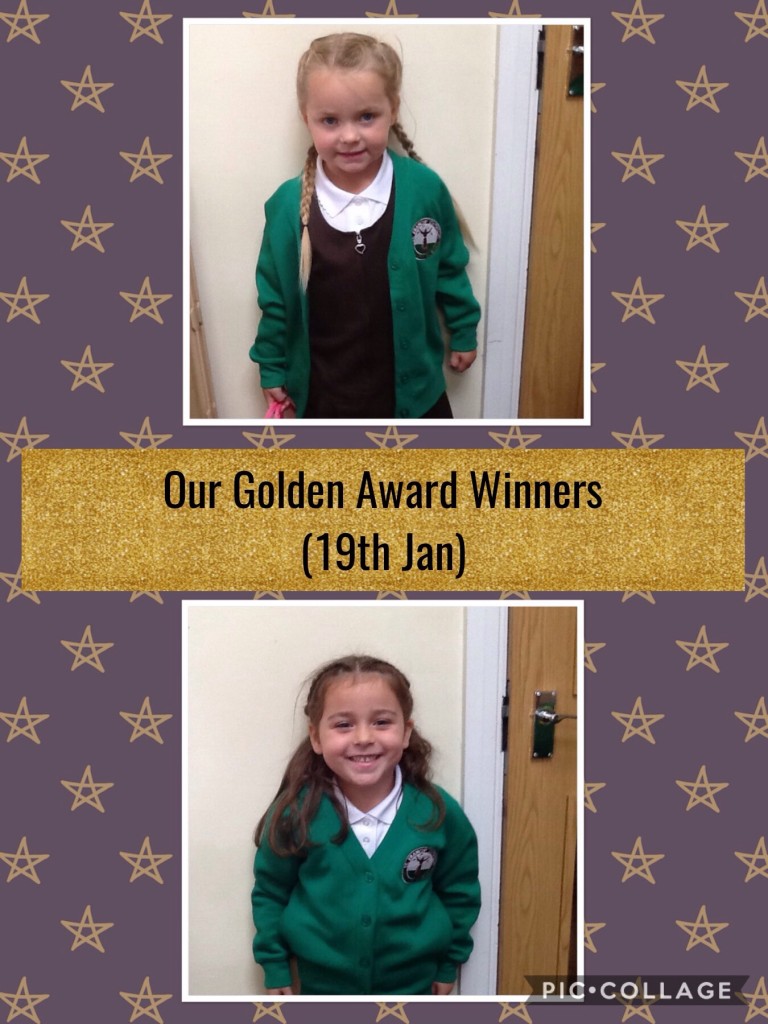 Our super stars this week…
Tabitha for excellent maths work on Time, and Thomas for wonderful independent writing about Jack and the beanstalk.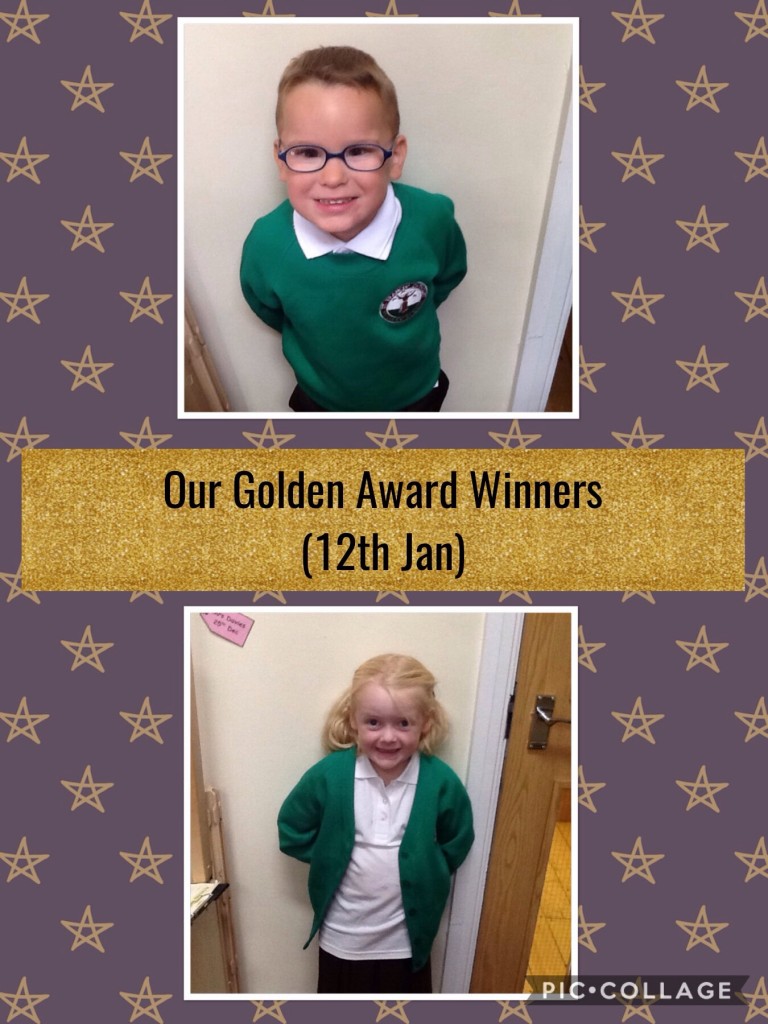 Jack and the beanstalk
Key Stage 1 had lots of fun in music this week, acting out the story Jack and the beanstalk. The children listened to different pieces of music and matched them to the correct event in the story. The children explored different ways of moving in response to the music, to bring the story to life! Some very scary Giant's…so watch out!
Exploring the outdoors
This week we have been utilising our wonderful Millennium woodland area and creating some environmental art. Children were put into groups and given the challenge to create the Giant's castle, and the beanstalk using; twigs, plants and any natural materials found. The finished art work was fantastic! We also went on a leaf walk around school to research all the different types of leaves. We brought some back to class, to use for our leaf rubbing pictures.
Our enthusiastic pupils working hard…
Welcome to Spring term!
This term we are finding our green fingers and learning all about plants and growth. We will be looking at Jack and the beanstalk and many more traditional tales. Please see below our spring term topic map.
Our shining stars this week…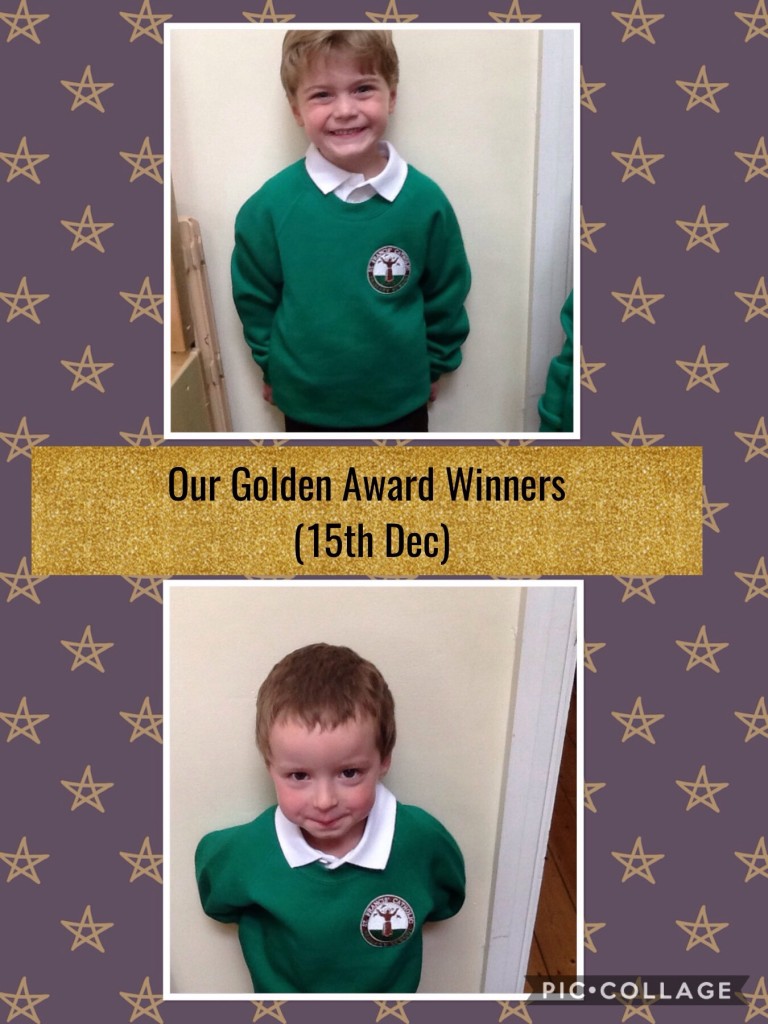 Our Superb stars this week…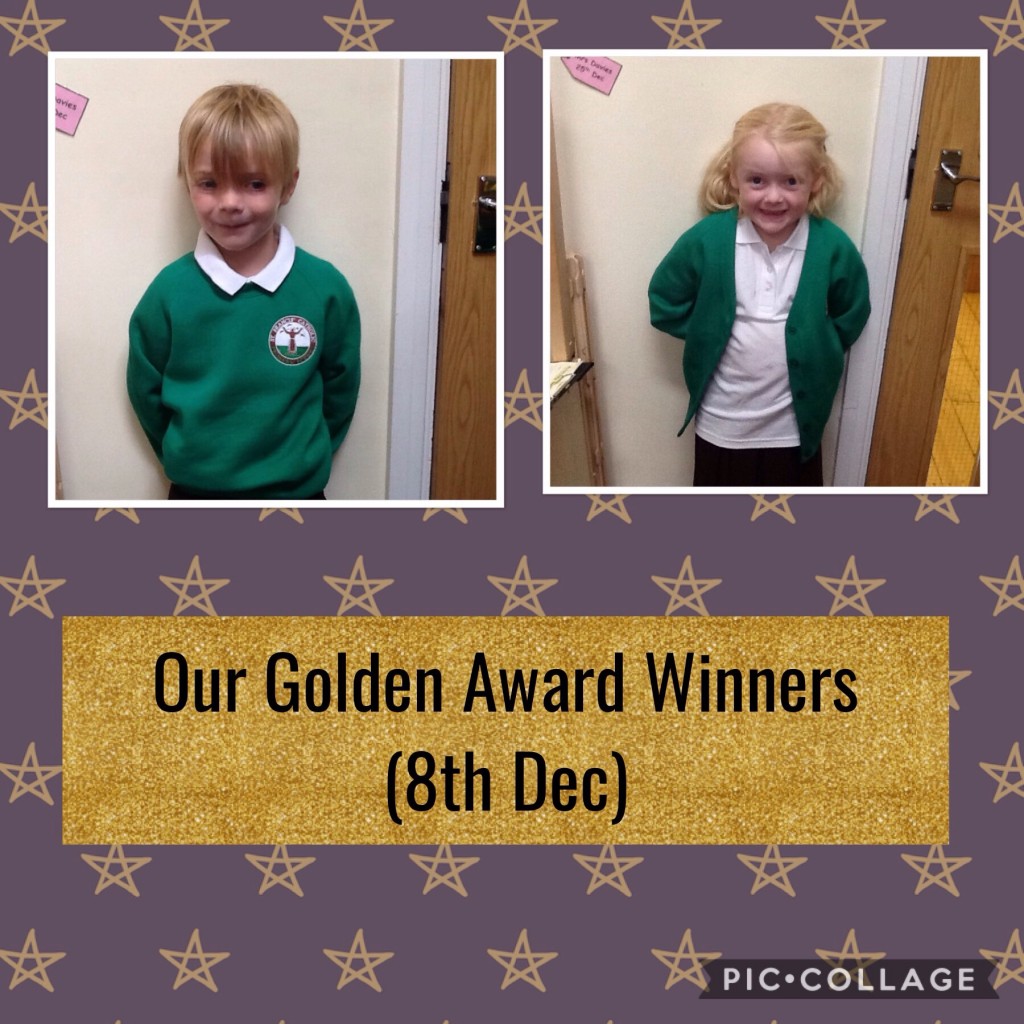 Pupils getting into the Christmas spirit in class this week, making salt dough Christmas tree decorations. Can't wait for you to see them, they are beautiful!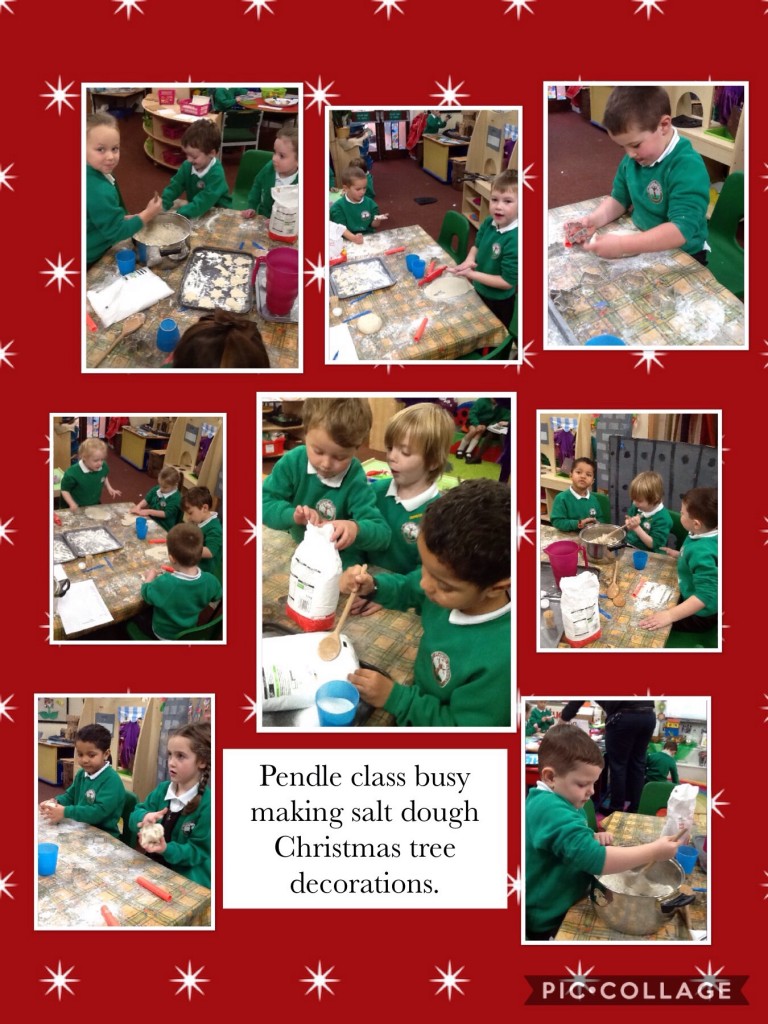 Our very own jousting competition! Pendle class had lots of fun re-enacting the role of a medieval knight in our P.E. lesson this week using their handmade shields.

Pendle class' magical fairy village. Outstanding efforts from homework, so adorable!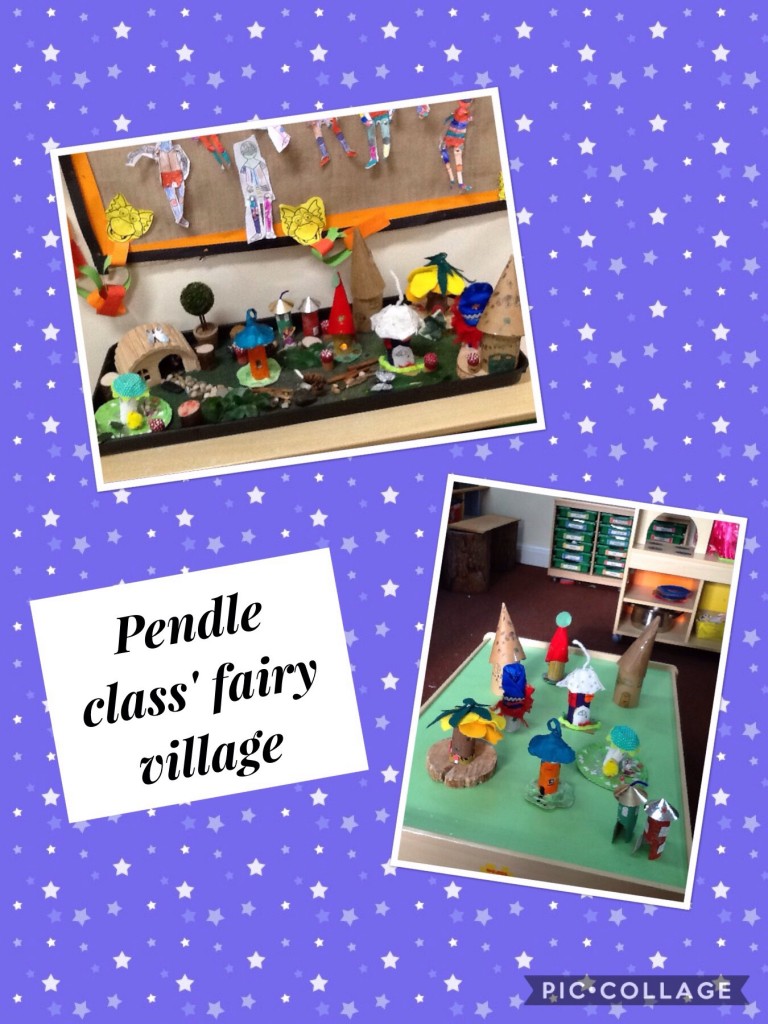 Our shining stars this week…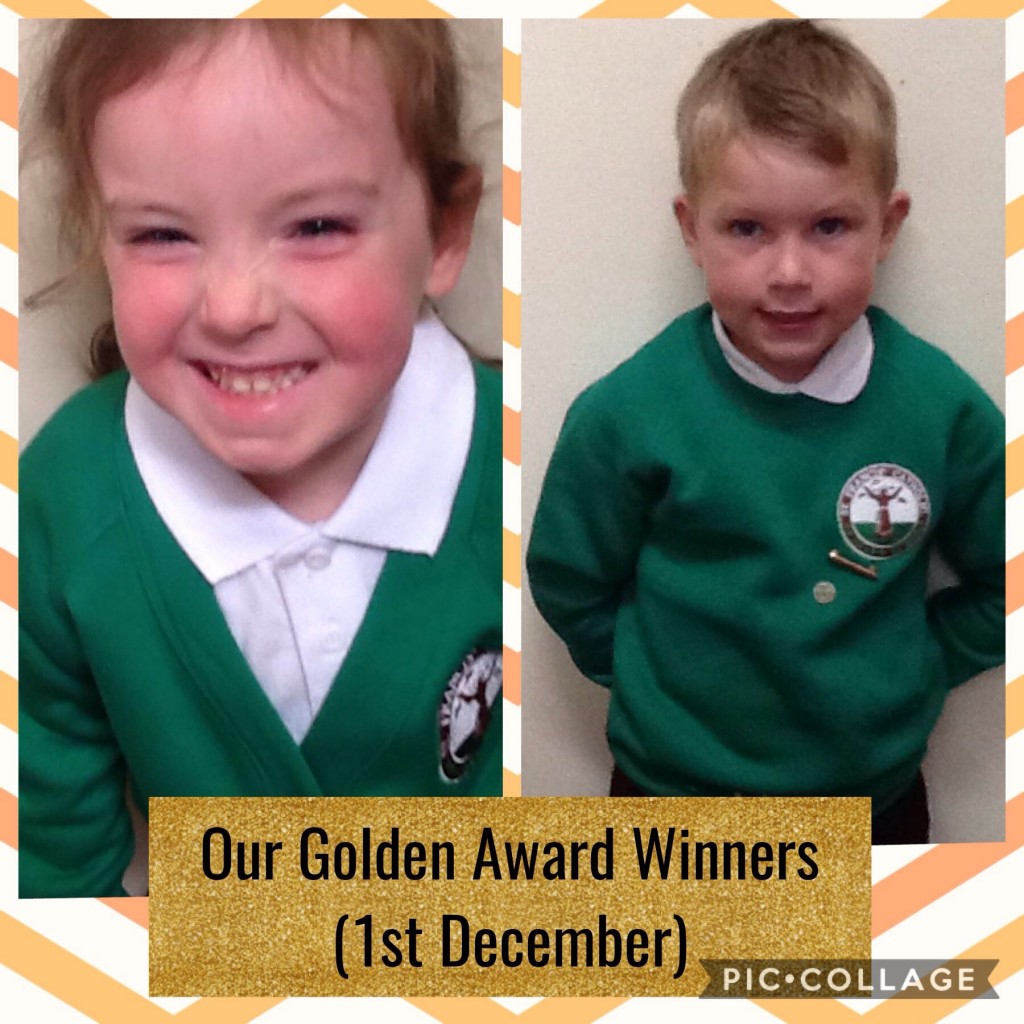 The Good Samaritan
Pendle class had lots of fun in our R.E. lesson this week making a Good Samaritan toolkit. Children had the opportunity to make a clay coin, sew a bag, paint a promise pebble, write their own Good Samaritan stories and make a friendship bracelet. Lots of very busy children and exciting learning going on.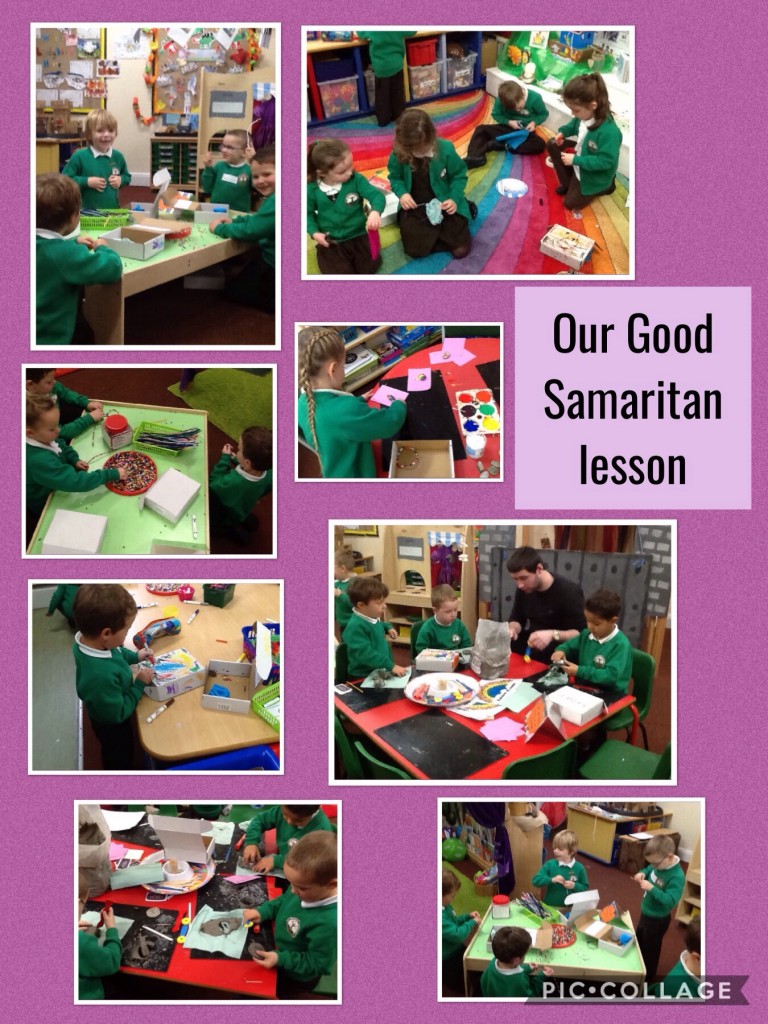 Our Super Stars this week…
Our Outstanding pupils this week…
Our collective worship led by Pendle class and our new break time group, 'Bible Buddies'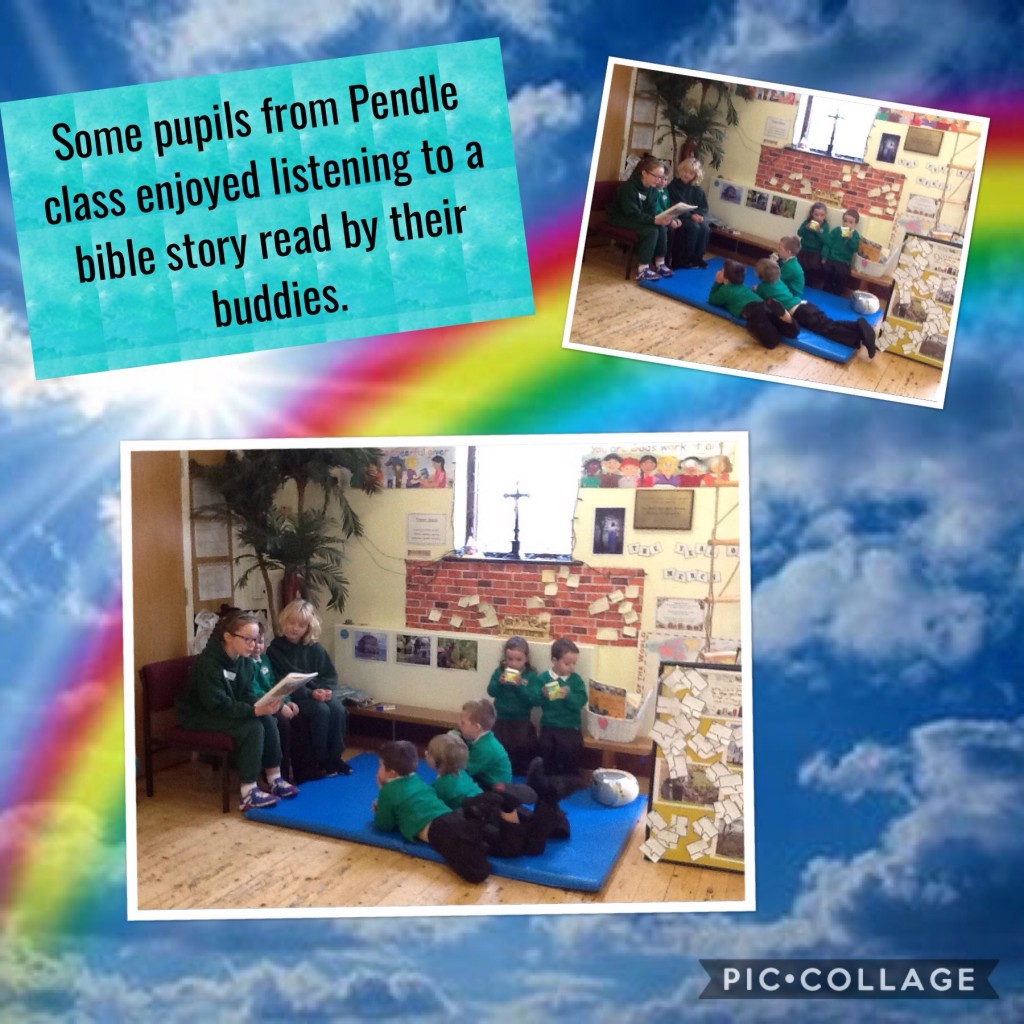 Look out! Our very own Pendle Castle and Knights, there also might be some dragons lurking, so watch out!
The children had lots of fun painting their own class castle and making a working draw bridge. We have been busy creating lots of dragons in the Art Studio and in Literacy using adjectives to describe our dragons. In maths we have been busy measuring dragon footprints using cm and cubes.
Castles, Dragons and Mythical lands
Please have a look at our exciting Autumn 2 Topic Map of what Pendle class will be getting up to this term.
Remembrance Day Activities
Pendle's imaginative builders
The pupils have been very creative in class building their own Ark's inspired by the story Noah's ark.
Our super stars this week
Our exciting learning…
Pendle class have enjoyed a variety of activities the last week. Pupils immersed into learning all about endangered animals for 'Wear it Wild day' participating in mask making, painting, print making, animal hunts and many more exciting activities.
The children have been very enthusiastic  in music classes this term learning all about tempo, rhythm and following a simple melody using their voices and percussion instruments.
Lastly, Pendle class planned their own prayer and liturgy about caring for animals which they delivered beautifully. They  gathered together using music, reading prayers, placed special objects on their worship cloth and shared their thoughts with their special pebble finishing with the Our father…so proud of them!
Our shining stars this week
Jacob for outstanding work in R.E and James for always having beautiful manners in class and around school, a true gentleman!
Our Super stars this week
Ethan for fantastic 3 little pigs writing and Tabitha for outstanding effort in homework every week.
Pendle class busy bees…
Pendle class have been working really hard in class, shining in their daily phonics sessions and producing some amazing maths and literacy work. With our farming theme this half term we've been looking at lots of different stories involving farm animals, scarecrows and tractors. This week we have had lots of fun focussing on the story the 'The three little pigs'. Children have had lots of fun acting out the story in our role play area using masks and props, some very convincing big, bad wolves! Please see below a few snap shots of all the exciting learning that has been happening in class, super maths, our piggy construction building site, scarecrow biscuits and musical talents!
Golden Award Winners (29/9/17)

Welcome Assembly
We had a beautiful assembly this morning for our new Reception starters led by our Year 6. Reception's buddies from Year 4 gave them their  Golden award certificates  and to finish the assembly Reception sang 'He's got the whole world in his hands'. Wishing you a fantastic year of fun and lots of exciting learning.
The Scarecrows Wedding
Pendle class have been looking at the story 'The Scarecrows wedding'. We went on a nature hunt like Harry O Hay collecting objects we can find in our school ground to complete our list. We then used our super maths skills to count the objects we found. The next day we worked together to build our very own Scarecrow. We're looking forward to writing some adventure stories about our class scarecrow…what will he get up to?
God Loves us all!
We have been showing how much we love God and all our family and friends. We have also been learning about God's Great plan and how he created our beautiful world. Here are a few photos of our learning activities.
Our exciting new arrivals…the RABBITS!!!
Autumn 1 Topic map
A big welcome to our new Reception children
We've had an exciting first week at school. Children have had lots of fun exploring our classroom doing lots of busy learning. Our Barn roleplay is a big favourite! The Year 1 children have been fantastic role models and helped the Reception children settle into our class brilliantly. Here are a few photos's of our first week.
School Trip to Fairhaven Lake
Pendle class had an exciting time at Fairhaven Lake last week. They had lots of fun going on a minibeast hunt, building sandcastles and running up and down sand dunes, not forgetting the yummy ice-cream to cool us down from the glorious sunshine. We learnt lots about different animals and their habitats. Here are a some memories of our trip.
Super Smoothies!
Pendle class have been very busy this week investigating our senses especially taste, and learning all about eating healthy. I would just like to say a HUGE thank you to Mrs Tracey Coupe for her very generous donation of fresh fruit and vegetables, Pendle class are very grateful. We had lots of fun exploring the texture and taste of  a variety of different fruits and vegetables and pupils chose their favourite fruits to make two smoothies- a Super Strawberry Surprise and a Terrific, Tangy, Tropical. The children loved preparing all the different fruits and blending them all up together to make our yummy, delicious smoothies. We invited our buddies to come join us enjoy our tasty smoothies and vegetable snacks whilst sharing a story together. I would like to say a big hello to all parents, I've had a very exciting and wonderful time teaching in Pendle class I feel very lucky and proud to be part of the St. Francis Catholic Primary School family. Thank you Mrs Davies.
Teaching is my favourite thing…
When I looked over at the Puppet Theatre Small World Land, all I could see was a moving turkey! This is because one of our children was wearing my favourite turkey hat. The two girls were discussing their play and which puppets they would use but one little girl didn't realise she was creating a puppet show of her own -without her knowing. Yes…she was kneeling down to hide underneath the puppet theatre but the turkey hat was just in view. I have nothing else to say but the pictures say it all. I am sure these will put a smile on your face!
I was asked what my favourite thing was this week and I could only say…teaching. We are having a great time in Pendle Class.
We read 'Sharing a Shell' by Julie Donaldson and undertook a Fiction and Non-Fiction topic all based around this book. We made blob thing, wrote stories, compared shells and much more! To make our books, we used real sticks to give them the beach look and had to find and measure sticks until we found one each that measured as near to 30cm as we could find. We painted our own front covers and we made shell creatures with googly eyes.
We enjoyed reading 'The Sound Collector' poem by Roger McGough. We wrote our own poems in the style of his and we collected jungle sounds. We made little sound bags and linked art with measuring by creating jungle scene pictures and hand print animals. We are still in the process of making jungle books and we used 2simple to create front cover jungle pictures using ICT.
Messy Play
What a super time we had …
Monster Tea Parties and Treasure Maps
We have busy making treasure maps and our own parachutes to help us write adventure stories. We each brought in a mini figure to attach to the parachute we made and then closed our eyes and dropped the parachute onto our maps. Wherever the little figure landed is where our story must begin! You can see some of our science experiments below and the great fun we had using the new javelins!
A busy week with Miss Deakin
The week has flown by and much learning has taken place. The children have all been introduced to Study Ladder-a variety of online games for all areas of the curriculum and all year groups. They have particularly loved the Maths and English games and they have worked well with the Year 2 children, who have taught them all how to use and navigate this online resource. I have sent you all a unique password for your children to access this. They will show you what to do. There are different levels of challenge so you can move on to find a level that suits. The children looked wonderful on World Book Day. Thank you so much for the amazing costumes. I look forward to seeing you all next Wednesday for our Year 1 Phonics meeting and open door classroom time. This will be in Pendle Class at 3.30pm.
Areas of the classroom 
Professor Sprout's Greenhouse
We had a great time in the greenhouse planting our seeds to grow over the holidays. Miss Deakin is a regular visitor in class and she also has green fingers! Miss Deakin and the children can't wait to spend more time in the greenhouse during the next few months…
Pokémon writing, terracotta warriors, building a 'great wall' and much more…
If you are going to write, you may as well enjoy doing it! We love 'exciting writing' at St.Francis' and we always look for creative ways to present our work. Today, the children kept on adding and adding their Pokémon cards and writing about the characters, which they attached using treasury tags or split pins. We had a 'tricky word' jumble session and had to run and find a friend to join in order to make tricky words. Children have been learning about 1 more/ 1 less than or 10 more than/10 less than by using cubes to make The Great Wall of China. We are using musical instruments to play along to Chinese New Year songs and provide music for our Chinese Takeway!
Chopstick Challenges!
Developing our fine motor skills and finger strength is always a necessary part of the curriculum. Chinese New Year begins this Sunday and we are celebrating this Festival in class. We have been learning to use chopsticks and have had a timer challenge to see who could pick up the most cheerios in two minutes! We found this hilarious and we even managed to use estimating and counting skills at the same time. The children absolutely love playing in the Chinese Takeaway and have amazed us with their money skills. The writing table top zone is going down a storm and the children love to create their own stories by choosing and using a variety of templates. We made bird feeders and tied them in the Willow Dome for the birds to eat. We learned how important it is to help our wildlife-especially in this cold weather.
Lego Toy Story…and cabbages!
Who would have thought it would be so difficult to pull up cabbages!? The scene reminded me of  the story 'The Enormous Turnip' but what fun we had! The cabbages were instrumental in ordering, measuring and exploring roots. The shop is nearly ready to be transformed into the 'Chinese Takeaway' and we will be making our own personalised cash cards soon to use at the 'chip and pin' area. We made Lego boats to see how much treasure our boats could hold. Reception Class used copper coins to count and Year 1 children used copper and silver coins to 'add up' their treasure. We had a mini investigation to see if our boats could float in our water area. Some did! The Reception children amazed me when they wrote some simple sentences to describe some Toy Story characters and the Lego 'secret writers' were great. Learning how to paint and draw is a skill and we are very lucky to have Miss Wallace with us, who happens to be a professional artist! I am not a professional artist but I was very useful in showing one little boy how to draw a Lego character. Have a look at the pictures below! We will be planting vegetables soon and making our own food to sell. Next week, we will be making our own sensory play dough…watch this space! Be warned though…we may come home a little bit glittery and a little bit muddy after our outdoor wand making adventures! If you have any wellies, please send them in next week.
Happy New Year and welcome back!
We have been very busy indeed. What incredible story boxes you have all made. The children loved sharing them with each other and playing with them. I love to see individual creativity and these story boxes certainly show each child's individuality and interests. Thank you so much to parents for the amount of time and effort that has been put into these. We have made story boxes because children need to 'speak' creative stories and narratives before they can write them. If they haven't any ideas or inspiration, it is very difficult to write creatively. The children made some wonderful stories around their story boxes. Well done!
Magical Maths…super partitioning. We are using dienes apparatus to partition two digit numbers. We make our own calculations and even quiz our friends…great fun!
After Christmas, we will be frequent visitors of 'Professor Sprout's Greenhouse.' Our topic in the afternoons will be 'Green Fingers' and 'The Land of Magic' in the mornings, as we extend our writing skills to create many of our own narratives in the style of shape books. We will make our own magic wand paint brushes, as we further our painting and Art skills, and be using our outdoors environment to plant and grow vegetables wearing our own 'magic hats'  (just like Harry Potter and his friends). Maths will be a huge focus here, as we sell our produce and even create a garden centre and vegetable stall for our ever changing role play area. We will provide the school cook with our home grown vegetables for us all to share and eat at lunchtimes. Learning needs to be for a purpose and what better way than to make food for school lunches. Please let your child handle and explore money at every opportunity. Counting in 2's, 5's and multiples of 10 can be done using coins and also gives the children confidence when handling money. The 'Winnie the Witch' books will be a great book stimulus as Winnie has many adventures: Space, Under the Sea, Dragons, Computers-and much more. We will use these adventures to extend our writing skills and our poetry skills. We will explore the Sound Collector poem and be making our own little sound bags using our sewing skills and putting our written poems inside. Reception children will continue to use their phonics skills when segmenting and blending words for reading and writing. All children are super little readers and we urge you to read little but often (or a lot but often!) as word recognition can only occur and be embedded when your child sees the words and remembers them. Reading as much as possible early on will mean that the children will become stronger readers throughout school and it is vital that they are given every opportunity and every chance to have a greater start in their education as possible. Reading confidence opens up so many opportunities and, of course, enables access to the rest of the curriculum. Let's keep filling in the bookmarks!
We have had great fun in exploring properties of 2D and 3D shape and even linked this to house structures of London 1666! Yes-The Great Fire of London has been our afternoon focus and we have loved every minute of it! The children have been writing letters, diaries and have had a competition to design and make their very own Tudor house using any resources they see fit. They have been tried and tested and we just love their amazing, INDEPENDENT creations. Have a look at us in action…
In literacy this week we have been looking at The Gruffalo, we have created a character description using adjectives to describe the Gruffalo's features. We have also started a diary, written in the role of the Gruffalo, talking about the different things that  happened in the story, along with the thoughts and feelings of the characters at different points in the story. In numeracy this week we have been securing our knowledge of addition and subtraction, using different equipment to help us, such as number lines and counters. We are focusing on developing the children's number sense and estimation skills in order to secure strong mathematical foundations. Testing board games to see why they work so well was a brilliant way to spend the morning -and some action research!
Measuring, sharing and number line time! Our children are amazing mathematicians. We love to work creatively and in a practical way. The children are amazing us all with their number sense and how they use and apply their number skills.
 We have started our new topic this week of 'The Great Fire of London.' We have started to compare present day London to the past and next week we will learn all about how the fire began. This followed on brilliantly from our fire work and 'Festivals of Light' work.
We are now a mixed age class and this works brilliantly! On this Webpage you will see many special moments captured. I will always keep you updated here!
Here are this week's exciting learning moments…
Our new starters have been guided and supported by our Year 1 children. We are very proud of them all as they work together to lead their learning forwards and listen to new expectations. We have been immersed in our book study about exciting sea creature adventures and our learning has been facilitated by the children's interests and opinions.
---

Butterfly House
We had a fantastic day out at the Butterfly House in Lancaster. The sun stayed out for our visit and we saw some amazing butterflies, minibeasts and animals. The children handled stick insects and enjoyed walking amidst lots of varieties of beautiful butterflies. We were lucky enough to see every stage of the life cycle of a butterfly – eggs, a huge wall of cocoons, caterpillars and butterflies. The children were also excited to spot swimming turtles and even watched a meerkat trying to bury a ball!
After a picnic lunch, we put our Physical Development skills to the test on a great park, complete with zip wire and bucket swing – it was lovely to hear the squeals of delight as the children burned off some energy!
Peace at Last!!
Our final topic this year is 'Night and Day'. We read the story 'Peace at Last' and talked about all the sounds we hear at night. We then built a comfy den for Mr Bear to sleep on outside….the children thought of everything he may need, including teddies to keep him company! We re-read the story, adding our own sound effects using our own choice of musical instruments. It was great fun!
We closed our eyes for one minute and listened to all the sounds around us. We heard birds, a bee, children chattering, and the wind moving our shelter. It made us realise how lucky we are to have such beautiful, peaceful surroundings.
Maths in the sun…
During our 'Traditional Tales' topic, we did lots of activities based on some of our favourite stories, including 'The Three Little Pigs'. This activity was a maths game, following the concept of 'Pick up Sticks', but with our own rules. In pairs, we decided how to play the game, how to score points and how to win.
Immersed in a range of exciting learning opportunities

Pentecost Assembly

 Our Exciting Writing DT creations.
We made Castle books and Gingerbread Man story books. We love to use masking tape, split pins or treasury tags to attach pages of writing together and we always like to make shape books and link writing with DT and Art at every opportunity. We made puppets to peg onto our story books!

Pendle meet some day old ducklings…
HOW EXCITING? Pendle enjoyed meeting some day old ducklings this morning. They were so excited. We had 15 cheeky and adventurous  ducklings. We noticed the difference between our chicks and the ducklings. Take a look at the photos…


Time flies when you're having fun!
This half term is going so fast. The children amaze us with how much they have learned over the past months and they are certainly ready for the Year 1 curriculum.
The children love visiting the Millennium Walk and writing stories using their imagination. There are tiny fairy doors on some of our trees, which are entrances to magical worlds. The children have been writing letters to fairies and they have also been making their own puppet shows with incredible puppets they have made. The traditional tales topic is certainly taking us to some magical places and the 'Jack and the Beanstalk' castle books look fantastic.
Here they are…the latest pictures of our chickens.
What an experience!
The day has been spent in anticipation for the hatching of our chicks! The incubator is set up in our classroom for the children to keep a close eye on the miracle of new life. A miracle it certainly is as four tiny chicks have hatched before our very eyes. All other learning has indeed stopped and we have headed in a completely different direction! The children are fascinated by our special little creations of God and we are going to take great care of them. Miss Stewart has been on 'chief nurture duty' and has kept vigil into the late hours of the evening-to the point of refusing to go home! Children in all year groups have witnessed something truly wonderful and never to be forgotten. What a brilliant start to our Summer term!
Importance on reading the high frequency words
Being able to read the high frequency words is vital in your child becoming a successful reader. It may take longer for some children to learn to recognise these and read them on sight but just a few minutes a day can really support your child in this area. You could make pairs or snap games by taking a few words a week until your child recognises them. Then, take a few more to add to the bank of words they know. You could buy a couple of cheap fly swats, shout a word out and your child has to swat the word before you do. You can write the words anywhere-in mud using sticks, shaving foam, flour on a surface etc. Keep repeating this process until your child can confidently read them all. Little but often always helps. Click on the link below for you to download the words in the order they come.
Letters and Sounds
You can visit our Phonics and reading page under 'Curriculum' but here are some sound mats and information that can be downloaded at home. You will find some useful maths resources also for tips to keep learning at home.
parents_workshop_letters_and_sounds-1
Traditional Tales Study next half term
After the Easter holidays, we will be entering the magical world of 'traditional tales.'
Please click on the above link to our creative curriculum map for the half term. The children will be making yorkshire pudding castles with gravy moats and using potato mashers to mash and make their own castles. They will use a variety of real tools. We will be making castle books and our role play area will turn into a giant castle. Outdoors, the children will be planting and growing vegetables and looking after our chickens. The outdoor area will be a garden centre cafe, where the children can take food orders, lay the table, dress as waiters and waitresses, handle money and sell the food they grow. As always, we are still building on the fundamental skills or reading sentences, focusing on learning all Phase 3 letters and sounds-inclusing writing words containing these sounds, recognising high frequency and tricky words and writing sentences with correct letter formation. In maths, we want the children to solve practial problems, form all numbers correctly, find 1 more/1 less than a given number and recognise all 2D and 3D shapes. The Early Learning Goals are attached as a reminder as to what we want your child to be able to do securely by the end of the Reception class year (click on the link below). This will mean your child has reached a 'Good Level of Development.'
Myself and Mrs Rossall have been working very closely together for the past two terms in Reception class. As you know, Mrs Rossall has been teaching the children in the afternoons but I am delighted to say that Mrs Rossall will be teaching the children in the mornings after the Easter break. I will be teaching the children on a Friday and we will all continue to work together to deliver an exciting and enjoyable curriculum. The children will join Parlick class in the afternoons.
Our art work in the style of Andy Goldsworthy
We have enjoyed learning about Andy Goldsworthy, an artist who uses nature, natural resources and photography to create beautiful pieces of art work, and have created our own with the collaboration of our Year 5 buddies.  Some pieces of art work we left for nature to take its course and create new living art work over time.
Have a look at these outdoor learning booklets for more outdoors fun from Woodland Trust!
What a busy half term we are having!
The children are really looking forward to the arrival of the chicken eggs. We will be keeping them in our classroom and watching their incredible development. We will have a scanner to see what is going on inside the eggs-what a fantastic experience the children will all have. As next week is Science Week, we have many exciting things prepared for the children. We will be creating our colourful jungles using food dye and planting vegetables to grow. The children have already been observing the changes and development of potatoes inside the classroom and we will be growing our own pumpkins and carrots. I can't believe that our children have been in school for nearly two terms now and they have developed so much. Learning is such an exciting journey and I am so proud of how much the children have achieved at this point. They are reading, writing and have a love of learning. Next week, I am sending you some information about the Early Learning Goals we are working towards achieving by the end of the year and I will send home a report instead of having a meeting as we usually do. Please continue to support you child in learning the key high frequency words that are in the envelope. You can support them in spelling all of these words too. Letter and number formation is always important alongside estimating to develop number sense, doubling, halving and knowing number bonds to 10. Keep playing the online games I put under 'USEFUL WEBSITES' as these will always support learning.
Next week, we are going to create a huge natural piece of art work by working together. It will be in the style of Andy Goldsworthy.  I wrote about this in this week's learning log for you to explore together at home.
I will post some pictures of this, our Stations of the Cross and other classroom pictures next week.
Where The Wild Things Are Or Where Are The Wild Things?-a statement or a question? 
---
Today, we listened to the story of Where The Wild Things Are and we loved it! We got the DT trolley and used hammers, nails and saws to make a new bed for Max (the main character). We sewed a duvet cover and wrote a book, of which we put inside the duvet. We also made little finger puppets using felt and we made front covers using natural materials that we found outside like soil, twigs and leaves. Rulers were used to measure the pieces of wood for the beds and also our fingers to cut the right sized pieces of felt for the puppets.We will be using carrot tops to create the jungle that grew in the bedroom and will use food colouring to dye celery all different colours to make the trees. All of these things will be put into a story box. Your child will have one each to put in their individual creations. The story box will be painted by your child to make a bedroom where the bed, celery jungle, puppets etc will all sit in just like the third page in the book.
Every lunch time, two chidren are chosen to be 'prayer leaders.' The children stand in front of our class worship area and all join in with the prayers.
 The children can write a prayer any time for our class prayer and liturgy book. The children are using small world 'Wedding at Cana' toys to act out the story of Jesus' first miracle!
We have made a Bee-bot zoo for our Bee-bots… Using our artistic skills and our early coding skills.
We have been outside getting our garden ready for spring time.
Here are just some of our floor books.
Dear Zoo
We have been looking at the story 'Dear Zoo.' We used non-fiction books to help us make junk model animals, wrote 'What am I' secret animal flip flap books, made pictographs and tally charts, made our own version of the story, explored real snake skin, made mud sculpture animals outdoors, ordered animals in size and much more. See our floorbooks and lap books above!
We had a planning meeting and planned together what we would like to learn about the book. Miss Deakin was trying her best to make oragami animals with the children but it was very complicated. Still, perseverance pays off and two butterflies were created. Mrs Stanley was an expert and found it all very funny indeed!
Happy Divali!
We invited our buddies to celebrate Diwali with us… We made hand made sweets and hand made diva's.
Pendle class have had a visit from Nurse Katie. We learned all about germs and we learned how to wash our hands. You may even hear a little song while your child is washing their hands…
In the builders yard… We work together and follow each other's interests. Here we are in the builders yard.
Chinese New Year
We love learning about other faiths, cultures and religions. We celebrated Diwali with our buddies from Year 5 and this term we are enjoying learning about Chinese New Year.
'Born in a Barn'
Key stage 1 put on a fantastic nativity. The childrens confidence shone and we all had a lot of fun learning all of the songs.
Yoga lessons
And…….. stretch……
Reception class love their weekly yoga lessons.
Our 'Metre Man' project!
The children in Reception class have been learning about comparative language and they have been investigating things that are of all different lengths.  The children used metre sticks to measure things in the classroom and around school. Then they were set the independent challenge of making their own metre men in teams! Here are some of the things we measured. Just look at our wonderful metre men!

Our Stick Man story station area.
We went for a walk to see all the beautiful things in God's World.
We made some gloves for Barry the fish with fingers.
We went outside and blew some bubbles.
We had lots of fun when the Diddy Dribblers teacher visited.

We all had a turn on our new trim trial.  It will keep us fit and healthy.

We are learning to play tennis.  Usually we are outside but it was pouring with rain so we had to use the hall.

We have been reading a story about Bright Stanley and the Cave Monster.  We decided to make our own sea monsters and treasure chests.
 
We made a rock pool outside and have been learning about sea creatures.

This is our pirate ship.  You can walk the plank if you want to.