Welcome to Pre-School
Please take a tour through our page, meet our staff and take a look at our links to the prospectus, Q&A and take a look at what we have been up to within our pre-school and through our topics.
Staffing in Pre-School
Miss S.Deakin: Headteacher and Pre-School Manager
Miss Stewart: Key Person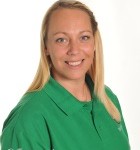 Mrs Tyrer: Key Person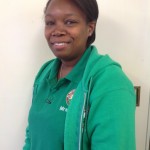 Miss Preston: Apprentice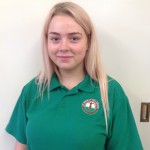 Pre-School Uniform
You can buy Pre-School jumpers from Mary Frances in Longridge. Children will need a green Pre-School jumper and a white polo-shirt (plain without logo) to wear underneath. Other clothes will be of own choice from home, including footwear. We provide waterproof Rukka suits for your child, which will be kept in school. If you want to bring a personal pair of wellies in for your child, these will be kept safe. Please provide a labelled water bottle that can be sent into Pre-School daily. Please make you you dress your child for the weather.
Please provide a lever arch file for your child's learning journey. Daily communication diaries, will be provided by school.
Take a look at our year so far below…
This week, for sports week, we have joined the whole school in order to raise money. We had a great time taking part in the bounce fun on Monday and the children really surprised us by running a whole lap in the fun run. Together, we ran 3 miles to add to the schools amazing total. We also enjoyed cheering on the rest of the school and we joined in with the dancing and singing.
I'm not sure that PC Banks will let us have our driving licences just yet! During our road safety talk your children asked and answered some amazing questions…. they all showed how sensible they need to be while on the road and how we much stay with our adult. As well as talking with PC Banks about how to be safe, we certainly laughed alot.
We have looked at different ways to make bridges…. the three billy goats gruff crossed a bridge to go and eat the grass on the other side of the river… the children acted out the story and took turns saying 'WHO'S THAT TRIP TRAPPING OVER MY BRIDGE'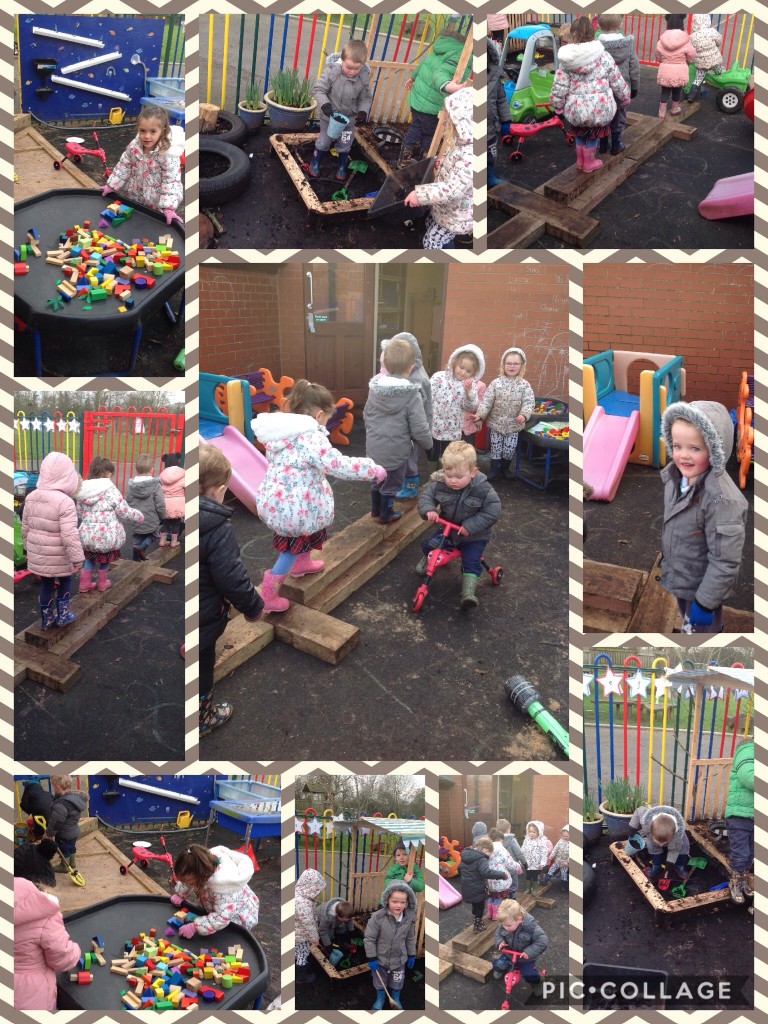 We are ready for the better weather… playing on our climbing frame is just so much fun!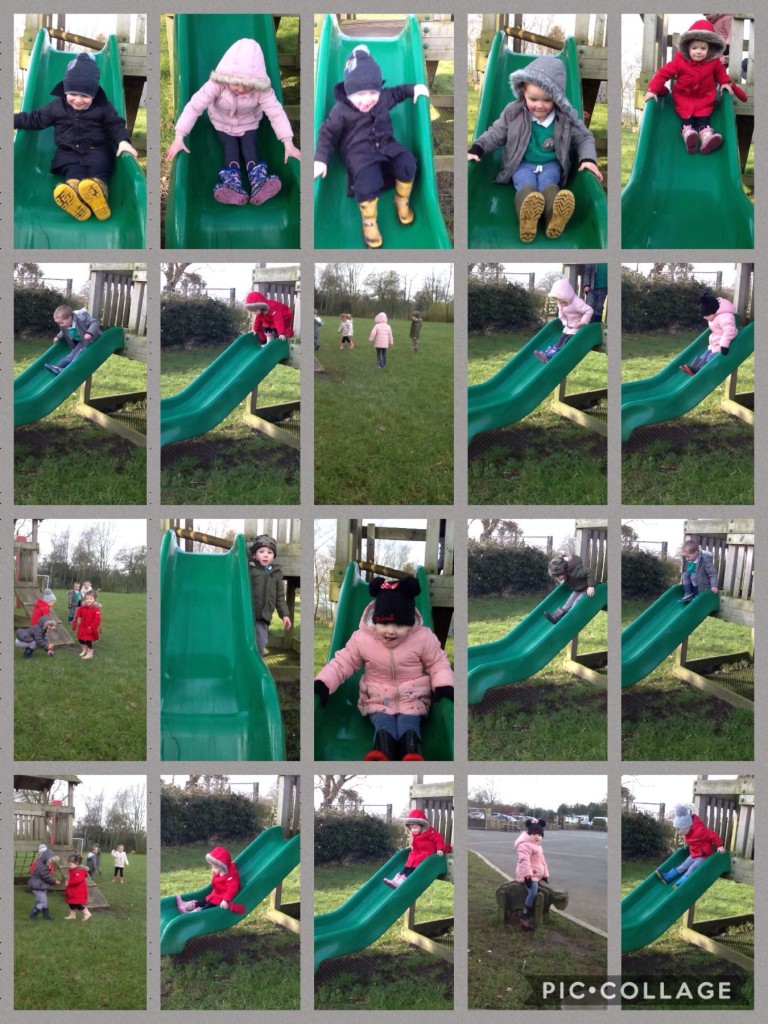 Great fun was had in the hall…. we looked at prepositions and worked out how to move around the obsticle course… over, under or through???  The only way we will know is if we have a go…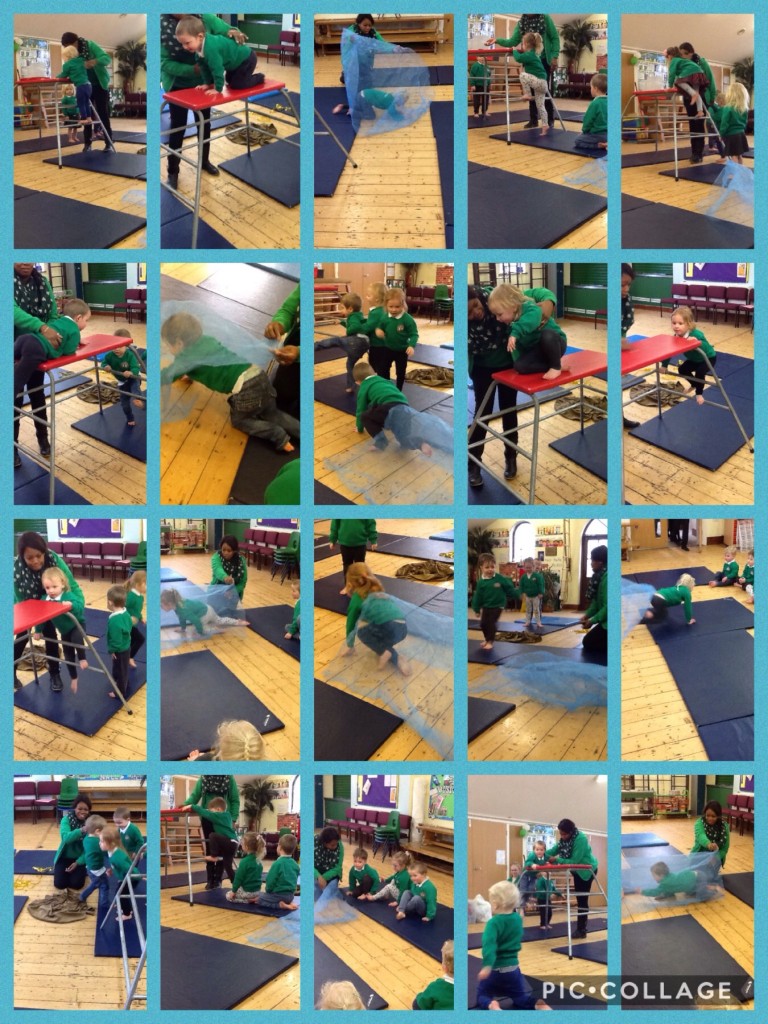 The children are learning all about how to look after our beautiful bunny rabbits. We know what they need to survive… the children have fed, watered, cleaned and held the rabbits. they are very nice and playfull too.
After reading the story of 'the gingerbread man' the children decrated their own gingerbread men with icing and sweeties. They made a delicious snack too…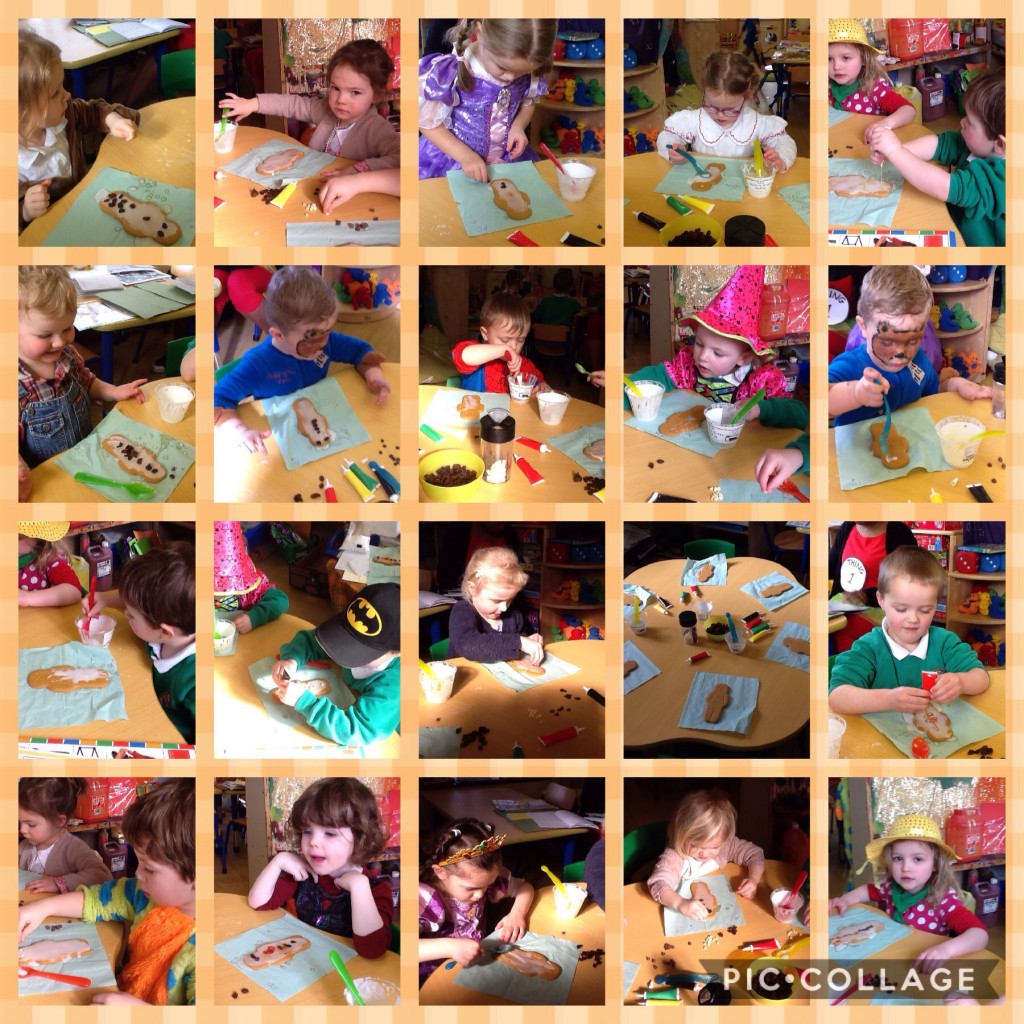 The children really enjoy Cosmic Yoga. They follow it well and love the different story adventures that they go on.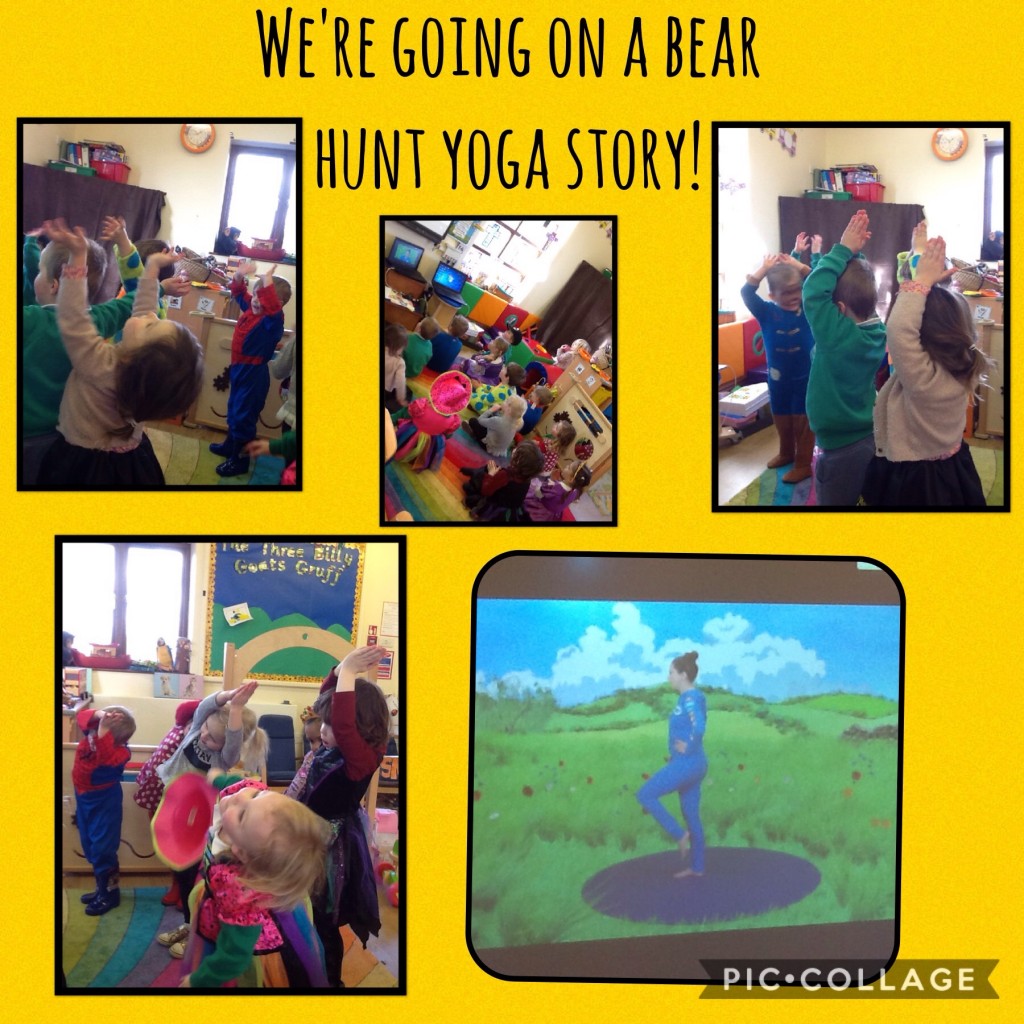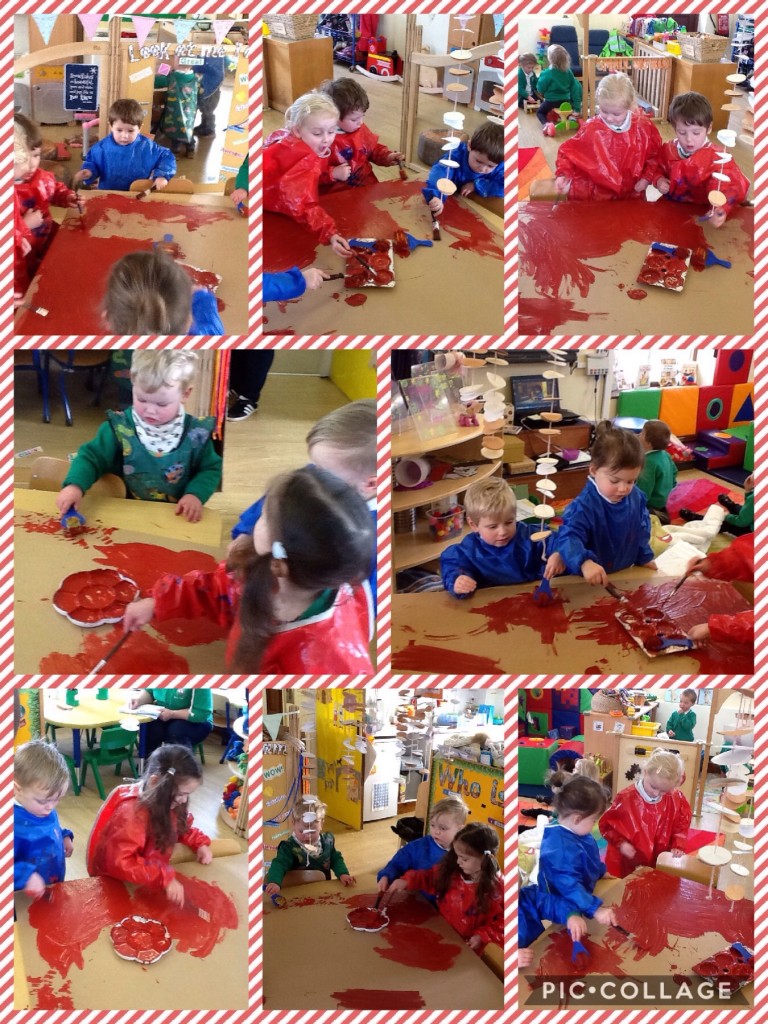 Our new EYFS area all ready to go… the children are enjoying jumping and spashing in the Rill, climbing the rickety bridge. We have been digging in the pud pit and playing in the mud kitchen. We can wait for the grass to grow on the dinosaur hill.
January 2018 – Stick man and winter woodland…
Christmas 2017
Please find our Christmas Carol Powerpoints below… Please practice with your children at home to help them become familiar with them for our 'Carols around the tree'
Click the link below for our current newsletter
Baking in Pre-school
Numberland
Recognising numbers in and around our environment
Mark Making
Puzzles

Finger Gym
Playing with the Junior UFA group
Wear it wild 2017

"At The Beach" Topic
Some of the amazing things that we have done so far.

Mark Making…

More Mark Making…
Even More Mark Making
Chalking on Blackboard paper

PE
We have moved around like various animals, streched up high and made ourselves really small. The children enjoyed moving around the hall and listening for instructions – the jumped, skipped, ran, moved slowly and hopped. We also played duck, duck, goose.


WE LOVE READING…

Fun Outdoors
We love taking advantage of our amazing outdoor space. We are in the perfect location for nature and outdoor play.
 

Sand Castles and Digging
Our super handy parent – George's dad- built us a super sand pit and stage area for our out door area. The children are enjoying getting stuck into the sand pit and playing on the stage.

Designated Rabbit Carers…
We are loving our rabbit role… the pre-schoolers are learning how to care for our two beauitful rabbits. We are feeding them, giving them fresh water and lots of clean bedding. They like some vegetables (like us) and grass. We even pick some dandelion leaves for them to eat. Miss Preston and Miss Stewart had to move the hutch, however because the rabbits are burrowing… Best keep our eyes open.
T

H

E

L

I

F

E

E

D

U

C

A

T

I

O

N

V

A

N
We loved meeting Harold The Giraffe and we talked about looking after our bodies. We layed down at the end and got to see the beautiful stary sky.

C
R
E
A
T
E
The children used their finger prints and various colours to decorate the letter for our 'create' board, where we celebrate the amazing creations that the children make.

Having Fun With Our Beach Themed Play doh' Mats!
 
INFLATABLE MUSIC FESTIVAL
We are loving our new stage and love Mrs Tyrers inflatable instruments. The children are enjoying performing to each other… and even the school children!
We have been talking about looking after all gods creatures. We went on a nature walk to see what we could find. The children spotted birds, bees and butterflys. We went to visit church and had some quiet time. We have a nice relection window in preschool which the children have helped to make beautiful by making crosses, using crape paper.
The children love playing on our new stage area. They have been using the sponge bricks to build walls – and they laugh when they fall. We are impressed with the way the walls are being built.

 Messy Play Day!
We joined Reception and Year 1 Class to have a great time. We used water, glitter, paint, stampers, printing tools, sprayers and much more to create huge scale pieces of art work and it was a great reason to just have fun and be free in a world of exploration and play.
'Happiness first and everything else will follow'
Welcome to our Pre-School webpage. We hope this webpage will give you an insight as to what we have to offer in Pre-School.

The Mayor officially opens Pre-School

We were very grateful that the Mayor of Preston could visit us and officially open our Pre-School. It was a wonderful end to our school year with many friends of our school attending.