CSI in Beacon Class – kidnapping of Boofle!
Year 5 and 6 became Crime Scene Investigators today, following the kidnapping of our class mascot, Boofle. They took evidence from four suspects, including fingerprints, hair samples, footprint details and handwriting samples. Through forensic science investigations and discussing possible motives, they found the culprit….Mrs Davies!! Boofle was returned unharmed.
  
World Book Day
Amazing costumes, a story pebble hunt with our buddies and story wheels….what a fantastic day!
Martian Soil Investigation!
We became Space Scientists for the after noon, testing soil samples to see which one was most likely from Mars… we tested for particle size, the presence of salt through evaporation, acidity using litmus papers and how well water travels through by filtering.
Storytelling week
Year 5 and 6 have been enjoying sharing stories with their buddies as part of our National Storytelling week. We have also been busy writing 500 word stories for a competition…good luck everyone!
Alston Observatory
We visited Alston Observatory this afternoon – we looked at the huge telescopes and experienced the great planetarium! We came away with so many amazing facts about space…!
We have been putting the finishing touches to our Science Fiction stories and have added our planets/UFO's – they look amazing on display in class!
We have carried out investigations into how the moon moves in relation to the Earth and finding out about the phases of the moon…
Finally, this week we were lucky enough to be able to watch the rare lunar eclipse steamed live from Nasa's website. The Super Blue Blood moon was an amazing sight… we only wish we could have seen it for ourselves (unfortunately we live on the wrong side of the planet!)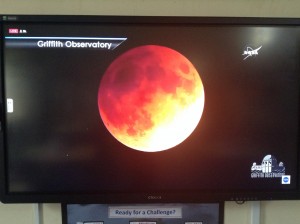 Happy New Year!
Welcome back. We have made a great start on our new topic, 'Earthlings' which looks at space – our solar system and all things extra-terrestrial! Click on the topic map for more information about what we will be learning this half term…
We made scale models of the planets in our solar system in maths. We have also simulated how the planets move around the sun using fruit!
  
We have also started fencing again this week in PE…
and have begun our 'Astronaut Training'….working on strength, core, agility and balance:
Our Advent Blogs…
Year 5 and 6 have been busy writing their own blogs about advent. They have some inspiring and touching thoughts about this time of year – here are a few for you to read…
Firstly, Advent (for me) is all about rushing around, trying to get Christmas decorations up and preparing for my pantomimes at Christmas. But is it really about all of this? Some people may walk into shops at Halloween and see Christmas trees instead of pumpkins! Instead of Halloween costumes, you see Santa hats! Christmas comes so fast in shops and at home, but we forget how important Advent is as well as Christmas shopping and presents.
In my house, my little brother runs around screaming, "We need the Christmas tree up! We need to write our letters to Santa!" I look forward to Advent because it gives me an excuse to have chocolate in the morning. Usually, my mum tells me off for having chocolate in the morning, but she allows us to have it at Advent. She knows that we are counting down to someone special. Our Saviour, Jesus Christ. Opening the doors for chocolate is like opening my heart up more for Christmas day and for Jesus' birth.
Every Advent, I say to myself, "Christmas is like saying 'the mass of Christ.'" We prepare in different ways at Advent like going to church, praying, carol singing and being kind.
If you go to church, you may notice that in Advent, the priest wears purple. This is because this is the colour of sin and forgiving. Also, it is the colour of candles on the Christmas wreath. Some people might take Reconciliation and say sorry to God.
For Christians, Advent is for waiting. We wait for Jesus' birth but this has been going on for years. People actually did have to wait for Jesus and they thought they knew how to live; we know how to live because God sent Jesus to show us. Before Jesus was born, people had to wait for years, yet we only have to wait for 4 weeks. In the Old Testament, the Prophet Isiah said, " I will send my messenger ahead of you who will prepare your way – a voice of one calling in the wilderness 'Prepare the way for the Lord, make straight paths for him.'" Isiah predicted that the coming of the Messiah would change the world.
In school, we show little acts of kindness when we:
Sing carols at the local care home
Shoebox – Operation Christmas Child (the Samaritan's purse)
Raise money for Save the Children on Christmas Jumper Day
We prepare for Jesus when we:
Perform Advent services
The Nativity
The Christmas fair
The word 'Advent' comes from the Latin word 'Adventous' which means 'coming'. For us, it is the coming of Jesus.
The candles on the wreath are:
Hope
Love
Joy
Peace
by Grace
Advent isn't just about presents and Christmas shopping-it's about something different. Something special. Something that happened about 2000 years ago…                                                                                                                          Christ was born!
I'm sure that most Christians know about the nativity where Jesus was born in the barn. If this didn't happen, there would be more sin. There would be no Christmas either. That's how Christmas started.
Advent is about waiting. It's OK to like having chocolate from your Advent calendar every morning and opening Christmas presents on Christmas day. Advent is truly about slowing down, relaxing and prayer. Advent means Adventus in Latin which also means "coming". Christmas shopping and decorating may get you in the Christmas spirit…but you have the Holy Spirit inside you.
I think time goes really slowly when you're excited for something (Christmas) but in the Old Testament prophets predicted that a messiah (a saviour) would be born. They waited years for this to come. It was worth the wait.
We have been doing lots of events linked to Advent in school, such as:
St Antony's Advent Service

St Francis's (our school's) Advent service(yr3,4,5&6)

School nativity(Reception, yr1&2)

Year 6 carol singing at local rest home-we did this because we wanted to put a smile on the elderly's faces

Christmas jumper day

Christmas fair(CAFOD)

"Operation Christmas Child" shoebox
School is very busy at the moment but like I said before-it is about slowing down, relaxing and prayer.
If you go to church, you may realise that the priest is wearing purple. You wear this colour during Advent because the colour means the forgiveness of sins. During Advent, if we sin we will say sorry to God.
So remember, when you're rushing around: try to slow down, relax and pray.
By James
Advent , to me it's about being ready for the Christmas tree to go up ,all the Christmas decor to go up with the little nativity sat by the fire and the wait to Christmas eve.
But advent shouldn't be about buying presents for people .Over the years Christmas has changed so much this holiday has become about buying presents .We need to be thinking about coming of Jesus.
Advent comes from the Latin word "adventus" which means the coming .the first Christmas was when Jesus was born around 2017 years ago. Advent's colour is purple, purple represents reconciliation. The wreath represents God's never – ending love. There is five including the middle candle which we light on Christmas day the other four candle are 3 purple and one pink. The purple ones represent hope, love and peace. The pink candle represents Joy.
In school we have done the following acts of kindness: Christmas Jumper day, an advent service, operation shoebox and Christmas carols. This helps us to prepare for Jesus
People have been waiting for Jesus for 1000's of 100's of years. Imagine that! Not being able to know what Jesus did and not knowing that he sacrificed himself to forgive our sins!
 by Lizzy
Christmas seems to come faster every year. So I feel like I have less time to do my Christmas Shopping.  But we just have to stop for a minute and think about what the real meaning of advent is.
To me the real meaning of advent is counting down with my Christmas calendar and being patient. But when Christmas actually comes I realise that it isn't about all the calendars, chocolates, sweets and presents. It is about the coming of Jesus.
I used to think when I was younger that Christmas was all about having fun. Only because I love opening presents and eating Christmas dinner, wearing party hats and bursting open Christmas crackers.
In advent you might see the colour purple it represents forgiveness. We get forgiven because without getting forgiven we would be worrying and feeling guilty about everything.
Before Jesus was born thousands and thousands of people had to wait for the coming of Jesus and now that is what advent is all about. John the Baptist was the one that prepared the coming of Jesus the most.
In school we have already had a Christmas fair on the 10th of December. The CAFOD club had a stall and all the money that they raised went to charity.
by Katrina
Advent has been a busy time this year. I have been decorating, counting down until Christmas, opening calendars and unwrapping presents but advent is not really about that. Advent is really about spending time with your family, praying, preparing for Jesus, being kind and sharing. But I never thought it was about that, I just thought it was about having parties ,eating chocolate, unwrapping presents but it is not about that!
Advent  means coming and celebrating the birth of Jesus. Also in school we have been doing lots about advent , we have been doing  small acts of kindness, like giving food to people who don't have any food and we have done the Christmas boxes and raised money for CAFOD.
People in the old testament have been waiting for over 1000 years to wait for Jesus but we only have to wait 4 weeks for Jesus. 2018 years ago people didn't have Jesus' love they had to wait for 1 more year but prophets predicted that Jesus would come and he did and people started to celebrate and that was Christmas day when Jesus was born.                                                            
By Vinny
Values treasure hunt
This week in RE we have been looking at what the Kingdom of God is like and have been on a values treasure hunt around school to look at what values of the Kingdom we use here at St Francis'. Each group looked at a slightly different focus then fed back what we learnt to our peers.
 
Angle Dabbing!
We have had fun with angles this week – our desks were transformed into a web of angles to measure. We also used our knowledge of angle facts to work out missing angles and even measured the angle of our dabs!

Mosque Visit
On Tuesday, children from year 5 and 6 went to visit the new 'Masjid e Salaam' mosque in Fulwood. What a fascinating experience! We learned all about the important rituals Muslims follow when they are in a mosque, including the washing before prayer – 'wudu', the five pillars of Islam and scents that are used in the mosque and at home. Amjad, the gentleman who kindly showed us round, also wrote each of our names in Arabic – a beautiful piece of art for us to take home. As always, the children were highly commended on their behaviour, respectful nature and great inquisitiveness.
Lunchtime clubs and Bible Buddies
Our lunchtime clubs are going strong, expertly led by some of our year 5 and 6 children. We have a construction club, book club, CAFOD club, chess club and Bible Buddies.
Our Evolution of Dance showcase!
Click on the picture below to watch our amazing 'Dance through the Decades' video!!
Camouflage Art
We have completed an art project this week to complete our 'Survival' topic. We started with a pencil drawing of a creature that uses camouflage to protect itself from prey. We developed this further into a watercolour painting. We then copied and cut out our painting, hiding in in a collage background using similar colours. This was inspired by British artist Belinda Maria Longsden who specialises in camouflage art using mixed media.
One Million Children Pray the Rosary
On Wednesday 18th October, year 6 will be leading a whole school prayer and liturgy session as part of the global incentive 'One Million Children Pray the Rosary'. They will talk about the power of prayer and ask everyone to pray for peace in Syria and other areas of our world where there is conflict. We have been learning in class about Our Lady's appearances in Fatima and discussing the importance and reasons for prayer.
Class prayer and liturgy sessions have been planned and led very thoughtfully by the children, including setting up some lovely prayer focus tables.
Bird Adaptations Investigation
We have had fun in Science this week with an investigation to find out what kind of bird 'beaks' are the best suited to eating certain food sources. We had marshmallow 'flesh on bones', gummy worms in soil, 'nectar' and floating fish and 'insects'!
Welcome Back! 
Reflection window – here is our new Reflection Window. We are very proud of the stained glass artwork we have produced to reflect some of the wonders of God's creation. In RE we have had some interesting discussions on how the story of creation fits in with our topic on evolution! We have been thinking about how we can be stewards of creation, working together to look after our world.
Maths Games
We have been testing our place value knowledge this week with Place Value Yahtzee, Roll It and Card games. It was great to see some fantastic strategies being used.
Leaver's Meal 
Today, Year 6 enjoyed a lovely meal at The Cottage restaurant. We had a walk in the sunshine to get there. It was a great opportunity to talk about our memories of our time at St Francis' and some much deserved 'down time!'
Shakespeare Rocks!
Our class production was a great success! Every single one of the children shone in their various roles – we had great singing, beautiful solos, hilarious characters and an amazing team effort.  We had so much fun rehearsing and performing – the feedback from our audiences was fantastic! Well done Beacon!
Electricity and Fairground Rides
Over the past few weeks, we have welcomed Mr Walker from St Cecilia's who has been teaching us all about electricity. We have learnt about circuits, components and their symbols and have designed and made fairground rides which incorporated a motor and circuit.
Year 6 Movie Day
As a reward for all their hard work for their SATs, year 6 chose a movie day, complete with popcorn, teddies, cushions, films….and pillow fights!
SATs fun?!
Year 6 have been having fun – yes, fun! – revising for their upcoming SATs. They have been doing maths graffiti to test their knowledge on a range of maths topics – and dancing to grammar songs! Their favorite is all about subordinating conjunctions… beats One Direction any day!
Angles fun!
Yes, you read correctly…. we have been having fun with angles this week! To practice measuring angles and finding out facts about angles, we explored a web of masking tape laid out on our desks with protractors!
CAFOD Visit
We welcomed a representative from CAFOD this week, who talked to us about their new campaign "From Little Fish to Big Fish". We learnt how a lady in Zambia turned some tiny fish in a pond into a thriving business for the whole village. We have begun a project looking into how we can make small changes to help care for 'Our Common Home', as Pope Francis calls it, including recycling, not taking more than our fair share and trying to conserve energy. We are looking forward to working with our Eco-Council to make changes in school.
Father Sony popped in to say hello during our CAFOD workshop and was impressed with our ideas!
The Ultimate Glider Challenge!
Following our 'hoop glider' investigation, Beacon Class were challenged to come up with the 'ultimate glider' design. We had some amazing designs! We held a 'winner stays on' glide-off….Mathew's glider flew the furthest, closely followed by Luke's.
Hoop Glider Investigation
We have been investigating what affects the flight distance of a glider design made with hoops and a straw. We discussed the importance of changing only one variable and how to make it a fair test. Richie's glider was the winning design!
Pancake Fun!
Our visit to the pancake station on Shrove Tuesday, courtesy of Mrs BM!
Collaborative art
Inspired by the work of Kandinsky, we have been having lots of fun with art on a huge scale!
Soundation!
We have been trying our hand at music production using Soundation. Mr Hall introduced us to the programme and we enjoyed putting beats and sound samples together to create our own pieces.
Lady Milena Grenfall-Baines visit
Today we welcomed a special visitor into our class. Year 6 have been researching Kindertransport, the evacuation of 10,000 children from Germany and surrounding countries before the outbreak of the second world war. A man called Nicholas Winton was responsible for the evacuation of nearly 700 children from Czechoslovakia to England – today we met one of those children, Lady Milena! She told us the amazing story of her journey at 9 years old, and her life. She showed us the original documents of her evacuation, along with those of her sister who was then only 3. These included the tag she wore around her neck and an autograph book given to her that day by her Grandfather with a message handwritten by him.
Mathew said afterwards, "It makes you feel grateful for what you've got."
Hands on Science with Light investigations
Our Science topic this half term is Light and Colour. We have been looking at how light travels in straight lines, modelling this using a torch, ribbon and mirrors. We then tried to draw what we found out using diagrams. We have also made periscopes which we had fun with, peering around corners and over desks!
Keyboard lessons
Beacon class are focusing on keyboard skills in music lessons with Mr Severyn. Today we were learning to locate notes quickly, also we experimented with making spooky sound effects!
Author Visit
Year 6 were lucky enough to be invited to Our Lady's High School this week to meet the author of the 'IT Girl'  books, Katy Birchall. It was a fantastic experience – Katy shared some planning techniques and lots of secrets about how to write a great story. We have been putting some of these techniques into practice this week, writing our own stories inspired by our class novel, The Wizard of Oz. Next week, the children will be writing more stories to share with their Reception/Year 1 buddies….watch this space!
More Gymnastics
We have been enjoying gymnastics sessions with Mr Bamber – we are working on balances and transition movements. We have moved on from paired and individual balances and routines to groups. 

Longridge High School
This week, year 5 had a taster day at Longridge High School. They sampled lessons in PE, music, IT and French.
Gymnastics 
This week we have started a unit of Gymnastics with Mr Bamber. Some of our gymnasts enjoyed showing some of their skills to the rest of the class. This week we worked on balance.
Beacon's Got Talent!
We have had some fun with our amazing musical creations this week. The instruments that some of the children have made over the Christmas holidays are fantastic! We have had guitars, shakers, a didgeridoo, a tambourine, a karimba and even an ek tara! We investigated the pitch of each sound. We also listened to some music by Benjamin Britten and produced a graphic score in response to the music. It was a challenge!
Decorating the Tree
We took our 3d paper decorations to church to decorate the tree. It looked magical.
Shakespeare Showcase!
Year 5 performed the opening scene from Shakespeare's 'Macbeth' in assembly. They portrayed each character brilliantly and tackled the Shakespearean language with ease. Many thanks to Mrs Brice who led our unit of workshops leading up to this performance. They children thoroughly enjoyed an insight into the world of the famous playwright.
We hope you enjoyed receiving our special Christmas cards. The children worked hard improving their watercolour skills- I'm sure you will agree the results were impressive!
MP Visit
On Friday, we welcomed our MP Mr Wallace to Beacon class. We asked Mr Wallace about his views on fracking amongst other things. The children were fantastic! They conducted themselves so well, asked relevant and thoughtful questions and shared their views confidently.
Dotty Art for Children in Need!
On Friday in the spirit of spots for Children in Need, we looked at Pointillism – an art technique made using spots. We looked at paintings by Georges Seurat and Canadian Artist Melissa McKinnon. We produced our own paintings using newspaper to create trees, then added colour and texture using dots of paint with cotton buds. We practised colour mixing to create our required look.
   Melissa McKinnon
Pennies for Pudsey
Some of the Year 6 children have been busy counting all the 'Pennies for Pudsey' that we have been collecting for Children in Need. We are at £67 and still counting…..! Sponsor money will be counted as soon as it has all arrived in school and we will update you with the total.
The Circulation Game
To help us understand the circulatory system, we acted out the function of the heart and lungs in our bodies, using blue and red cards to represent oxygenated and de-oxygenated blood, and followed the path of the blood in our bodies. It was fun speeding up to show what happens when we exercise!
Remembrance Day
We have been looking at poetry this week linked to Remembrance Day – we read 'In Flanders Fields' by John McCrae then wrote our own poems on poppies. These will be made into a wreath to display at family mass this Sunday.
Diwali 
We have been learning about Diwali, the Hindu festival of lights. We made clay diyas using a thumb pot technique, textured our pots using various tools and painted them with metallic paint. They look fantastic!
Space Workshop
Mr Allcock from the Tim Peake Primary Space Project came into school on Tuesday to do a workshop with us about space and the International Space Station. We were amazed to hear about life on the space station and enjoyed organising ourselves into the order of the planets using huge inflatable planets!
What a busy week! 
Year 6 had an amazing day at Longridge High School for the Safety Town event. We learnt about internet safety, fire safety, travel on public transport, drug and alcohol awareness and much more! The highlight of the morning were definitely the police dog display – they were amazing.
We wrote and delivered Dragon's Den style presentations using persuasive language – we definitely have some budding entrepreneurs in our class! We also used persuasive language in a 'Sorting Hat' activity – we persuaded the sorting hat to put us in our choice of Hogwarts house!
Multi-sports and tag rugby
We have been playing tag rugby in our sports session with Mr Bamber. It looks like we may have some talented rugby stars in our midst!
St Francis artwork
Inspired by the stained glass windows at church, we drew our own stained glass window designs, focusing on use of colour and shading. These took a lot of patience and perseverance! Some are on display in church – they look great!
Year 5 Pilgrimage to Lancaster
Year 5 went on a pilgrimage to the holy door in Lancaster as part of our ongoing journey through the year of mercy. They walked through Lancaster, stopping at various points for prayer and reflection, including a service at the Cathedral. Their behaviour was outstanding – and was even commented on by the organisers! It was a great day and we look forward to them sharing what they learnt on their journey with us.
We have been busy writing our legends this week, inspired by the landmarks we have researched and other legends of the British Isles. They are fantastic! We aged them using teabags…
We enjoyed reading each others' legends and completed peer assessments, commenting on what we liked about them, This helps us to improve our writing skills.
We have also been looking at Ordnance Survey maps, using the legend symbols to find features of the landscape….
Welcome back!!
Our main topic for the first half term is 'A Kingdom United'. We have located all the places we visited over the holidays on our class map and have started to look at some amazing iconic British landmarks. The Giant's Causeway in Northern Ireland has captured our fascination and we have enjoyed learning the Legend of Finn MacCool and the Giant's Causeway. The children have already done some brilliant character descriptions as part of their plan to write their own legend.

We have begun our class novel…. JK Rowling's 'Harry Potter and the Philosopher's Stone'….. and we're loving it!! We did some 'hot seating' where we asked 'Harry' how he felt about specific situations in the story…..
Today saw the introduction of our Country Dancing lessons! Linked to our UK topic, we are learning some traditional English dances –  I was so impressed with the formations we have already learned!
Here are the backing songs for our play – Time Lord. Please use them to practise.
Let's really enjoy the last half term! The children have started the last half term with a bang! An incredible trip to the Sea Life to learn about food chains and conservation, an incredible BIG WRITING, an introduction to Judo, " The best PE lesson ever!" Also, picking our Euro 2016 teams ready for for the start of the tournament and practicing for our play – THE TIME LORD.
JUDO MASTERS IN TRAINING 8/6/16
The children had an British Olympic black belt judo teacher coaching the children in the art of judo. All the children got to try a new sport today. Over the next 6 weeks, the children will be trained up towards gaining a white belt in judo. They have learnt some new skills and display hidden talents. Many of the children showed lots of potential, impressing their judo teacher. Well done everyone.
SEA LIFE CENTRE BLACKPOOL 7/6/16
Thanks to Luke Joyce (Year 5) and his role as an ambassador for the Sea Life Centre, the children had a magical free trip to learn about life cycles and animal conservation.
Year 5/6 Maths Challenges
e
Year 6 lead worship

Year 5 Wear it Wild Assembly

Ladywell 2016

Year 6 Maths Challenge

Our Year 6 Leavers


Beacon meet some day old ducklings…
HOW EXCITING? Beacon enjoyed meeting some day old ducklings this morning. They were so excited. We had 15 cheeky and adventurous  ducklings. We noticed the difference between our chicks and the ducklings. Take a look at the photos…
Year 5's 'Wear it wild' assembly!
The Year 5 children, led a whole school assembly to promote the up and coming charity day to support the WWF. The children have been working hard creating promotional persuasive posters and banners, a dramatic role-play and whole school worship. They finished their assembly by leading the other children in song with, 'If I were a butterfly' a school favourite. The children did a fantastic job, I was very proud of them.

St. Cecilia's Battle Of The Bands…

Year 5 visited St. Cecilia's to watch their talent show. It was fantastic to see such amazing talent. It was also amazing to see so many of our past pupils in the show. Their confidence has grown and it was wonderful to see how far they had come – very inspirational!
Improving Our Rugby Skills
The children have thoroughly enjoyed tag rugby. 'PE is now by best lesson!'spoke a Year 5 pupil, about their new favourite subject in school.
Maths Challenges
Beacon class set out on a problem solving marathon – the challenge to complete, write up and explain 10 different types of problems and puzzles – in pairs. The children set to work to complete their challenge. They showed some fantastic teamwork, problem solving skills and endurance – well done Beacon class.
'Ukulele'
Year 5 and 6 are learning to play the Ukulele… They sounded fantastic! The children have been full of smiles every Friday, not just for UFA in the afternoon, but on the morning also – MUSIC LESSONS. What an incredible set of musicians we have at St Francis, it is amazing to see them all enjoy learning a new instrument.
Our 'Out Of This World' Seed Experiment…
The seeds are growing!!!!!
The children are caring for our plants, and recording data too… 'watch this space…'
RUGBY STARS OF THE FUTURE!
 
Year 5 and 6 have been enjoying tag rugby this half term. From starting with bulldogs to tag games, the children are developing their dodging skills, passing skills and tactical awareness.  Fun, healthy and exciting!
Year 5 present… Wear it Wild…
In line with our Rainforest topic, Year 5 have taken on the important job of promoting WWF's endangered animal awareness day.
They have been producing acrostic poems, persuasive posters and persuasive pieces of writing to promote this event on the 27th May 2016.
Have a look at the children hard at work…
They have used ICT, art and design, their literacy skills and their imagination. They really are putting their all into producing some amazing work to promote this important event.
WHAT DO THEY WANT FROM YOU??
'WEAR IT WILD FOR THE DAY'… Either dress up as an endangered animal or paint your face, donate to this cause and help to protect the animals of our world…
https://wearitwild.wwf.org.uk/ Click on the link for more information.
OUT OF THIS WORLD…
OUR NASA EXPERIMENT…
Beacon class have been given an extremely important job… to grow seeds from outer space!!!
St Francis won the opportunity to take part in an experiment that NASA are conducting. They sent Rocket Seeds to outer space on the ISS with Tim Peak. They have sent us these seeds, together with Rocket seeds that haven't been in space, to selected schools around the world. We have no idea which seeds are which and are treating them all equally. NASA will assess the results and publish a report in September
Take a look at our experiment…
As we approach the end of an eventful Spring Term, here are a set of Power Points for Year 6 revision over the Easter break. Get revising!
Click on the glossary of grammar terms related to the Year 6 SATs tests.
Below is a set of Power Points for SPAG revision.
Here is a set of Power Points for the Year 6 Maths SATs revision.
Information about the new Year 6 SATs test
Click on the link to download the Power Point foe information regarding the new SATs tests.
Our Resurrection Assembly
Click to watch our assembly here…
Science and Engineering Week
14/03/16
Science with Doctor Gornall
Thank you to Doctor Gornall. The children had a fantastic morning learning about forces. They were set the challange of creating their own roller coasters, using foam tubes, a set of marbles and a stop watch. Take a look below at what the children produced…
Temperature, Sound and Light…
Using Data Loggers, Beacon class conducted several experiments. Throughout the night, we even recorded data to analysis in the morning. Children could record and review their results with some interesting anomalies.
The children also had some fun having a temperature race. The objective was to make your temperature sensor as warm as possible, within a two minute showdown. The children can up with ingenious ways to increase the temperature of the sensor, using body warm, friction among other things. Following this, the children decided to conduct another temperature race, attempting to make the sensor as cold as possible. Sam won, by finding a small draft in the window!
Parachutes…
The children were set the task to design and produce 3 different parachutes. They measured the area of each parachute to determine whether a larger surface area created a greater amount of force, and would that therefore effect the rate of descend. Following there roller-coaster experiment, the children were putting their scientific knowledge into practice. They realised that to get better results, the parachutes needed to have the maximum amount of potential energy, to then be converted into kinetic energy.
Throughout Science Week, the children have really enjoyed all the different experiments and creating Science Books. What an amazing Science Week, and what an amazing class!
The life cycle of a chicken…
Catherine Yarwood, the very kind lady, who  school have borrowed equipment to hatch our very own Bantum Chickens, has been into school to do a talk.
The children had lots of fantastic questions and were eagar to find out as much as they could to increase their knowledge, and to help and look after our chicks. We watched a video of a chicken trying to hatch and observed an ultrasound of a chicken in an egg. This is something the whole school is looking forward to doing with eggs of our own.  We also met two Bantum Chickens, Zazu and Clio. The children confidently held the chickens and learnt some valuable tips on how to look after them
 
Fairtrade Fortnight
We have been making posters to promote to use of fairtrade. Some of the children wanted to add an extra dimension to their posters by adding Qr codes.
Their posters has information, pictures and had a link to videos.
We ended our Fairtrade fortnight with a music concert. The children sold fairtrade products to parents and parishiners to enjoy while they watched our talented children perform. Please see our choir page for pictures.
Art and Nature
Reception and Year 5 have been outdoors in our Millennium walk. They have produced outdoor art, inspired by Andy Goldsworthy. Have a look at their amazing creations.
The Vikings
5… 4… 3… 2… 1… BLAST OFF…
Our open afternoon was fantasic … we enjoyed showing visitors how hard we worked. We all took a role in our 'mission groups' and worked as a team to design, build and decorate a rocket. We used the knowledge from our experiments in recent science lessons to decide on suitable fuels, and were given a budget with which to buy any materials we needed. Finally we took our rockets outside and had a competition to see which misson group could get their rockets the highest. We observed this and recorded our findings scientifically using the skills we have been developing over the past few weeks.
We rehearsed our hockey skills and then applied them by playing a mini-tournament.
We watched an excellent live interview with Tim Peake on the International Space Station. He answered questions from primary school pupils and showed us some interesting experiments in space.
In our space topic lesson, we carried out an experiment to explore how water behaves in space by making similar conditions with vegetable oil and water.
Beacon's Super Space Suit Design…
As part of our space topic, Beacon class studied the conditions of space and how astronauts can live and work. They then designed and created their own spacesuits to cope with the harsh conditions of space.
SPAG…We have been up-leveling our work.
In Maths we have been working on collecting data, tables, graphs and we have also been looking at place value.

Happy  New Year!
Our Exciting Writing space ships and planets.
And… our Space display with our very own bright Constellation…
Today we braved the cold, learning about about fractions of an amount.
Here are a few photos from last term. We are excited about our new term and our new topic 'Space'. We will have more photos to follow very shortly…
Beacon class (Year 5/6) have been working very hard this term, I am so proud of how they apply themselves and persevere each day! Have a look at our interactive classroom. The children have been learning about Survival and Food this half term. More pics to follow…