Welcome Mrs. Procter
We welcome a new member of the St.Francis' team-Mrs Margaret Procter.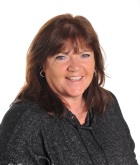 Many of you will already know Mrs. Procter, as she is a midwifery nurse from Longridge. It has been lovely for her to have been  reunited with parents in school, a few whom she has already met whilst working on the maternity unit, and children some at St.Francis'  who had also been under her professional care from birth (she even recognised some of our younger children having undertaken their heel prick tests!). Mrs. Procter has years of childcare experience and childcare qualifications under her belt. She has worked for the NHS for years and has decided to have a change in career (although she still works for the hospital when needed). It is a joy to have her in school as a another member of our breakfast and after school club team. She has been shadowing our breakfast and after school club staff for a few weeks now and we are delighted that she has joined us here at St.Francis'. One of her great hobbies is baking and looking after her own grandchildren. I am sure you will all make her feel welcome.
Other members of our breakfast club and after school club team are:
Mr Joshua McGill, Mrs Julie Holden and Miss Jade Preston.