A Sporting day supporting Syrian refugees…help us to help them donating baby nappies, toys and clothes. Thank you!

Year 7 Welcome Mass at Our Lady's
It was lovely to see Luke, Millie, Ellie and Tallulah at Our Lady's. They have settled into high school life very well. I took two of our Year 6 children to the Mass and we met our other friends from our small school Catholic Cluster.
We are very lucky to be part of a Catholic small school cluster. Miss Deakin has meetings with other head teachers from small Catholic schools and together we plan many exciting trips and reflective experiences. Children in Year 2 get to know and make friends from other schools as we start of journey together throughout school. It is lovely to meet up with our friends from other schools. There are seven schools in total and we have another exciting year planned, including a trip to a Synagogue, a Laydewell retreat day, Metanoia Day, Beacon Fell creation day, Year 3 Open Air Mass and much more. We visit each other and enjoy a mixture of new experiences together.
We are also part of the Longridge cluster of schools and we are planning a superb Remembrance performance for next November with 14 other schools. The head teacher at Barnacre Rd, Mr Wallis,  is passionate about a joint performance at Preston Guild Hall and we are all on board. Information will be coming soon!
Our annual Advent Service at Our Lady's Catholic High School is wonderful and our children always sing with such heart. Individual Preston Lancaster Diocese Primary schools take part in the service, which is always spiritually moving. We are fond visitors at Our Lady's, linking with another range of Primary school to pray and learn together. We also visit there to watch performances and to meet authors.
Trolls Village Float-yes, we came 2nd!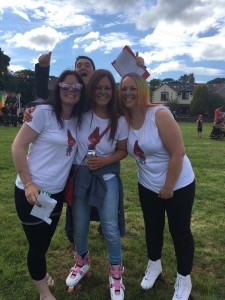 Thank you to Mrs Hamer and the team of amazing parents who have worked so hard on our floats. Pictures of the floats can be found n school. I couldn't take any because I was roller booting behind! Thank you to our friend Alex Johnson, for organising such a great day-again! Alex was also part of Preston College performers who performed a super Puss in Boots pantomime in school at Christmas.
Lady Melana
We had a visit, through one of our contacts, who came to tell us her incredible story of evacuation and survival. Have a look at Beacon Class webpage to find out more..
Singing at Bushell House Care Home
Our wonderful Year 5 class made us very proud as they brought some Christmas cheer to the residents at one of our local rest homes. We sang a huge repertoire, which brought great smiles. We look forward to going back for Christmas 2017.
Goosnargh Whitsuntide Selection Spectacular!
On Sunday, children from our choir and band performed at Goosnargh Village Hall for the Festival Queen Selection Show. The band performed 'This Little Light of Mine' with Grace doing a solo, complete with recorders, flutes, bongos and a trumpet! The choir followed with a beautiful rendition of 'When you Believe', with Tallulah doing a stunning solo. We are very proud of our musicians and as always, they behaved impeccably.

This year, we have had great fun attending and participating in the Goosnargh Festival (of which our Star Wars float came third!), Longridge Field day, Longridge Show and the Grimsargh Field Day. We had a St.Francis' stall at all of these events and it was wonderful to talk to the community about our school. We enjoyed singing and playing in the school band at the Goosnargh Festival Day and we join in with all community events as possible. We thank all of  our parents and families who support school at these events. We even have our two year olds distributing leaflets!
Community Care UFA group begins
Making new friends as we invite our small school Catholic Cluster
Summer Social BBQ
Thank you very much again to our PTFA. The Summer Social was wonderful. It was great to see so many parents, carers, families and the community at our school. It was a pleasure to meet Jeff the goat and the children had so much fun looking after him!
At.St.Francis,' we love to work with other schools and the community. We have visitors from other countries who come to experience schooling in England and we have strong links with local schools and small Catholic schools of similar size. We support each other by sharing staff training, coaching staff from other schools and sharing skills and expertise. The children visit other schools and schools visit us. Recently, Year 4 linked with other chldren in Year 4 from our Catholic schools cluster and went to Great Eccleston Scout Hut for a day of Year of Mercy education. Beacon class are going to visit Queen's Drive school and are going to a Sikh Temple for the day. We work closely with our high schools and regularly attend sporting events, drama events and workshops. The French lessons were very popular and we are soon taking part in a maths challenge. Goosnargh and Whittingham Festival day will be wonderful as we collaborate with the community and enjoy our Star Wars float. Parents of our school have been busy creating the float and we look forward to the Mayor of Preston opening our Pre-School. We regularly fundraise for local and global charities as part of our service to others and we invite our local rest home residents to come to our coffee morning concerts.
St. Cecilia's Battle Of The Bands…

Year 5 visited St. Cecillias to watch their talent show. It was fantastic to see such amazing talent. It was also amazing to see so many of our past pupils in the show. Their confidence has grown and it was wonderful to see how far they had come. Very inspirational!
The police working alongside us
The Queen's 90th Birthday Street Party
We welcomed all to join us for our street party and it was a beautiful day to get together. Children ate their lunch outside with visitors and it was a great opportunity to enjoy each other's company.
Village Festival Fun!
What a wonderful day we have had today! Our school band and choir performed many pieces at the Goosnargh Festival Concert. We played alongside other artists, schools and Preston College. The Mayor was there and was incredibly impressed by the musical excellence our children displayed. The children were a credit to us and their excellent  behaviour was commented upon many times. I am so proud of them all. Please see our video below. We look forward to being in the paper again so keep looking for the article!
Goosnargh Festival
Longridge High School
Year 5 spent a morning at Longridge High School having a taster session. They made a fantastic impression and really enjoyed taking part in the lessons planned. The subjects sampled were, French, ICT, Sports, and Science. They even made some scones in the cookery department.
We had such a brilliant time working with Myerscough College a couple of weeks ago. The students came to our school for an afternoon to coach football with Fairsnape and Beacon classes. The students from the college were so professional in their approach with our children that they will certainly be welcome visitors to our school in the future. Take a look at how much fun we had …
Our year 6 were invited to Longridge High School for 'SAFETY TOWN' … We had talks from the police and fire department. There was demonstrations and we also looked at alcohol awareness, bus safety and internet safety.