Fairsnape Class News…
The children got to spend the morning with British Paralympic swimmer, Steph Slater MBE!
What a great start to Sports Week.
Steph spent the morning with us in class then officially opened our Sports Week. Thank you to all the parents for keeping our secret…when the children walked out to see four enormous inflatables on the field, their faces were a picture.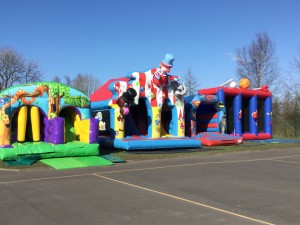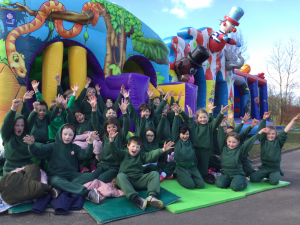 We watched video clips of Paralympics playing Goalball. Goalball is played exclusively by athletes who are blind or visually impaired. It was invented in 1946 to help rehabilitate veterans who had lost their sight during the Second World War.
We played a version of this game in the hall. It is much harder than you think.
Our amazing new topic is all about the Stone Age, rocks and volcanoes!
Science Week:
This week the children investigated 'rocks' and how they are formed. Using chocolate, we made sedimentary rocks, igneous rocks and metaphoric rock.
We then looked at videos watching how lava moves, how a crust appears to form on the top, and finally, how it cools and sets. To replicate this, we made cinder toffee in class…our very own igneous rock.
After reading our book, 'How to Wash a Woolly Mammoth' we created gorgeous mammoths. Then we wrote our own set of instructions making sure to include prepositions and imperative verbs (bossy verbs!) Our mammoths are now displayed in the classroom and looking fantastic!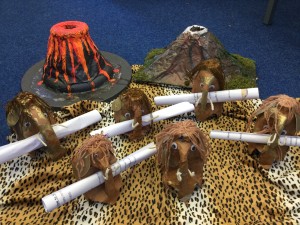 Today, we explored the patterns of where volcanoes exist in the world today and where volcanoes have existed in the past. In the activity, we used coordinates to locate volcanoes in different regions of the world to identify a major pattern of volcanoes known as the Ring of Fire. Using the evidence we questioned if a volcano could pop up in our own back garden.
The children have arrived in to school excited to show off their projects…and wow! They are all amazing and  so different and unique.
I set myself a task for the half term too, so my kitchen was also covered in Papier-mâché!
We then discussed the three different types of rock:
Sedimentary, Igneous, Metamorphic
…and looked at different examples in class.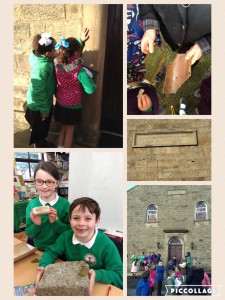 Our first task was to look at rocks around the school. We walked around the grounds looking for different types of stone and seeing how they have been used.
 We looked at some amazing cave paintings on the internet and then recreated some of the images in class for our books and a fabulous display.
Half term homework challenge!

A Class of Artists…
I am sure you will be absolutely blown away by the children's art work. Following a step-by-step instruction video, we were guided by an artist to draw a realistic owl.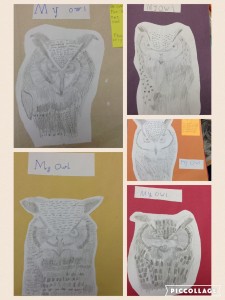 Exciting Writing!
Here is a picture of our exciting writing display. The children always enjoy writing in this style.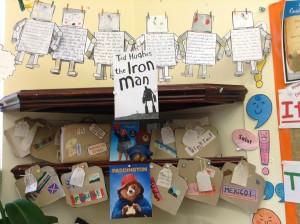 Snow at last!
When it snows, you just have to wrap up warm and go out to play…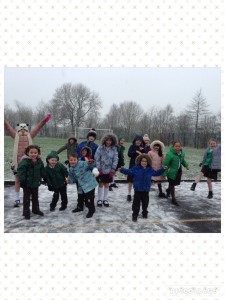 back inside, we had great fun warming up to one of our favourite internet sites, 'GoNoodle'.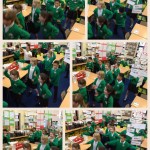 National Storytelling Week
This week, was National Storytelling week. We decided this would be a lovely opportunity for our children to write their own stories then read them to the children in reception and Year One…writing for a purpose. We studied a number of traditional fairy tales then looked at fractured fairy tales. A fractured fairy tale is where you take a traditional tale and 'tweak' it. You could have, 'The Three Little Pigs and the Big Bad Monkey' or perhaps, 'Goldilocks and the Three Wolves'…the children created fabulous tales with plenty of humour. Here are some photographs of the children sharing the experience together.
R.E
This week we worked together with Beacon class to look at signs and symbols used in the Catholic religion. The children formed small groups in church looking at for example, where we see water used, how it is used, when it is mentioned in the bible and what it symbolises.  They researched water, the cross, fire/light, bread and wine. hands, white cloths and oil.
Country Dancing
The children amaze us how quickly they pick up a new dance. Fantastic!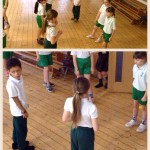 Our topic this half term is called 'Hunted'.
We will be looking at living things and their habitats and constructing food chains and food webs. The children have started to create their information lap books which I know they will enjoy showing you at the end of the topic.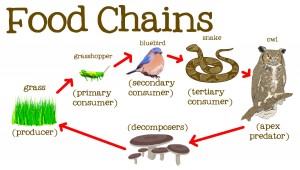 Presents in class…
Imagine arriving in to work in the morning to be greeted with two dead birds on your desk.  I think my colleagues know me too well.  The birds had sadly died in the greenhouse but the children had the chance to look at them closely and observe their skulls. This gave them the opportunity to compare them to the skulls found in the owl pellets.
INVESTIGATING OWL PELLETS
We have talked a lot about food chains and food webs this week. The children can tell you all about producers, primary consumers, secondary consumers and tertiary consumers. We've looked at apex predators and discussed what would happen if there was one ultimate predator.
During our investigations, we have examined and compared owl pellets. We have measured them, used our senses to describe them, and finally, we have dissected them with some fabulous results. Our owls    pellets are from bird from a sanctuary and fed on either mice or young chicks. You can spot who found a chicks leg in his pellet!
We have been promised some pellets from the wild so we are excited for the opportunity to compare their diets. UPDATE…we  now have some pellets found in the wild. Watch this space and we will report on our findings.
 HAPPY NEW YEAR TO YOU ALL!
Looking fabulous in our Christmas jumpers and raising money for Save the Children.
This half term we will be studying the novel, 'The Iron Man' by Ted Hughes.
Thank you so much for the Iron Men you have made at home. They are amazing and look fantastic in class.
We are half way through the novel and it is generating some fantastic discussions.
Next week we will be exploring magnetism.
Thank you for your contributions to Children in Need. The children have a wonderful understanding about how some people do not have the same advantages as them.
Remembrance Day
The work and understanding the children have around Remembrance is astounding. We are continually moved by their individual work. Thank you for the personal items brought in to class, we have enjoyed sharing them.
Our first topic this half term is called…
Healthy Humans
Through our creative curriculum, we will be looking at healthy foods and a balanced diet, the diet of different animals and how to maintain a healthy lifestyle. Watch this space for our exciting experiments. We will also be looking skeletons and asking if all animals have skeletons. Linking maths to our topic, we will be measuring our bones and incorporating our results in to graphs.
This week the children met their first challenge. Without looking at a human skeleton, the children had to create what they thought a skeleton looked like using art straws. They are fabulous.
Wet play? An ideal way to get a little bit of maths fun in. The Year 4 children taught the Year 3 children how to play Top Trumps. You would be surprised how much learning you can get from these packs of cards.
To start our New School Year, we worked collaboratively to create a stunning stained glass window that reflects God's World and creation. The children are so proud of their work – it's beautiful.
We had an informative visit from the Life Education Caravan. Our class learnt about: the brain and the nervous system, medicines, cigarettes, alcohol and their risks.We also discussed friendships and how we need to manage differences through compromise and negotiation.
The children have been planning their own class Liturgies. In groups, they have been given a topic to plan for. They have gathered their own resources, found bible readings and prayers. Each week two groups will deliver their sessions. This week we have learnt about Creation from the Children. The sessions were delivered beautifully with so much maturity.
Our new school pets…
Circuit Training
We have been thinking about the effect of exercise on our bodies and how it makes us feel. We commented on our heart rate, our breathing and how hot the exercise made us feel.
……………………………………………………………………………………………………………………………………………………
Excitement in Fairsnape class – and that was just me as class teacher!  I have been growing potatoes with children in the school for over ten years as part of a project with primary schools. This week we dug up our best crop ever!
We started off with some seed potatoes, then we chit them, planted them, fed them…then waited for them to grow.
With our super crop we had delicious new potatoes with a touch of butter and then made a potato salad with mayonnaise, white wine vinegar, shallots and gherkins.  There was a 50/50 split on how good this tasted.
ELECTRICITY!
Welcome to Mr Walker from St Cecilia's who came to do some hands-on learning with Fairsnape class.
In talk partners, the children named as many items that they could that used electricity, either mains electricity, batteries, or both. They then discussed if these items moved, made a sound, lit up or heated up. They created quite a list!
The children briefly talked about non-renewable electricity sources: coal (fossil fuels), oil and gas. Also, renewable sources: Water (hydro power), Wind turbines, solar panels (sun), biomass (waste from animals) and geothermal (heat from the air).
The dangers of electricity were pointed out to the children as the children learnt about conductors and insulators before making their own circuits. In pairs, the children were given a motor, an LED light, batteries, crocodile clips and a switch and left to see what they could do with them. They soon found how to make a basic circuit that would light a bulb before trying to incorporate everything! We had colourful handmade spinners being added to the motors with a competition for the one that would hold the most.
The children also had fun making a small LED torch which they got to take home.
STATIC ELECTRICITY
Apologies if the children went home with messy hair today, we have been exploring static electricity.
The children looked at a PowerPoint looking at natural disasters around the world and how these affect people. We looked at maps to locate Nepal and the 'Ring of Fire' locations.
Working with talk partners, the children discussed the difficulties charities and rescue workers face in reaching people in crisis. We talked about the essentials people will need immediately, for example: food, warmth, shelter etc. and why setting up educational facilities are important to provide a 'normal' routine for children affected. They shared how these events make them feel and raised and discussed many questions.
The children went on to discuss how housing is constructed in different areas of the world and how these buildings respond to disasters like earthquakes.
DEN DAY STEM ACTIVITY
The children were placed in teams of eight across the age groups. Their challenge was to work as a team to construct a den that was sturdy, waterproof, made use of the environment, was warm and would allow team members room to both sit and eat lunch and lie down in to rest.
Over a week, the children brought in a variety of items suitable to construct a den. Each of the items was given a points value.
For example: Tarpaulins: 100 points, large boxes: 30 points, rope: 15 points per metre.
Each team was allocated and initial 350 points but could win points for working as a team and hitting their brief.
The dens were and still are….AMAZING!
JUDO
As some of our children were representing school in Football and Netball tournaments, the rest of the class joined the Year 5 and 6 children in a Judo lesson.
The school's May Procession and the Crowning of Our Lady.
Our topic for this half term is called:
'How does your garden grow?'
We will be looking at the functions of parts of a plant, discussing plant life cycles and looking at how plants are pollinated. As usual, there will be lots of hands on learning as we start a number of experiments in class.
Apparently we don't all like avocado.
This term we have focused on painting with watercolours. You will agree, their pictures are amazing!
The giant peach!
A pollinator.
A watercolour to show seed dispersal.
A hot and busy afternoon in the school greenhouse, potting on our seedlings.
James and the Giant Peach:
We read, that the peach in the story grew to have a diameter of 150 ft but how big is this? Converting feet in to centimeters, we then worked in groups to measure the diameter in our playground. We soon realised there was a problem as we needed to to go onto the school field too. It was enormous!
James and the Giant Peach – Hot Seating!  We have been news reporters this week interviewing each other in character.
An energetic game of 'Tails' during PE.
Week 3:
One of the children had a new friend looking at his work this week. Can you spot him?
Our focus for painting this week was water colour linked to our class read, 'James and the Giant Peach.' The children painted a peach tree with just one giant peach growing.
Week 2 :
What a funny week for weather. We managed to start and end our Rounders Game in the sunshine – but had hail and snow thrown in to the middle!
We have been looking at pollination this week and explored our grounds looking for signs of insects pollinating plants. We were nature detectives.
The children have been looking at the role of leaves. We investigated – What leave shape receives the most sunlight. The children stood next to leaves creating leaf shapes with their hands and forming shadows on the ground.
Spring is a wonderful time of year for observing plants and flower form.
Wow! What a first week back in class.
The start of one our experiments to observe how seeds grow:
Observing butter and runner beans: Measuring them, predicting what we would see inside, then opening them up and looking at them using magnifying glasses.
The inside of our bean:
Observing nature and collecting moss, dead leaves, small pebbles etc. for an experiment later on.
Planting seeds:
Waiting to see what will happen with the roots of this bulb:
We each had a broad bean pod. We measured it accurately then approximated how many beans would be in each pod before opening them. We questioned if the size of the pod, influenced the number of beans produced.
How can we find out if liquid is taken up through the stalk of a plant? Let's stand celery and white carnations in a vase of black food colouring and wait and see.
Helping each other to make little greenhouses for our seeds.
And cleaning up after…
Creating beautiful lap books to display our work…
We constantly say how proud we of the children. Here they are showing some of their many talents.

Our finished purses as promised:
Happy Mother's Day
STEM Education – THE SQUASHED TOMATO CHALLENGE!
St. Francis Champions!

Today we were invited with a number of local primary schools to take part  in a STEM activity at Longridge High School. STEM  is curriculum based on the idea of educating students in four specific disciplines — science, technology, engineering and mathematics.
The children were put into teams within their schools. 16 TEAMS took part today.
The problem: In Nepal many farmers living on the mountainside grow fruit and vegetables, including tomatoes. To earn a living they need to sell these at the local market.  The problem is getting to market involves a long, dangerous walk down the mountain side and over a river, at the end of which the tomatoes may well be a bit squashed. The challenge: To design, build and test a way of moving tomatoes that won't squash them!
Each table was supplied with a clamp, some K'nex, masking tape, scissors, 5m of string, a small box and a design sheet.
Each team had two hours to come up with a design idea, construct it, test it, improve it, then wait patiently for the judging panel. The panel then came to each table with a box of cherry tomatoes. The teams were given one minute each to transport as many tomatoes as they could. Marks were awarded for working as a team, communication skills, design, stability, and finally the numbers of tomatoes.
Our children, as always, are a credit!
'Passport to Europe'
Within our topic this term we will be looking at countries in Europe. We will be locating them on a variety of maps and looking at their location to each other. We will also look at a particular region in Europe and compare it to our own home town.
In English we are looking at the the story of Gulliver and talking about his adventures.  Watch this space for our exciting writing.
In design technology, the children have started to plan their own designs for purses. They have drawn and sketched a variety of designs then, at this stage, made them from paper to understand if their product would be 'fit for purpose'.
Orienteering
Wow…team work!
The children worked their way around the different courses, adding up the numbers hidden under the cones.
A beautiful mosaic shield.
Testing our Aqueducts
Their brief was to work as a team and design an aqueduct that would allow water to flow. They were not exactly watertight but this was discussed later when they evaluated their designs. It is good for the children to see their work being put to the test as there had been no adult input.

The children literally jumped for joy today when they realised their design had been successful.


Aqueducts
The children have been learning that aqueducts were quite a challenge to build. The engineering had to be just right in order to get the water to run through the channels and get to the city without stagnating in the channel or coming too fast into the city. They had to keep the slope the same all the time, so sometimes the aqueducts had to run on high arches, and other times along the ground in stone channels, or even under the ground in tunnels.
Here we looked at the importance of using a keystone when building an arch.
Aqueducts could be over 40 miles long. We tried to join our rulers together to form a continuous line.
It wasn't that easy.
The children have been set a challenge – to design an aqueduct from recycled boxes and cardboard tubes. But…it must allow for water to flow and be watertight. Fantastic designs and teamwork!
The design and build stages:
Music this half term:
Ukulele
The children are learning to play the Ukulele with Mr Severn.
P.E this half term:
Fencing
This weeks award went to Dylan. Well done Dylan!
Gymnastics
The children had to create their own sequence of movements including one type of leap and a balance. They then had to make contact with the floor using different parts of their body at the same time.
Mr Bamber could not believe how flexible some of the children are!
'What the Romans did for us'
Our topic this half term will focus on the impact on British life and society as a result of the Romans settling here. However, before we look at the Romans, we have been looking at the life of Celts across the UK.
The children's projects over the holiday are amazing!
During the Iron Age, people who lived in Britain were called Celts. We used our map skills to find where different tribes lived. We have talked about the reasons for their choice of settlements.
HAPPY NEW YEAR from Fairsnape Class. We hope you've had a wonderful and restful Christmas.
Thank you to the year 4 boys for decorating our Christmas tree. It looks beautiful!
Our focus skill in art has been sculpture. We have looked at what sculpture is, what sculptures can be made from and how to sculpture using clay. The children had to use a number of techniques: rolling the clay in to a ball, pulling and pinching it with their fingers, creating holes and hollows, smoothing out the clay with their fingers, adding pieces to their sculpture and scratching details with tools. The children then used these skills to make a plague doctors head.

Talk to our Year 3 children about water safety. They have just completed their water safety training. In the pictures you can see them in the 'HELP' position, the 'huddle', entering and exiting the water safely and of course, supporting each other.
Please encourage your children to continue swimming – it is an essential life skill.
The children had the opportunity to watch a video of my son actually rescuing a young woman who had got into difficulty at a waterfall pool.  We discussed what the other people were doing around the pool (watching) and what they could have done to help in that situation.
During  our art lessons we have been learning how to draw a human skull. We did this following step by step instructions before attempting a large skull of our own.
As we move towards the start of advent, the children have been learning a number of new songs for Christmas. We have made a first recording after only two music lessons. Watch this space.
On a very wet day outside we moved in to the hall for tennis. First, a lesson on balance.
Our Harvest collection has been sent to Longridge Food Bank where it will be distributed to people in need in our surrounding areas. Thank you again for your kind donations; it really teaches the children a valuable lesson about people who are less fortunate than themselves.
Update: The children received a thank you card from Reverend John Ball for the generous food received for the food bank.
Children in Need!
We celebrated 'Children in Need' this week with different activities. We collected pennies for Pudsey, completed a sponsored run and came to school today in spotty clothing.
Not wanting to miss an opportunity, in maths we counted the money raised.
"Bring out your dead. Bring out your dead."
The Year is 1665 and we are in London. Death is around every corner.
I can't believe we have only been in back in school a week. The children have been really enthusiastic about our new topic and with the houses they made during the half term. The classroom is already looking fantastic. Thank you so much for your support.
All the children have made  masques of plague victims and plague doctors.
Can you guess who they are?
Please join us on Sunday for Remembrance Sunday Family Mass.
The children have all made poppies and we discussed why we have Remembrance, what it means and who we think about at this time.  They wrote down their own thoughts.
We have had a real push on art this half term and have found lots of opportunities to use our sketch books.  There have even been a few mystery objects for the children to draw like our dried tea. This looked like a dried mushroom but when dropped in hot water it opened in to a beautiful flower.
To celebrate the Pilgrim Statue arriving at St.Francis, Fairsnape created this stunning stain glass representation.
Caring for our chickens!
Our 3D elephants. The elephant is a symbol of royalty, strength and wealth in Indian culture therefore many festivals celebrate them. We coloured them with a Rangoli design.
The children have been learning about the Hindu festival called Diwali as Diwali is celebrated during October and November. Diwali means the 'rows of lighted lamps.' We have looked at Rangoli patterns and spent time carefully drawing Mehndi designs on hands. Again, we've concentrated on observations and made lots of draft drawings before completing a finished piece.
Using this knowledge, we have also made clay pots that will hold a tea light.
We have set all the children in the school an exciting reading challenge for the year. We love reading, but not just books. Anything…fact, fiction, comics, magazines, newspaper articles, recipes, shopping lists…in fact, if there is a word…we will read it!
But what is the challenge I can hear you ask. The challenge is to have a  photograph take to 'reading' in an unusual place. Now, this is NOT a photography competition, you do have to be reading.
We had some fun this afternoon.
Welcome back to school and the start of an exciting Autumn term.
Sports…sports and more sports.
Our trim trail has been a huge success with both the children and the adults. Lots of balancing of creative movements.
Our topic this term is called, 'The Art of Food'. 
We will be looking at teeth and keeping them healthy and digestion in both humans and animals.  We have lots of exciting experiments planned.
The effects of liquids on our teeth!
Over the last ten days our classroom has been rather smelly. We have been experimenting with the effect of different liquids on egg shells. We used eggs, as their shell is the closest thing we could use to the enamel on our teeth.
The children, as investigators, made their own predictions about the effects cola, vinegar, water and tomato sauce would have on the shells of boiled eggs.
We talked about a 'Fair Test'. The eggs were fresh and the same size. We used the same size containers and poured the same amount of liquid in to each.
What did we find out?
The eggs in water didn't change…
Wow…look at the egg in tomato sauce. Both the colour and the texture of the shell has changed. The shell actually started to erode.
We found the cola had stained the egg shell and the acid in the drink had actually started to erode the shell.
The egg in vinegar was the most dramatic. The shell had completely dissolved leaving just the boiled egg. What a surprise this was to the children. The children have written up their own explanations in their topic books using some great adjectives to describe how the eggs looked and felt.
A big thank you goes out today to Mr Moran who kindly brought in some resources from the science department at the high school.
Super impressed with everyone. A class of volunteers!
Our next experiment was a little bit messy but everyone got involved. There was lots of learning going on and lots of fun. We started with our young man who was very hungry and had a bread meal.
This was passed around the class where we all had a gentle squeeze to simulate the food being broken down in to small pieces.
The concoction travelled down the oesophagus in to the stomach. Here we had a mixture of bread and cola.
The cola was used to represent the acid in our stomach. Again, the children were involved moving the food down the small intestine, through to the large intestine….and yes….out of the body as waste.
We can wrote about our experiment.
We have compared our own digestive system to the digestive system of a rabbit. Look away now if you are squeamish!
The children were able to look at the rabbit and discuss similarities and differences to our own system.
Experiment: Our bladder
Today we looked at how our bladder can hold a quantity of fluid – be emptied – filled again in a cycle. To demonstrate, we filled a balloon with water for the amount of glasses of water we needed after a hot PE lesson.
Experiment: Here we are looking at what happens in our mouths when we smell food. We smelt a bread-stick.
Then we thought about which teeth actually bit the food and which part of our mouth the food moves to.
Finally, we talked about the process of breaking the food down to smaller pieces that when mixed with our saliva move down our oesophagus.
Never a dull moment!
As we have been busy looking at food chains and food webs, what could be more exciting than dissecting owl pellets to identify what owls eat. Thanks to two very kind owl Sanctuary's, we had pellets from three different breed of owl and enough pellets for the children to dissect a couple each.
Following an identification leaflet about the bones in small mammals, the children became investigators, exploring skulls, rib cages, etc. It has been amazing!
The children went on to make newspaper reports and pop-up cards as a way of saying thank you for the pellets and the hands-on experience.

I hope you've all enjoyed your half term holiday. Wasn't it lovely to have so much sunshine?
Our topic this term is called, 'Hunted'. We will be looking at food chain and food webs, delving in to the world of bugs and identifying worms!
A wonderful start to the topic  – a trip to Blackpool Sea Life Centre. The children are an absolute pleasure to take out. We had a talk about rock pools and had the opportunity to touch anything within the rock pool there.
Working together outside:
Discussing what we may see in our tomb then making our way in…
Our May Procession… Well done to our year three boy and our year four girl for carrying out your important roles so professionally.
Egyptian Artists at Work
The excitement buzzed around the  classroom today as the children started a wonderful piece of egyptian art on papyrus paper. They had looked at the style of paintings found in the tombs, made plans, and sketched out what they wanted to do for their final piece.  They are going to look stunning. Here are some pics of the work in progress.
Some comments from the children about our mummified apples:
    "This was epic!"    "This was a unique experiment!"       "Cool!"
Fairsnape got  the chance to meet some day old ducklings…
HOW EXCITING!
Fairsnape enjoyed meeting some day old ducklings this morning. I don't know who was more excited, the children or the staff. We had 15 cheeky and adventurous  ducklings waddling around the school hall. We could compare the difference between our own chicks and the ducklings. The children are very confident now picking them up and holding them carefully.
Take a look at the photos…
Hangman…Egyptian style!
Coding this week…what a challenge! With coding we have to learn how to debug a given error. Well, two heads (Ok, we needed more that two) are better than none. The class are fabulous at supporting each other and offering each other advice or ideas.
What better way to learn than through creativity!
We are in the stages of building a 'Shaduf' in the classroom. A shaduf was used in Ancient Egyptian times to bring up water from the River Nile to drink and water the crops. How to make it created some good discussions and lots of trial and error. Here are the pictures so far…
Our classroom is looking exciting and I hear we may have a mummy coming soon. Watch this space!
Our topic has now taken us to the River Nile and we have been looking at why it was so important to the people of Ancient Egypt.  We have been busy making Lap Books to display our creative work.
Indoor PE skills
As the rain fell, we moved our PE lesson inside and picked up some new skills.
We have written our own Haiku poems about the water cycle. You are welcome to read them on our display in school. It was quite a challenge but they are amazing.
A Haiku poem is generally written about nature and follows a particular pattern:
Line 1 – 5 Syllables
Line 2  – 7 Syllables
Line 3 –  5 Syllables
Inspired by our book, 'The Mousehole Cat' we've painted pictures of the sea focussing on blending colours and brush strokes.  They have made an impressive display.
Our topic on the States of Matter has taken us on to the water cycle. We've enjoyed lots of different experiments. Here, we've created our own mini water cycles on the classroom window.
CLASS ASSEMBLY: We have been looking at the issues of homelessness in its global sense. We've talked about how much a refugee has to leave behind when they flee their homes and looked at the value of our possessions.  If we are homeless due to flooding, then many of our material things can be replaced.
The children created an assembly around the different areas of homelessness and talked about whether our possessions are something we 'want' or something we 'need'.  This was then linked to The Year of Mercy and how we ourselves can help others.
The children take pride in organising their own Collective Worship.
What a lovely way to celebrate a beautiful day…
We have been looking at the changing state of water… to look closely at the process of melting, freezing, evaporation and condensation.
We observed what happens when we cover a bowl of hot water with clingfilm and place ice cubes on top.
We boiled a kettle and looked at how the water vapour reacts when it hit the mirror.
We observed the temperature of ice in beakers, putting salt in one beaker.  We used both glass thermometers and data loggers. From the readings we got on the data loggers we were able to produce graphs and analyse them.
  Today we started our seven weeks of cricket with Danny, and what a start it was.  As the children listened and responded so well, he was able to teach the children more than anticipated for the first session. Well done Fairsnape Class! Here are some pictures of the children playing warm up games and learning new skills.
Welcome back.
The topic this term is called, 'Water, Water Everywhere. We will be looking at: States of Matter, the Water Cycle, Rivers and Egypt. This week we have been looking at states of matter and been investigating solids, liquids and gases.
We sorted…
We became molecules…a solid, a liquid and then a gas.
Then we controlled ping-pong balls getting the balls to represent the different states of matter.
The children then made some 'gloop' with cornflour and water. Once the mixture is made, you can punch it and it feels like a solid, but then you can tilt the bowl and the mixture will pour. Is it a solid or a liquid?
Class assembly – Stations of the Cross
Please come and support the children on Wednesday morning when they perform the 'Stations of the Cross.'
As a teacher, I am privileged to witness many 'Wow' moments with the children. Today was one of those days. The photographs are from the rehearsal today.
Visitors this week…
Today, Matt Kerr and Meghan Stewart talked to the Key Stage 2 children about their trip to a remote part of Ghana. This fitted in beautifully with the children's growing knowledge of the Year of Mercy. The pair worked for a charity, volunteering their time and skills, to promote better lives for local farmers and the local communities. The children watched a presentation and had the opportunity to ask questions. The videos shown were so informative. It was good for the children to see the contrast between shopping and farming in their own community and the Ghanaian community. The beautiful cloths you can see in the pictures are woven by the Kente farmers.
We are getting our very own chicks!
As we are getting Bantam eggs in school after Easter, 'Catherine' kindly came to talk to the children about looking after chickens and eggs and what we as a school will need to do. We already have our chicken house ready!
W e found out how long it will take for the eggs to hatch – did you know, the bigger the egg, the longer it takes to hatch? We watched an interesting clip about 'Candling' the eggs. This is where you shine a very bright light at the egg and you can see inside.  This is important so you know that the chicken is growing at a steady rate. As a mother hen naturally turns her eggs, we will have to turn the eggs ourselves, three times a day.
SCIENCE WEEK!
A question for you. What happens to a fresh egg when you leave it in vinegar for a week? We have had some wonderful predictions. We will tell you the answer next week.
Challenge two: To drop a fresh egg from a height, without the egg breaking.
The children chose from a selection of resources to create protection for their eggs. We had some fantastic creations and some amazing results. The eggs were dropped from 10 cm to 3 mtr – if they have survived!
The winning egg survived a fall from 3 metres!
The other competitors…
We had some worried faces as the children checked to see if their egg had survived to take another fall…
We had a few messy moments too…
I know, not very flattering. Getting in to the spirit of things as my egg takes another fall… a cracks!
Some of our finalists…
Challenge one: In teams to design a roller-coaster 4m longer that contains one loop and a hill and will carry a marble down. To add to the fun, the teams then compete against friends to see which is the fastest.
The teams fixed together pieces of foam tubing with masking tape. When they were happy with their design and had tested it worked, they used a stopwatch to time how long it took for each marble to complete the ride.
A big thank you to Mrs Tina Gornall for coming in to school today to work with the children and setting them this challenge.
Fun with magnets!
Before being taught about magnets, children need time to explore with them. Look at the awe and wonder in their faces.
Have a look at the robots the children have made:
As promised, a sneak preview from some of our amazing pop-up books. We are so very proud of them and they are not even finished yet!
School looked so colourful on Thursday with the arrival of our wonderful book characters for, 'World Book Day.'
Can you guess the characters and the books?
This week we started our new topic…The Iron Man by Ted Hughes. Thank you so much for the wonderful Iron Man robots that have already come in to class. They arrived to the sounds of 'Ooh's' and 'Ahh's' and were carried in carefully by very, very proud children.
Photographs to follow…In Design and Technology this week, we have started to make pop-up books. So far we have mastered the box fold and the mouth fold.
This half term also saw the start of our fencing lessons. The grins on the children's faces said it all!
We were introduced to the equipment and shown how to use it safely. Following a demonstration, the children helped each other into their protective clothing then selected masks and plastic foils.
We were shown simple fencing actions such as basic footwork, thrusting and lunging and had lots of opportunities to practice.
The children were so confident and can't wait for their next lesson.
Volcanoes:
Over the last two days we have been scientists and looking at the reaction that takes place when you mix vinegar with bicarbonate of soda.  Experimenting with different 'recipes', we have erupted our volcanoes. You can only imagine what our classroom smells like!
Apologies for the 'present' coming back home to you but the children have been so proud of their creations they couldn't see them going in to a bin.